Huai Yang style wonton soup is naturally delicious. It is a popular, well-liked traditional food in China's Yangtze River Delta area, the home to Huai Yang cuisine.
Born and growing up in Suzhou, the Huai Yang style wonton soup has been one of my hometown favorites. As a child, having a steaming hot bowl of wonton soup at the over 100-year-old restaurant in downtown Suzhou was always a treat I looked forward to.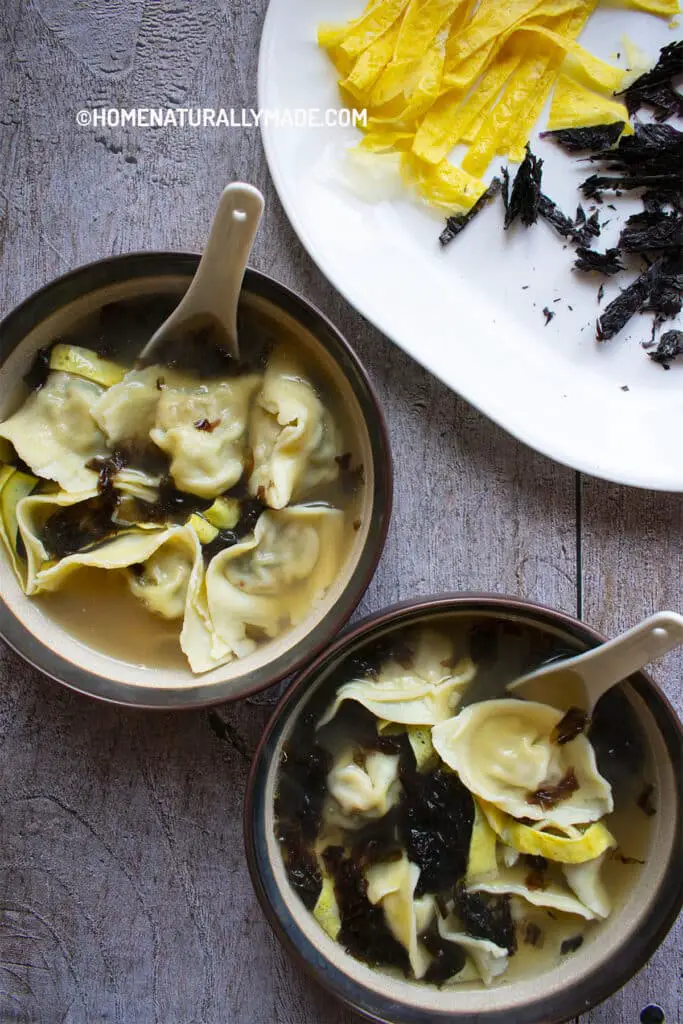 What is Huai Yang Style?
Huai Yang style cuisine refers to the food native to China's Yangtze River Delta area, one of the most developed areas in China across China's over 5,000 years of history. The food in cities such as Suzhou, Hangzhou, Yangzhou, Nanjing, Wuxi, and Shanghai represents Huai Yang style cuisine.
The area enjoys a mild four seasons climate, rich soil condition, and bountiful waterways. The cooking typically uses seasonal fresh ingredients assortments with minimal add-ons aiming to bring out food's natural inherent yumminess. For this reason, the Huai Yang style dish is perfect for those who prefer healthy and clean eating.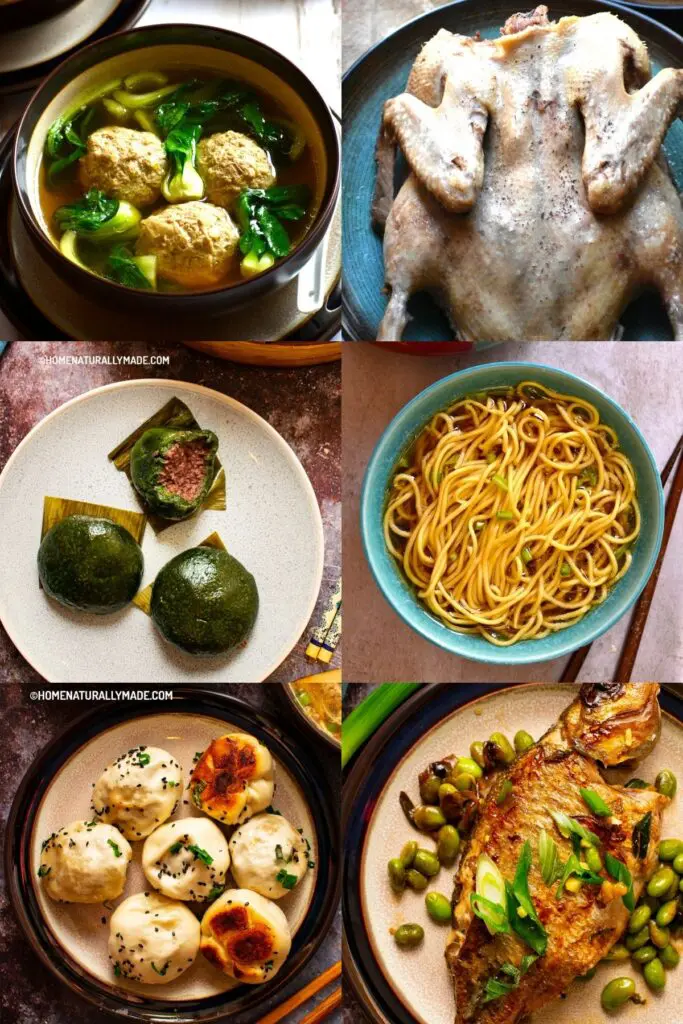 What Makes Huai Yang Style Wonton Soup Unique?
Well, several things I'd like to highlight:
First, wonton wrappers contain eggs
This helps create a spongy firm bite texture and has a yellow hue in color. Homemade egg noodle dough is ideal to make the wonton wrappers. Make the dough slightly softer for wonton wrappers vs. noodles.
Of course, you can always plain-flour wrappers like Cantonese or Sichuan style wontons. Use Homemade plain noodle dough to make the wonton wrappers.
Learn how to make homemade wonton wrappers using either egg-dough or plain-dough here.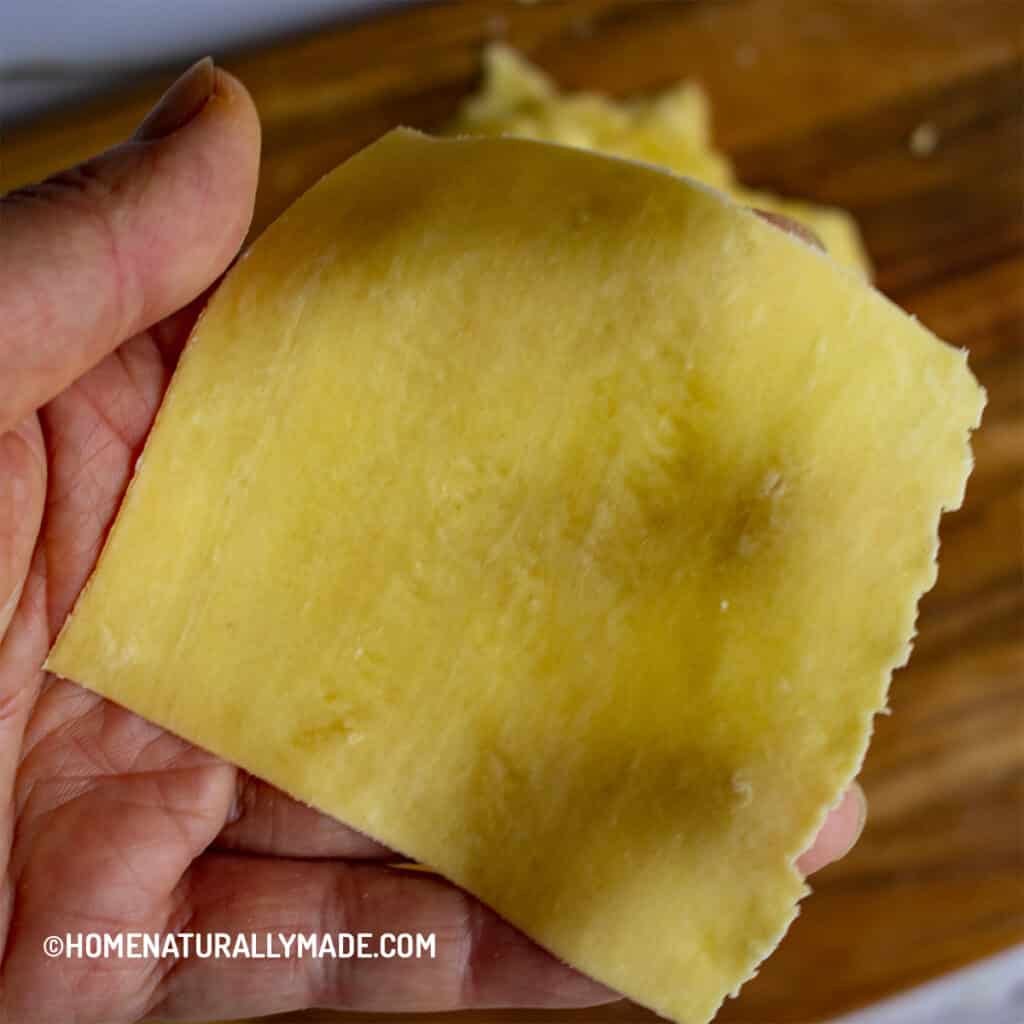 Second, the filling is ground pork with baby Bok Choy leaves
Home-ground pork works utterly well for juicy & tasty wonton or dumpling fillings.
Bok Choy is a popular everyday green leafy vegetable in the Yangtze River Delta area. For instance, you shall see it appear in multiple classic Huai Yang dishes such as "Lion's Head Soup" or "Rice Flour Gnocchi with Bok Choy".
Today I am using the last crop of the season from my backyard garden.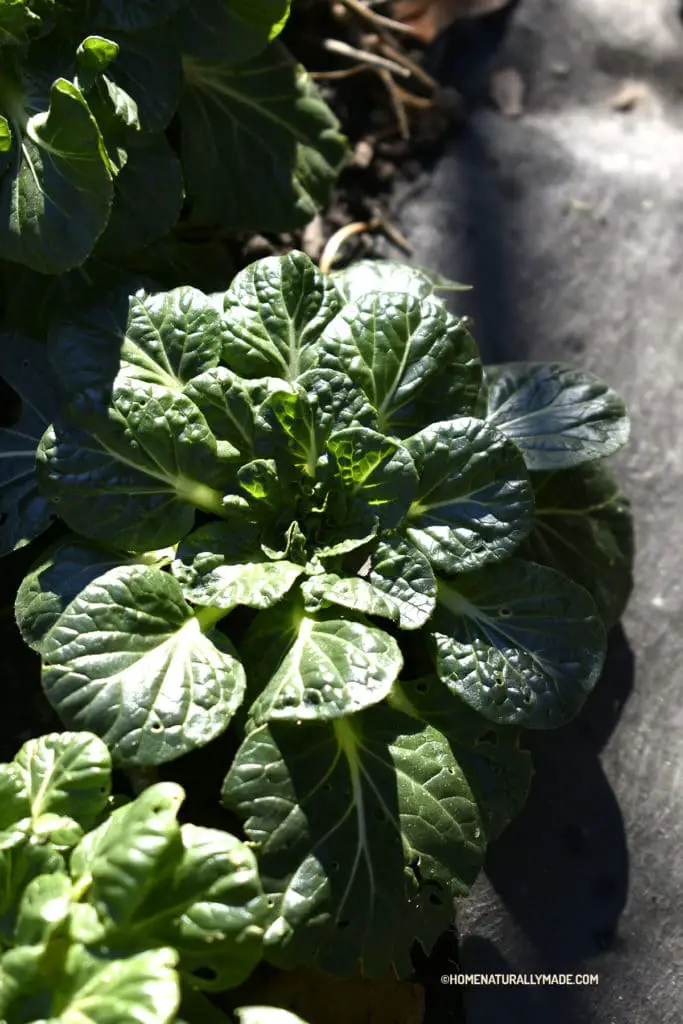 Third, we wrap wonton in the classic way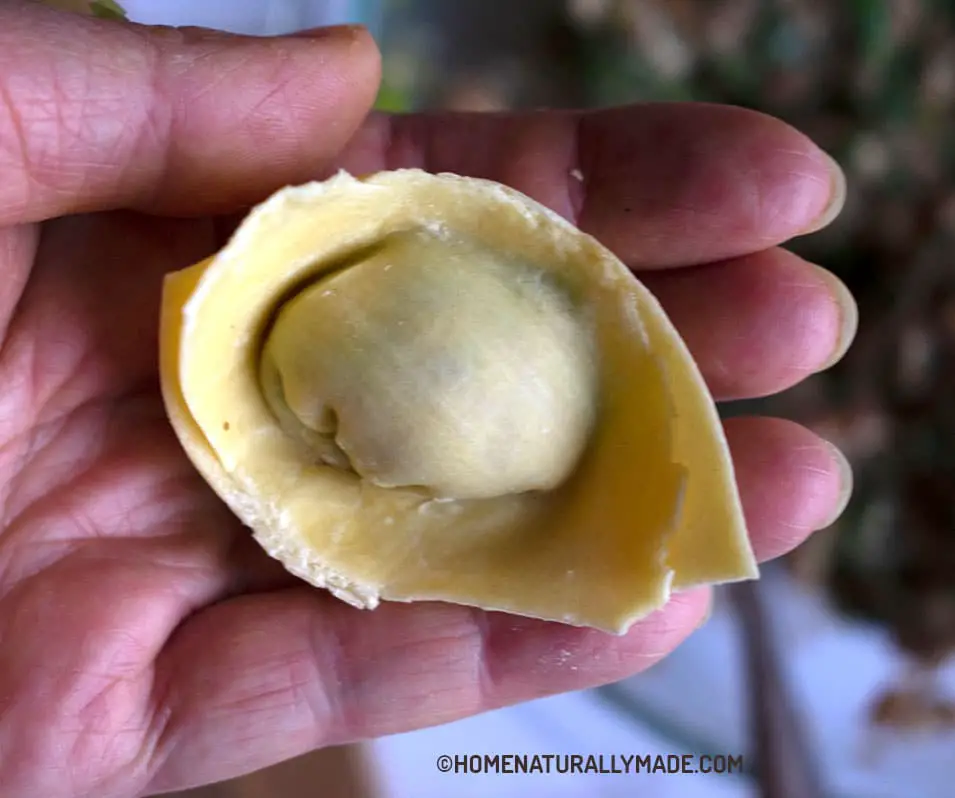 It is a classic way of folding wonton in the shape of a dustpan. Some people refer to it as "bonnet". See "How To Wrap Wontons Classic Way" for a detailed easy to follow tutorial.
The fourth is the soup base
It is made of chicken broth with egg crepe and roasted seaweed (nori or zicai) julienne as toppings
Homemade chicken broth makes a quintessential wonton soup base. Egg crepe and roasted seaweed julienne add additional flavor, texture, and beautiful colors to the soup.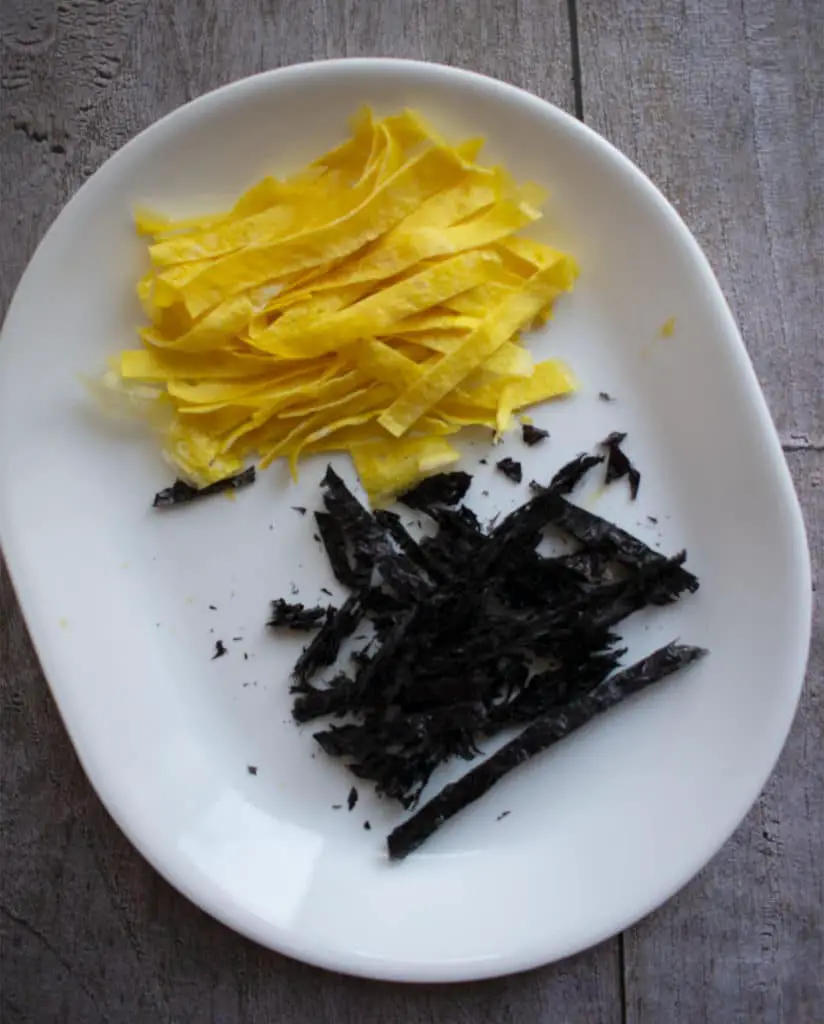 The roasted seaweed I am talking about here, or "zicai" (紫菜) in Chinese, is the Chinese version of nori. Both nori and zicai are from a special type of red algae.
"Zicai" literate translates as a "purple vegetable", referring to the hue of purplish color. During old days, people often whip out an instant soup using zicai, soy sauce wiht a splash of sesame oil.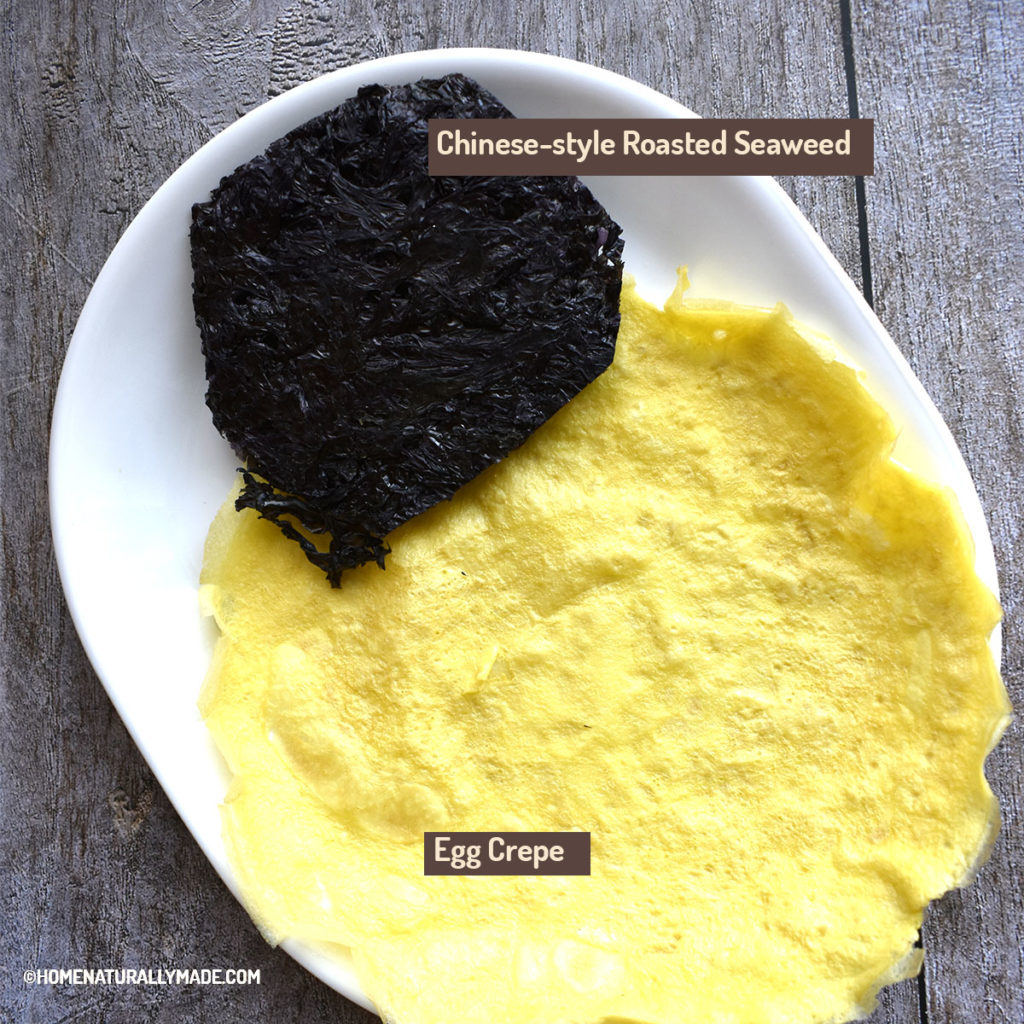 The nori seaweed for wrapping sushi works almost identical to Chinese-style zicai. The only difference I can tell is the look. Chinese-style typically looks like a round bird's nest with multiple layers of roasted seaweeds stack against each other. Nori is rectangular and single-layered paper-thin sheets.
So how to make an authentic Huai Yang style wonton soup?
Wonton wrappers:
See "Homemade Wonton Wrappers" for detailed step-by-step on how to make wonton wrappers at home. If you are using store-bought wonton wraps, go to the next section directly.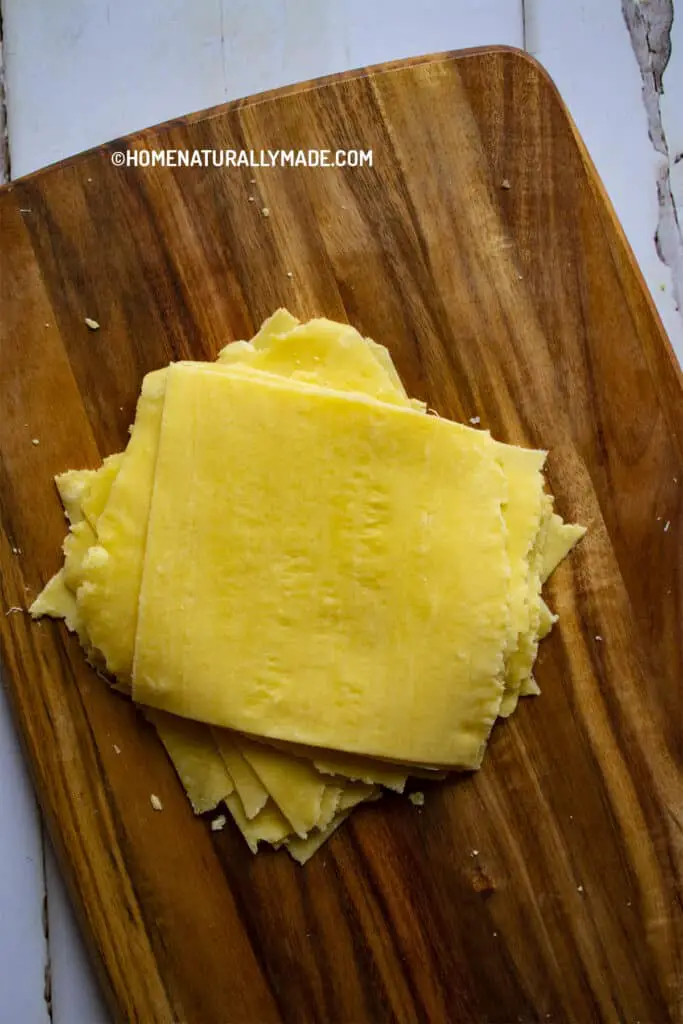 Wonton Fillings:
* Ground Pork
Home ground pork works amazingly for juicy & delicious wontons, dumplings, buns, and meatballs. If you use store-bought ground pork, try to get quality meat that has about 75% lean percentage.
* Marinating Sauce for Ground Pork
Aged soy sauce, light soy sauce, Shaoxing wine, Zhenjiang vinegar are my go-to four key condiments for Chinese cooking. They truly work like magic that gets rid of all the unpleasant flavor and smell of meat or poultry, and then successfully bring out all their inherent yumminess.
I actually incorporate them in burger patties as well, which works out stunningly well. Best juicy and tasty burger patty ever!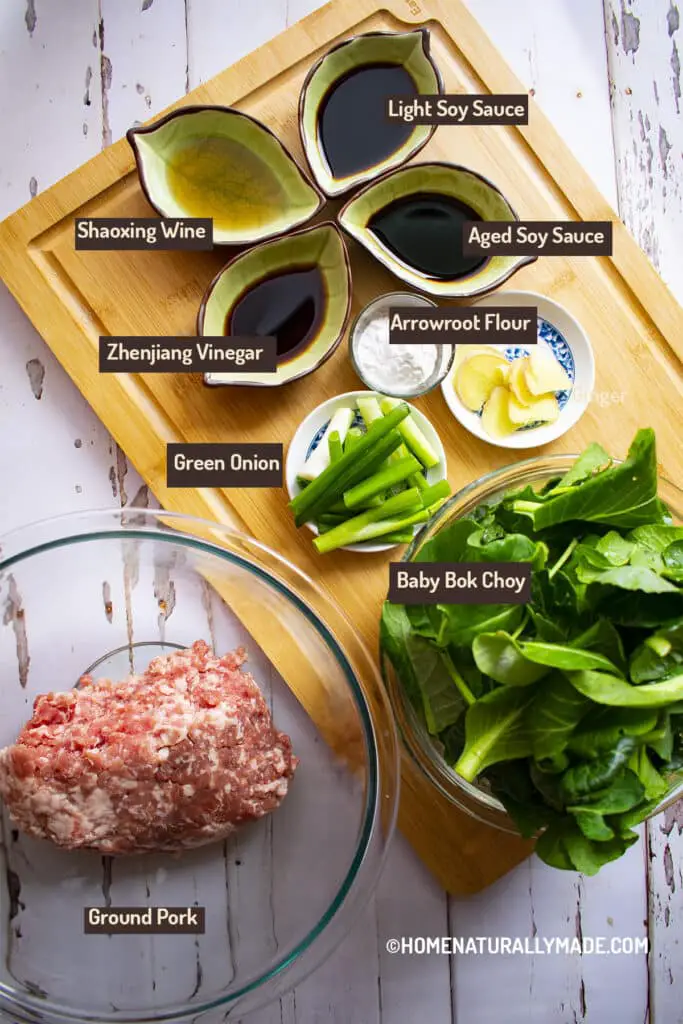 * Arrowroot Flour
Arrowroot flour is my go-to wholesome gluten free starch for all cooking & baking. It is one change I made when I jump-started a healthier cooking and living journey back in 2015.
I have been using this arrowroot flour since the very beginning and never have to look elsewhere. I also use their organic cocoa powder to make a super delicious & healthy hot chocolate at home, a treat my kids frequently ask for.
* Green Onions and Ginger
Together with garlic, I call them Chinese cooking three cornerstone herbs. You shall see them in almost every delicious Chinese food.
Besides making the food taste so much better, they also offer impressive health benefits. People believe they help boost immune systems, help blood circulation, and have anti-inflammatory effects.
Wrap Huai Yang Style Wonton
Classic wonton wrapping Huai Yang style looks like a dustpan, or some people refer to it as "bonnet". See "How To Wrap Wontons Classic Way" to learn classic wonton wrapping via an easy to follow 3-step process.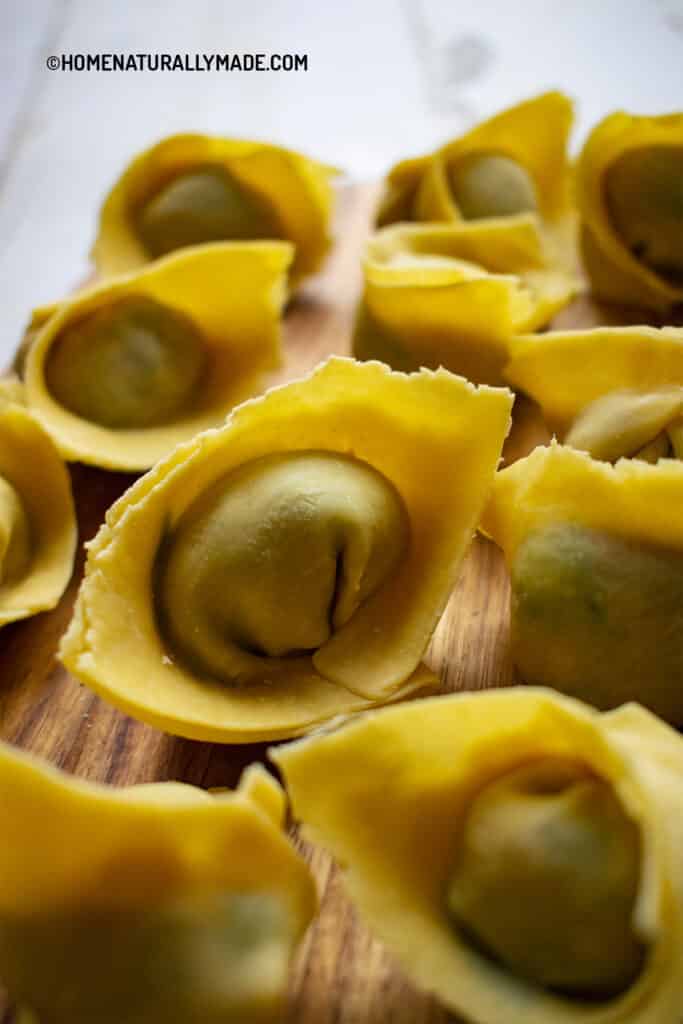 Tips for Cooking Wontons
Cook wontons in a stockpot filled with boiling water are one of the most popular ways to cook wontons or dumplings. Go to the recipe for detailed step-by-step.
Remember not to over-crowd the pot and cook about a maximum of 15 wontons at a time. You want to cook the wontons cook quickly to avoid them being soaked in water for too long to lose the texture and flavor.
After you have done adding tap water three times into the boiling pot and it reaches a boil again and all wontons are floating at the top, it is a good sign that wontons are ready. Remove them from the pot using a skimmer.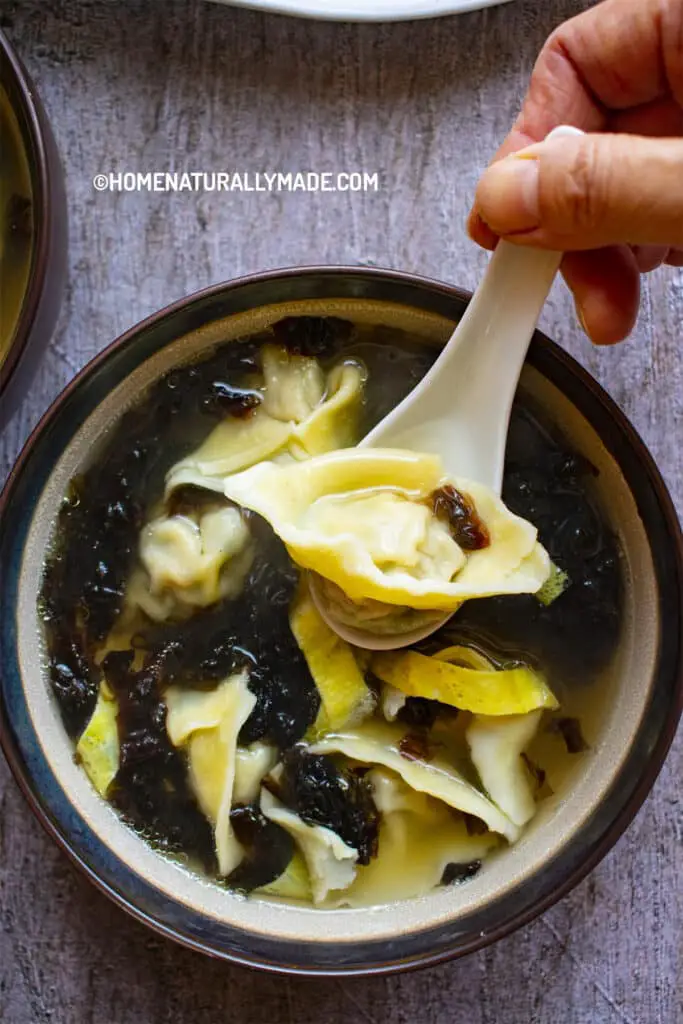 Tips for Preparing Wonton Soup Base
Make the egg crepe in advance if you can
Whisk eggs very well to have a smooth golden egg crepe. I have been using a mini whisk for years. They are very handy to whisk in a bowl or glass measuring cup.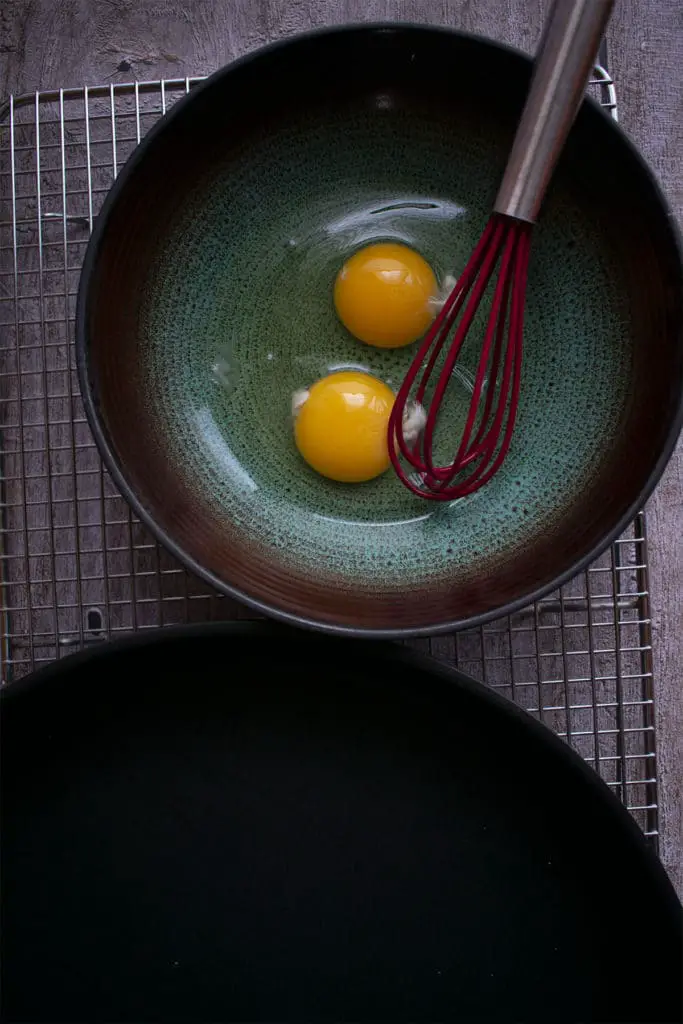 How to serve Huai Yang Style Wonton Soup?
Bring the chicken broth to a boil and add salt and freshly ground white pepper to taste, mix well.
Prepare serving bowls. For each bowl, add about 1/4 cup of egg crepe, roasted seaweed julienne, 6 wontons, and 1 1/2 cup of steaming hot chicken broth.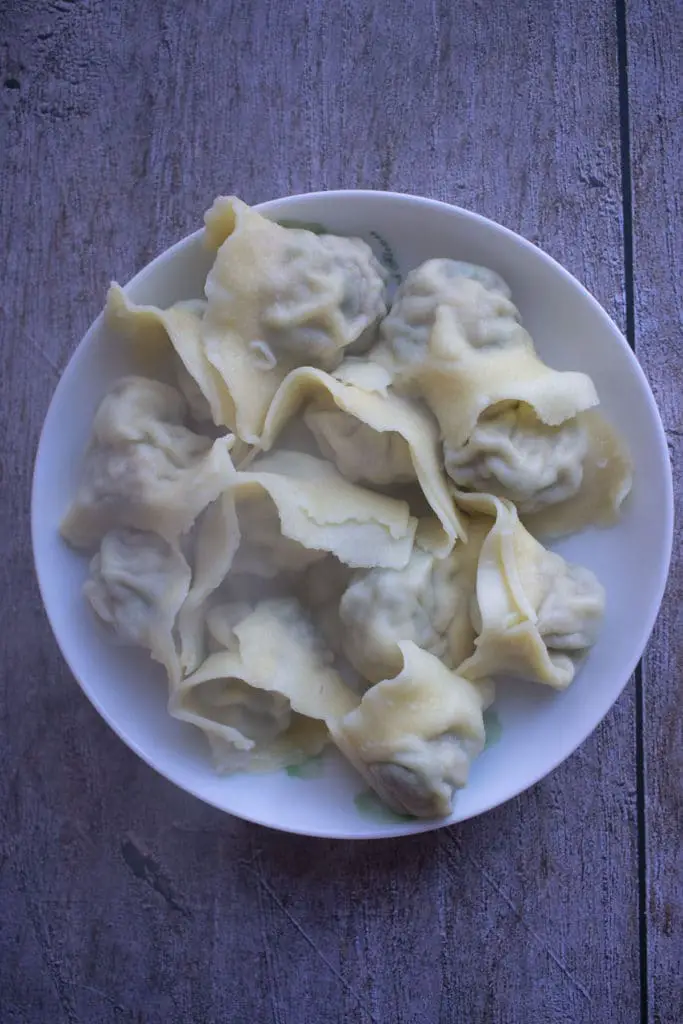 Enjoy a deliciously comforting & healthy wonton soup!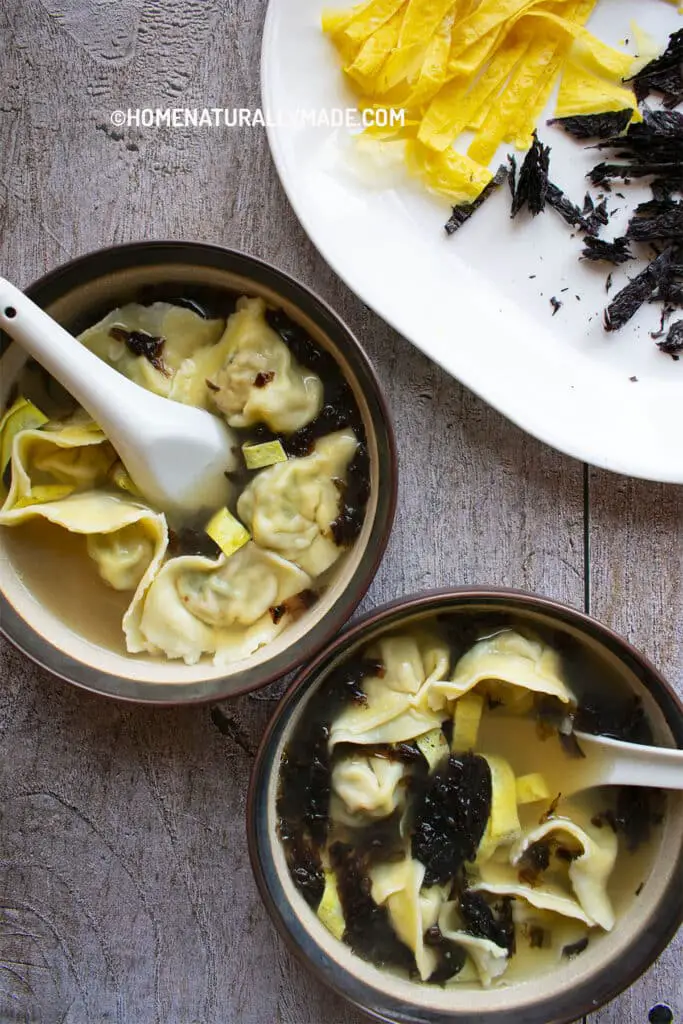 Frequently Asked Questions:
Can I freeze wontons for later use?
Absolutely. Wontons are very freezer friendly, perfect for "make in advance" types of meal preps.
Place the freshly wrapped wontons one by one in a container or a flat sheet. Let them stay that way in the freezer overnight. The wontons firm-up overnight, you can then place them in a ziplock bag the next day and store them in the freezer for up to 6 months.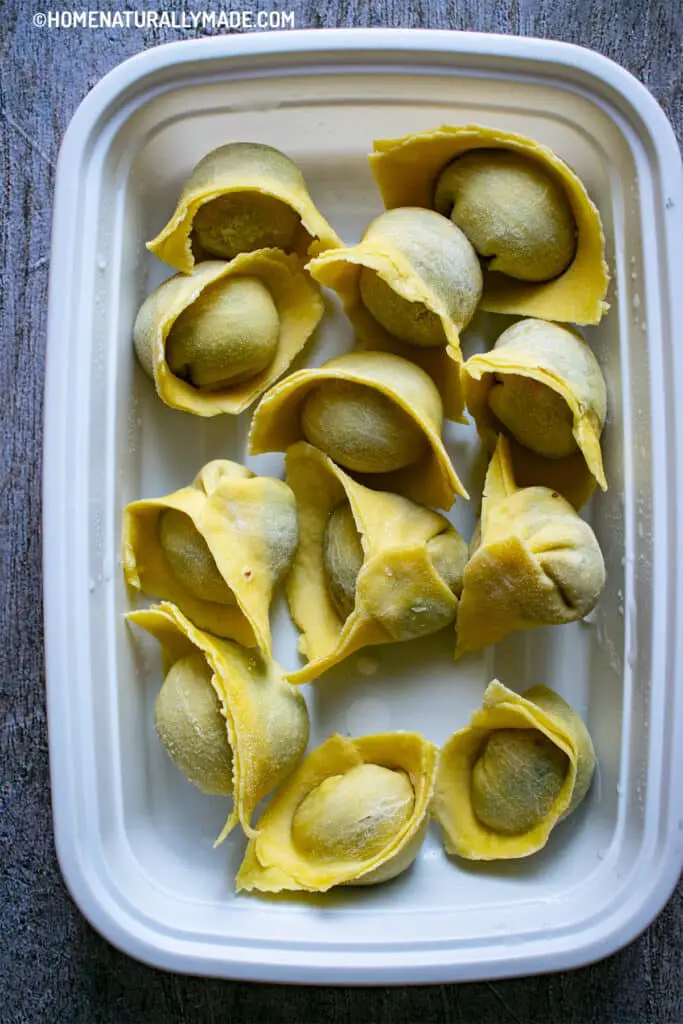 What do I do with the extra wonton fillings?
They are super tasty by themselves. You can either make a meatball or patties out of it.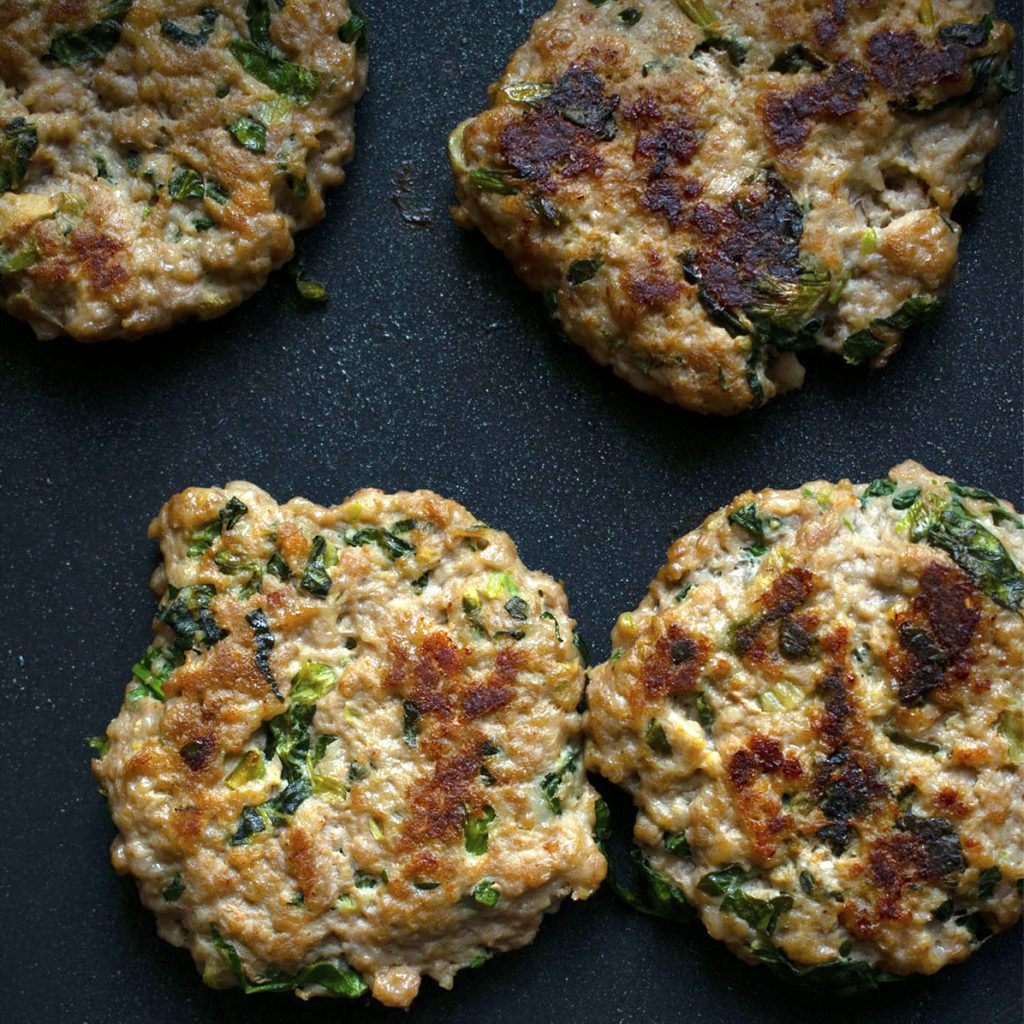 Do you like Huai Yang classic dishes? Make sure you check out below recipes: