Chicken with red & green peppers Stir Fry is a classic quick & easy everyday home cooking in China. It features tender, tasty velveting chicken bites with flavorful red bell pepper and green bell pepper.
The peppers complement chicken so well for the color, flavor, texture, and nutrition. Just add rice for a delicious and healthy meal.
Chicken With Peppers Stir Fry Ingredients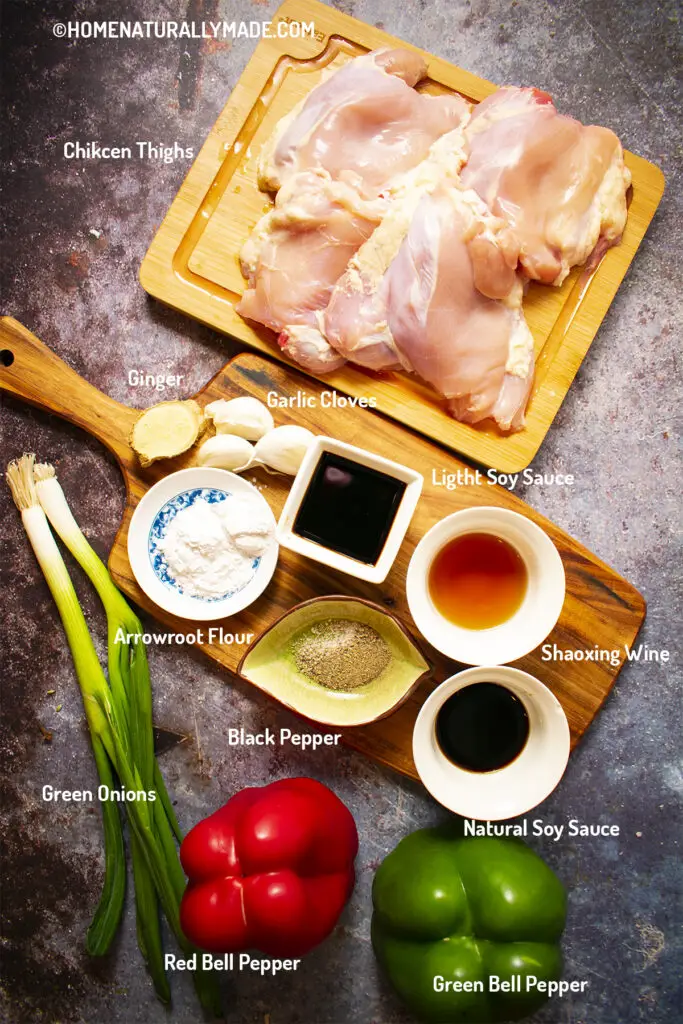 Chicken – I prefer chicken thigh meat as it is more flavorful and moist. The well-liked Kung Pao Chicken is also made of chicken thigh meat. However, chicken breast could work too.
For Marinating the Chicken: Shaoxing wine, natural soy sauce (or dark soy sauce), freshly ground black pepper, and arrowroot flour.
For Stir Fry: Green onions, ginger, garlic cloves, light soy sauce, one splash of water, along with one green bell pepper and one red bell pepper.
How to make Chicken with Peppers Stir Fry Easy, Tasty and Healthy?
See the Recipe for a detailed step-by-step guided tutorial. Here are some key steps:
Prep Chicken:
For bone-in chicken thigh, remove the skin and rinse well under running water, and then pat dry with a paper towel.
Remove the chicken bones and then cut them into small bite-size chunks. Save the chicken bones to make a quick and easy broth.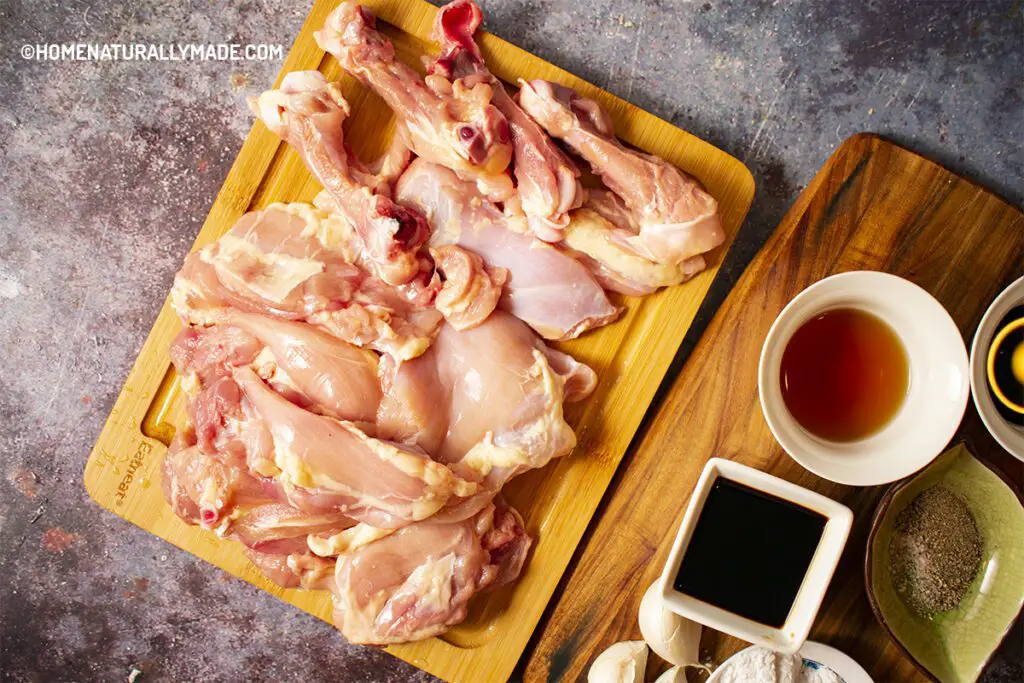 Add chicken chunks into a mixing bowl, and then add Shaoxing wine, naturally brewed soy sauce (or dark soy sauce), freshly ground black pepper, and arrowroot flour. Mix well and set aside while you do other prep work.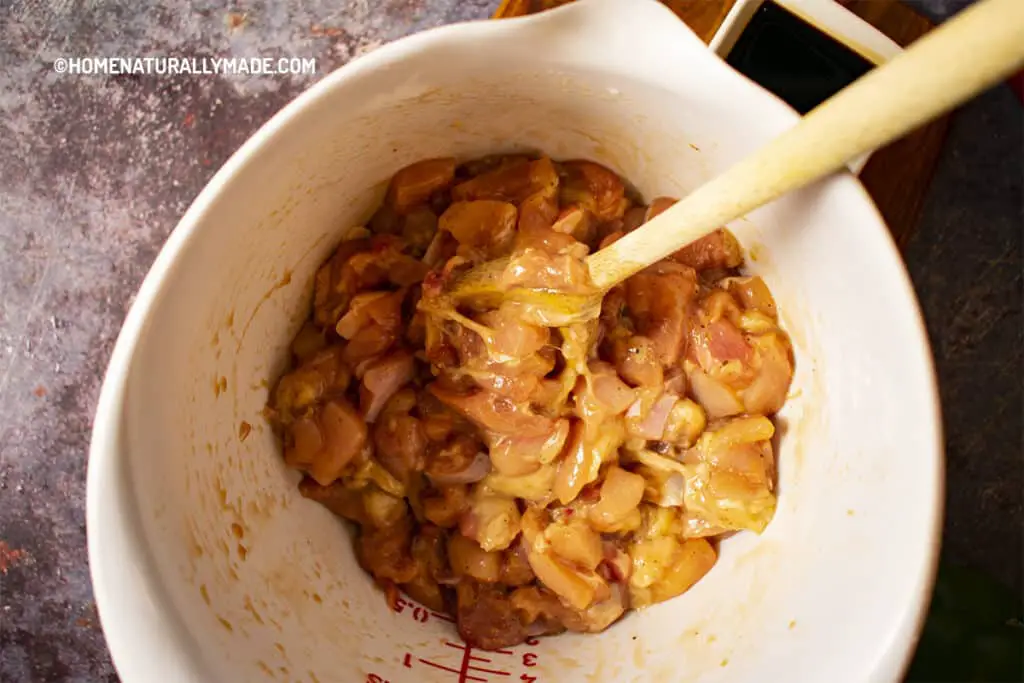 Prep Stir Fry Ingredients:
Wash and rinse green bell pepper and red bell pepper well. Cut the ends open to remove the seeds and then cut into small bite sizes.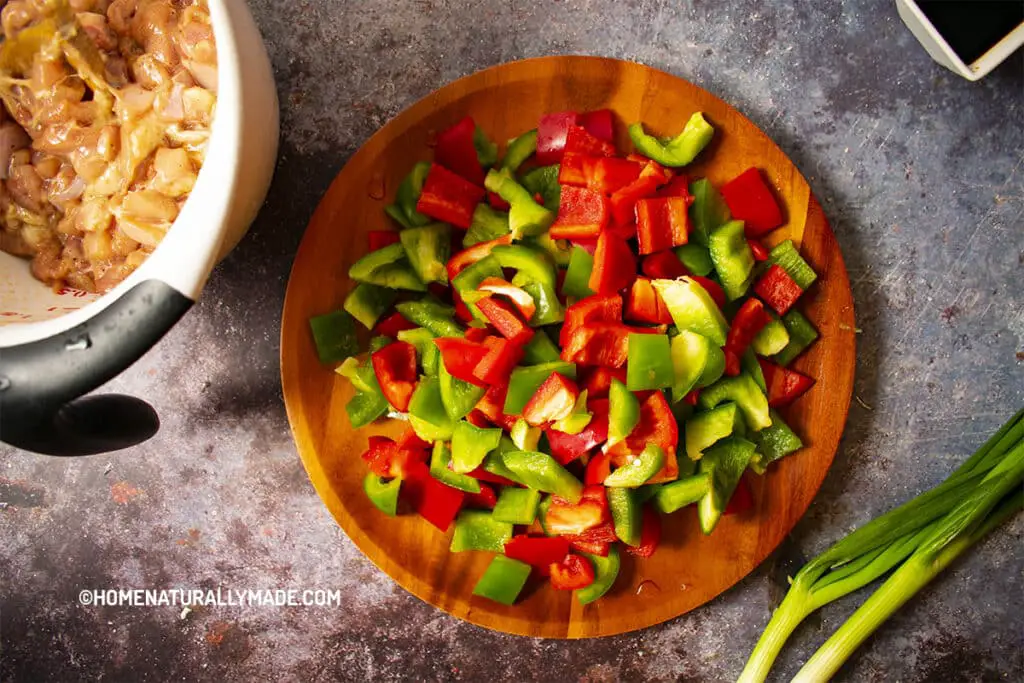 Wash and rinse green onions and ginger well. Peel garlic cloves. Cut green onions and mince garlic and ginger into small pieces.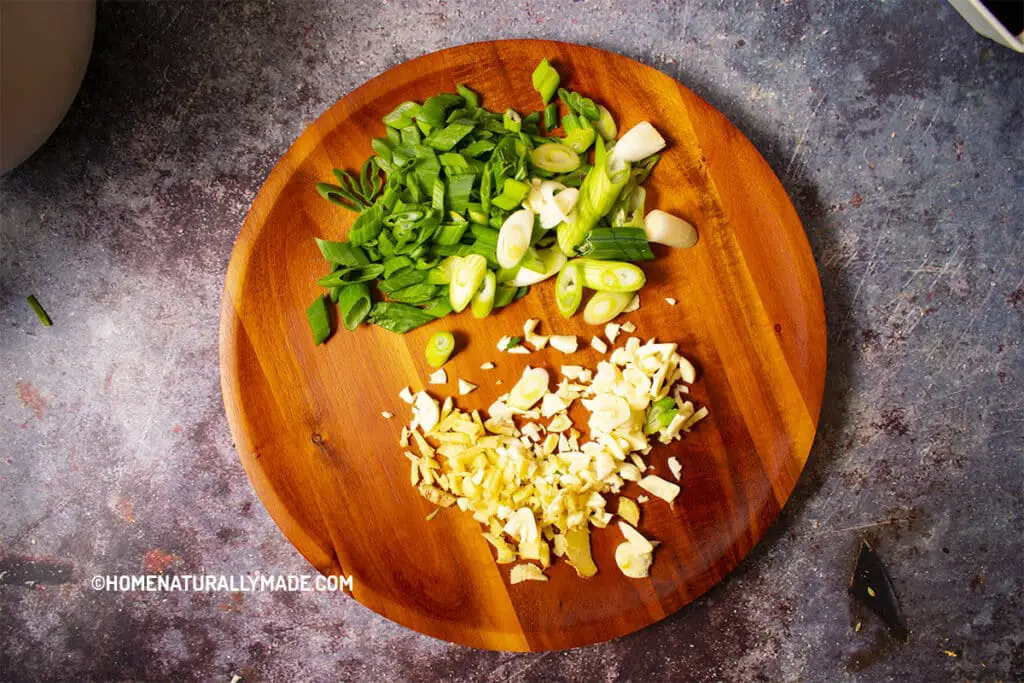 Stir Fry Chicken with Duo Peppers:
Turn the heat to medium-high, and heat a hard-anodized fry pan for 1 minute. Add avocado oil, minced garlic, ginger, and most of the green onions, and stir for 15 seconds or till fragrant. Remember to save some green onions for garnishing.
Add marinated chicken chunks. Keep turning and folding using a slotted turner, until the chicken changes color and started to firm up, about 1 minute.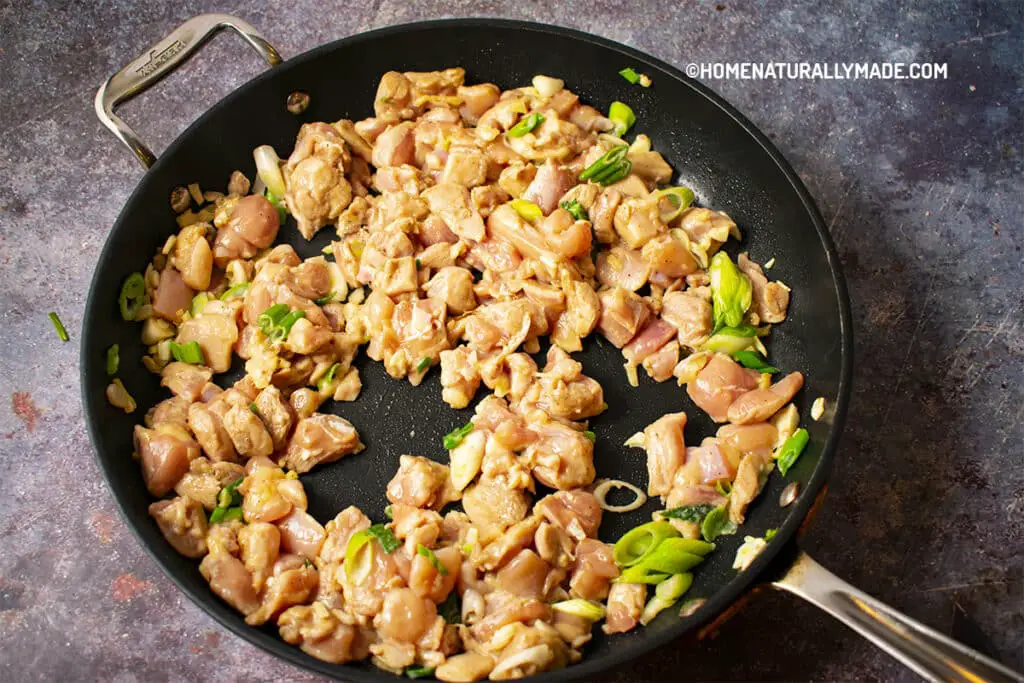 Add 2 tbsp light soy sauce and 2 tbsp water to the frying pan. Add green bell pepper, and red bell pepper and continue to stir, fold and mix for additional 3 minutes. I found it easier to use a pair of bamboo spatulas to toss like tossing a salad.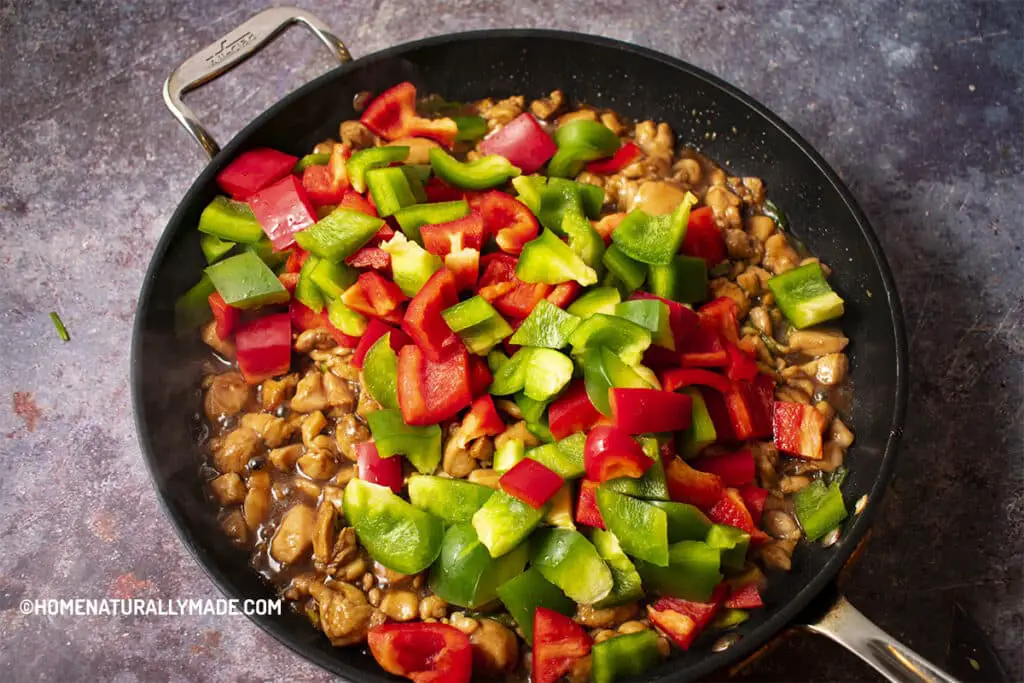 All done! Turn off the heat. Garnish the dish with the remaining green onions and serve hot with rice.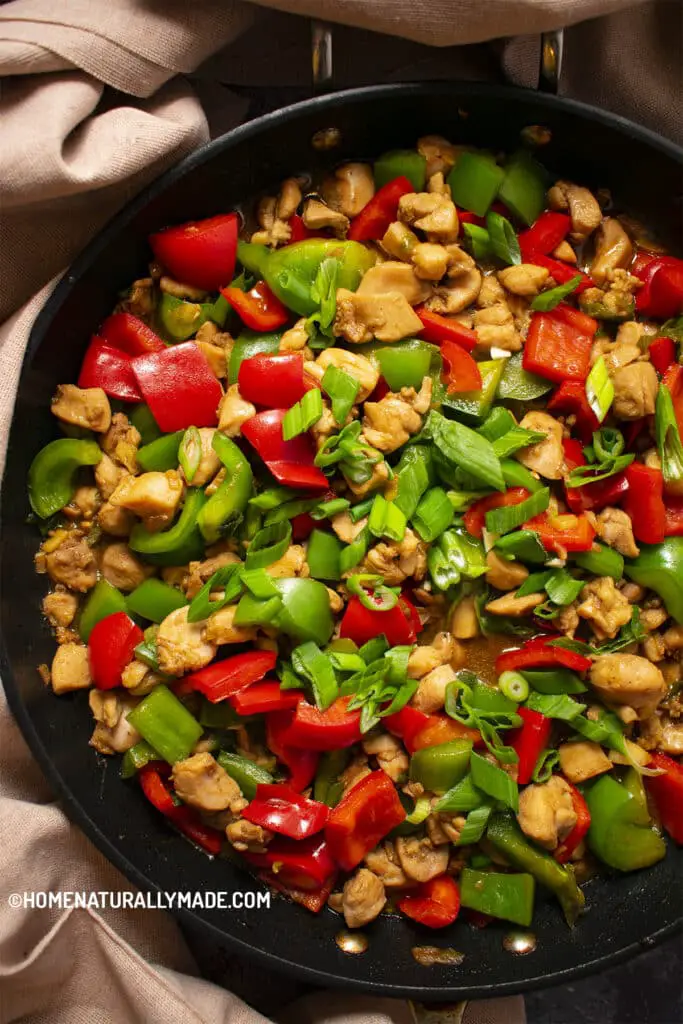 How to make a quick, easy broth using the chicken thigh bones left behind?
Because chicken thigh meat is more tender and tasty, I often use them for dishes such as Kung Pao Chicken and Chicken Stir Fry. For bone-in chicken thigh, you can cut out the meat from the bone.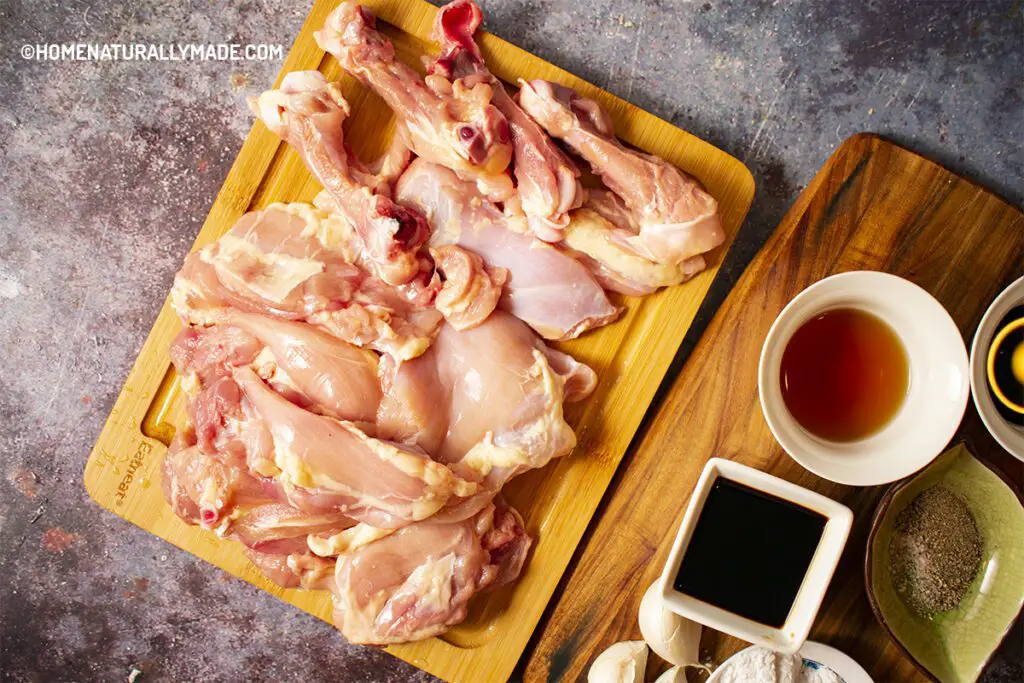 So what do you do with the bones left behind? Good news! You can make a Quick and Easy Chicken Bone Broth.
Step-by-Step how to make a quick and easy chicken bone broth:
Fill a 3 Qt. saucepan with about 6 cups of water, bring it to a boil.
Once it reaches a boil, add the 4 chicken thigh bones, 1 tablespoon of Shaoxing wine, and 3-4 slices of ginger.
Wait for it to reach a boil again and then turn to simmer and cook for 1 hour.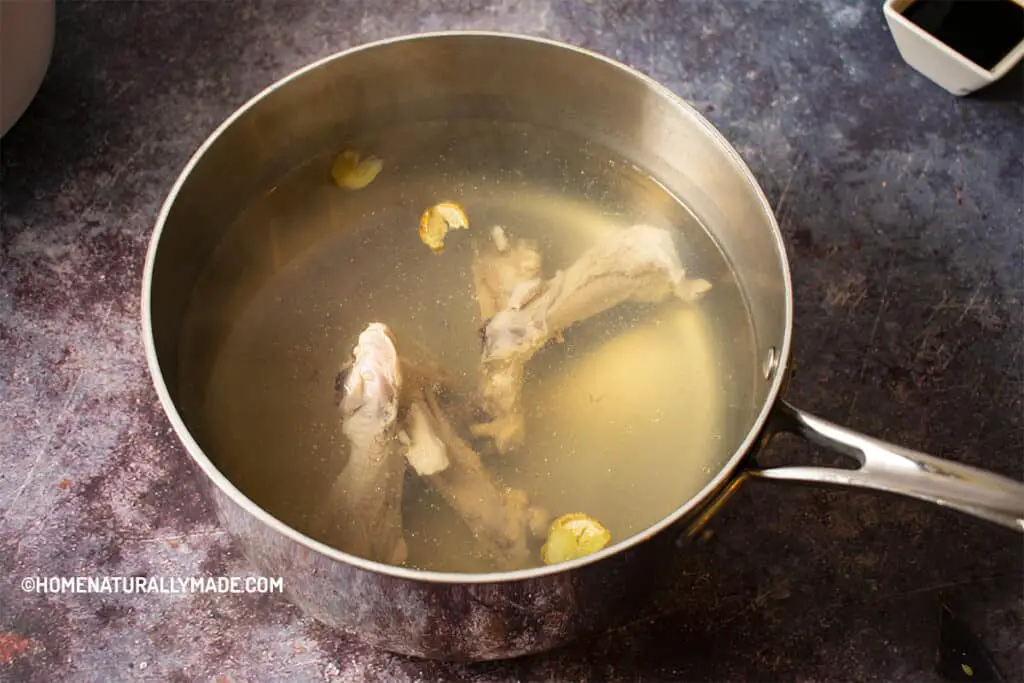 Are you interested in making a deluxe homemade chicken broth? Read here a detailed guided tutorial on homemade chicken broth using the chicken thigh and slow cooking.
With homemade chicken broth on hand, you can quickly whip out a better-than-takeout classic egg drop soup, or a seriously delicious Chicken Noodle Soup.