Sauteed Basa Fish Fillet is naturally delicious, also easy and quick to make. It features tender and yummy Basa Fish Fillet sliced into thin bite-size slices and sauteed with red bell pepper slices. Red bell pepper adds the contrast of color, texture, flavor, and additional nutrition. Just add rice to complete a quick, easy and healthy meal.
Sauteed Fish Fillet is one of Huai Yang classics, my hometown cuisine. Huai Yang Style is referring to the food native to China's Yangtze River Delta area in cities such as Shanghai, Suzhou, Yangzhou, Hangzhou.
A typical Huai Yang style cooking uses simple ingredients, usually seasonal produce, less salt or oil, no over-powering condiments. The goal is to bring out the inherent subtle yumminess of the food itself.
For that reason, Huai Yang style is especially suitable for younger kids and the health conscious minds.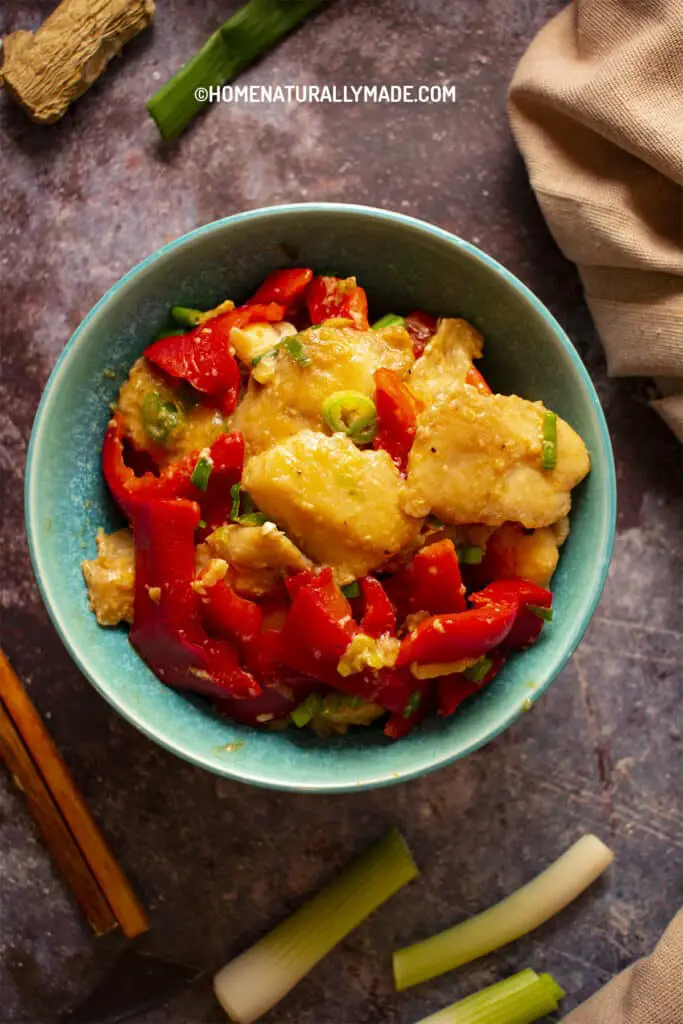 Ingredients for Sauteed Basa Fish Fillet: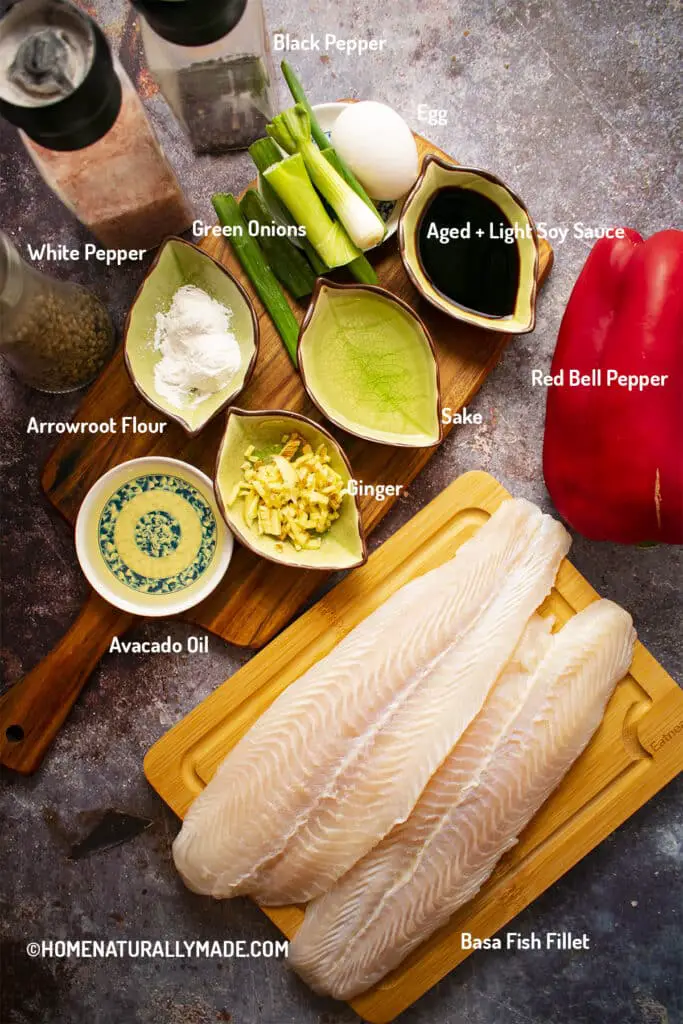 Basa Fish Fillet – They are usually readily available in internationally featured grocery stores in the States. Basa fillet is very tender and naturally tasty, making it one of the most suitable fish fillets to make a sauteed fish fillet.
For marinating the fish fillet, you will need sake, aged soy sauce (or dark soy sauce), light soy sauce, one egg white, freshly ground white pepper, black pepper, and arrowroot flour.
Sake is my go-to cooking wine for seafood. It has a pleasant refreshing taste and flavor, perfect for seafood. For cooking meat or poultry, I use Shaoxing wine.
Arrowroot flour is my go-to superfood gluten-free starch. It functions just like regular starch, with additional health benefits.
You will also need cooking oil such as avocado oil, green onions, ginger and one red bell pepper.
How to make a tasty and healthy Sauteed Basa Fish Fillet from scratch?
See the Recipe for a detailed step-by-step tutorial. Here are the key takeaways:
Prep Basa Fish Fillet and slice into thin bite-size slices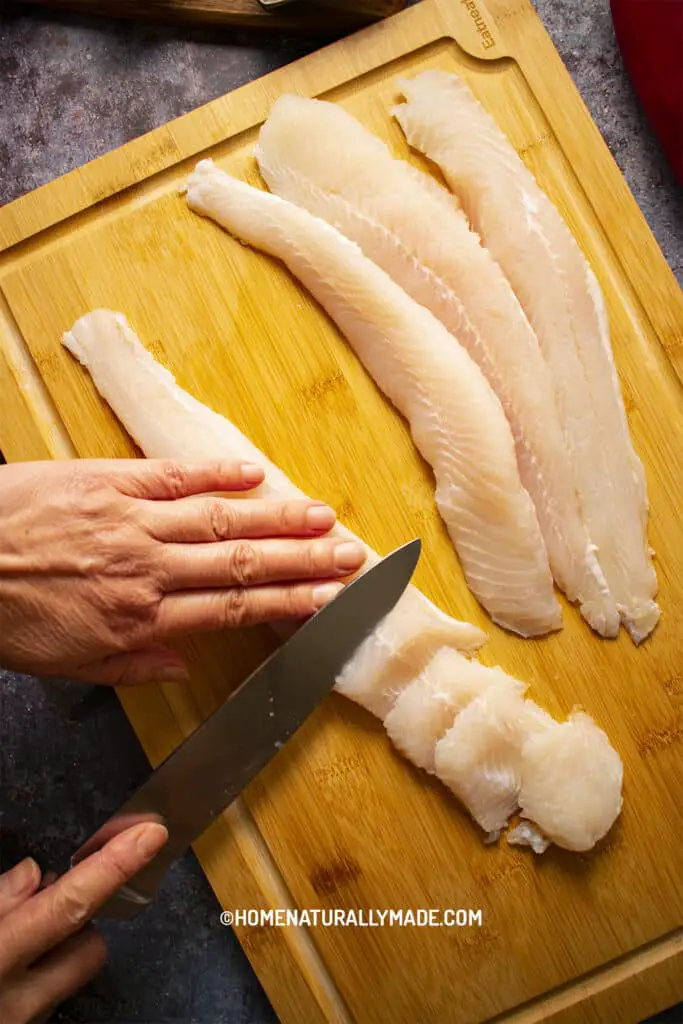 Rinse Basa Fish Fillet under running water and pat dry with a paper towel. First is to cut the fillet along the vertical natural dividing line. For each piece, while the interior meat part facing up, cut the fillet with an about 30-degree angle.
The goal is to have a thinner piece of the fish that has the maximum revelation of its internal structure. This way, it is easy to cook and flavor the fish. This is exactly the same technique we slice Napa Cabbage Stir Fry to create thinner slices of Napa Cabbage.
For fish fillet out of the whole fish, naturally, some parts are thicker than others. When you slice the fillet this way, it also ensures consistent bite-size thickness. The same consideration for making this super delicious Pan Fried Cod.
Marinate Basa Fish Fillet Slices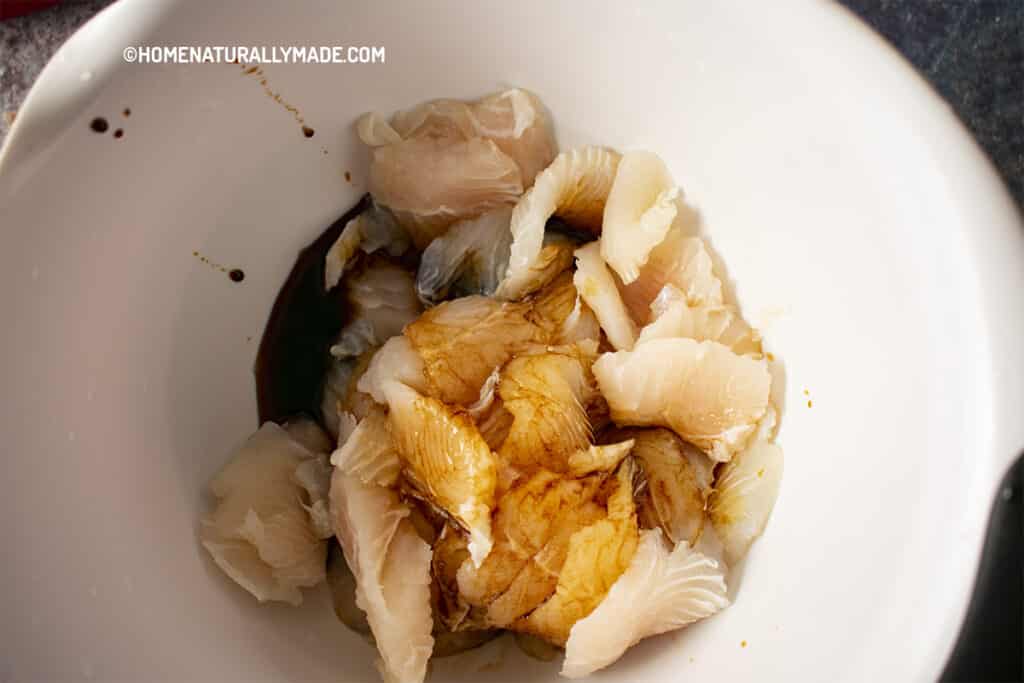 Place the fish fillet slices into a mixing bowl and then add sake and soy sauce. Mixing well using a pair of bamboo spatulas and let it sit for about 10 minutes. While you are waiting, prep red bell pepper and green onions.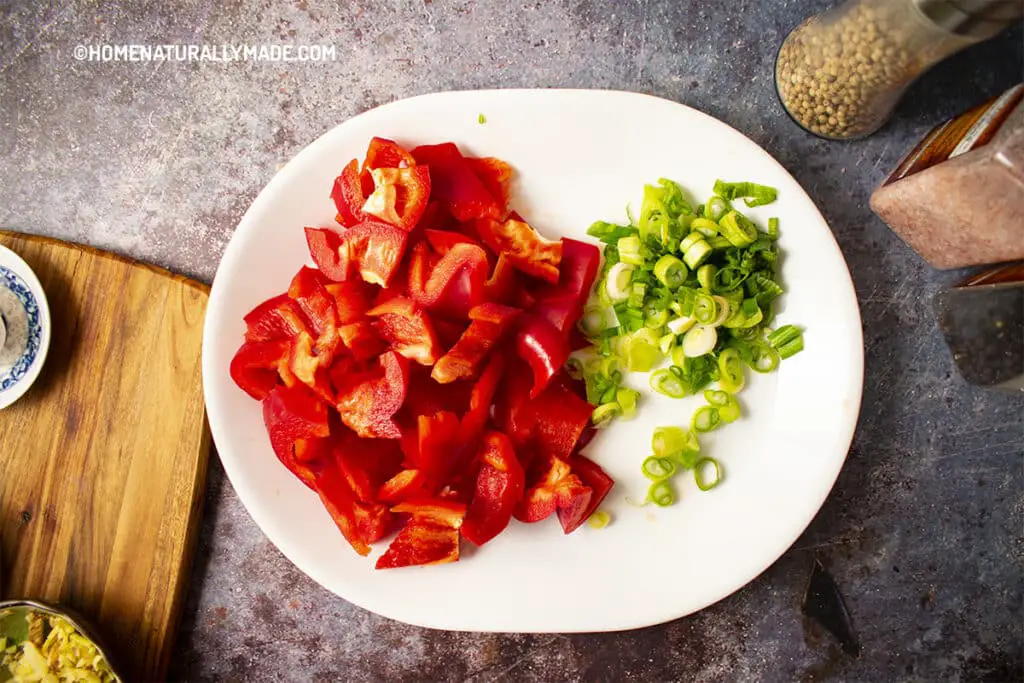 Then add one egg white, white pepper, and black pepper into the mixing bowl and mix well. Right before cooking, add the arrowroot flour into the mixing bowl and mix well.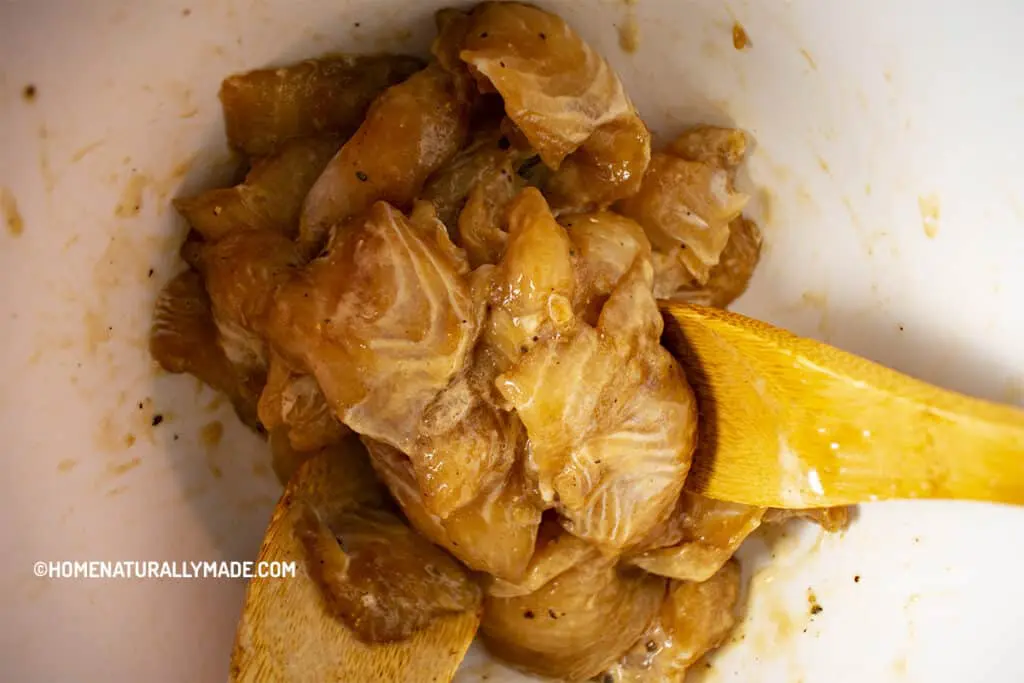 Saute Basa Fish Fillet with Red Bell Pepper
It is important to heat the pan properly first before adding oil. I usually heat the pan for about 1- 2 minutes.
This is well-known Chinese cooking wisdom about "Hot Pan and Cold Oil" (热锅凉油). When the pan is hot, it can cook the food quickly. As for oil, you don't want it to smoke during the heating-up process, which may produce harmful substances along the way.
Turn the heat to medium-high and heat a quality hard anodized fry-pan for 1- 2 minutes. Add avocado oil, minced ginger, and half of the chopped green onions, and stir for 10 seconds or till fragrant.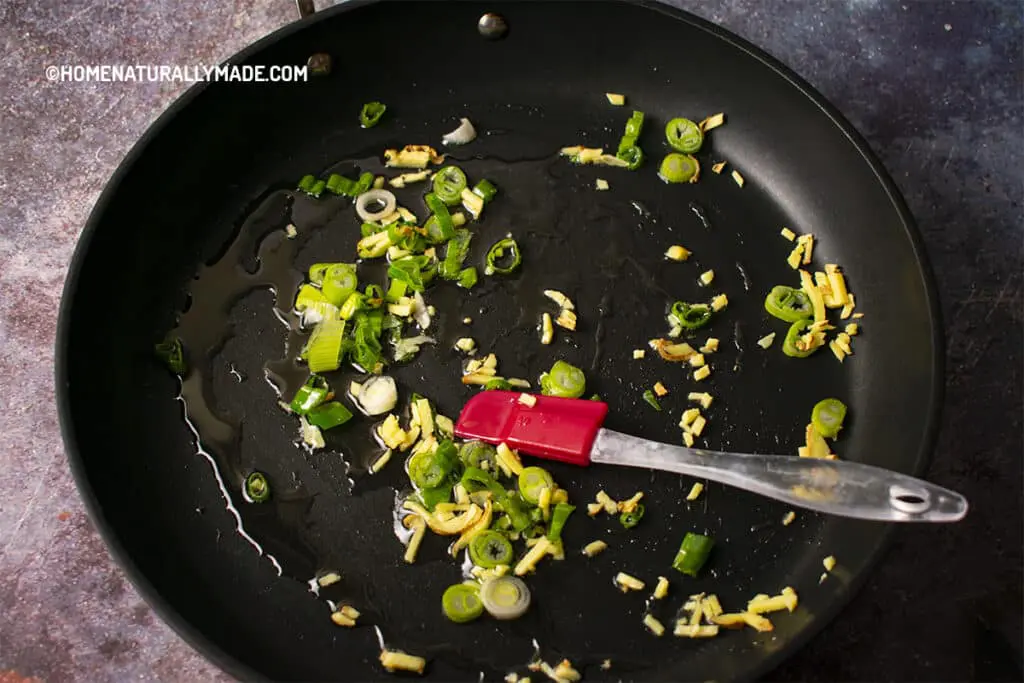 Add marinated fish fillet pieces, try to lay them flat and cook for 1 minute. Then gently turn and flip using a firm while flexible slotted turner and cook for another 1 minute. Repeating for another time, or until fish pieces change color and harden or cooked, about 3 minutes.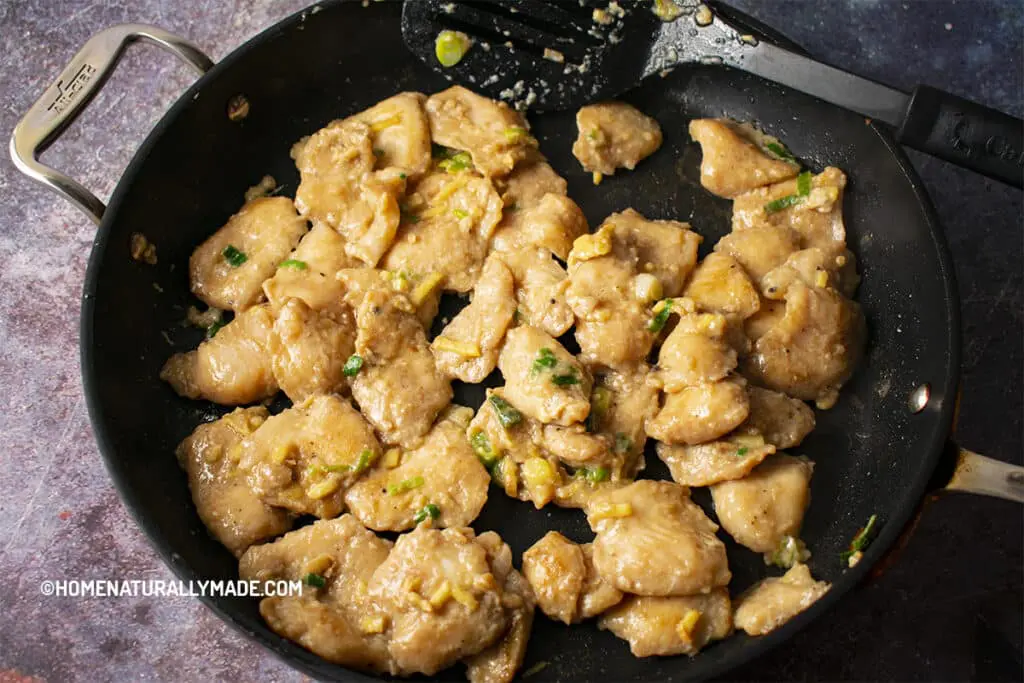 Remove the cooked fish fillet from the pan and set it aside.
Add a bit of avocado oil into the pan using a homemade oil sprayer and then add red bell pepper. Saute for about 30 seconds.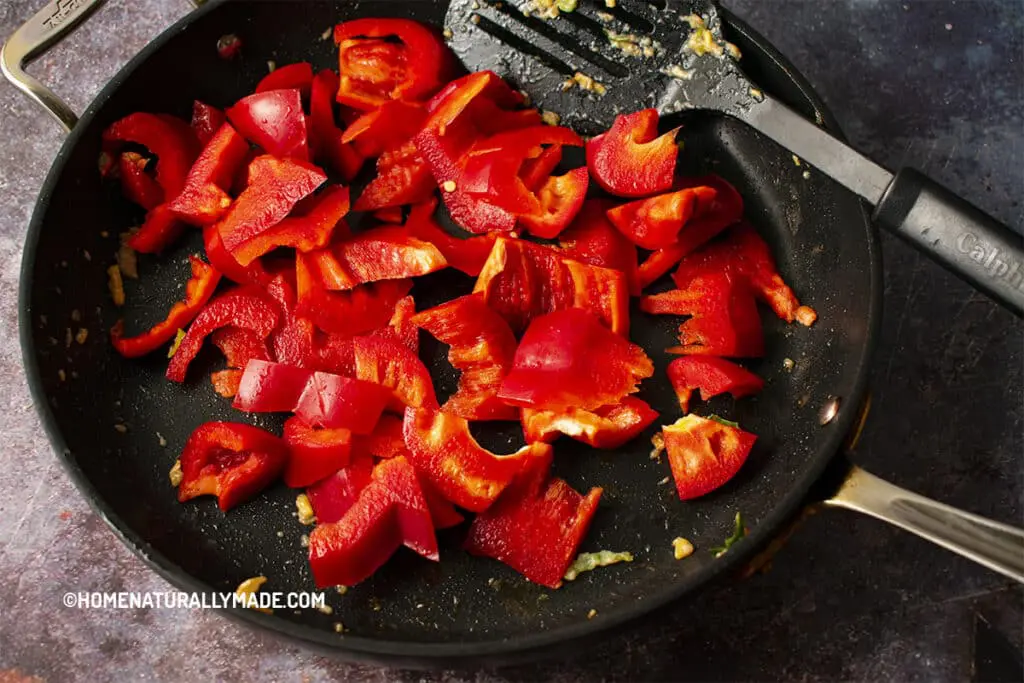 Add cooked Basa Fish Fillet back into the pan, fold and mix with red bell pepper gently for about 30 seconds.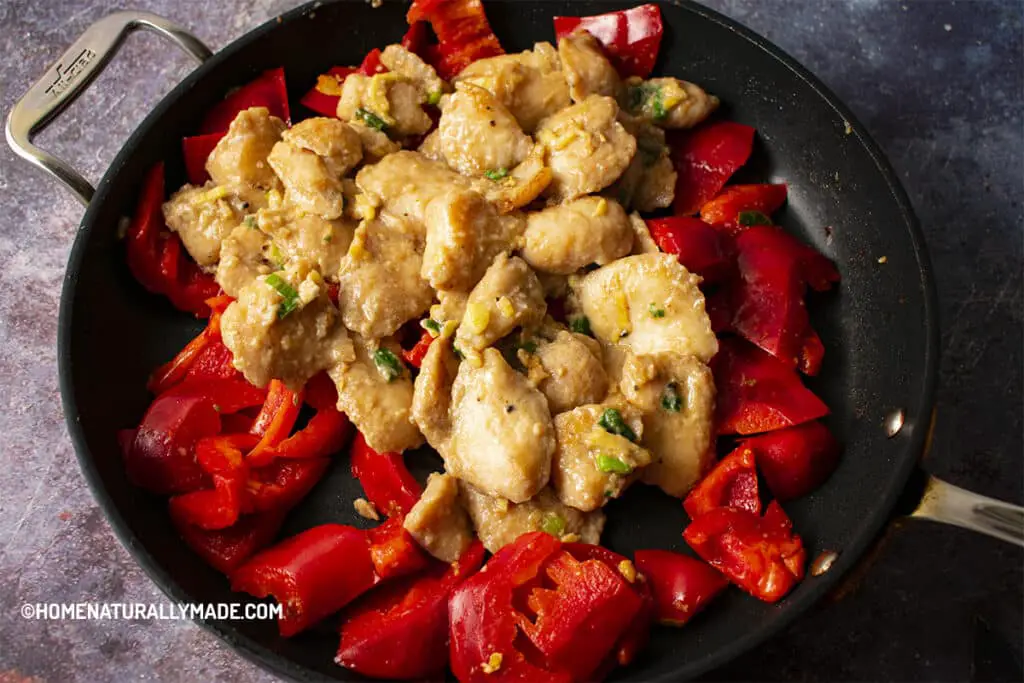 All done! Turn off the heat, garnish with the remaining chopped green onions.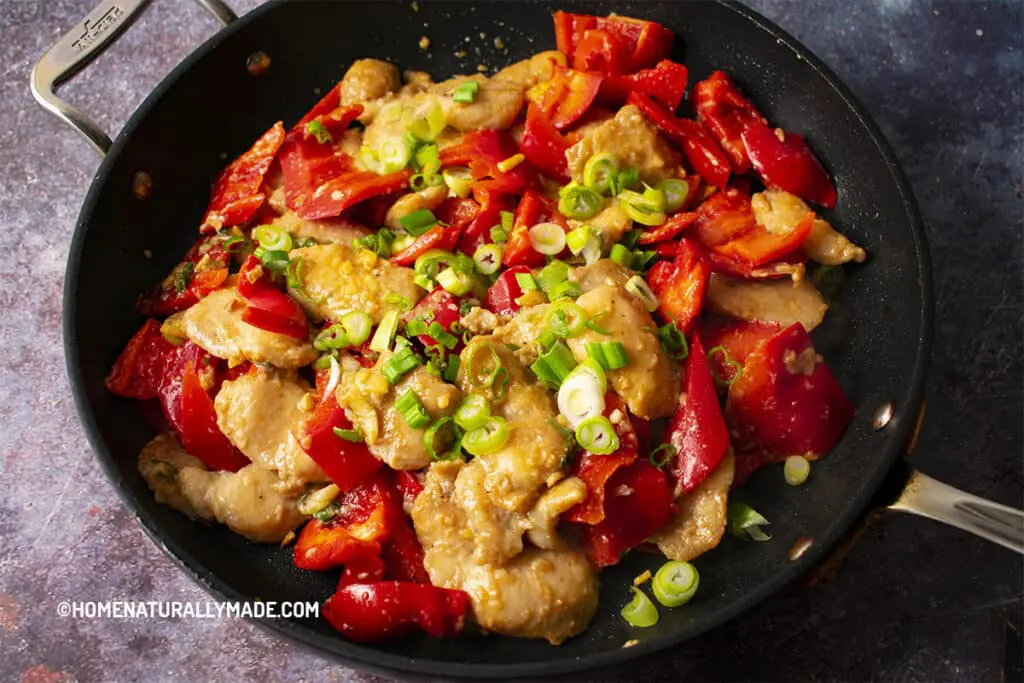 Just add rice for a delicious rice bowl meal.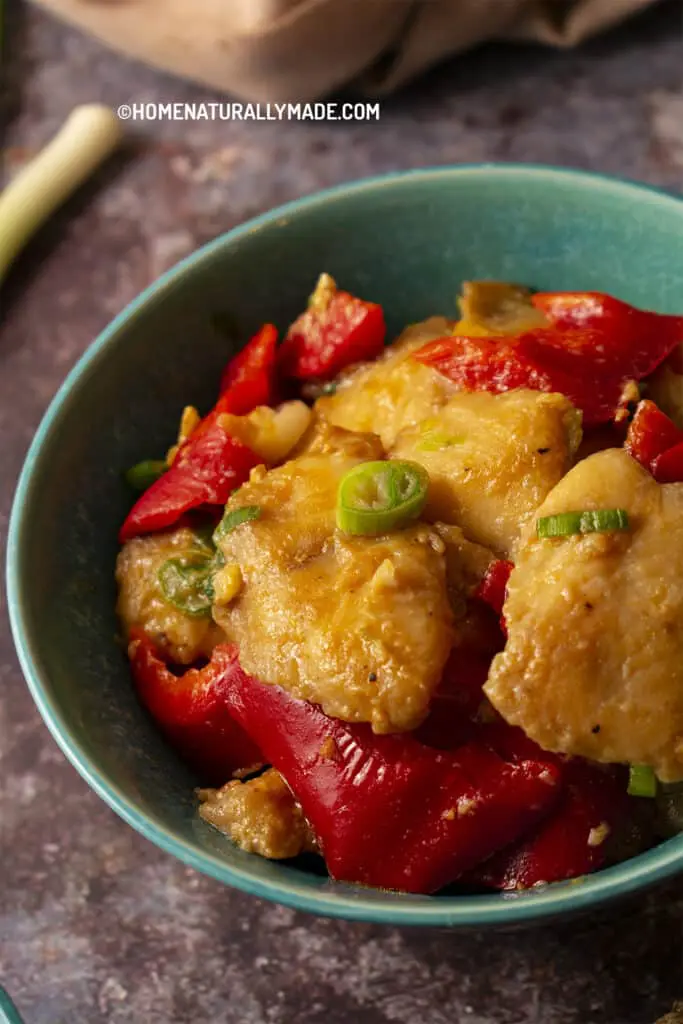 Do you like Huai Yang style food? Make sure you check out other classical Huai Yang style dishes: