Mongolian Beef is well-liked Chinese takeout food. With this recipe, you can quickly and easily make a juicy and yummy Mongolian Beef at home anytime you want. This better than takeout Mongolian Beef is perhaps the most cost-friendly and healthiest Mongolian Beef recipe out there.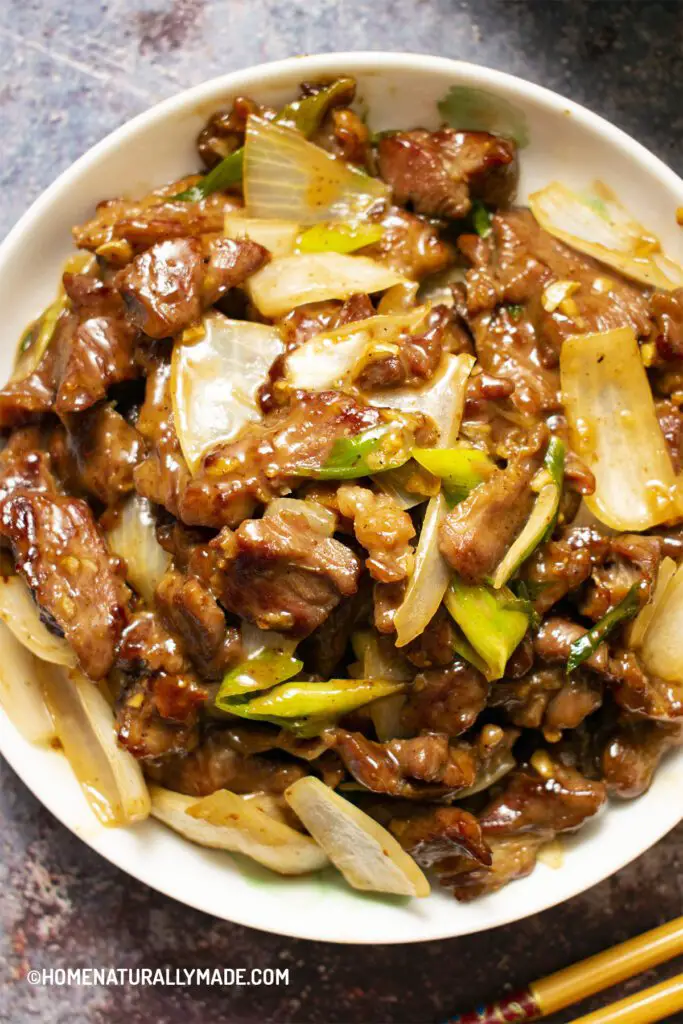 Why this is perhaps the most cost-friendly and healthiest Mongolian Beef Recipe?
I use a unique and effective marinating method that helps tenderize beef wonderfully. As a result, you can use a wide range of beef cuts, top rounds, sirloin, or flank. In other words, you can use much more budget-friendly beef to make this tasty food.
The enticing velvet look is from arrowroot flour, a superfood gluten-free starch. Arrowroot flour is from arrowroot, a tropical root native to Indonesia. They work just like regular starch with added additional powerful health benefits.
For example, they are high in protein, vitamins such as Vitamin B9, and minerals such as phosphorus, iron, and potassium.
Besides using a superfood as a starch ingredient, this recipe also uses significantly less oil and sugar, but use an old-fashioned way of marinating the beef to bring out the inherent beef yumminess.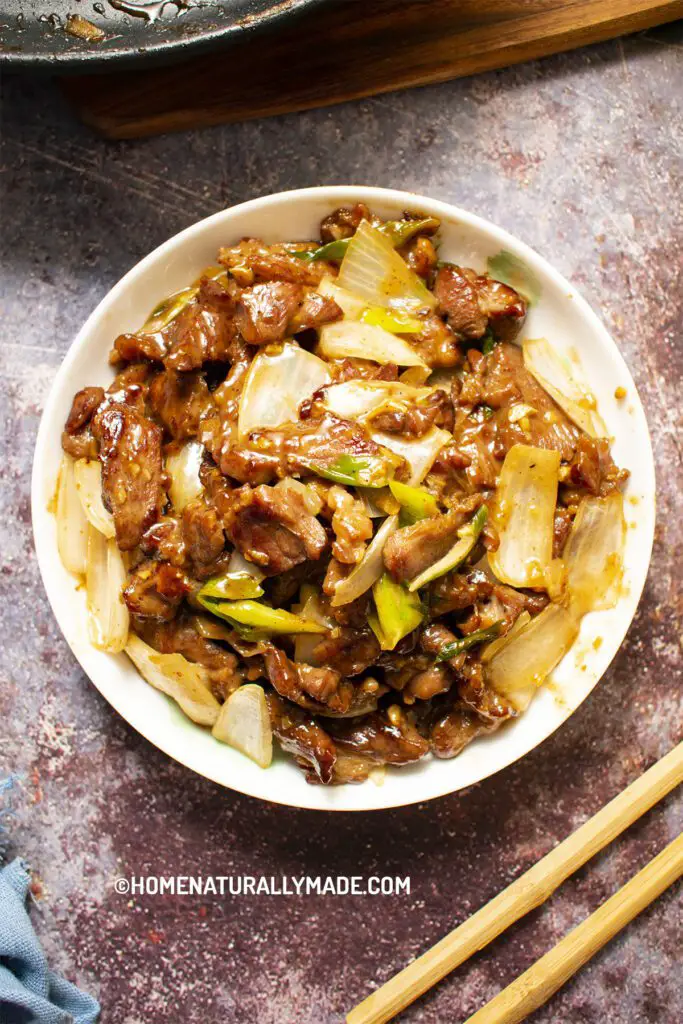 Mongolian Beef Story
Some storytelling traces Mongolian beef origin to Genghis Khan and his calvaries. Frankly, I am a big fan of this version. Just imagine this – a group of brave and talented calvaries sat around a campfire at night enjoying a simple but tasty BBQ beef after a long day of battle in victory.
The truth, however, Mongolian Beef is another popular American-Chinese food. Never heard of it when I grew up in China. Nevertheless, it is incredibly delicious. No wonder it becomes one of the most popular Chinese food items in the western world.
What kind of beef cut is best for making Mongolian Beef?
For this recipe, you can use any type of steak, including top round, top sirloin, or flank steak. I use a unique marinating method that tenderizes the beef effectively.
Make sure you cut the beef across the grain into thin slices to maximize the tenderness.
When using a top round that has lots of bristles, separate them beforehand. Save those gristle parts to make a tasty beef broth later.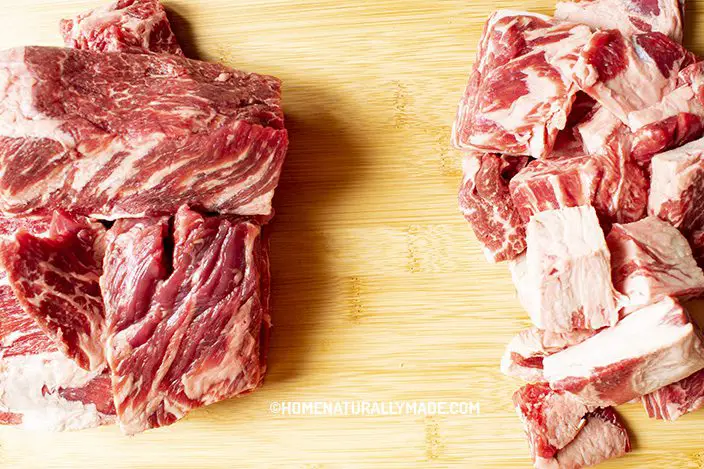 How to Prepare the Beef for a juicy and delicious Mongolian Beef?
The secret to a yummy juicy Mongolian Beef is to prepare the beef properly. For the marinating, you will need a pinch of baking soda, along with Shaoxing Wine, Naturally Aged Soy Sauce, and a pinch of Zhenjiang vinegar. A bit of arrowroot flour and cooking oil such as canola oil helps lock in the beef's moisture.
Read here for a detailed step-by-step tutorial on how to prepare beef for a tasty stir fry.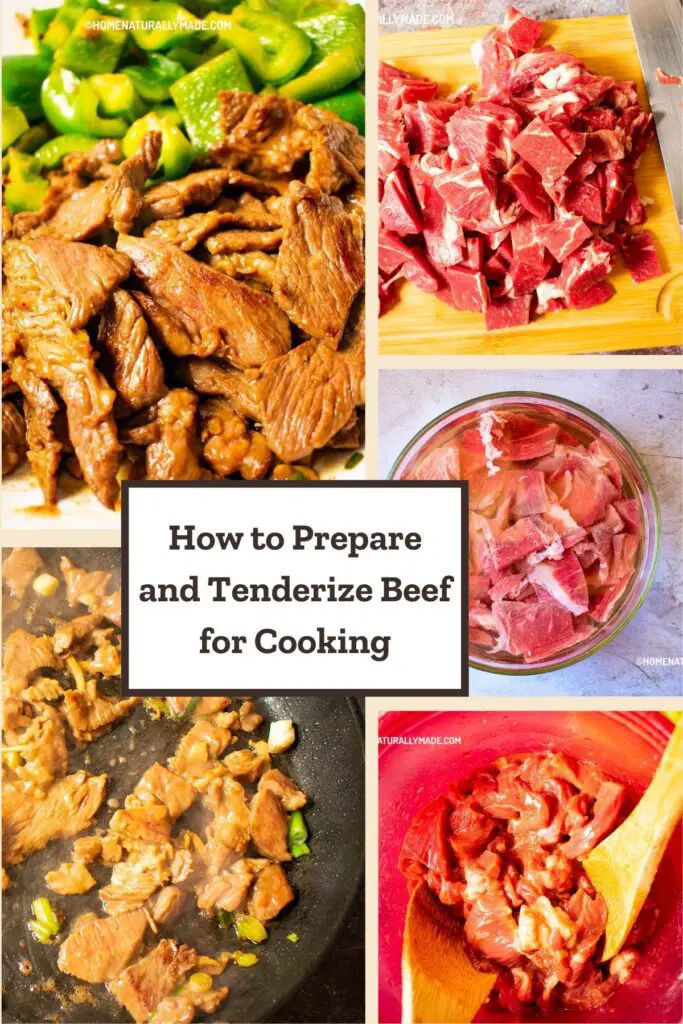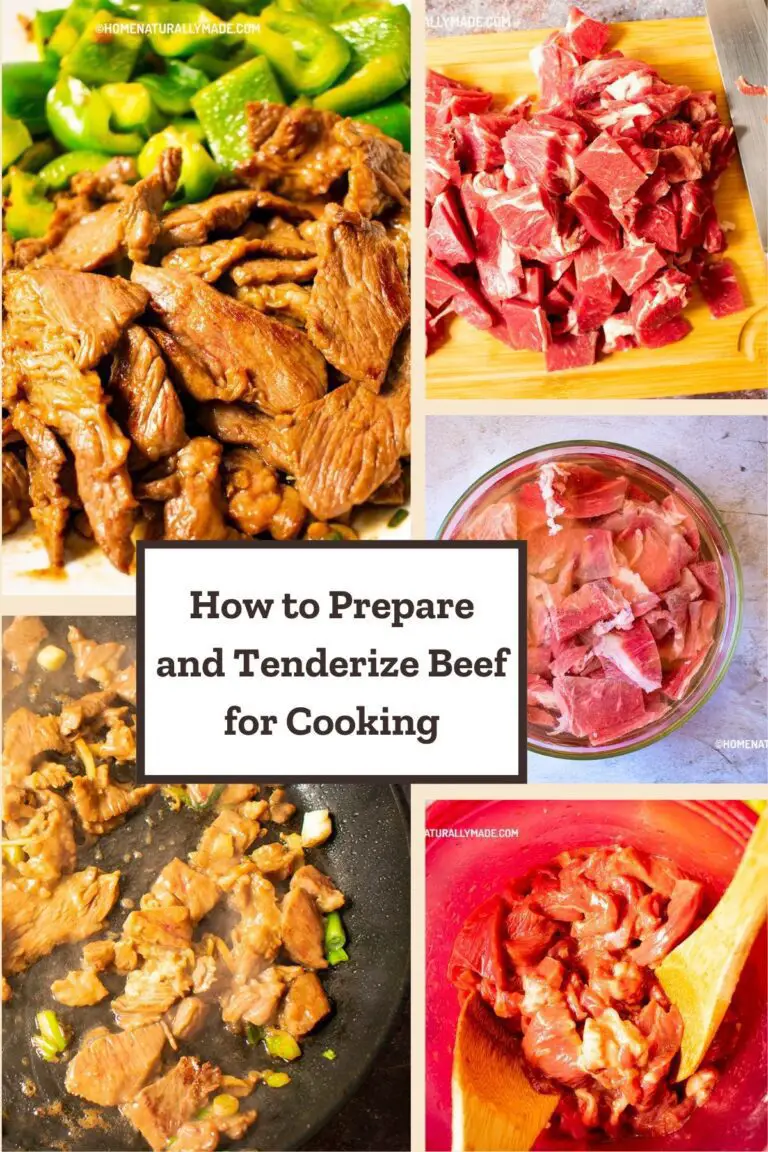 How to make a tender, delicious and healthier Mongolian Beef?
The first thing first is to cut the steak across the grain into thin slices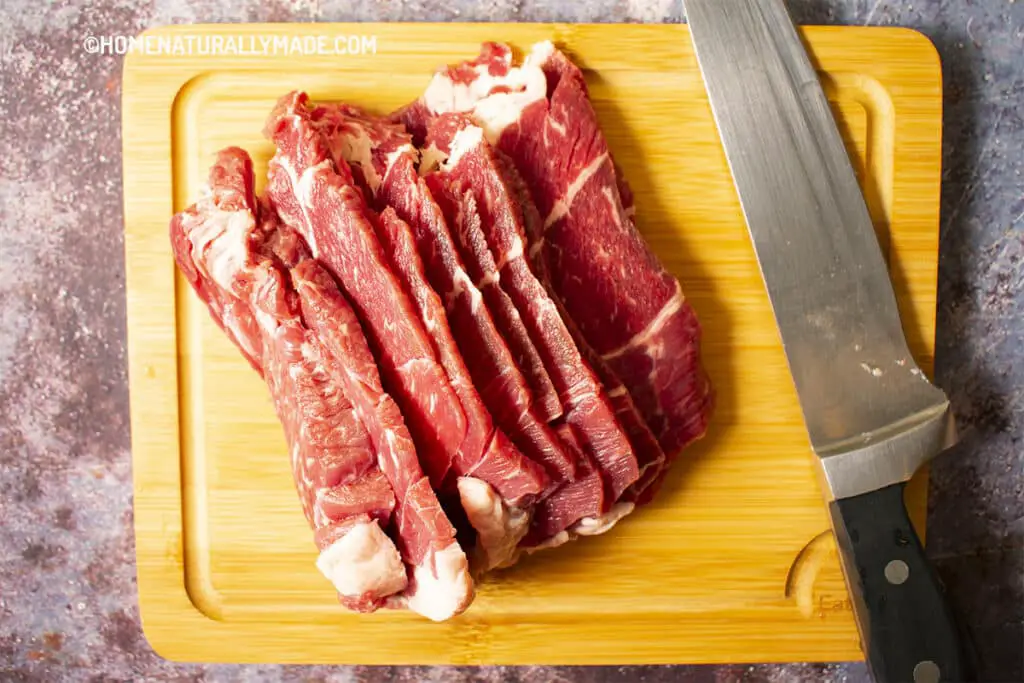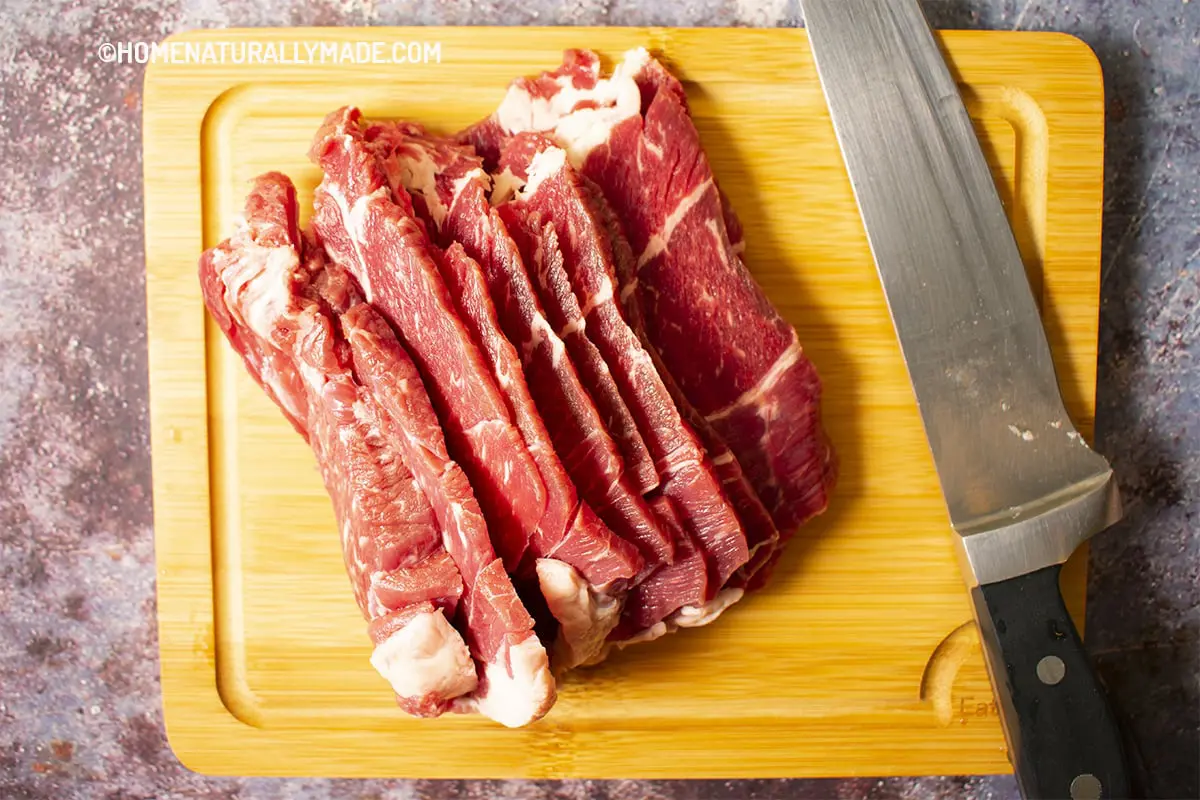 It is important that you cut the beef or steak across the grain into fairly thin slices. How thin it needs to be? Well, it is a fine balance of meaty flavor and texture vs. tenderness. A little under 1/4 inch would be great.
Tip No.2 is to soak the beef slices in cold water
This is to get rid of potential trapped blood, hence making the beef taste more refreshing. It also helps hydrate the beef slices. Soak for 10 minutes, rinse a few times, and then gently squeeze the beef slices to let out the extra water.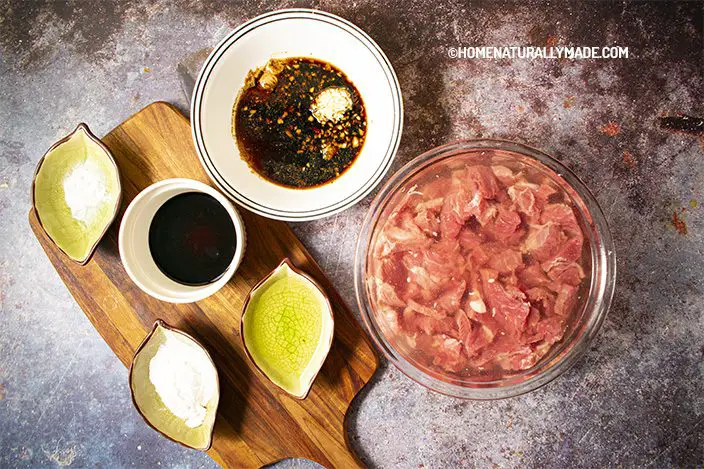 Tip No. 3 is to marinate beef slices
Before you add the condiments to marinate the beef slices, mix the beef slices with a little bit of baking soda. Use 1/4 tsp for one pound of beef. Toss and mix well using a pair of bamboo spatulas, the same way you toss a salad. This is an old trick chefs around the globe often use to tenderize meat, especially beef.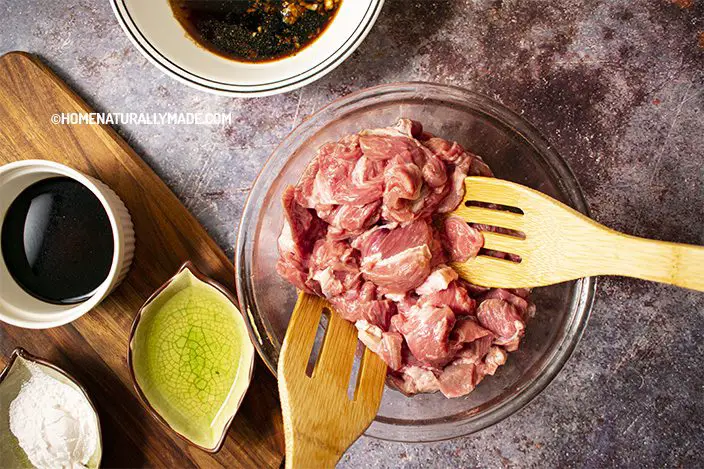 So why does baking soda help tenderize the beef? What is the science behind this? Well, baking soda alkalizes the beef's surface, therefore making it more difficult for the proteins to bond. As a result, beef stays tenderer when cooked.
Shaoxing wine and soy sauce do a wonderful job of further tendering and flavoring the beef slices. A pinch of Zhenjiang Vinegar enhanced the flavor and juiciness.
Tip No.4 is to use arrowroot flour and cooking oil to lock in the moisture of marinated beef slices
Arrowroot flour is my go-to gluten-free wholesome starch. They function just like the regular starch, but with the extra nutritional and health benefits. Add just enough to coat the marinated beef. Then add 2 tbsp cooking oil and mix well.
Tip No.5 is to sear the marinated beef slices in small batches in a non-stick pan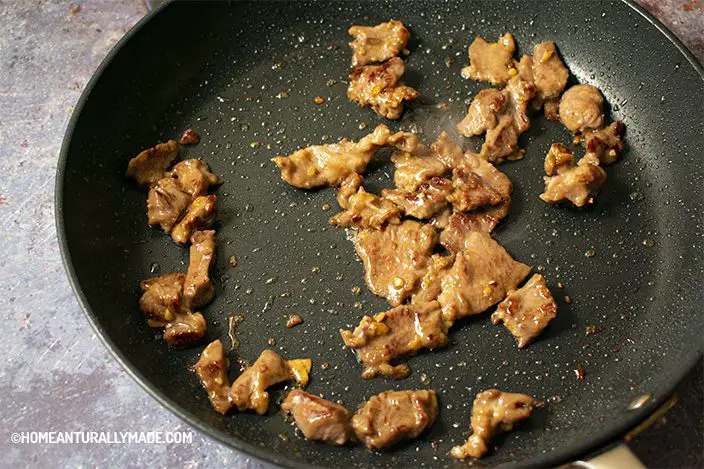 Cooking beef slices in a small batch ensures beef slices are seared and browned quickly, which is the key to a juicy beef.
A quality hard-anodized fry pan is a must-have for cooking dishes like this. They are non-toxic, heavy-duty, and can handle high heat well without burning the food. They also boast impressive non-stick functions. I have searched for a healthy type of quality non-stick pan for a long time and am so glad I have found these.
Do not use cast iron to sear the beef slices. This is because a cast iron pan rarely has a non-stick function. They can pull the coating off the beef slices and dry the beef out.
Last but not least is making a best Mongolian Beef Stir Fry Sauce
Mongolian Beef Stir fry Sauce is coming from naturally aged soy sauce, light soy sauce, minced garlic, turbinado sugar (or brown sugar), freshly ground black pepper, and arrowroot flour. Simple whole ingredients, but do wonders to wrap the beef slices with mouth-watering flavor.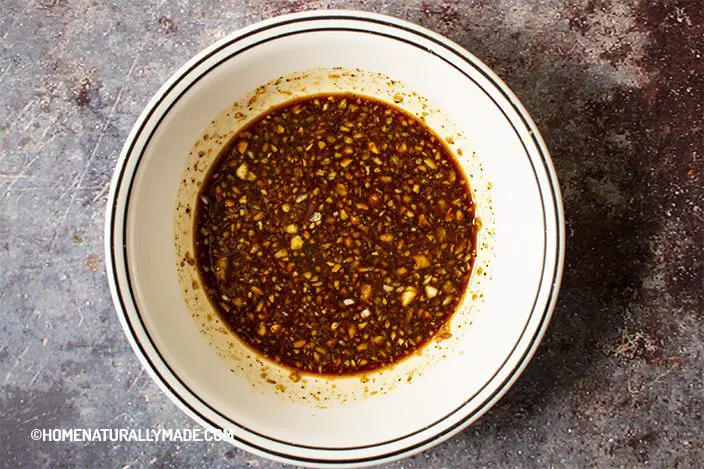 By the way, a compact food processor is a handy tool to help mince garlic.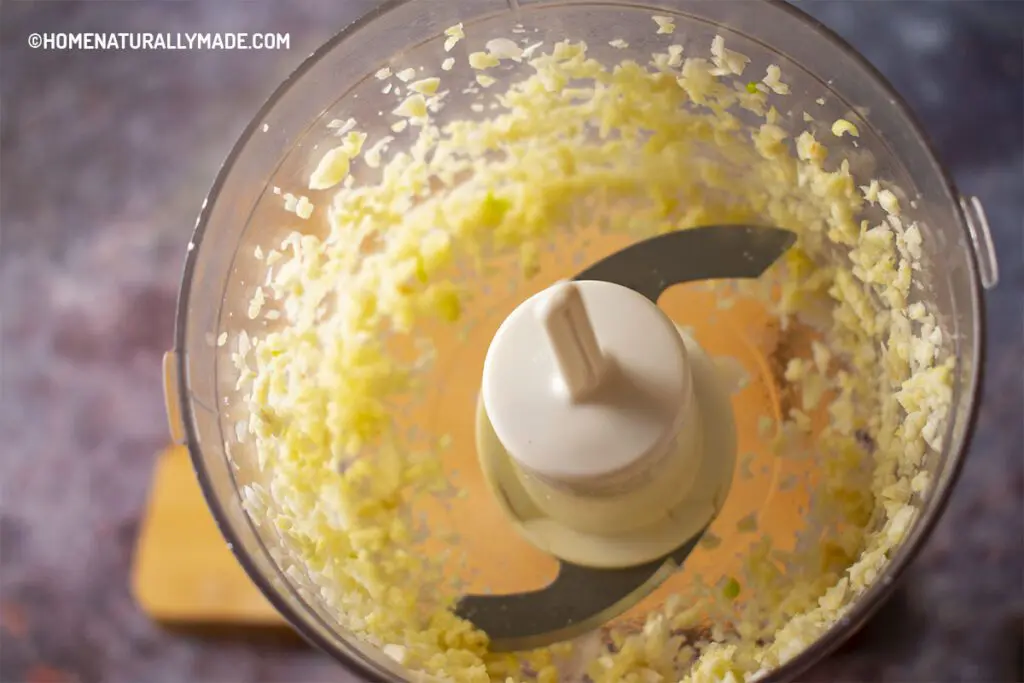 Mongolian Beef Frequently Asked Questions:
What is the most important thing to do for cooking the best Mongolian Beef?
Marinating the beef is one of the key preparation steps that ensure the juiciness and yumminess of the beef. Sear the beef on medium-high heat in a small batch in a quality nonstick fry pan is important to maintain the juiciness of the beef.
I plan to make this for a party. May I double the size of the recipe?
Absolutely. All ingredients can be proportionately 2x. Just remember you will need to sear the beef in multiple batches.
A 12-inch pan is great to sear about half-pound of beef at a time. We do not want the pan to get overly crowded for searing. Otherwise, it turns into boiling instead of searing.
Is it OK if I marinate the beef the night before and store it in the refrigerator?
Absolutely. This is a practice I often use when I am in a time crunch. I am amazed that the beef slices actually taste even tender and more flavorful. The overnight marinating helped enhance the flavor and taste even more.
Do you like this? Make sure you check out other popular dishes: