Orange chicken featuring juicy chicken bites wrapped with silky sweet orange sauce is appetizingly yummy. No wonder it is among the most popular Chinese take-out food. With this recipe, you can make a delicious better than take-out orange chicken from scratch easily anytime you want. Pick cooking wine and vinegar choices to aim for a lighter or darker color.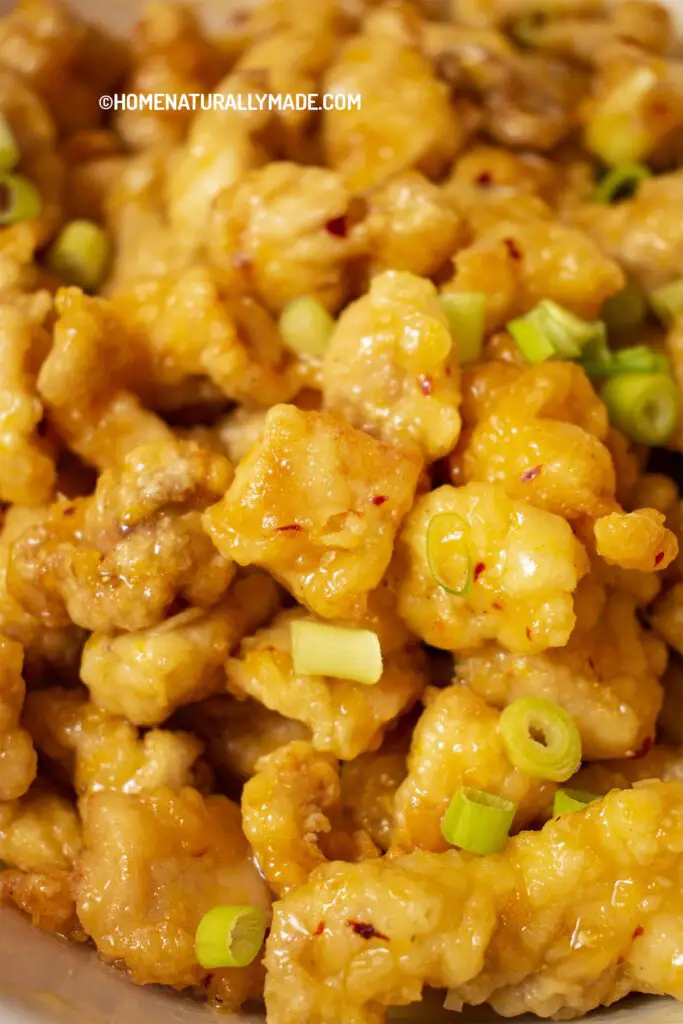 What is Orange Chicken?
Like Mongolian Beef, Orange Chicken is another popular Chinese food invented in the west. Chicken bite-size chunks are usually deep-fried first and then toss in a velveting sweet orange sauce that has a hint of vinegary, garlicky, peppery, and spicy flavor.
How to prepare bite-size chicken chunks for deep frying for Chinese food?
Marinate the chicken chunks with a tiny bit of Himalayan pink salt and then dip them in egg liquid. Right before you are ready to deep fry the chicken, coat the chicken with equal portions of all-purpose flour and arrowroot flour mixture. By the way, arrowroot is my go-to gluten-free superfood starch.
It is important not to coat the chicken too early, this is because the flour and arrowroot mixture will absorb the moisture from the chicken over time and turn into a paste. We want the chicken to stay powdery for a crispy chicken texture. The powdery chicken also absorbs less oil during the frying, making the chicken healthier and having a more refreshing taste.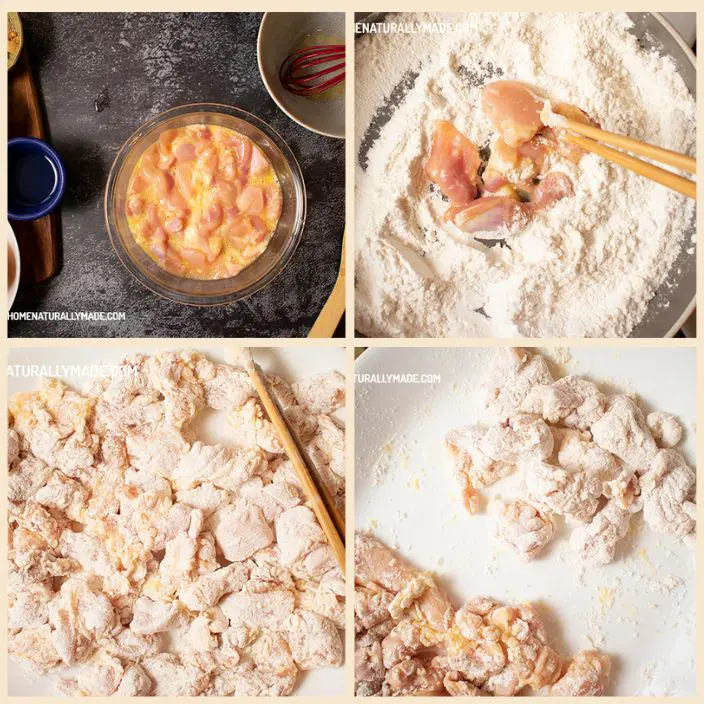 I usually do two layers of coating. Do it all at once right before the oil is about to be ready. Then do the second layer of coating in small batches for each batch of deep-frying. This ensures chicken chunks are absolutely powdery when they are placed into the hot oil.
How to make a tasty Orange Chicken Sauce?
A cup of orange juice along with a splash of sake and rice vinegar make the base for the sauce. Minced garlic, cane sugar, along with a tiny bit of ginger powder, white pepper, and crushed chili pepper all contribute to the mouth-watering flavor. The arrowroot flour helps thicken the sauce and convey a velveting and silky appearance.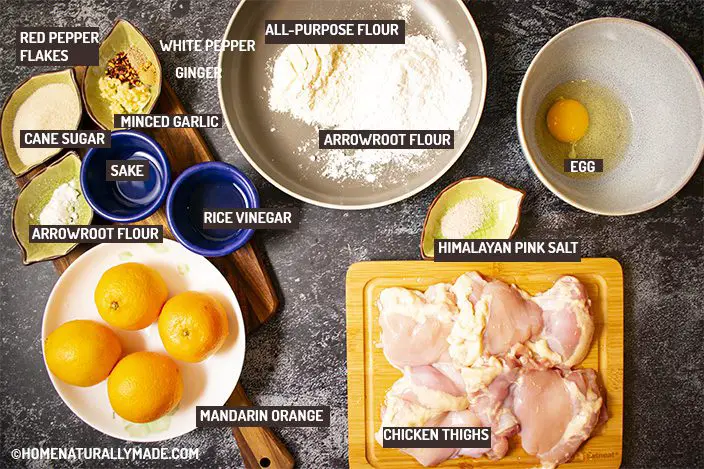 Cook the sauce in a small hard-anodized fry pan which can endure high heat and has a superb non-sticky function. Heat the sauce until the sugar in the sauce started to burn. You will notice the color change. Remember to stir and whisk the sauce from time to time during the cooking.
Leave the orange zest out when cooking the sauce, but mix them in when the sauce is cooked.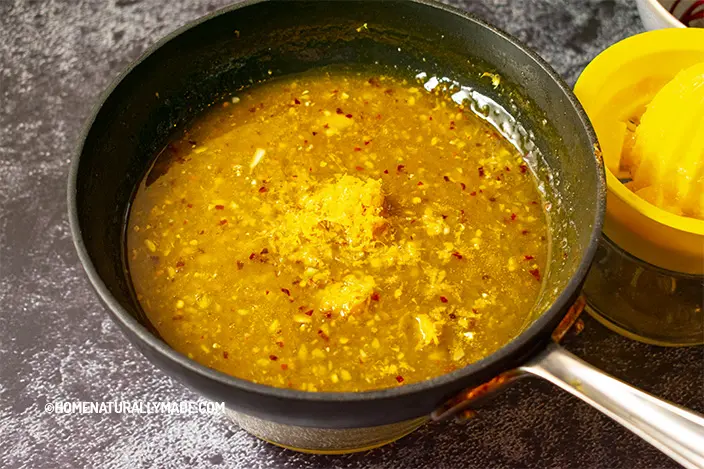 Mandarin Oranges are the secrete to a super tasty Orange Chicken
Use mandarin oranges for Orange Chicken Recipe if you can. They have a unique sweet citrus aroma that elevates the orange chicken to another iconic level.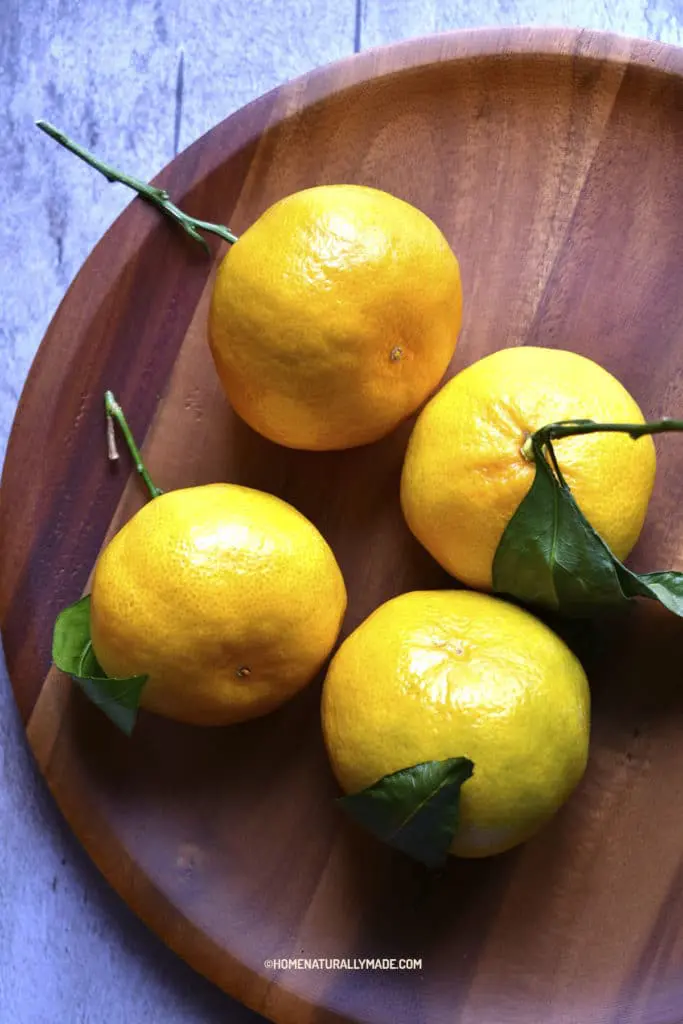 Two Factors determine the color of Orange Chicken
When it comes to the color of classic Chinese take-out food Orange Chicken, you probably have seen two versions. One has a pure bright orange color, like the one shown in this recipe. The other version has a dark color hue. Two factors contribute to the color of this dish.
The first factor is the ingredient choice of cooking wine and vinegar
In this recipe, I intentionally used sake and rice vinegar, both are translucent, to aim for a bright light orange color. By the way, rice vinegar is the one used in making sushi rice. Because they are both clear, they wouldn't alter the color. Therefore the color is mainly from mandarin orange juice and burnt sugar.
If you like a dark-colored Orange Chicken, then use Shaoxing wine and Zhenjiang vinegar instead, both are much more dark-colored.
Taste-wise, they are similar. However, Shaoxing wine and Zhenjiang vinegar have much stronger and sharp flavors and tastes, compared to sake and clear rice vinegar. When I cook seafood, I like to use sake in lieu of Shaoxing wine for a more subtle and refreshing taste.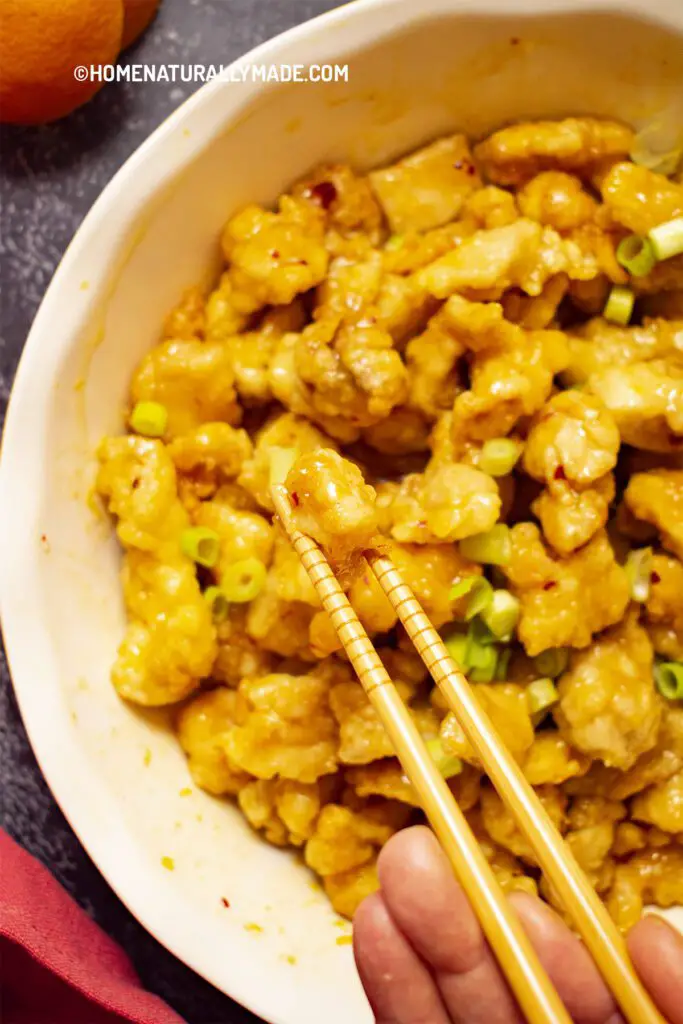 The second factor is the oil for the deep frying
I use avocado oil for deep frying at home. Avocado oil is a superfood oil that also has a much higher smoking point. For instance, deep-fried chicken at the restaurant usually has a darker color compared to homemade because of the oil difference.