Orange chicken family-style is healthily delicious. It uses very little oil to pan fry the marinated chicken first to create juicy & crispy chicken bites. Bell pepper and onion not only add additional flavor and color but also nutrients. Serve with freshly steamed white rice or brown rice for a perfect rice bowl dinner.
Keep reading to learn all the tips and tricks to make this at home perfectly every time!
What you need to make family-style orange chicken
Chicken – since we prefer neat-shaped mini chicken chunks, chicken breast makes it easier to accomplish that goal. However, chicken thigh meat will work great as the chicken thigh is tender and has more flavor.
For marinating the chicken – an egg, Himalayan pink salt and arrowroot flour. Arrowroot flour becomes my go-to starch since I jump-started a healthier living and cooking journey in 2015. Add it to the marinated chicken right before you are ready to cook.
For the pan-frying chicken – avocado oil and marinated chicken. Avocado oil is healthy & nutritious cooking oil. It also has a high smoking point, which makes it ideal for pan-frying when the cooking temperature becomes rather high.
For the orange chicken sauce – aged soy sauce, light soy sauce, Zhenjiang vinegar, Shaoxing wine, dried Mandarin orange peel powder, organic raw sugar, arrowroot flour, and a quarter cup of orange juice or water.
Mandarin orange peel has a lasting sweet, refreshingly pleasant aroma, which plays an essential role in shaking up the famous orange flavor.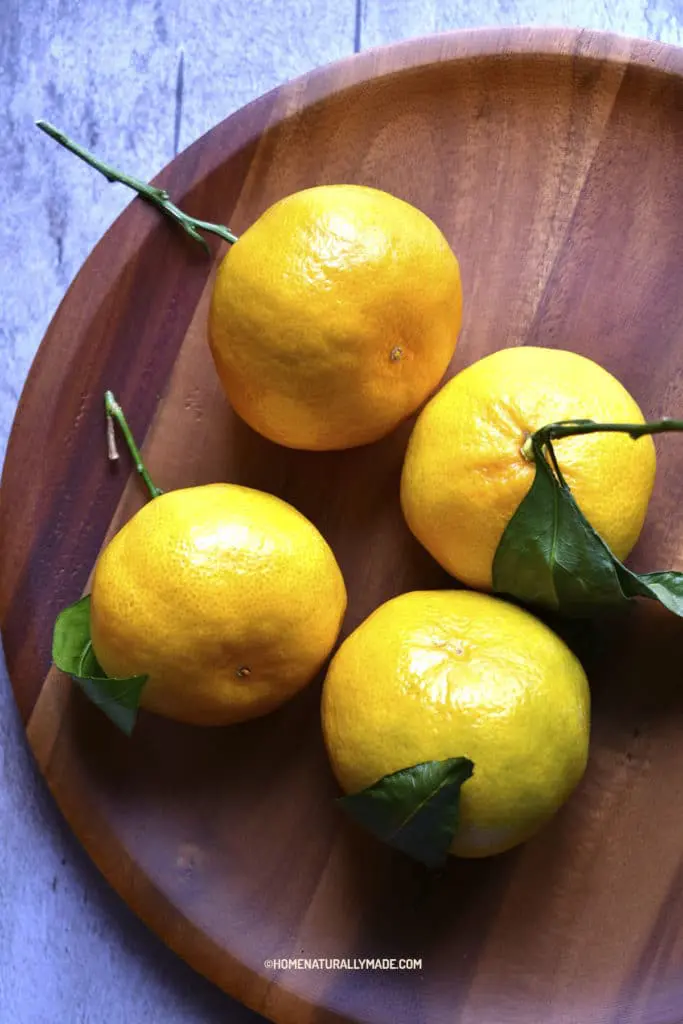 My family loves sweet & juicy mandarin oranges. I usually save some peels and dry them up for making an orange chicken dish later. Dried mandarin peel also makes great tea.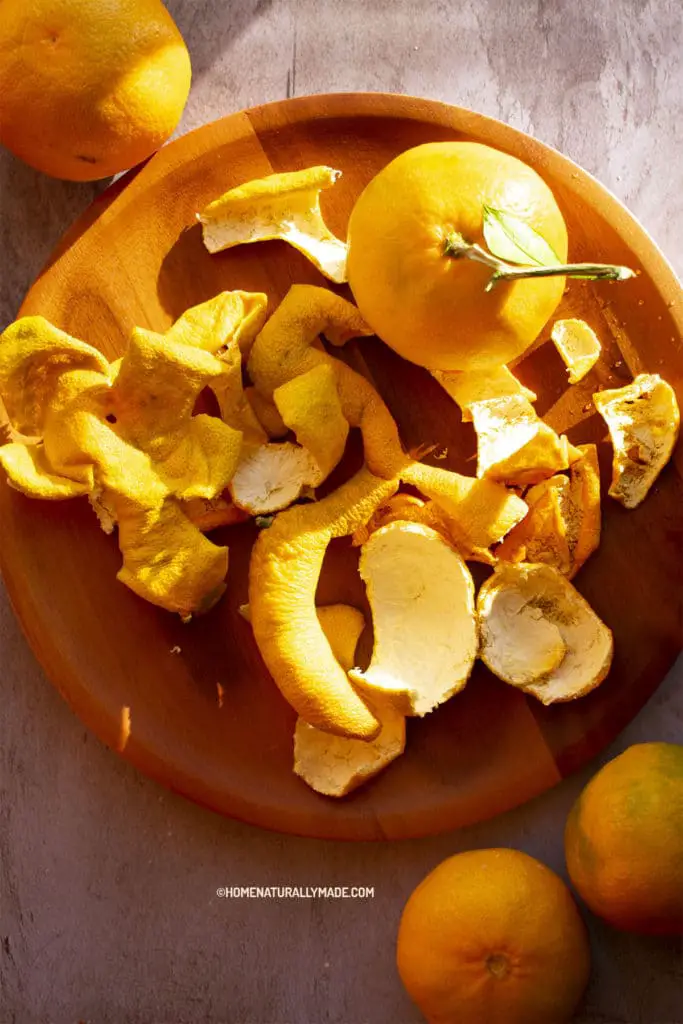 You will need 1 dried mandarin orange peel for about 1.5 lb chicken.
The pith is the spongy white substance that's between the peel and the fruit in oranges. It has a bitter taste. Therefore, if it is possible, I recommend you remove orange pith as much as you can.
I use a spice grinder to grind the mandarin orange peel into a fine powder before I add it to the sauce. A spice grinder is such a handy tool for home cooking. It helps grind any spices into a fine powder, which not only helps the food absorb the flavor better. It also helps reduces the volume needed for cooking and avoids us from biting on sizeable pieces of spices during meals.
Add a quarter cup of orange juice also helps enhance the orange flavor. I use orange juice when I either have orange juice or orange handy for freshly squeezed orange juice. If I have neither, then water.
For Stir-Fry – You will need green onions, ginger, and garlic as spices. They are the three essential healthy Chinese cooking. I usually like to add one bell pepper, either green or red, and one onion.
Tips & Tricks to make perfect orange chicken
1. Prep chicken before cooking
Cut chicken into mini bite-size chunks and marinate with salt and one egg. Egg serves as the "glue" for coating chicken with arrowroot flour later. Let it sit for about 10 minutes while preparing bell pepper and red onion.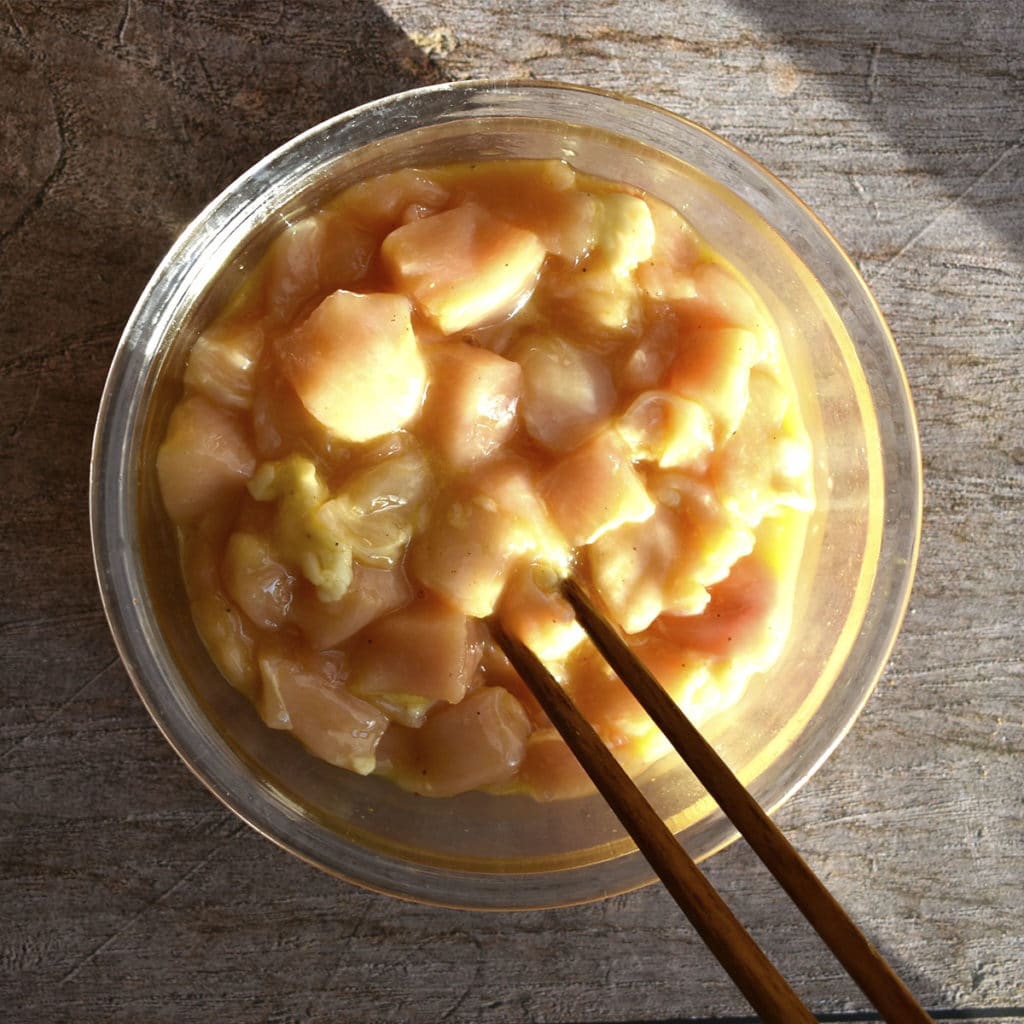 Right before you are ready to pan-fry the chicken, coat marinated chicken with arrowroot flour generously. You shall see traces of arrowroot flour left in the bowl. This is the secret for crispy chicken.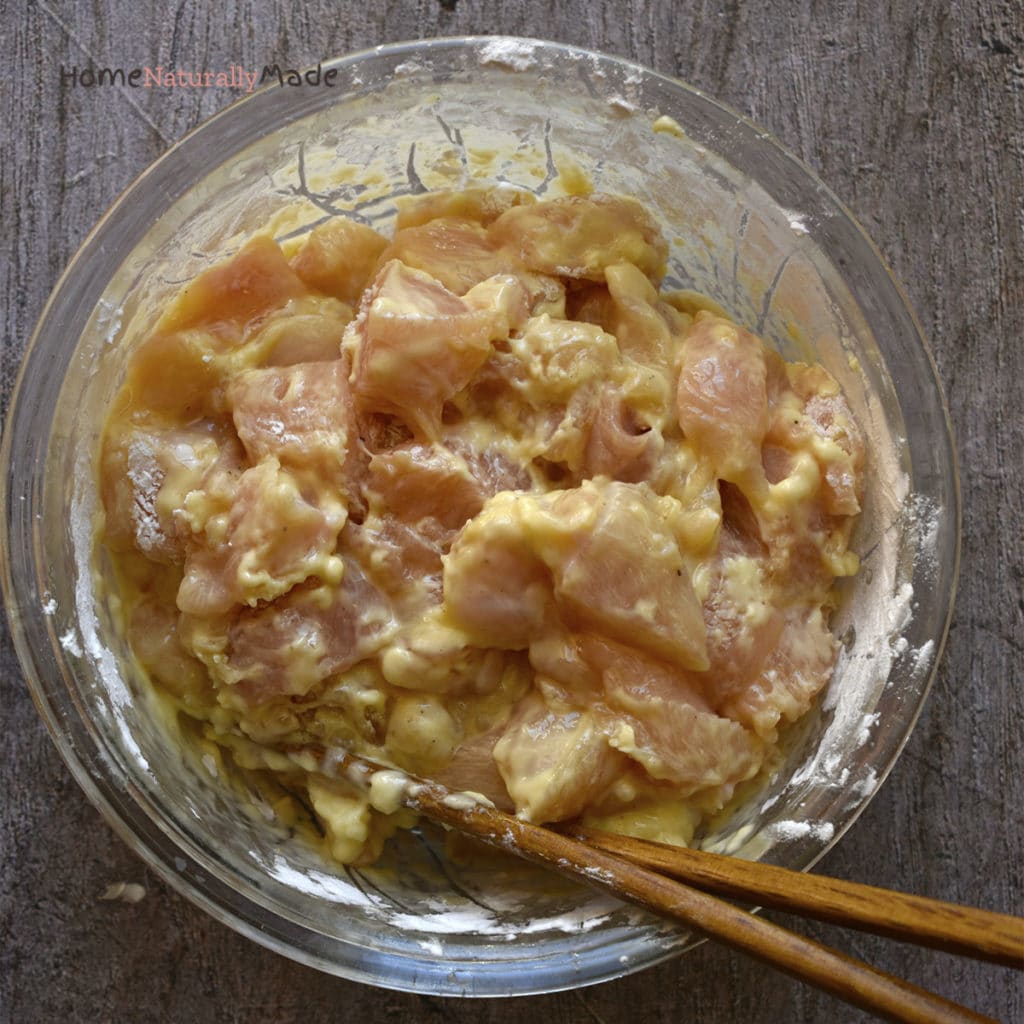 2. Pan-fry marinated chicken in a quality hard-anodized frying pan
I am such a big fan of this hard-anodized fry pan. It took me a while to find the quality one. They are essential cookware for making pancakes, French Crepes, hash browns, braised fish, and any pan-frying cooking.
They can take heat incredibly well so that food doesn't get burned. This is especially important for pan-frying, as the cooking temperature can heat pretty quickly as the cooking goes on.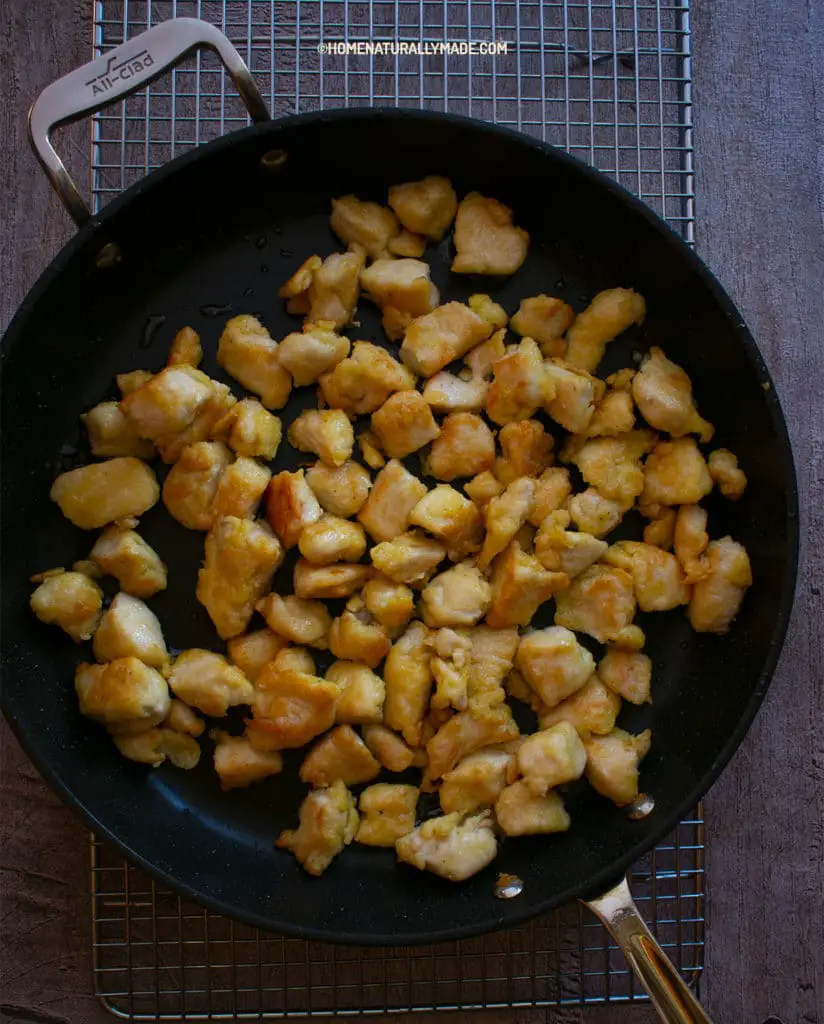 3. Let the pan-fried chicken chunks cool down a little before stir-fry
Remove the pan-fried chicken chunks from the frying pan using a slotted turner. The slotted turner helps drain extra oil. The 1/3 cup of avocado oil used for 1.5 lb chicken is just about right, there might be one tablespoon of oil left in the frying pan.
Use 1 teaspoon for stir-fry and save the rest in a small glass jar for future cooking.
4. Stir-fry in a wok makes it easier
Stir-fry in the wok makes it easier to stir-fry the spices and then turn the chicken with vegetables. After pouring in sauce, it also helps fold the sauce with chicken.
Do you like "Better-Than-Takeouts"? Make sure you these too.