Zucchini and summer squash stir fry takes about 10 minutes to make, is truly a quick, delicious vegetable dish that can go nicely with almost all main courses.
It is one of our "freshly from the vegetable garden to dinner table" specials during the summer. Going to our backyard vegetable garden and check out what's growing during summer is my fun routine. What's growing mandates what we are going to have for vegetable for dinner.
For tonight, it would be zucchini, or should I say summer squash. I found one green zucchini and one yellow summer squash quietly growing.
Parsley is thriving in another corner. Hmm, it could be an excellent garnish to the dish. I didn't plant this parsley this year; they pop up by themselves from the previous year's seeds fallen into the ground.
Parsley is an impressive herb. I noticed last year that they stay fresh in the refrigerator for over a month after I wash & dry them properly before putting into a ziplock bag. I talked to myself – they must contain some anti-inflammatory substances to do so. Later research confirmed they are surely amazing plants containing exceptional health benefits such as fighting cancer, supporting bone and heart health. Read more here. Since then, I consciously incorporate parsley more into dishes I make.
Zucchini and summer squash are suitable for stir-fry in a cast iron fry pan. The cast iron brings out the inherent subtle yumminess of the vegetables.
While the cast iron fry pan is a healthier option compared to alternative pans, it is not the solution for every single occasion. For instance, vegetables containing a high level of iron such as spinach or Chinese long beans will turn into black. While I don't think the color affects the nutrients in the vegetable, the black color makes the food less enticing.
As for the cut, I typically cut the zucchini into a diamond shape for this purpose. It holds up better for stir-fry in a cast iron pan. Something like this: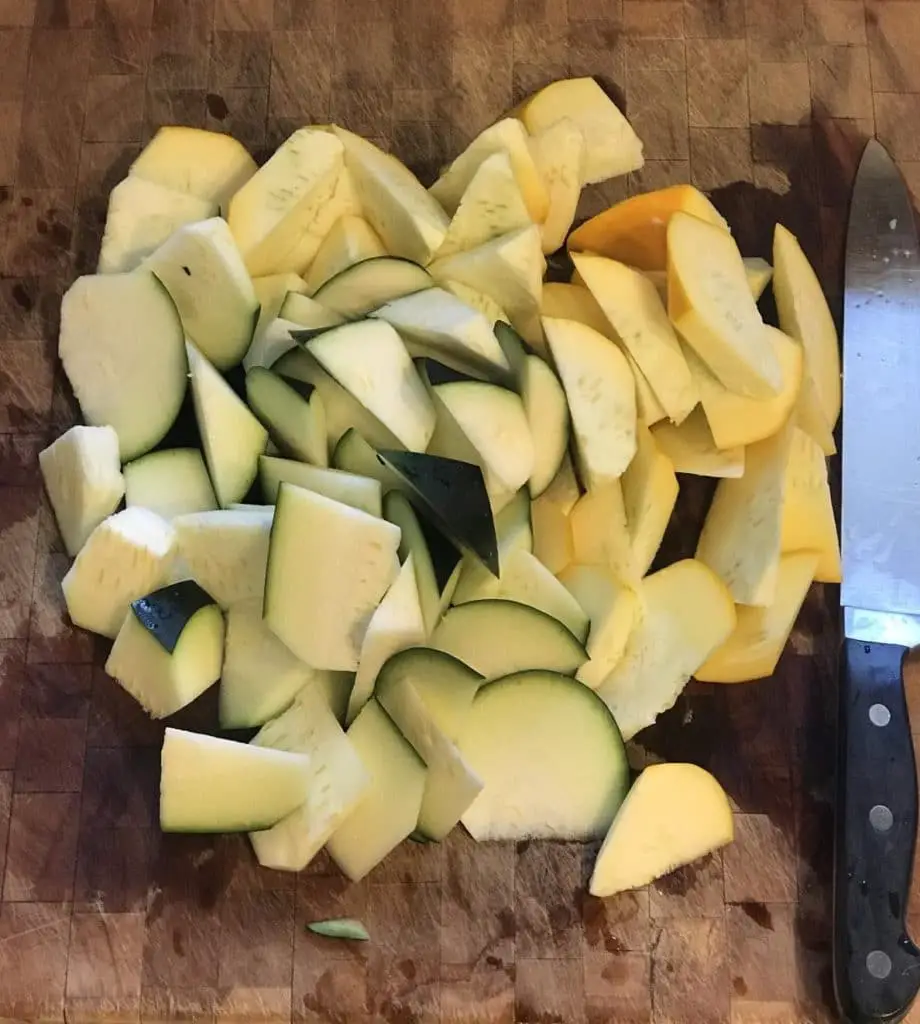 Making zucchini & summer squash stir-fry is quick & easy:
First, cut the zucchini into a diamond shape cut.
Heat the cast iron pan for about 1 minute, add a tsp of avocado oil or canola oil using a home oil spray bottle, and then add the zucchini and summer squash, stir for about 3 minutes.
add 1 bunch of chopped parsley, stir for another 3 minutes.
If you don't have any parsley handy, dried rosemary works just fine. You may add 1 tsp dried rosemary instead.