Homemade Anti Aging Healing Lotion using nature's most potent, wholesome ingredients is creamy and nourishing. It can penetrate deep into skin tissue to moisturize our skin from the inside out. Ingredients such as beeswax and shea butter also contain impressive antibacterial and anti-inflammatory substances. All these keep our skin healthy and youthful-looking.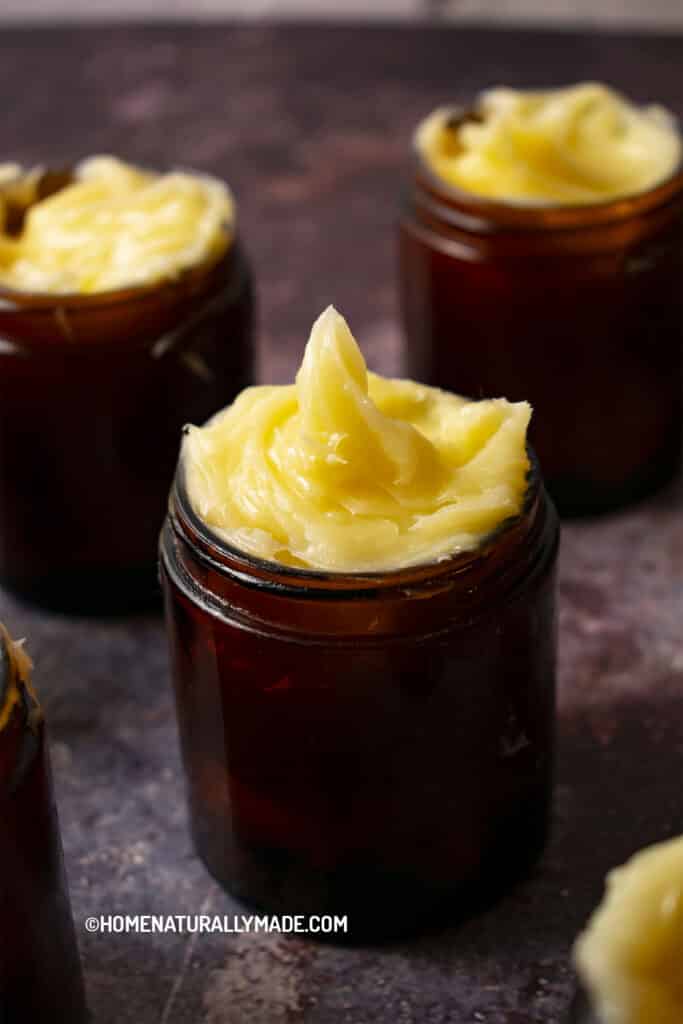 A Magical Anti Aging Healing Lotion
You will love this body lotion made of all-natural unrefined ingredients. The wholesome nutrients are easy for the skin to absorb. As a result, the skin feels softer and looks plumper. What a magical anti-aging lotion!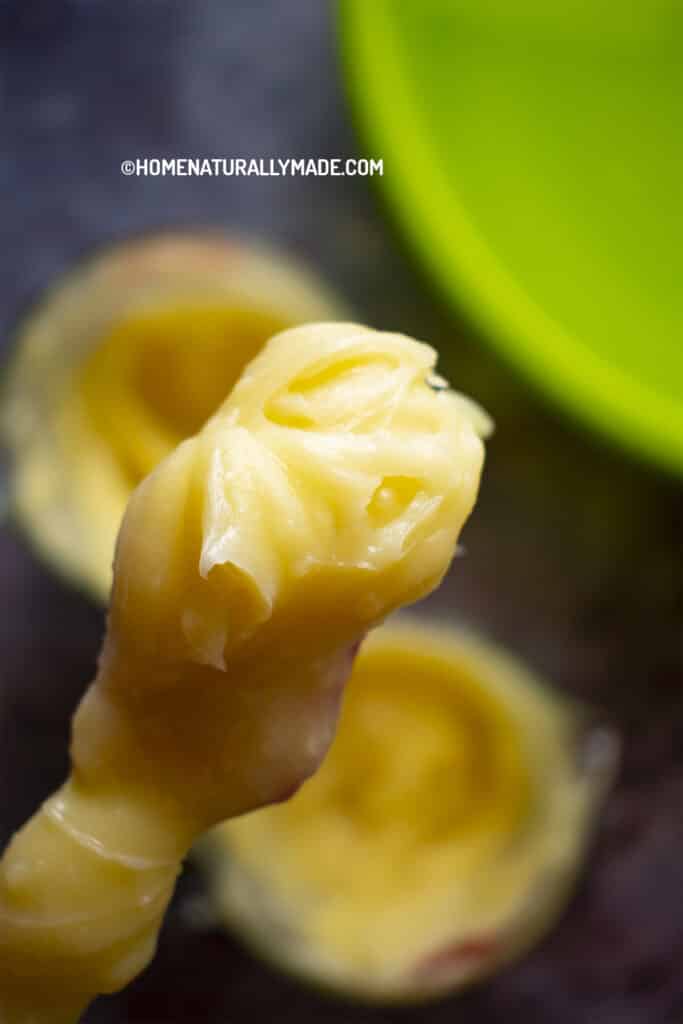 A Powerful Healing Lotion for Eczema
I developed eczema since I moved to Chicago years ago. The situation got exacerbated after my pregnancy with my first child.
For those who are familiar with eczema, you know it is such an agonizing skin condition. To what extent? Well, some people sleepwalk, I used to sleep scratching all night long. I would wake up in the morning and find my hands or legs scratched to bleed.
I had determined to find a natural healing solution. Yep, you've guessed right, this is it!
As I am writing this article, we just had one of the driest winters in Chicago. This body lotion stood strong and kept my skins moisturized and calm.
What ingredients do you need to make this powerful Anti Aging Healing Lotion at home?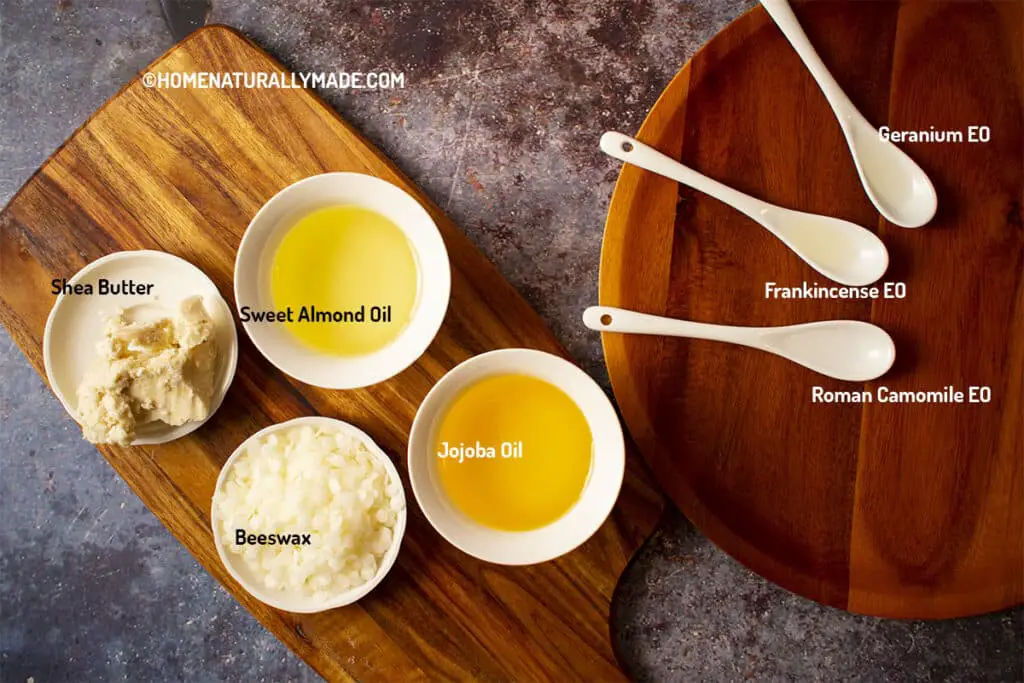 The key ingredients include beeswax, shea butter, sweet almond, and jojoba oil. Essential Oils such as Roman Chamomile, Frankincense, and Geranium are an optional but highly recommended add-on.
Beeswax is notable for its anti-bacterial and anti-inflammatory ability. I use organic white beeswax pellets in this recipe.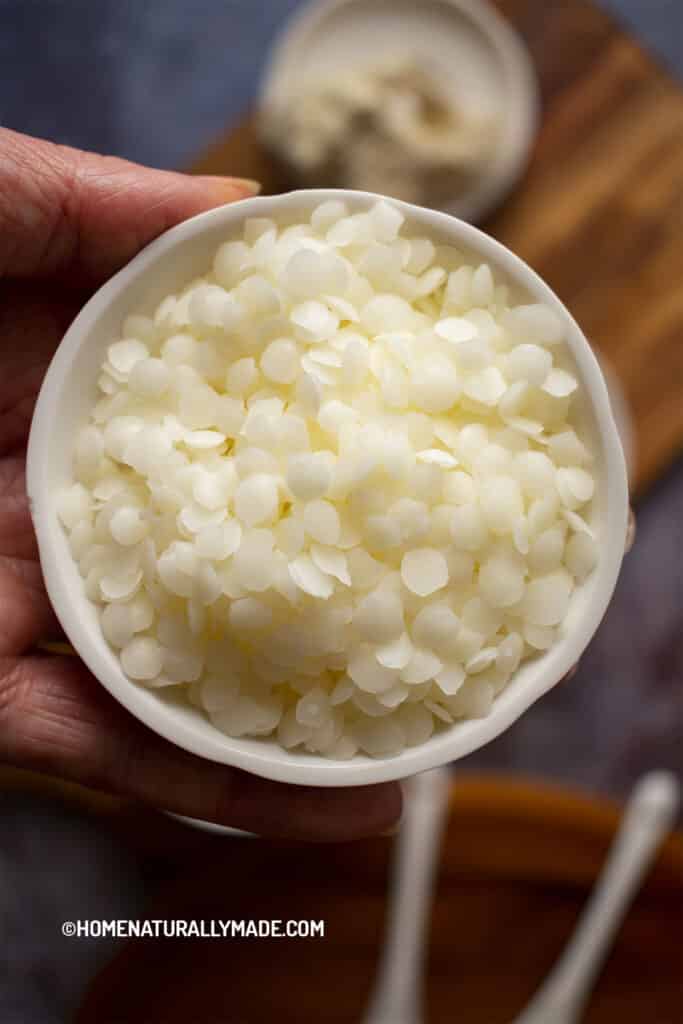 Shea butter is coming from the nut of the African shea tree. It provides deep moisturizing, nourishing, and anti-inflammatory power.
I use raw unrefined African shea butter in this recipe.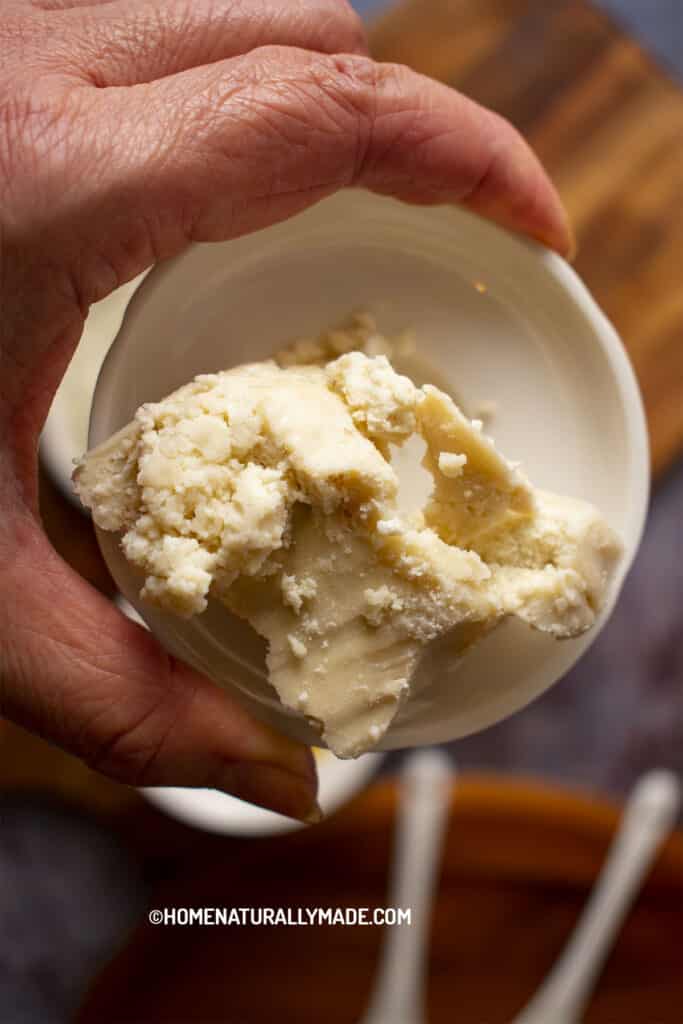 Jojoba Oil and Sweet Almond Oil are among the best carrier oils. You can use them directly on the skin. I have incorporated both for my Anti-Aging Serum too.
As for the three handpicked essential oils, Roman Chamomile helps soothe the skin. Frankincense supports anti-aging. Last but not least, Geranium offers a pleasant fragrance to the lotion.
What Tools do you need to make this Anti Aging Healing Lotion at home?
You will need quality glass measuring cups to hold beeswax, shea butter, and oils. A wok or deep fry-pan to heat the glassware.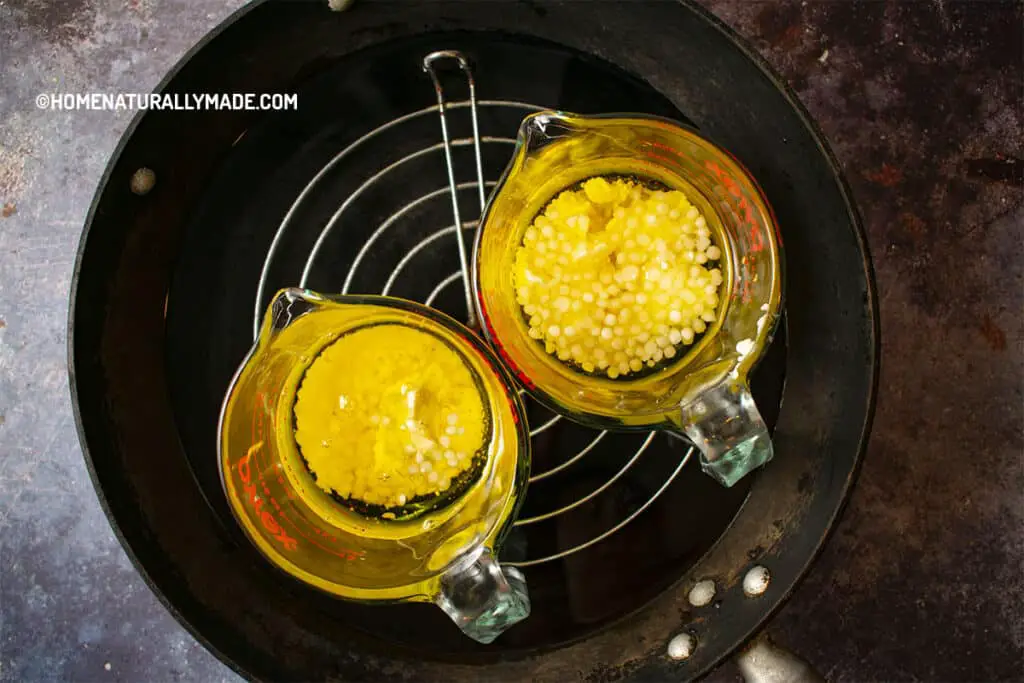 These heat-resistant mini-rubber spatulas are helpful handy tools. I use them to mix, stir, and scrape.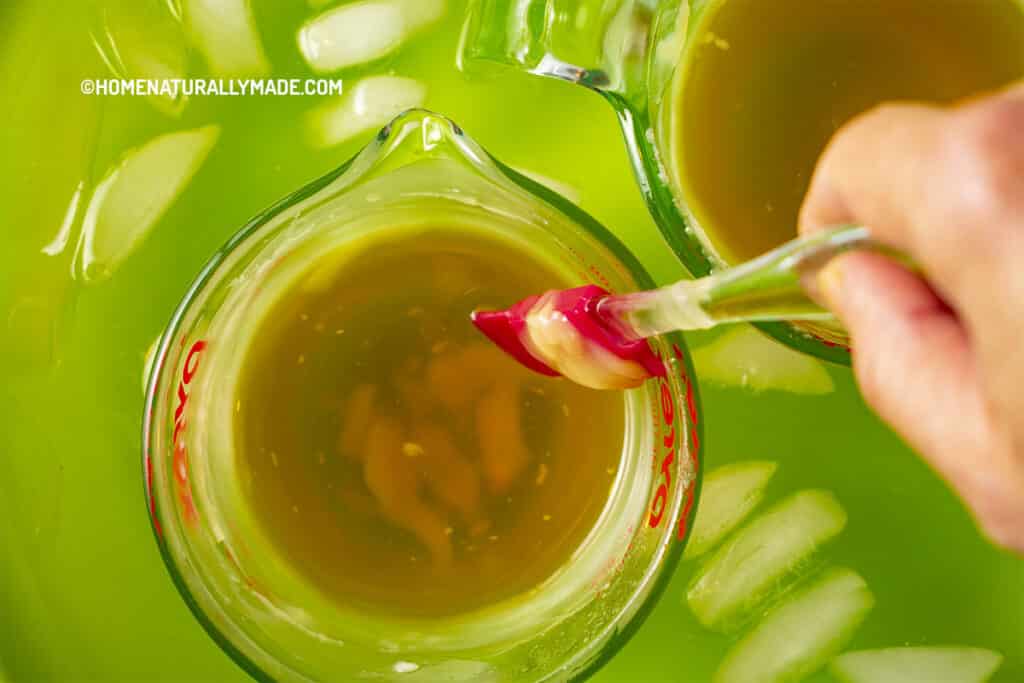 For the cooling process, a large washbasin can hold ample cold water and ice cubes.
For storage, I recommend this 4-oz amber wide-mouth jar. They are convenient to use and easy to clean.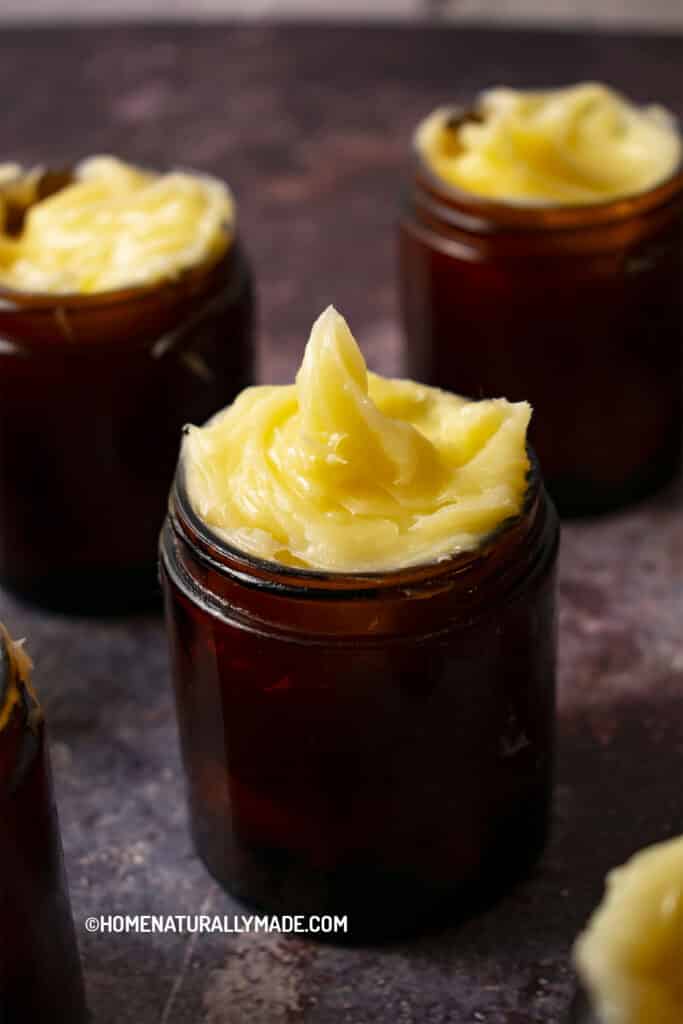 How to make the Best Anti Aging Healing Lotion from scratch at home?
The first is to melt beeswax, shea butter and carry oil together and mix well for anti aging healing lotion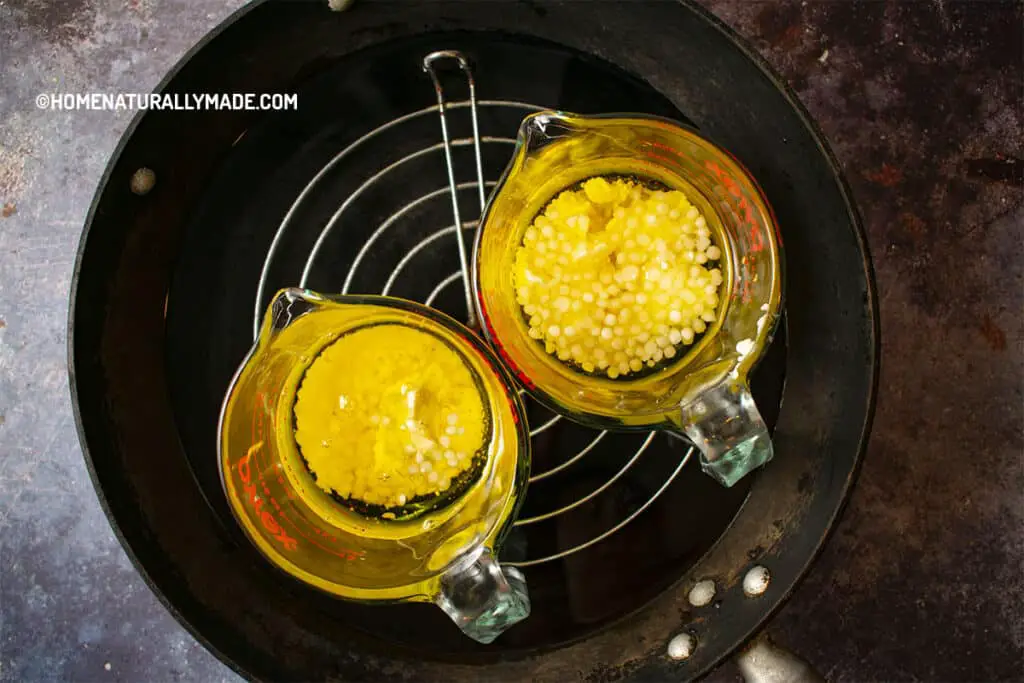 Turn the heat to medium-high, add about 4-6 cups of water into a wok or large deep fry-pan and bring it to a boil. Then turn the heat to medium-low and add the glass measuring into the wok or pan.
Keep the water in a simmering, boiling state by adjusting the heat from medium to simmer.
Heat the beeswax, shea butter together with jojoba oil and sweet almond oil evenly until beeswax and shea butter melt.
Remember to chop shea butter into thin small pieces first to help the melting process.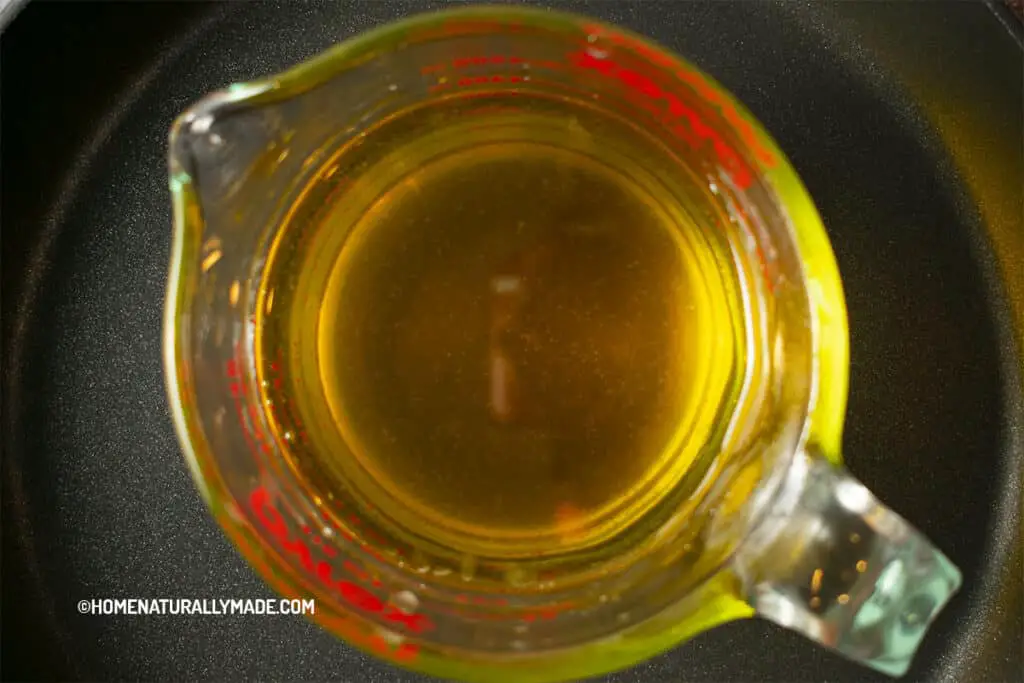 Cool the liquid mixture and turn it into a consistent cream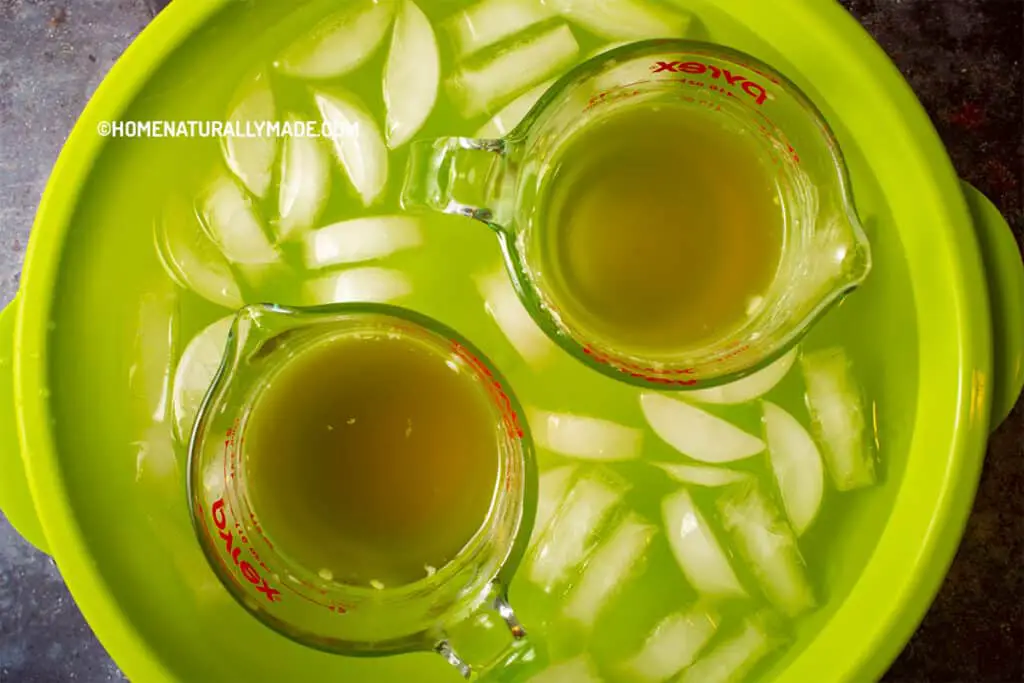 Soak the glass measuring cups halfway in cold water with ice cubes. Drop in the essential oils. Continue to churn, mix, scrape the solids off the glass wall using the mini spatula, until the whole thing turns creamy.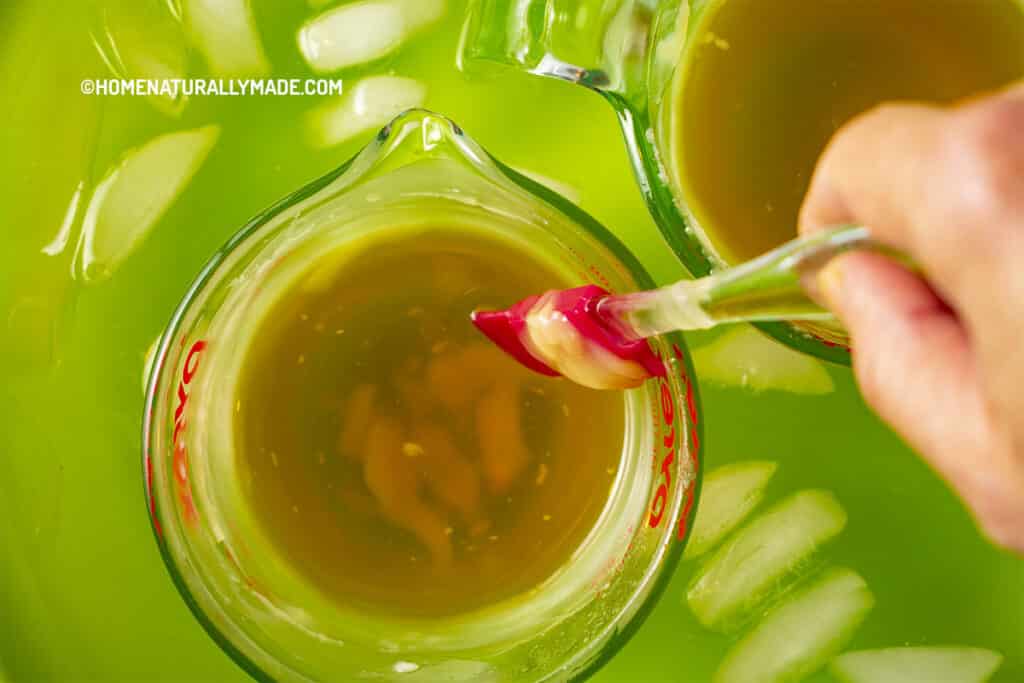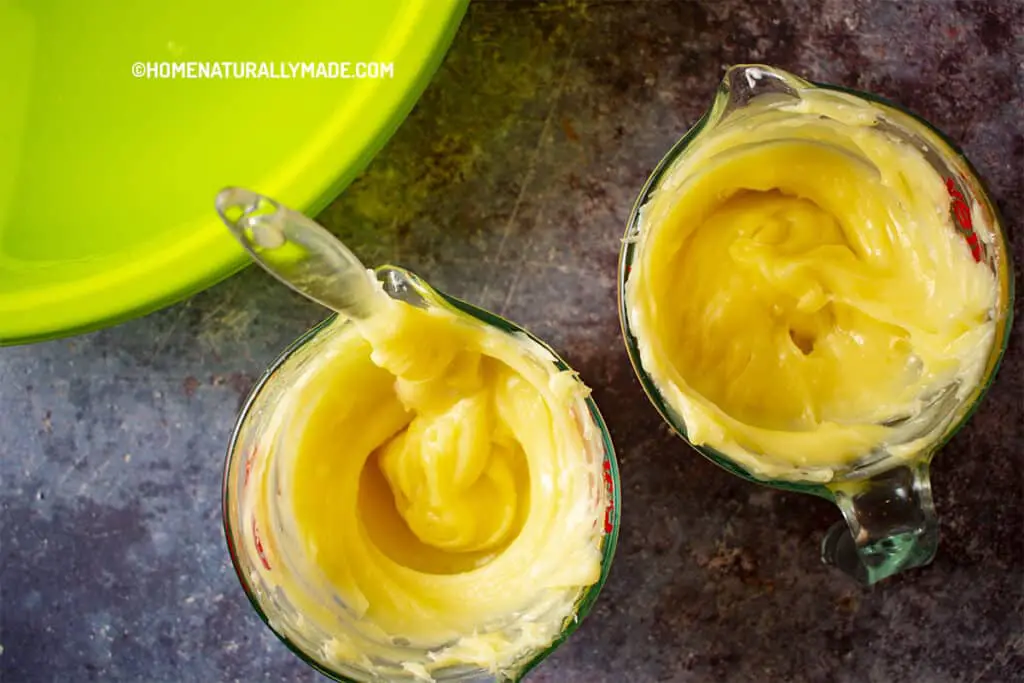 All done! Bottle them up using the 4 oz. amber glass jars and use in the next 6 months.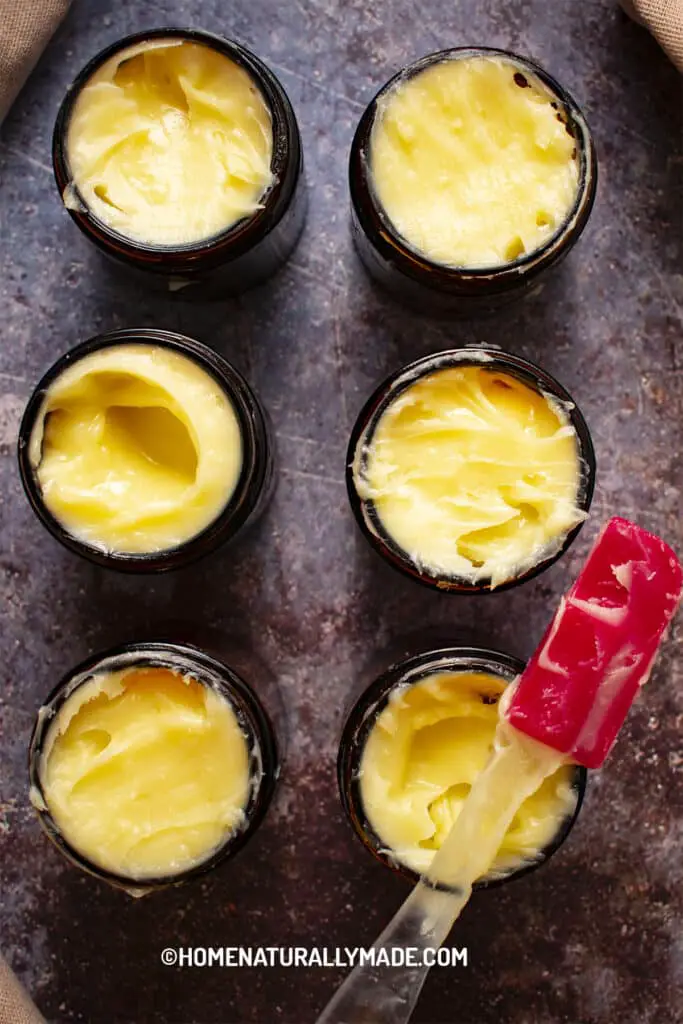 Frequently Asked Questions:
How do you apply this body lotion?
In the morning after the shower, I combine half of this lotion and half CeraVe moisturizing cream, mix them together in my palm, and apply them to the entire body. If I am doing a spa at home, I use 100% of homemade lotion and apply it generously.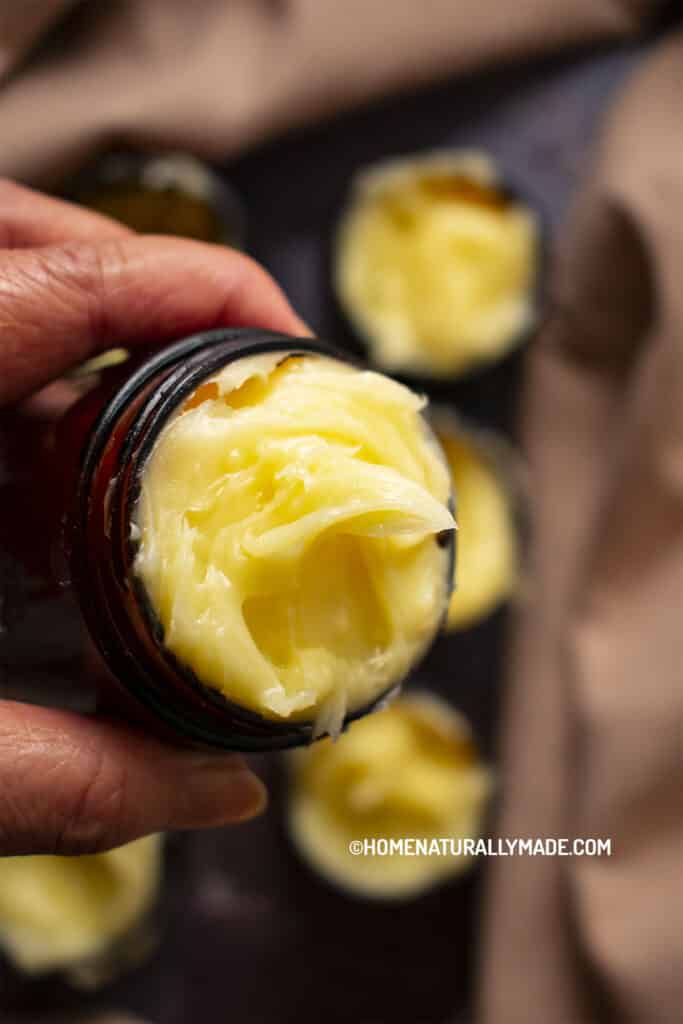 How long does it take to make body lotion at home?
About 50 minutes from beginning to end, most of which is waiting time for beeswax and shea butter to melt. We want them to melt evenly at low heat. The active working time is about 15 minutes.
How do you make a three-ingredient lotion?
For three-ingredient lotion, consider beeswax, shea butter, and either sweet almond or jojoba oil.
What are the best ingredients for anti aging healing lotion?
The organic unrefined white beeswax, the all-natural raw unrefined African shea butter, organic cold-pressed jojoba oil, and organic cold-pressed sweet almond oil.
What ingredient makes lotion creamy?
Beeswax. It is a natural emulsifier.
How long does homemade body lotion last?
I always finish all 6 jars within 4 months. If you apply body lotion generously every day as I do, chances are you will finish within 4 months as well.