Boiled Peanuts with simple spices such as salt, star anises, and cinnamon stick is a classic dish in China's Yangtze River Delta area. It features slightly salted, semi-soft, firm-bite peanuts with a hint of fragrant. Truly a naturally delicious and healthy food. You can eat as a side dish or snacks. It is also a popular ingredient to go with a home cooking stir-fry.
Boiled Peanuts with Spices Ingredients: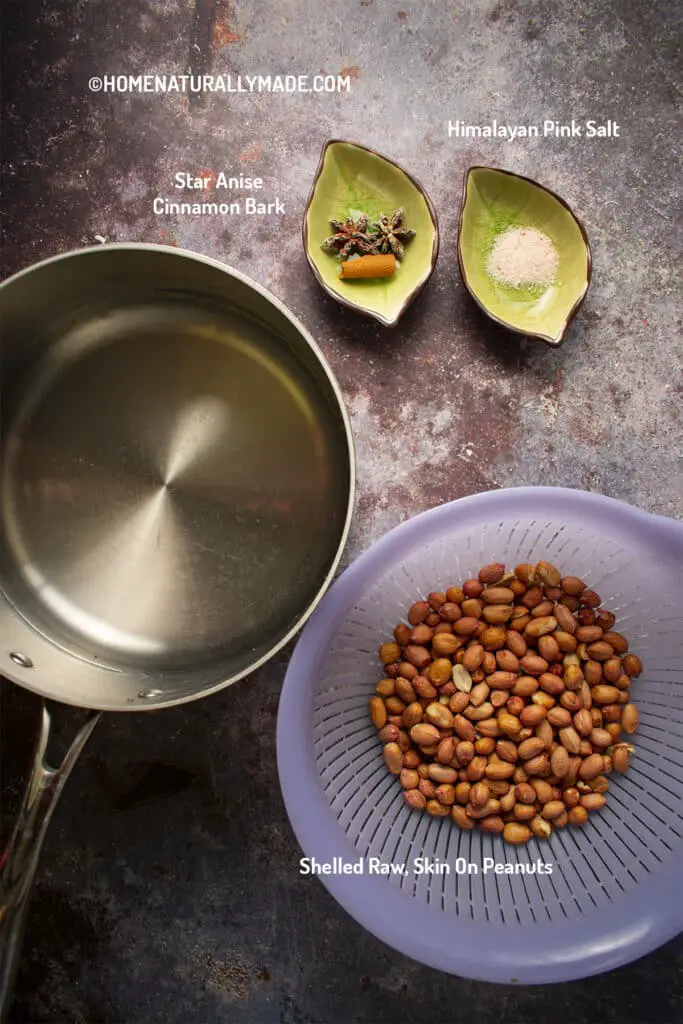 You will need shelled, raw and skin on peanuts. Wash and rinse them well and set aside.
Star Anise and Cinnamon stick are wonderful, fragrant spice by themselves. Together, they work magically well delivering this heavenly fragrant smell and flavor to the dish.
Try to use cinnamon stick if possible. You can substitute with cinnamon powder if you do not have cinnamon stick handy.
Himalayan Pink Salt is my go-to salt other than sea salt.
How to make Huai Yang Style Boiled Peanuts from scratch?
It is truly easy to make this Huai Yang Style Boiled Peanuts as long as you learn a few tips and tricks. See the Recipe for a detailed step-by-step tutorial. Here are the key takeaways:
Place all ingredients in a saucepan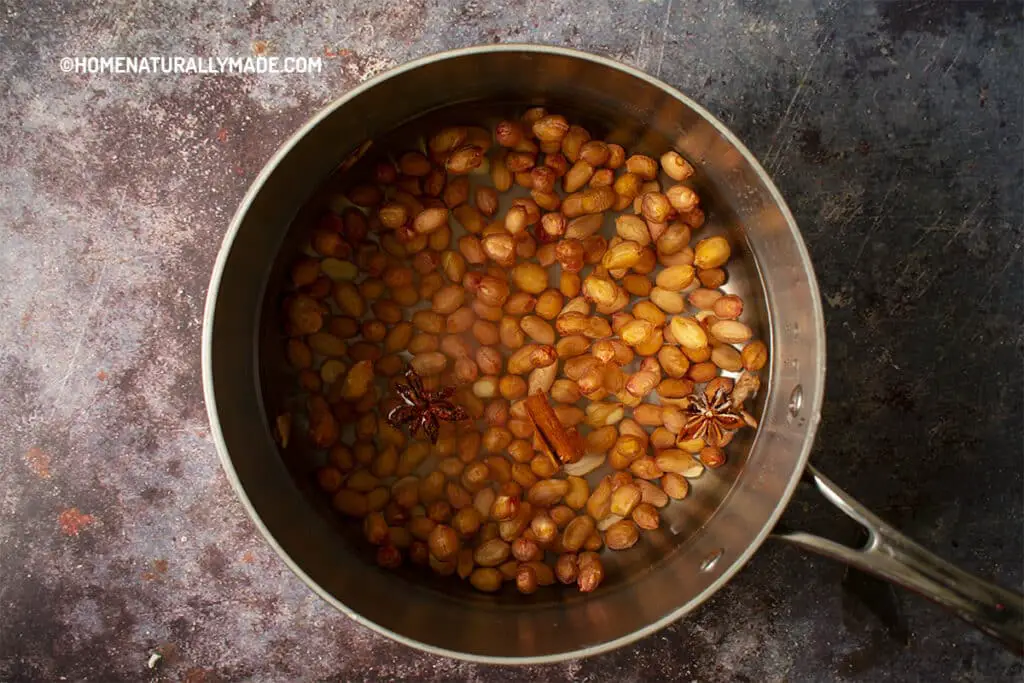 Add previously washed and rinsed peanuts, a pinch of Himalayan pink salt, two star anises, a small piece of cinnamon stick and water in a 3 Qt. saucepan.
Bring to a boil and then simmer
Turn the heat to medium-high, cover the saucepan with a lid, and bring it to a boil. Following that, turn the heat to simmer and simmer for 20 minutes.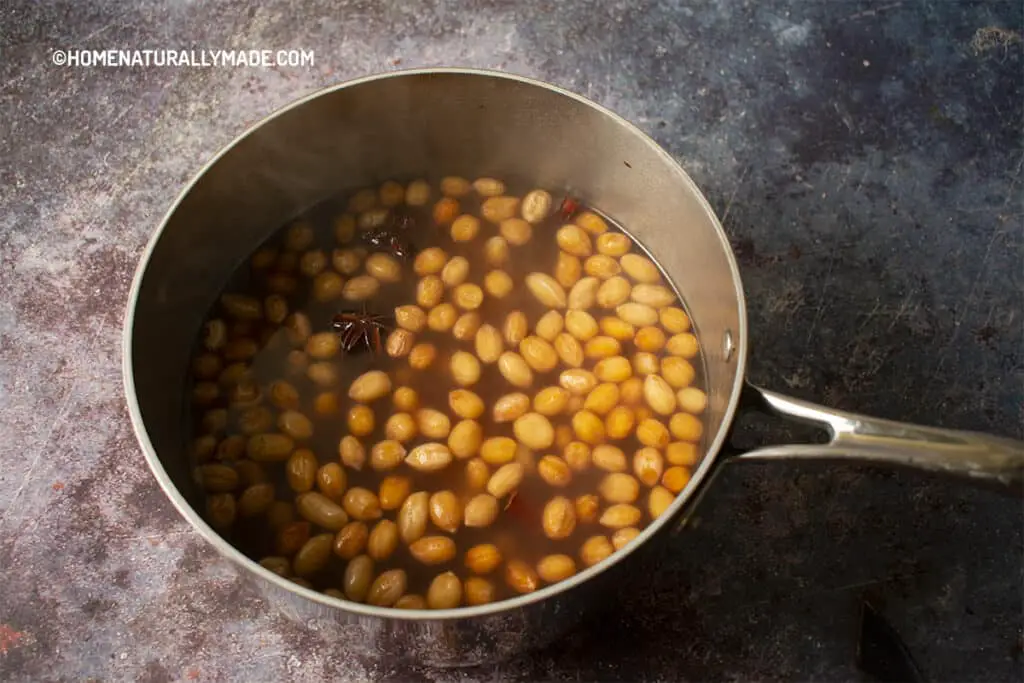 Let peanuts soak in the seasoning water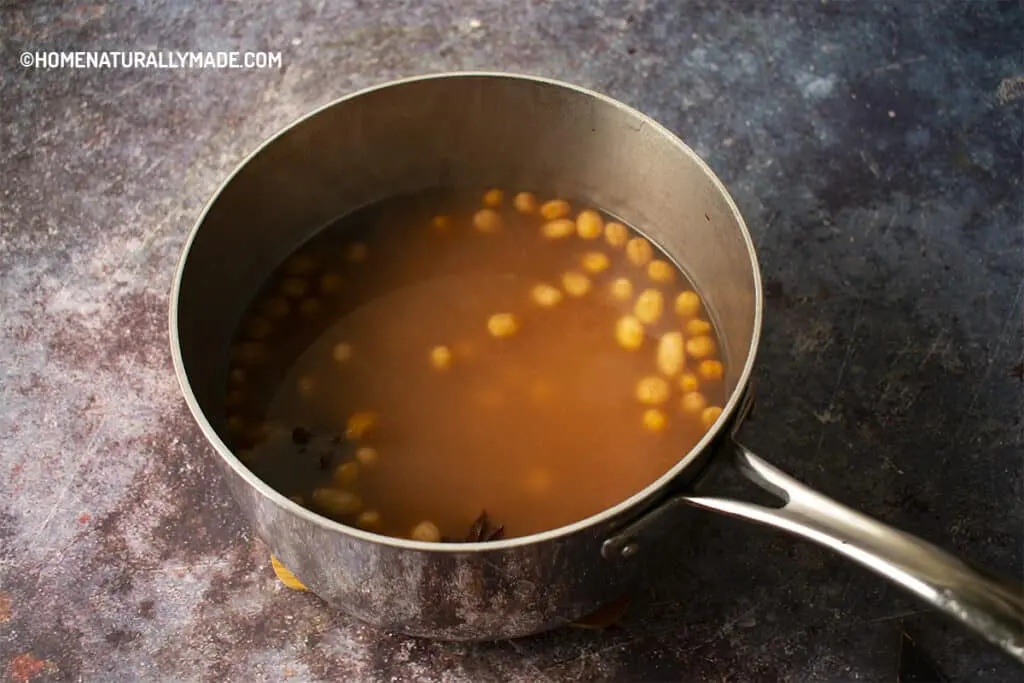 Following the 20 minutes simmering, turn off the heat, keep the lid on and let the peanuts soak in the seasoning water until cooling to room temperature.
Serve at room temperature
Huai Yang style boiled peanuts are traditionally served at room temperature, or directly from the fridge. Add some seasoning water from the boiling into the serving bowl, just enough to cover the peanuts.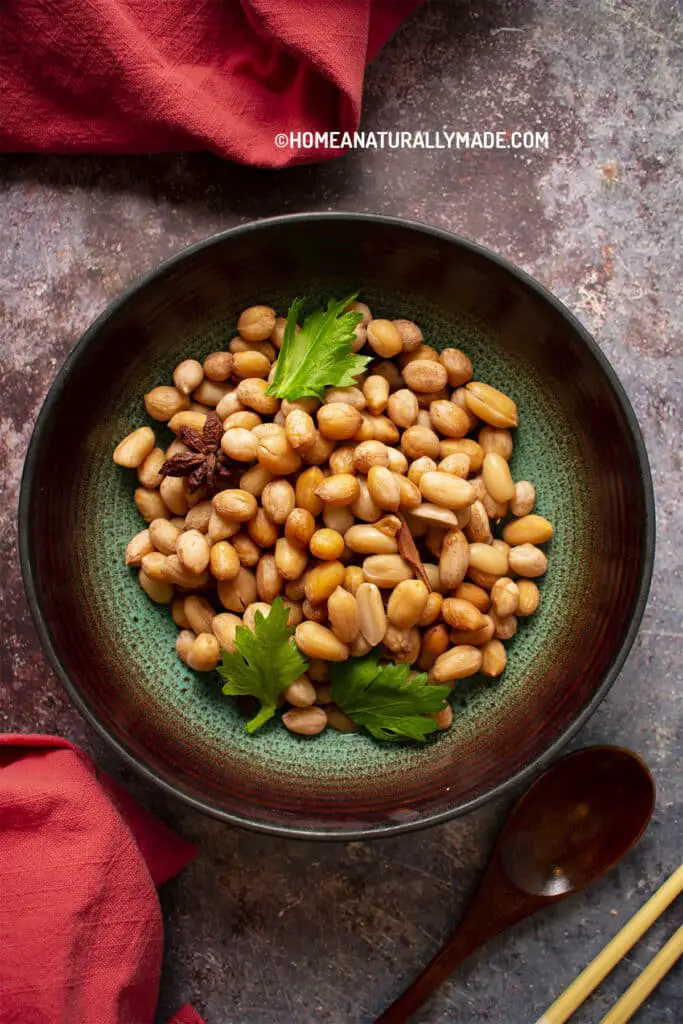 Store the left over boiled peanuts in a container in the fridge and use within 5 days. Also, remember to add some seasoning water from the boiling just so that peanuts are covered with the seasoning water.
Peanuts are truly a well-liked food in China, and so many ways of cooking it. This Huai Yang style peanuts, just like a typical Huai Yang style food, is light and naturally delicious. If you are in the mood for crunchy peanuts with a mouthful of flavors, check out this Chinese Style Pan Fried Peanuts.