Whole wheat crepes French Style features organic stone-milled whole wheat flour, organic flour, coconut oil, and loads of eggs. Berries, sliced bananas, and semi-sweet chocolate chips make up the yummy fillings that complement the crepe, making it a perfectly hearty everyday breakfast.
Paris Vacation Inspired this Whole Wheat Crepes French Style
During our vacation in Paris in the summer of 2019, we tried freshly made French Crepes in a little coffee shop along the Seine River. It is possible that it tastes especially delicious because we just had walked for three hours straight. LOL. Below is the picture we took in front of the shop after we enjoyed a nice cup of tea along with the crepes.
It worth mentioning that my younger son got this burgundy French beret in a souvenir shop next door. He loved it so much that he wore it every day for the rest of the trip, including in 100° Fahrenheit (37° Celsius) hot Rome.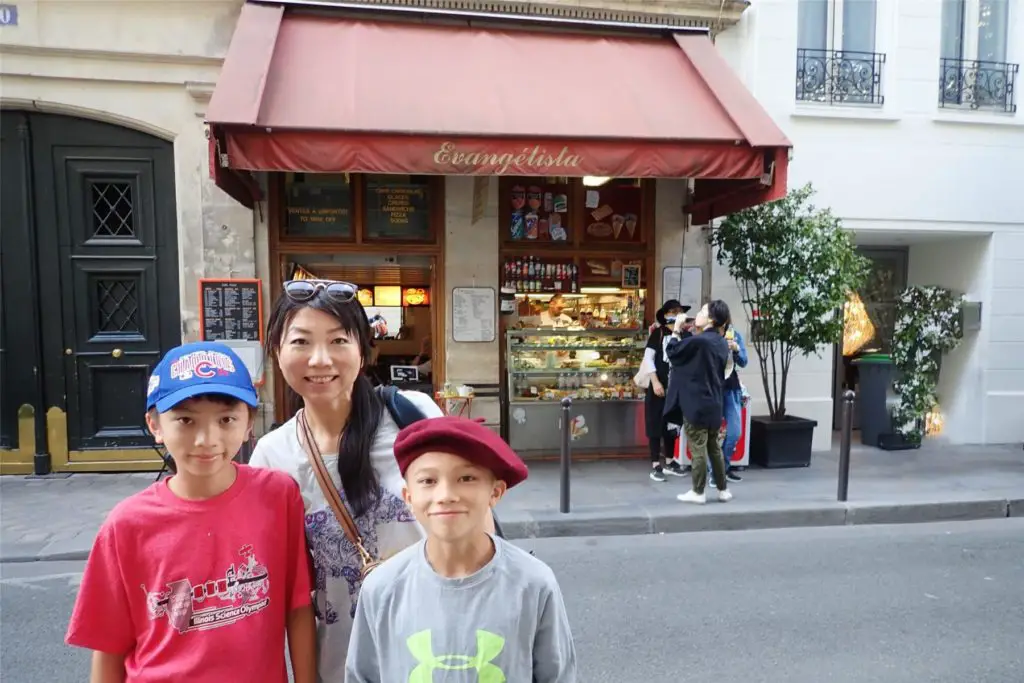 Crepes is probably one dish that every culture has its own version.
I was born and grew up in Suzhou, an ancient city dubbed as "paradise on earth" in the heart of the Yangtze River Delta area. Suzhou boasts over 2,000 years of history and now is also one of the economic powerhouses in China. Sweet savory crepes called "Mian Yi" (面衣) featuring either wild-grown aroma scallions or Xing Chun tender leaves are a local everyday delicacy as I grew up in the '70s.
Northern China has its savory salty version featuring fermented bean paste as a key seasoning, which is also popular street food in Beijing called "Jian Bin" (煎饼).
Stone-milled organic whole wheat flour works perfectly for this Whole Wheat Crepes
I started experimenting with making French crepes for breakfast after we got back from Paris. I noticed pancake houses in the States offer French crepes as a breakfast item. My first thought is to make it as healthy & hearty as possible for my two growing boys.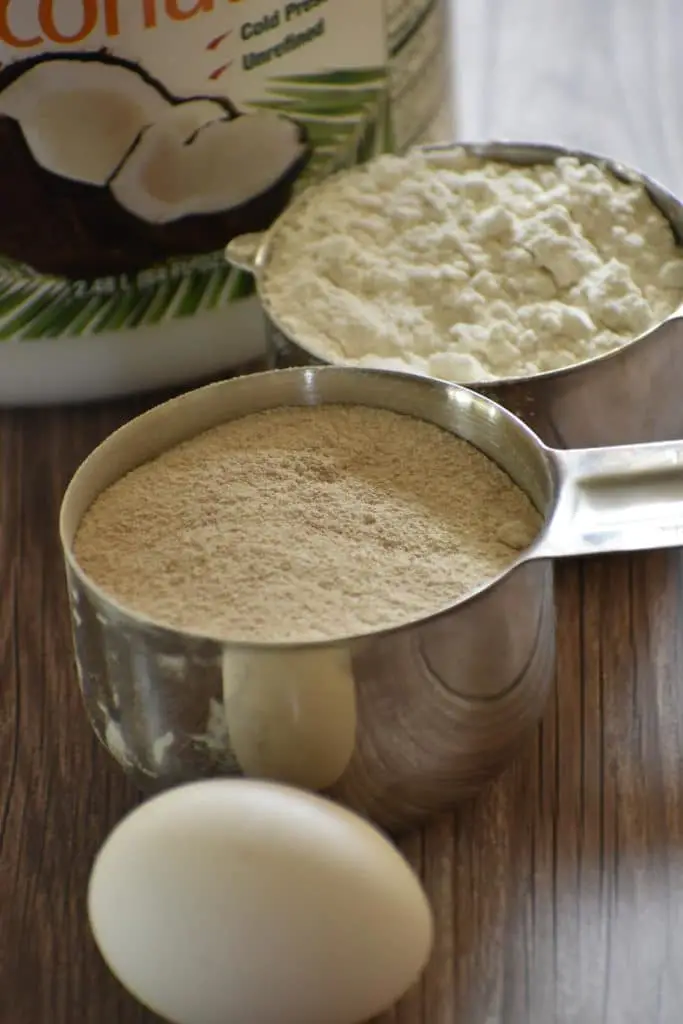 I have some organic stone-milled whole wheat flour lying around from a 50 lbs bag I bought a while back. It is a quality genuine whole wheat flour, gives you complete nutrients from wheat husks, wheat brans, to wheat germs.
However, it also means it tastes very grainy and rough. I tried incorporating them into making pizza doughs, cookies, and noodles with little success without comprising hugely on taste. I did successfully add a tiny portion when I make a strong-flavored bread such as banana or zucchini bread.
These French crepes feature yummy fillings including berries, bananas, and chocolate chips. I wondered whether I might have a better chance of success. I am so glad to say that mission accomplished. This becomes one of my boys' favorite breakfast items these days.
How to make Whole Wheat Crepes French Style perfectly every time?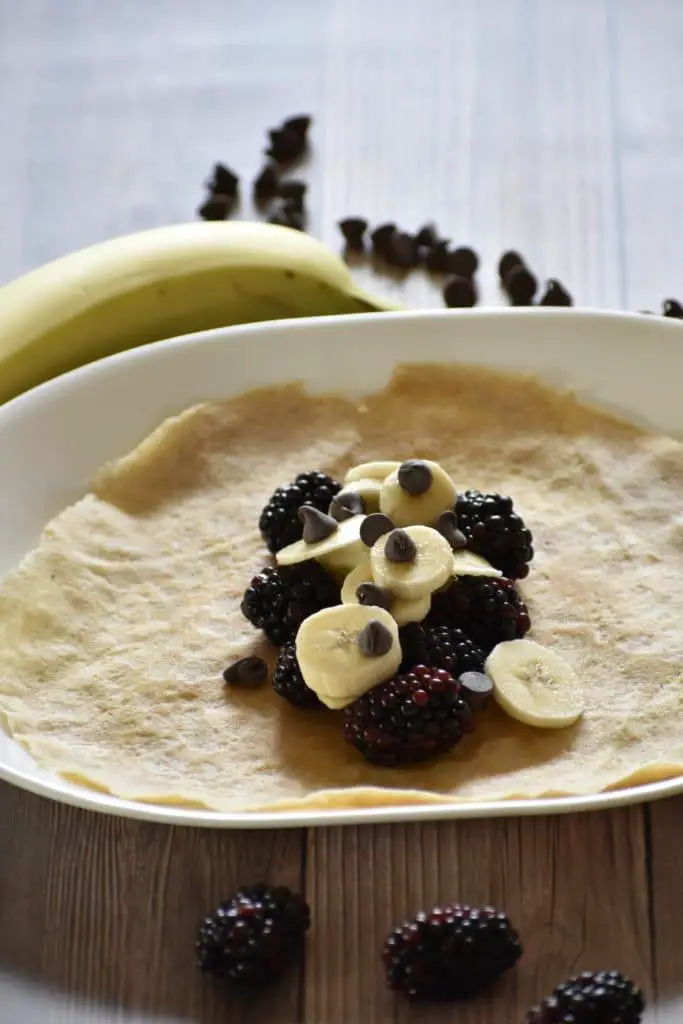 It is easier than you thought to make these yummy whole-wheat French crepes. You will need a quality nonstick pan and a wooden crepe spreader.
Step 1: Prepare the batter
Mixing milk with apple cider vinegar is mainly to create homemade buttermilk. Vinegar also helps make eggs tastier. I added 3 large eggs for every 1 3/4 cup of flour, making this recipe very hearty.
Organic coconut oil provides nutrients and aroma. Coconut oil has a higher melting point and stays in a solid-state at room temperature, around 70-degree Fahrenheit ( 21-degree Celsius). To melt coconut oil, add it to a glass bowl and then soak the bowl in boiling water.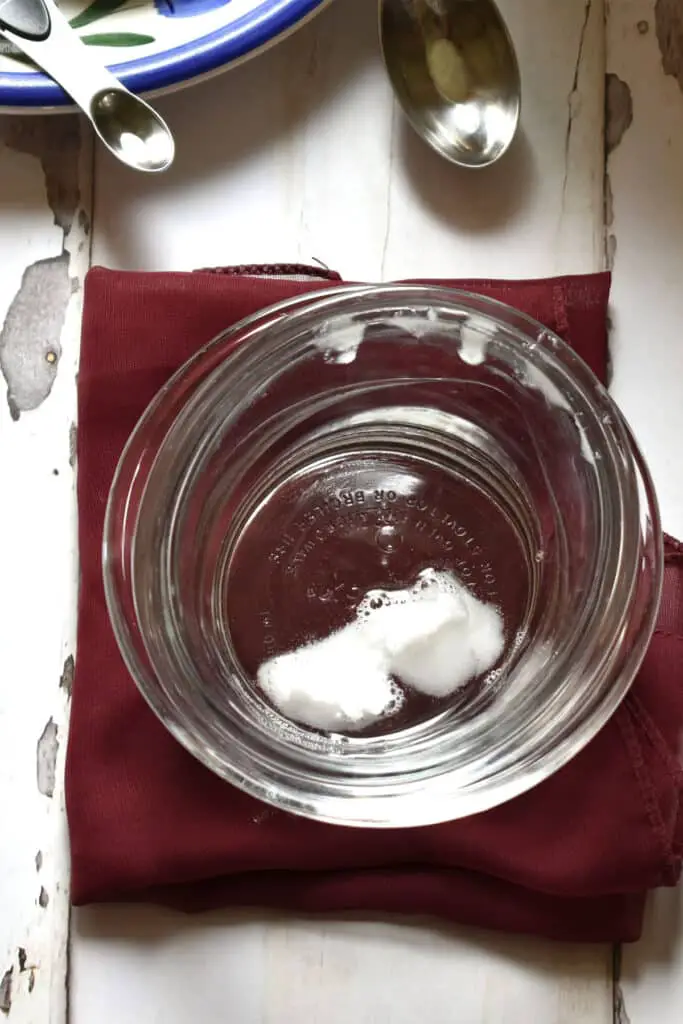 Alternatively, you can use another superfood oil avocado oil. I use avocado oil during wintertime when coconut oil becomes solid hard, and I don't have the extra time to soften it ahead of time.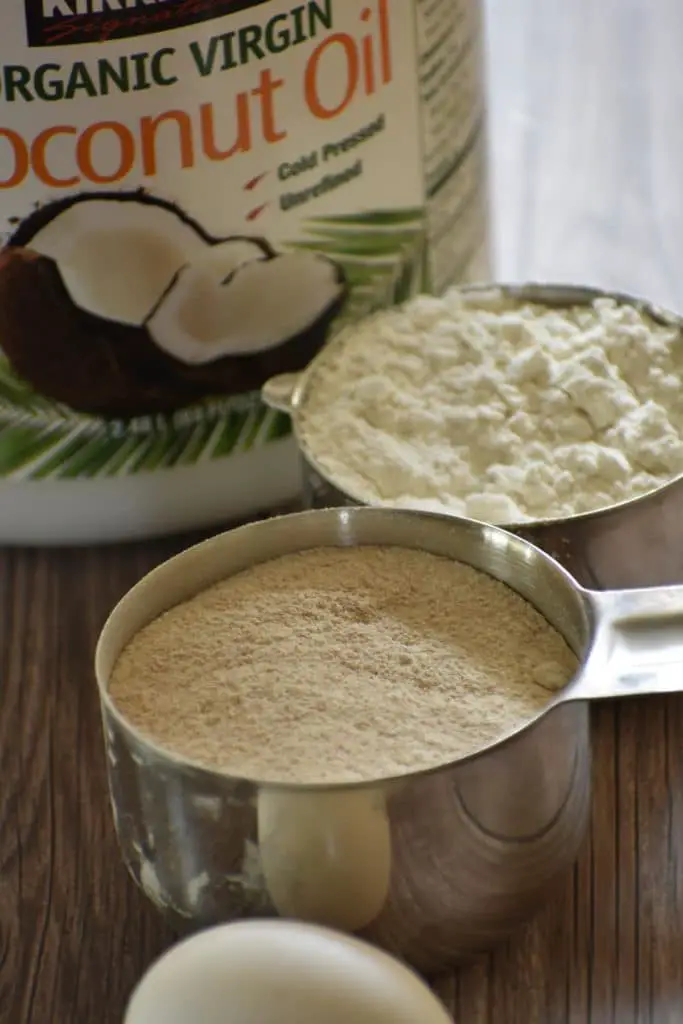 Arrowroot flour becomes my go-to starch awhile back when I jump-started the healthier living journey. It is a gluten-free superfood and gets all the jobs done.
The organic arrowroot flour acts similarly to cornstarch, with bonus nutritional benefits. Because I added a larger portion of whole wheat flour in the recipe, the arrowroot flour will help smooth and bind the batter together.
You may notice this batter is more watery than you thought, but don't worry. Because of the hearty whole-wheat content, we need the batter to be thinner so it doesn't turn out to be too dense.
Step 2: Make the crepes
Get a 12-inch non-stick fry-pan, turn the heat on medium, and heat for bout 2 minutes
Get a tiny drop of coconut oil on a small kitchen brush, quickly brush the pan to condition the pan. You will only need to do this once initially to condition the non-stick fry-pan.
Pour batter, a little less than 1/2 cup, in the middle of the pan, immediately and quickly spread evenly using a crepe spreader. Cook for 1 minute, and then flip using a slotted turner and cook the other side of the crepe for about 30 seconds, and then remove the crepe from the pan.
Repeat to cook all crepes. As the cooking continues, the pan gets heated more, turn the heat to low-medium if needed.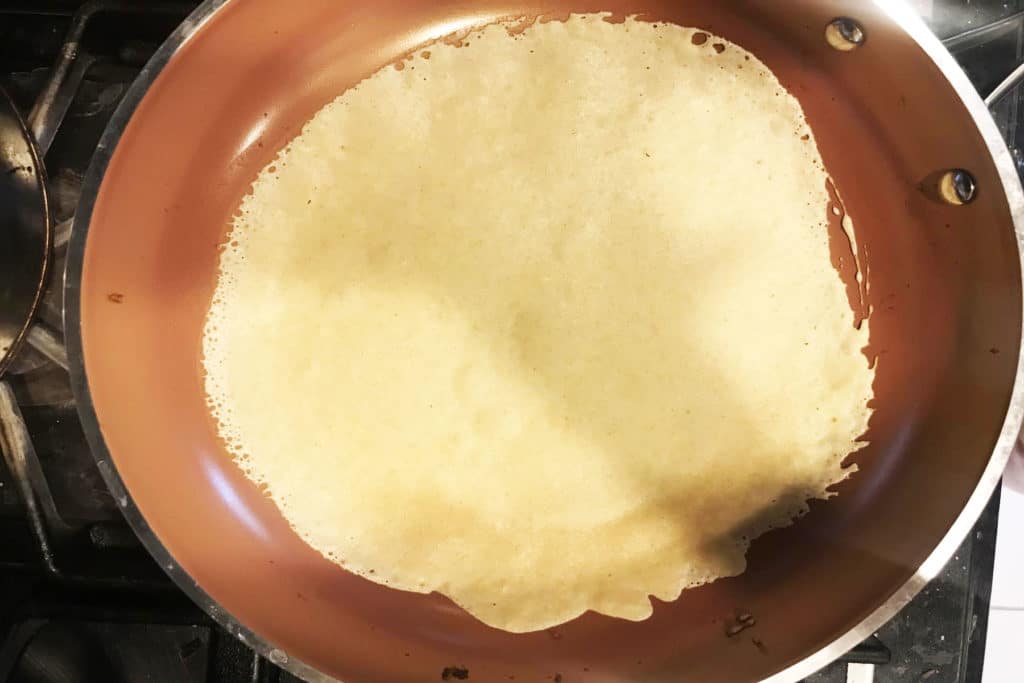 Some tips:
Condition the non-stick pan to help flip the crepe easier.
Spread the batter immediately, quickly and evenly is the key
The pan gets heated more after you have cooked the first crepe, keep it at low-medium for cooking the rest of the crepes.
Step 3: Serve Whole Wheat Crepes French Style
Lay French crepe flat onto a microwave-friendly plate. Add berries, bananas, and top with chocolate chips, fold both sides into the middle to overlay.
Cover it with a microwave glass plate cover to maintain the moisture, and microwave for 30 seconds.
Serve immediately.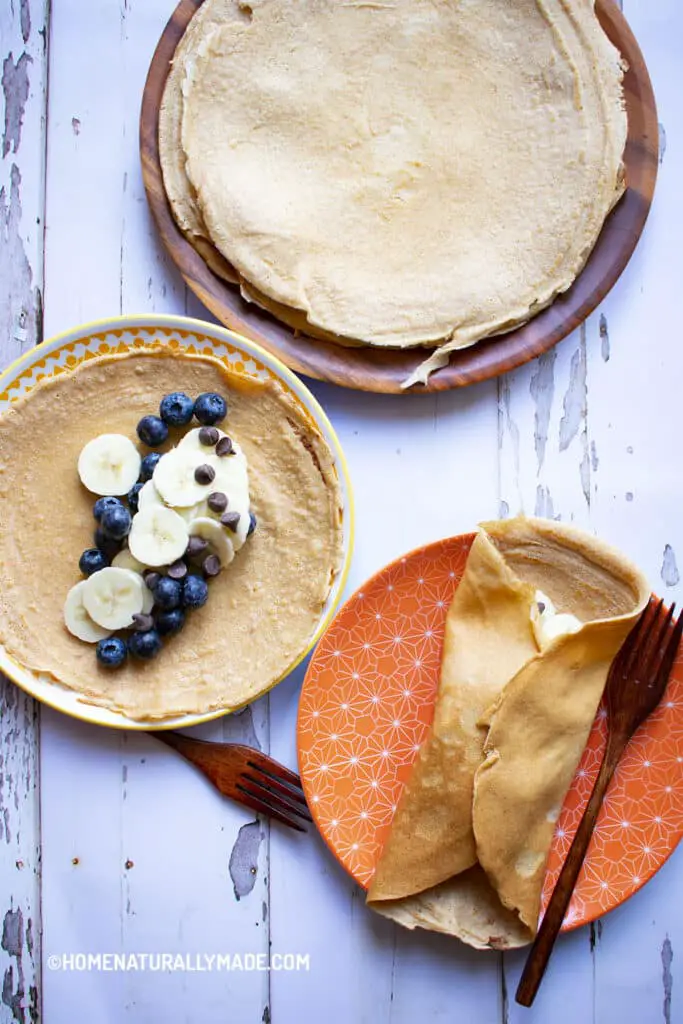 Berries such as strawberry, blueberry, raspberry and blackberry go very well with sliced bananas, along with semi-sweet chocolate chips. When I have neither berries nor cherries handy, I sometime use cherries or a sweet, sour crunching apple instead and chop it into little pieces.
Tips for Using Crepe Spreader:
If you haven't used a crepe spreader before, there might learn curves to expect. However, it is easy to speed up as long as you pay attention to a few essential tips.
Hold the tip of the crepe spreader handle with fingers, which gives you the maximum leverage, but using wrist strength to guide the movement of the spreader. This reminds me of using a Chinese calligraphy brush.
Be firm but flexible and gentle. The spreader barely touches the batter and swirls swiftly in a circular motion in the same direction continuously.
It is important that the spreader only goes in one direction, either clockwise or counterclockwise. I am right-handed and typically use a clockwise circular motion.
Do not go back and try to fix areas, as there is no fix.
Tips for a Smooth Whole Wheat Crepes:
If you can, make the batter the night before and store it in the refrigerator. First thing in the morning, remove it from the refrigerator and let it warm up to room temperature before cooking.
This way, gluten inside the wheat flour will be adequately activated, which shall help make the French Crepe tastes softer.
Like yummy & healthy breakfast? Make sure you check out the fluffy pancake and homemade hash browns.