Red Braised Pork Belly ( Hong Shao Rou 红烧肉 ) is one of the most popular traditional Chinese foods. With this recipe, you can cook red braised pork belly using just the wok itself in under 50 minutes. It features pork belly marinated and pan fried first before braising. I use the traditional Chinese red yeast rice as an all-natural eye catching red color. It produces super juicy, yummy and healthier pork that goes well with either rice, noodle, buns, or Scallion Pancakes.
It worth mentioning that most of the pork belly fat comes out during the cooking, which makes this red braised pork belly a healthier version.
Save the pork oil and gelatin liquid mixture left behind in the wok for later use. With this at hand, you can quickly whip out a tasty dish such as Yang Chun Noodles, Chinese Stir Fried Noodles or Chow Mein.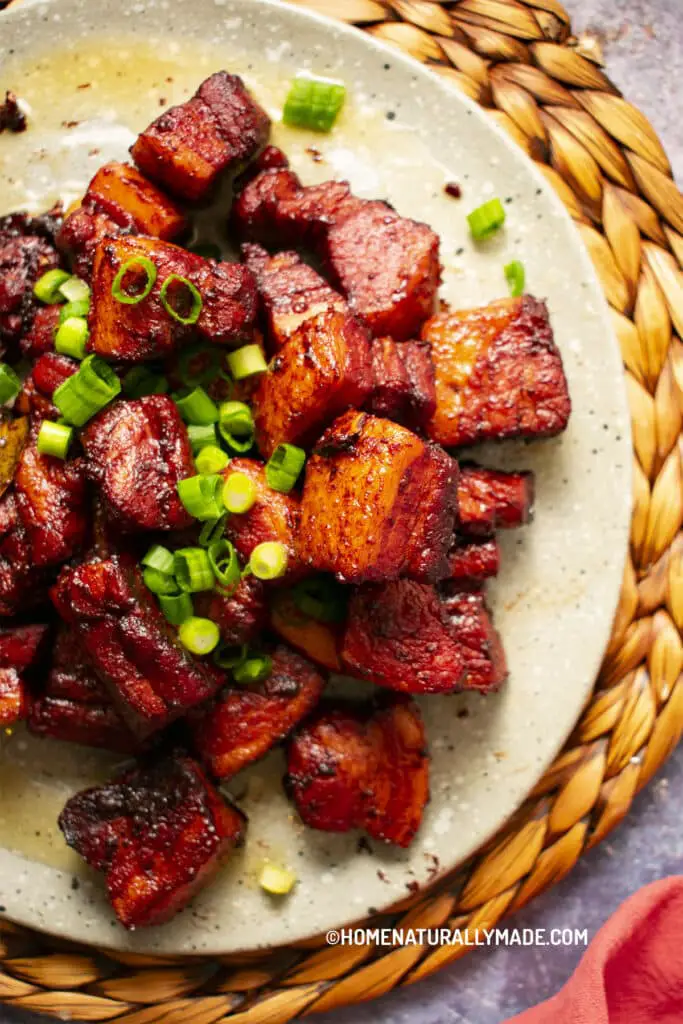 Tips & Tricks for tasty red braised pork belly:
Marinate the pork belly for 10-20 minutes first
Marinate the pork belly with Shaoxing wine in a mixing bowl. Toss, flip and mix well. Let it sit for 10-20 minutes. Toss and flip from time to time.
A quality Wok makes the cooking easier
If you cook Chinese food a lot, it makes sense to get a quality Wok with a dome-shaped lid. The wok is also quite versatile; for example, I use mine for steaming fish or buns.
Why a dome-shaped lid vs. a regular flat lid? It provides more room for the steam to circulate, therefore facilitating the cooking. This is especially important during the steaming process.
Pi Xian Doubanjiang elevates the flavor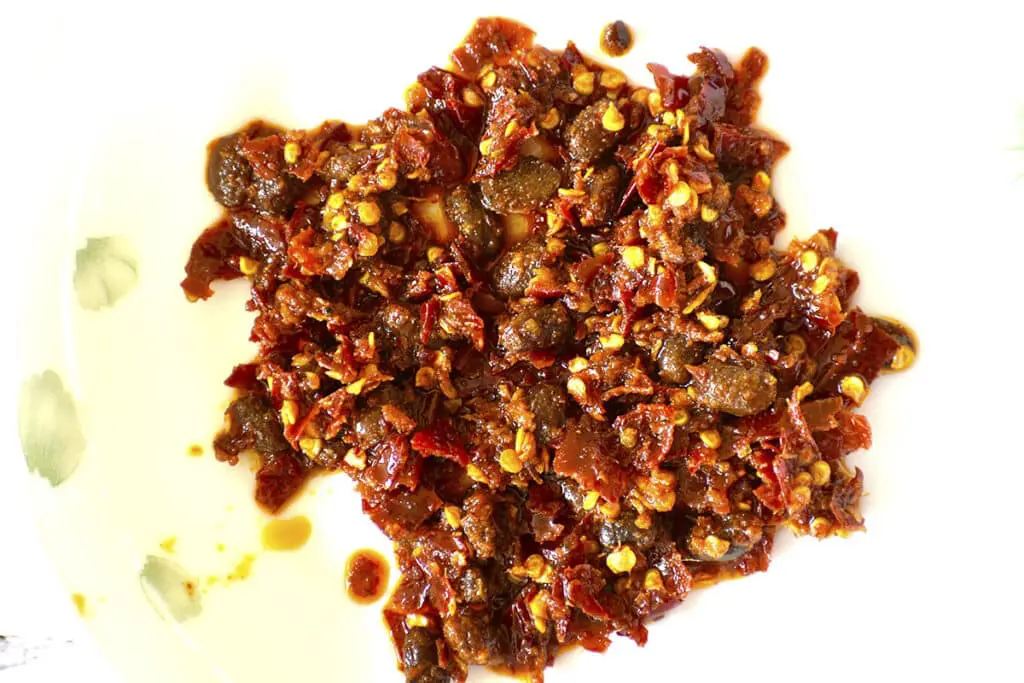 Pi Xian Doubanjiang is a special and popular fermented chili & bean sauce, frequently added during cooking or for making the dipping sauce. I use 1 teaspoon for 3.5 lbs of pork belly: not a lot, just a pinch of the flavor. You may increase this up to 1 tbsp if you like spicy food.
Use pan-frying cooking first for a healthy & tasty red braised pork belly
1. It helps sear the meat for juicier pork belly
A lot of recipes call for blanching pork during the prep process to get rid of the impurities. I think it might make sense when the pork quality isn't so great. However, if you can get decent quality fresh pork belly, as I do, there is really no need to do so. A good rinse and wash shall do the trick, as blanching takes away the flavor & juiciness of the pork.
2. It removes extra pork fat for healthier pork belly
During the pan-frying process, pork fat will come out of the pork belly. This produces a healthier pork belly with a more refreshing taste.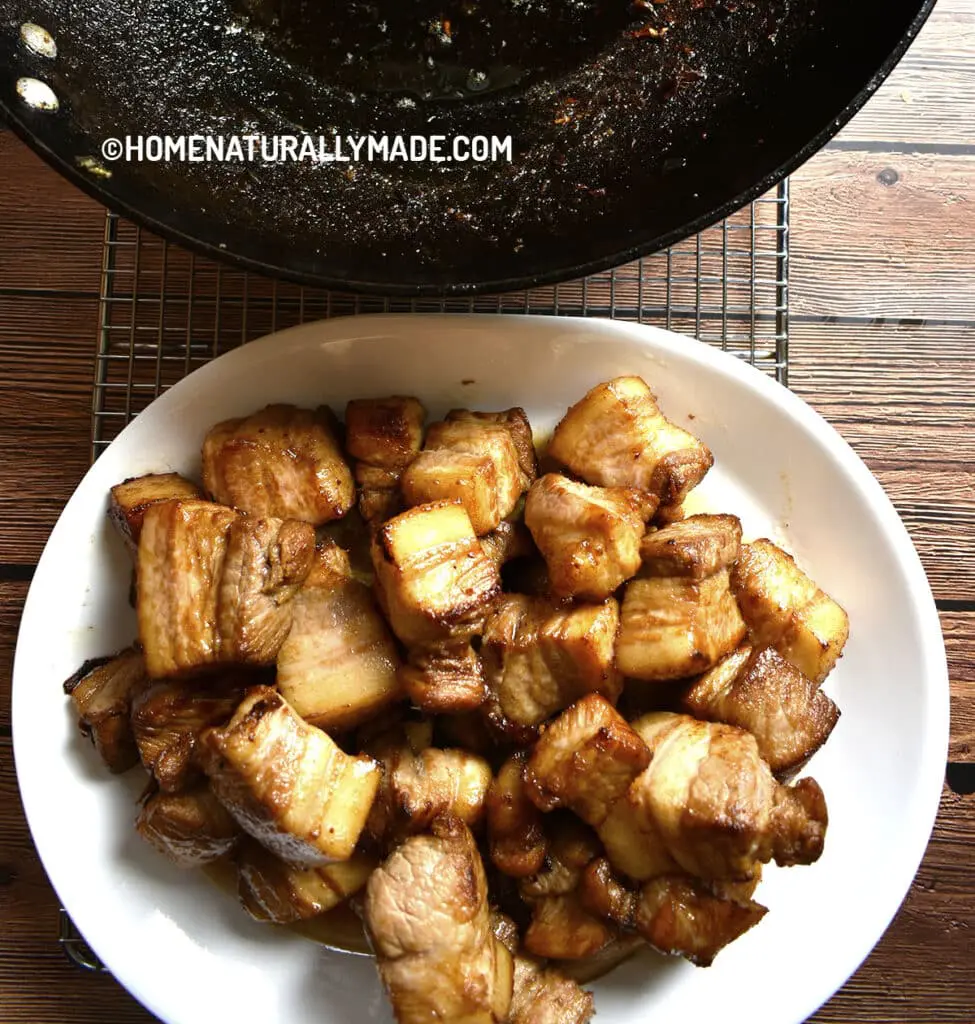 3. It improves productivity for easier cooking
By eliminating blanching and replacing it with pan-frying, you can use the same wok for cooking the entire time, which saves time and avoids the extra work.
4. It helps shortens the overall cooking time for faster cooking
This pan-frying step also helps shorten the overall cooking process too. It does a wonderful job cooking the pork about 30 to 40%, saving tons of time with just one simple step.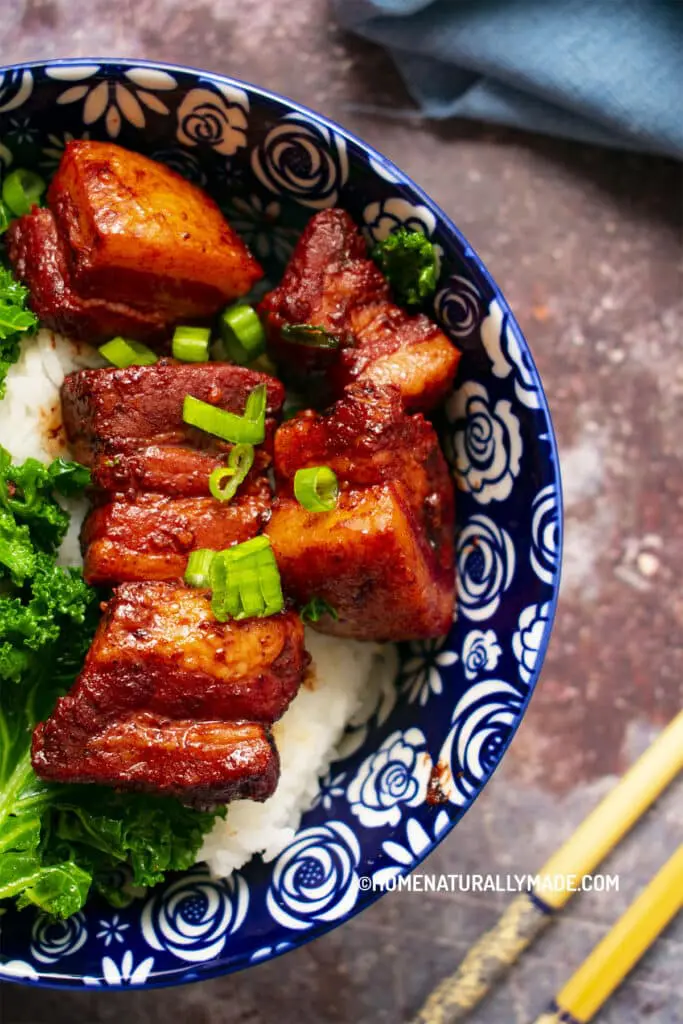 Use red yeast rice (红曲米) as a natural source of red color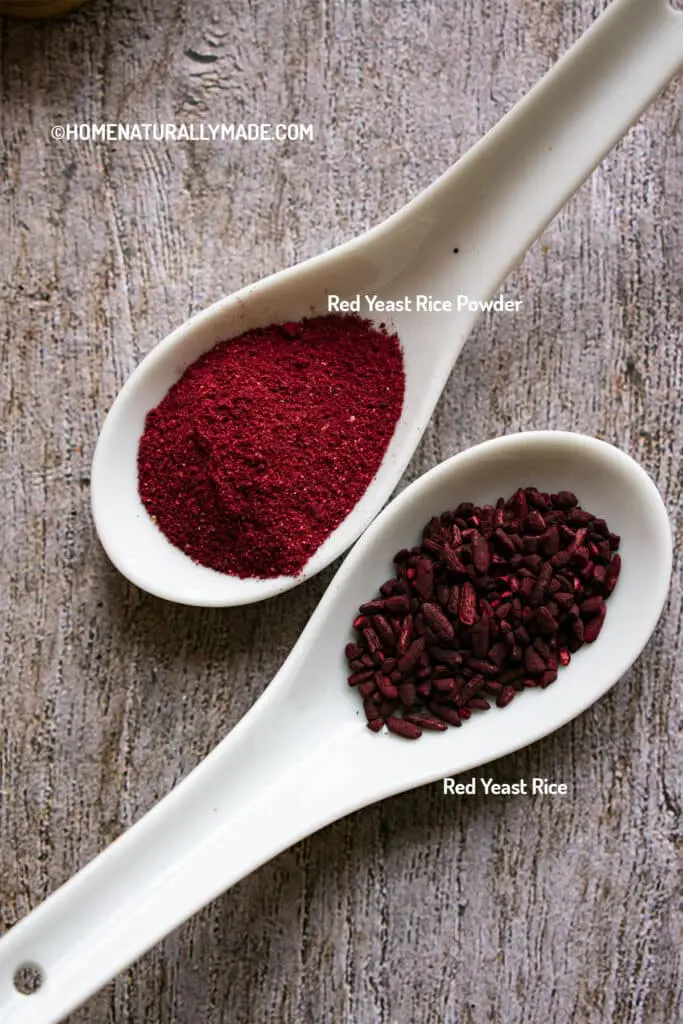 The shining red color of the pork belly is the signature of this beloved dish. To achieve this, some recipes burn the sugar, others use artificial food coloring. None of that is necessary when using red yeast rice or Hong Qu Mi (红曲米) as a natural source of red color.
Red yeast rice is rice that has been fermented with certain types of yeast. The fermentation process changes the color of the rice from white to red. We use red yeast rice a lot in my hometown Suzhou area as an all-natural food coloring to cook ribs, beef shanks, pork shoulders, etc. Did I mention that people also use red yeast rice as a dietary supplement to promote healthy cholesterol levels? What a bonus!
It worth mentioning that red yeast rice turns into an extremely bright red color during the initial braising process. It is a reaction of the red yeast rice to the initial high heat exposure. However, the color will become toned down toward the end of the cooking and especially after you remove the pork belly from the wok. Therefore, please don't be over concerned if the pork belly seems a bit too red to you initially.
One-Wok Cooks Red Braised Pork Belly in 40 Minutes via Easy Steps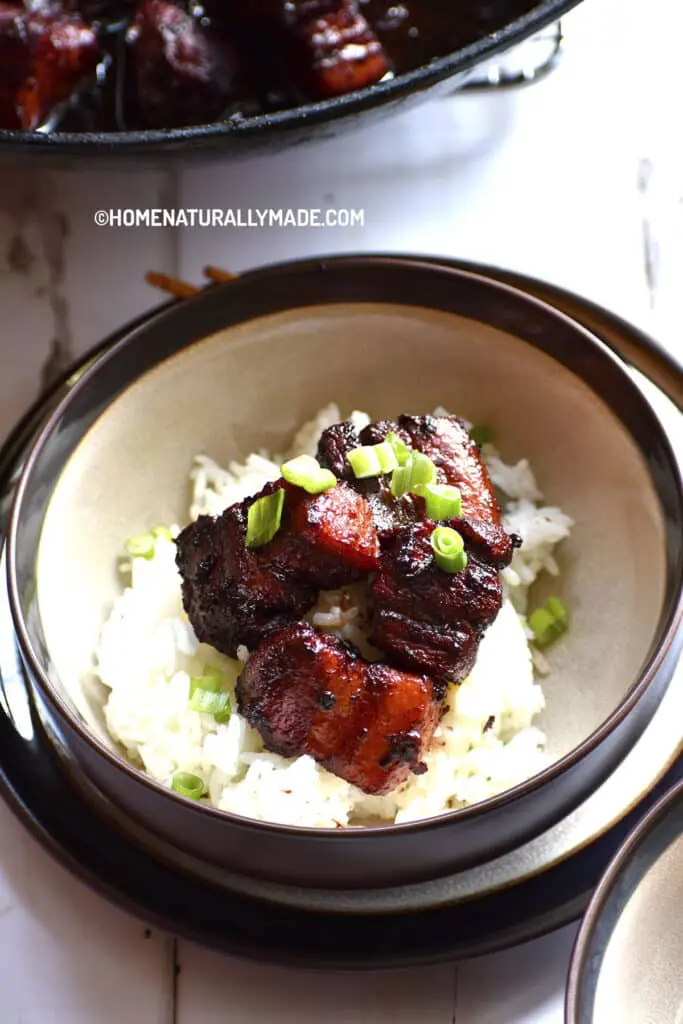 It is super easy and quick to cook this delicious meal by following this recipe. All it takes is:
10 minutes pan-fry at medium-high heat
15 minutes braise at medium-high heat
10 minutes braise at medium and then 5 minutes at low heat
Red Braised Pork Belly Frequently Asked Questions:
Should I use whole red yeast rice or grind them first?
If you have a coffee or herb grinder, I recommend grinding red yeast rice first. You will need one tbsp for about 3.5 lb pork belly. Use 2 tablespoons if you use the red yeast rice without grinding.
How do I know the pork belly is ready?
Toward the end of the braising, you will notice most of the liquid disappearing, replaced with the pork fat oil. This is a sign that the pork belly is ready!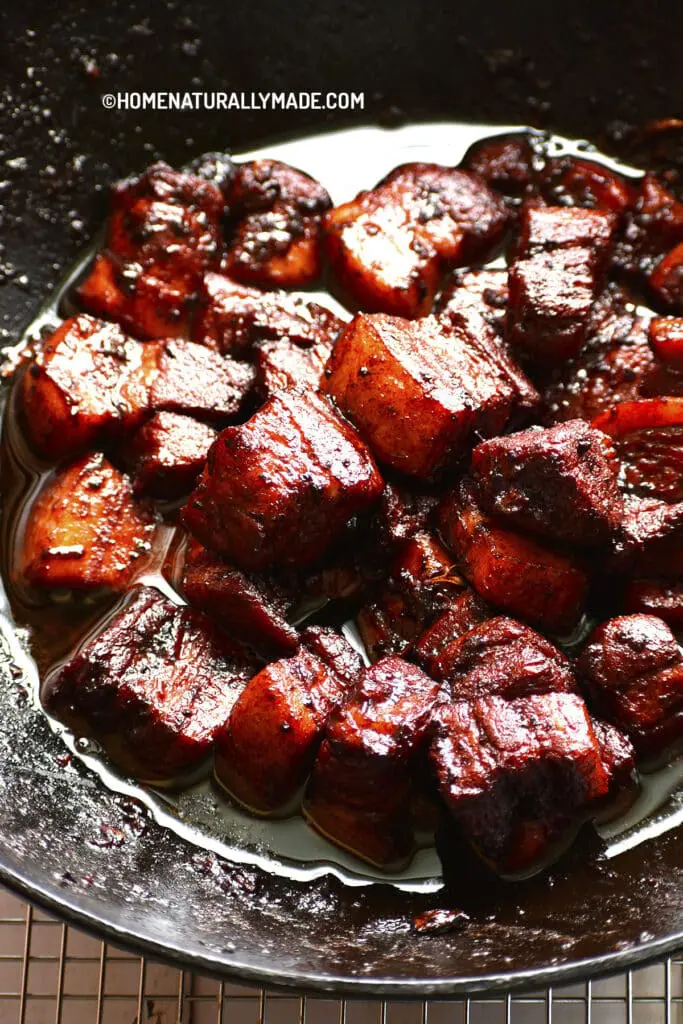 What do I do with the juice left in the Wok after cooking Red Braised Pork Belly?
Save it! The juice is loaded with flavor and yumminess. It consists of partial pork gelatin and partial flavored pork belly fat. I always save them and store them in a jar in the refrigerator. With this, you can quickly whip out delicious Yang Chun Noodle in no time. It is also the secret for a quick & tasty Chow Mein.