Tomatillo Chicken is a popular Mexican food, that featuring braised chicken in a tomatillo sauce. Using very limited ingredients, this Mexican chicken dish is so easy to make, but extremely tasty and versatile.
By the way, if you like tangy food, or if you are looking for food to stimulate your appetite, this is an outstanding choice.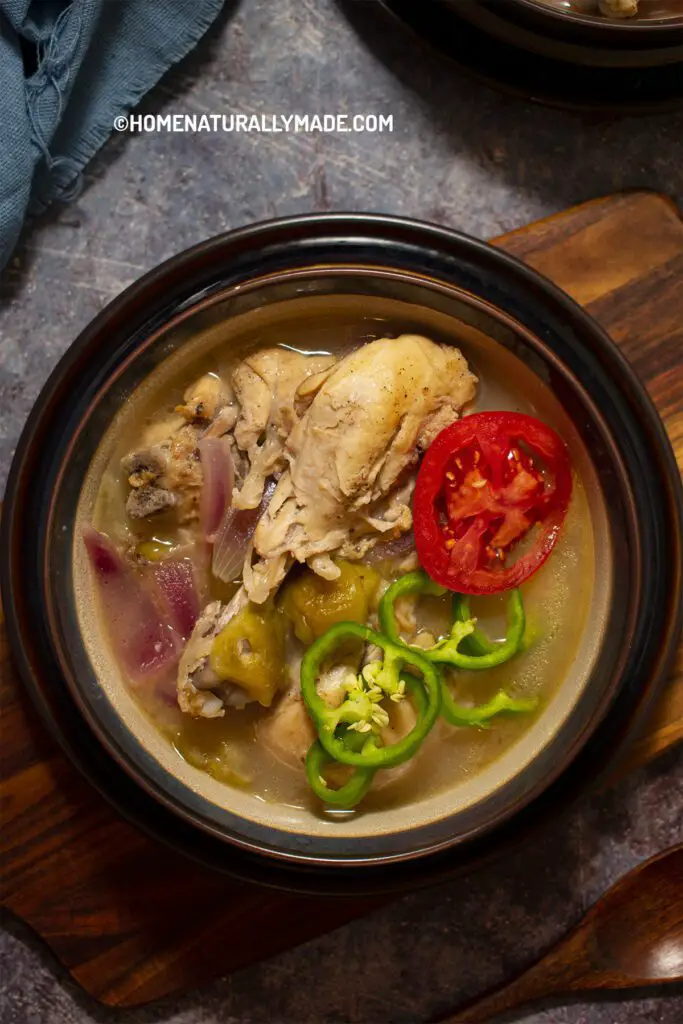 What do I need to make Tomatillo Chicken?
For chicken meat choices, chicken thigh works the best. Since I can get the organic drumsticks at extremely reasonable price, I usually use the organic chicken drumsticks. For better cooking, remove the skins and cut the drumsticks next to the bone and split the drumsticks to a flat piece, if possible.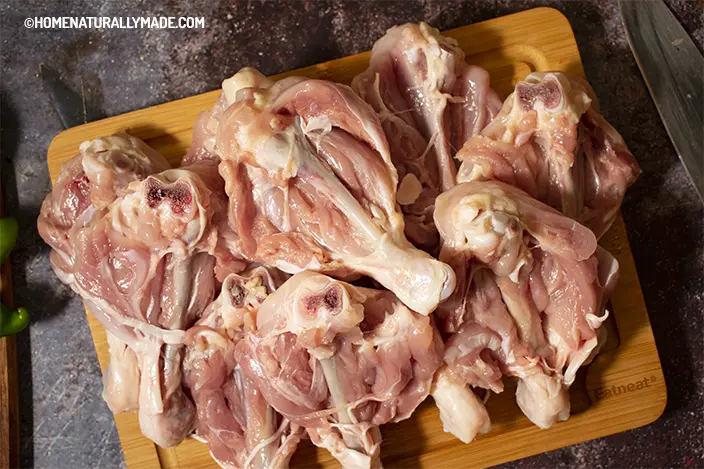 For the seasoning, all you need is salt and black pepper. Sprinkle the salt & black pepper blend evenly over chicken before pan frying.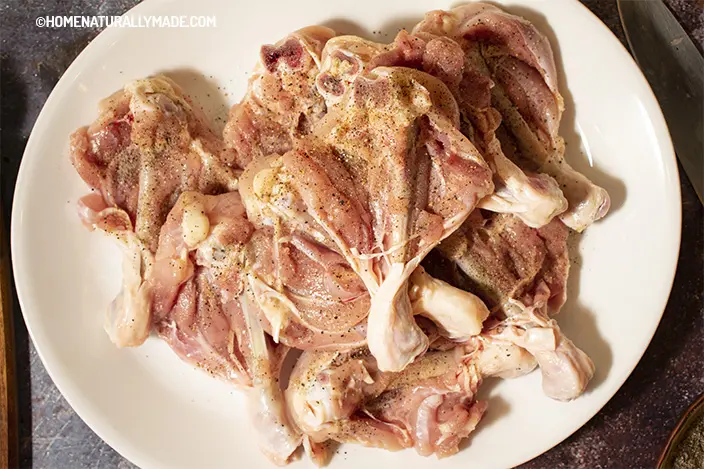 For the braising sauce, tomatillos, red onion and minced garlic will make magic. It worth mentioning that tomatillos are very freezer friendly. If you happen to grow your own tomatillos like I do and have harvested a lot, you can simply freeze them in the whole form and then use later.
Tips to use frozen tomatillos, remove them from the freezer only 1 hour before the cooking and then cut into slices. That way, the tomatillos remains stiff which makes it easier to cut, but also soft enough to cut.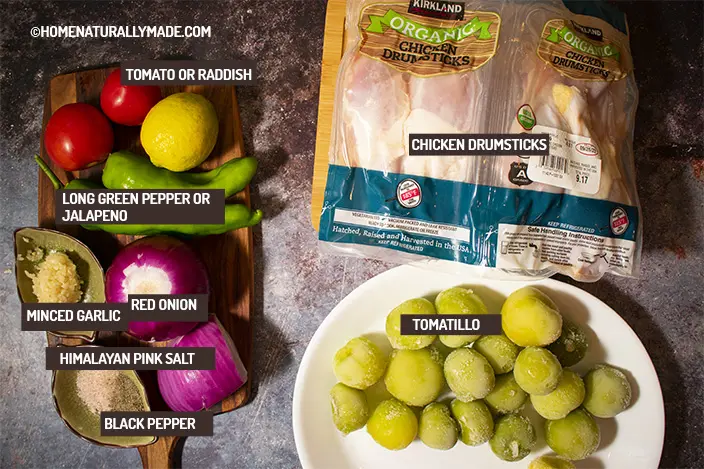 Last but not least is the garnishing pieces. You see, this homemade from scratch Braised Chicken with Tomatillo Sauce is so yummy and appetizing. But the color presentation is kind of dull, so we need a bit of color to make it pop. We will need some bright red and bright green colors as garnishing.
For the red color, radish is a popular choice, but vine-ripe tomato also do. As for the bright green color, use jalapeño if you like spicy food, or long green pepper. No need to remove the seeds, just trim the end and cut across into thin slices.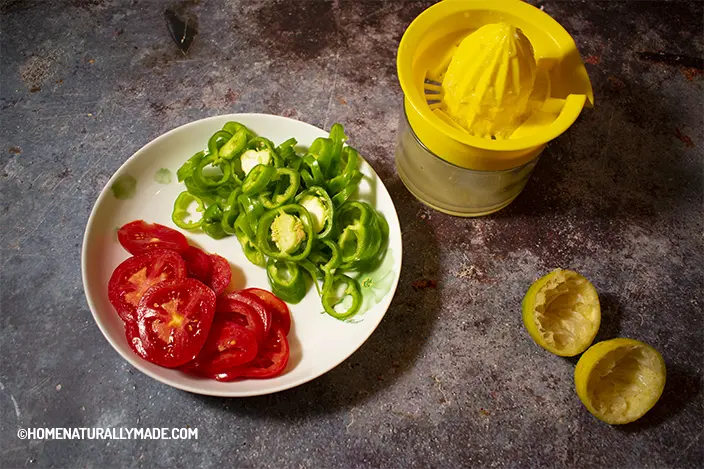 How to make an authentic, easy and yummy Tomatillo Chicken at home?
Tip No.1 is to pan fry the chicken first
For the pan frying, I usually use a hard anodized frying pan. They use less oil and easy to create a caramelized effect. Heat the frying pan on medium heat for two minutes, and then add 2 tbsp avocado oil. Use a silicone spatula to spread out evenly the oil and then lay the chicken flat.
For a 12-inch frying pan, you can fit about 10 chicken drumsticks no problem.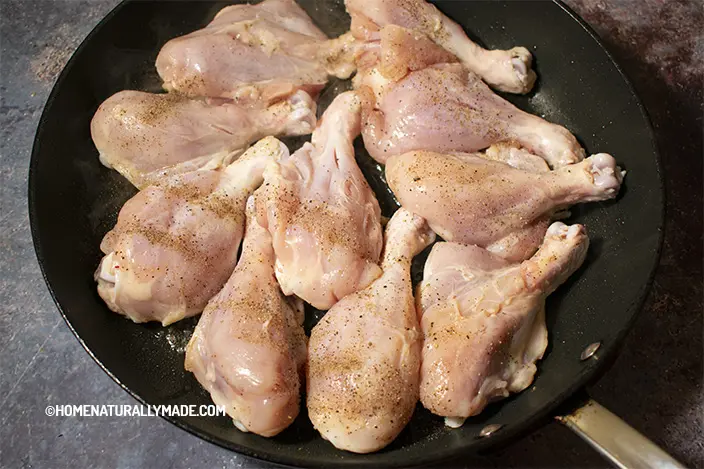 Flip the chicken after 2 minutes. Then repeating flip every 1 minute 4-5 times, or till chicken is caramelized and about 85% fully cooked.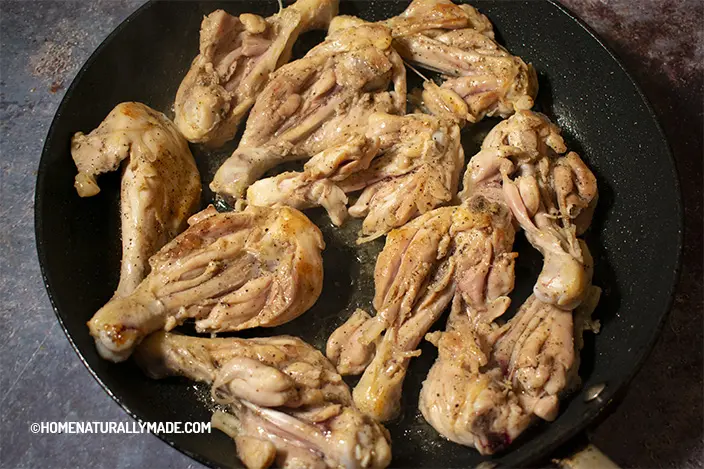 Tip No.2 is to Braise the Chicken with Tomatillo Sauce
Remove the chicken from the pan, add the sliced tomatillo, red onion and minced garlic to a large deep sauté pan to braise. I use this tri-ply clad stainless 6 Qt pan. Great for cooking dish like this.
Stir Fry for about 2 minutes and then sprinkle about 1/4 tsp salt and black pepper, and continue to stir fry for another 1 minute.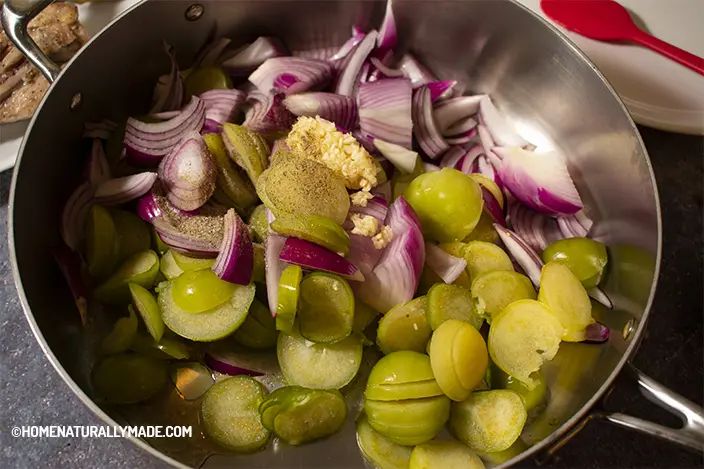 Add 4 cups of chicken broth, cover the pan with a lid and bring it to a boil. After that, add the chicken back, turn the heat to low and let it cook for 10 minutes. Following that, turn the heat to medium-high and cook for additional 8 minutes.
Then Remove the lid and let it continue to cook for 2 minutes while you use a flexible turner to turn and flip everything. Last but not least is to garnish with the sliced tomato and green pepper and serve.
Enjoy a tasty and healthy Tomatillo Chicken!