Homemade chicken broth is unbelievably delicious. It is super easy to make at home and takes no effort, only 4 hours of slow cooking. With this on hand, you can whip out the heavenly delicious chicken noodle soup, the classic egg drop soup, or the better-than-takeout Hot and Sour Soup in no time.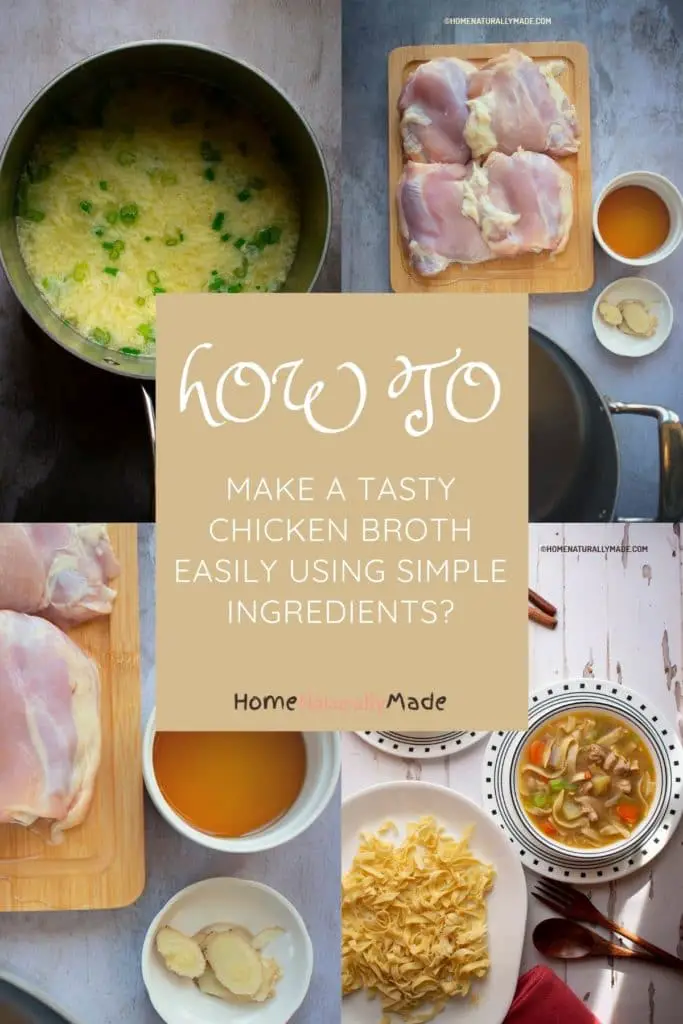 Tips & tricks for perfect homemade chicken broth
Ginger + Shaoxing Wine + Slow Cooking is the ultimate secret
This is a hand-down legendary secret recipe of a long history of Chinese culture of cooking chicken soup.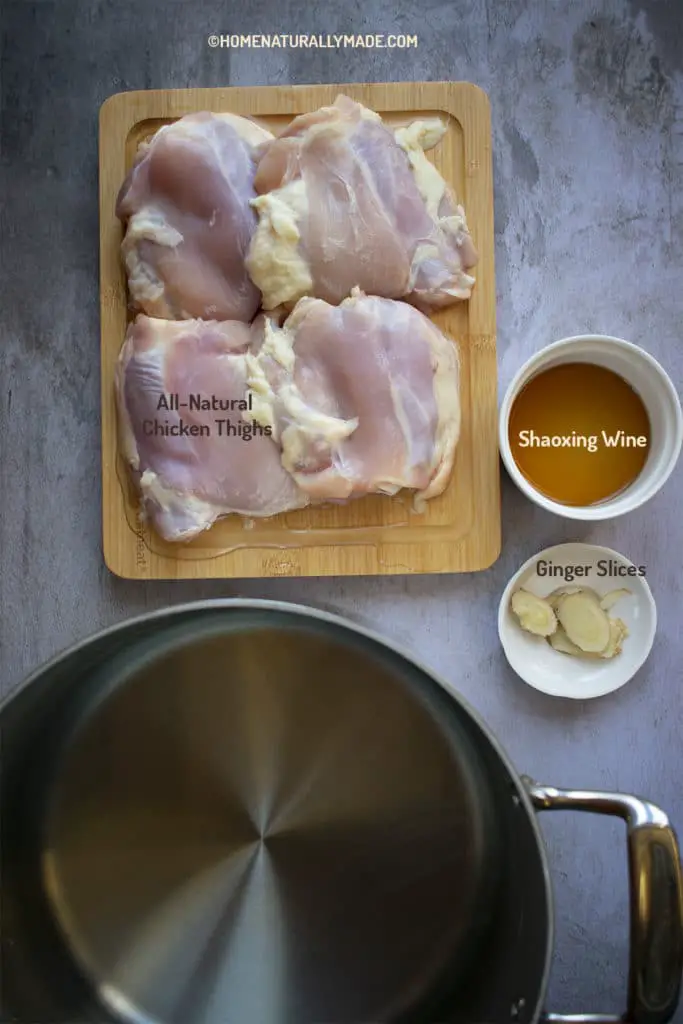 Golden ratio of Chicken, water, Shaoxing wine, and ginger
2 lb of chicken ~ 6 Qt. water ~ 1/4 cup Shaoxing wine ~ 8 slices of ginger

Golden Ratio of Perfect Chicken Broth by HomeNaturallyMade.com
I usually use an 8 Qt. triple-ply stainless stockpot and fill it with 75% water. Too much water will dilute the flavor; with too little water, the broth becomes overly concentrated.
Nevertheless, the advantage of making concentrated chicken broth is that it is easy to store for a smaller volume. You can add boiling water to the concentrated broth whenever you are ready to use the broth.
The proper way of cooking
Fill an 8 Qt. triple-ply stainless stockpot or cast-iron stockpot with 75% water. Turn the heat to medium-high, add Shaoxing wine and ginger to the water, and bring it to a boil. Then turn the heat to simmer and add fresh chicken into the pot.
Simmer for 3 hours.
Homemade Chicken Broth Frequently Asked Questions:
I need chicken broth to make other non-Chinese dishes. Can I still use this recipe? Will I taste Shaoxing wine or ginger in the ultimate food?
Surely you can use this chicken broth for any recipe that calls for chicken broth. They are in fact the premium version since they are extremely tasty. Shaoxing Wine and ginger work magically together to bring out all the desirable flavors and tastes of chicken. As long as you follow the golden ratio, it is just the right amount to perform the magic without the residual taste of Shaoxing wine or ginger.
What kind of pot should I use? Can I use a slow cooker?
A quality stockpot that has strong heat retention capabilities is ideal. As we intend to release the yumminess of chicken slowly but surely into the water. An extremely low while continuous & consistent heat is what we are looking for.
Cast iron stockpot or clay pot is among the best. Since my cast-iron pot is too small and I do not have a clay pot handy, I use a triply stainless stockpot instead. It works out well.
Yes, you can absolutely use a slow cooker. If you use a slow cooker, I recommend using a normal stockpot to bring the water (with ginger and Shaoxing Wine) to a boil before adding to the slow cooker.
What part of the chicken is best for chicken broth?
I usually use bone-in chicken thighs, sometimes whole chicken. I also include chicken bones I saved in the freezer from previous cooking.
Chicken breasts have the least amount of taste. However, if you would like to use chicken breast, you are in luck with this recipe. Shaoxing wine and ginger will still work their magic to maximize the flavor and taste slowly and surely. Remember to pound the chicken breast with a meat tenderizer first.
Do I need to prep the chicken for chicken broth? For instance, do I need to sear the chicken first?
Nope, you do not need to pre-cook the chicken. As long as they are fresh and properly defrost (if previously frozen) and cleaned, they are good.
Do I leave the chicken skin on or have it removed?
It is a matter of preference and how much oil you expect the ultimate chicken broth has. Chicken skins contain more fat, which leads to slightly greasier chicken broth.
If I use chicken thighs, I usually remove the skins. If I use a whole chicken, I usually leave the skin on but trim the undesirable extra skins or parts. This is mainly because it seems an awful lot of work trying to remove the skin from the entire chicken, LOL. It is one of the major reasons I opt-in to use chicken thighs almost all the time.
How long do I need to slow cook?
4 hours is all you need.
What do I do with the chicken left in the chicken broth?
Chicken has given everything they have to the soup during the 4-hour-long simmering process. The chicken left behind doesn't have much taste & flavor. However, you can still try to take advantage of it. They make excellent pulled chicken. Just need a tasty source.