Shanghai soup dumplings are hugely popular and well-liked food in China. People enjoy them as breakfast or side dish. They feature soupy, juicy, and savory pork fillings wrapped within thin & soft skin. Vinegar coupled with fine julienne cut ginger slices serves as a typical dipping sauce to complement & contrast the flavor and taste.
Keep reading to learn the simplified, straightforward way to make this delicious food at home perfectly every time!
What do you need to make Shanghai Soup Dumplings?
Wrappers – No doubt home freshly made thin & soft wrappers are the best. If you have a KitchenAid Stand Mixer or manual pasta machine, it is unbelievably easy to make these wrappers in under 20 minutes.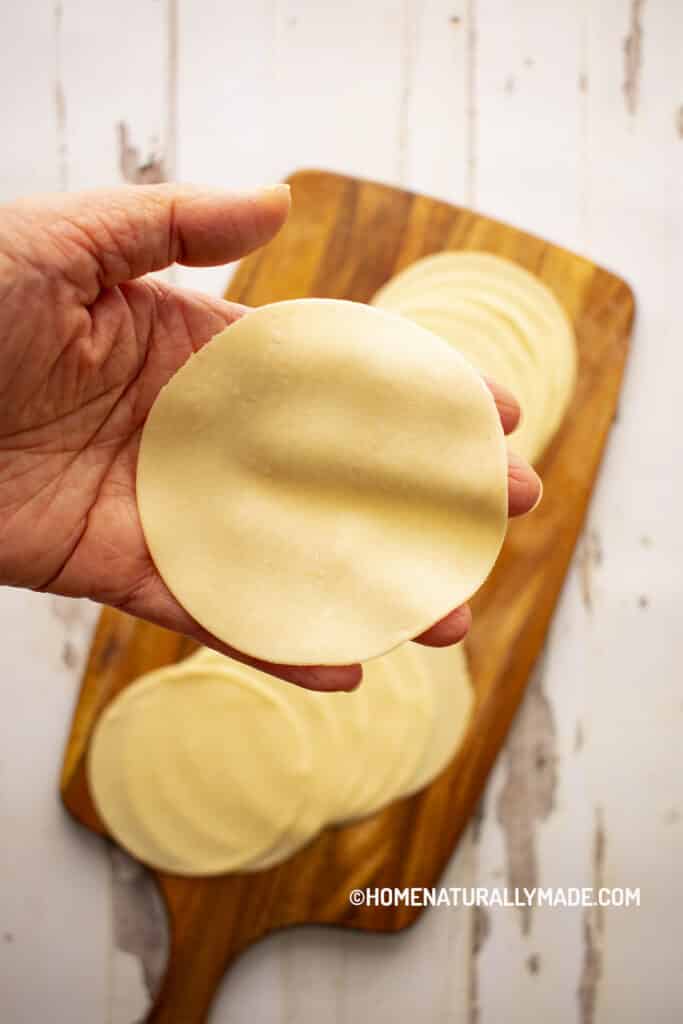 Alternatively, you can use store-bought dumpling wrappers. Roll them a bit to make them thinner a little more.
Ground Pork – Quality ground pork is essential to the tasty dumplings. Home ground pork which contains 40% pork belly and 60% pork shoulder or butt finely chopped together using a meat grinder has the ideal balance of juiciness and meatiness.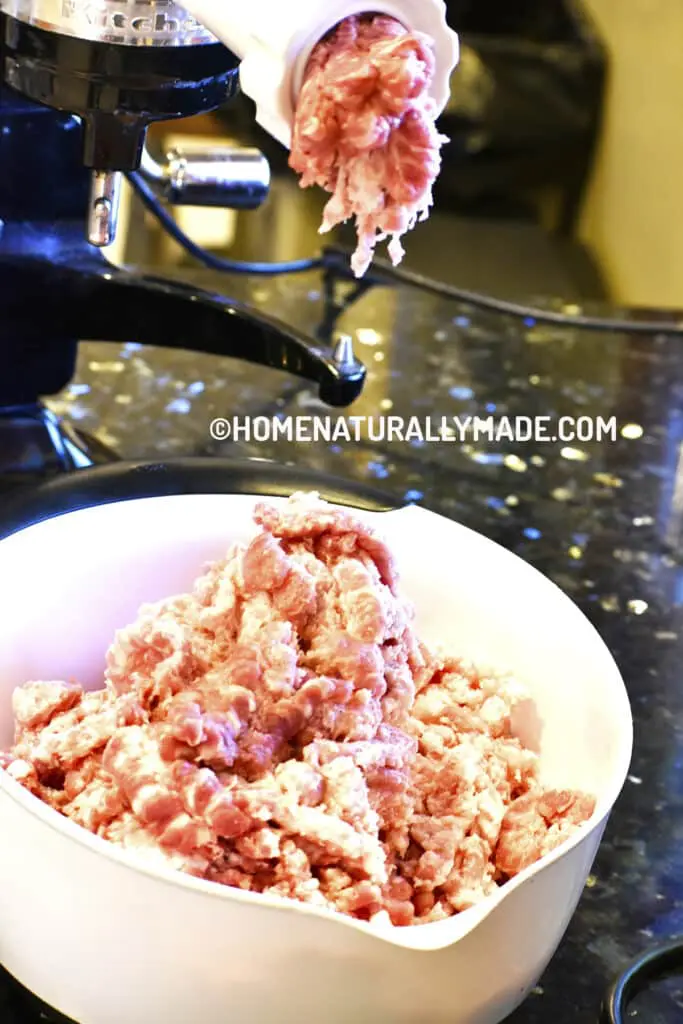 I use KitchenAid Stand Mixer Meat Grinder attachment to grind the pork roughly every quarter for all my ground pork needs.
When my husband bought the KitchenAid stand mixer over 10 years ago, I secretly thought it might be another tool we actually do not use. Yet, I ended up using it multiple times a week.
Leveraging various attachments & accessories, I use it for making noodles, wonton wrappers, dumpling wrappers, whipped cream, home-ground pork, you name it.
Alternatively, you can use store-bought ground pork out of the quality pork containing 70% or less lean percentage.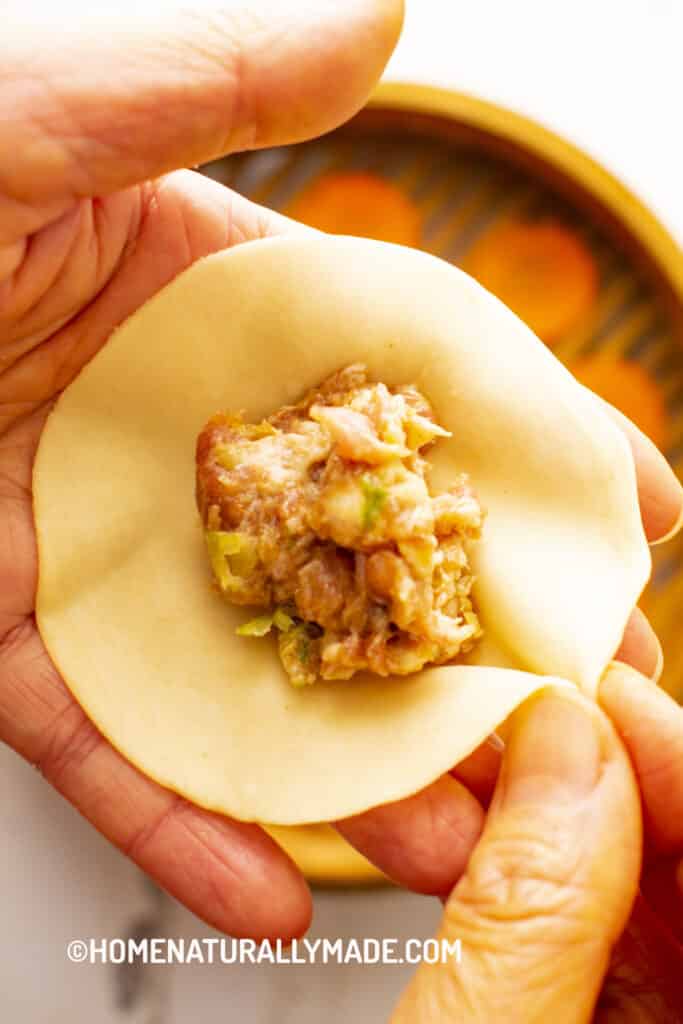 Marinating Sauce for the Pork – It is the key to the juicy & tasty pork fillings. What goes into the secret marinating sauce? Simpler than you thought, but work together incredibly like magic – aged soy sauce, light soy sauce, Shaoxing wine, egg, arrowroot flour, star anise powder, freshly ground coriander seeds, green onion, and ginger.
It is easier to get organic whole coriander seeds vs. the powder, therefore I just get the seeds and use a spice grinder to turn into freshly ground coriander seeds.
Fresh organic ginger tastes so delicious. Use a compact food processor to mince ginger and green onion into small pieces. To avoid chunks of ginger in the filling, you can also use an organic ginger powder as a substitute.
Tips & Tricks Making Shanghai Soup Dumplings Perfectly Every Time!
See the Recipe for detailed step-by-step guide. I'd like to highlight a few tips & tricks here:
Use homemade dumpling wrappers if you can
Read here for detailed recipe and tutorial.
Prepare juicy, tasty pork fillings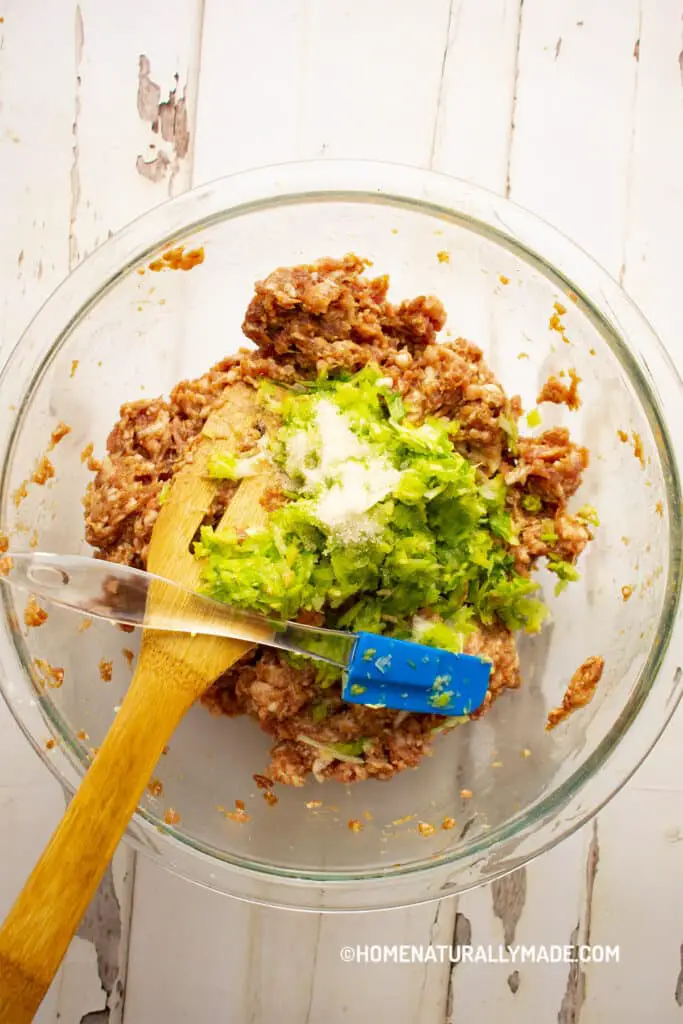 Wrap the dumplings as if they are mini buns
Read here for detailed and easy to follow tutorial.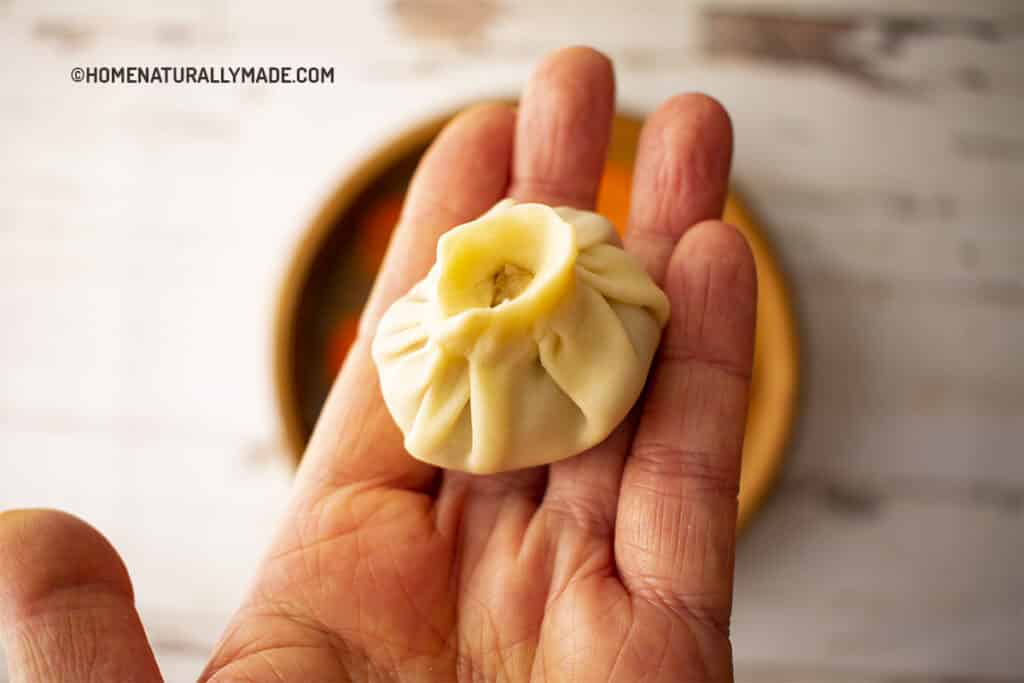 Prepare liner for the steamer
Since Shanghai soup dumplings have thin & soft skin containing loads of yumminess, we will need to prepare a liner for the steamer. Otherwise, they will simply stick to the surface. I often use carrot slices as the edible liner.
Using a Mandoline slicer's thinnest setting, slice a large carrot vertically. It works out great. Each carrot slice can then serve as an individual liner for the freshly wrapped Shanghai soup dumplings. Alternatively, you may use vegetables such as zucchini, cucumber as well.
Or you can use parchment paper. I recently discovered the unbleached parchment paper. Use a hole punch to punch some holes and you shall have a restaurant-style steamer liner.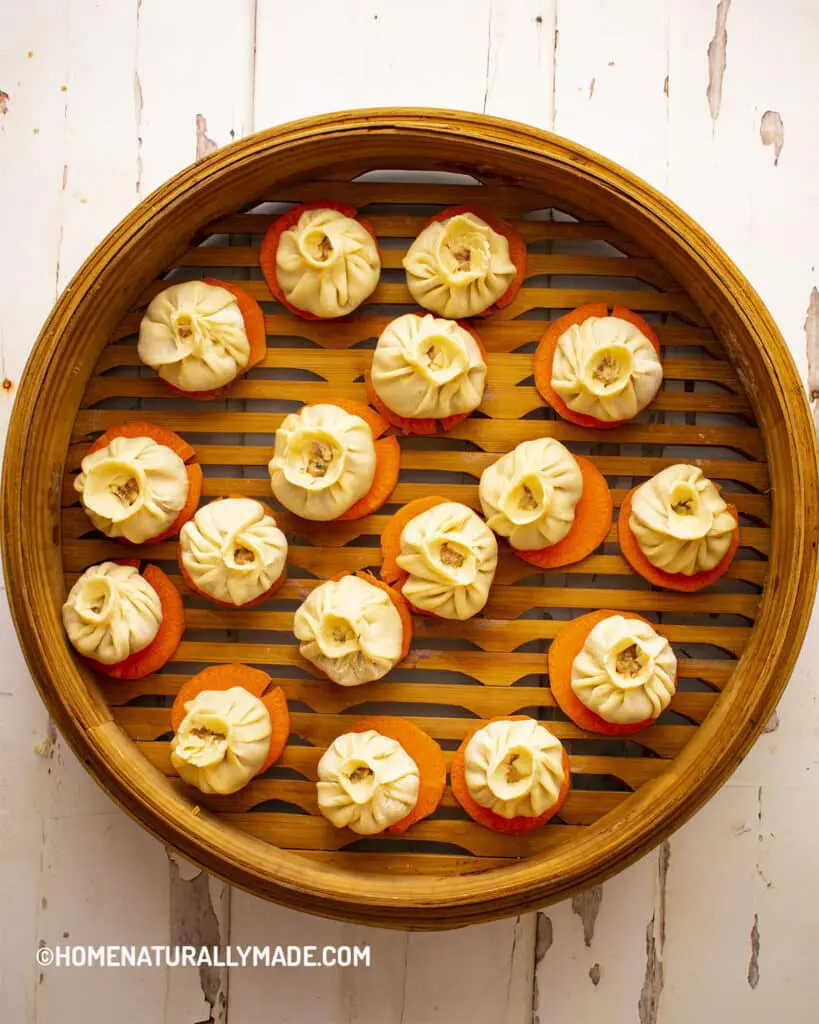 Steaming Techniques
A 14-inch wok (about 4-inches in height) coupled with a 12-inch bamboo steamer works out great as a steaming pair. You wouldn't need an additional rack to support the bamboo steamer.
For steaming the food, the water level should follow a Goldilocks principle, not too much but not too little either.
Too much water, the boiling water will end up touching the bottom of the food during steaming. As a result, the food will get soggy and affect the taste and flavor.
With too little water, the wok might get dried out during steaming, which may turn into dangerous kitchen hazards. This is because water gets evaporated into steam quickly during the steaming process. Please always do some tests and stay in the kitchen monitoring the steaming process as you learn the process and get to know your steaming set.
For steaming Shanghai soup dumplings, 10-minute on medium-high heat is all you need. 5 cups of water will support a 10-minute steaming well. This will also leave enough space between the water level and the bamboo steamer bottom to avoid boiling water to touch the dumplings during the steaming process.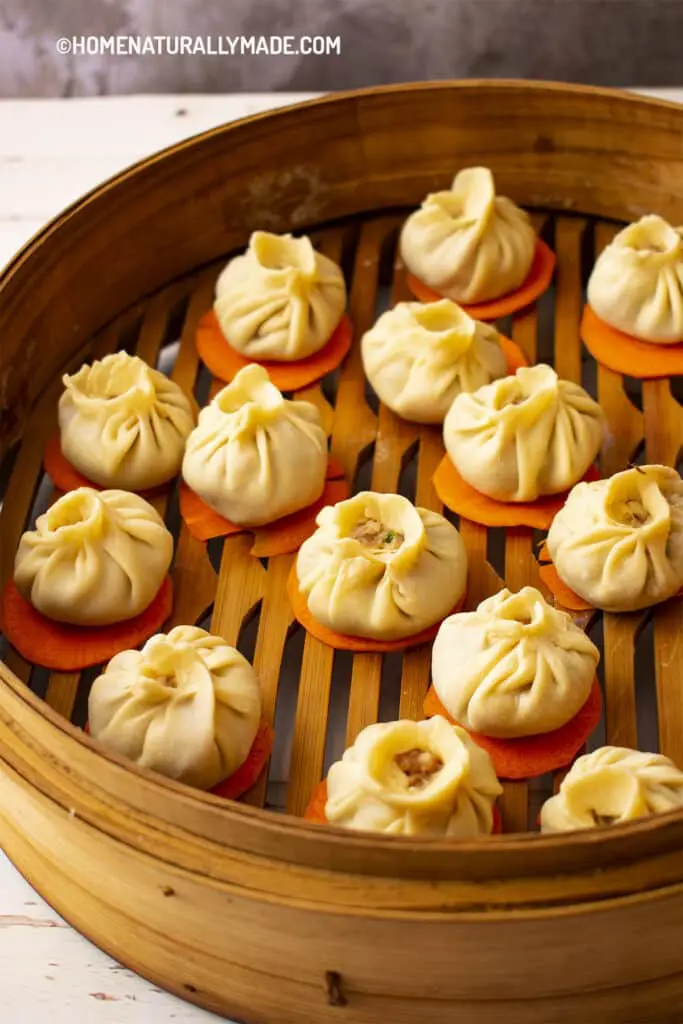 Add 5 cups of water into the wok, bring it to a boil and then add the bamboo steamer. Steam for 10 minutes and then turn off the heat.
Serve Shanghai Soup Dumplings
Once you are done with steaming, remove the steamer immediately from the wok, and serve hot. Freshly steamed soup dumplings are the best. They contain juice inside the dumplings that will eventually get absorbed by the wrappers. Therefore, enjoy freshly steamed, juicy & soupy Shanghai soup dumplings whenever you can.
Zhenjiang vinegar with thinly cut ginger slices is a popular dipping sauce. They just complement and contrast the flavor so well.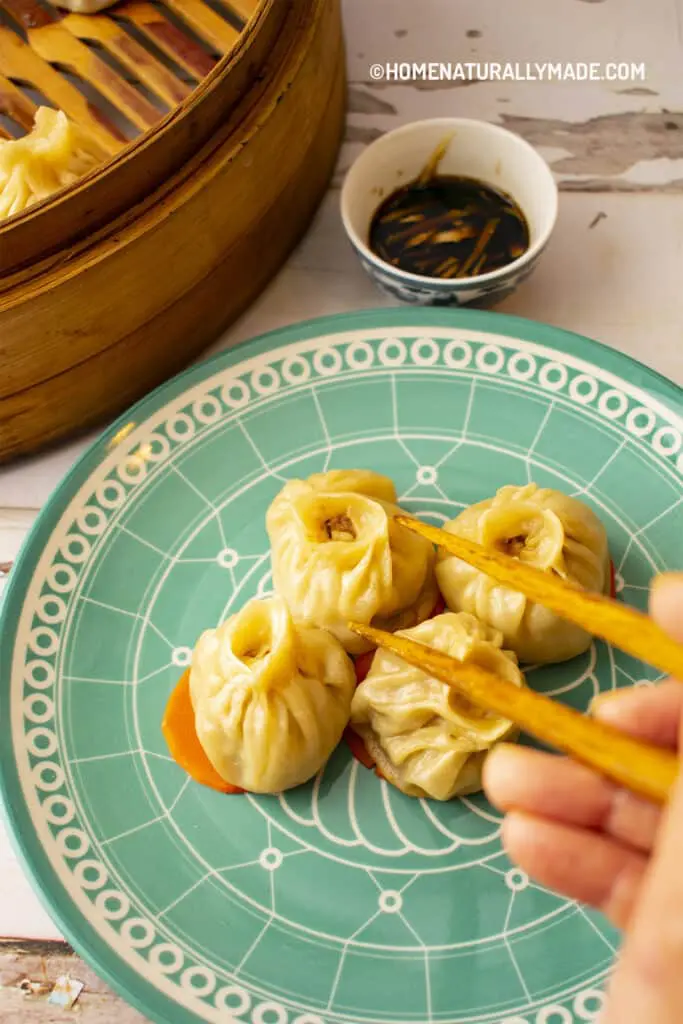 Do you like authentic, healthy Chinese food made easy at home? Make sure you check out the following.