Chicken Masala featuring homemade Garam Masala is easy, yummy, and super nutritious. Either chicken drumsticks or chicken thighs will work well. The vegetable assortment of tomatoes, red onion, and green pepper complement the flavor so well. Just adds to a bed of freshly steamed rice and blanched leafy vegetables for a satisfying healthy meal.
By the way, no water will be needed for the cooking. All the juice are coming from the vegetables and chicken.
How to make a tasty and healthy scratch chicken masala at home?
The first thing first is to blend homemade Garam Masala powder at home using organic wholesome spices
It is straightforward to blend Garam Masala at home using the all-natural best quality organic wholesome spices. A spice grinder is a very handy tool in the kitchen to turn wholesome spices into powder. For spices such as coriander, fennel seeds, cumin seeds, and black mustard seeds, it is easier to get organic quality spices in the whole form.
Read here for a detailed recipe on how to blend a homemade delicious Garam Masala.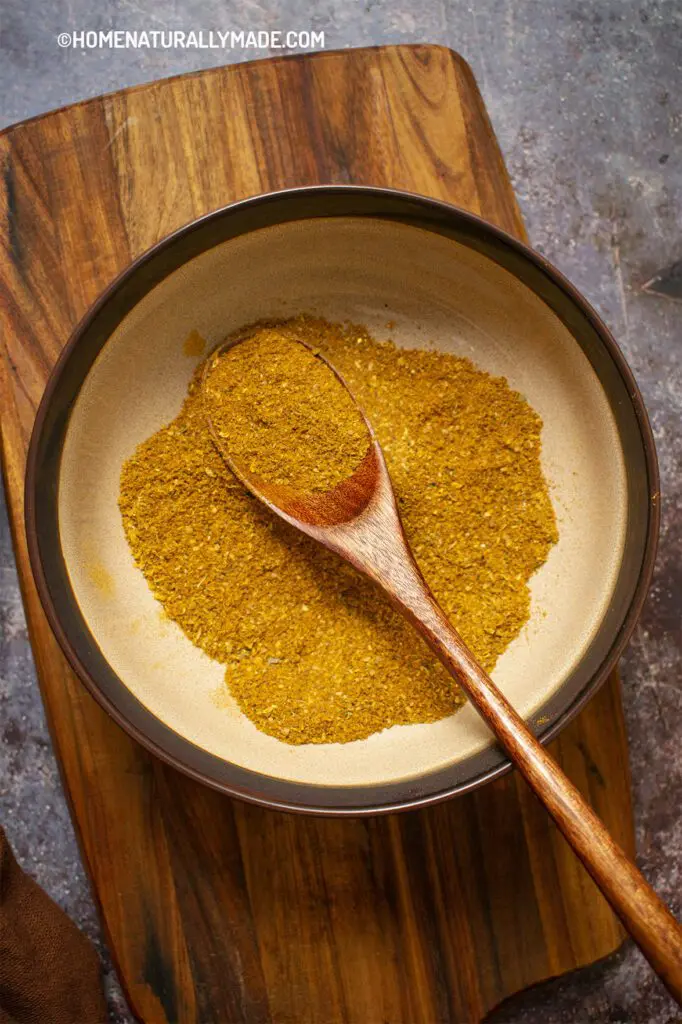 Step 2 is to marinate the chicken with Greek Yogurt and spice blend before cooking Chicken Masala
Once you have the homemade Garam Masala, use that to blend with additional spices including ginger powder, garlic powder, salt, and chili powder to make a chicken marinating spice blend.
If you are using chicken drumsticks, remove the skin first and then slit open the drumsticks for easier absorbing flavor and cooking.
Toss them with a splash of plain Greek Yogurt, toss, and mix using a pair of bamboo spatulas until the chicken drumsticks are evenly coated with the plain Greek Yogurt.
Then add the marinating spice blend, toss and mix well again.
Step 3 is to pan-fry the chicken until crispy before braising
For pan frying, I recommend using a quality hard anodized fry pan which helps use less oil and has a superb nonstick function.
Last but not least is to cook the chicken with the vegetables and spice blend
Stir Fry the vegetables with the leftover oil from pan frying for about 3 minutes with a sprinkle of salt or until they are wilt.
Add the previously pan-fried chicken to the pan, sprinkle the chicken masala spices on top, and then turn the heat to simmer. Let it cook for 20 minutes. Toss, flip, and fold chicken with the rest of the ingredients halfway through the simmering.
By the end of the 20 minutes, the vegetables are all softened and there will be plenty of juice in the pan. Turn the heat to medium, flip and fold the chicken with the sauce in the pan and cover the lid and cook for another 10 minutes.
All done! Enjoy a super yummy and healthy Homemade Scratch Chicken Masala!