Our Family enjoyed Amsterdam Vacation during the summer. We had such a great time cruising the canal in the early morning in a vintage former royal boat, visiting the world renowned museums and enjoying the day trips to suburb Zaandam and Zaanse Schans, devouring the amazingly fresh and yummy herring sandwich, and more.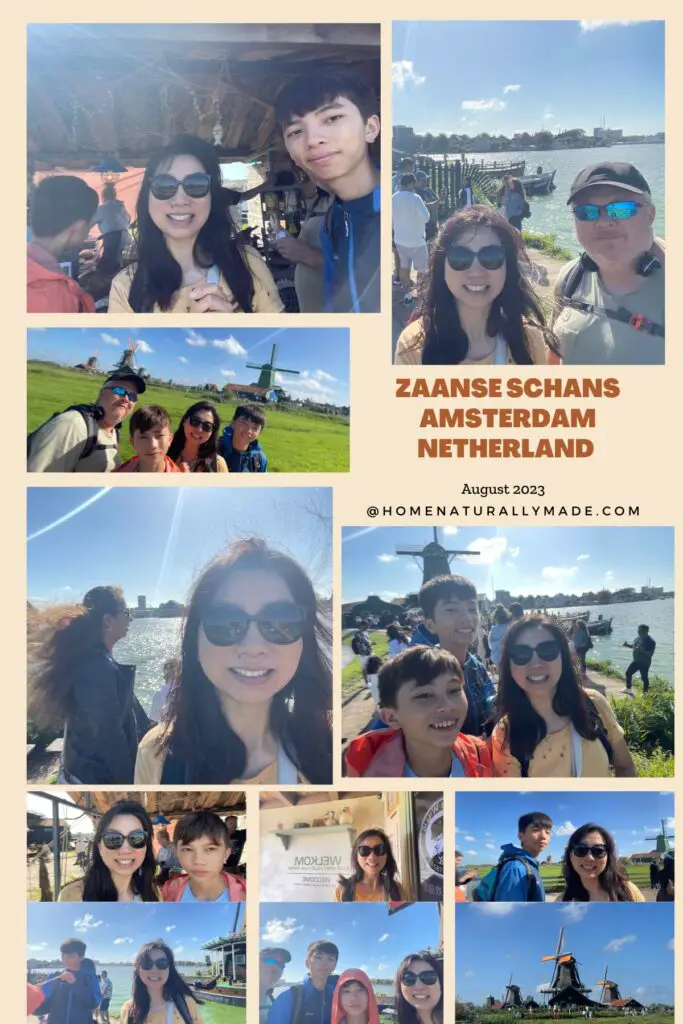 Amsterdam Vacation Public Transportation Tips
First of all, driving in Amsterdam is not a good idea given the fact that there are so many ring-shaped canals. Biking, walking and taking public transportation are much better ways to tour Amsterdam.
However, to say it is not easy to navigate Amsterdam public transportation is an understatement. To be frank, it was quite frustrating experience. I have been to other European cities and Amsterdam by far is one of the most challenging one.
After going through multiple minor mishaps and paid extra money unnecessarily, I started to figure out how the systems work. Hopefully it will help you navigate while vacationing in & around Amsterdam, Netherland.
First of all, you have to remember that you only use GVB when traveling within Amsterdam City. GVB, Gemeentelijk Vervoerbedrijf, covers bus, metro and tram, or the driver won't let you onboard. You can buy the ticket using the GVB mobile app, which is offered at 1 hour, one day, or 48-hour tickets.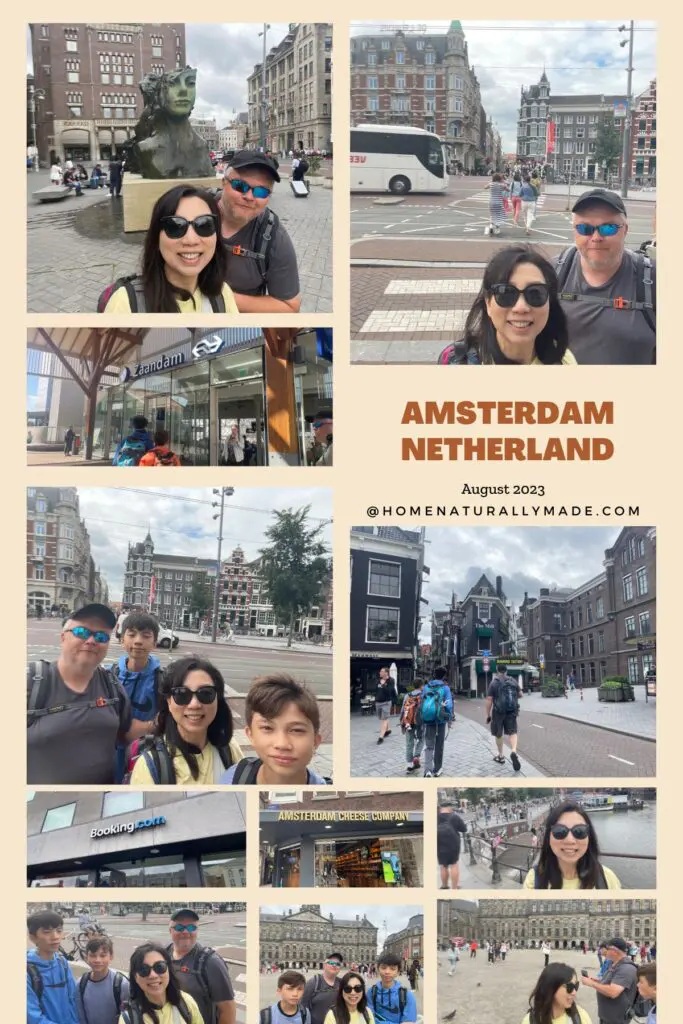 It worth mentioning that Amsterdam is one of the cities that diligently check your tickets. You are expected to scan the ticket the moment you hop on a bus, a metro or tram.
If you go outside of Amsterdam to its neighborhood such as Zaandam, chances are you will need NS app, which covers the rail or train. In this case, GVB normal ticket won't work.
However, the Amsterdam & Region Travel ticket, which is available at 1 day, 2 days and 3 days will cover all four major transportation companies, GVB, Connexxion, EBS and NS. Please remember that you have to buy this kind of tickets on GVB official website, as they are not available to purchase via the GVB app.
By the way, for the day you plan to go visit Zaandam and Zane Schans, the best option is to buy a 1 day pass for Amsterdam & Regional Travel Ticket.
The Best Way to buy public transportation tickets while visiting Amsterdam
For tourists visiting Amsterdam within a short time window, say 2-4 days, the best way to get around Amsterdam and surrounding areas is to get the tickets via GVB official website. Go to "Travel Products and then click "Tourist Tickets". It saves money and hassle.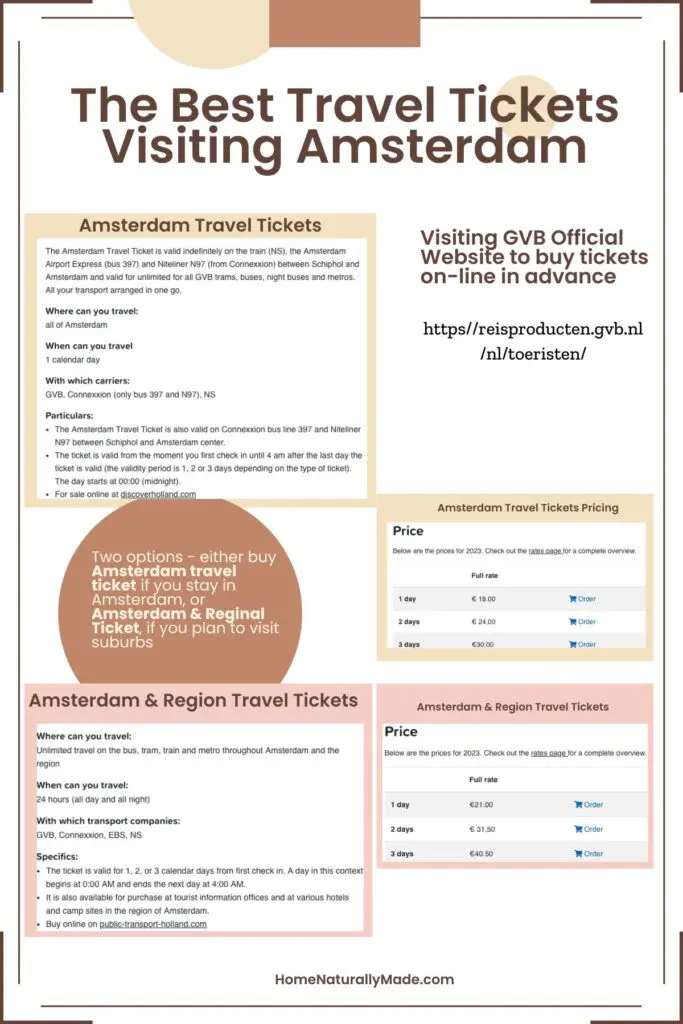 Zaandam and Zaanse Schans – Amsterdam Vacation Must See
Zaandam and Zaanse Schans are located in the north suburb of Amsterdam, with Zaandam being closer. We took a train and stop at Zaandam first, and then took a bus to Zaanse Schans.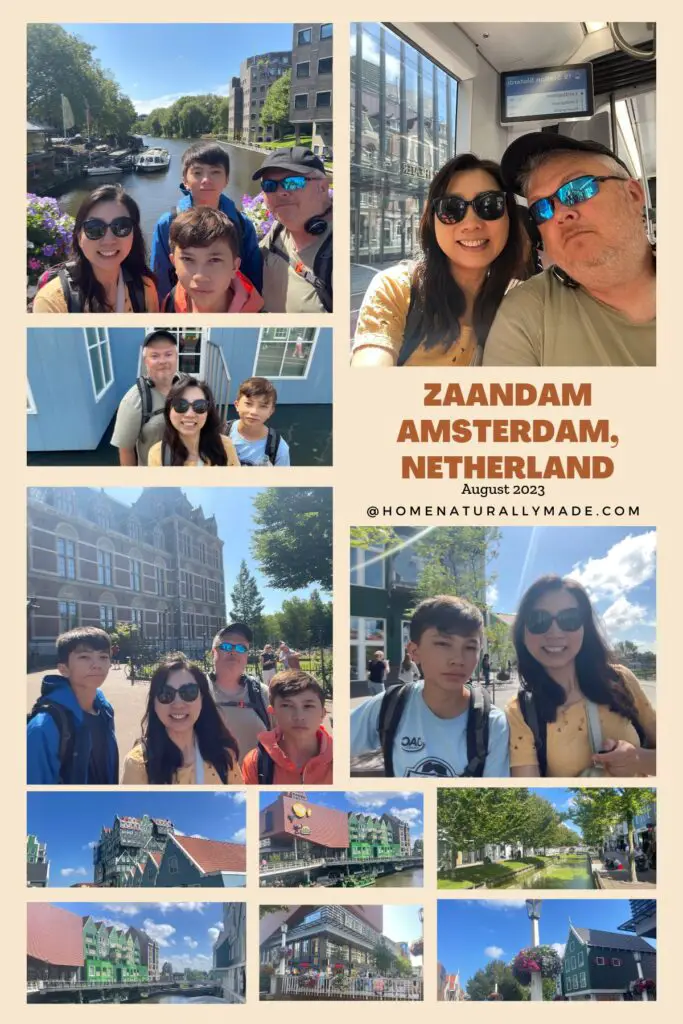 Now when I look back, get a 1-day pass for Amsterdam & Regional ticket shall cover all the transportation modes for the entire day. Needless to say, I didn't know that before and ended up paying premium price on the spot for various portions of the journey. LOL.
Zanndam is known for the colorful lego-like buildings. You walk down this most vibrant commercial streets, two parallel streets with a small canal in between. Multiple cute stone bridges along the way for you to cross to the other side.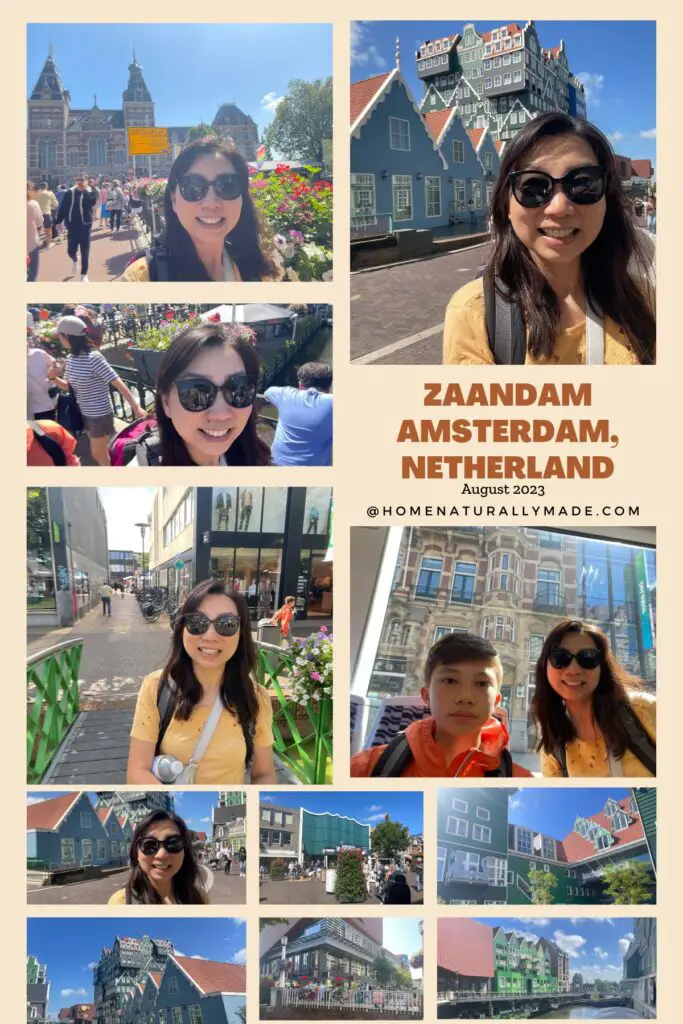 Canal Cruise – Amsterdam Vacation Recommended
If you are wondering whether it is worth taking the canal cruise tour in Amsterdam, the answer is absolutely YES. But instead of taking the commercial boat which looks like a ferry and holding lots of people, we decide to do something different.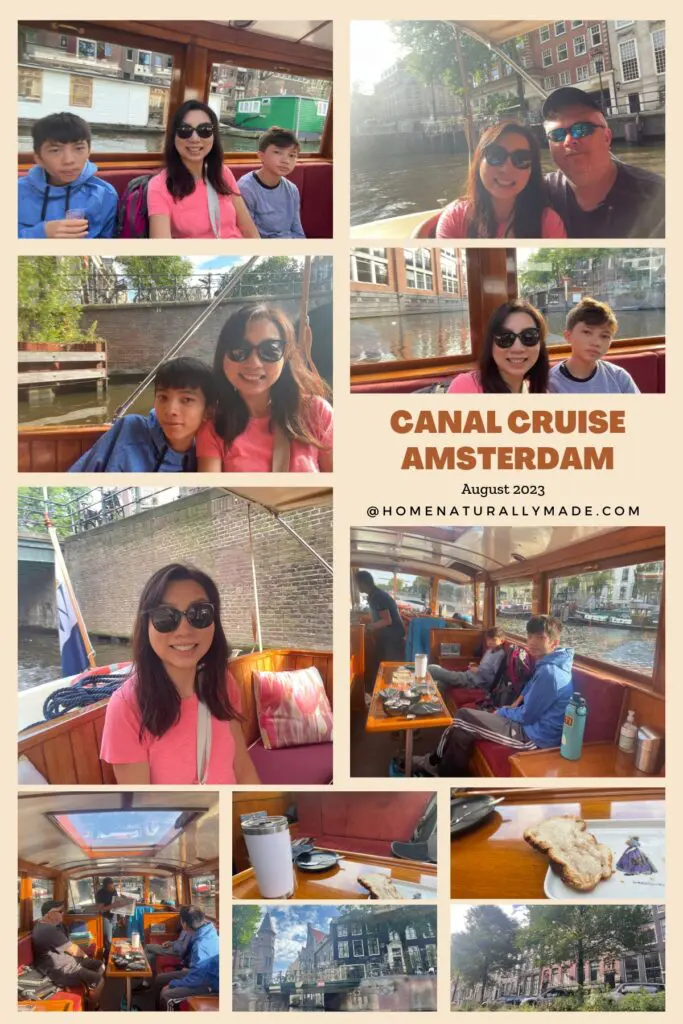 We booked with Captain David who owns a Royal Jonckvrouw 1928 vintage boat. The wooden boat is absolutely gorgeous and can hold about 10 people. However, since we booked the early morning cruise, for that day, it was only our family of four plus another family of two people.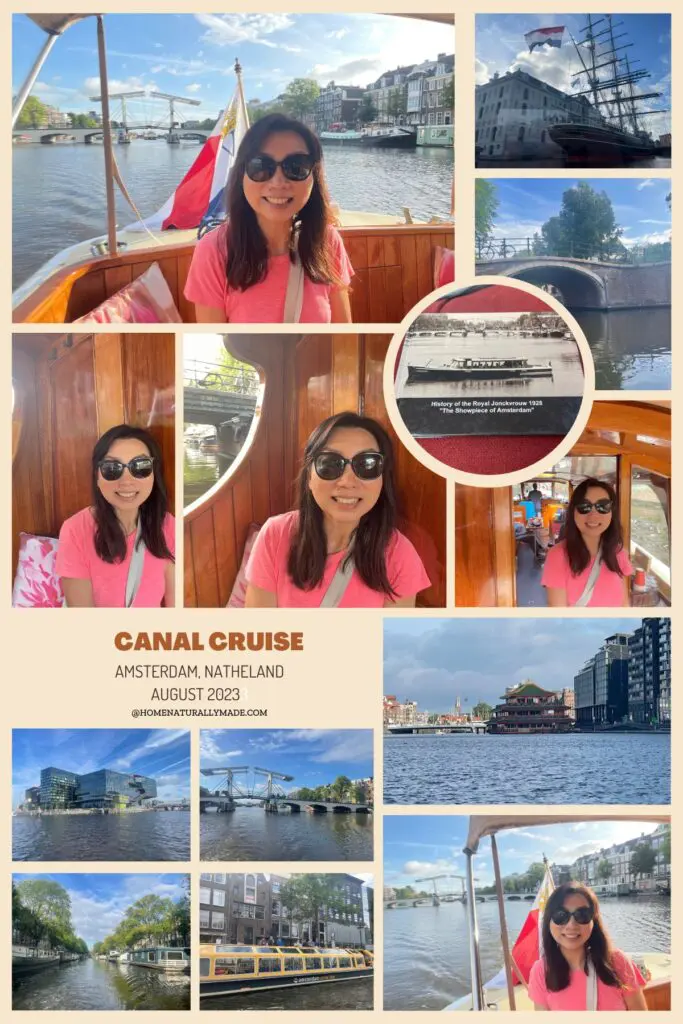 Floating Flower Market in Amsterdam
Depends on your expectations, the floating flower market may not be exactly what you may have imaged. Even during the summer, there won't tons of fresh cut flowers. I did buy some tulip bulbs and souvenirs.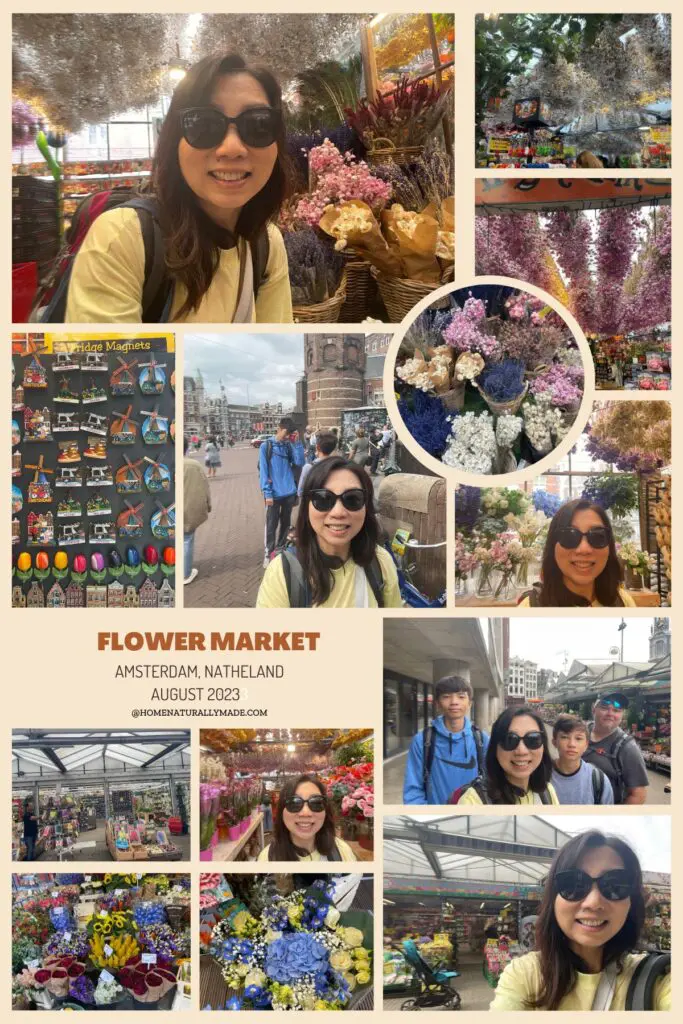 Rijksmuseum in Amsterdam
The Rijksmuseum is the national museum of the Netherlands and absolutely grand. It is truly massive and has so many exhibits and collections to reflect the Dutch arts and history.
Because of the popularity, I recommend you book the entering time on their official website. There are free lockers upon entry to store your large backpacks. They also have a very nice cafe with wonderful views.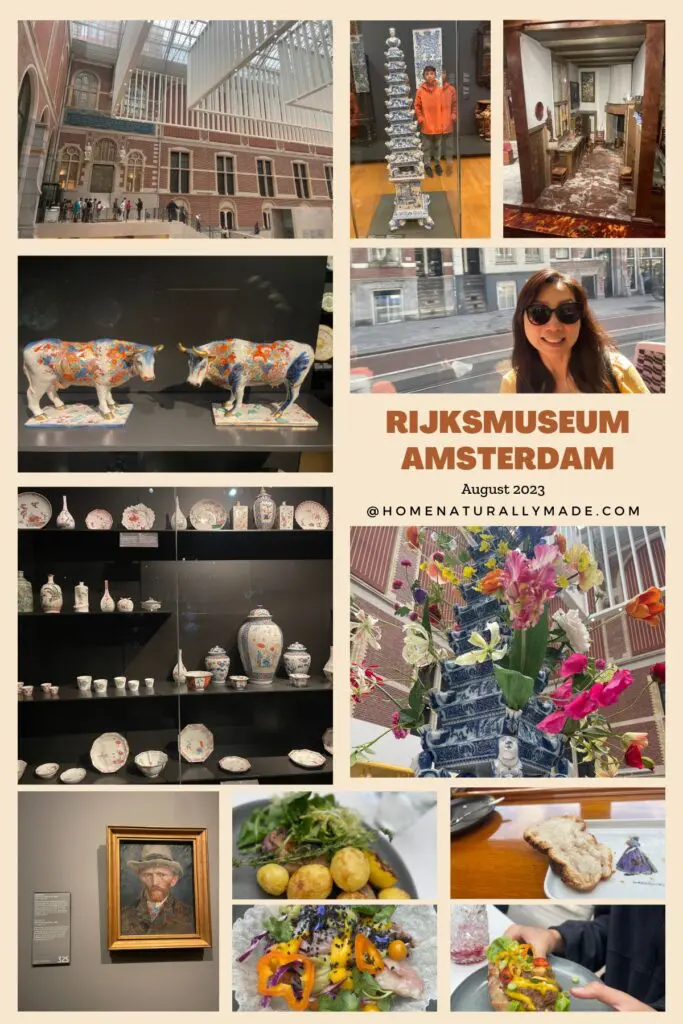 Rijksmuseum is also one of those very few museum that has their own app you can download and then listen to the audio guide as you wonder around the museum. That is correct, you do not need to rent an audio guide for this museum.
Because of its size, you can easily spend the entire day there and still not be able to see everything. So do prioritize your time.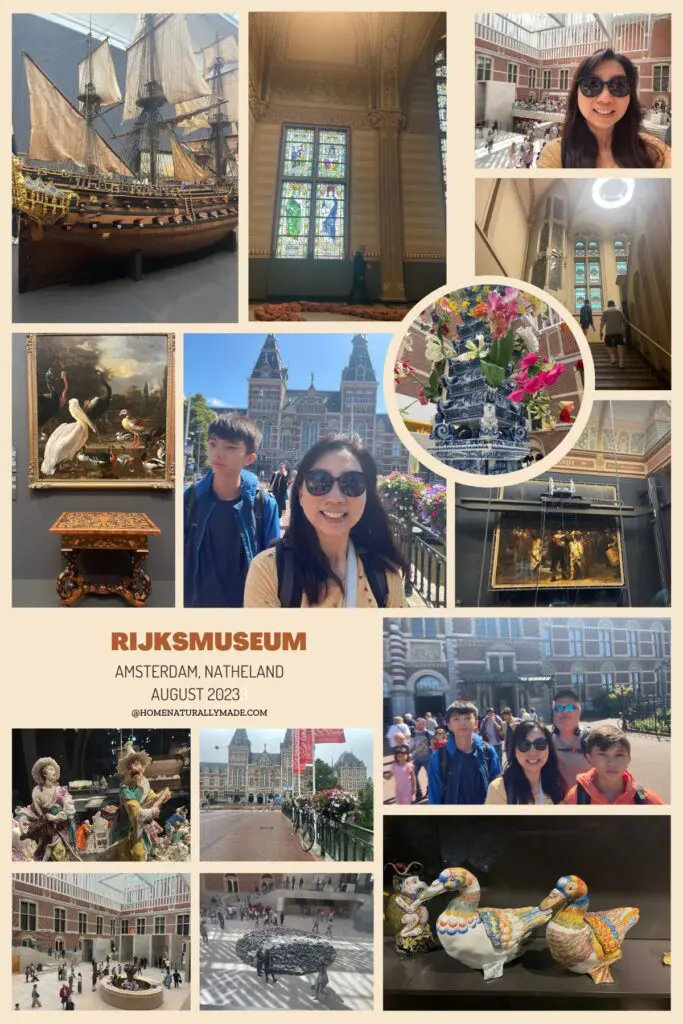 Van Gogh Museum Amsterdam
Dedicated to Vincent Van Gogh and his works, this Dutch art museum is very unique and personal. It is super manageable and easy to navigate. We genuinely enjoy our visit and got a chance to learn Van Gogh as a person. Indeed highly recommended.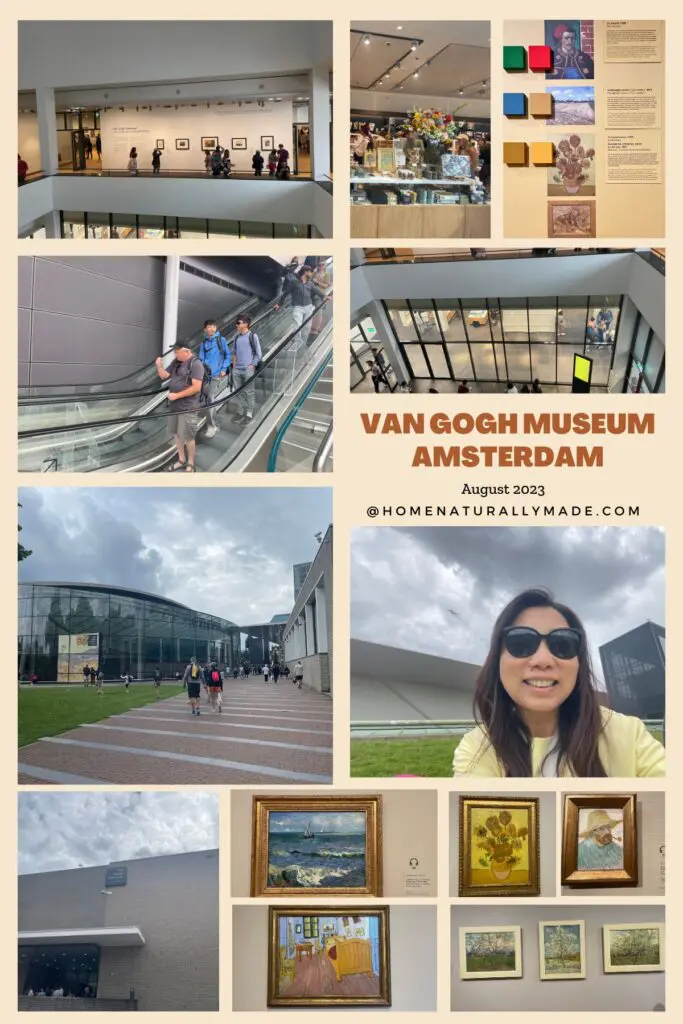 Sea Palace, the floating Chinese restaurant in Amsterdam
I have to mention Sea Palace Chinese Restaurant in Amsterdam, such a unique venue in Amsterdam. It is a floating structure, like many in Amsterdam, mimicking the original Sea Palace in Hong Kong. By the way, it is next to the gigantic Booking.com headquarter building.
From outside, it looks like a traditional Chinese pagoda 3-story style structure using green, red and god as the primary colors. We first spotted Sea Palace during the canal tour and decided to go there for lunch. They offer classic Cantonese dim sum, Beijing duck or Peking duck and Sichuan style cuisine.