It is seriously easy to blend your Berry Greek Yogurt at home if you have access to quality plain Greek Yogurt. This way, you mandate what goes into this organic superfood. By the way, it is completely fine to use frozen berries for this recipe, which opens door to so many more quality berry choices.
One of my favorite ones is Maine's wild blueberries. Often in a frozen form, these tiny but powerful immune boosters are loaded with nutrients. I use them to make all kinds of yummy food such as blueberry pies and blueberry jam.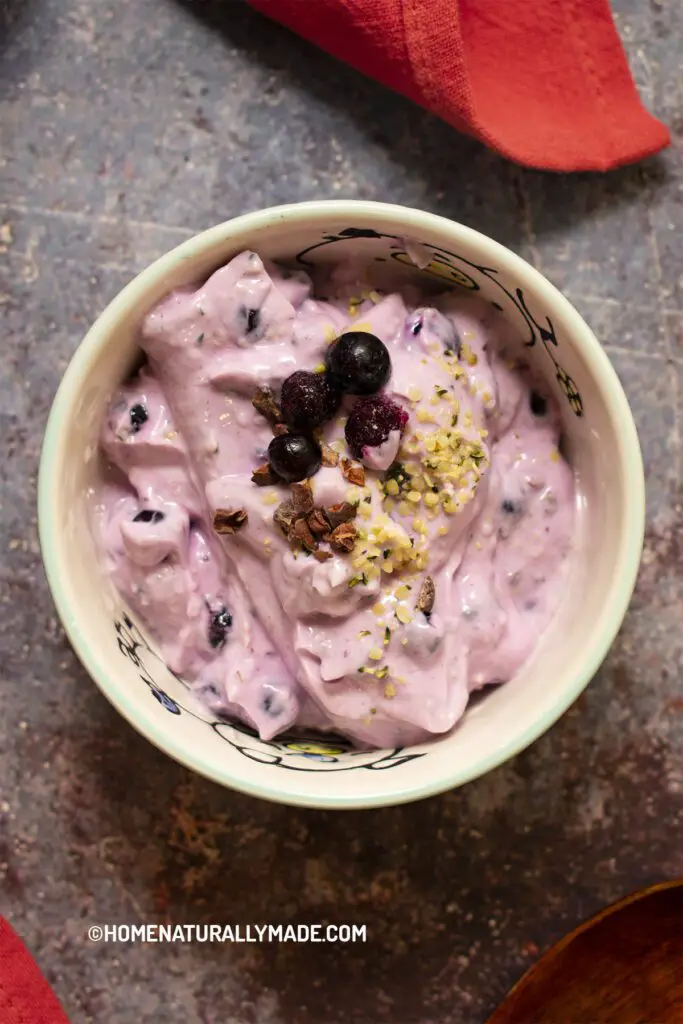 What do I need to make my own Berry Greek Yogurt?
Plain Greek Yogurt is naturally the first ingredient. Nowadays you can get bulk organic plain Greek Yogurt at an affordable price.
For berries, I like frozen wild blueberries. You can also use frozen raspberries, strawberries, or cherries. The reason why I mention frozen berries is that organic all-natural frozen berries are easier to store in the freezer, usually more accessible, and more affordable on the market too. For cherries, they are also previously pitted to make it super easy to add to the recipes.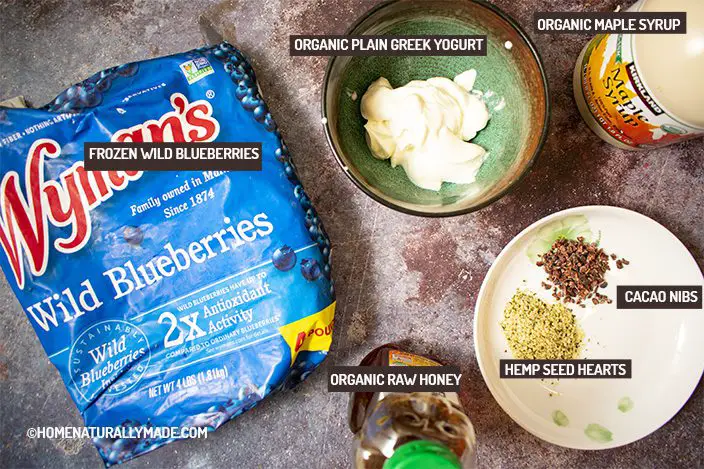 For the sweetener, organic raw honey, organic maple syrup, and organic agave are all good choices.
What superfood toppings can I add to Berry Greek Yogurt?
Two superfood ingredients I like to add as a topping, the organic hemp seed hearts and organic cacao nibs.
Hemp Seed Hearts health benefits
The first superfood ingredient I'd like to highlight is hemp seed hearts. These semi-crunchy and nutty hearts are the inner part of hemp seeds with the outer shell removed.
Hemp is such an ancient versatile plant. It also provides amazing nutrients to our bodies. I incorporate cold-pressed hemp seed oil in my everyday anti-aging serum, which does wonders.
Hemp hearts are rich in protein, vitamin E, and minerals like phosphorus, potassium, sodium, magnesium, sulfur, calcium, iron, and zinc.
What are cacao nibs and why they are a superfood?
Simply cacao nibs are peeled & crushed cacao beans. Cacao beans are extremely nutrients dense. The one I am showing here is made from the organic highly prized criollo variety cacao beans, and minimally processed using low heat. As a result, these amazing wholesome cacao nibs get to keep all the impressive nutrients our body love.
Cacao beans' fiber promotes healthy digestion. They are especially rich in flavonoids, a powerful antioxidant substance. These antioxidants help fight off free radicals, which are essential to support our body systems' total well-being. I use cacao powder instead of cocoa powder to make superfood chocolate cake, chocolate muffins, and brownies for the same reason.
If you have no clue what is the difference between cacao powder vs. cacao powder, read here.