Homemade blueberry jam, sauce, and syrup made of wild blueberry and "sugar in the raw" are so yummy, easy & quick to make, super nutritious, and incredibly versatile.
You can enjoy it as a fruit jam after mashing them toward the end of cooking and adding a tiny of grass-fed beef gelatin to thicken the whole thing. Or, skip this step and simply use the whole candied blueberry as your favorite blueberry pie filling while taking advantage of the juice left behind and using it as an all-natural wholesome blueberry syrup.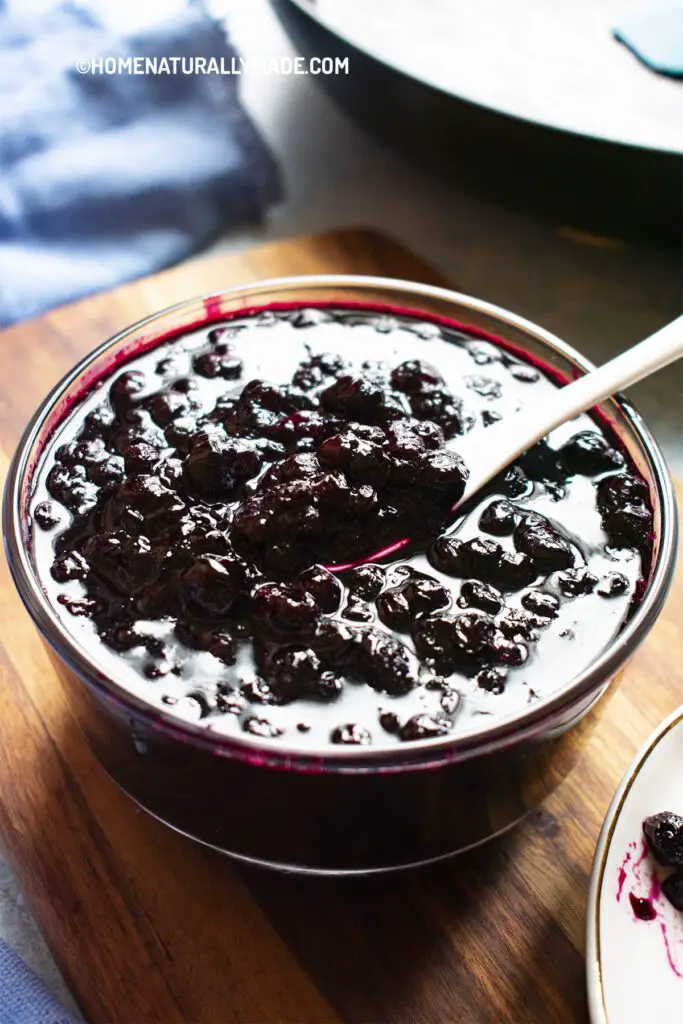 This homemade all-natural wholesome superfood wild blueberry syrup is one of my favorites. I use it as a topping to add to my plain organic greek yogurt to make a homemade blueberry greek yogurt. I also use it as a dipping sauce while I'm enjoying the superfood Chinese Toon Eggcake.
Maine's Wild Blueberry Fun Facts
Blueberry is an amazing superfood that is rich in countless nutrients including but not limited to vitamins, mostly notably Vitamin C and K, and minerals such as manganese. They also contain powerful antioxidants, thus believed to be one of the most effective anti-aging food.
Additionally, research also indicated blueberry can help lower blood pressure and improve heart and brain function and health.
I am already a big fan of blueberry and was pleased to discover Maine's wild blueberry while our family was vacationing in Maine's Acadia National Park in the summer of 2022.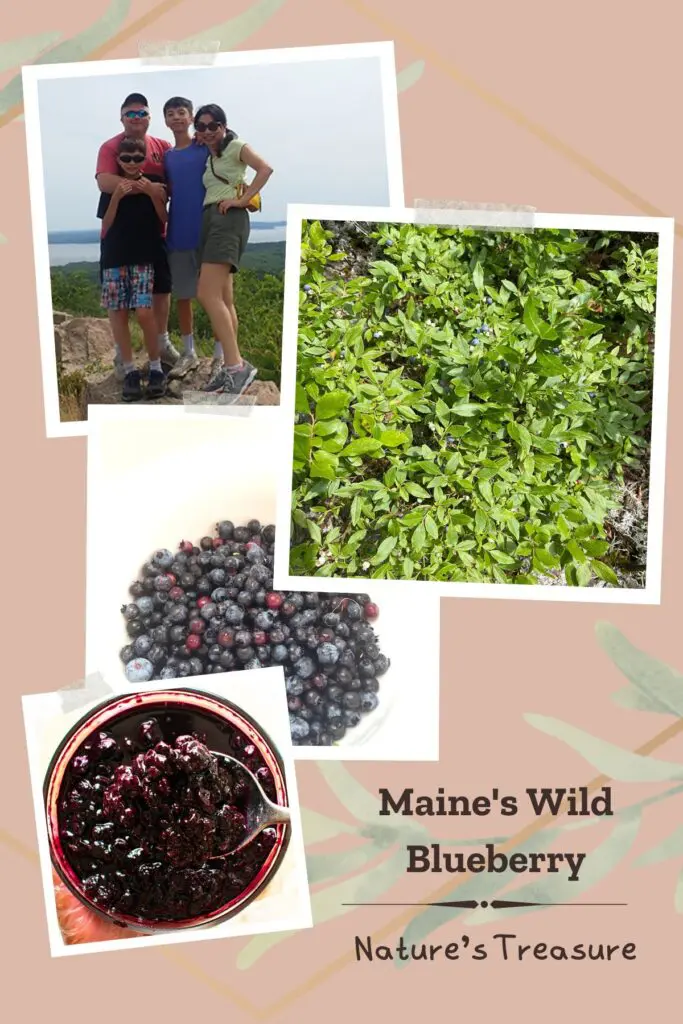 Compared to regular blueberries, Maine's wild blueberries are much smaller and the bushes are shorter too. Nevertheless, as you can imagine, it contains way more condensed nutrients, like 2X antioxidants compared to regular blueberries.
The wild blueberry is truly one of Maine's local delicacies. By the way, I absolutely enjoyed the other delicacy – the freshly caught lobsters during the vacation too. Ha Ha!
The unique ecosystem in Maine, such as the glacial soils, provides a nice home to these remarkable wild blueberries. They are truly everywhere, covering the landscape like a carpet, on mountains, coastal lines, etc. We had so much fun picking the wild blueberries while hiking on Cadilac Mountain and Acadia Trail.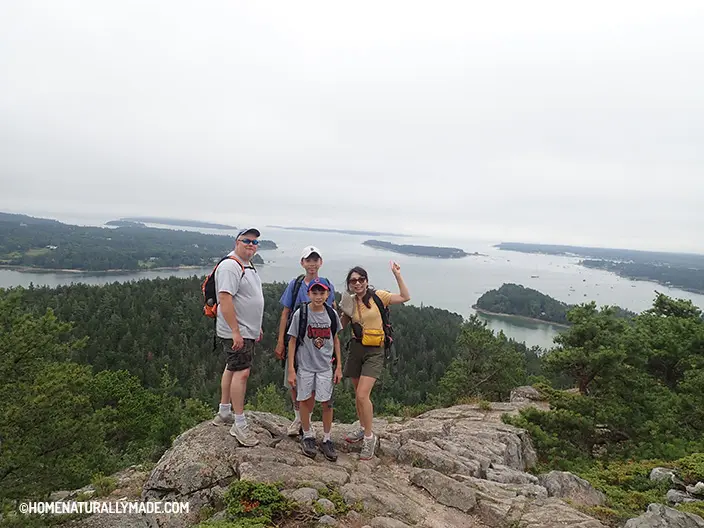 I was overjoyed to discover instant frozen Maine's wild blueberries available after I came back from vacation. I stocked up loads of them in the freezer knowing they are seasonal products and only available during the summer.
How to make blueberry Jam, Sauce, and Syrup at home easy and nutritious way?
Tip No.1 is to boil blueberries together with turbinado sugar in a hard-anodized pan with a lid first
No need to add water or anything else, just blueberries and turbinado sugar, also known as "Sugar In the Raw". A quality hard-anodized pan has a superb non-stick function, which is useful as the blueberry sauce becomes sticky as the cooking goes on.
Turn the heat to medium and cover the pan with a lid so as to soften the blueberries faster while maintaining the liquid/moisture that comes out of the blueberries.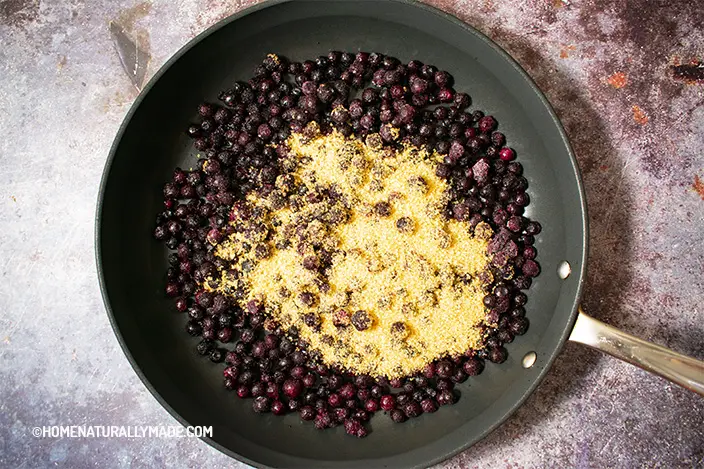 Tip No.2 is to remove the lid and cook for additional time to caramelize blueberry jam or sauce
For 4 cups of frozen blueberries, cook for about 7 minutes with the lid covered, or till the whole thing is feverishly boiling. After that, remove the lid, use a silicone spatula to fold and mix the whole thing and let it cook for another 5 minutes or so.
If you are using fresh blueberries, then you will need a little less time.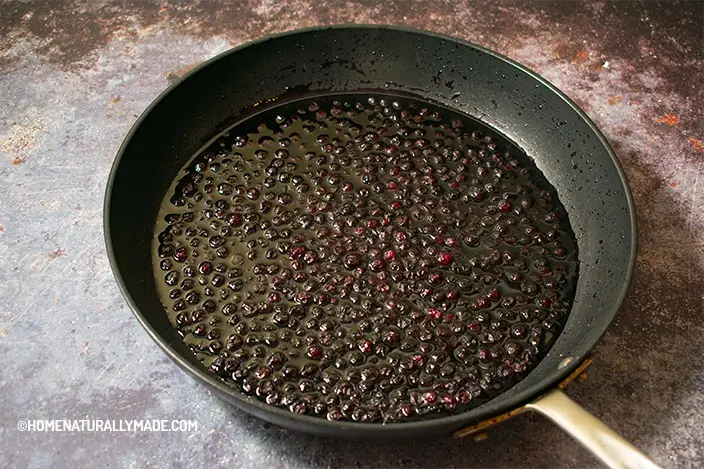 Tip No.3 is to decide whether you'd like blueberry jam or blueberry sauce and syrup
At this, decide whether you'd like blueberry jam or blueberry sauce with blueberry syrup.
For blueberry jam, wait for it to cool to room temperature, and then add to a blender to blend to smooth. Add the mixture back to the frying pan, sprinkle 1/2 tsp grass-fed beef gelatin powder, and turn the heat to medium. Cook until the mixture thickens while using a silicone spatula to continuously fold everything together.
If you like blueberry sauce with blueberry syrup, then you are done here. Bottle the whole thing in a glass bottle and store it in the refrigerator.
Enjoy a super nutritious and yummy blueberry treat! Using the whole candied wild blueberry to make a blueberry pie is one of my favorite ways!