Gluten-free Brownies featuring coconut flour and arrowroot flour are so naturally yummy and refreshing. A combination of organic butter, organic virgin coconut oil, and avocado oil provides a balanced flavor and taste. It also makes the brownie super moist. You can substitute the butter with half coconut oil and half avocado oil if you'd like to. If you are fond of walnuts like me, they make perfect toppings to contrast the texture and flavor. Or use another superfood pumpkin seeds for a delicious nut-free and gluten-free brownie.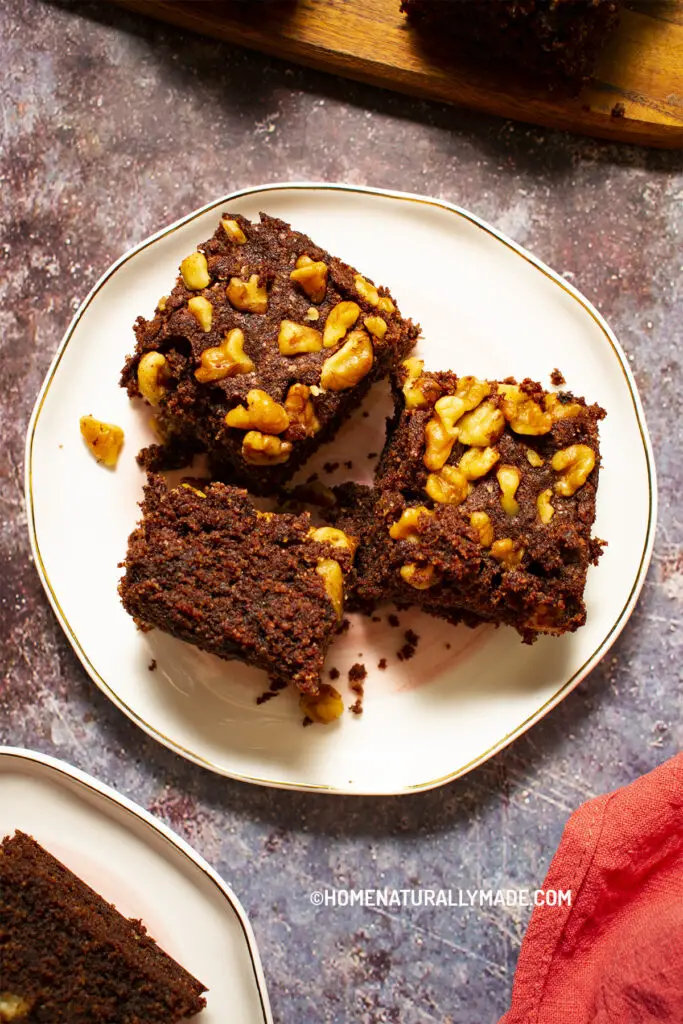 What is gluten-free vegetarian Coconut Flour Brownies made of?
From a dry ingredients perspective, this recipe uses coconut flour and arrowroot flour. Organic un-refined cocoa powder is naturally rich, making this a dark chocolate brownies.
Eggs, organic butter, coconut oil, avocado oil, and sugar are creamed together to mix with the dry ingredients. Swap out butter with half coconut oil and half avocado oil if you'd like to. I also use a pinch of coconut oil to grease the baking pan.
Coconut oil is a superfood oil and has a high smoking point, making it perfect for baking and frying.
For flavoring, this recipe uses organic unrefined cane sugar, a pinch of vanilla extract and Himalayan Pink salt.
For the subtle fluffiness, baking soda, coupled with organic apple cider vinegar, will do the trick.
Walnuts make an exceptional topping. Simply add the raw walnuts to the top of the batter before baking. However, you can either skip it or swap out with pumpkin seeds, another superfood seed, to make it a nut-free version.
Coconut Flour Fun Facts
Coconut Flour is from dried coconut flesh and then ground into fine powder. They have a creamy white color and a mild coconut aroma. Compared to all-purpose flour, coconut flour has this creamy whitish glow and slightly grainy texture.
Initially, coconut flour came as a by-product of producing coconut milk. In recent years, coconut flour gained its popularity for its superb health benefits. People widely consider coconut flour an excellent alternative flour for all-purpose or wheat flour, making it an outstanding gluten-free flour.
The superb health benefits coconut flour brings to the table are genuinely impressive. Not only it is gluten-free and has a low carb, it also contains rich essential nutrients such as fiber and plant-based iron. Coconut flour also offers medium-chain triglycerides (MCTs), which are a type of fat associated with health benefits such as weight loss, anti-inflammatory against bacteria and viruses, and improving brain and heart functions.
It is worth mentioning that fiber plays multiple essential roles in our body systems, not only they help with digestive systems, they also help regulate blood sugar level. This is because fiber slows down the speed at which sugar enters the bloodstream.
Making brownies out of coconut flour is by far one of the tastiest way of consuming this powerful superfood. Coconut flour waffles are another excellent way of enjoying this superb four.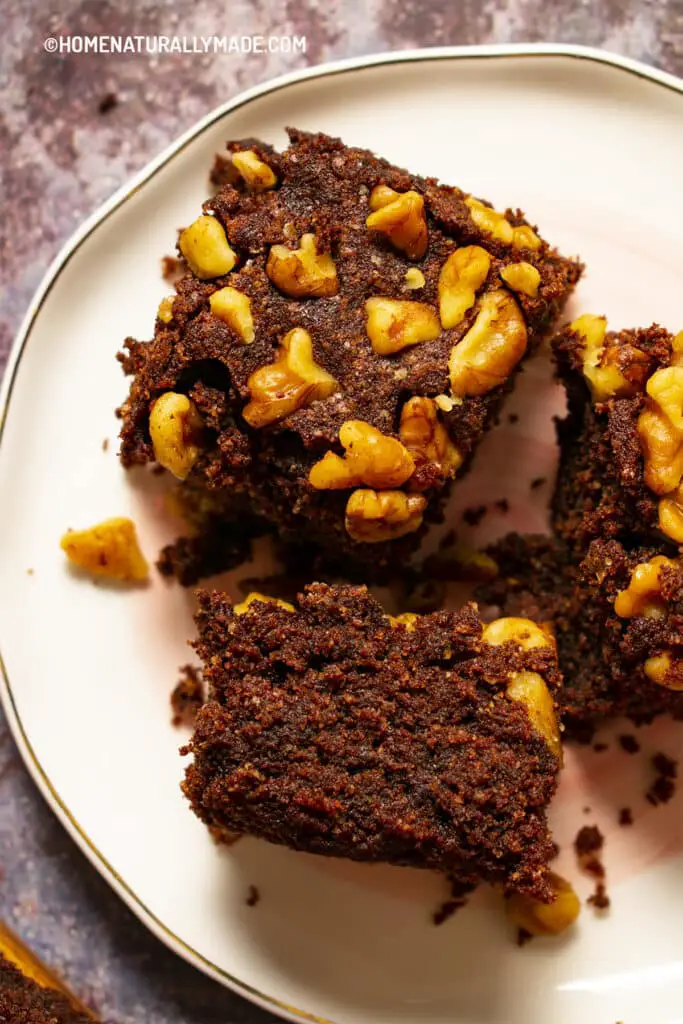 How to make a vegetarian, nut-free, gluten-free yummy and healthy brownies?
For the dry ingredients, use organic coconut flour and arrowroot flour. Use a combination of organic butter, avocado oil, and organic virgin coconut oil, along with eggs to cream the dry ingredients.
Besides organic unrefined cane sugar, add a pinch of Himalayan pink salt and vanilla extract. For the subtle fluffiness of the brownies, use a pinch of baking soda and apple cider vinegar.
If you like toppings, pumpkin seeds are an excellent, delicious, and healthy choice.