Braised Chicken Wings feature velveting, meat-off -the bone chicken wings braised in a savory sauce. A naturally delicious chicken wing dish using simple healthy ingredients such as superfood arrowroot flour, ginger, and green onions. Learn all the tips and tricks to make this quick and easy in under 30 minutes from start to finish.
Braised Chicken Wings Ingredients: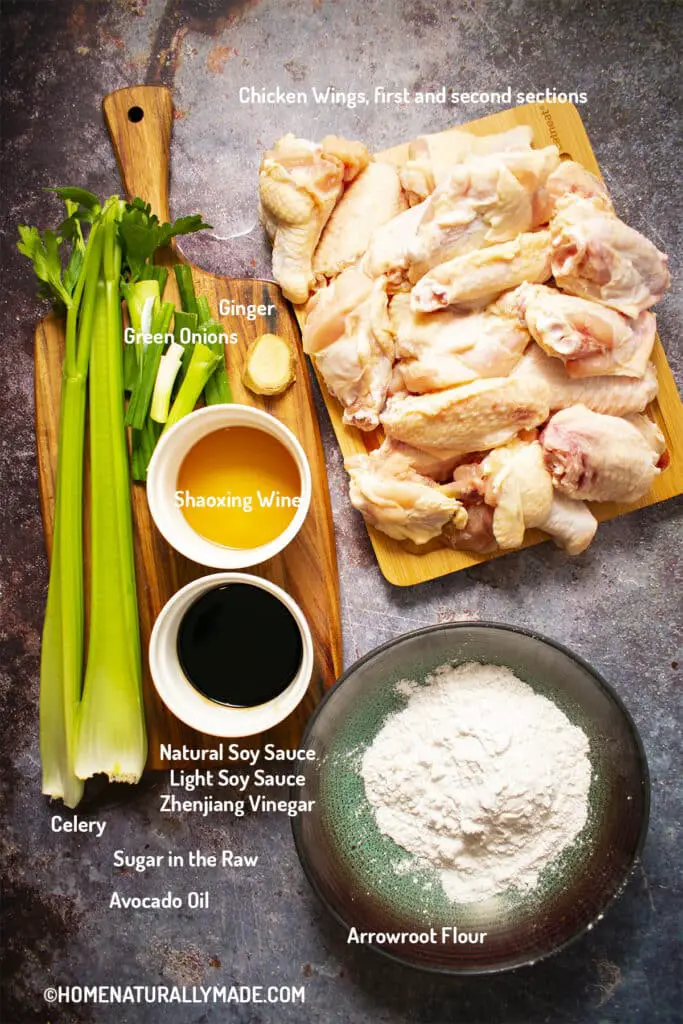 Chicken Wings – either first or second sections of the wings are fine.
Arrowroot flour – Arrowroot flour is my go-to superfood gluten-free starch. It serves as the coating when we pan fry chicken wings first. It is also the secret behind the velveting chicken wings.
Green Onions and Gingers – Two delicious and healthy spices I almost use every day.
Cooking Oil – I use avocado oil in this recipe. Canola oil is another oil I use often for everyday cooking.
Braising Sauce – Shaoxing Wine, Natural Soy Sauce (or dark soy sauce), Light Soy Sauce, Zhenjiang Vinegar, and Sugar in the Raw. Together they become this savory sauce with a hint of sourness and sweetness.
Garnishing – Fresh crunchy celery complements chicken wings very well. It provides contrast in color, taste, and texture.
How to make Braised Chicken Wings easy, delicious, and healthy?
See the Recipe for a detailed step-by-step tutorial. Here are a few highlights:
The first is to prepare chicken wings and other ingredients
For frozen chicken wings, thaw them thoroughly inside the fridge in advance. Then wash and rinse well and pat dry.
Wash and rinse celery, green onions, and ginger well. Slice celery into about 2-inch long julienne thin cuts. Cut green onions into small pieces. Slice and dice ginger into small pieces.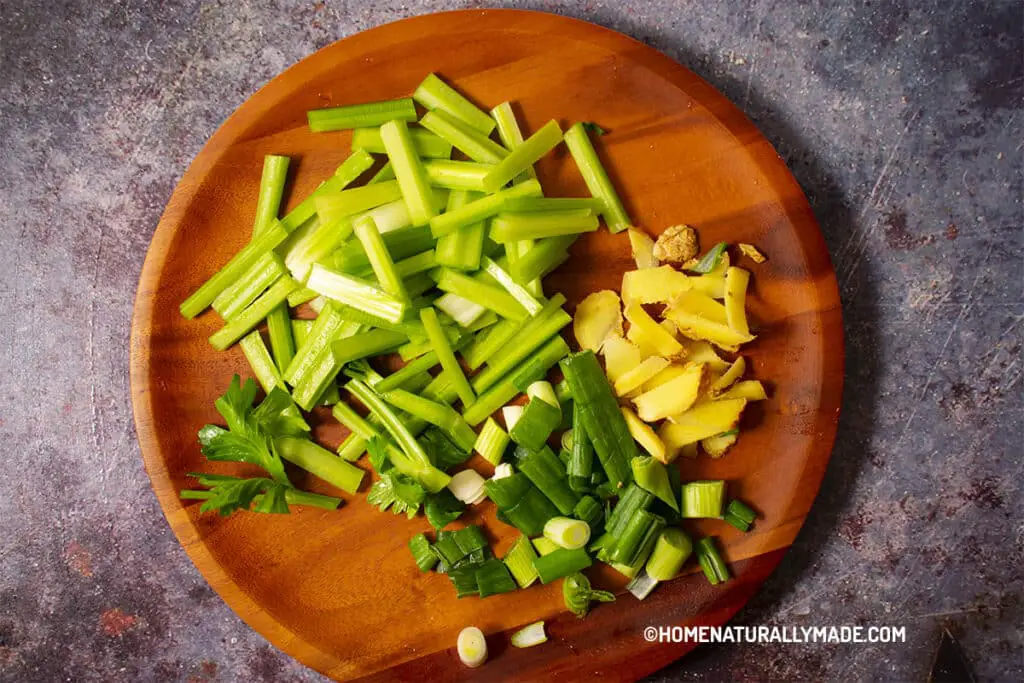 Add natural soy sauce, light soy sauce, Shaoxing wine, Zhenjiang vinegar, sugar in a small bowl, mix well and set aside.
The second is to Pan Fry and Sear the Chicken Wings
Turn the heat to medium and heat a hard-anodized fry-pan for 2 minutes. Add avocado oil, use a mini heat-resistant rubber spatula to disperse it.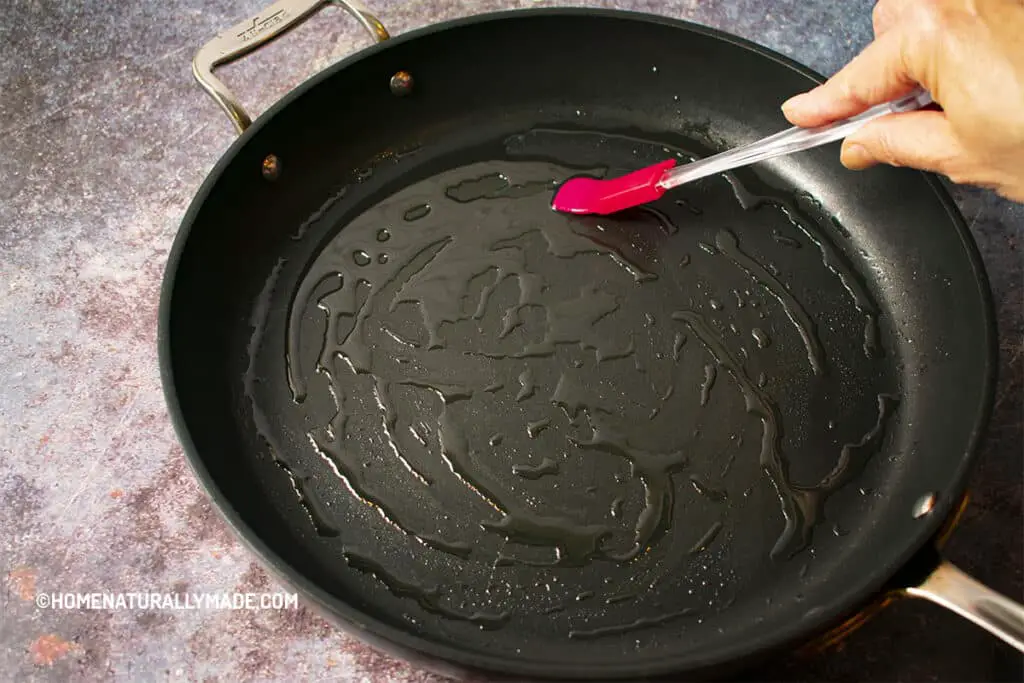 Add green onions and ginger into the pan. Dip the chicken wing, one piece at a time, into the arrowroot flour bowl and then lay flat on the pan.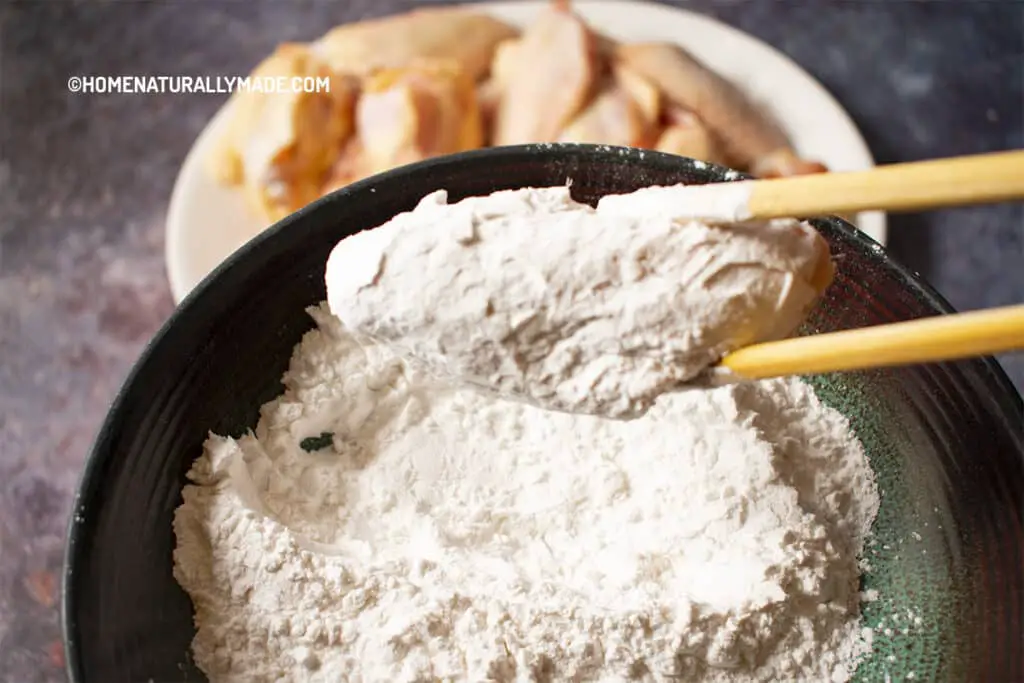 Do this to all the chicken wings. Then let it cook for 3 minutes.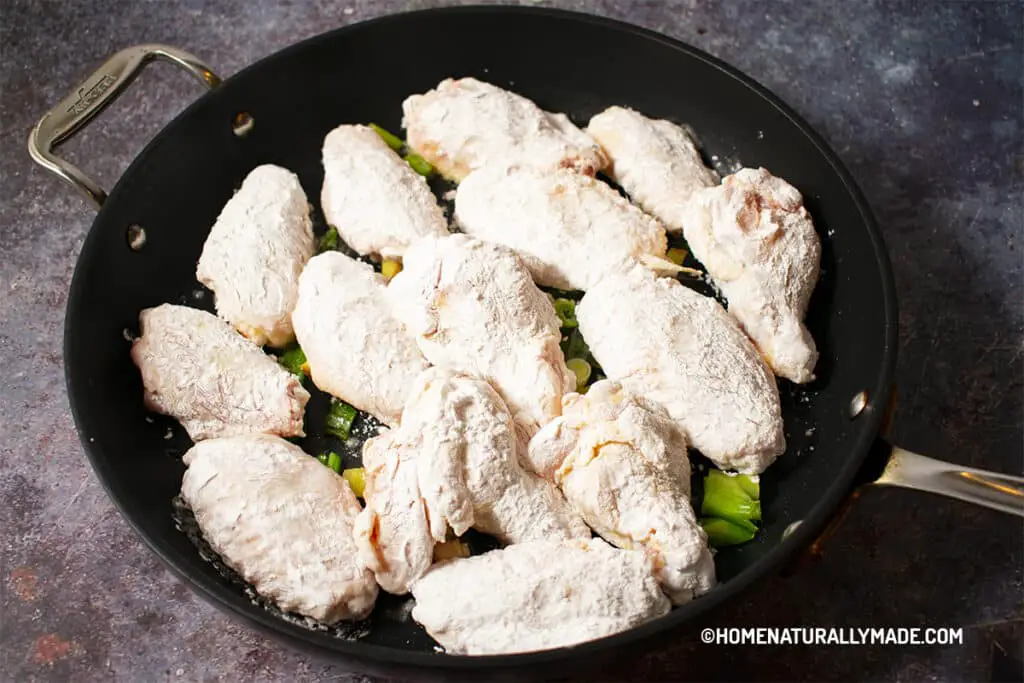 Flip the chicken wings and cook the other side for 3 minutes.
The third is to braise with sauce
Pour in the water and the sauce, stir to mix. Then cover the lid and cook for 13 minutes.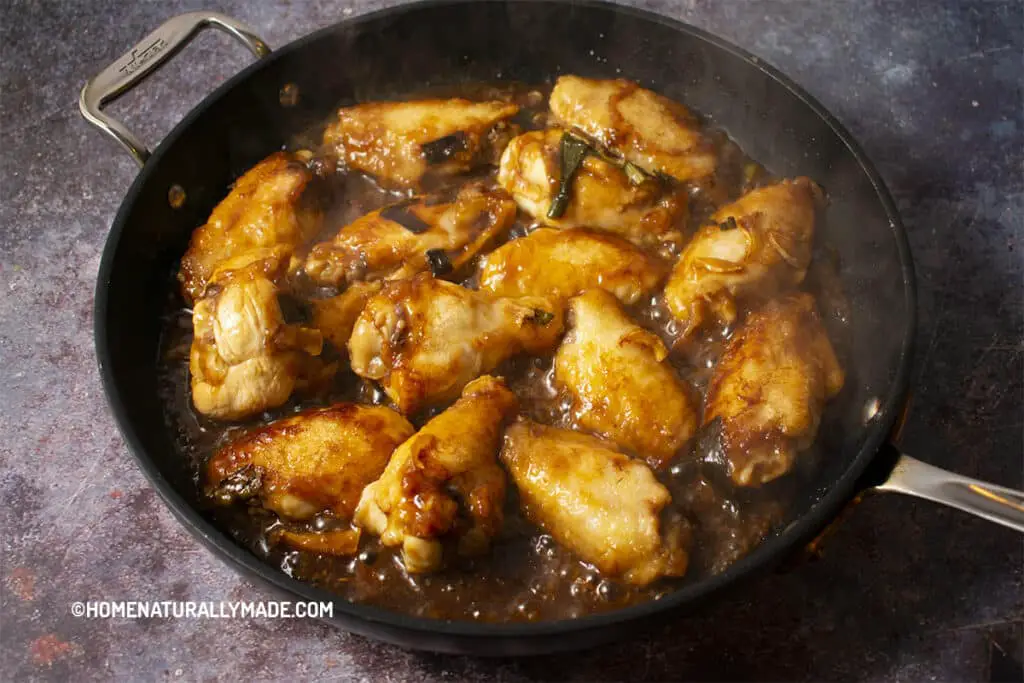 The last is to add celery and stir fry for 2-3 minutes
Remove the lid, add celery and stir fry using a slotted turner fold motion for 2-3 minutes. You shall see the sauce gets thicker and chicken wings become velveting.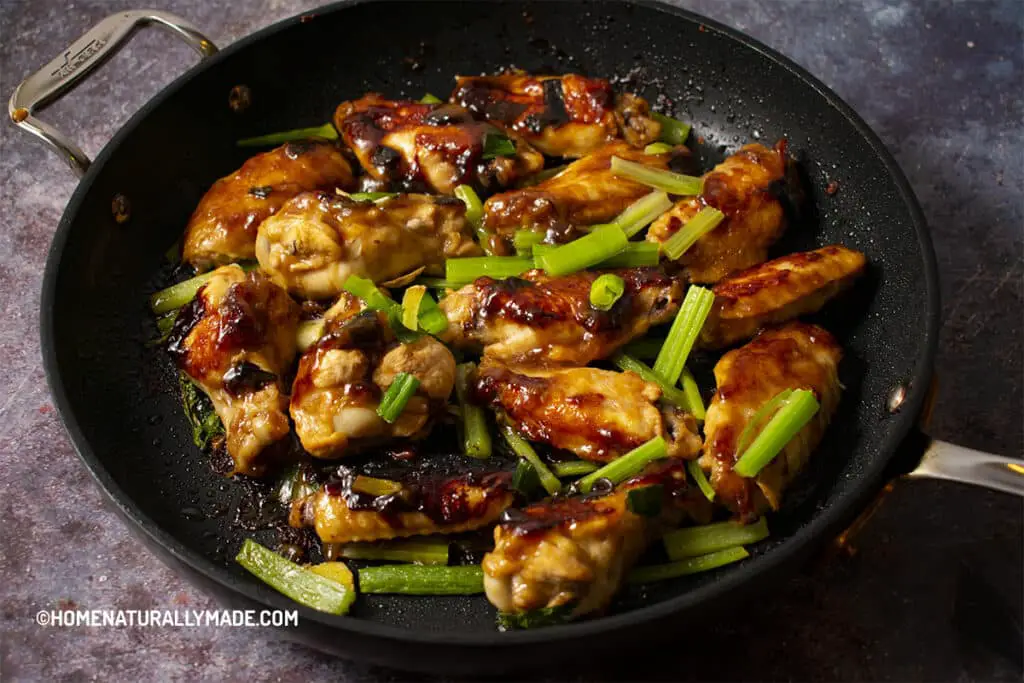 All done! Enjoy these healthy yummy chicken wings.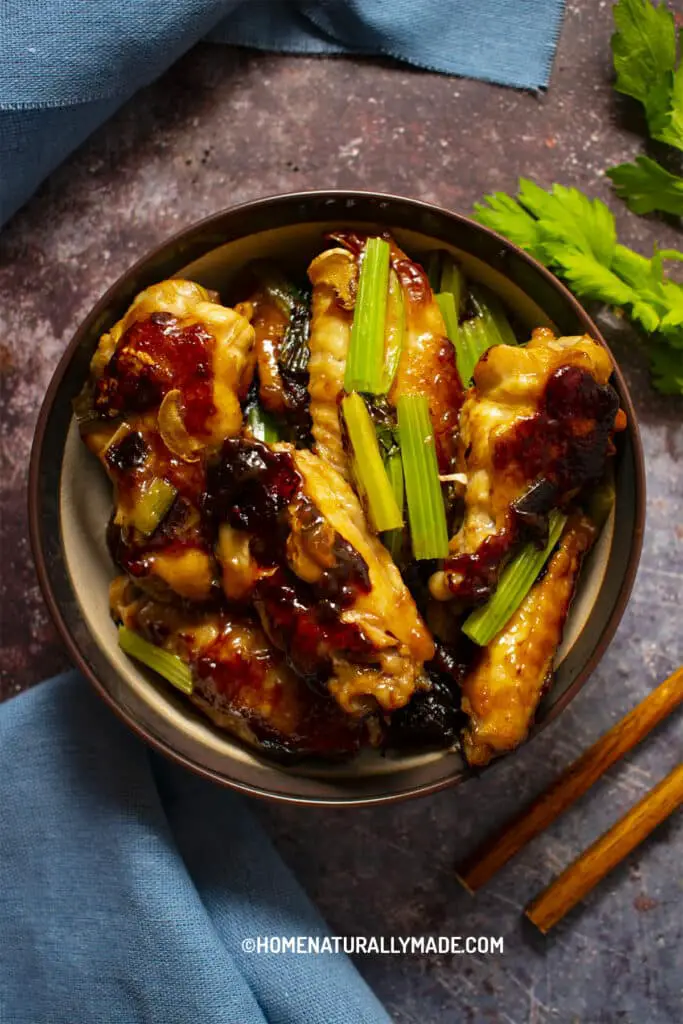 Like chicken? Check out my other healthy, delicious chicken recipes: