Pan Fried Whiting fish features a delicate and flaky whiting fish meat that is so naturally delicious. The simple ingredients salt, black pepper, and paprika work like magic and complement whiting wonderfully.
Whiting fish has buttery flaky white meat, similar to that of cod, but in a more tender way. They are much smaller than cod.
Whiting Fish has a very distinguished triangular backbone, which is their major bone. This makes it very easy to separate the bone from the meat when eating the whole fish.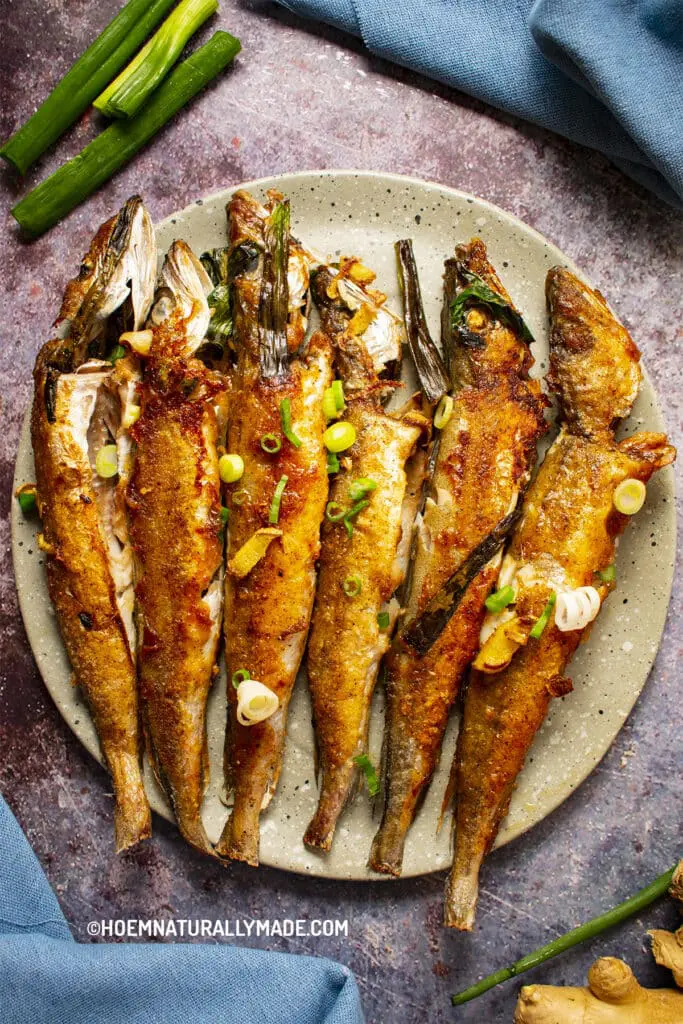 Pan Fried Whiting Fish Ingredients:
Whole Whiting – Most of them are wild-caught and relatively small, between a quarter-pound and half of a pound each. I did, however, see some big whiting recently, they are almost 1.5 pounds each.
Sake – Sake is my go-to cooking wine for seafood. It has a refreshing subtle taste, which is perfect for seafood.
Seasoning – Salt, black pepper and paprika are the key seasoning. They truly work like magic together on pan fried whiting.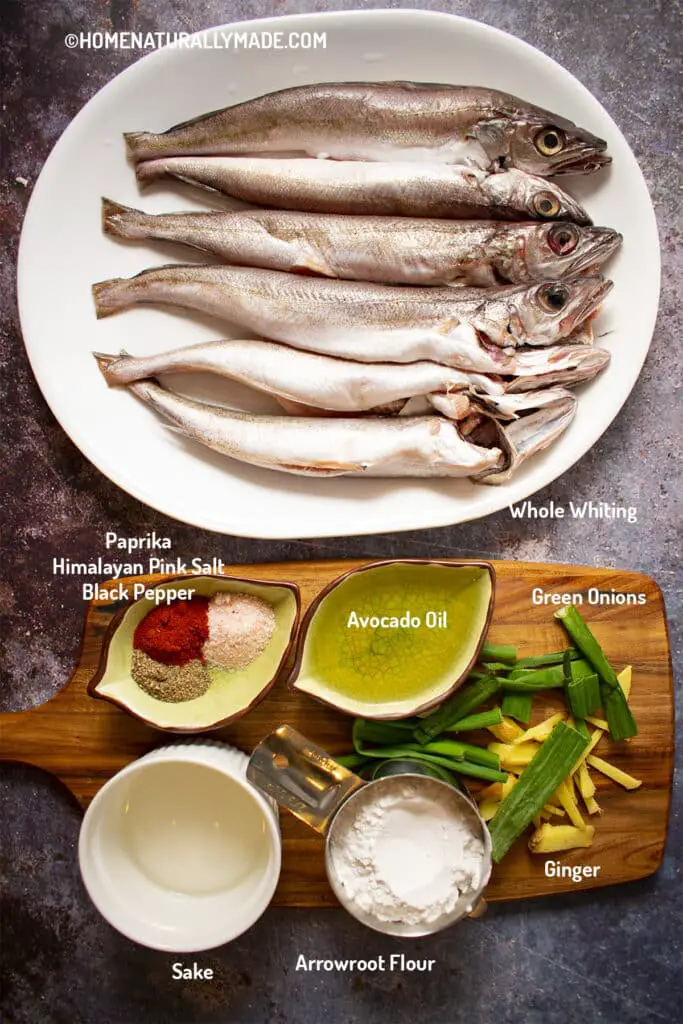 Green Onions and Ginger – green onions and ginger are the two most delicious and healthy herbs I use almost every day cooking meat, seafood, and vegetables.
Cooking Oil – I use avocado oil for this recipe. Avocado oil is a very nutritious oil with a high smoking point. This makes it suitable for pan-frying.
Arrowroot Flour – Arrowroot flour is my go-to superfood gluten-free starch.
How to make Pan Fried Whiting Fish delicious healthy way?
See the Recipe for a detailed tutorial. Here are key takeaways:
Prepare whole whiting fish and other ingredients
Get the whole, cleaned, and gutted whiting from your local grocery store if you can. Wash and rinse them thoroughly and pat dry with a paper towel. Following that, pour sake over the whiting, rub inside out and set aside.
Add arrowroot flour, salt, black pepper, and paprika to a deep plate, and mix well.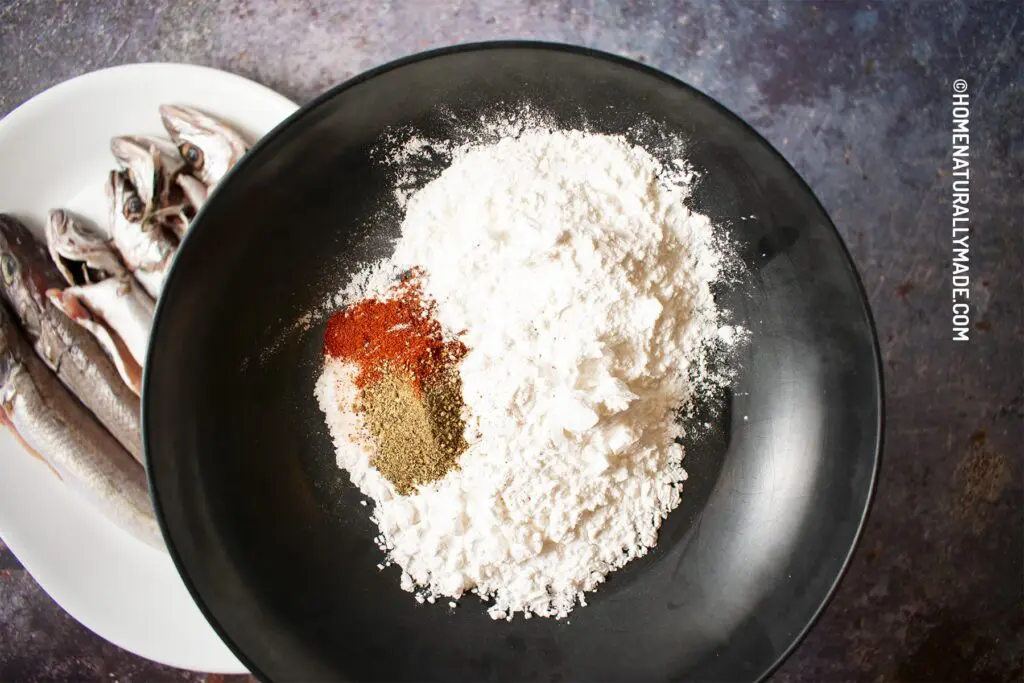 Sear the Whiting Fish without the lid on
Turn the heat to medium and heat a hard-anodized fry pan for 1 minute. Add avocado oil, most of the chopped green onions, and sliced ginger into the pan. Save some green onions for later use.
Dip whiting in the arrowroot flour seasoning mixture, one at a time, on both sides, and then place it flat on the pan immediately.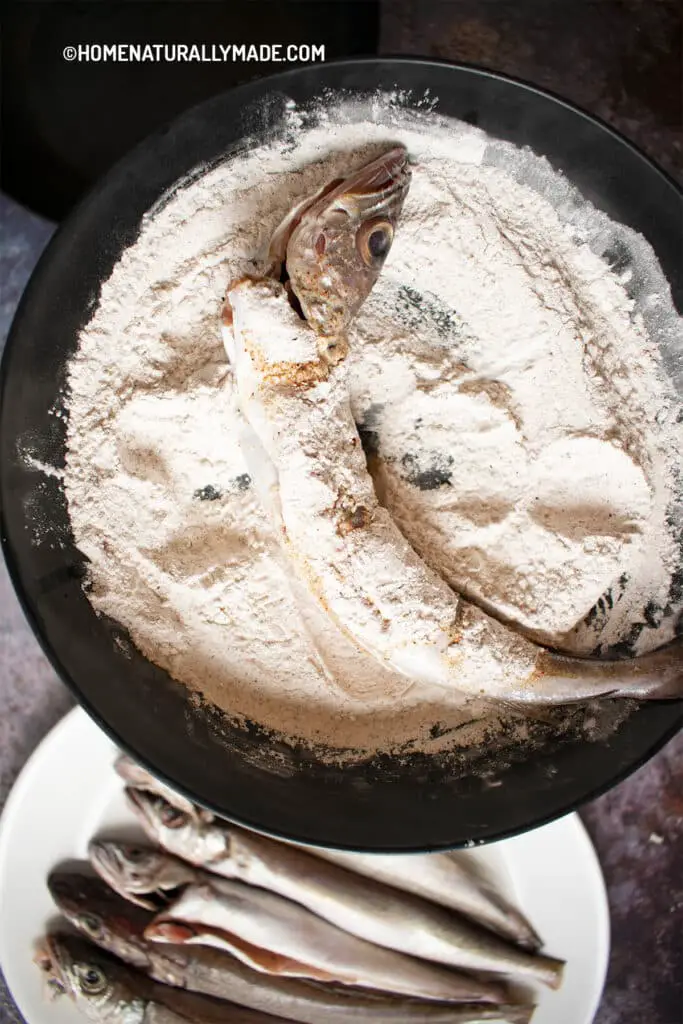 Repeat this for all whitings, until you have all whitings on the pan. Once you have all the whiting lay flat on the pan, leave the pan uncovered and cook for 3 minutes.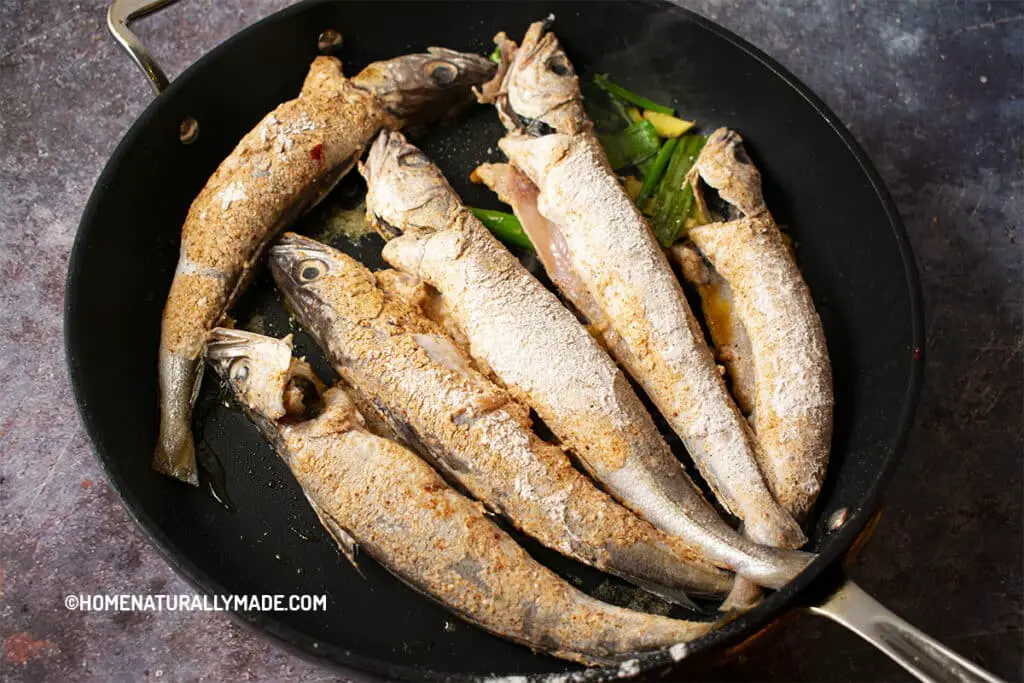 Low Heat Cook the Whiting Fish with the lid on to cook Pan Fried Whiting Fish wonderfully
Turn the heat to low. Flip the fish with the help of a firm while flexible slotted turner, cover the lid and cook for 10 minutes.
If you happen to get the much larger-sized whiting, say close to 1.5 pounds for each fish, then you will need to repeat another 10 minutes of low heat cooking.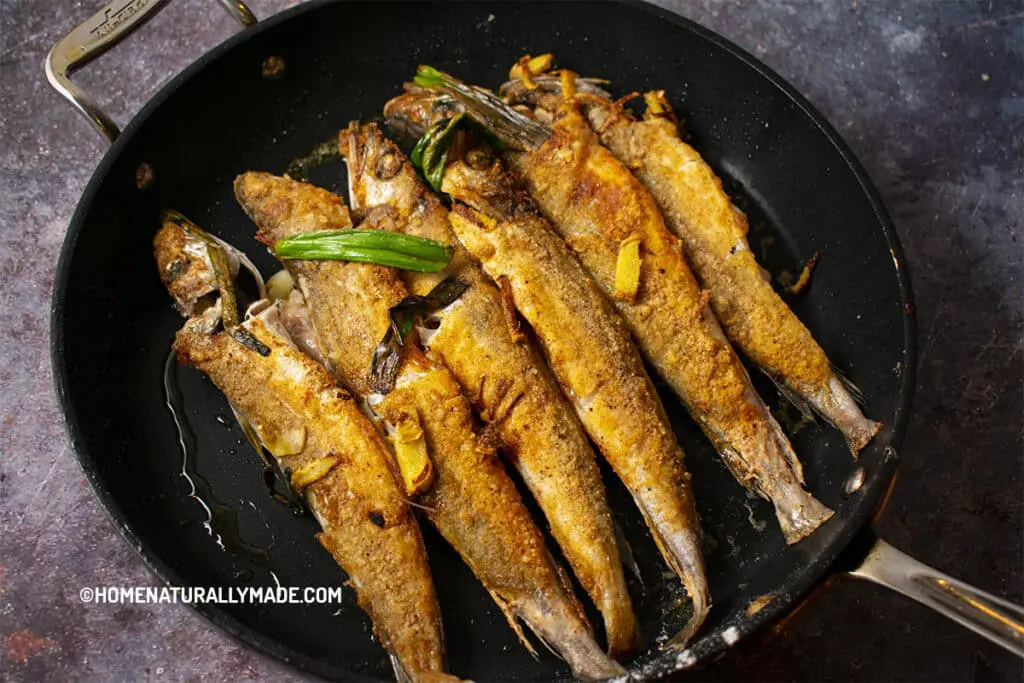 Pan Fry the Whiting Fish without the lid on
After the low heat cooking, the fish should be pretty much fully cooked. Remove the lid, drizzle remaining of the green onions, and cook for additional 5 minutes to make the fish crispy.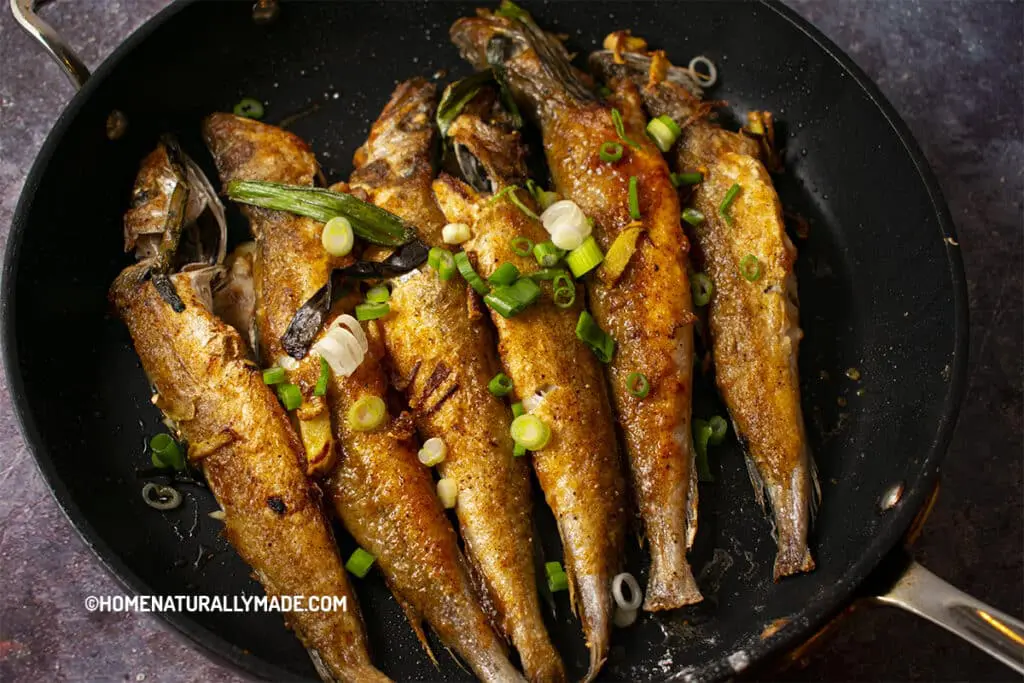 All done! Enjoy a super tasty and healthy fish.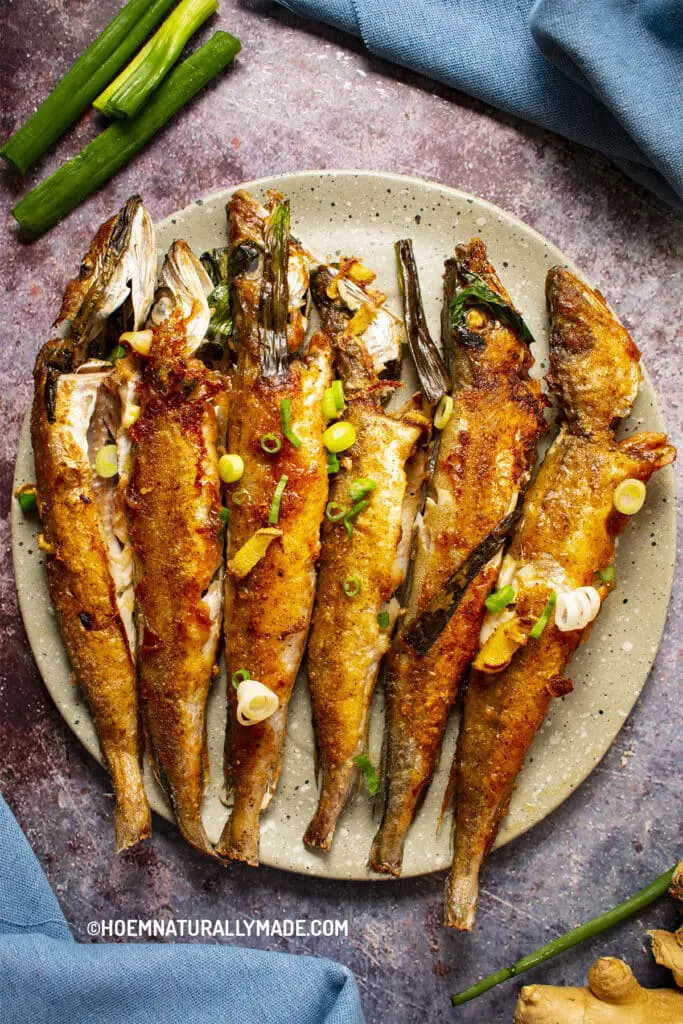 Pan Fried Whiting Frequently Asked Questions:
How does Whiting taste like?
Whiting has delicate, buttery, and flaky white meat. Super naturally delicious. They remind you of that of Cod, but much tender. Both Cod and Whiting belong to the same Gadidae family.
Is Whiting a healthy fish to eat?
Absolutely. I think it is safe to say Whiting is an under-appreciated fish. Both Whiting and Cod belong to the same Gadidae family. Therefore, all the good things you know about Cod apply to Whiting.
For example, they are rich in protein, omega-3 fatty acids, and vitamins and minerals. They are also low in calories.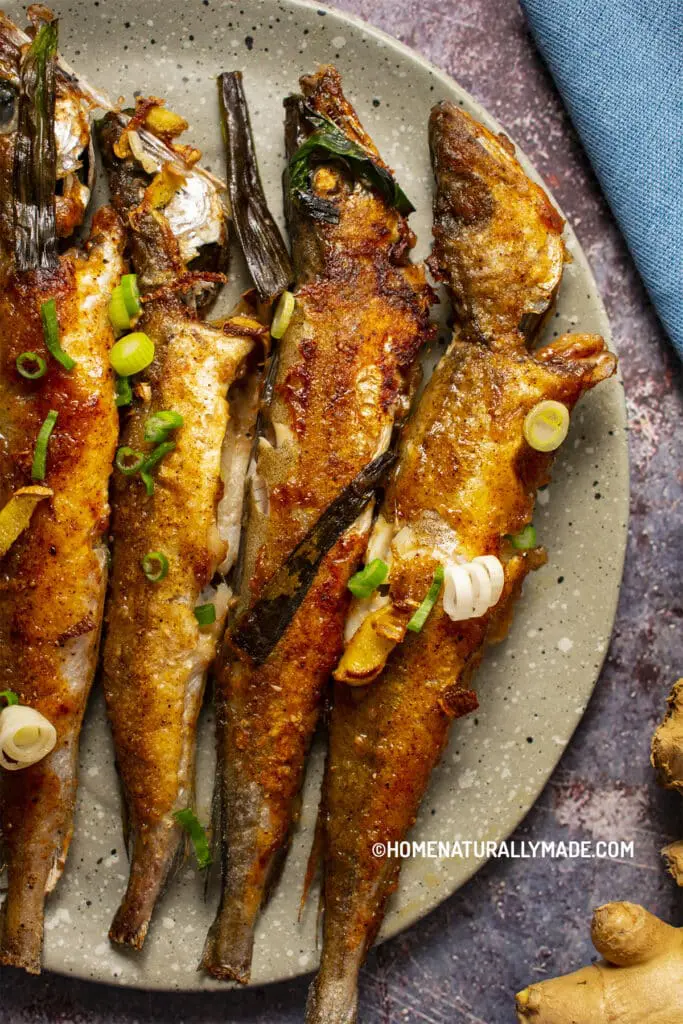 Is Whiting a better fish to eat over tilapia?
Absolutely yes. Cost-wise, they are similar. However, Whiting meat tastes so much better and much healthier too.
Do you cook Whiting with the skin on?
Yes. Whiting has very thin and soft skin, you barely notice the skin is there.
Do you have to butterfly Whiting for pan frying or any kind of cooking?
Nope. You can pan fry them as they are. All you need is the whole Whiting that is fresh, gutted, and cleaned. Whiting has very tender meat which makes them easy to cook.
This is especially true when you get smaller Whiting, which typically is between a quarter-pound and half-pound apiece. Some Whiting can be as twice as big. However, even then you do not have to butterfly them.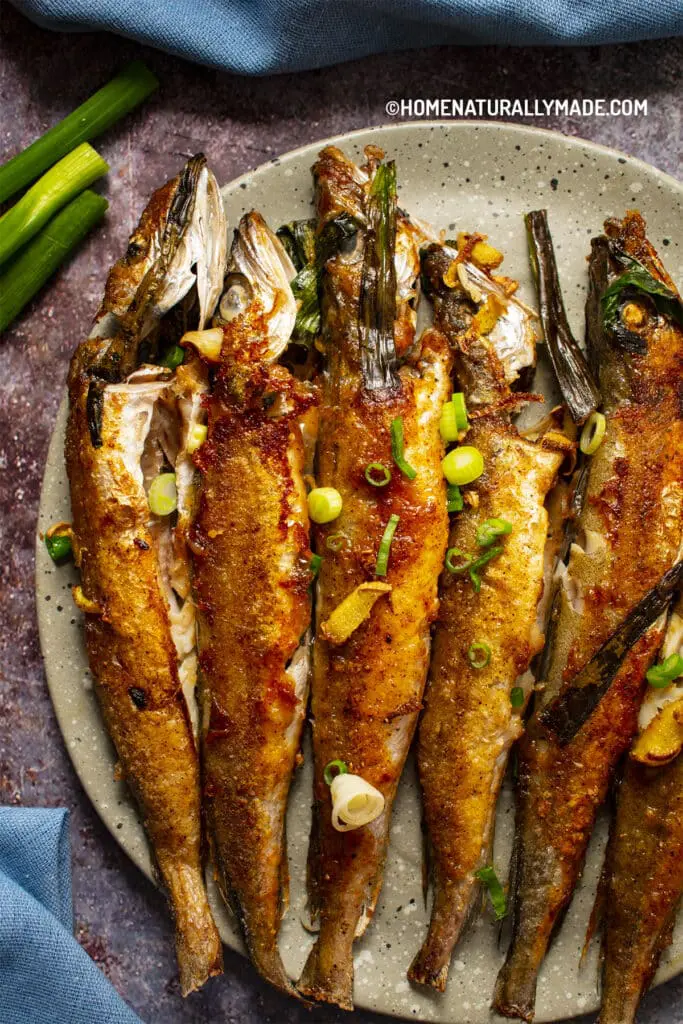 Mackerel, on the other side, is a different story. I always butterfly them first before cooking. Because they have much thicker and tougher meat, I use the braising method to cook them. Check out this yummy Braised Mackerel with Sweet Soy and Spicy Paste.