Pan Fried Cod Fillet featuring ginger, green onion and black pepper is so naturally delicious and tender. It is an easy 10 minutes cooking as long as you master a few essential tips & tricks. What a perfect way to enjoy this nutritious fish.
What Do You Need to Make Pan Fried Cod?
Pan Fried Cod Ingredients: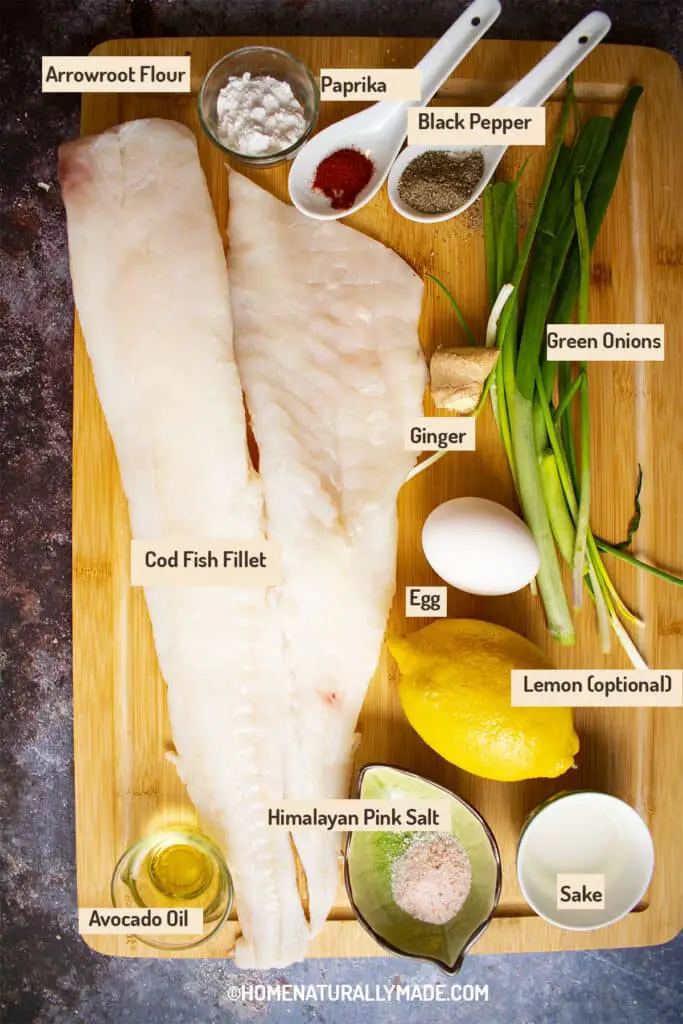 Cod Fillet – I typically get an entire piece of from my local fish market. Some part of the fillet (the left part which is the back of the fish in the picture) is much thicker, which requires slicing into the similar thickness using an angle cut technique. If you use a pre-cut and not overly thick cod fish fillet, then you do not have to worry about this extra step.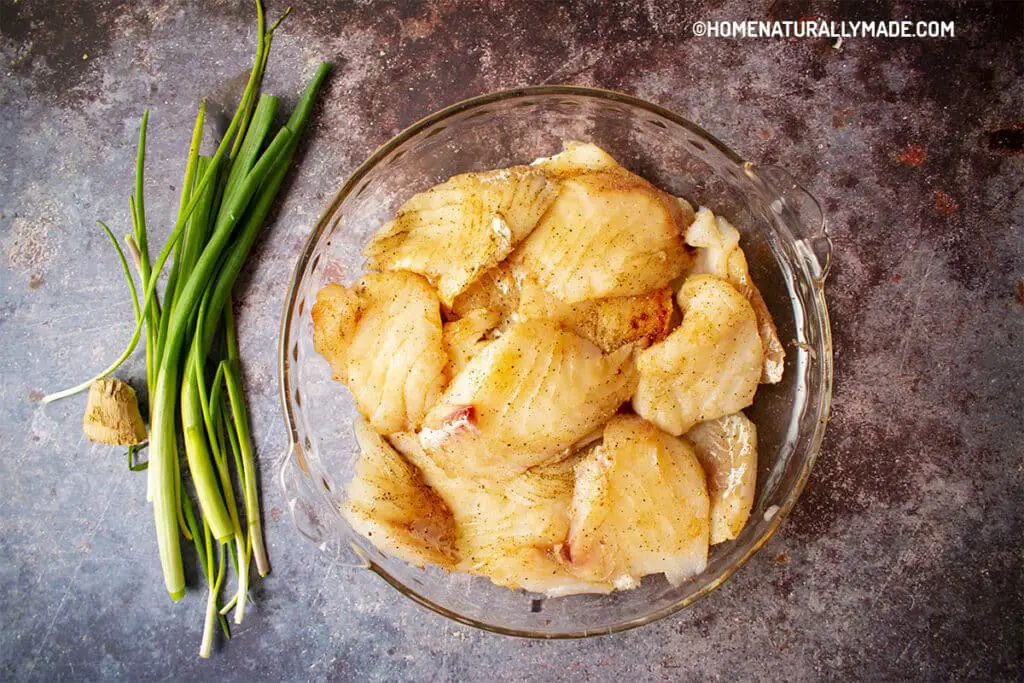 Sake – Sake has a refreshing clarifying subtle taste, which makes sake my go-to cooking wine for seafood.
Black Pepper and Paprika – Freshly ground black pepper and paprika are the primary seasonings. They work well together to flavor seafood.
Himalayan Pink Salt – it is my go-to salt besides sea salt. You may substitute with salt of your options.
Arrowroot Flour is my go-to superfood gluten-free starch. Together with egg, they help to contain the seasoning and moisture to create a tender & tasty cod. You can also thank them for the enticing brown glaze. You may substitute with the starch of your choice.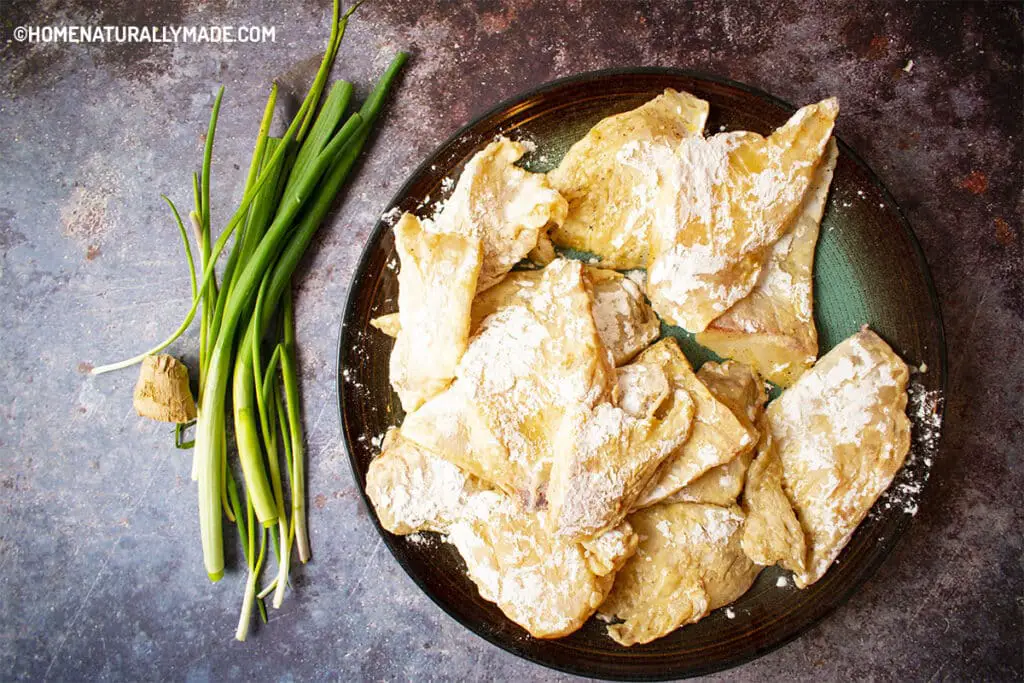 Avocado oil is my primary cooking & baking oil since they are such a versatile and healthy oil option. I also use canola oil, olive oil, and coconut oil depending on the cooking needs.
Ginger is a tasty & nutritious fresh spice. Together with Green Onions, they are the essential spices for Chinese cooking. I use them for almost everything, including meat, seafood, and vegetables such as Napa Cabbage Stir Fry with Vinegar Sauce.
Green Onions also has a unique an eye-catching green color and refreshing taste and crunchy texture, a wonderful complement to meat and seafood. For this reason, I frequently use them as a garnishing item.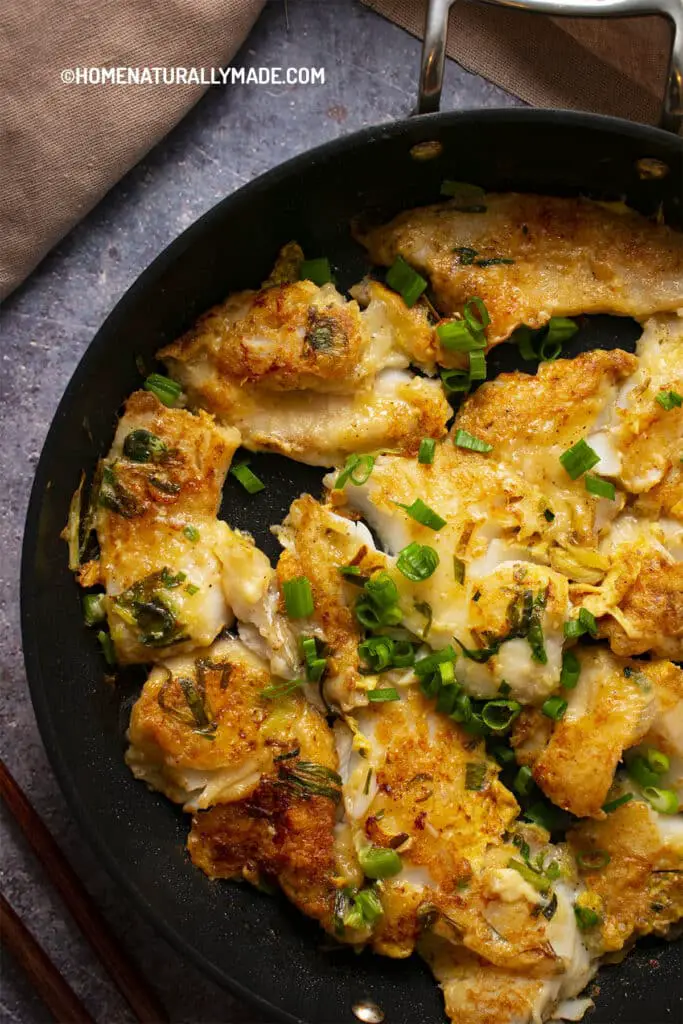 Useful Kitchen Utensils:
A quality non-stick fry-pan is the key for dishes like this. Quality means they are made of healthy materials, can withstand high heat and has superb non-stick function. I have searched a long time for this, and am so glad I found these and the search is officially over.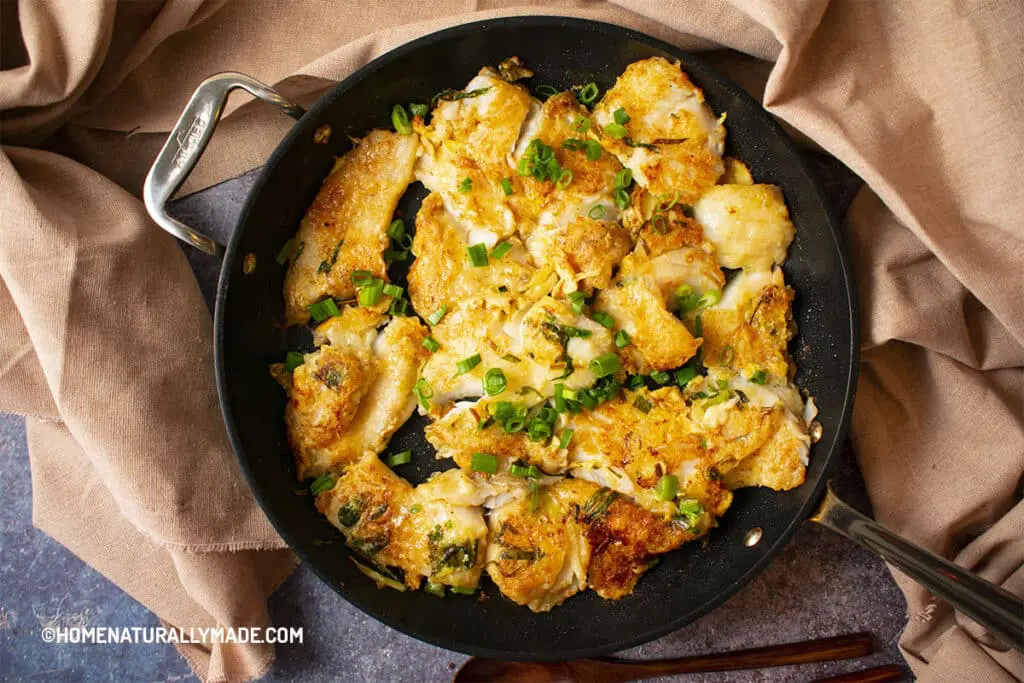 A good chef knife helps slice the fish efficiently.
A pair of handy bamboo cooking chopsticks or kitchen tongs makes it so much easier to dab cod with arrowroot flour while holding one piece at a time.
A firm while flexible slotted turner helps flip the fish easier.
How to make a Pan Fred Cod Fillet Perfectly each time?
See the Recipe for a detailed step-by-step tutorial. A few things I'd like to highlight here:
Tip No.1 is to cut fish fillet in consistent thin slices
This is especially tricky for cod as part of the fillet is naturally much thicker than the other part.
What you do is to use a chef's knife to slice the fish with an angle to create thinner fillet pieces, similar to the Cod belly part meat. This way, we create similar thickness and serving-sized fish fillet pieces, easier for marinating, cooking and serving.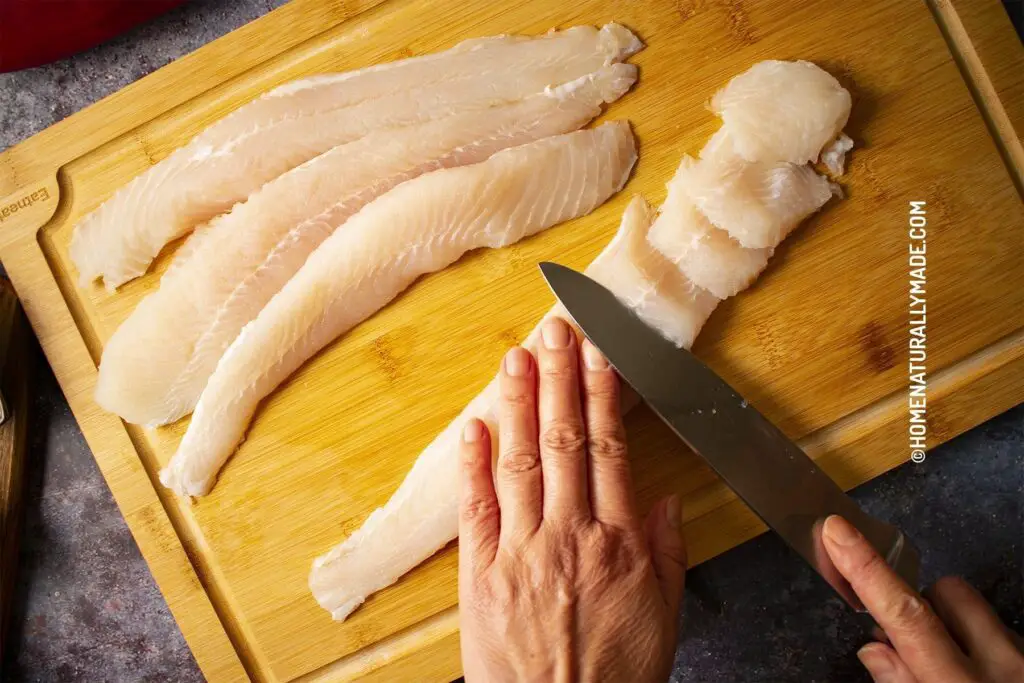 This is a popular cut for Chinese cooking. Sauteed Basa Fillet or Napa Cabbage stir-fry are just two of those examples.
Tip No.2 is to marinate fish fillet properly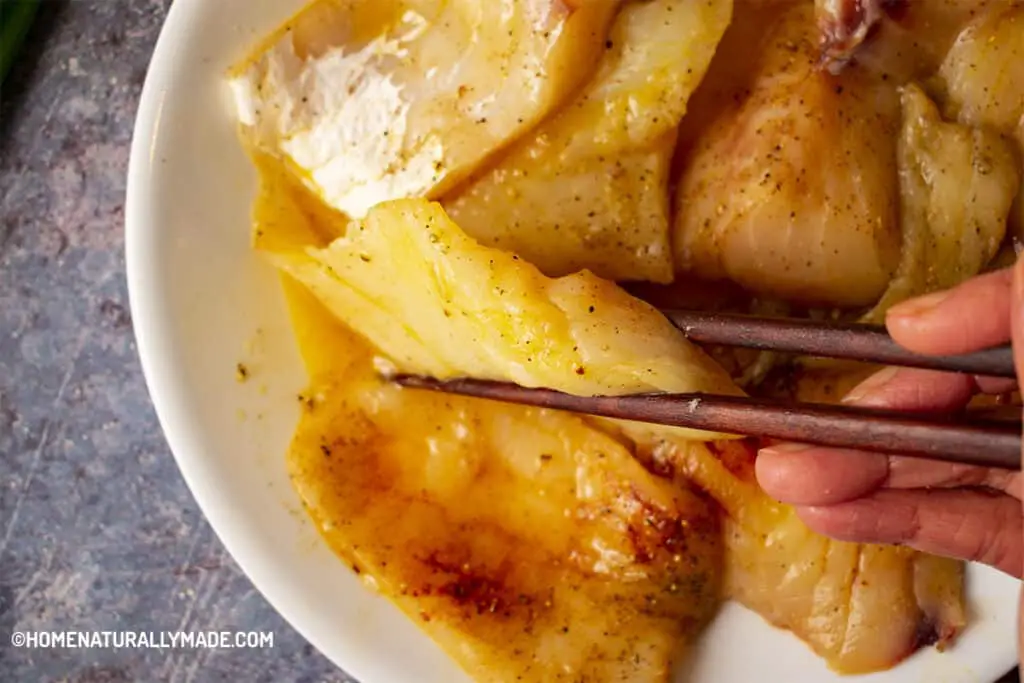 The first is to marinate fish fillet with sake, mix well together using a pair of wooden spatula. The same way you mix a salad.
Second is to sprinkle the fish with salt, black pepper, and paprika, mix well again.
The third is to coat cod with egg liquid. Last is to dab the pieces into arrowroot flour lightly right before you are ready to cook. Try not to let fish fillet coated with arrowroot sit too long, otherwise, the arrowroot will absorb all the moisture and become a gooey mess.
Last but not least is to cook in a small batch at a time
Since we need to flip the cod fillets halfway through cooking, we will need room to turn and flip the Cod. Also, we don't want to over-crowd the pan for pan-frying.
For one pound Cod, you should be able to fit into a 12-inch pan.
Like Cod? Remember to check out quick easy delicious Steamed Cod Fillet.
Like Fish? Make sure you check out below delicious fish recipes: