Braised salmon using soy sauce, black pepper, and a pinch of sugar is naturally delicious. Ready in 12 minutes and perfect for rice, pasta, or salad.
This has been my family's quick go-to meal for some time. It is simple, delicious, and error-proof. You just can't go wrong with it. This, coupled with freshly made rice and a quick blanched green leafy vegetable, makes a healthy, tasty meal, all within 15 minutes.
What do you need to make a delicious braised salmon?
Braised Salmon Simple Ingredients Required: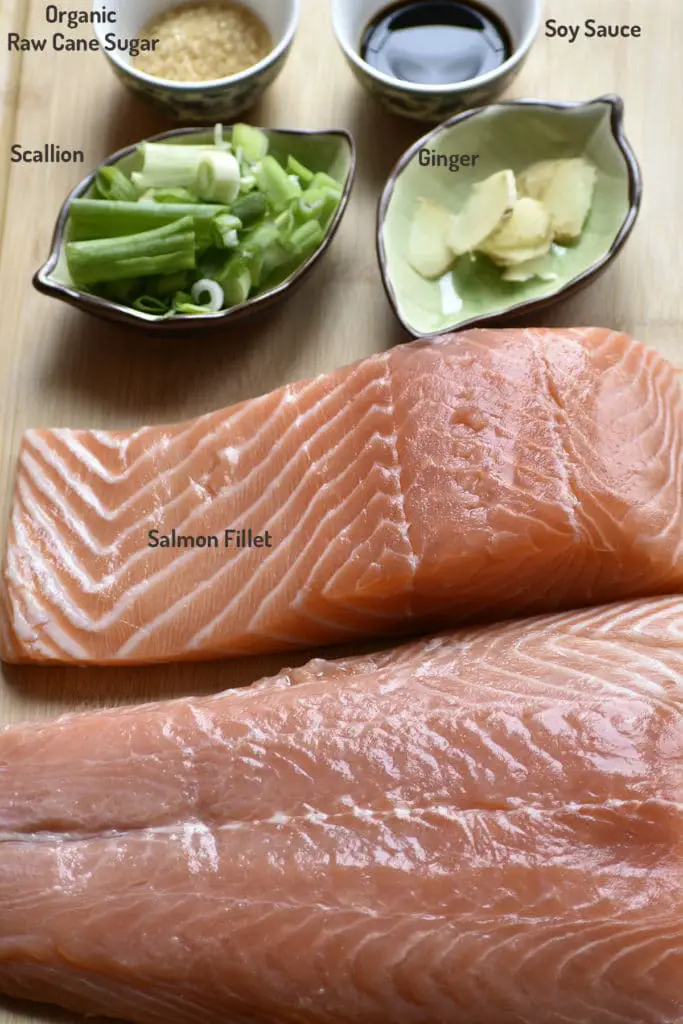 Salmon – Either or salmon steak will work for this recipe.
Cooking Oil Using Homemade Oil Spryer – Canola oil and avocado oil are my two primary go-to oils. I also frequently use coconut oil and olive oil for different cooking needs.
I started using this sprayer bottle as a homemade oil sprayer since I jump-started a healthier lifestyle journey in 2015.
Salt – Himalayan pink salt is my go-to salt other than sea salt.
Black Pepper and White Pepper– Black pepper and white pepper are simple condiments but truly work magic on fish.
Light Soy Sauce –Soy Sauce helps flavor the salmon nicely. It also gives the salmon an enticing dark color hue.
Green Onions and Ginger – Both green onions and ginger are cornerstone fresh herbs per Chinese cooking.
Sugar – A pinch of sugar is to complement soy sauce and enhance the flavor. Sugar in the raw is my go-to sugar, besides organic cane sugar.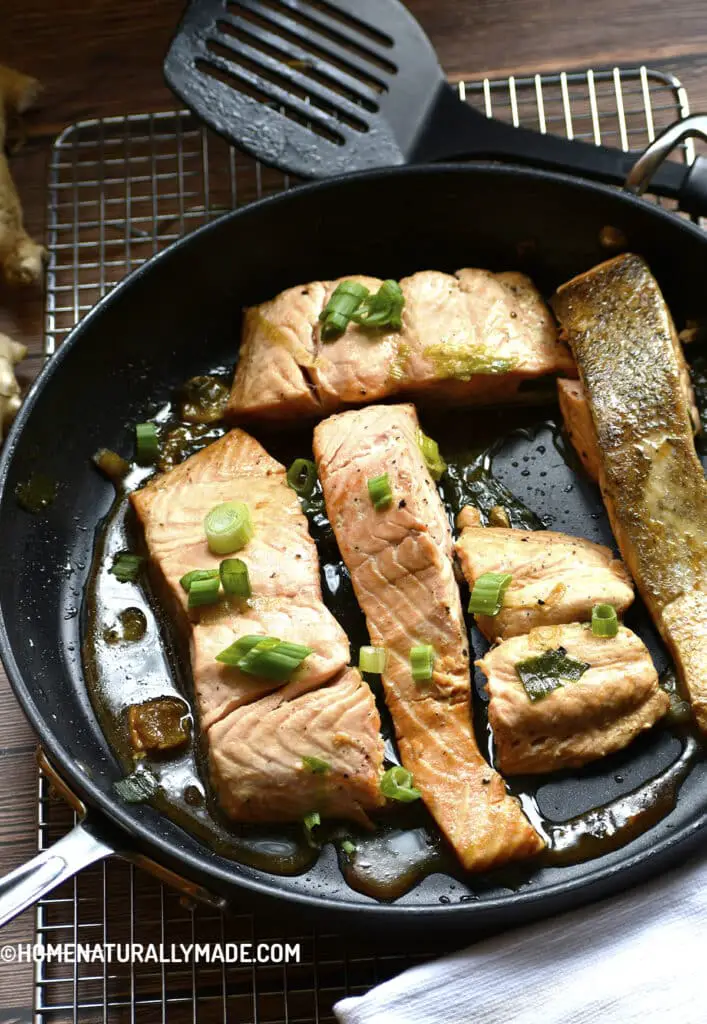 Useful Kitchen Utensils:
A Quality Non-Stick Fry-Pan – I have been using lots of non-stick fry-pan and finally found these hard-anodized non-stick fry-pans, and then I do not have to look further. Great non-stick performance, durable, and made of healthy materials. a 12-inch one is perfect for family cooking.
A Slotted Turner – A firm while flexible slotted turner makes it easier to flip and turn the fish during the braising.
Braised Salmon Frequently Asked Questions:
Do I need to wash salmon before cooking?
YES. Rinse salmon under running tap water, make sure it doesn't splash from the sink. This rinse will get rid of the slimy layer of stuff potentially developed and give fish a better refreshing taste.
How long do I cook the salmon using the braising method?
10 minutes braising with lid covered on medium high heat.
How to enhance the braised salmon taste?
Sear the salmon before braising along ginger slices helps make a tender and tasty braised salmon.
Do you like fish? Make sure you check out my other tasty fish recipes: