Pan Fried Whole Bass Asian Fusion is easy, naturally yummy and healthy. It features whole bass stuffed with minced ginger and green onion, and flavored with salt, black pepper and ginger powder. A splash of sake during the closed lid, low heat pan frying absolutely elevated the taste. It also adds the moisture for a tender fish meat. Such an easy 20 minutes of deliciously healthy meal choice.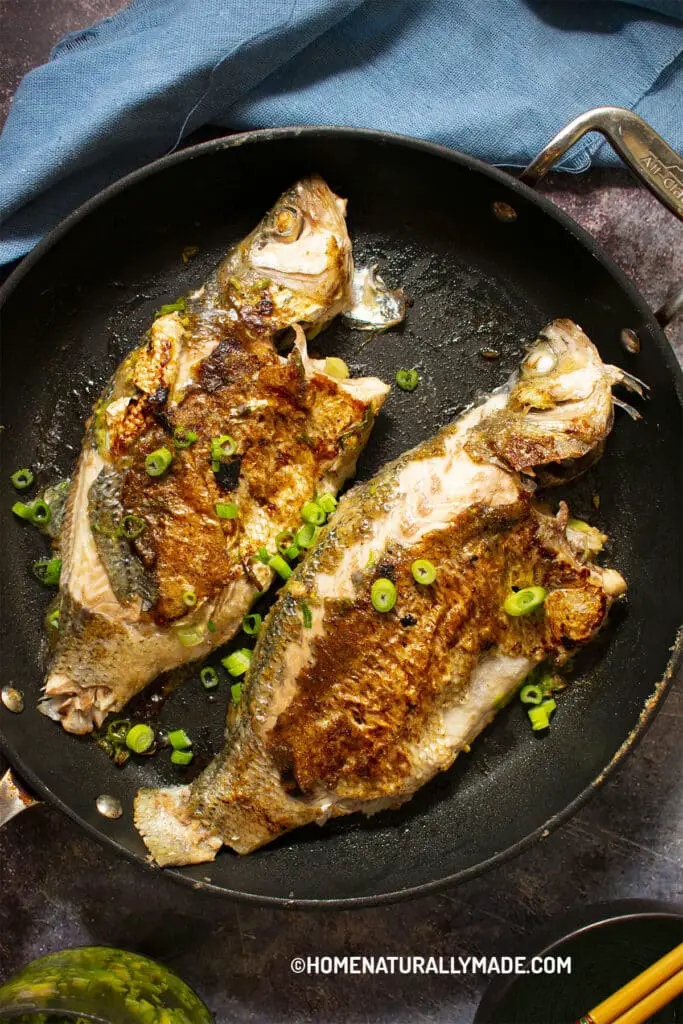 Bass Fun Facts
Bass is a general name shared by many species of fish that have a tender, white and flaky meat. It can be fresh water or sea water. However, it is typically labeled as "Sea Bass" if it is from the ocean. Bass varies by size. It can be as small as in under 1 pound or as large as over 10 lbs.
Depending on the specific appearance, people call them stripped bass, white bass, largemouth bass, black sea bass, etc.
I am cooking wildly caught white bass from Canada today. They are usually under 1 pound for each fish, although you can easily get white bass that weights over one and a half pound.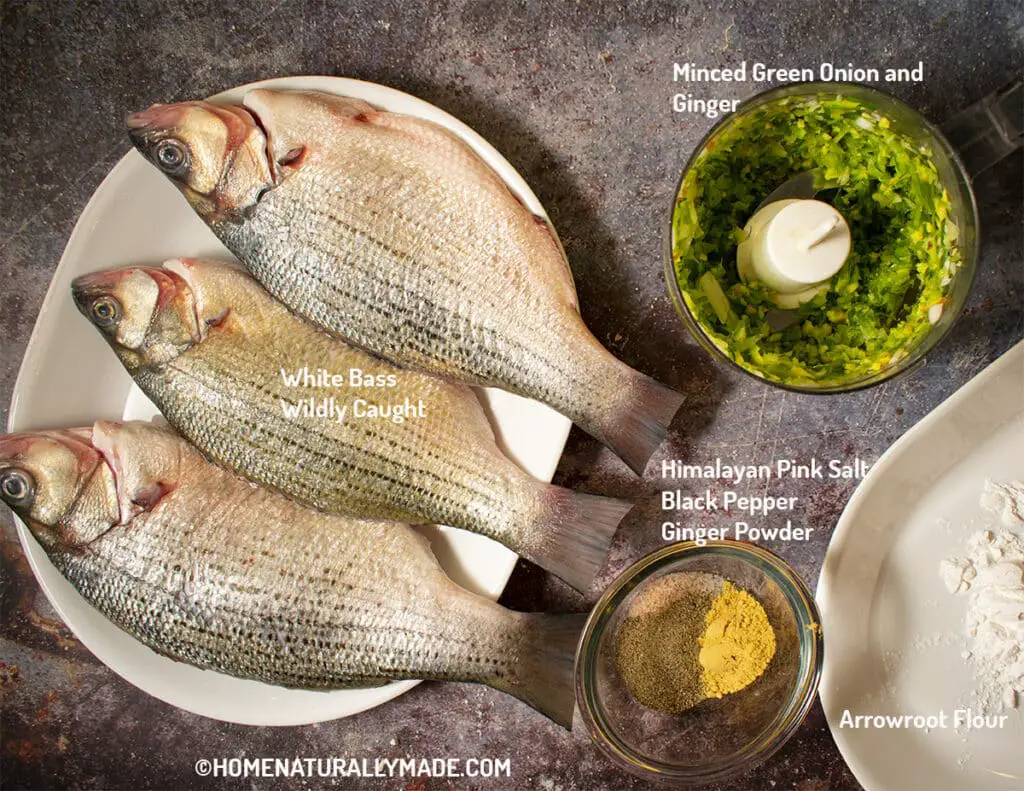 Bass Fish Health Benefis
Bass is a delicious fish that has a tender, whitish flaky meat. They are also a healthy meal choice, providing many essential nutrients. For example, Bass is rich in protein and omega-3 fatty acids. They are also high in important minerals like selenium, and vitamins like B6 and B12.
Omega-3 helps cardiovascular health, including preventing stroke. Selenium helps our bodies produce antioxidants and supports thyroid hormones regulation.
One watch out is the mercury level. Mercury from the environment would make their ways into bass. Striped bass, black bass and Chilean sea bass are especially vulnerable. Having smaller bass sourced from a cleaner environment is a way to limit this type of risk.
How to make a tasty & healthy Pan Fried Bass easily?
Tip No.1 is to stuff the bass with minced green onion and ginger for a yummy Pan Fried Bass
A compact food processor is a very handy gadget in the kitchen for jobs just like this. I frequently use it to mince herbs such as green onion, ginger and garlic.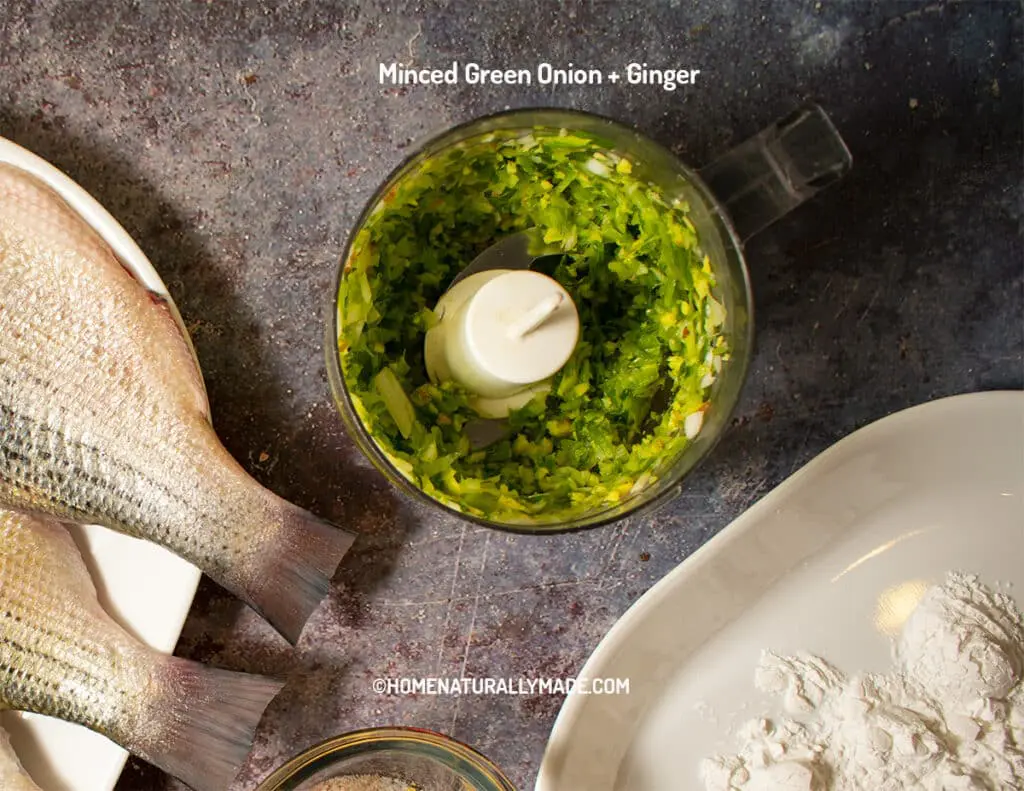 Tip No.2 is to make an easy, tasty dry rub for fish
No need to get it over-complicated. A pinch of Himalayan pink salt or sea salt, along with ginger powder and freshly ground black pepper, is all you need to make a perfectly tasty dry rub for fish.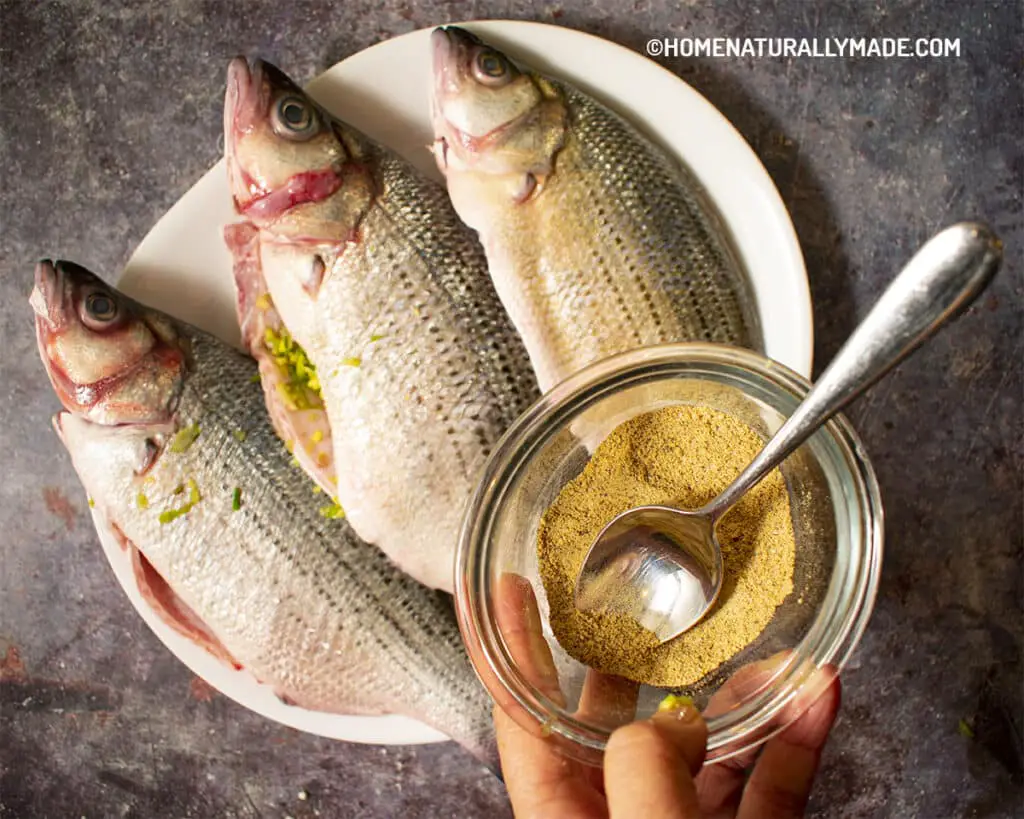 Tip No.3 is to coat the bass with a thin layer of arrowroot flour
Arrowroot flour is my go-to starch, which is also a superfood. They are rich in protein and essential minerals such as folate, iron, phosphorus, and potassium. Arrowroot flour is naturally gluten-free and easy to digest.
Lightly coat the seasoned bass with a thin layer of arrowroot flour helps pan frying process easier.
Tip No. 4 is to pour a splash of sake during the pan frying process
Sake is an refreshingly tasty, clear rice wine. It is my go-to wine for cooking fish and seafood.
Tip No.3 is using the proper pan frying technique for a perfectly cooked pan fried bass
Sear the fish on medium heat on both sides for 4 minutes, 2 minutes on each side. Then turn the heat to low, cover the pan with a lid and cook for 10 minutes, flip half way through. Last, remove the lid, flip the fish and cook for additional 3 minutes.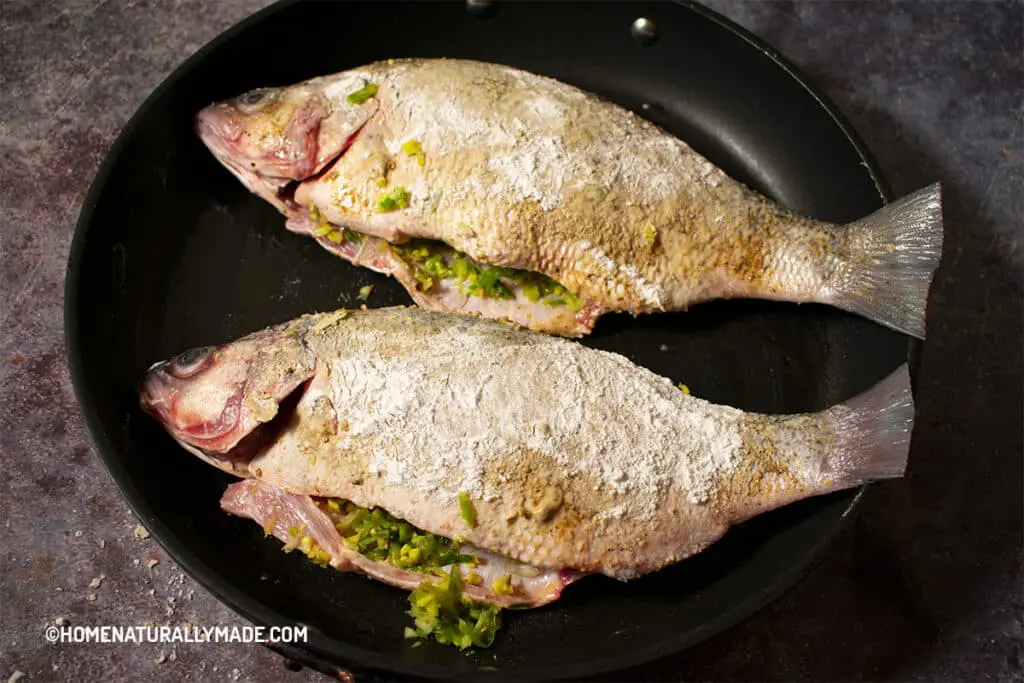 Like fish? Make sure you check out below easy yummy and healthy recipes featuring fish.