Home hand made semi-sweet milk bread with egg using organic all-purpose flour is fluffy, rich, and delicious. Perfect for breakfast, a side dish, or snacks. My all-time favorite.
Making this tasty milk bread is easy, as long as if you learn a few essential tips and tricks. The active working time is about 30 minutes, the rest is just waiting. Wait for the gluten to activate, about 2-4 hours; wait for the dough to rise, about 1-2 hours. A perfect example that magic happens when you are patient.
By the way, the waiting time highly depends on the temperature of the environment. It takes much less time during humid scorching summer and way more time during dry cold winter.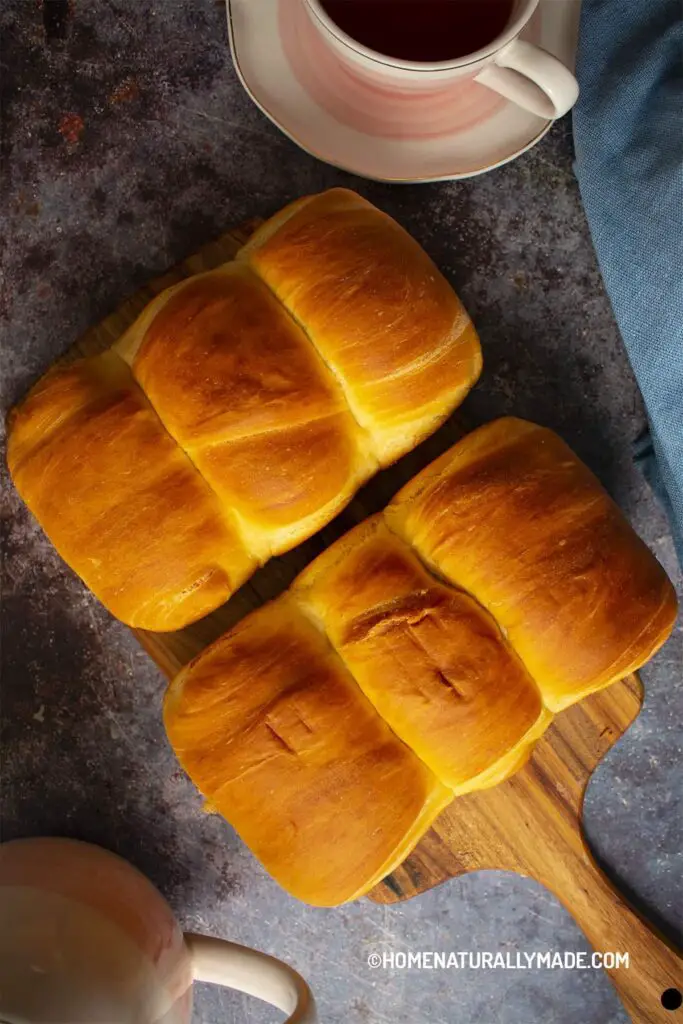 What do you need to make this yummy milk bread?
Ingredients required for Milk Bread:
Organic All-purpose Flour – Correct, you do not have to use special bread flour. Instead, you can use your everyday organic all-purpose flour. As long as you know how to work the flour to maximize the gluten activation effect, organic all-purpose flour works fine for bread.
Egg, Whole Milk, and Organic Butter – Egg, whole milk, and butter together give the bread a rich creamy, buttery taste and flavor.
Organic cane sugar – Organic unrefined cane sugar is my go-to sugar besides "sugar in the raw".
Himalayan Pink Salt – It is my go-to salt besides sea salt. Here comes the ancient Chinese saying, "Wanna it tastes sweeter? Add a pinch of salt."
Active Yeast – I use this commonly available active yeast. I typically get a large 1-pound package and store them in a glass bottle in the freezer for ongoing use.
Organic Coconut Oil – This is for brushing the baking pan. Organic coconut oil is a healthy & nutritious oil with a higher smoking point and a pleasant aroma. I frequently use them to grease the baking wares for baking.
Useful Kitchen Utensils:
Mixing bowl – either glass ones or plastic ones will work well.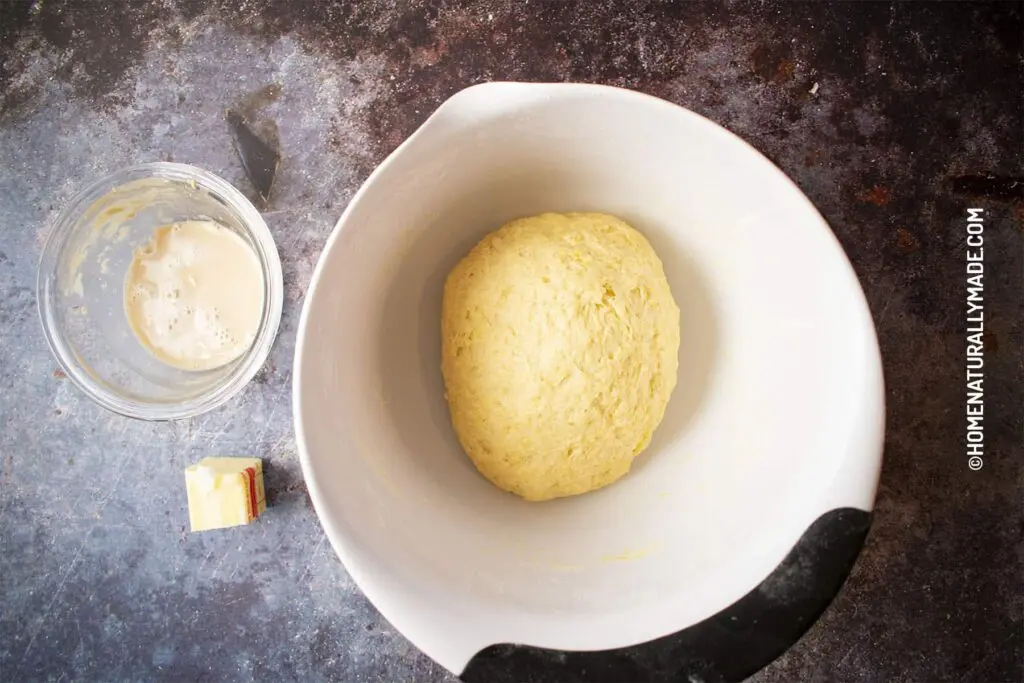 Egg whisk – A regular egg whisk will do. I use mini whisk more often as they are so versatile to work inside a regular bowl or saucepan.
Bread Glass Loaf Dish – You will need two glass loaf pans. This recipe makes 2 loaves of bread.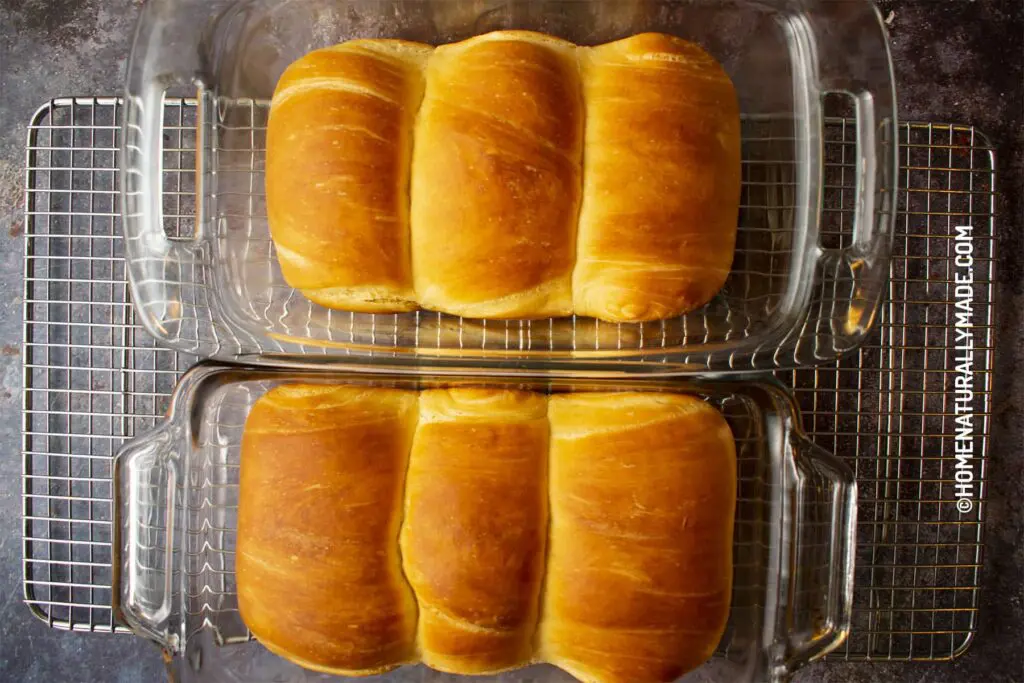 How to Make Milk Bread Perfect Every Time?
See the Recipe for detailed step-by-step tutorial. A few things to highlight here:
Form a sticky dough
This will ensure gluten within the flour has plenty of water to maximize the gluten activation process.
Do Not add yeast yet when you make the dough
The first thing we want to accomplish is to activate the gluten, this the one key secret of soft bread.
Allow time for the dough to rest in order to activate the gluten properly
The activated gluten is the essence of soft bread. They make a stretchy dough. Bread flour has a higher content of gluten, the reason the Chinese name for bread flour is "high gluten flour". Therefore, if you use bread flour, you have a better chance to activate the gluten.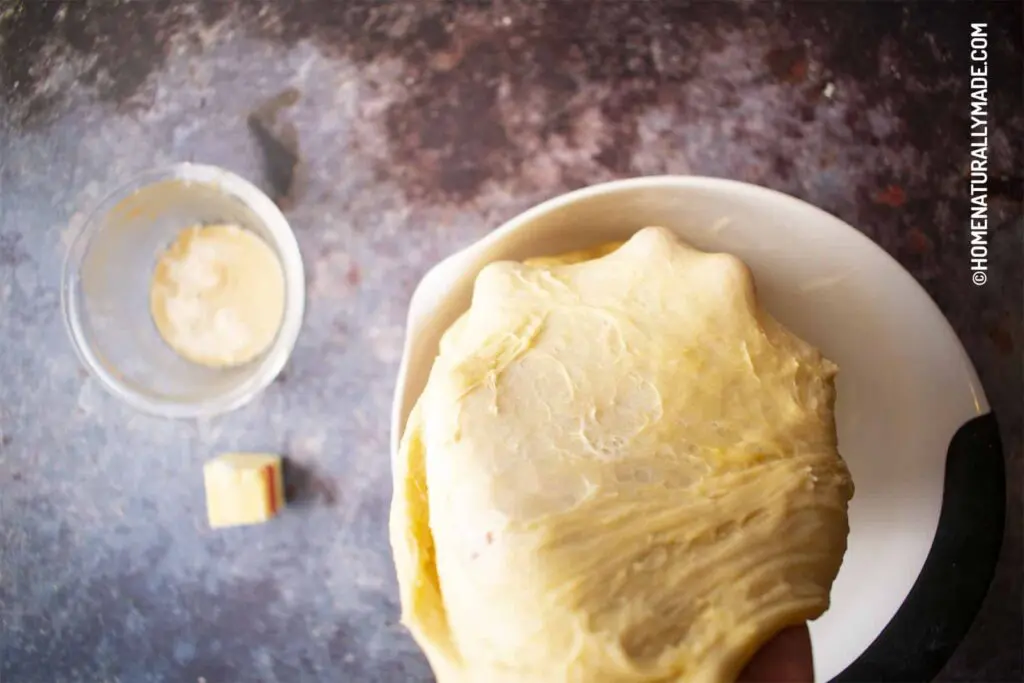 But time shall work out its magic, gluten will be activated with the help of water, if we allow time for them to do so.
So how much time do we need to activate the gluten inside the flour properly? It depends on the environment and temperature plays a significant role. Usually it takes about 2 hours. However, during the dry winter time in Chicago, I usually have to wait for 4 hours. I may only need 1 hour during humid, scorching hot summer.
How do we know when the dough's gluten is activated sufficiently? When the dough becomes very stretchy and can form a thin film to wrap around your hand like a glove, you know the dough is ready.
Make a yeast paste and allow it to bubble before adding into the dough
While waiting for the dough, mix the dry yeast with 45 g, or about 3 TBSP room temperature water from the measuring cup, mix well into a thin paste, and set aside.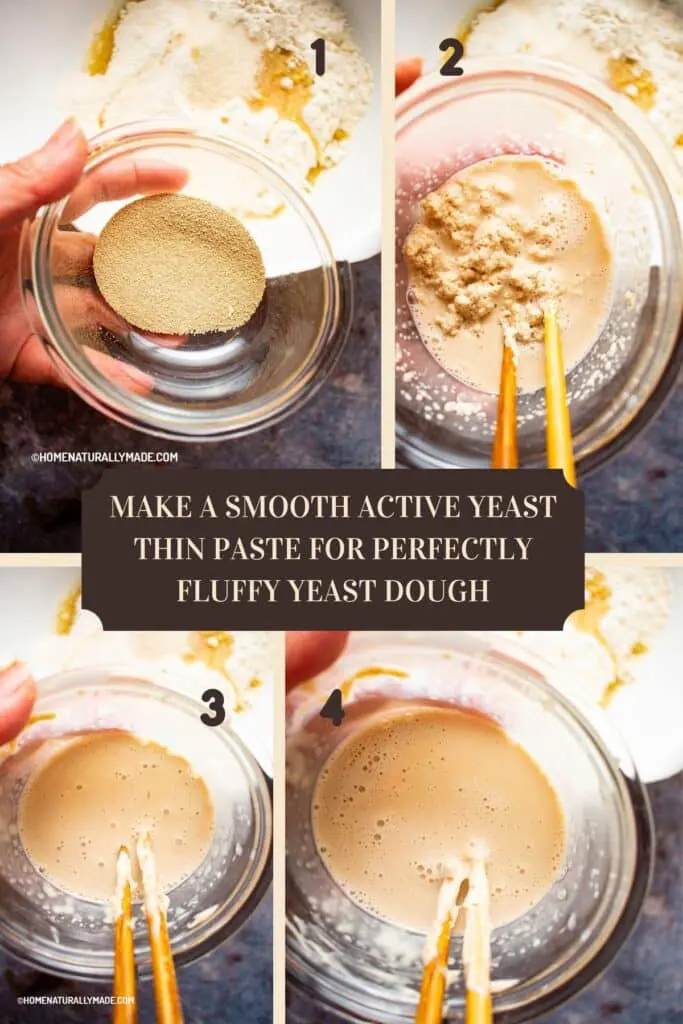 Work on the dough vigorously to smooth the dough
When you initially add the yeast paste and butter to the dough, you may feel the dough is sticky. But don't worry, the dough will become smooth as you continue to work on the dough. DO NOT add any dry flour, not even to dust the countertop.
Spread and stretch out the dough as much as you can, and add butter and active dry yeast.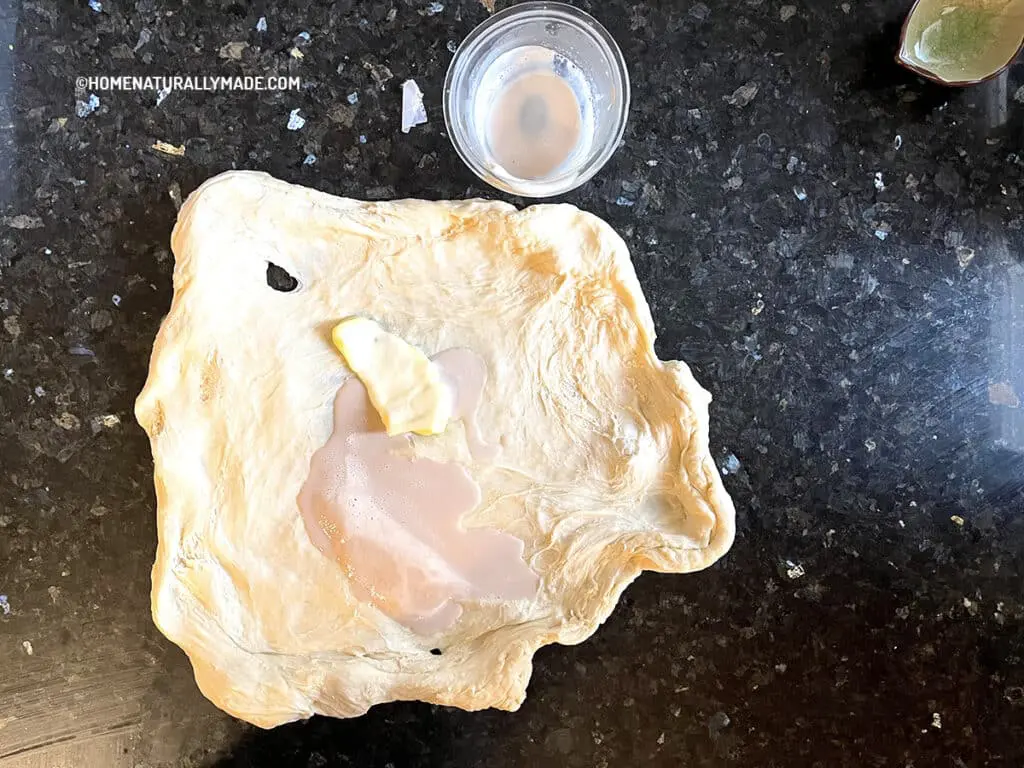 Fold and knead into one piece and then chop down into chunks using a dough cutter. Then Knead together into one piece again. Repeat this a few times will help stretch and smooth the dough, which is the key to the ultimate fluffiness of the Milk Bread,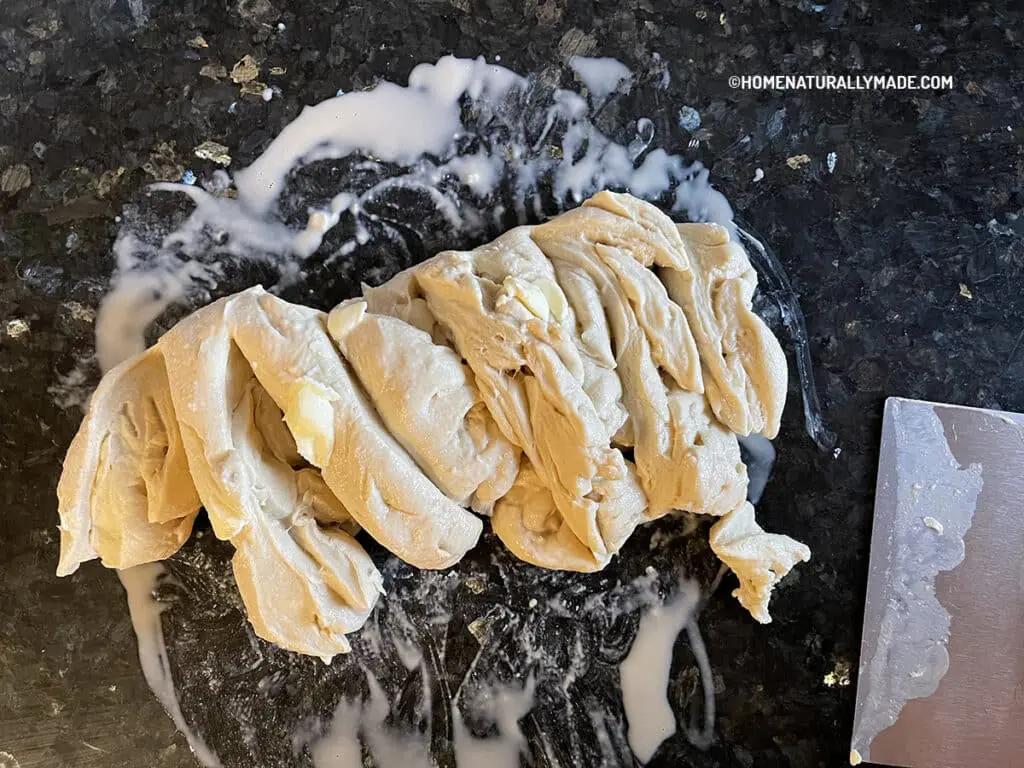 Slap the dough really hard against the countertop is another technique to help streth and smooth the dough.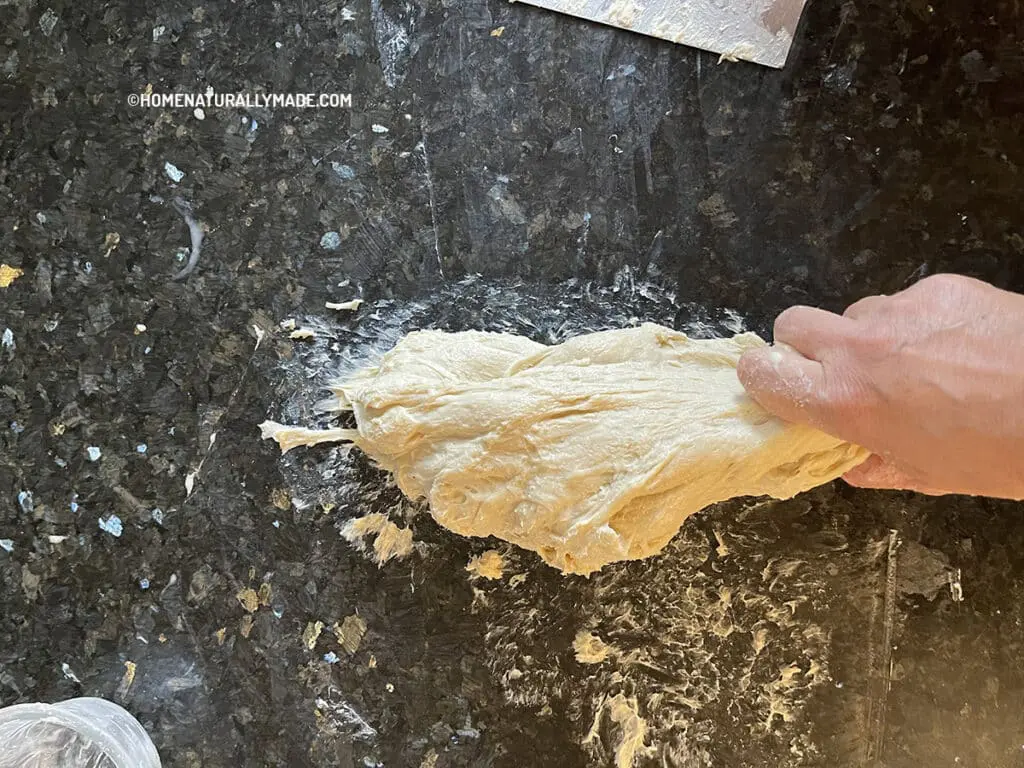 As you slap, the dough becomes smooth and soft, and very stretchy.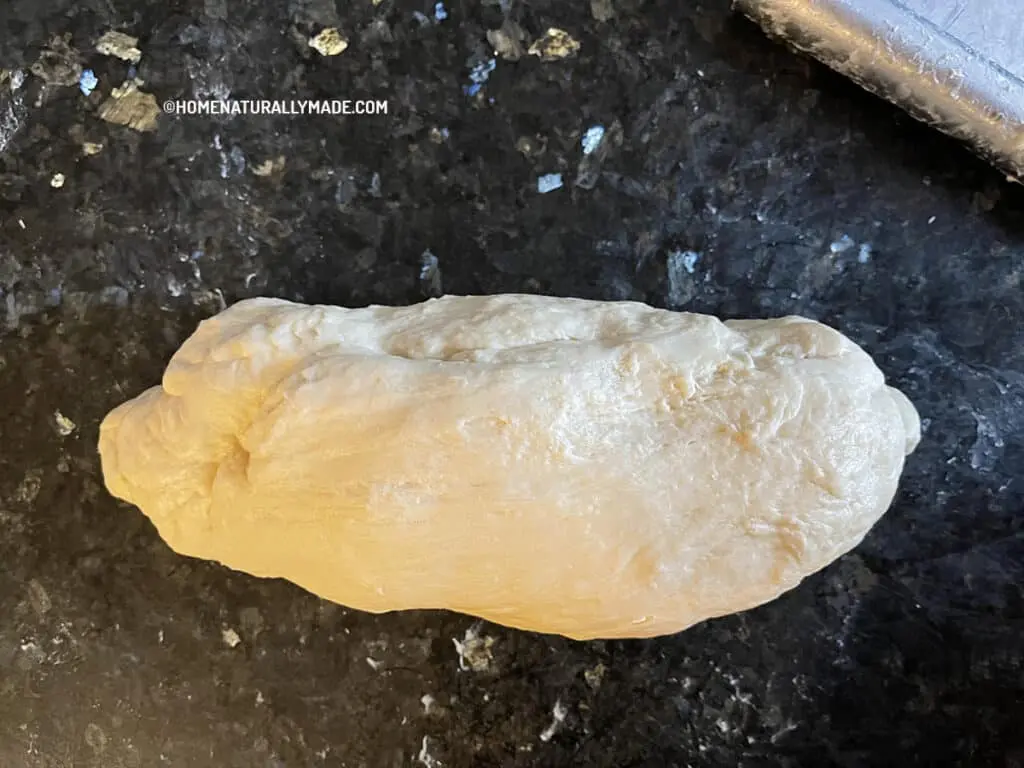 Allow time for the rolls to rise and double its size
I usually leave the rolls in the microwave to rise. The time required depends on the temperature of surrounding environment. During the winter, this may take about 2 hours; in the summer, 1 hour might be sufficient.
Set a timer for 1 hour and check. Do not over proof the dough.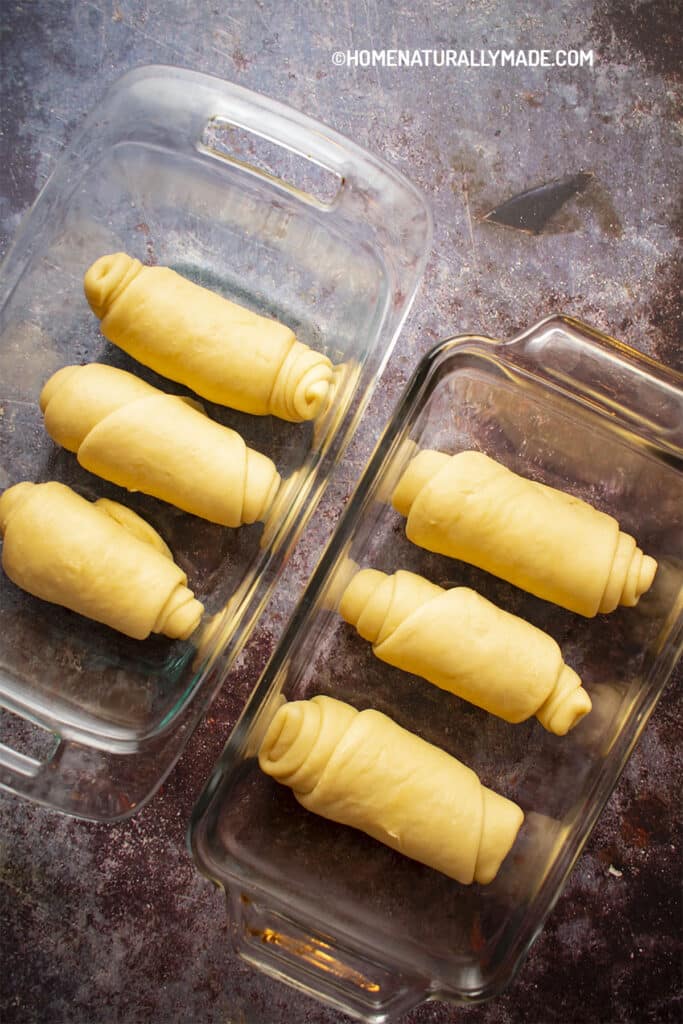 Preheat the oven and bake 38 minutes at 350-degree Fahrenheit
350-degree Fahrenheit is about 176.7-degree Celsius. Let it cool down on a wire rack for 1 hour.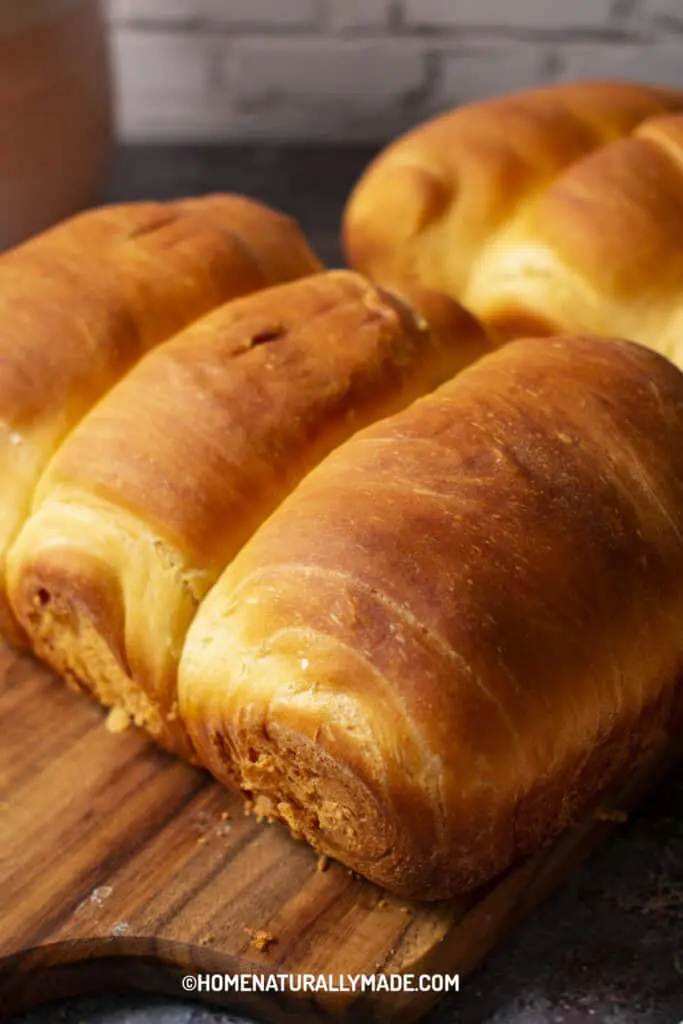 All don! Enjoy a super yummy and healthy homemade milk bread.
Pair with homemade Cherry Jam and a cup of tea for my kind of breakfast.