Homemade Burger Buns are easy, yummy, and healthy. A must-have to enable your deluxe burger experience at home.
Making burger buns can be seriously easy and the active work time is merely less than 15 minutes when you own a Stand Mixer to knead the dough. If you make the dough by hand, it takes longer. The rest is just waiting time.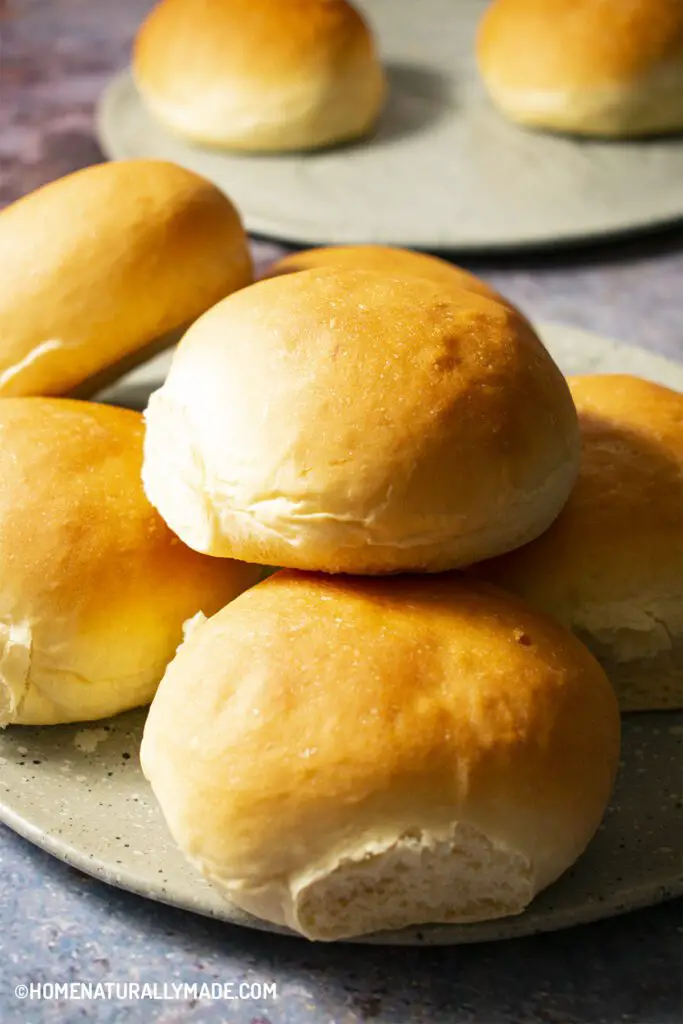 Ingredients required to make homemade burger buns
I use extremely simple and limited ingredients. All you need is all-purpose flour, salt, cane sugar, butter, water, and active dry yeast powder.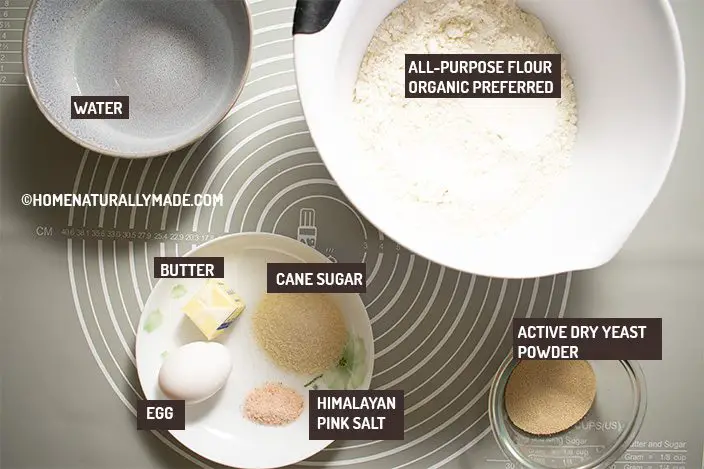 Do I need a Stand Mixer to make Burger Bun dough?
Simply put, it is not a deal breaker. However, a stand mixer makes it much more effortless to make a perfect dough. It works the dough more thoroughly. Because of the consistent kneading from all directions, it can potentially use less water and create a more spongy & airy dough.
I have to admit that myself is a later adopter. We own a Stand Mixer and I use it initially for other usages, such as grinding pork at home, making homemade whipped cream, whipping egg white for Chinese bakery cake, etc.
I used to spend at least 30 minutes kneading & working the dough nonstop, including slapping the dough against the hard surface to stretching the dough. Now all this can be done using the Stand Mixer in less than 10 minutes.
Having said that, don't worry if you do not own a Stand Mixer, you can still make a perfect burger bun by hand, as long as you follow the below tips.
How to make burger bun dough by hand?
Tip No.1 is to rest the dough till they become stretchy before adding yeast
One of the secrets behind fluffy buns is fully stretched dough. Mix egg liquid, water, sugar, salt, and all-purpose flour until you get a somewhat sticky dough, but not too sticky, and then cover it with a damp kitchen towel and let it rest. During summer, you may only need one hour; during the winter, however, you may need 2-3 hours.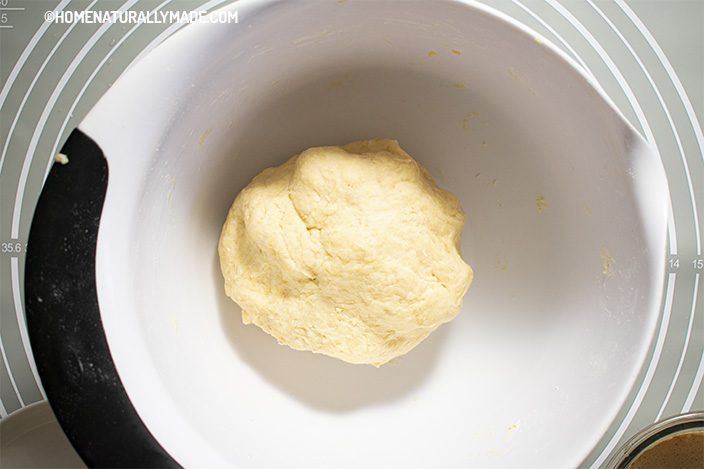 When you can easily stretch the dough without breaking them, it is a good indicator that the dough is ready for the next step.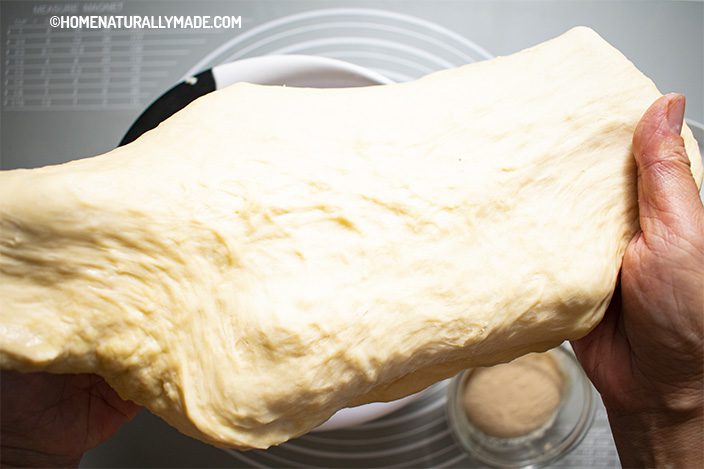 Tip No.2 is to dissolve the active dry yeast powder first thing first
Never add the active dry yeast powder directly to the dough. Always dissolve it in a small bowl with room temperature water until it is fully blended and dissolved first. This is the key to unleashing the full strength of the active dry yeast powder.
Tip No.3 is to work on the dough thoroughly after adding butter and active dry yeast paste
Stretch out the dough and lay it flat on the dough mat and then add the soft butter and dissolved active dry yeast powder paste.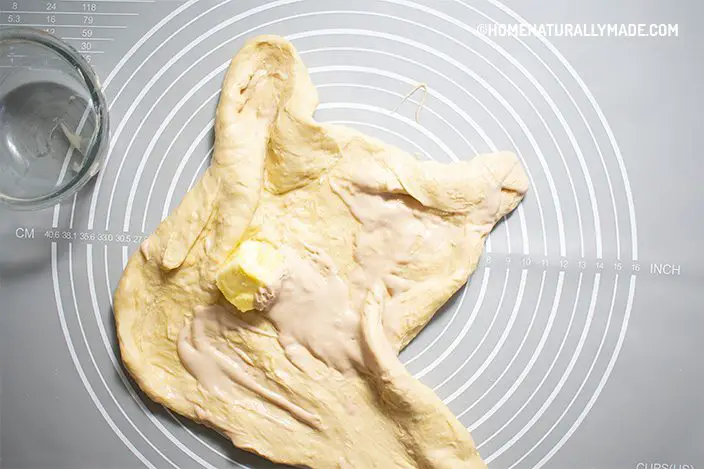 Wrap the dough around the softened butter and the yeast paste, then pull the dough apart and knead/press and force them together again. Repeat this a few times. This step further helps the dough to reach its full potential of stretchiness. Keep in mind that the more stretchy the dough becomes, the fluffier the buns will get.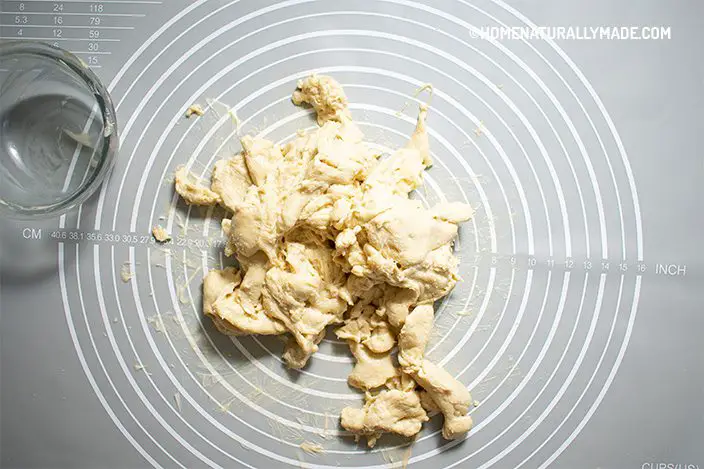 Tip No.4 is to divide the dough and fold each portion into a somewhat hollow dome shape
This recipe makes 8 burger buns. Divide the dough into 8 equal portions, each portion weighs about 90 grams. For each portion, continuously knead and fold the dough inward toward the center, until forms a smooth ball.
Then use both hands to toss to make the dough round and tall.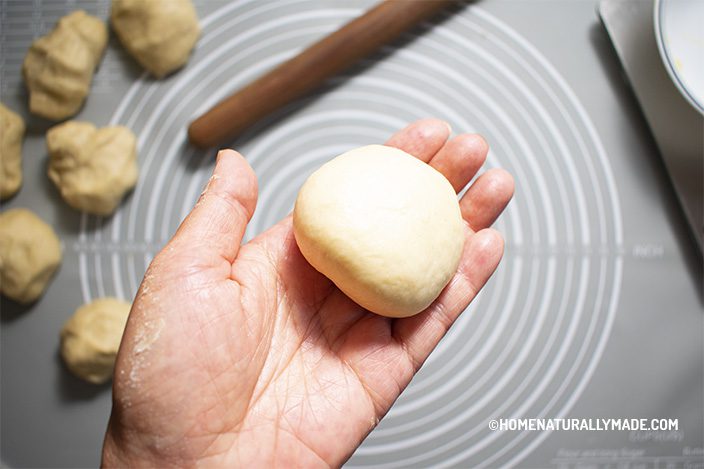 Tip No.5 is to let the dough rest in an enclosed area until it doubles the size
My favorite baking pan set is this stainless baking pan set which comes with one large and one small pan, which can both perfectly into the same level in the oven. This unbleached parchment paper is great to use as a liner.
Place the folded buns on the parchment paper in the baking pan, making sure you leave enough spaces in between for them to rise to double their size. During the summer, it may take about 2 hours, more or less. During the winter, it may take as long as 3-4 hours.