Honey Walnut Shrimp is one of the most popular Chinese takeout food. It features juicy, savory pan-fried shrimp tossed in the honey mayonnaise sauce. This super delicious shrimp is then mixed with candied walnuts to complete the flavor and texture. Just add freshly made rice and a vegetable dish for an extremely satisfying meal.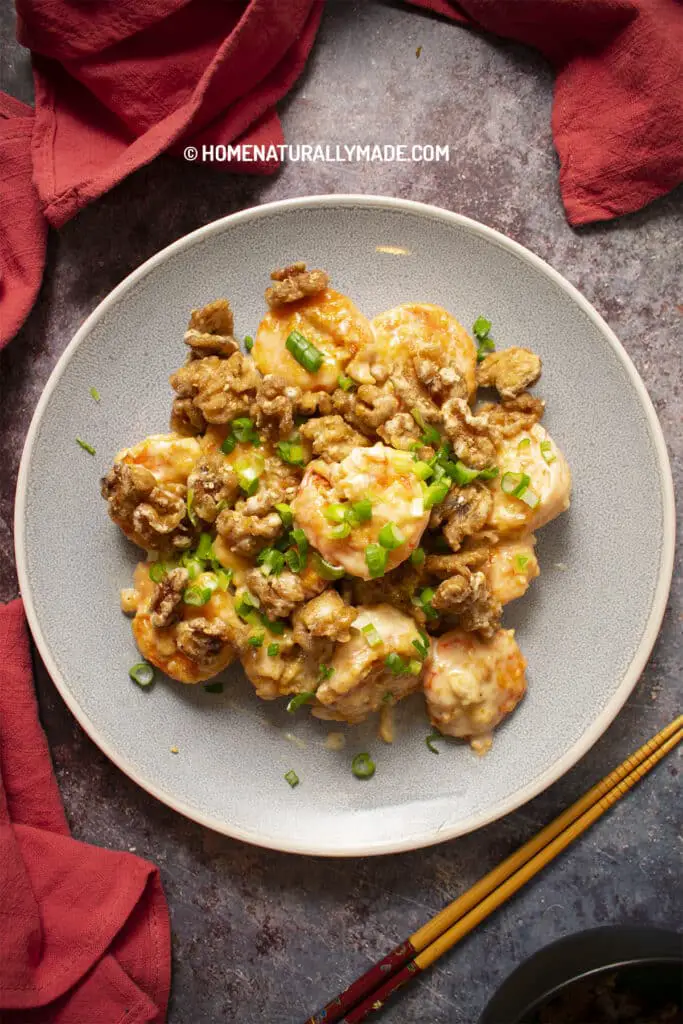 How to make Honey Walnut Shrimp from Scratch?
At a higher level, you will make the candied walnut, and pan fry the shrimp respectively. After that, make a sauce to mix the shrimp. Last but not least is to garnish the shrimp with candied walnut and chopped scallion.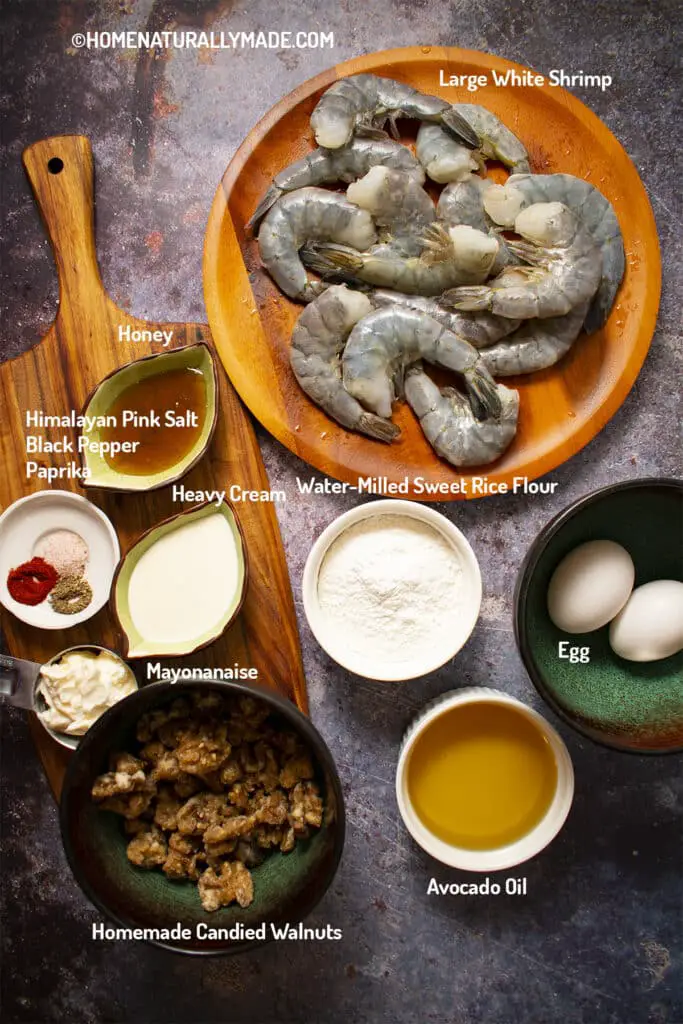 Large white shrimp, peeled and deveined, work the best for this recipe. Don't worry if you are getting shelled shrimp like I do today. I'll show you how to de-shell and devein the shrimp.
For marinating the shrimp, I use a pinch of Himalayan pink salt, freshly ground black pepper and paprika.
I use egg and water-milled sweet rice flour to coat the marinated shrimp for pan frying.
The water-milled sweet rice flour is gluten-free and super smooth. It is the same sweet rice flour I use for making super yummy and soft Red Bean Sweet Rice Flour Dumplings, Pork Sweet Rice Flour Dumplings, and Red Bean Mochi Soup.
The delicious sauce is coming from organic honey, mayonnaise, and organic heavy cream.
Last but not least is the homemade candied walnuts, which use simple ingredients such as raw walnut halves, sugar in the raw, and a tiny pinch of Himalayan pink salt and freshly ground black pepper. Make this in advance to save some time.
How to make candied walnuts at home?
It is easier than you thought to make candied walnut at home. The first thing first is to dry roast the walnut in a Wok. Then burn the sugar just right to wrap the roasted walnut around. If you'd like and prefer, sprinkle some roasted white sesame seeds. Read here for a detailed step-by-step guided recipe.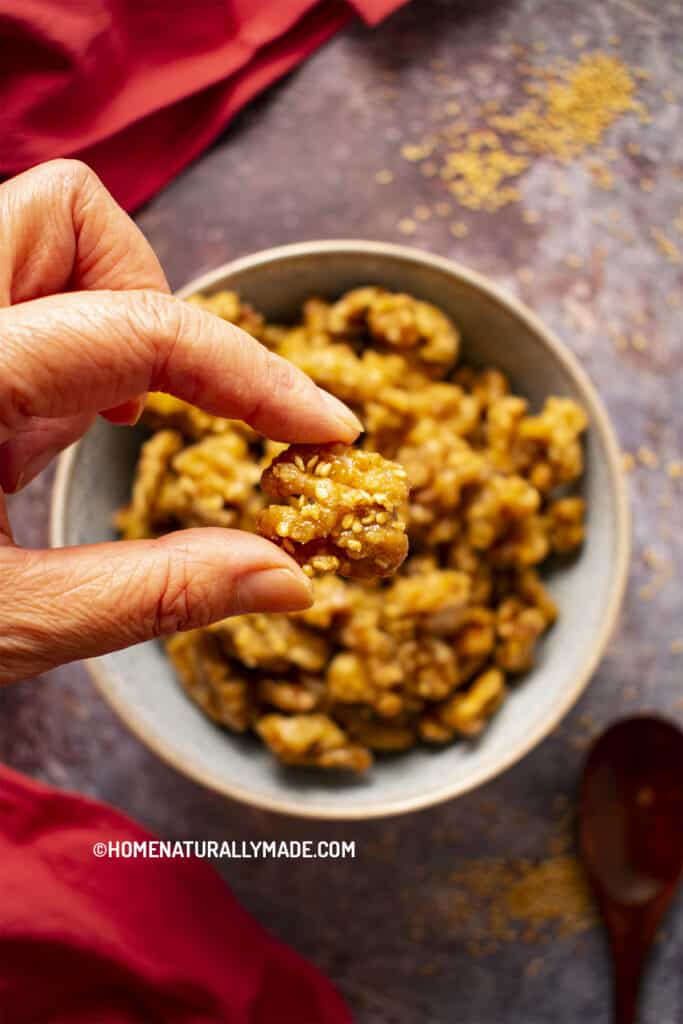 How to Clean, Devein, and Marinate Shrimp for Honey Walnut Shrimp?
I use large white shrimp, which needs to be de-shelled and de-veined.
If the shrimp you've got still have shells, gently peel off the shell. For the tail part, while your fingers hold the tip of the tail shell, yank firmly while gently in small intervals back and forth, the shell shall come off easily.
Shrimp has two veins, one on the back and one on the belly. Most grocery stores devein the back one. To devein the belly one, hold the shrimp vertically in your left hand, or less dominant hand, and use a knife to slit where the vein is. Then use your fingers to pull out the vein.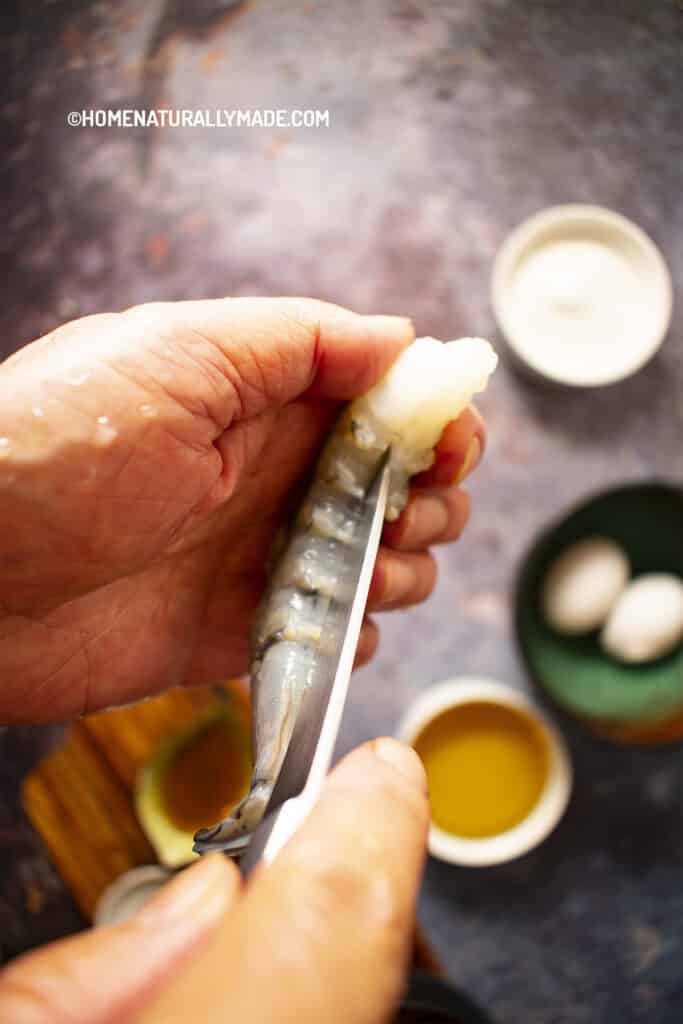 If you need to de-vein the back vein as well, you can apply a similar technique.
Once you have de-shelled and de-veined all shrimp, wash and rinse them well and pat dry with a paper towel. Place them on a large plate and add a pinch of Himalayan pink salt, freshly ground black pepper, and paprika. Toss and mix well, and set aside.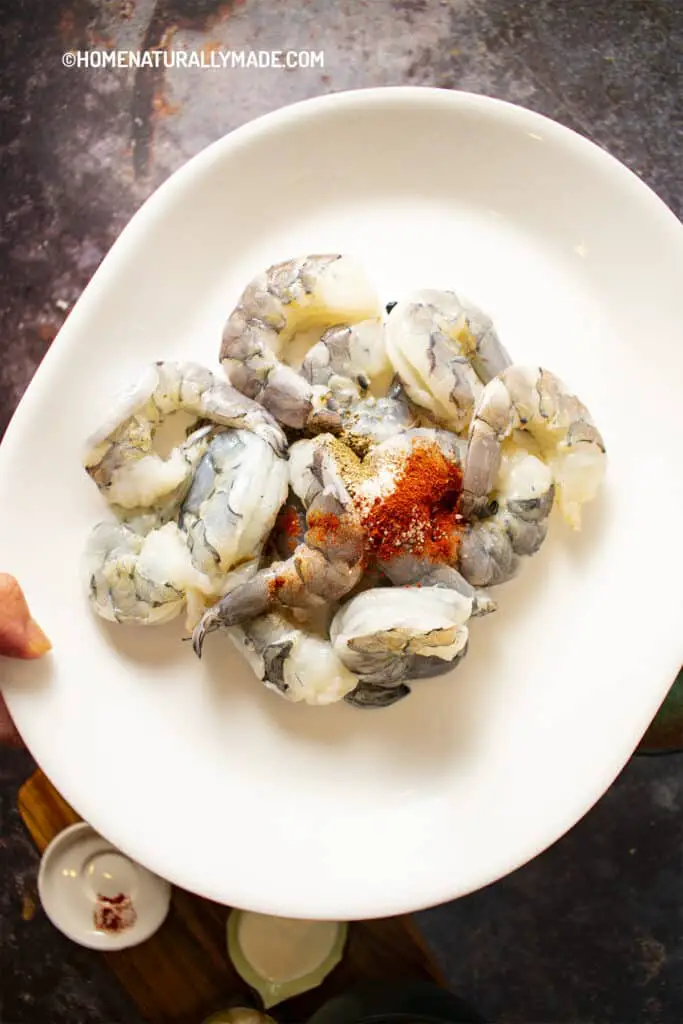 How to Pan Fry Shrimp to Make a Delicious Honey Walnut Shrimp?
Tip No.1 is to The helpful tip is to coat the marinated shrimp with egg liquid and sweet rice flour
Place sweet rice flour and whisked egg liquid in a shallow bowl, respectively. Grab one shrimp at a time, first quickly dip it into egg liquid and then in the sweet rice flour, on both sides and then place it onto a plate.
Repeat until you have completed all marinated shrimp. You will notice shrimp still somewhat semi-wet after the first coating. Don't worry. We are going to do a second round of coating to make it powdery for the best frying results. We will do this right before you place the shrimp in the frying pan.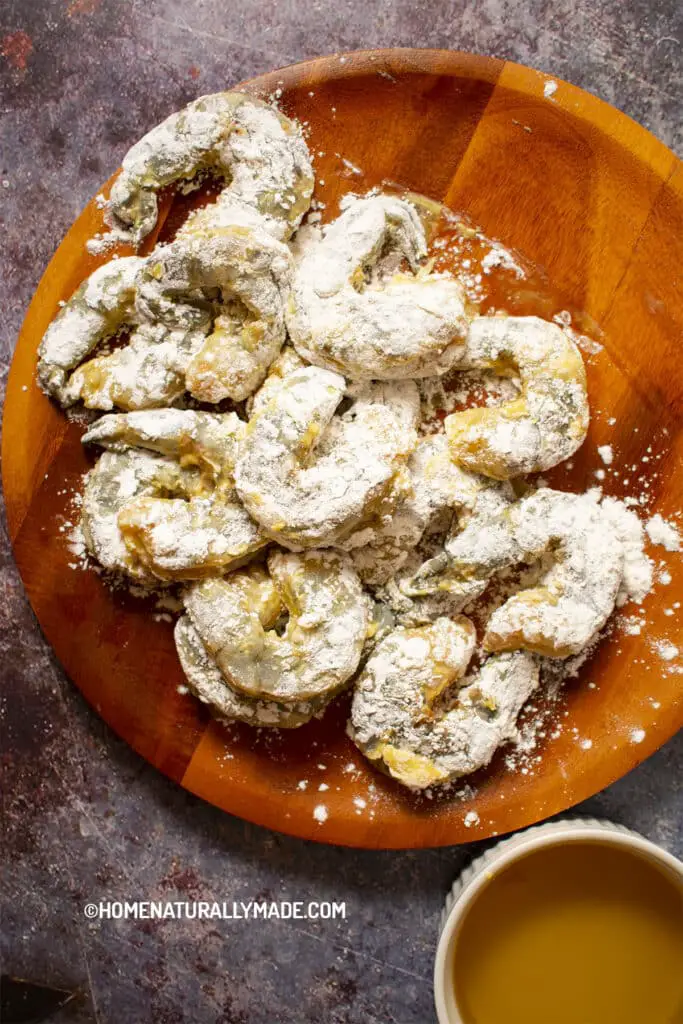 Once you've completed the first coating, do the second round of coating. Grab one shrimp at a time, quickly dab the shrimp in the sweet rice flour on both sides and place it onto another dry & clean plate.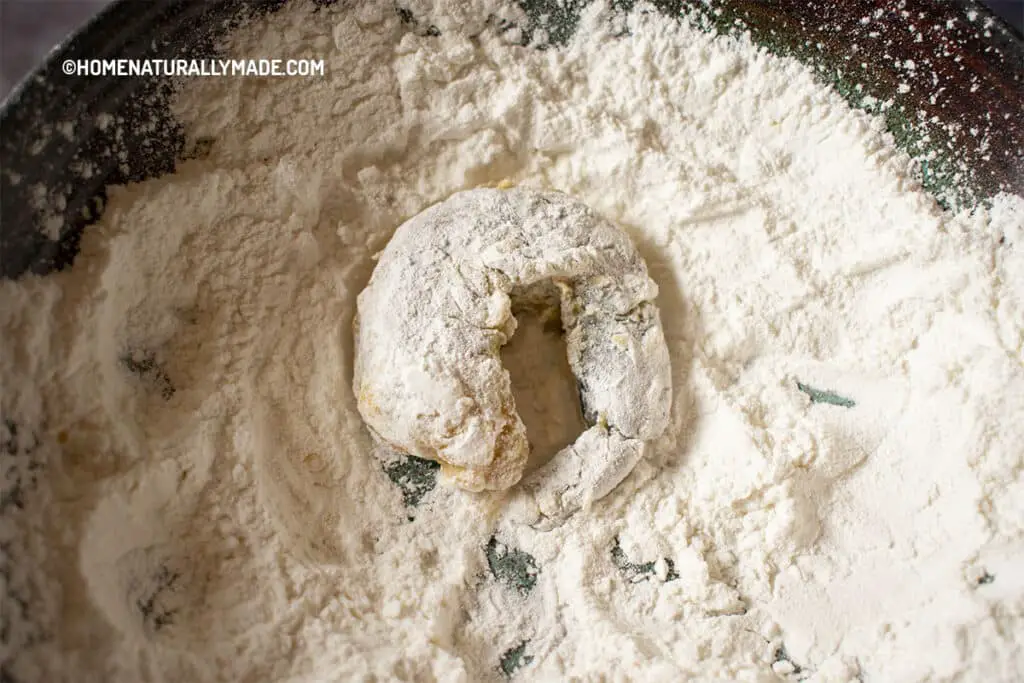 Tip No.2 is to pan-fry the shrimp is just the right amount of oil in a quality nonstick frying pan
Turn the heat to medium-high and heat a 12-inch hard-anodized non-stick fry pan for 2 minutes. Then turn the heat to medium and add 1 cup of avocado oil. Add the shrimp to the pan, try to lay them flat, one at a time, and cook for 2 minutes.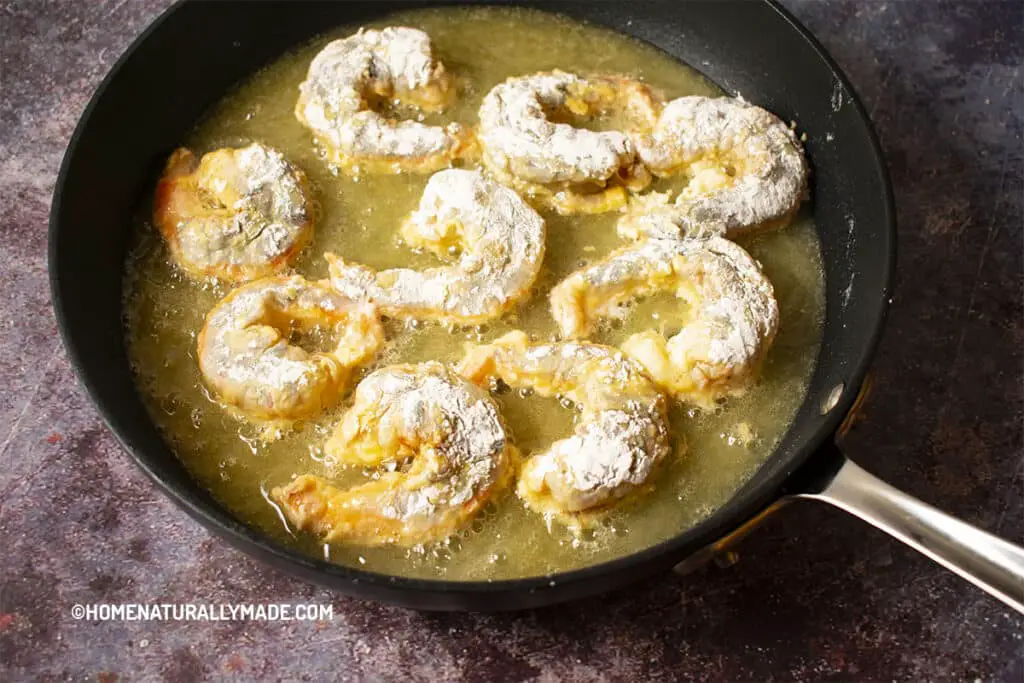 Then flip the shrimp starting from the very first one you placed on the pan and cook the other side for 1 minute. Flip again and cook for an additional 1 minute, or till the shrimp has changed color, the meat firmed up and the sweet rice becomes crispy.
The cooking time is obviously determined by the size of the shrimp. Larger ones require a longer time to cook.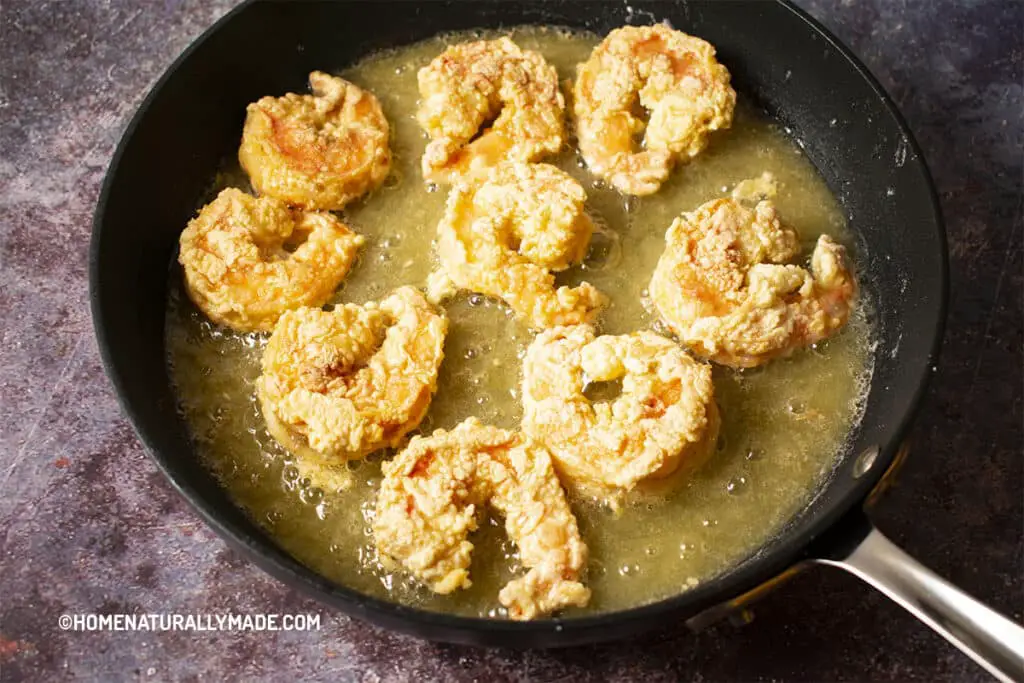 Remove the shrimp from the frying pan using a pair of kitchen chopsticks or tongs, and place them on a plate.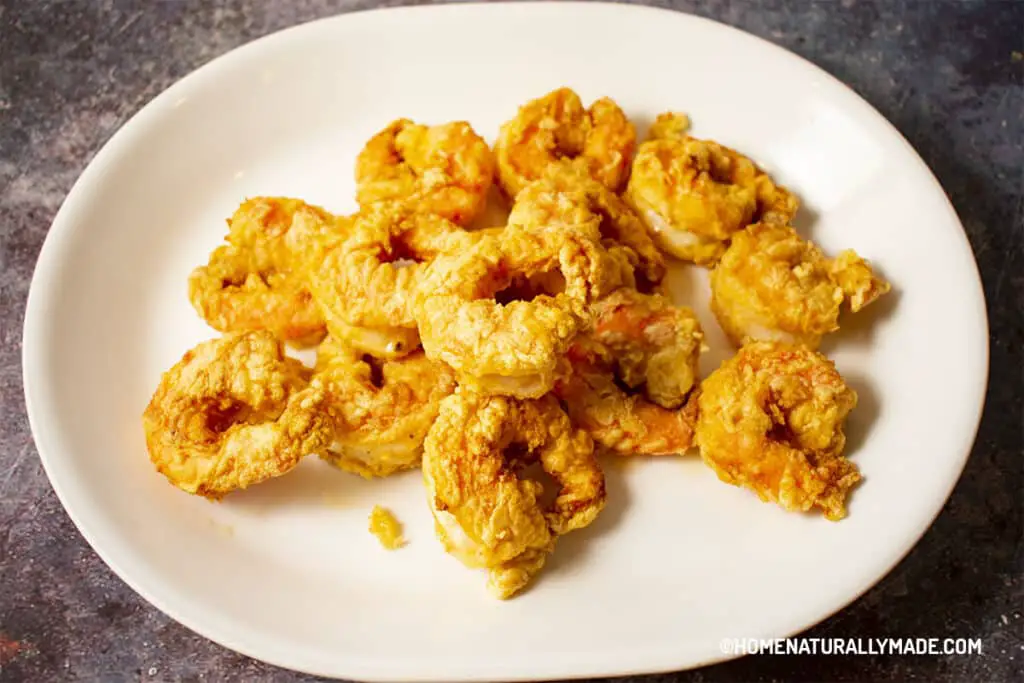 How to make a tasty honey mayonnaise sauce for the iconic Honey Walnut Shrimp Dish?
Add honey, mayonnaise, and heavy cream into a mixing bowl and whisk to mix well using a mini egg whisk.
Add the pan-fried shrimp into the mixing bowl, toss, and mix well with the sauce using a pair of bamboo utensils.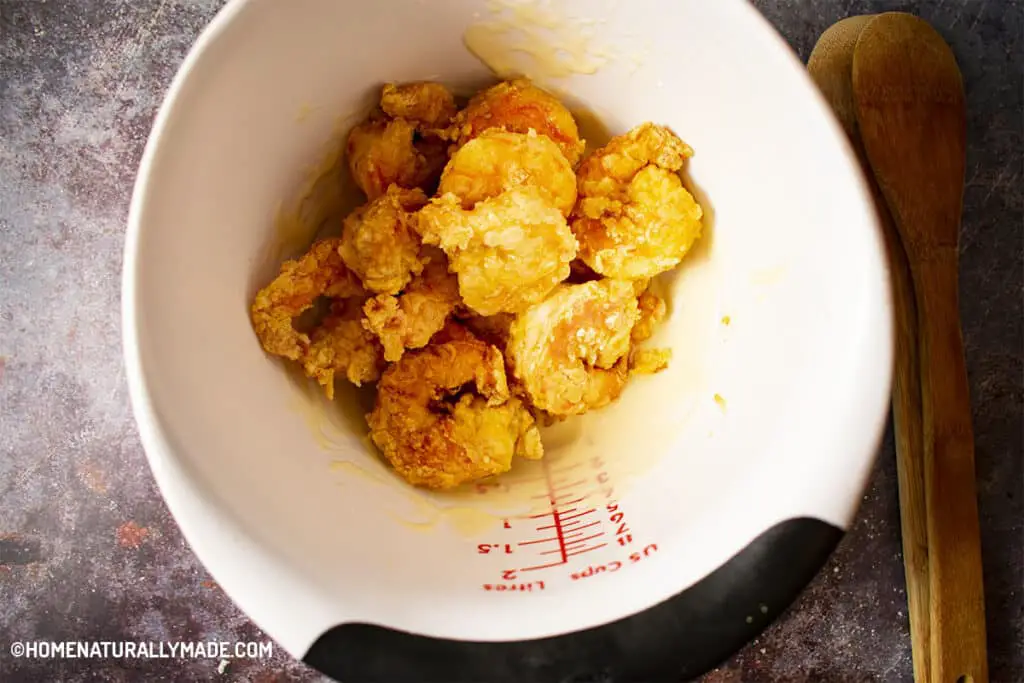 Place the honey shrimp on a serving plate, top with candied walnuts, and garnish with chopped green onions.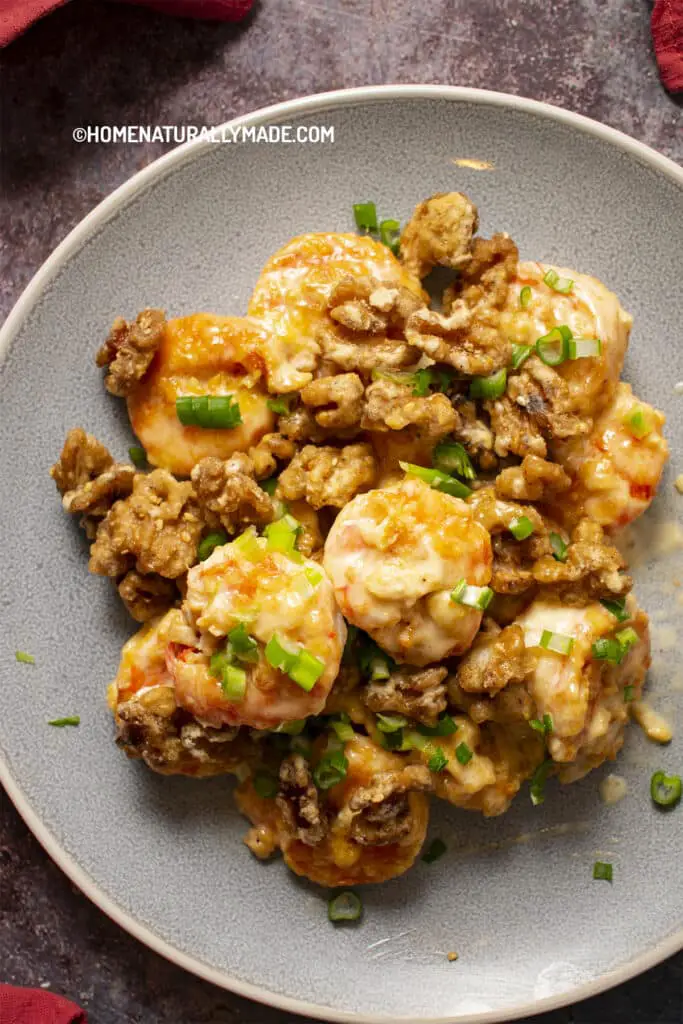 All done! Enjoy a super delicious and satisfying Honey Walnut Shrimp.