Prepare and tenderize beef properly is the key to juicy and tasty beef dishes. Many people, me included initially, find it challenging to make a juicy Beef Dish. Compared to pork or chicken, beef meat gets toughened up easier during cooking. If you are searching for solutions on how to prepare and tenderize beef for a delicious Beef Stir Fry, search no more. You absolutely come to the right place, as you will learn all the tips and tricks to cook a juicy and yummy Beef Stir Fry and other dishes.
Topics I am going to cover include how to cut beef, what is the important step before marinating the beef, and how to marinate beef. Last but not least, how to cook beef slices. With this knowledge at hand, you can cook all kinds of delicious Beef dishes. Better-than-take out Mongolian Beef, Beef with Broccoli, Beef with Bitter Melon, Beef with Green Pepper or Beef Soup with Daikon Radish and potatoes. You name it.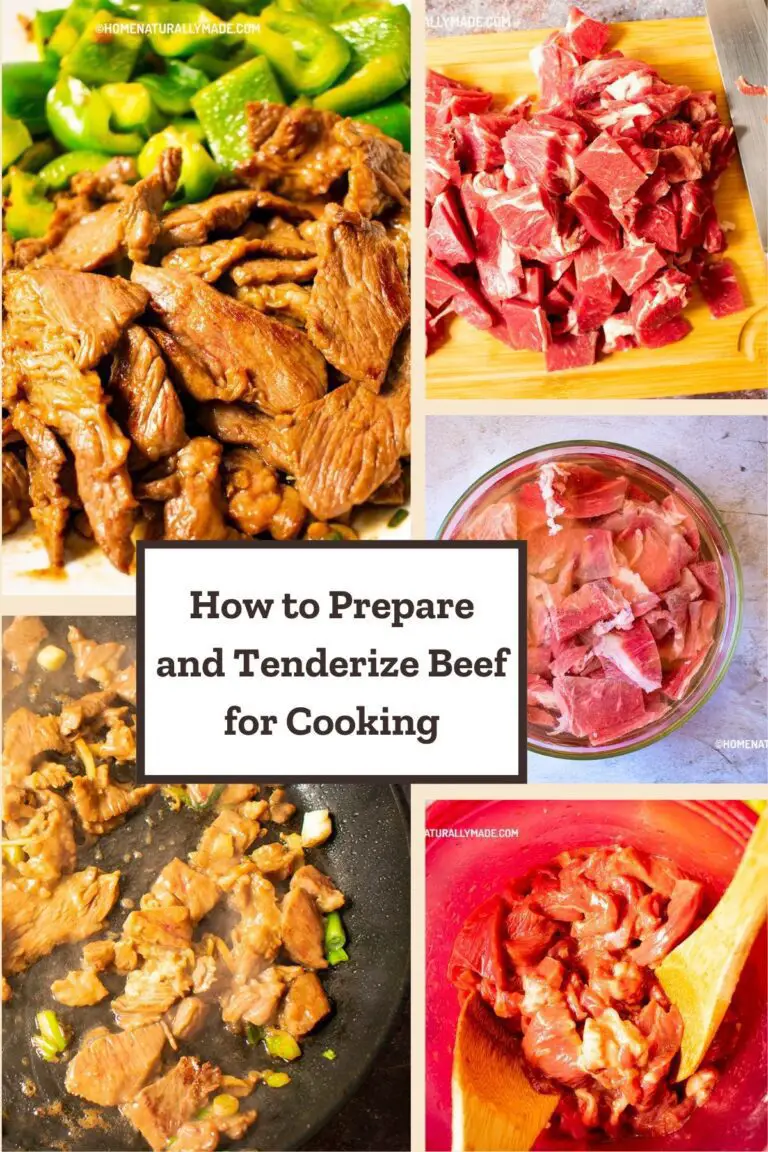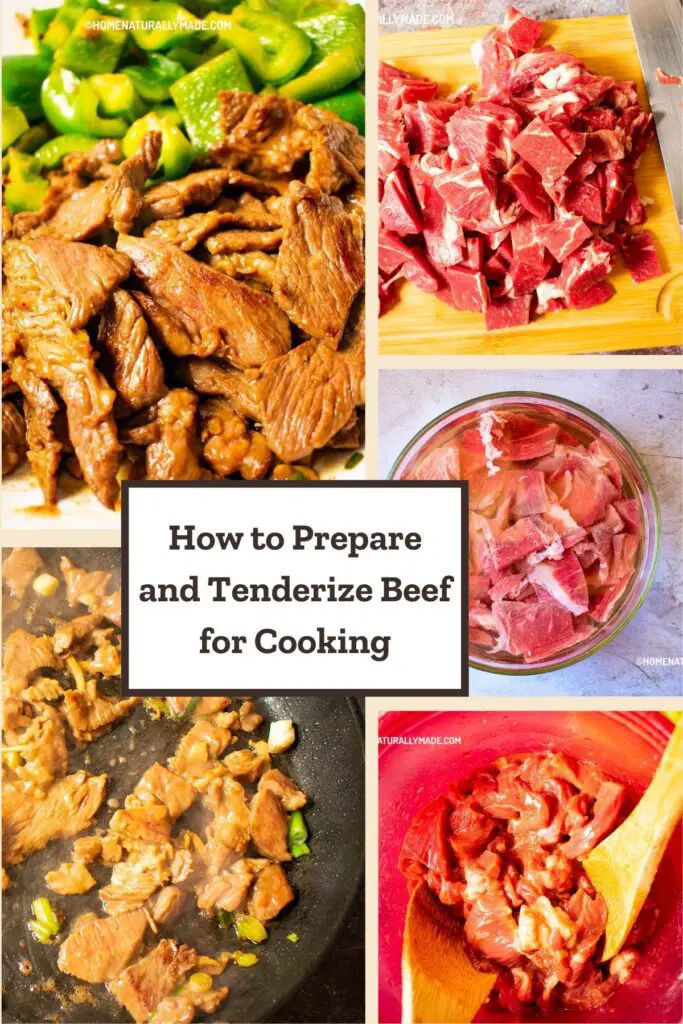 Step 1 is to cut the beef across the grain into thin slices
It is important that you cut the beef across the grain into fairly thin slices. How thin it needs to be? Well, it is a fine balance of meaty flavor and texture vs. tenderness. A little under 1/4 inch would be great.
It is so much easy to slice the beef while it is in a semi-frozen state. If the steak is in the freezer, remove to the fridge to thaw the night before would be perfect. If you are using the fresh steak, put them into the freezer for a couple of hours prior to the cooking will do the trick too.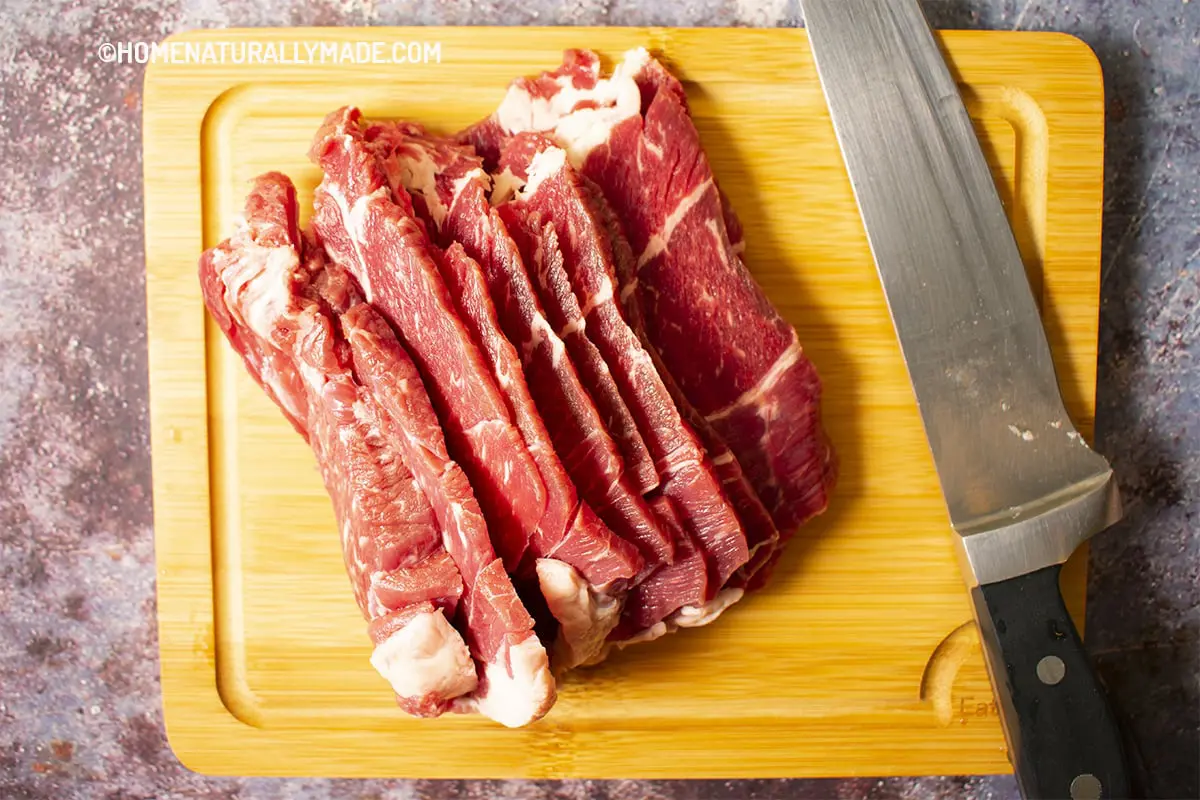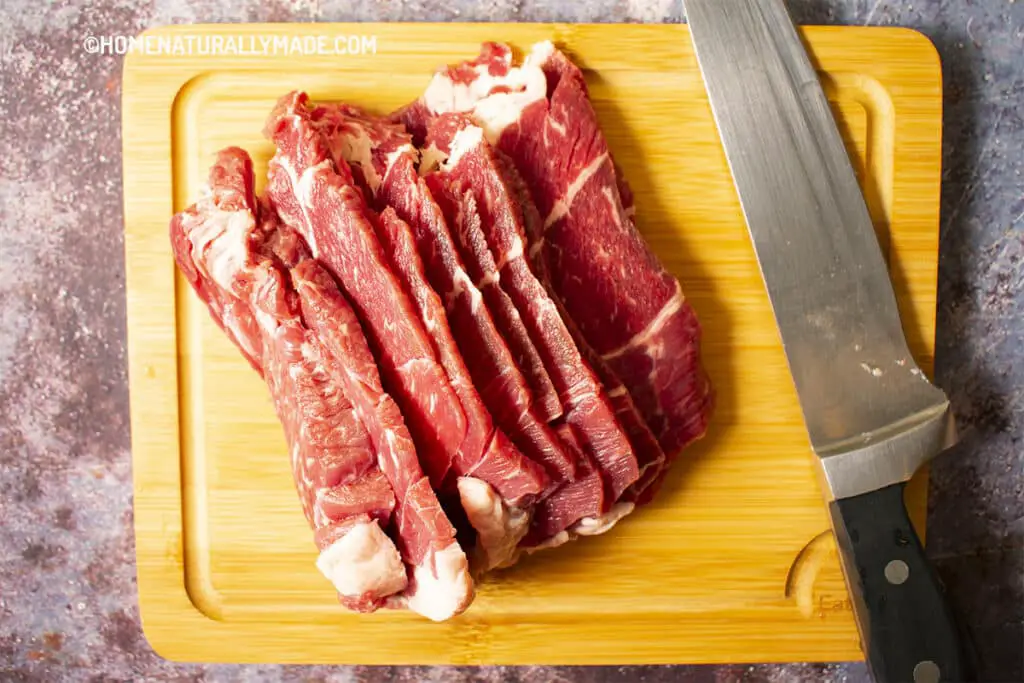 After you have sliced the steak across the grain into long thin slices, and then cut across again into bite size slices.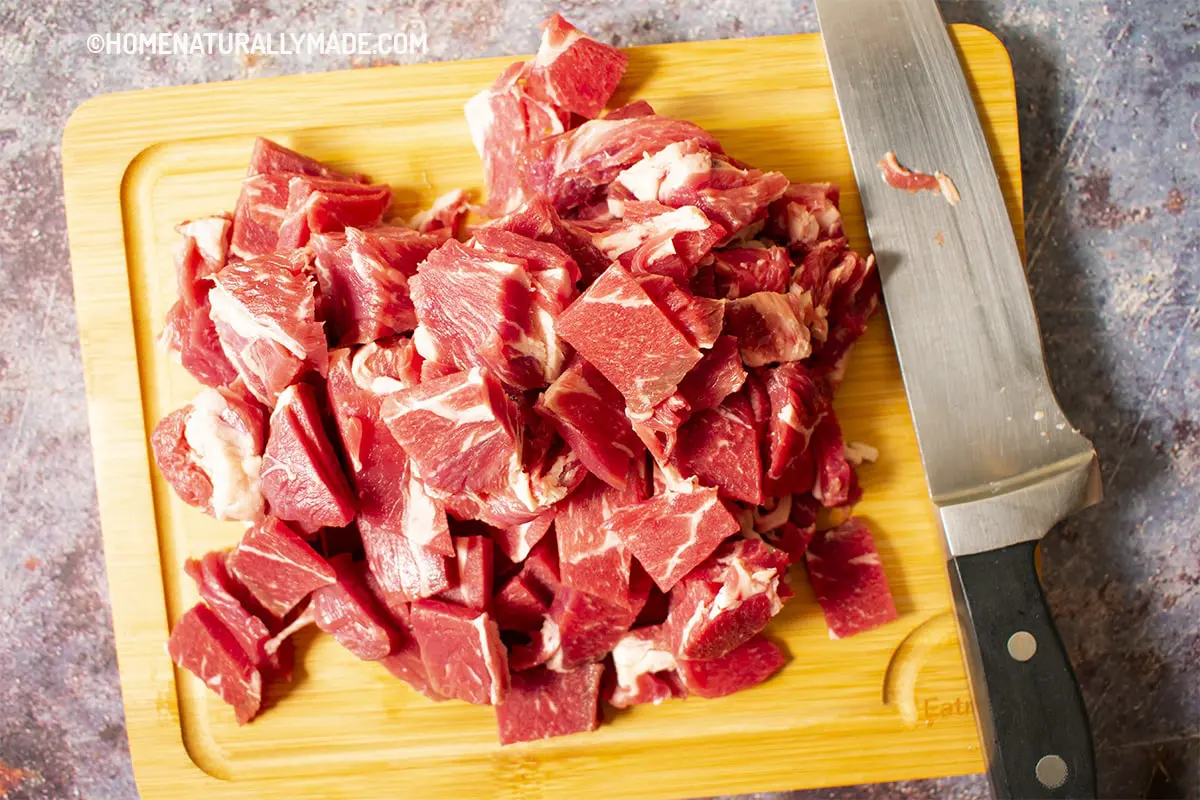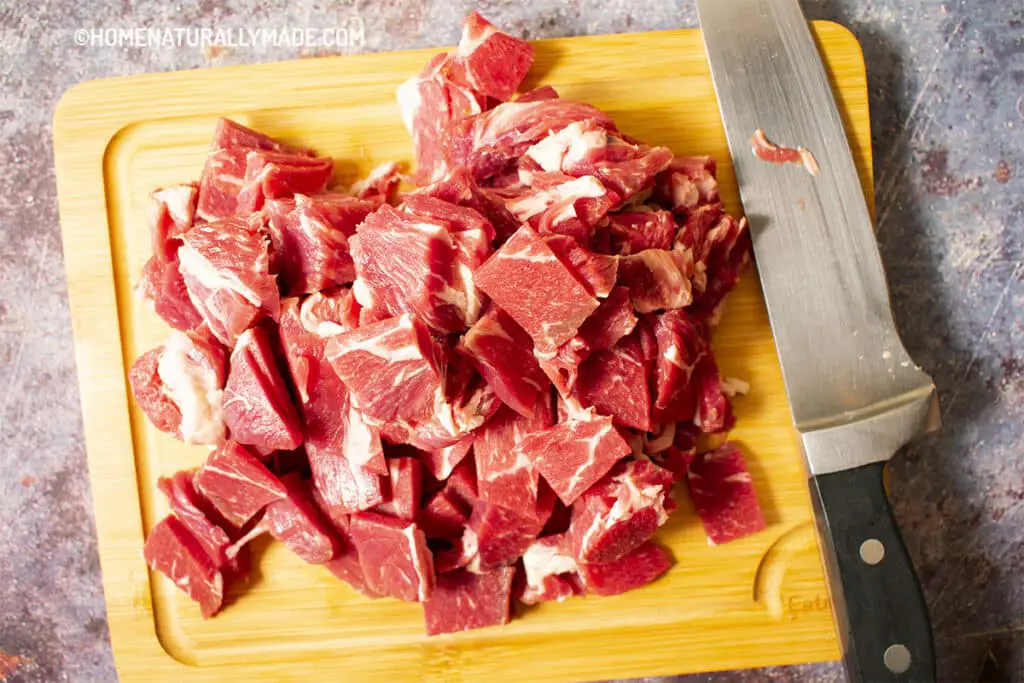 Step 2 is to soak the beef slices in cold water
Following cutting the beef across the grain into thin bite size slices, place the beef slices in a mixing bowl filled with cold water. Let it rest for about 10 minutes while you are preparing other ingredients.
Two benefits of doing this. The first is to get rid of the residual blood, hence making the beef more refreshingly tasty. The second is to hydrate the beef so that it becomes more tender.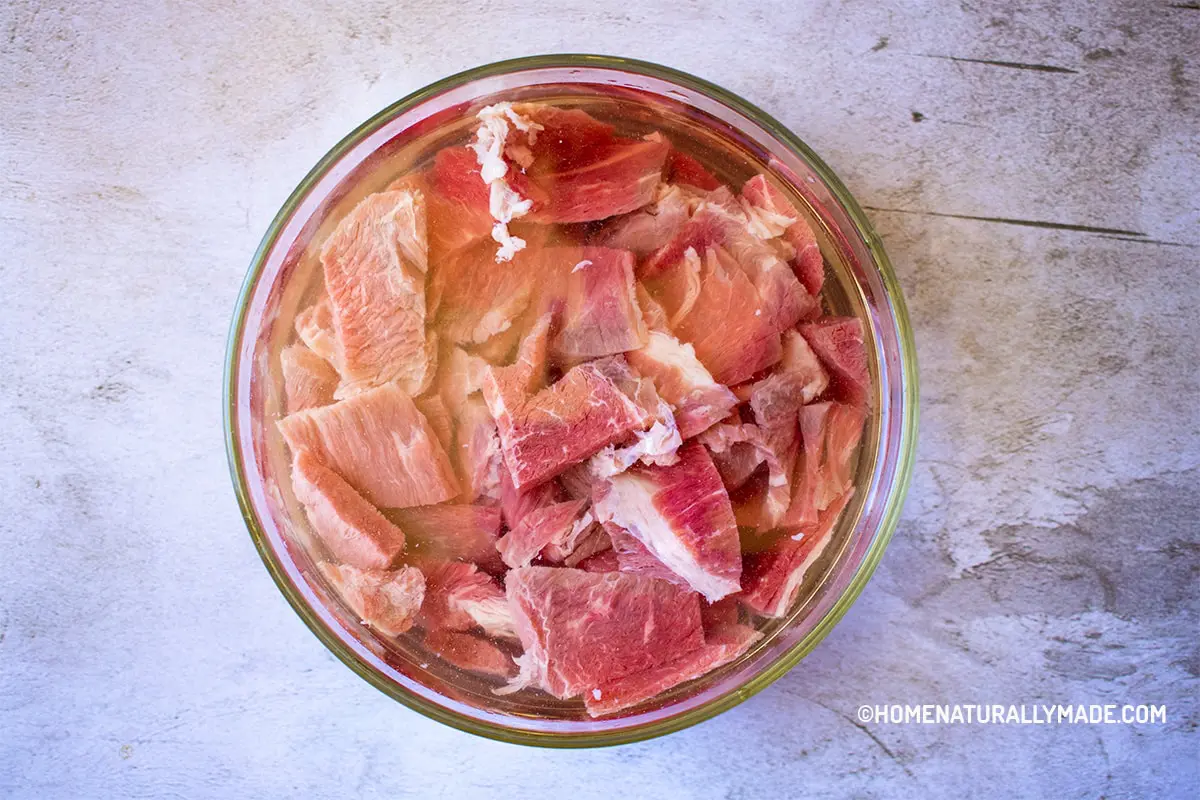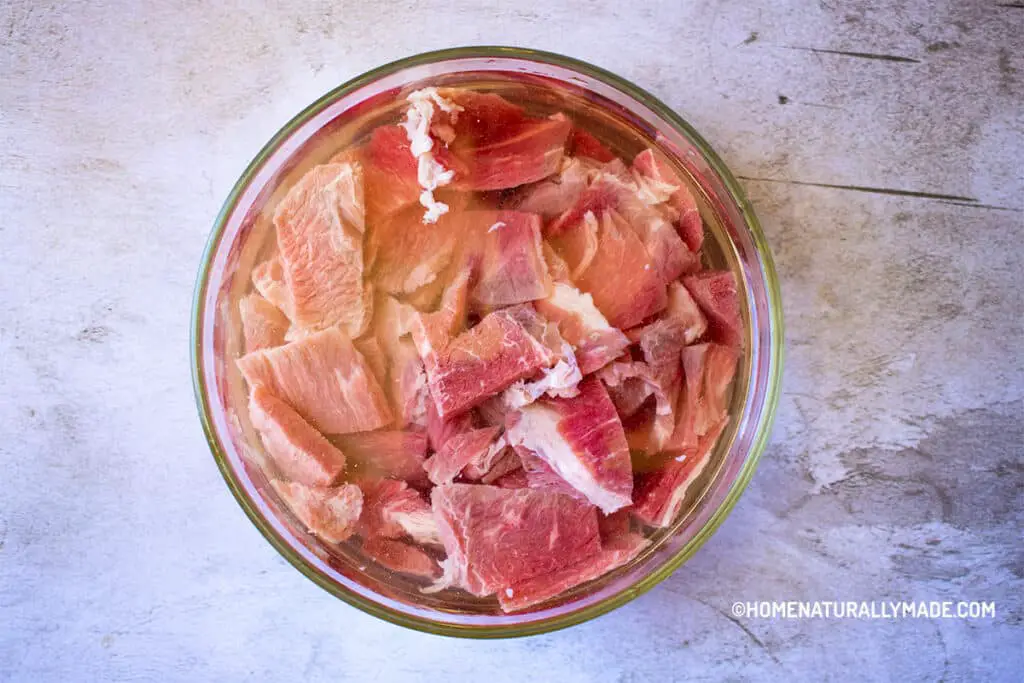 Step 3 is to use a pinch of baking soda to prepare and tenderize the beef
Use 1/4 teaspoonful of baking soda for one pound of beef. Use a pair of wooden spatulas to toss and mix well. This will be the first thing you do after having soaked the beef slices. You will notice the beef slices already have the nice plump looking.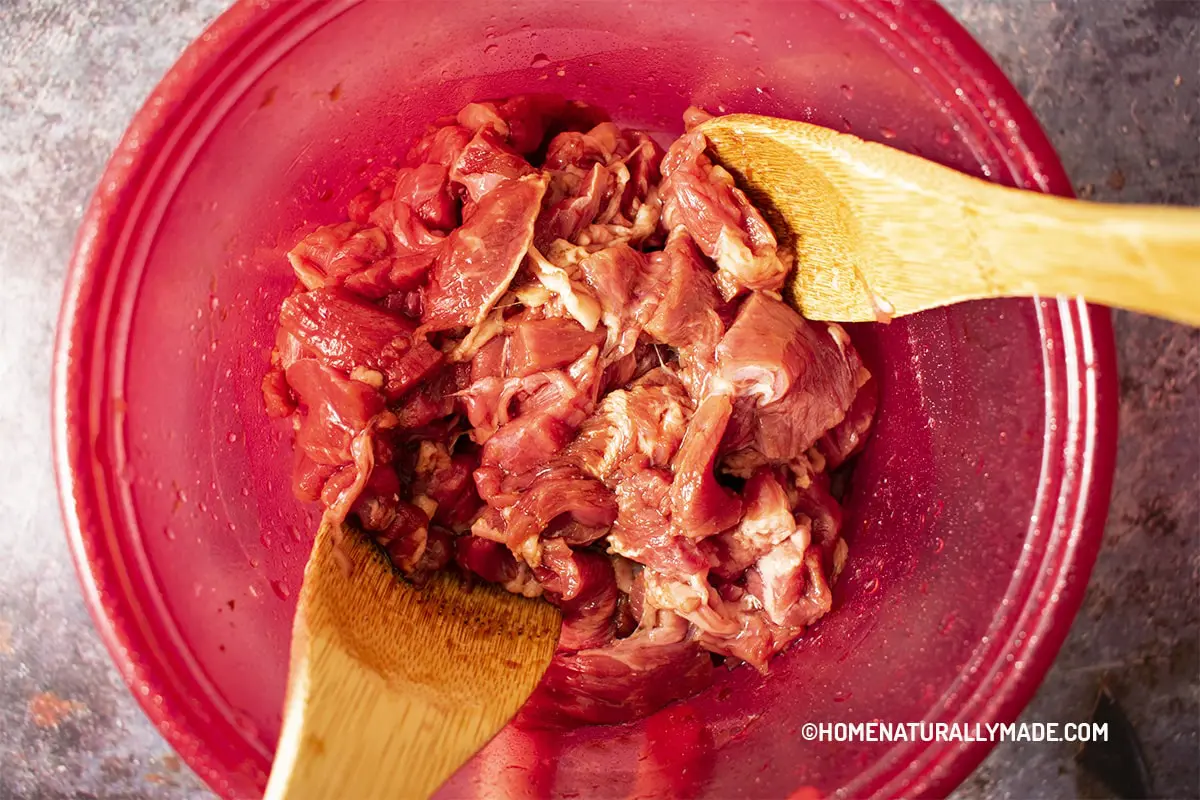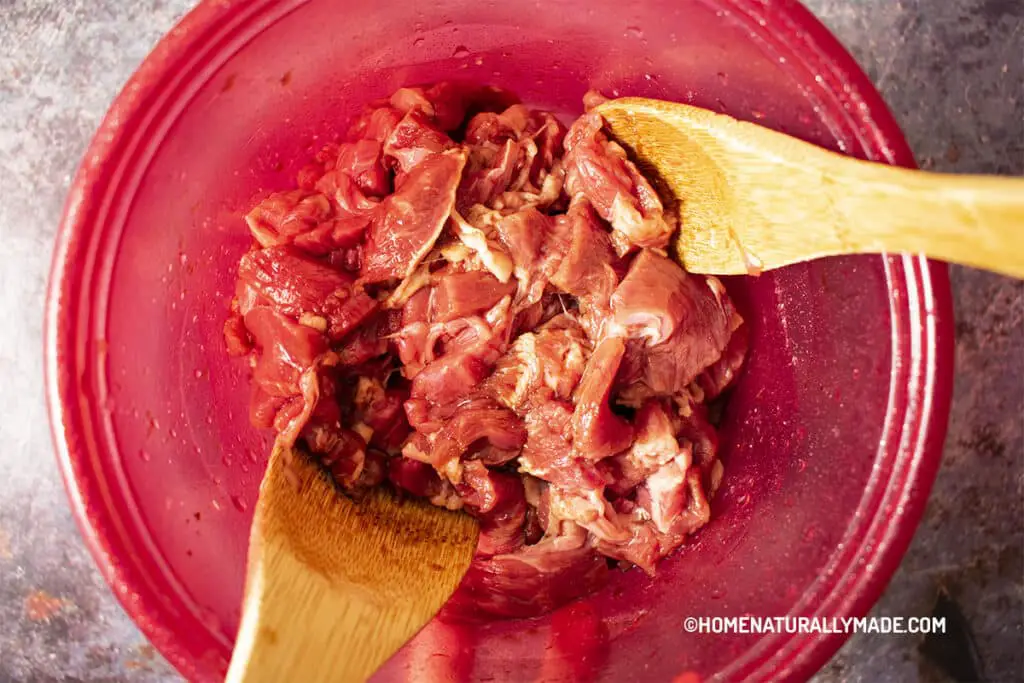 Step 4 is to marinate beef slices to prepare for beef for stir fry
Add Shaoxing wine, naturally aged soy sauce, Zhenjiang vinegar and arrowroot flour into the mixing bowl. Toss and mix well using a pair of bamboo or wooden spatulas.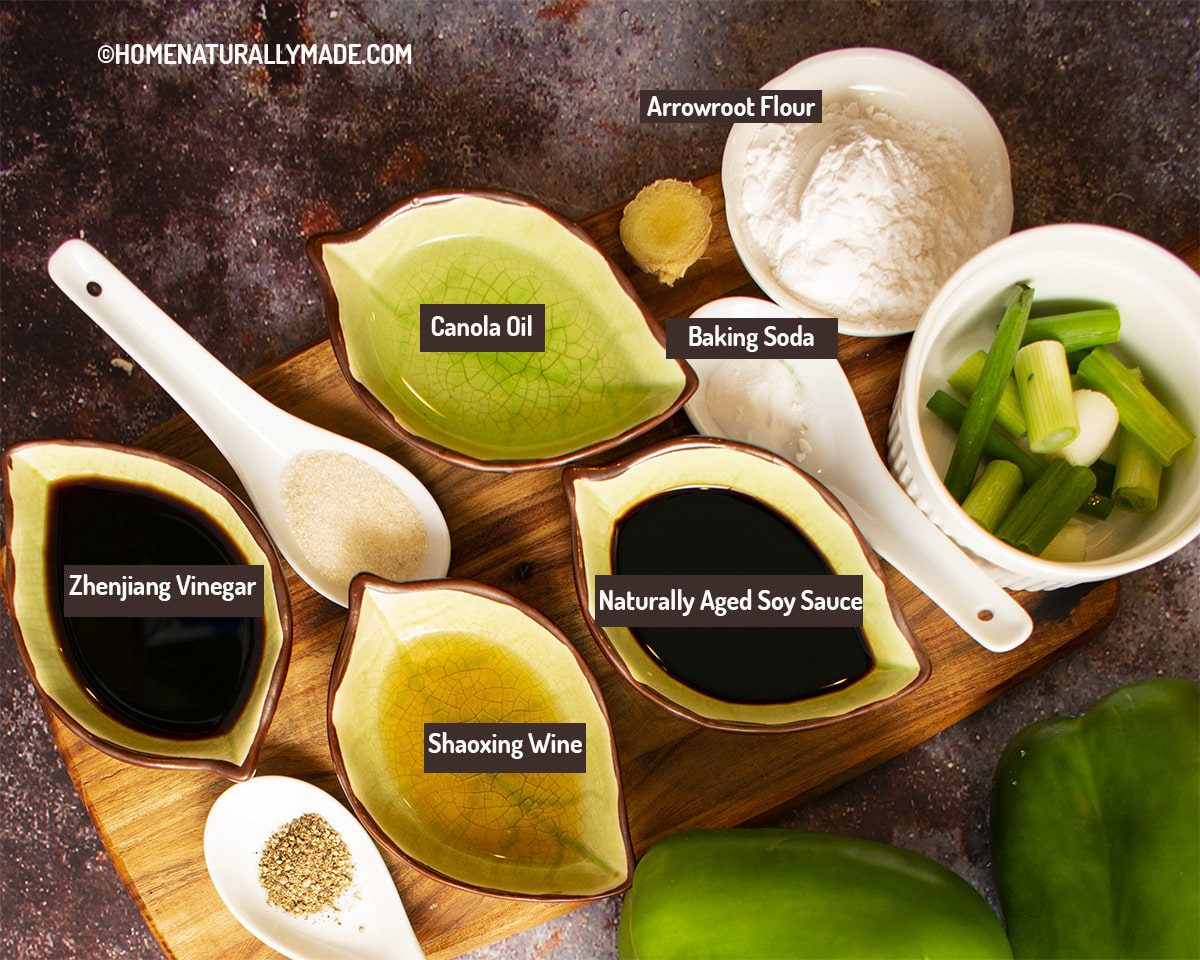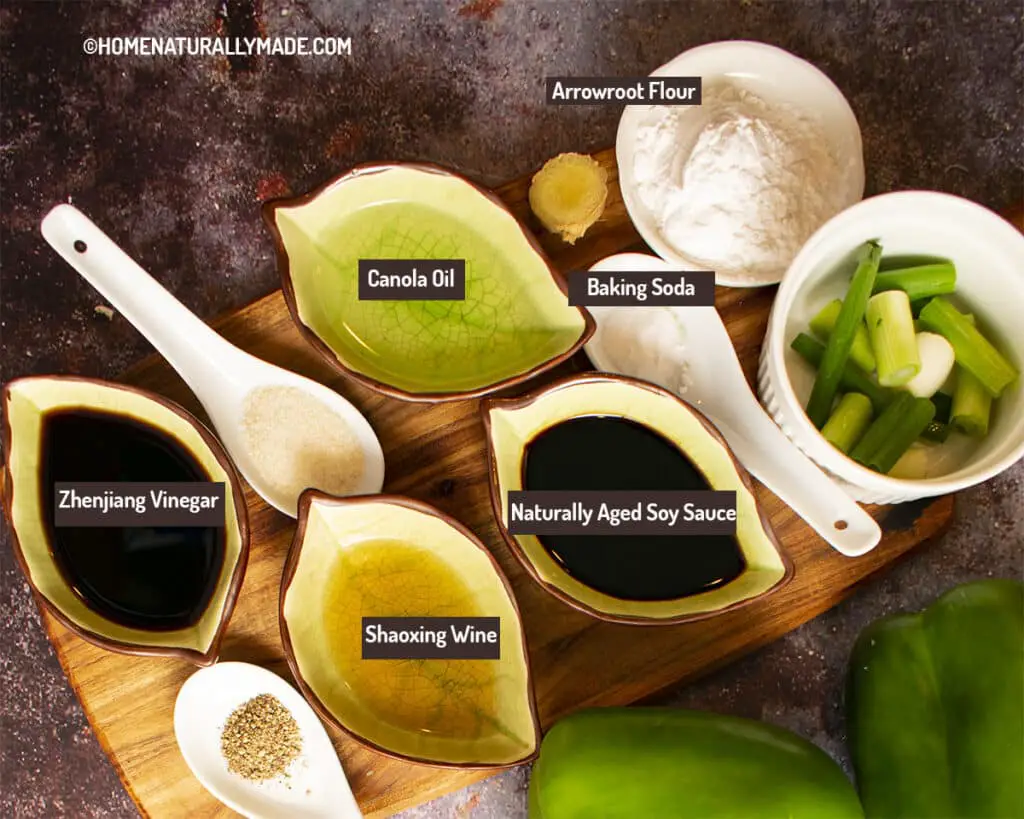 Step 5 is to wrap the marinated beef with cooking oil
For one pound beef, add 2 tablespoonfuls of cooking oil such as canola oil and then toss and mix well with marinated beef slices. This last step before cooking will ensure we shield the beef so that they stay mois during cooking.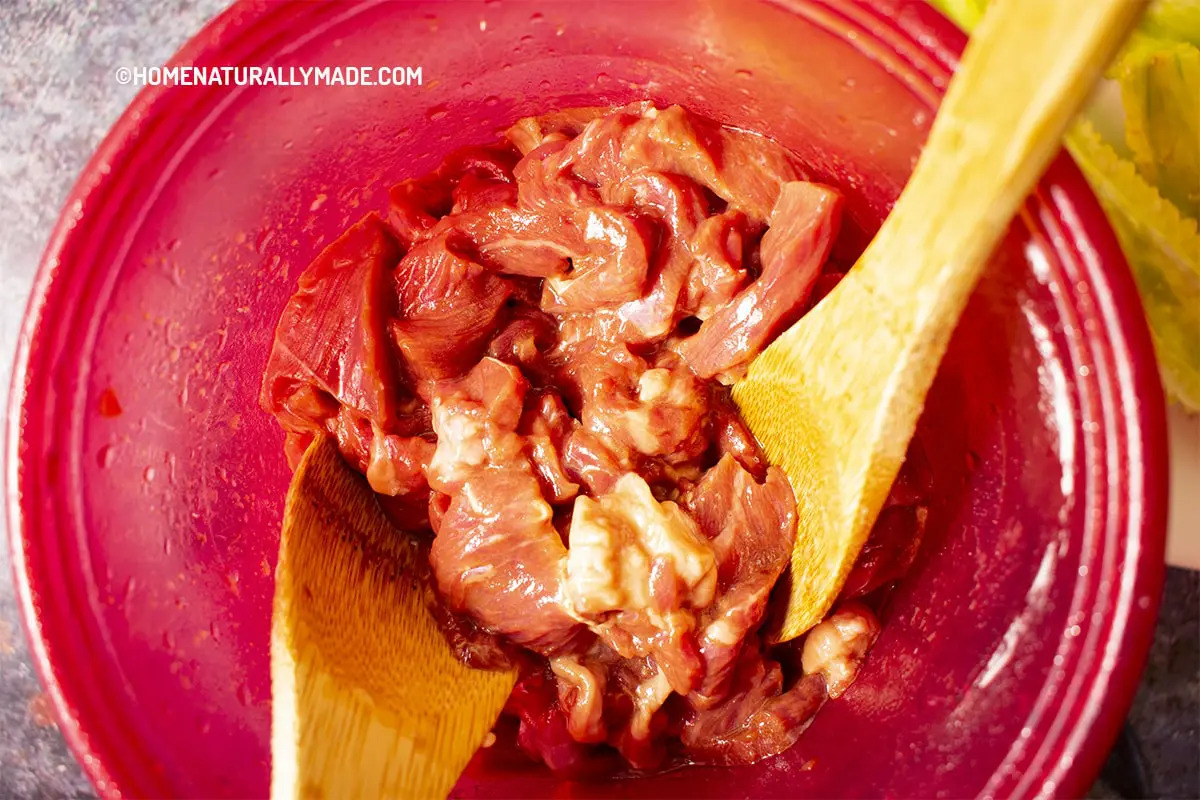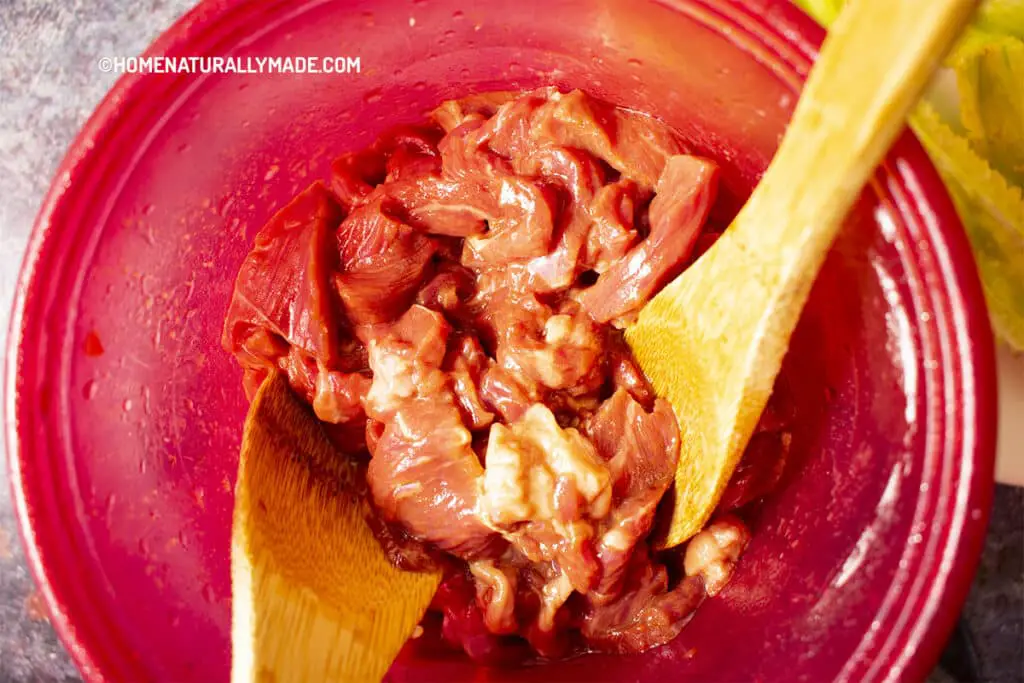 Step 6 is to sear beef slices in small batches
It is important to cook the beef first before stir frying together with selected vegetables. For cooking the beef, use a pan-fry or sear method in a hard anodized nonstick fry pan, about half pound in a 12-inch fry-pan at a time.
It is important you use a nonstick pan, otherwise all the nice coating we put on the beef slices wil come off during the cooking.
Sear about half pound of beef at a time and use one tablespoonful of cooking oil such as avocado oil or canola oil, along with sliced ginger and chopped green onion.
Try to lay flat the beef slices on the pan. Cook each side for about 2 minutes, and then fold and mix for another 1 minute using a slotted turner.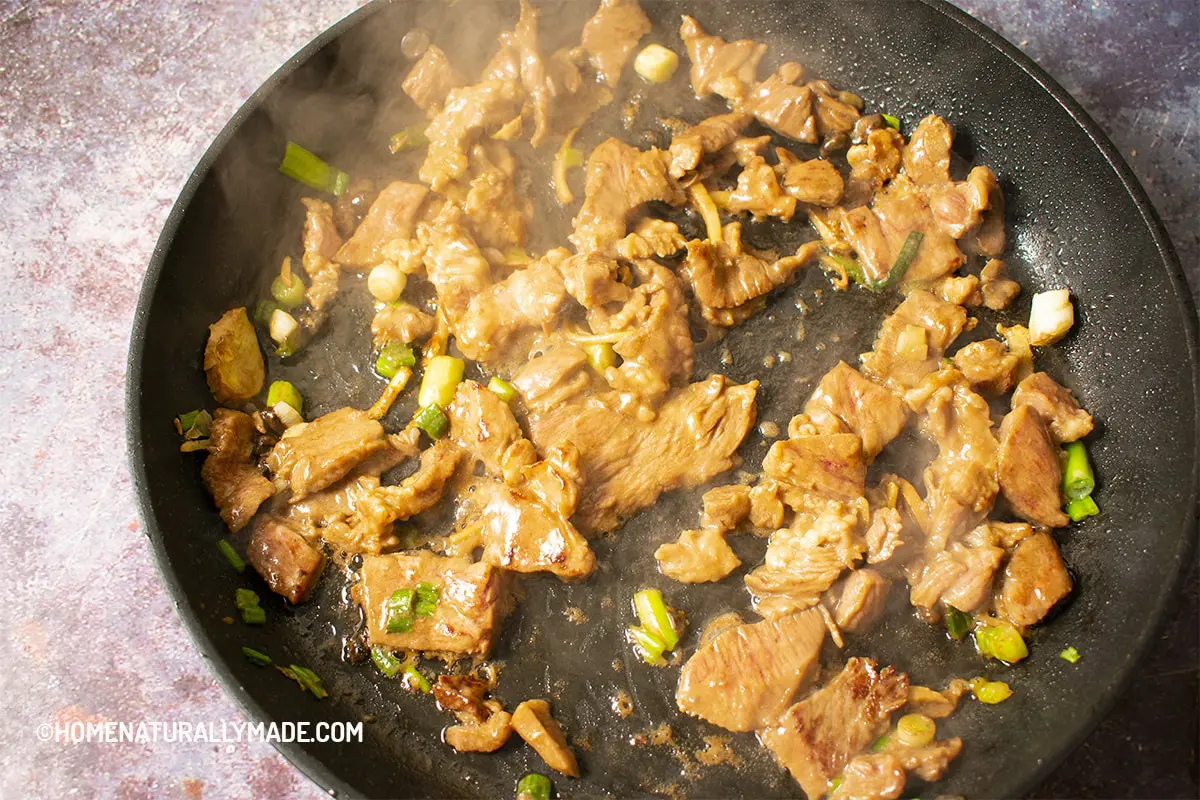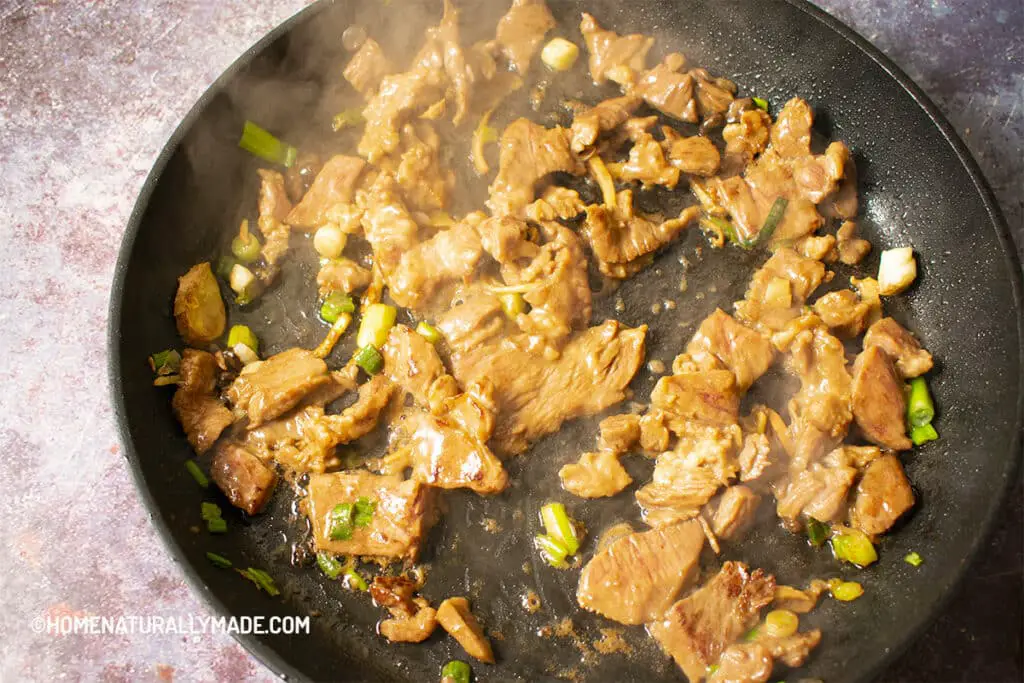 Repeat for the other half of the marinated beef slices.
Hooray, you have properly prepared the beef and are ready to make a delicious Beef Stir Fry. Try these delicious Beef Stir Fry Recipes: