Healthy Yummy Pancakes homemade from scratch are truly healthy, fluffy and yummy. The secrets? Organic coconut oil or avocado oil to replace butter, freshly squeezed lemon juice to replace baking powder, and home freshly made buttermilk. Such a perfect everyday breakfast choice.
They are super easy to make at home from scratch as long as you master a few essential tricks and tips.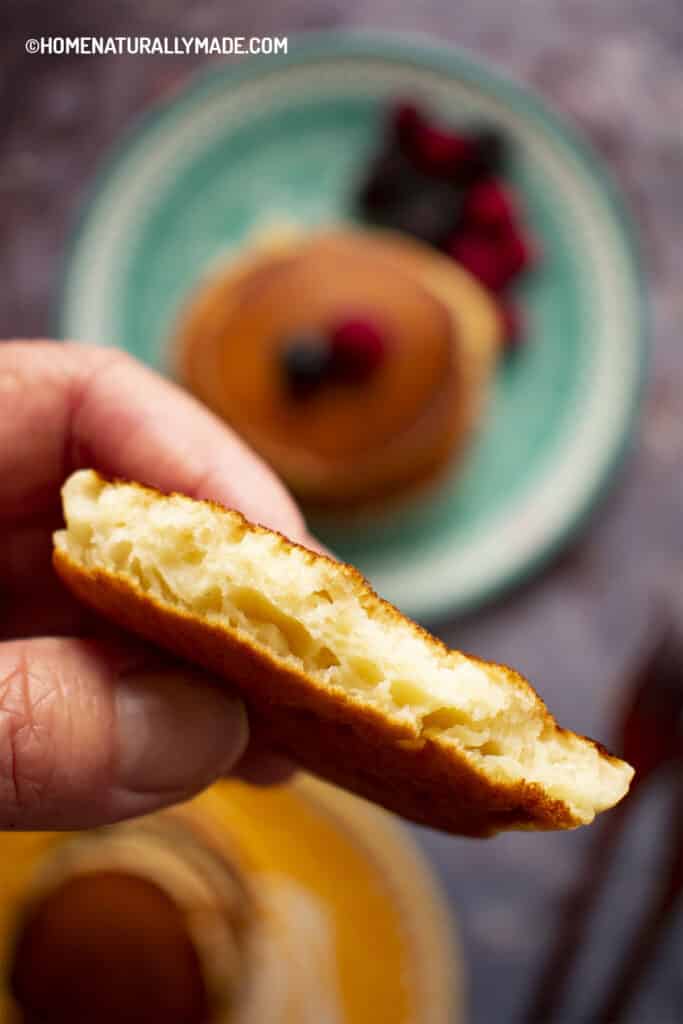 Keep reading to learn the tips to make healthy yummy pancakes like a pro every time!
Ingredients for Healthy Yummy Pancakes: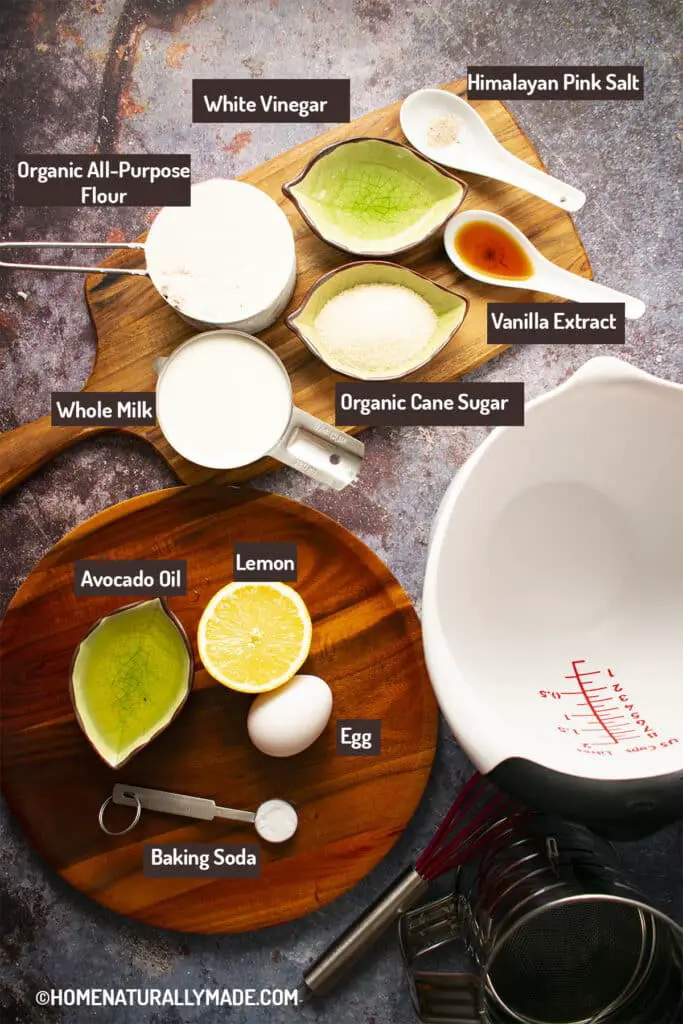 Ingredients: Organic all-purpose flour, whole milk, white vinegar, egg, avocado or coconut oil, lemon, baking soda, a pinch of salt, organic cane sugar, vanilla extract (optional).
Kitchen Utensils: Measuring Tools (for properly measuring volume required for recipes), Mixing bowl, egg whisk, flour sifter, a slotted turner (for flipping pancakes easily), a quality non-stick fry-pan (for hassle-free pancakes making at home).
Healthy Yummy Pancakes from Scratch Tips & Tricks:
Freshly made buttermilk is one reason that makes this healthy yummy pancakes so fluffy
Making homemade buttermilk is effortless. All you need to do is to add some white vinegar into the whole milk, whisk vigorously and let it sit for 5 minutes.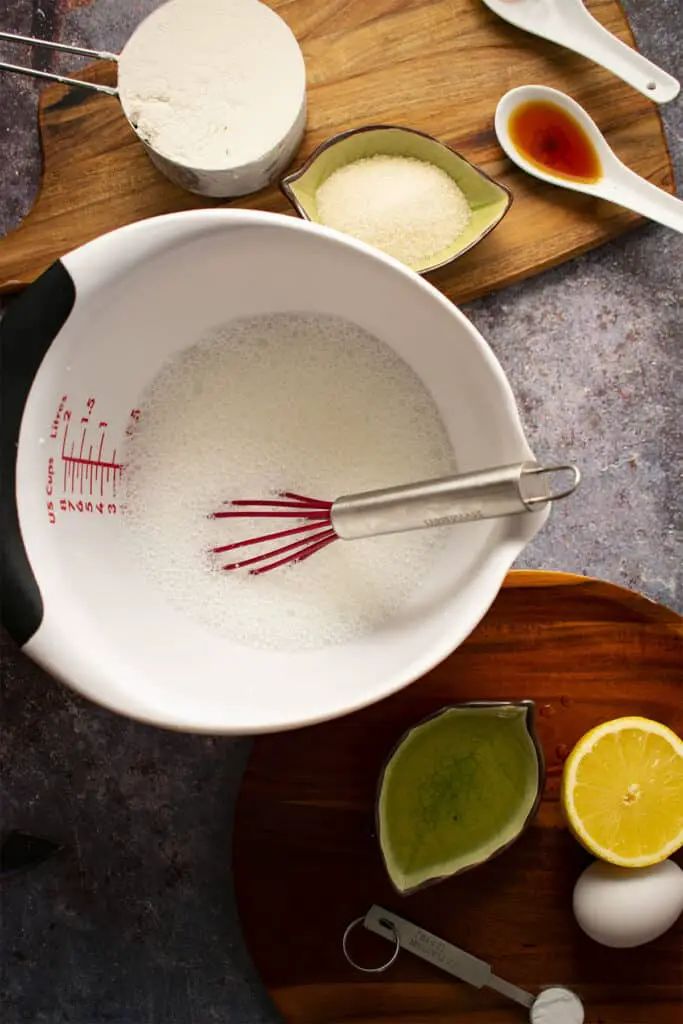 Second, it uses organic virgin coconut oil or organic avocado oil instead of butter for healthy yummy pancakes from scratch
Organic virgin coconut oil is a superfood loaded with nutrients, which also gives the final pancake a subtle, pleasant aroma. Coconut oil has a high melting point, thus staying in a solid-state below 70 degrees Fahrenheit (21 degrees Celsius).
Soften/melt coconut oil in a bowl with boiling water first before adding to the batter.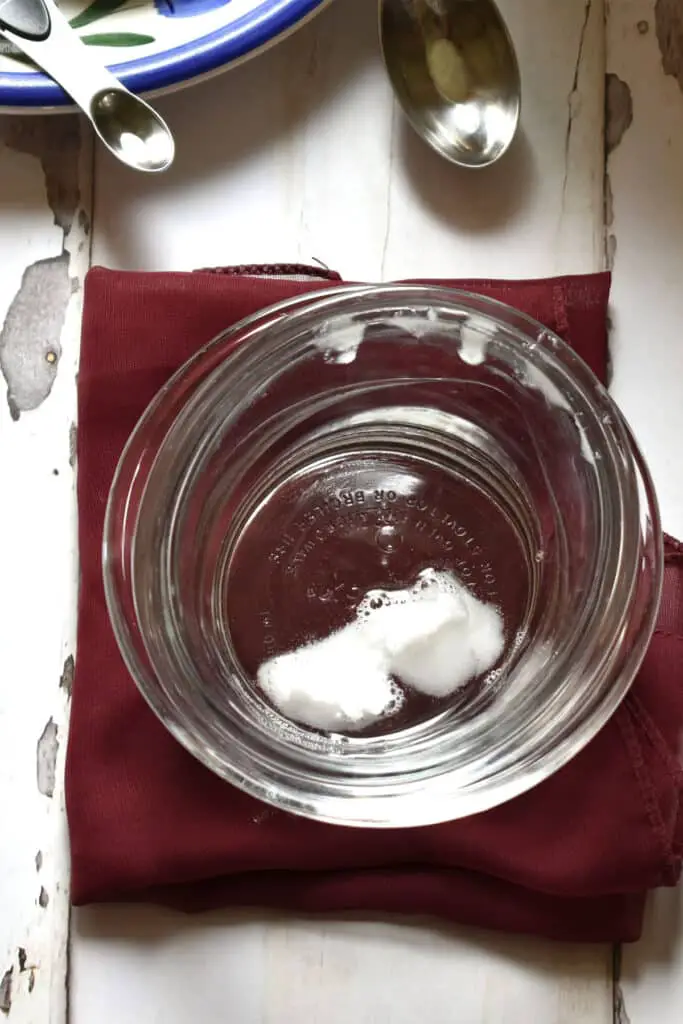 Organic avocado oil is healthy too. It doesn't have any noticeable smell or flavor, which makes it a versatile oil for cook and baking.
For convenience reasons, I typically use more coconut oil during hot summer so that I don't have to spend extra time in advance to soften the coconut oil properly.
Third, it uses freshly squeezed lemon juice to replace baking powder
While baking soda is an all-natural ingredient, baking powder IS NOT. If you look from a science or chemistry perspective, all baking powder does is react with baking soda to create bubbles that give the fluffiness. Why not use an all-natural fresh ingredient to react with baking soda instead?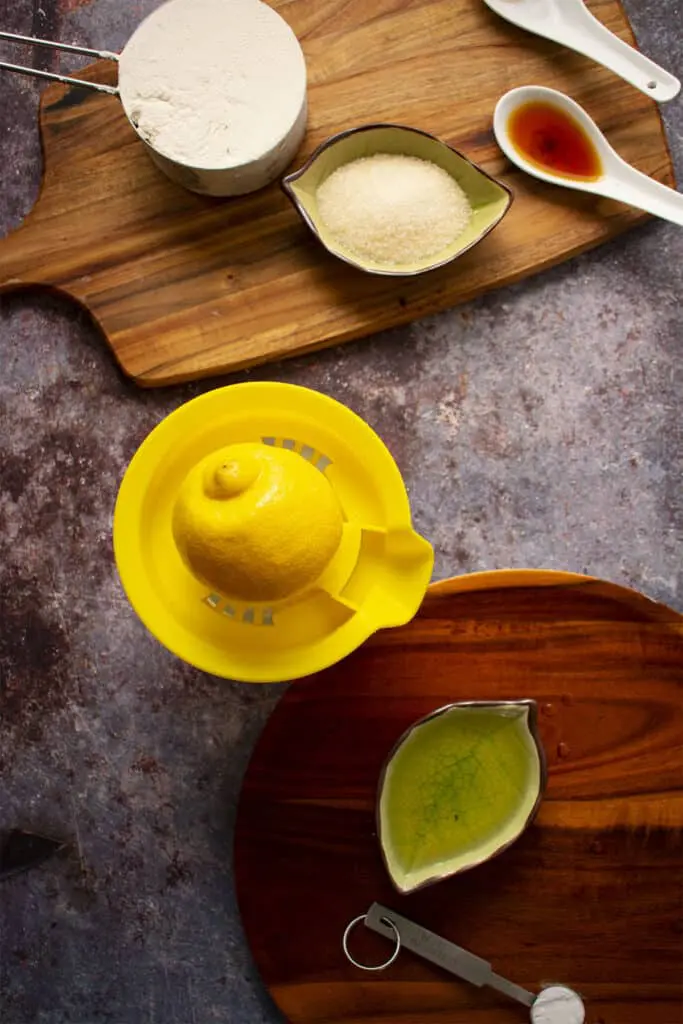 I found out that freshly squeezed lemon juice works very well. After many experiments, I concluded that for every teaspoon of baking soda; I need one large lemon juice for the proper reaction. That can be proportionate, for example, half lemon juice for half a teaspoon of baking soda, etc.
Homemade Pancakes Frequently Asked Questions:
How do you make healthy yummy pancakes from scratch?
Easier than you think. You will need whole milk, a little white vinegar, egg, organic all-purpose flour (or all-purpose flour of your selections), oil (avocado oil, coconut oil, etc.), baking soda, and a lemon. See the recipe for easy to follow step-by-step tutorial.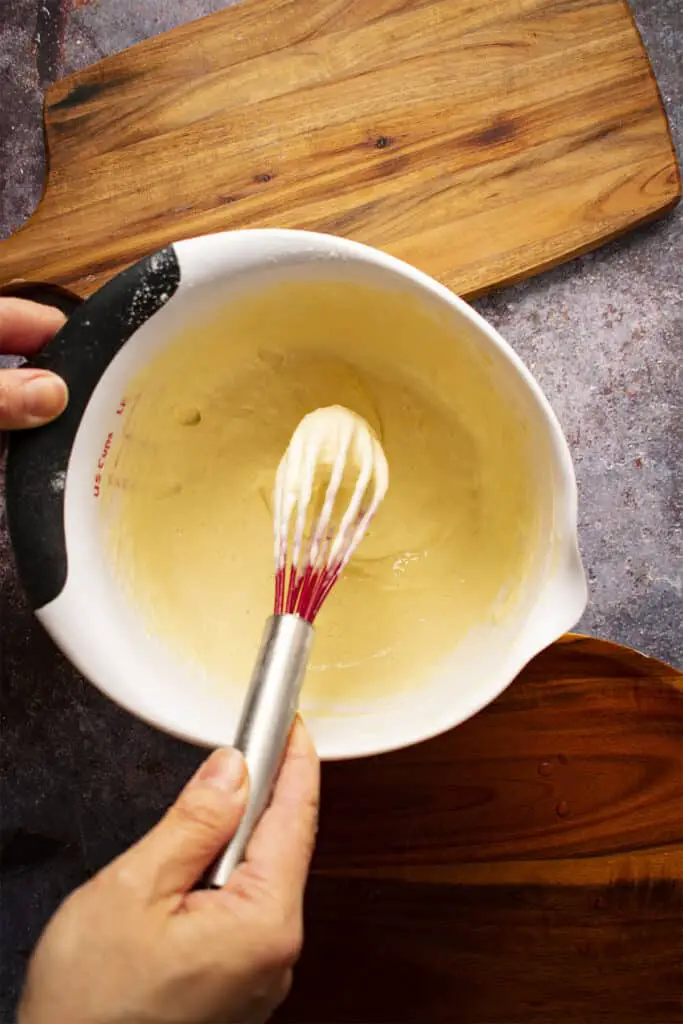 What makes healthy yummy pancakes so fluffy?
Multiple factors contribute to fluffy pancakes.
The first and most important is to whisk the egg vigorously so that egg white can almost form the whipped egg foam, which is the essential secret of the fluffiness.
Home freshly made buttermilk adds to the fluffiness. Whisk the 3/4 cup of whole milk together with 2 tsp white vinegar in a mixing bowl vigorously to create homemade buttermilk.
Avocado oil also contributes to the fluffiness. Besides, since we have added the oil into the batter, you do not need oil or butter when making pancakes on a non-stick fry-pan.
Equally important is to make sure you do the steps in the proper way.
Make the buttermilk first, wait a couple of minutes, and then add egg and whisk vigorously for a couple of minutes, and then add other ingredients except for the lemon juice, and sift-in flour, mix just enough for them to blend. Do not over-work on flour.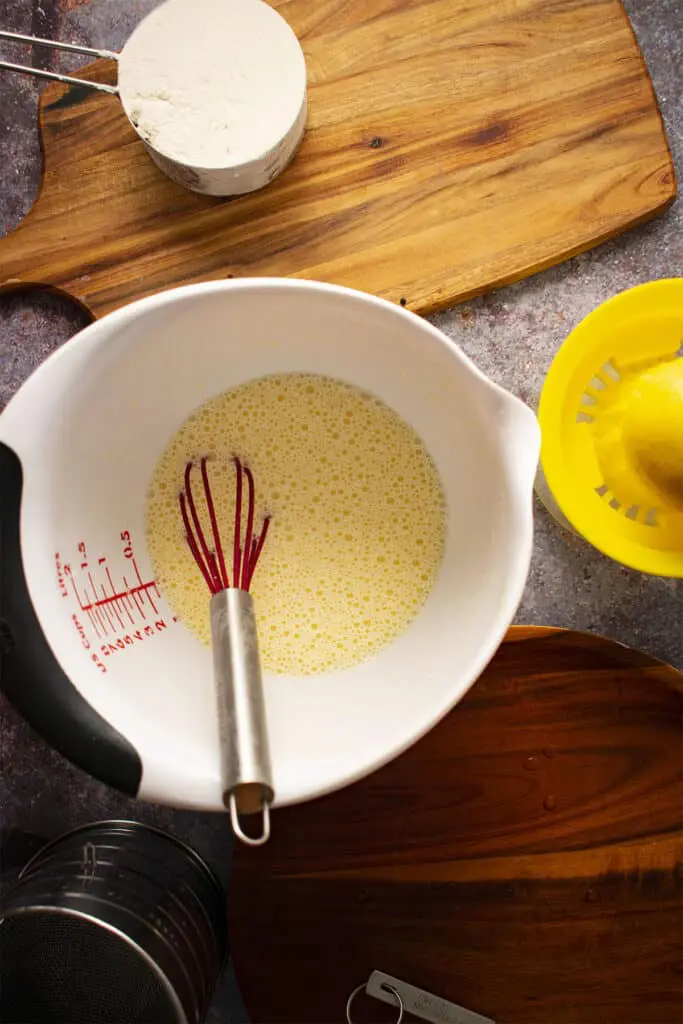 Heat the non-stick fry-pan first. Add freshly squeezed lemon juice into the batter and whisk just to blend right before you are ready to cook the pancakes.
Can you make pancakes from scratch without baking powder?
Absolutely. I ditched baking powder completely when I jump-started a healthier cooking journey in 2015. The bottom line is you do not need baking powder for home baking when you have access to fresh lemons.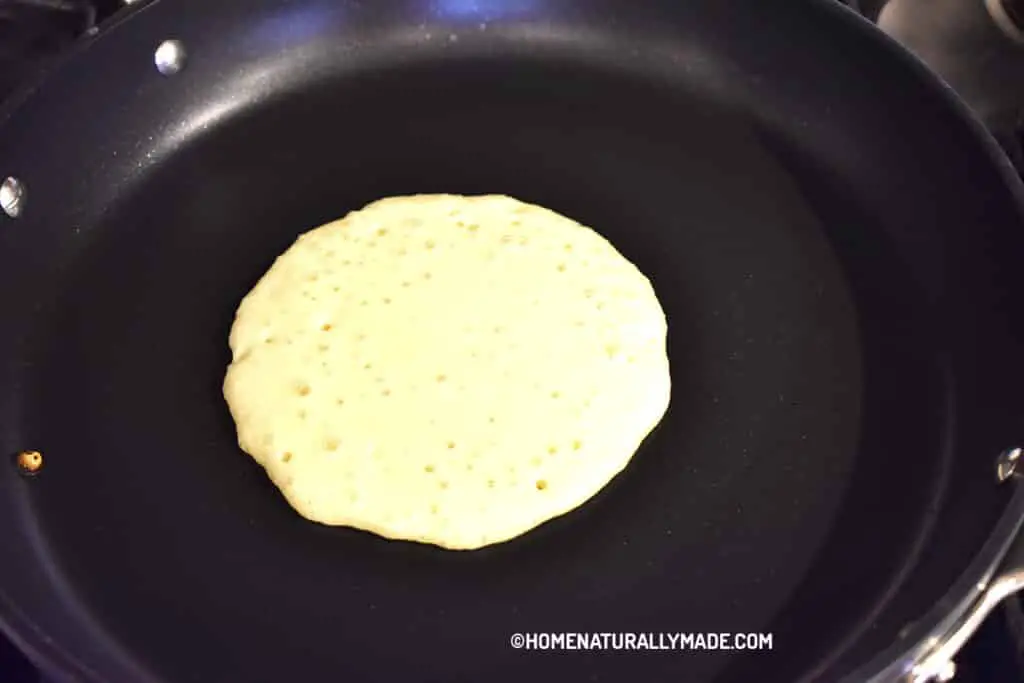 All baking powder does is act as an acid agent to react with baking soda and create a bubbling effect. To that goal, freshly squeezed lemon juice can get the job done beautifully.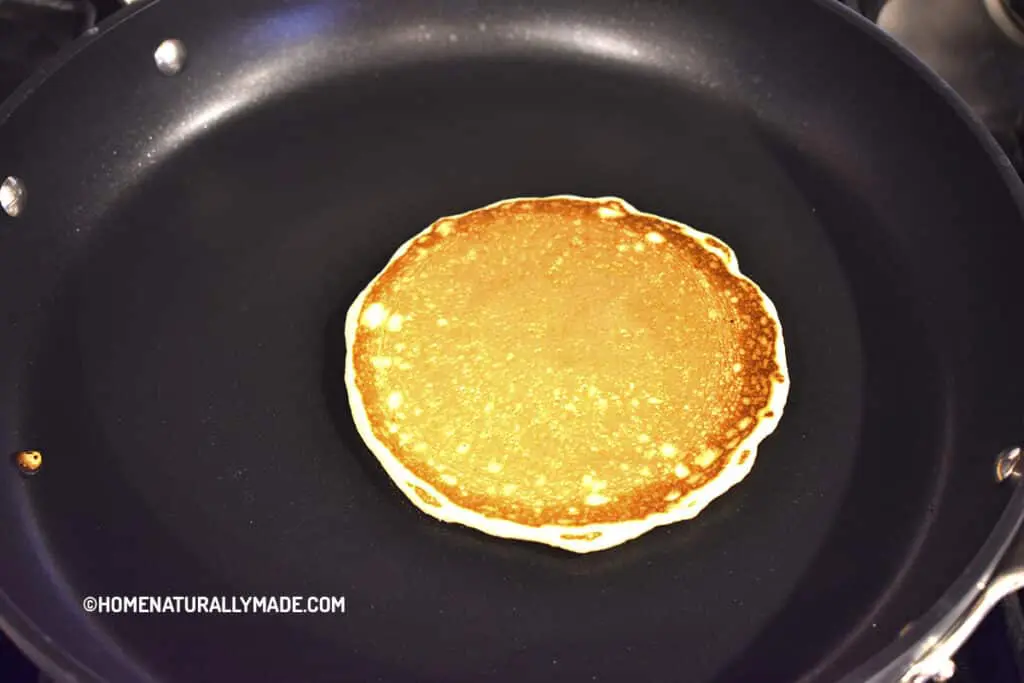 Do I need butter to make pancakes fluffy?
Nope. Add oil to the batter helps moist pancakes. This recipe uses avocado oil or coconut oil, which works great.
Why are my pancakes flat and rubbery?
Check out the first two frequently asked questions for key factors of fluffy pancakes first.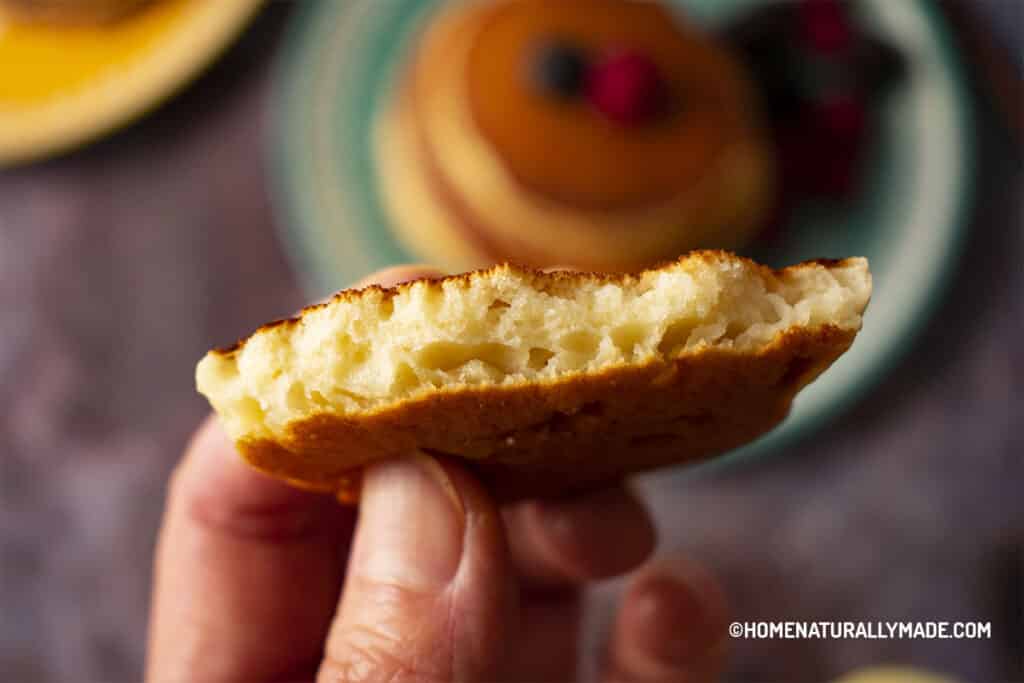 One important thing to remember: You shall prepare the liquid base first before sifting-in flour.
When you have prepared the liquid base properly, then sift-in flour and mix just until they are fully blended. Do not over-mix flour. Over-working on flour may trigger the gluten inside the flour that makes the pancakes flat and rubbery.
Like homemade healthy breakfast? Check out below: