Homemade hot chocolate made of 4 simple ingredients is naturally yummy, healthy, nutritious, and easy to make. It truly cures everything after being outdoors during the chilly days, an essential must-have item in my household, LOL.
What Do You Need to Make Hot Chocolate at Home?
Homemade Hot Chocolate Ingredients:
Amazingly simple ingredients:
Whole milk, organic cocoa powder, organic raw cane sugar, and vanilla extract.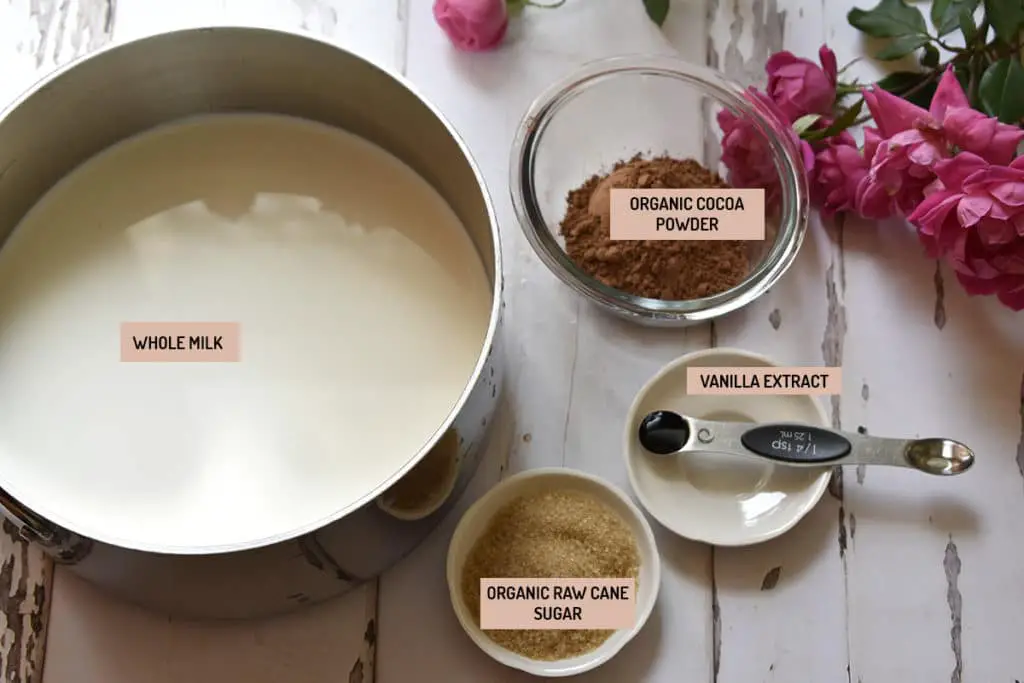 Useful Kitchen Utensils:
A 3 Qt saucepan – The right size for making 4 mugs of hot chocolate.
A flour sifter– helps to smooth the coco powder.
A mini rubber whisk – helps to blend the cocoa powder with the milk nicely, leaving no lumps.
A bamboo spatula – The bamboo spatula can hold up heat well, which we can use it to stir during the boiling process.
A canning ladle – to help scoop out the hot chocolate from the saucepan and pour into a mug.
So how do you make hot chocolate from scratch?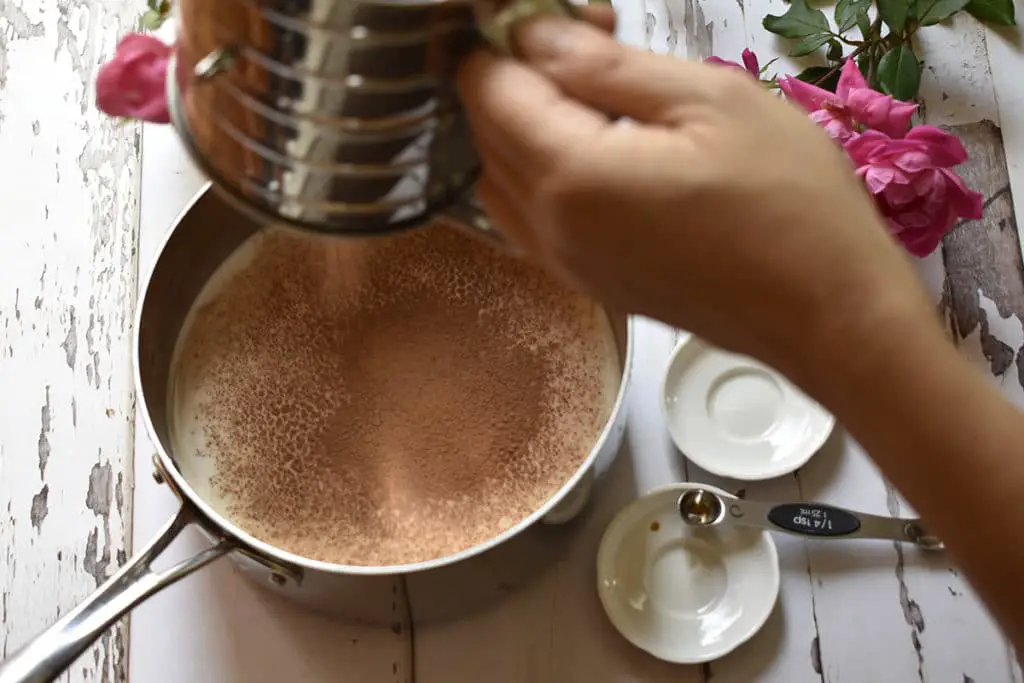 First, add the whole milk into a saucepan and then add sugar and vanilla extra. Second, sift the cocoa powder in.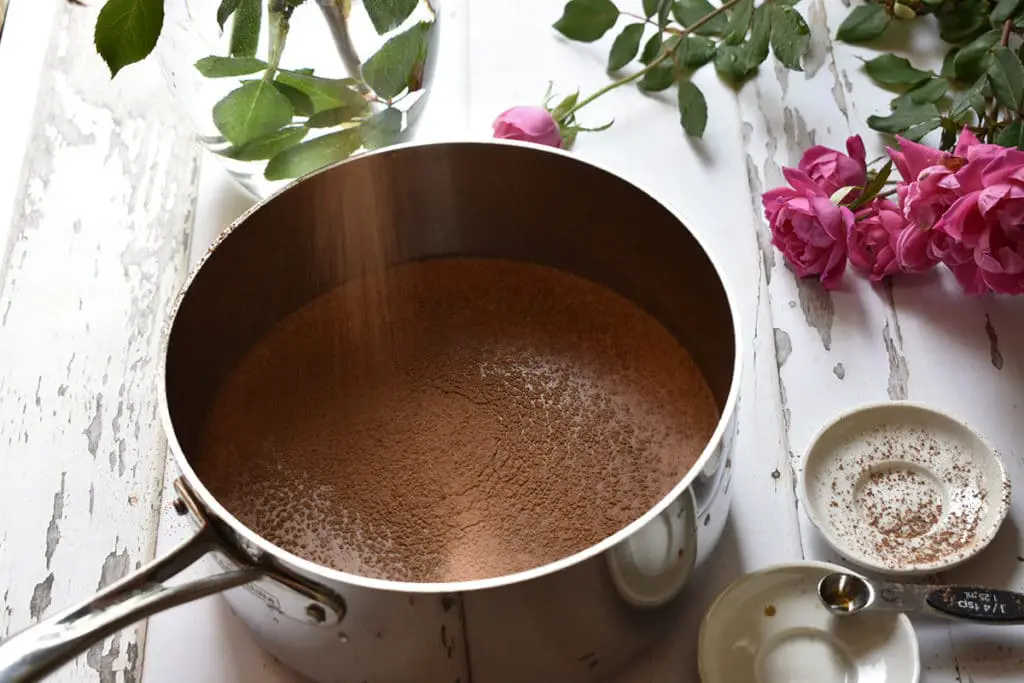 Third, gently mix and stir the mixture until fully blended, leaving no lumps, using a mini whisk.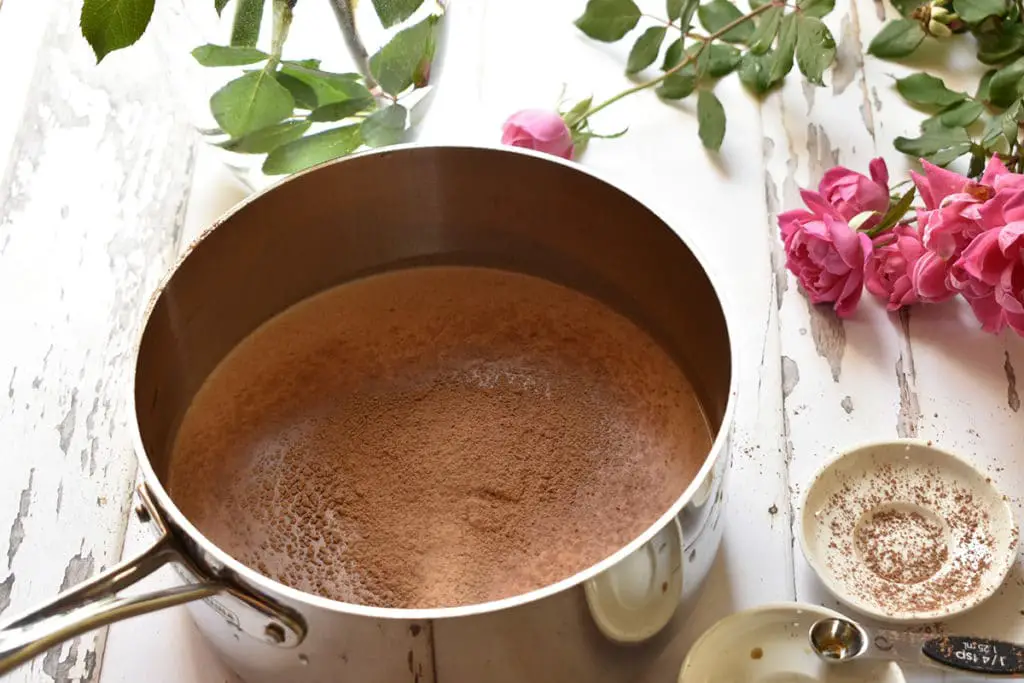 Fourth, turn the heat to high, and bring the saucepan to a boil. Gently stir using a bamboo spatula while boiling.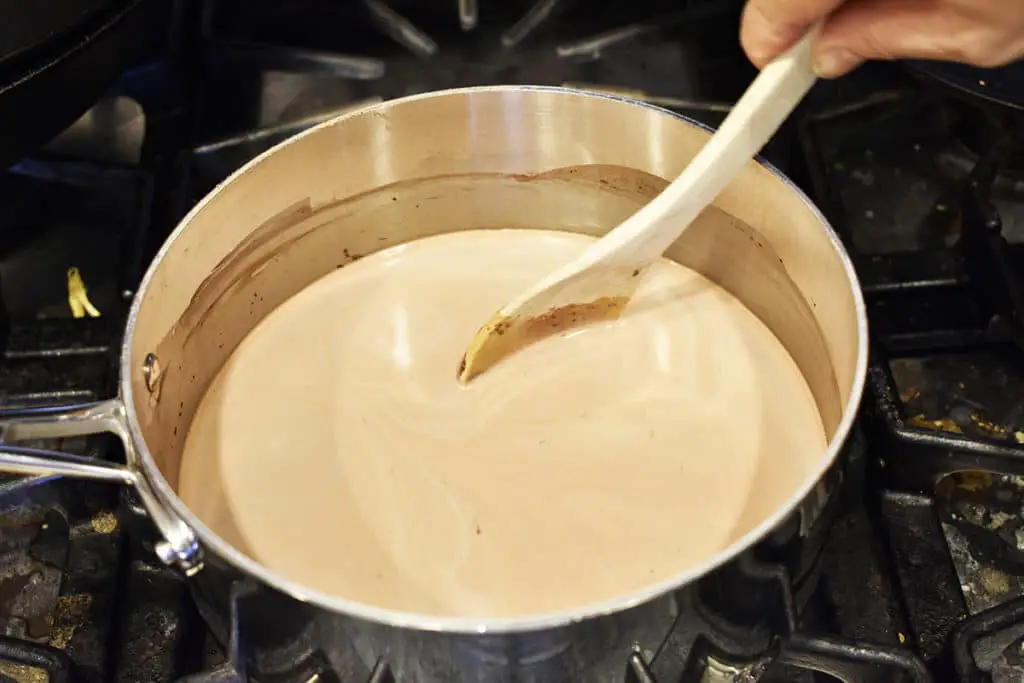 Once the liquid inside the saucepan reaches boiling point and bubbles up, turn off the heat.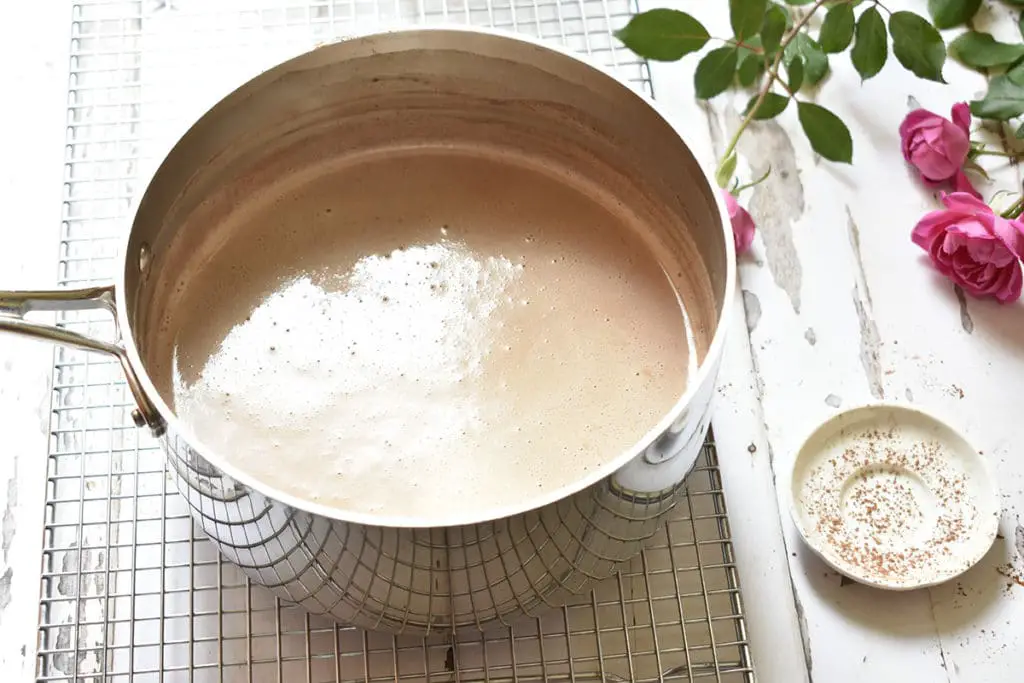 All done! Mix well and scoop out the hot cocoa using a canning ladle and pour into your favorite mug and enjoy!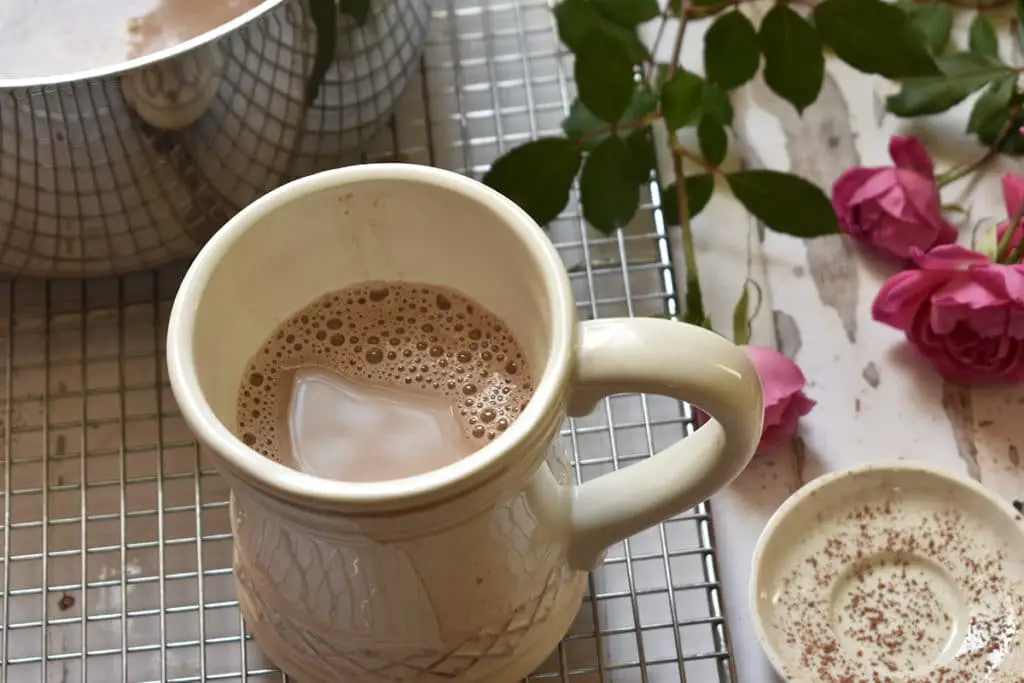 Frequently Asked Questions:
What is hot chocolate made of?
I make homemade hot chocolate from scratch out of four simple ingredients – whole milk, organic cocoa powder, sugar in the raw, and vanilla extract.
How to enhance the chocolate flavor?
If you'd like to have extra chocolate flavor, melt in 1/4 cup semi-sweet chocolate chip during the boiling process.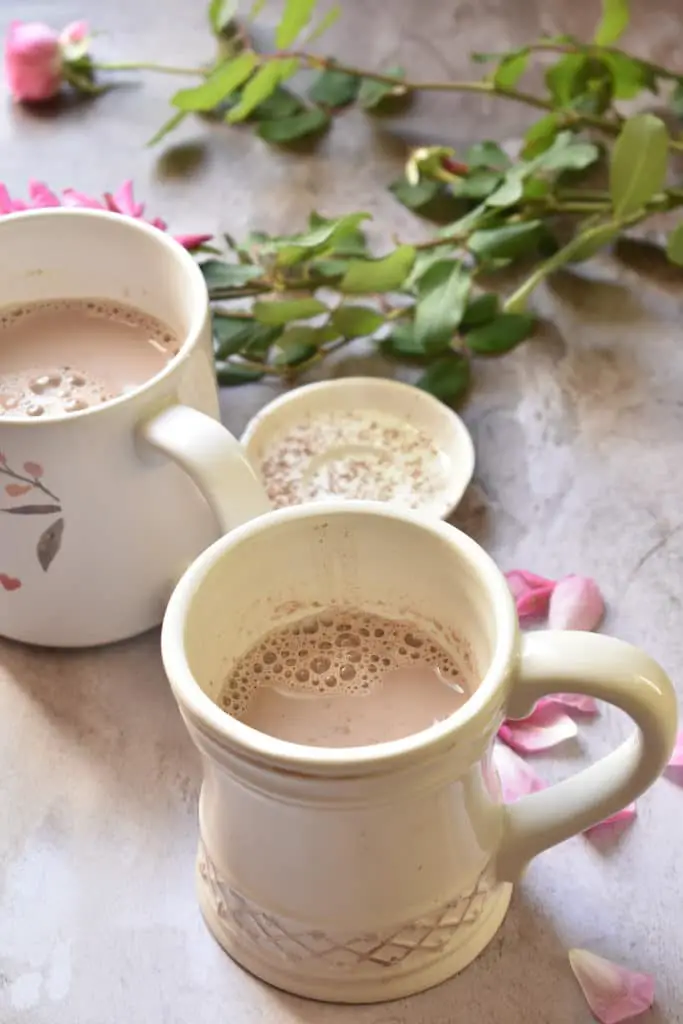 How to make a healthy version?
Use organic whole milk, organic raw cocoa powder, and organic raw sugar, then you shall have a wholesome, nutritious, healthy treat.
Make sure you add just the sugar amount but not excessive. I use 3 tablespoons of organic sugar in the raw for 4 cups of milk and 2.5 tablespoons of the cocoa powder I use.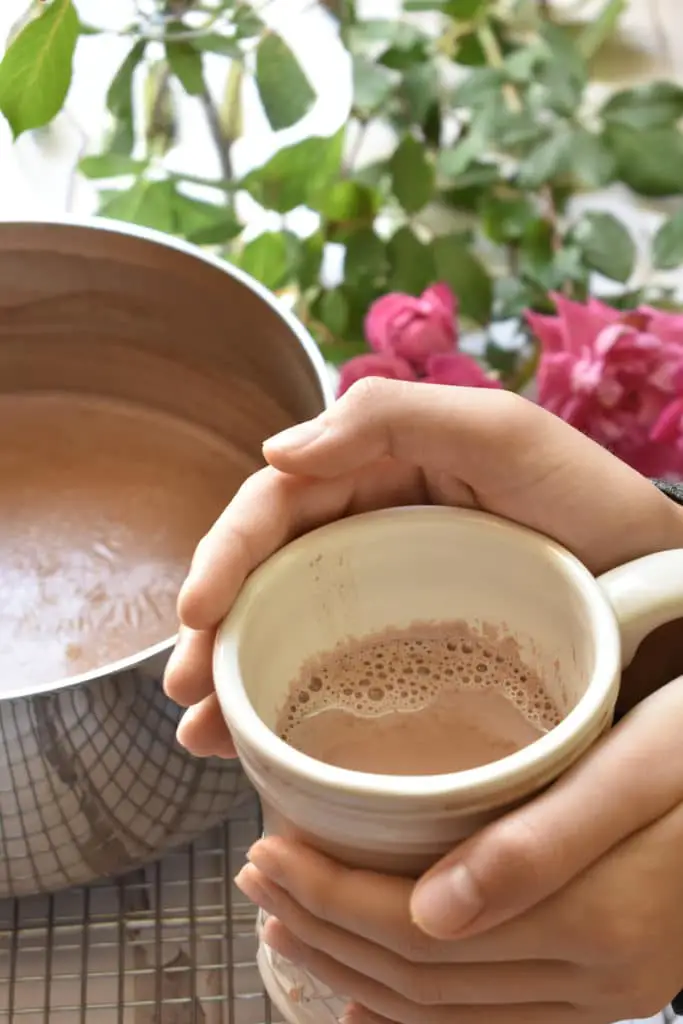 Like homemade healthy hot beverages? Make sure you also check out immue booster "Homemade Chai Tea".