Homemade Chai Tea, made of Chai Spice Mix of five most delicious and healthy spices, namely cinnamon, turmeric, fennel seeds, coriander seeds and clove, is so smooth, delicious, and nutritious. It is one of the best anti-inflammatory, anti-oxidant and immune boost beverages.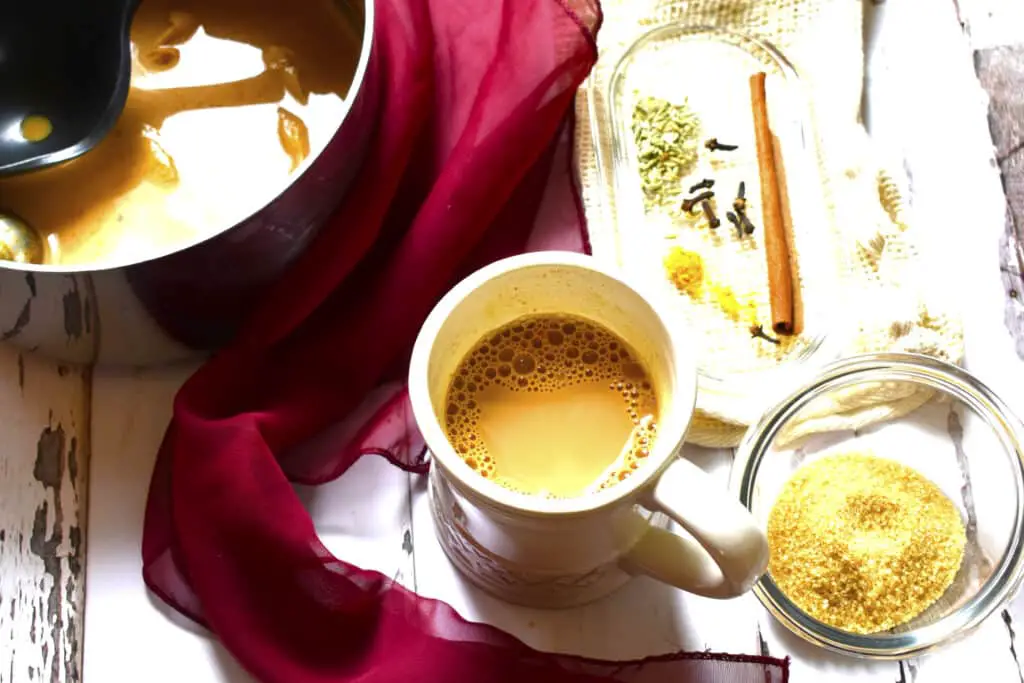 It is super easy and quick to make this at home. All you need is homemade Chai Spice Mix made of organic spice powder, whole milk, water, and tea bags.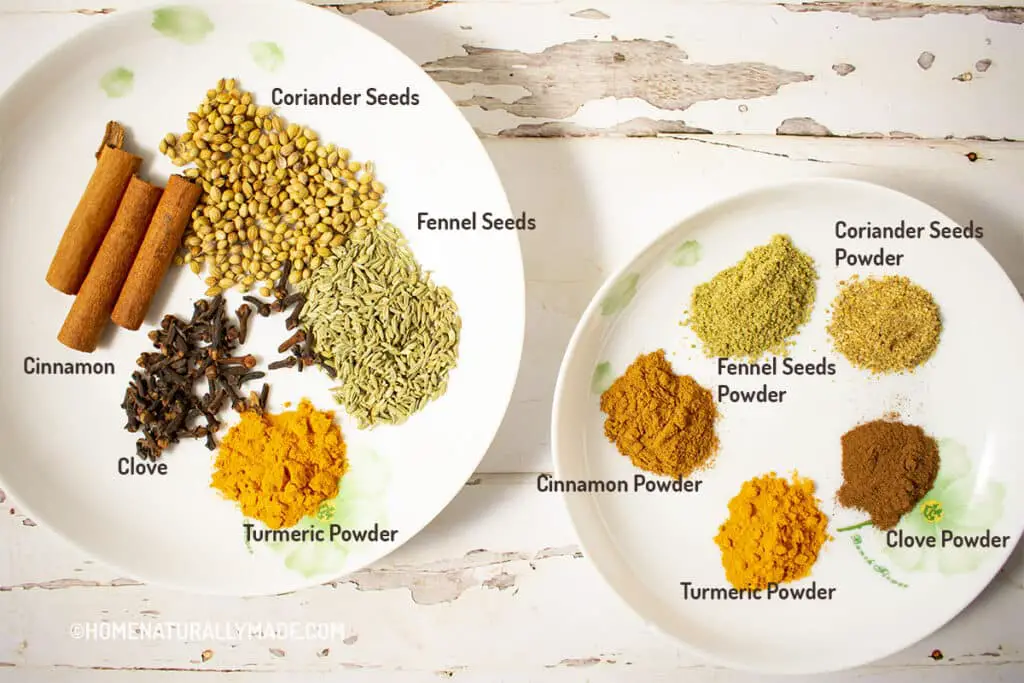 Cinnamon Fun Facts
Cinnamon is a spice that comes from the inner bark of several trees species. Some tree can grow up to 60 feet.
It is one of the classic spices that almost every culture and culinary practice adores. It is truly amazing is that cinnamon is so versatile that people use it for cooking both savory dishes and sweet desserts.
For example, for savory dish cooking, cinnamon is one of the key spices for cooking meat and poultry per Chinese cooking. Check out Nanjing Salted Duck and Red Braised Pork Belly recipes that leverage cinnamon.
Cinnamon is also one of the key spices that going to Chinese cooking's iconic "Five-Spice" powder. It is a popular blend of spices to flavor meat and poultry per traditional Chinese cooking.
Check out Tasty Pork Filling for Dumplings and Buns, Sheng Jian Mantou, Pork Jiao Zi Napa Cabbage, Egg Wrapped Pork Dumplings, Shanghai Soup Dumplings, Huai Yang Wonton Soup, and Red Braised Pork Meatball for more details.
Cinnamon is a highly healthy spice too. It contains substances that have powerful antioxidant and anti-inflammatory effects. Experts also believe it might mitigate heart disease risks.
Who can resist something that is so healthy and make everything taste better? LOL.
Clove Fun Facts
Clove are the dried flower buds of evergreen clove trees. It has an unstoppable sweet fruity aroma.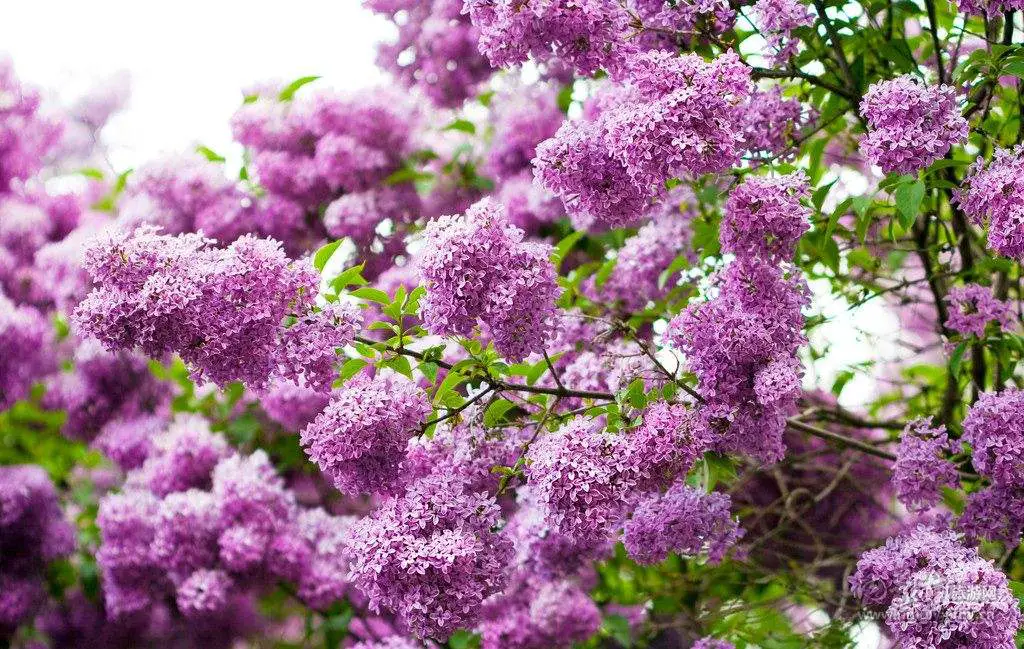 This wonder spice contains a high level of vitamin K, dietary fiber, and minerals such as iron, magnesium, and calcium. Speaking of health benefits, experts believe cloves can help digestion, protect liver function, boosting immune systems, stimulating blood circulation, improving respiratory health, and more.
Interestingly enough, clove is another key spice going into the famous Chinese "Five-Spice" powder. Ancient Chinese gurus apparently only hand-picked the best of the best spices to go into the wonder "Five-Spice" powder.
How to make a homemade Chai Tea Spice Mix?
It is straightforward and almost effortless to blend a perfectly tasty and healthy Chai Tea Spice Mix. Get the organic cinnamon powder, clove powder and turmeric powder. Use a spice grinder to grind organic fennel seeds and coriander seeds into powder.
Read here for a detailed step-by-step guided recipe on how to make an easy, delicious and nutritious Chai Spice Mix.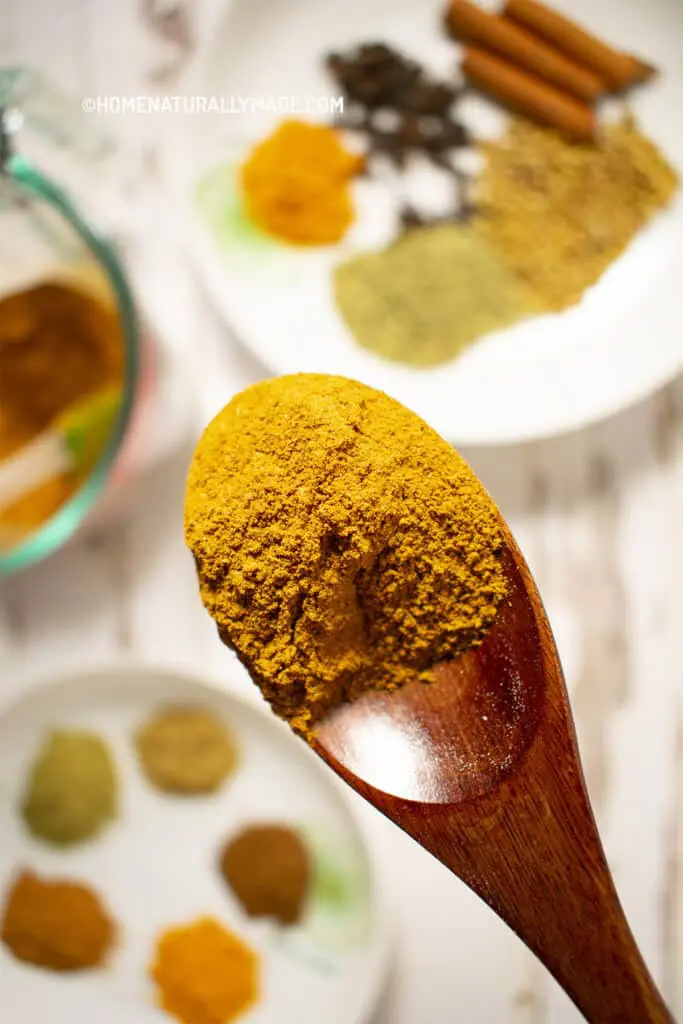 How to brew a perfect cup of Chai Tea at home easily?
Method 1 – Quick Easy Single Served Chai Tea
If you just want one cup of Chai Tea quickly. Simply add homemade Chai Tea Spice Mix, tea bag, and sugar into a mug.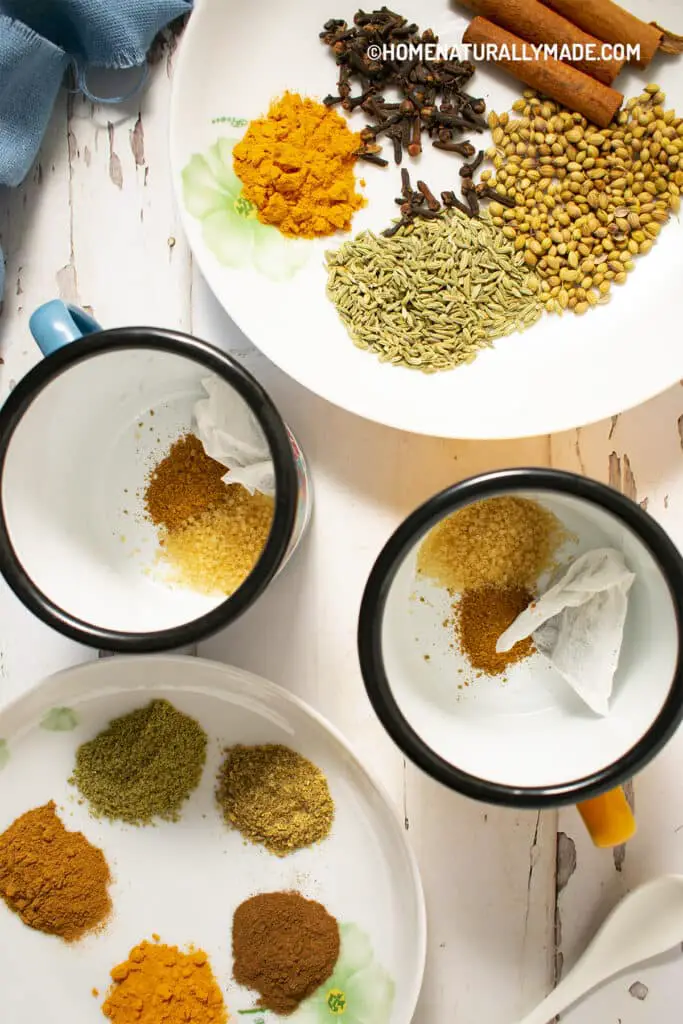 Pour in the boiling water. Then stir to mix well and add milk. Stir to mix well again and let it brew for a couple of minutes. That's it. Enjoy a wonderful cup of homemade Chai Tea.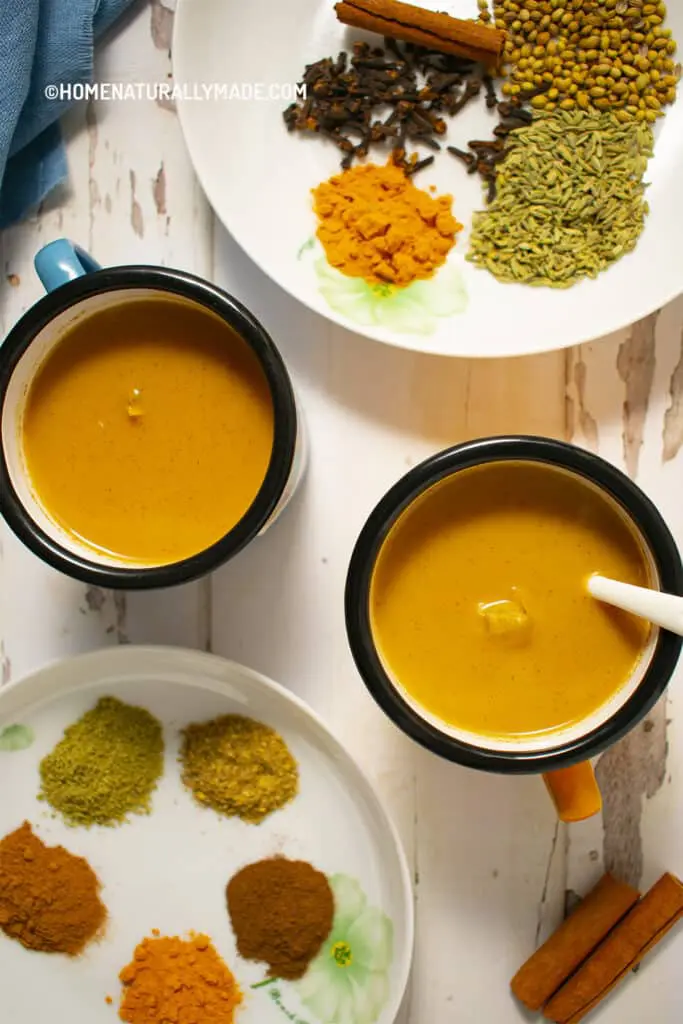 Method 2 – Use stovetop to make chai tea at home
If you are not in a hurry, and especially you need to make 4 cups of Chai Tea, then I highly recommend this traditional stove top method.
Boil a kettle of boiling water in advance and then add boiling water and milk into a saucepan. For the best tasty Chai tea, the water should be the twice amount of milk. Use the whole milk if you can.
Step 1 is to bring milk, water and chai tea spice mixture to a boil
Add the homemade Chai Tea Spice Mix into the saucepan and use a mini whisk to mix thoroughly with the water and milk mixture and bring it to a boil. I usually use a 3 Qt. saucepan, which is great to make roughly 4 small mugs of chai tea.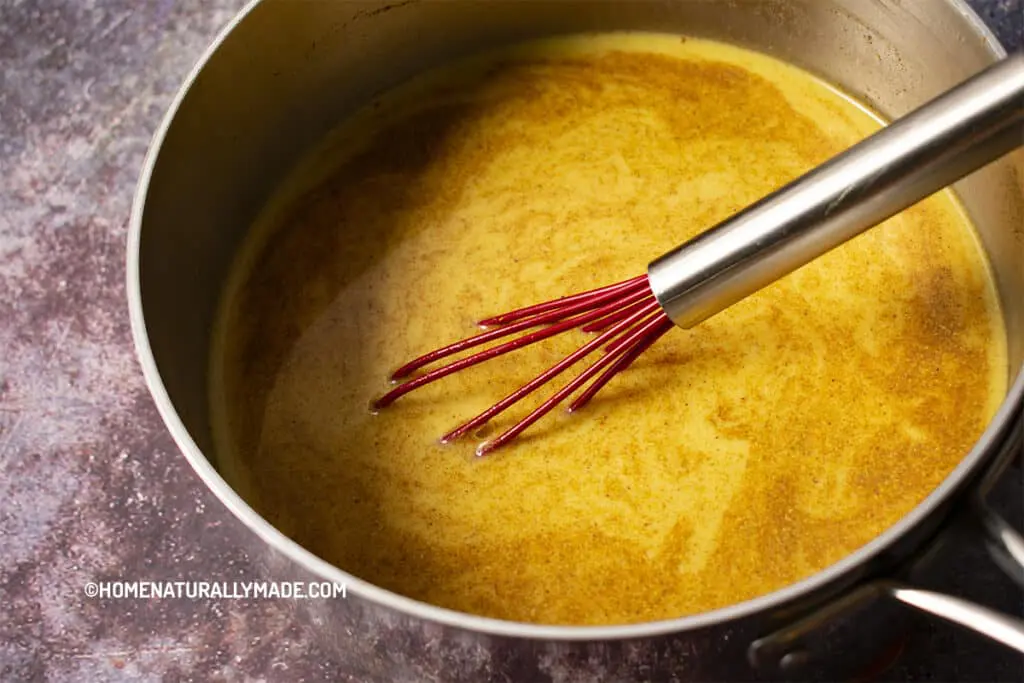 Step 2 is to add tea bags upon reaching boiling point
When the saucepan reaches boiling point, turn to simmer immediately and add tea bags. Use a bamboo spatula to mix and push the tea bags into the liquid. Add the lid back on, turn off the heat and let the tea brew for about 2 minutes.
Start to keep a close eye on the saucepan when it is about to reach a boil. Do not let it overflow.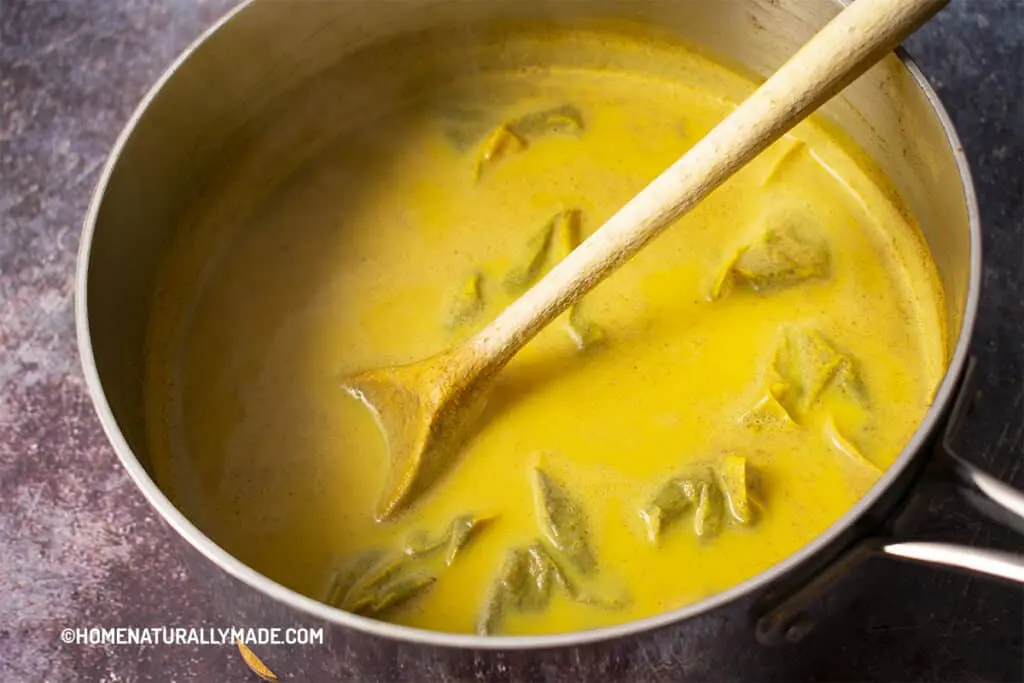 For the black tea bags, I have been using these PG Tips. One of my British friend recommended this tea to me. They are truly amazing. I never have to look elsewhere for the black tea bags. Since I go through tea bags fairly quickly. I just buy bulk which is incredibly priced.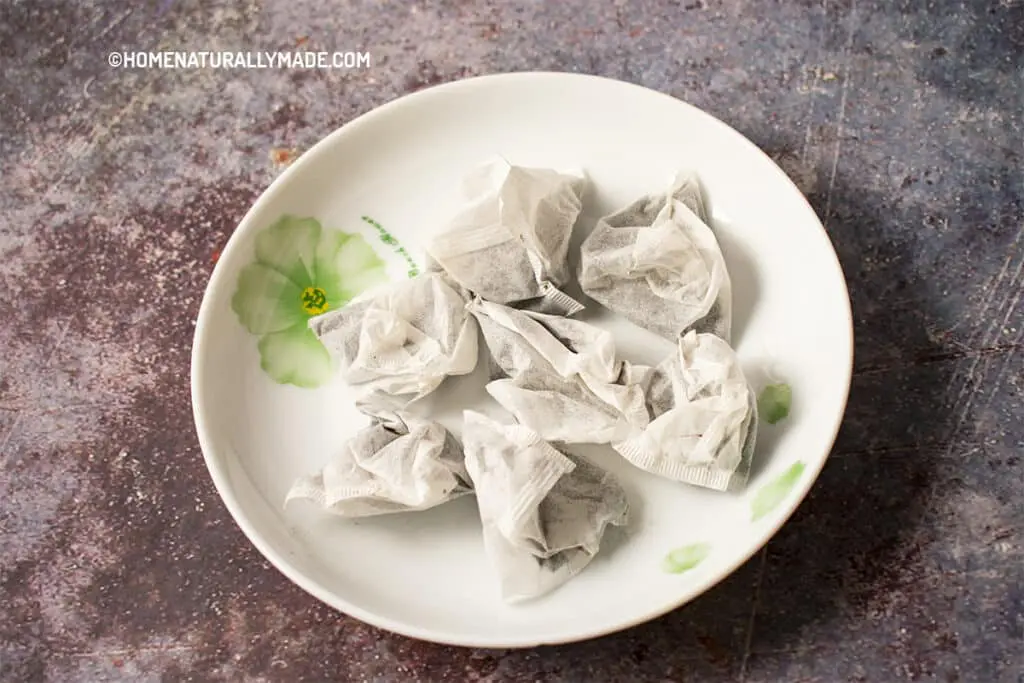 Last but not least is to add sugar, serve and enjoy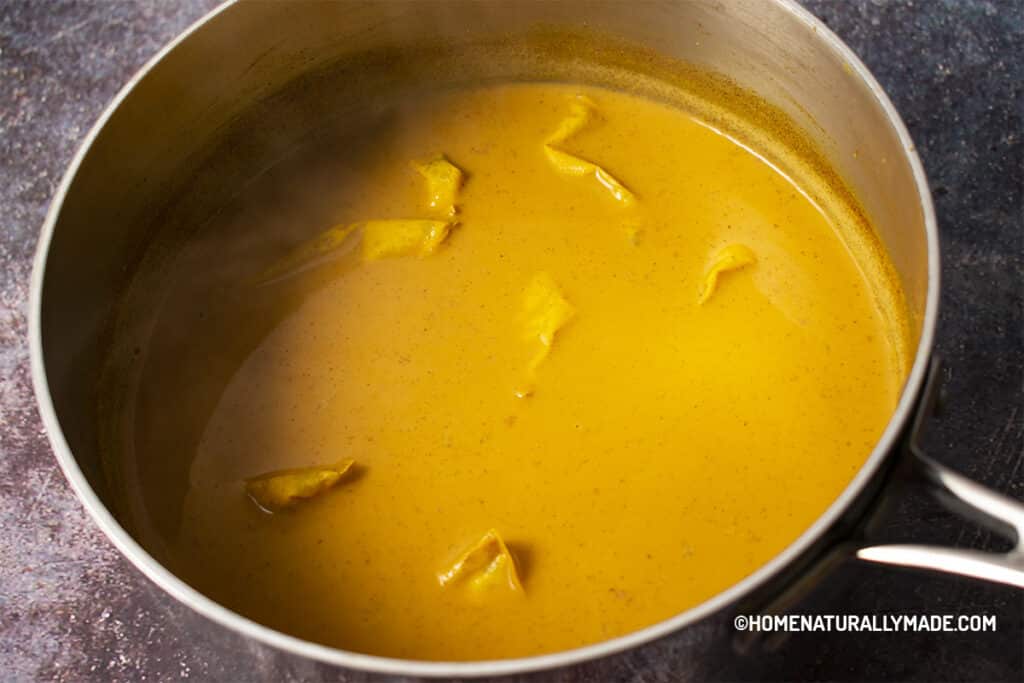 All done! Turn off the heat, scoop the Chai Tea into the serving mugs, add sugar, mix well and enjoy!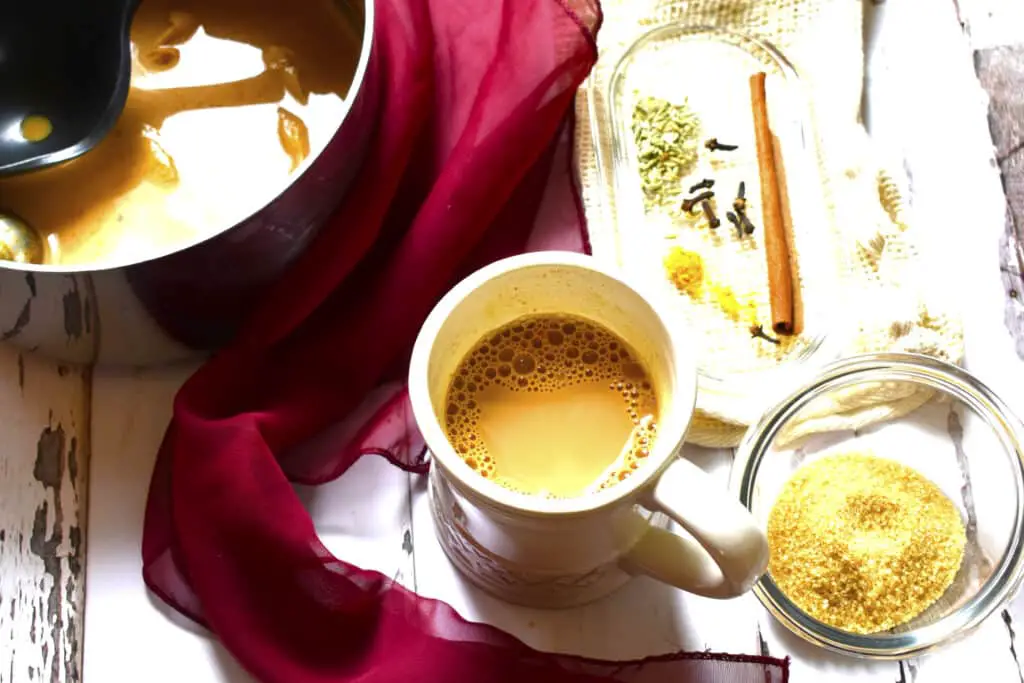 I prefer to add sugar in the mug so that people can adjust the sweetness to their own taste.
This traditional method makes extremely tasty Chai Tea. Highly recommend if you can afford the time.
Homemade Chai Tea is good for breakfast or afternoon tea break. Definitely is a wonderful everyday healthy treat that also boosts the immune system.
Did you try my other winter wonder hot drink homemade hot chocolate?