Braised Veal Chops with rosemary, ginger, soy sauce, and Shaoxing wine are so tender and naturally delicious. Perfect to pair with freshly cooked rice + blanched vegetable, or bread + salad for a yummy & healthy weeknight dinner.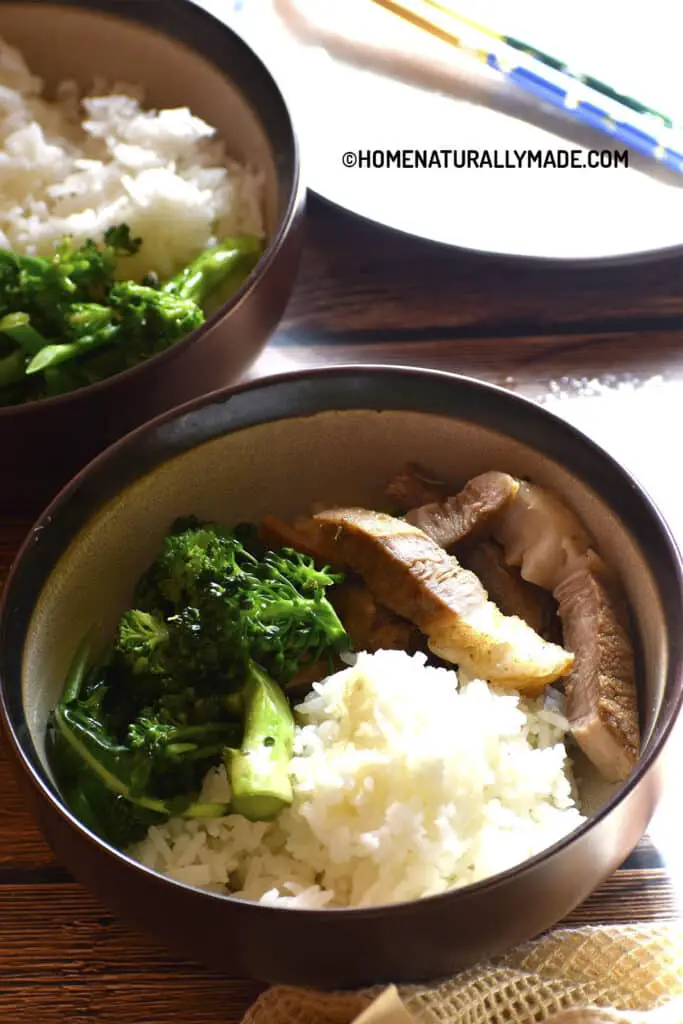 Veal Fun Facts
Veal is the meat of calves vs. beef from older cattle. Most veal comes from young male dairy calves typically up to 18 weeks old that weigh around 450 pounds.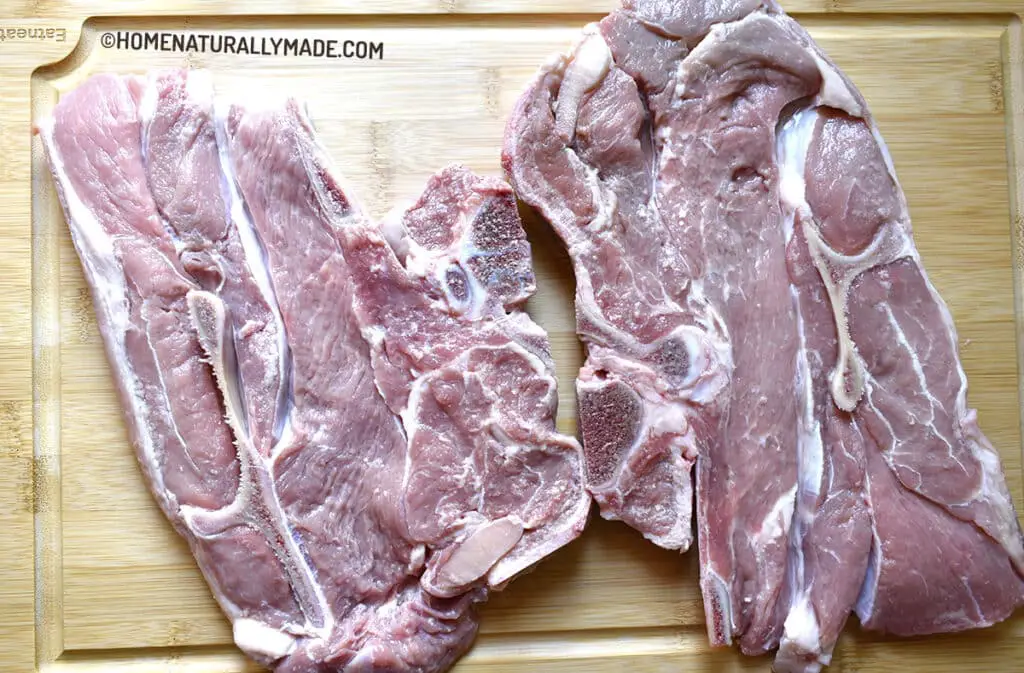 Health and Nutrition Facts:
Veal has a pinkish color. It is tender and leaner than beef. Veal also has fewer calories but a higher amount of protein, vitamin B, and minerals such as zinc and niacin. No wonder some people call veal a nutritional powerhouse.
Ginger Fun Facts
Let's talk a little about one of the key ingredients ginger or ginger roots as they are the root part of the overall plant.
Ginger is one of nature's most impressive wonder plants. Experts consider ginger among the healthiest and most delicious spices on the planet of earth.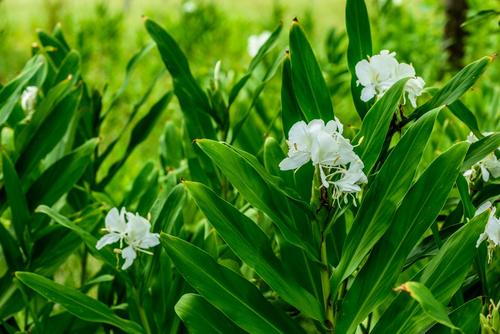 Speaking of its benefits & uses, ginger enjoys a reputation for having proven health benefits such as remedying nausea, and helping with weight loss, osteoarthritis, and high blood pressure.
The ginger plant is native to Southeast Asia. Throughout China's long culinary history, ginger leads an important role in the traditional Chinese cooking of meat, poultry, and seafood. Ginger helps remove the unpleasant smell and replaces it with an enticing aroma.
Check out how I incorporate ginger in making yummy Red Braised Pork Belly, Red Braised Lion's Head (Pork Meatball), Basa Fillet Saute, Nanjing Salted Duck, Braised Butterfish, and more.
According to TCM (Traditional Chinese Medicine), ginger has an inherent warming nature. Tea made of ginger and dark brown sugar is a popular drink during winter days to warm up bodies and fight against cold.
Ginger and turmeric both belong to the same large family, thus enjoy a similar remedy effect such as anti-inflammatory. Turmeric is literally called "yellow ginger" in Chinese.
Last but not least, did I mention ginger is a flowering plant that produces elegant, pure white flowers? Talking about a complete package.
What Do You Need to Make Braised Veal Chops?
Braised Veal Chops Ingredients Required:
Veal Chops
Cooking Oil – avocado oil and olive oil are my go-to cooking oils.
Rosemary – either fresh rosemary or dried rosemary will do.
Ginger – fresh ginger root slices.
Light Soy Sauce – A pinch of light soy sauce enhances the flavor nicely.
Shaoxing Wine – Shaoxing wine, an ancient Chinese cooking or drinking wine native to China's Yangtze River Delta area, tenderizes and flavors the meat or poultry nicely.
Salt – Himalayan pink salt is my go-to salt besides sea salt.
Sugar – Organic sugar in the raw is my go-to sugar besides organic cane sugar.
Useful Kitchen Utensils to Help Cook Braised Veal Chops Easier
A Quality 12-inch Deep Fry-pan – This stainless steel Tri-ply deep fry-pan works out well.
A Slotted Turner – Slotted turner is my go-to kitchen utensils for folding, turning, and scooping out food from a pan. Very handy tool.
A Pair of Kitchen Tongs – A good pair of kitchen tongs shall work out well to turn the veal chops in the pan and drag them across the pan to caramelize veal chops.
How to Make Braised Veal Chops Perfectly?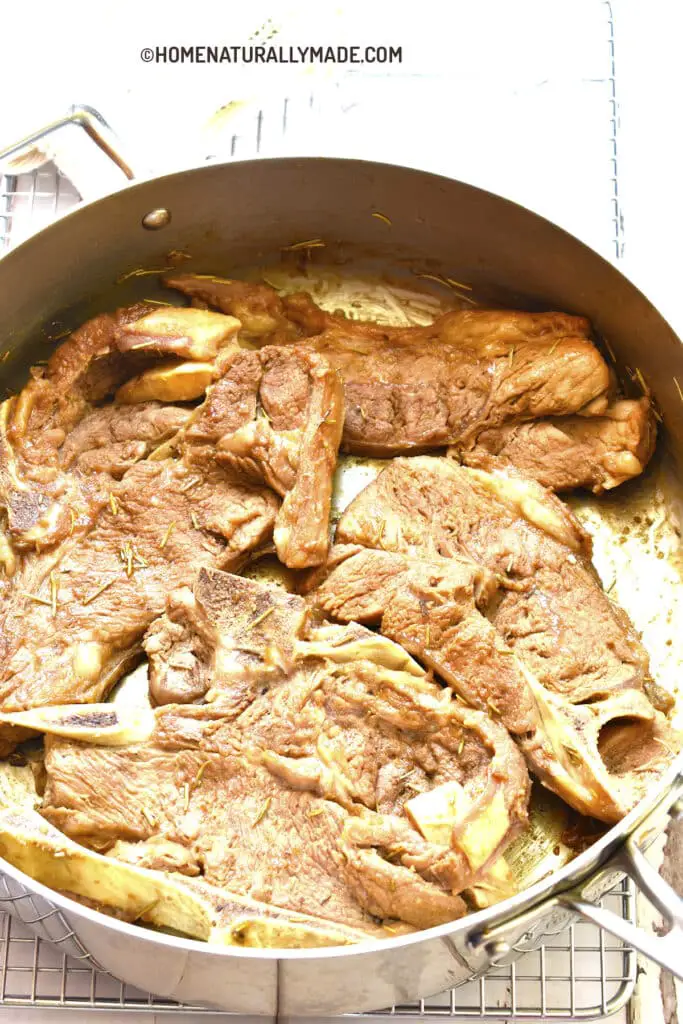 Searing the Veal Chop before Braising
Searing the veal chops before braising is the key to tenderness. Heat the fry pan for 2 minutes, add oil and ginger slices. Move the ginger slices across the pan using a bamboo spatula to condition the pan.
A deep 12-inch stainless steel Tri-ply fry-pan works out great to cook 2 large pieces of veal chops.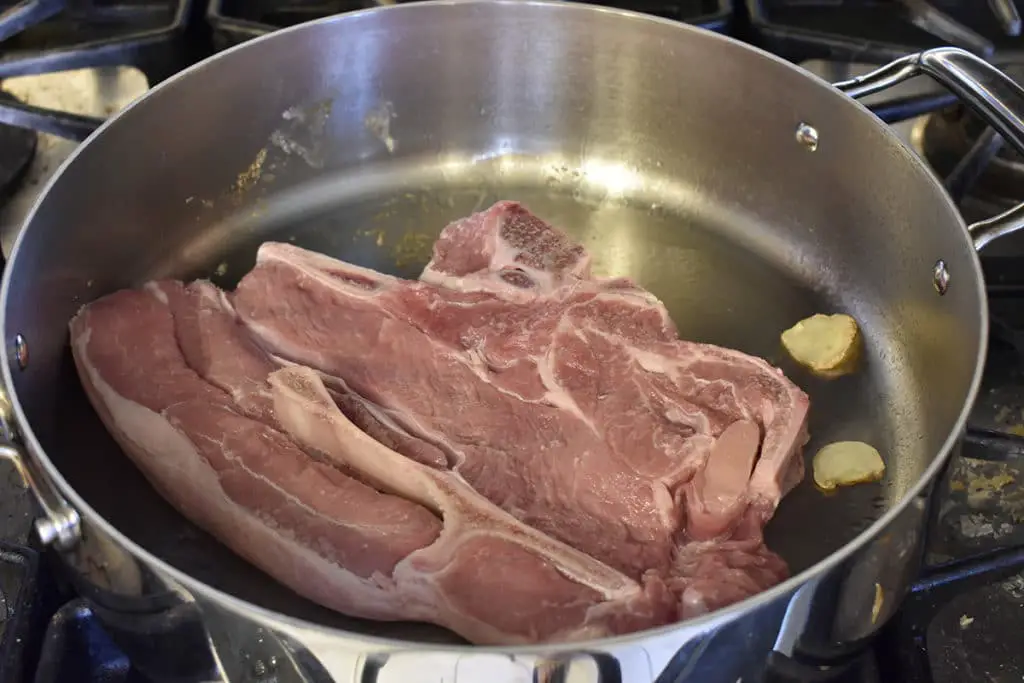 Add one veal chop at a time. Gently press down, sprinkle with half of the salt and cook for 1 minute. Then flip the veal chop using a slotted turner or a pair of kitchen tongs and do the same.
Remove the seared veal chop from the pan and repeat for the other veal chops, if you are cooking two veal chops.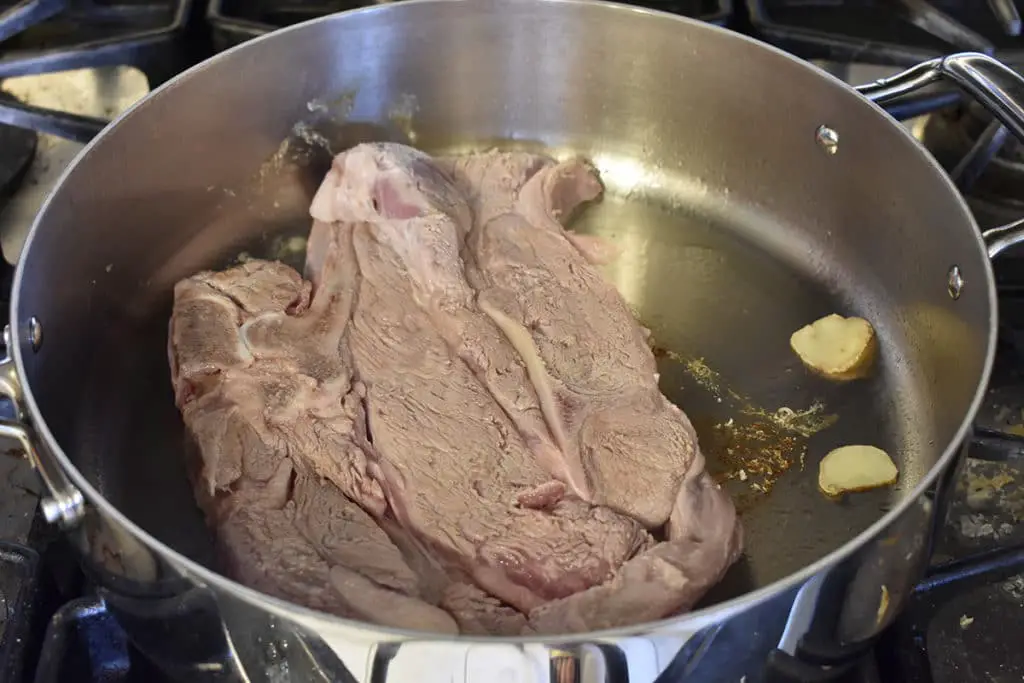 Braising and Caramelizing
Place both veal chops back into the pan. Pour the braising sauce in a circular motion over the veal chops. Light soy sauce, Shaoxing wine, salt, sugar, rosemary, and water. The water should barely cover the veal chops. Cook for 10 minutes.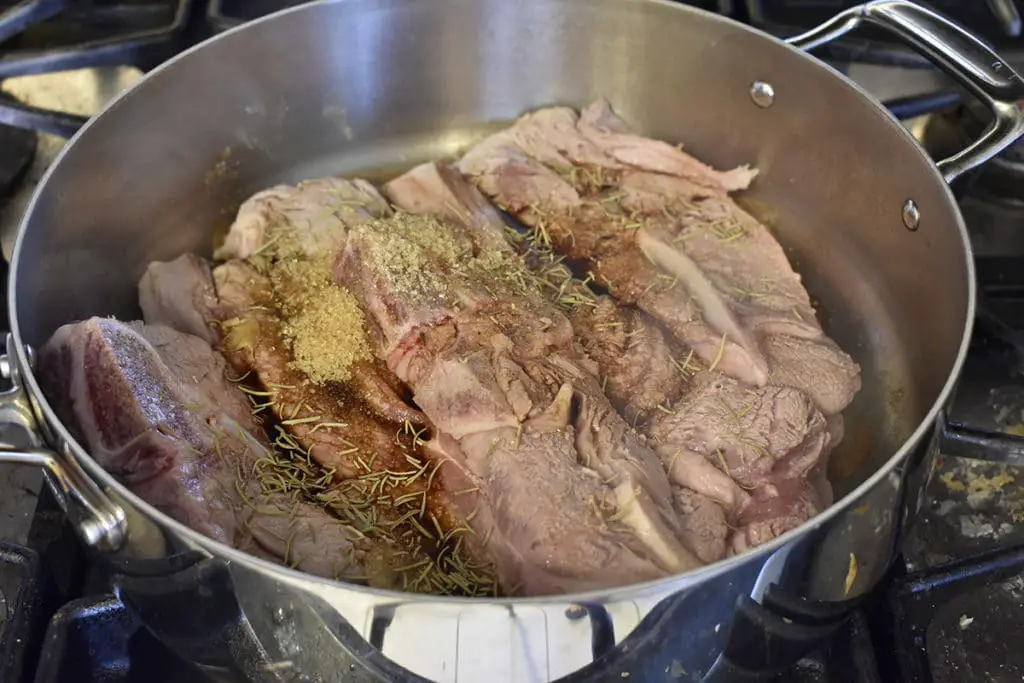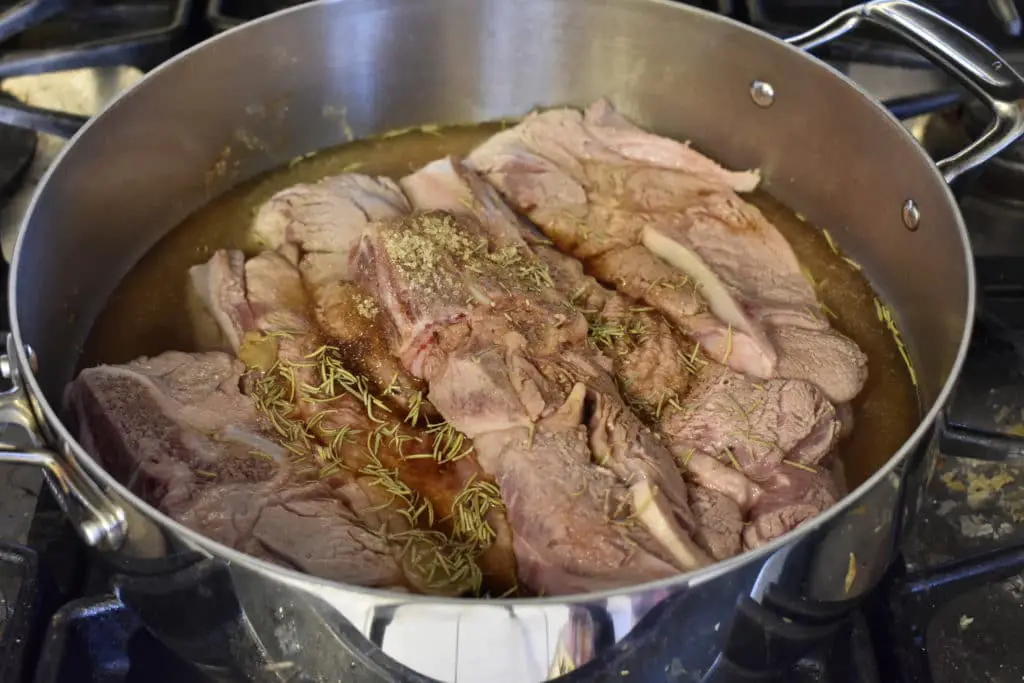 After having cooked for 10 minutes on medium-high, uncover the lid of the pan, flip the veal chops and braise the other side for another 10 minutes.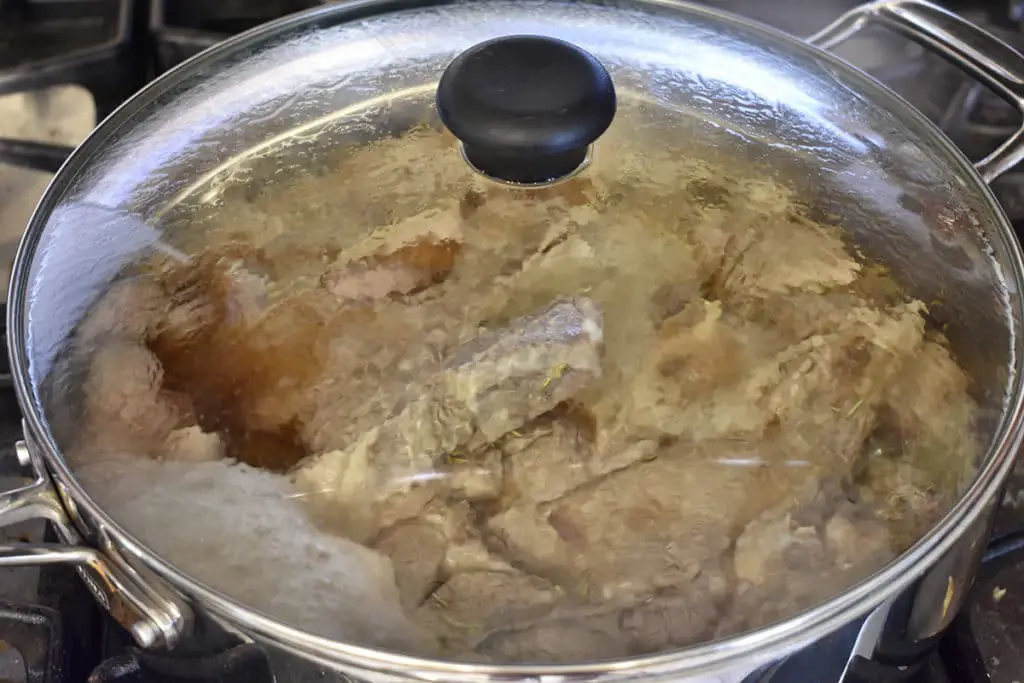 Caramelize for 5 minutes
By the end of the 20-minute mark, the liquid in the pan is disappearing. Turn the heat to simmer, and use a pair of kitchen tongs or long thick bamboo cooking chopsticks to drag the veal chops across the pan where the remaining juice is, typically around the edge of the pan, to caramelize them. Do this to both veal chops and both sides.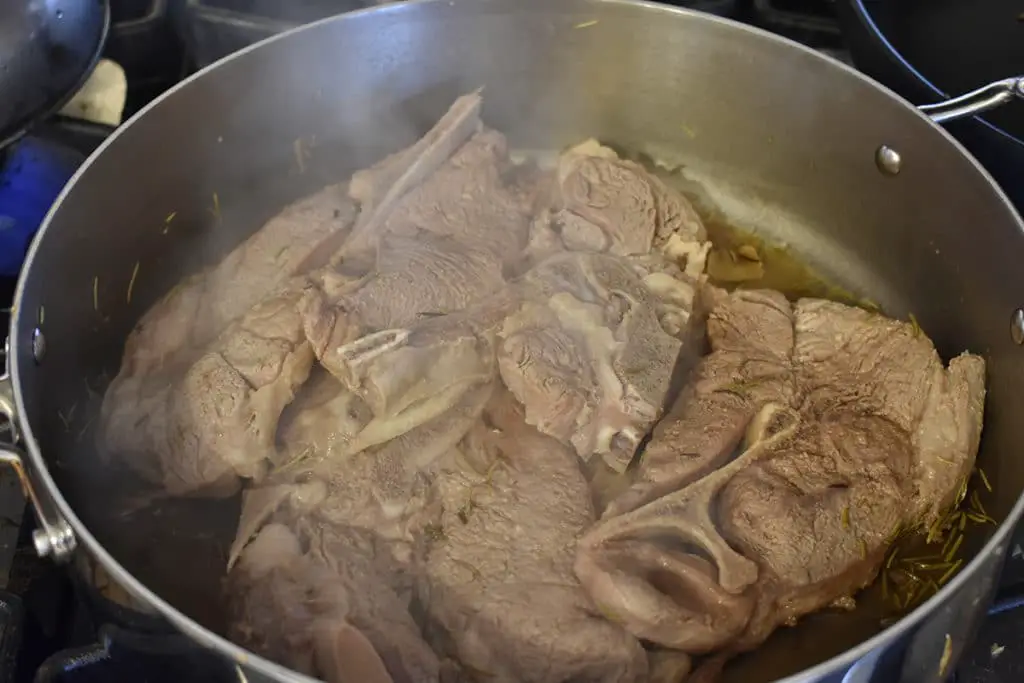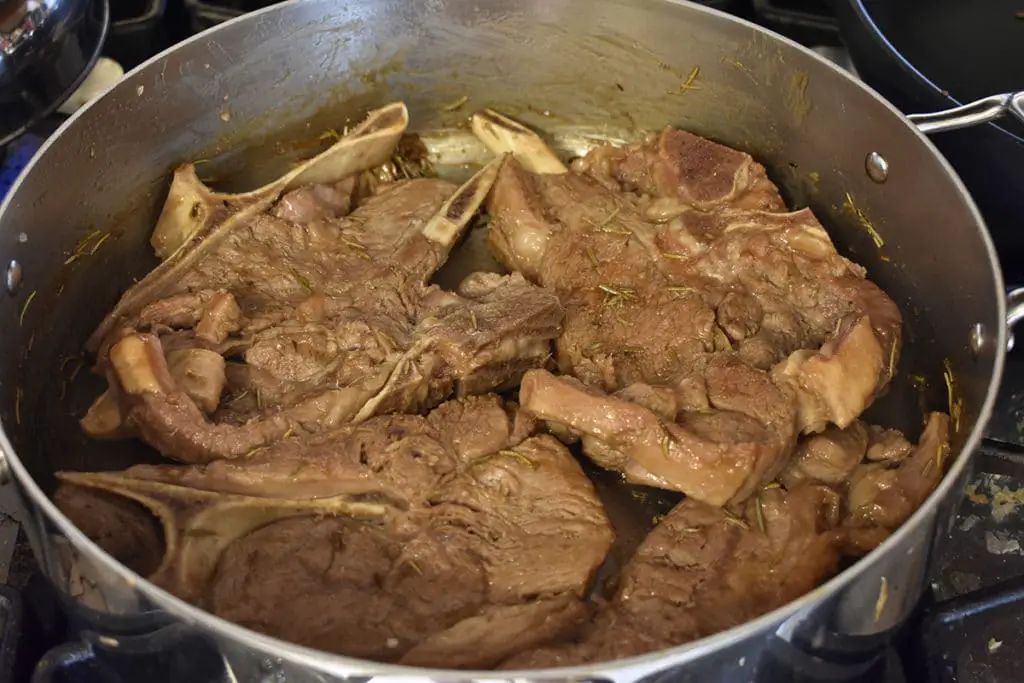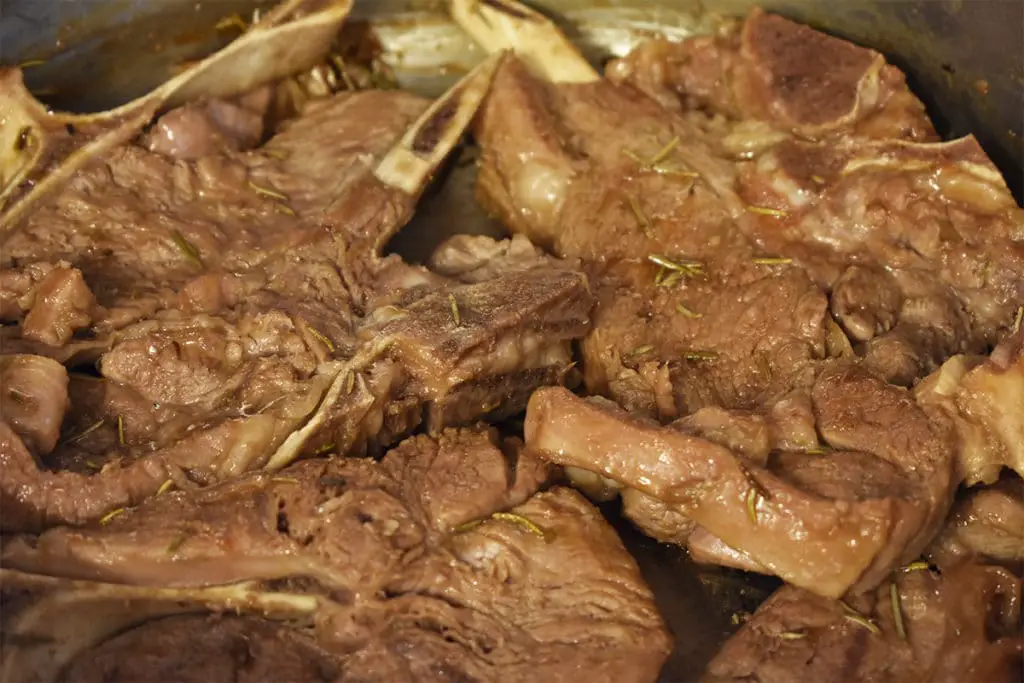 Veal Chops Frequently Asked Questions:
What is the best way to cook Veal Chops?
Sear the veal chops on both sides in a deep fry-pan. Add warm water to the pan which barely covers veal chops along with salt and seasonings. Cover the lid and cook for 10 minutes on medium-high heat. Flip the veal chops and cook for another 10 minutes. Remove the lid, turn the heat to simmer, and caramelize the veal chops for 5 minutes.
How long do you braise veal for?
20 minutes on medium-high heat. It cooks veal chops through, but veal chops maintain the juicy tenderness.
How to make Braised Veal Chops more satisfying?
Add just enough water for braising. The water should barely cover the veal chops in the pan. This way, the water shall mostly disappear by the end of the cooking, but just enough thickened sauce left in the pan to caramelize the meat.
Cover the lid during the first 20 minutes while boiling or braising on medium-high heat. Flip the veal chops halfway through. Remove the lid after 20 minutes, turn the heat to simmer, use the thickened sauce left in the pan to caramelize veal chops.
Like healthy, tasty Asian Fusion? Make sure you check out below: