Craving for a juicy and delicious burger made easy at home? No problem. With this homemade burger seasoning, you can quickly mix it with the ground beef along with eggs for a super easy and delicious burger patty. I am also going to share tips and tricks on how to marinate the burger meat, how to shape the burger patty, as well as how to cook the burger patty properly for a juicy yummy burger.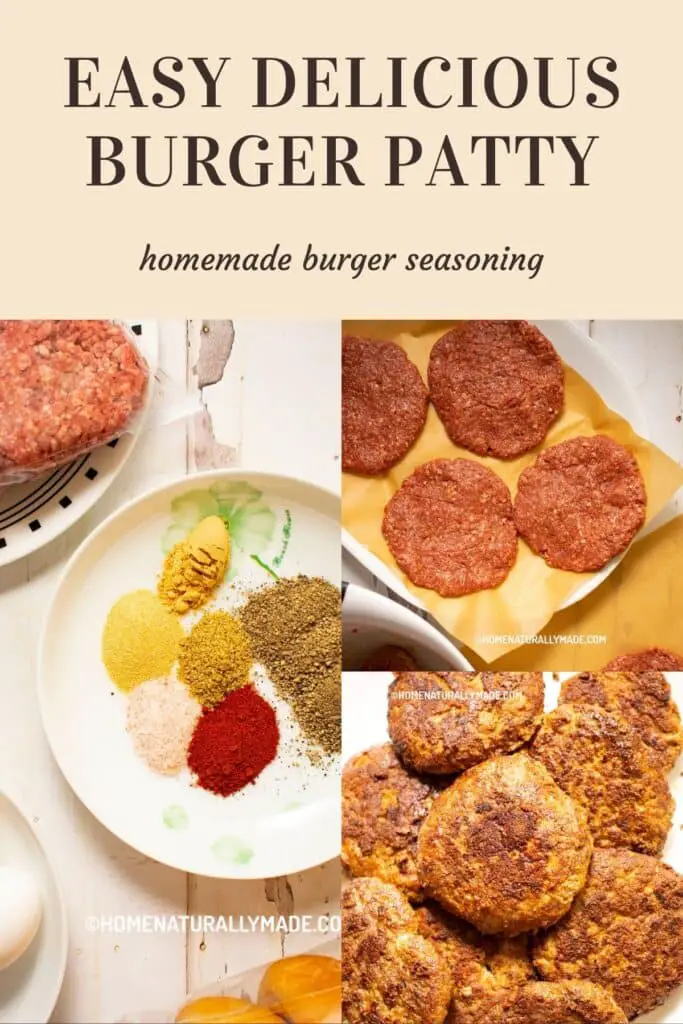 How to make a burger seasoning for Easy, Delicious Burger Patty?
Black pepper, ginger powder, garlic powder, paprika, coriander seeds powder, and salt work magically together to flavor the beef.
For every pound of ground beef, mix 2 tsp black pepper and 1/2 tsp each of ginger powder, garlic powder, salt, paprika, and coriander seed powder, respectively. Fold the burger seasoning into the ground beef along with two eggs. The eggs will help tenderize the beef and help bind everything together.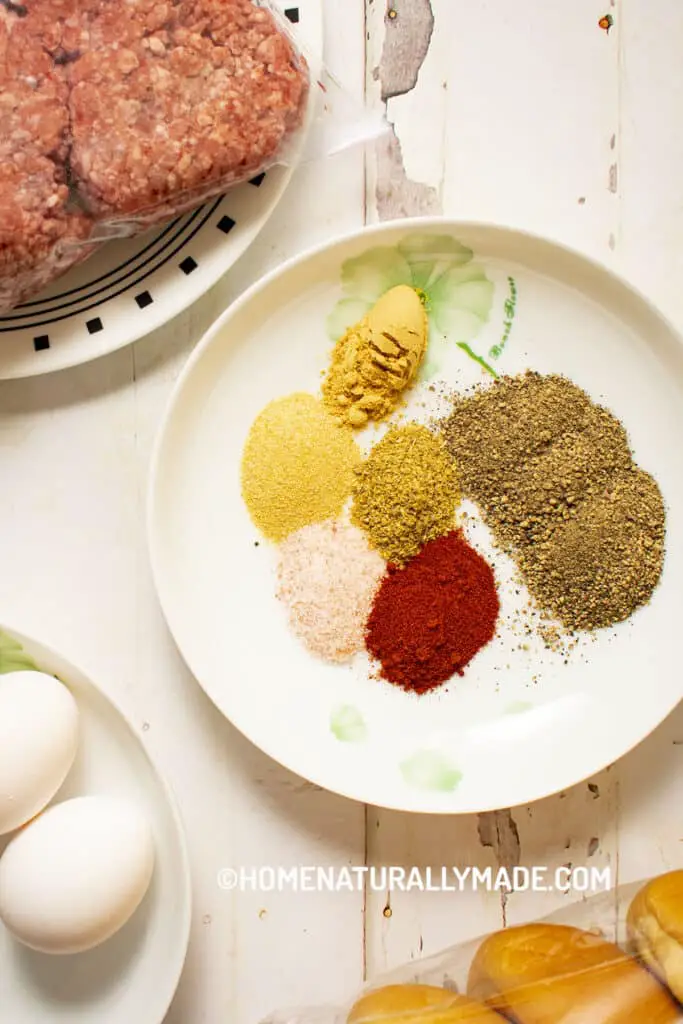 I found out for some spices; it is easier to buy organic whole seeds vs. powder. Coriander seeds are one example. But no worries at all, with a handy tool like a spice grinder, it is super easy to turn the whole seeds into powder.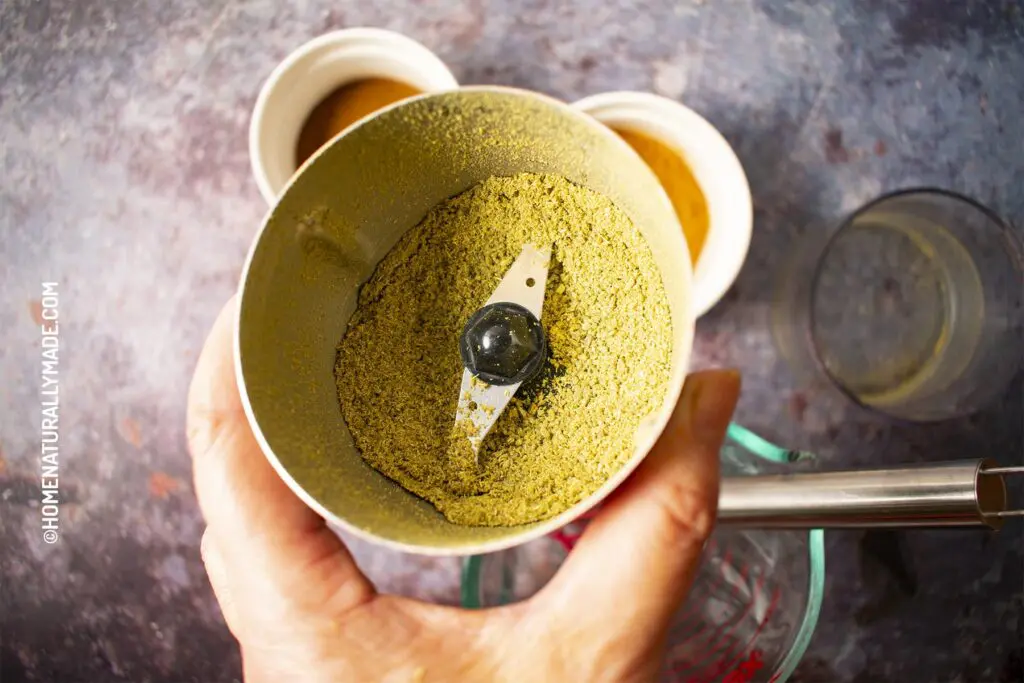 How to Blend Burger Seasoning?
How you blend the seasoning with the ground beef matters. Make sure you mix the seasoning in a small bowl first. For ground beef, they usually come in a block, use a bamboo spatula to break down the ground beef first. Then fold the burger seasoning and eggs into the beef.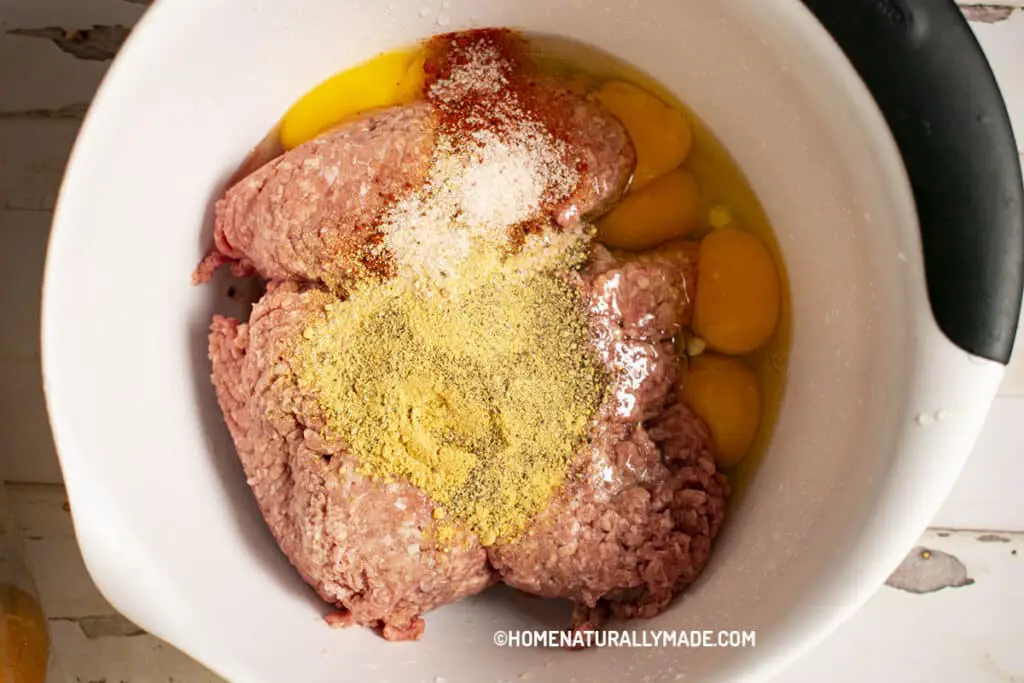 Once everything is somewhat mixed, turn the spatula swiftly in one direction until the whole thing churns into a meaty paste. You can either turn in clockwise or counter-clockwise, it doesn't matter. It matters you turn in the same direction. This is an old-fashioned trick Chinese cooks often use for juicy and tasty meat. Same technique for basic pork filling for tasty dumplings and buns.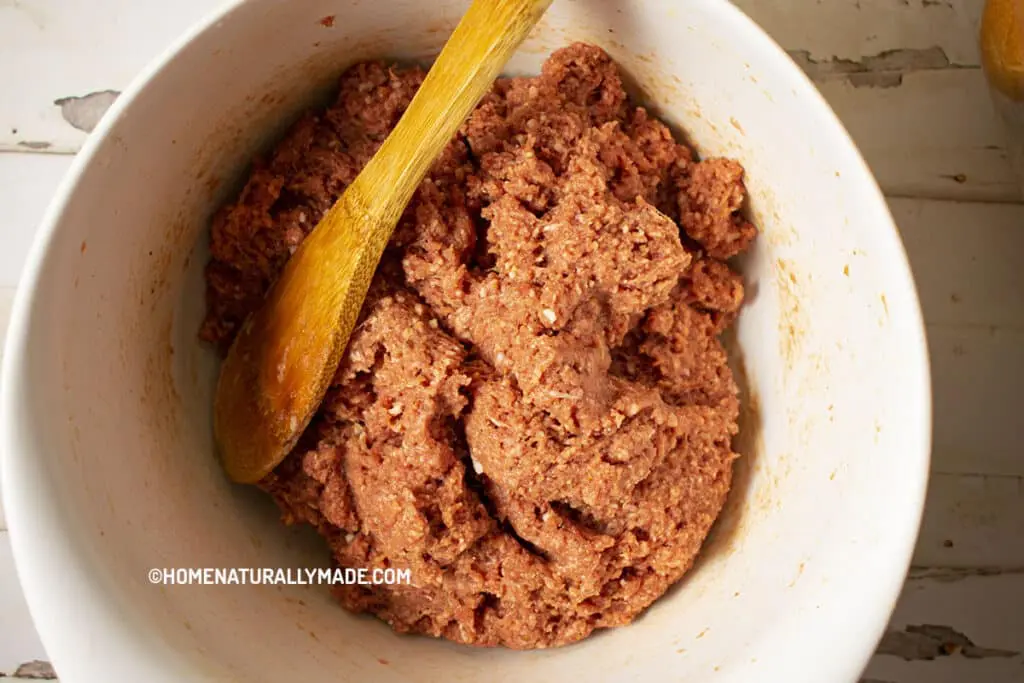 How to Shape the Burger Patty?
Once you have this yummy-looking burger meat paste, divided them into large meatball portions. For each portion, use your hands to toss between your two hands and roll into a meatball.
While your left land (the less dominant one) holding the meatball in your palm, use your right hand (dominant hand) to slap & pat the meatball to flatten it. Rotate the patty in your hand so that your right hand can have a full circle of good slapping and patting.
The toss and slapping of the meat will further tenderize the meat and make the burger juicer.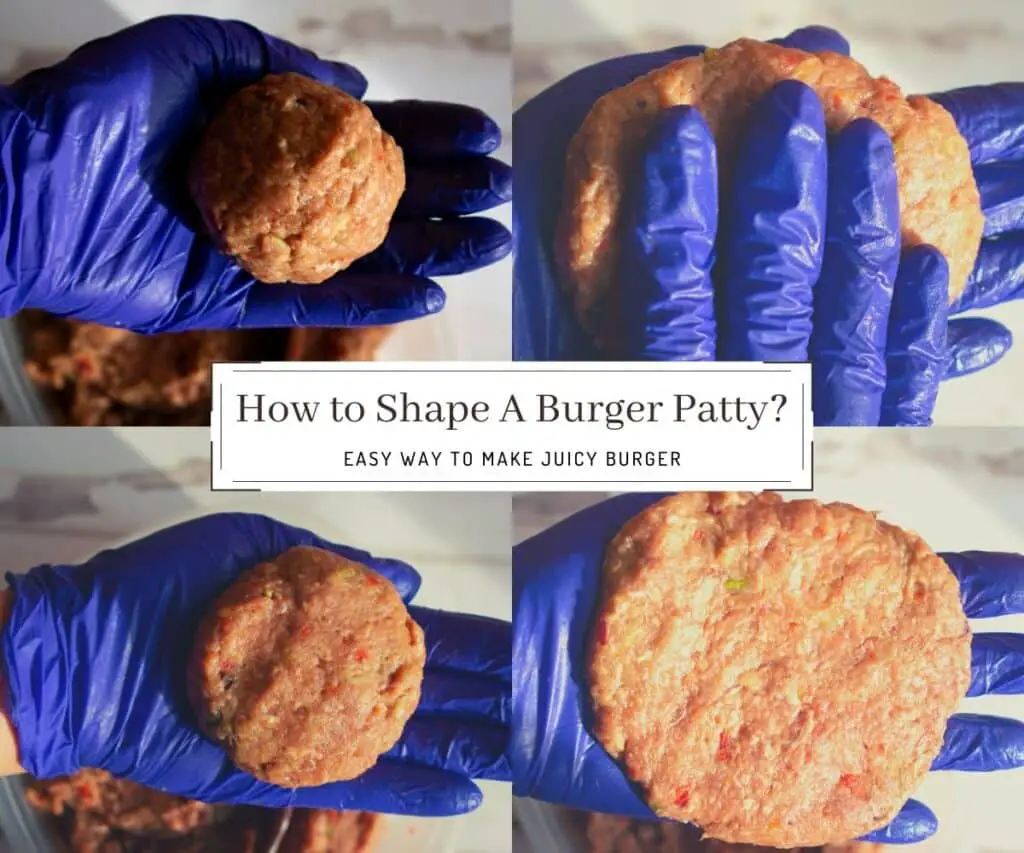 How to cook Burger Patty for a juicy burger?
Either use a grill or stovetop to cook the burger patty. When using the stovetop, I recommend using a quality hard anodized fry pan. Constructed with non-toxic material, it not only withstands high-temperature heat but also offers a much-needed non-stick function.
Turn the heat to medium and heat the pan for 1 minute. Place the burger patties into the pan and cook 2 minutes for each side to sear the beef first. After that, constantly flip the burger every minute initially and increased the frequency to every 30 seconds later, until the burger is fully cooked, about additional 6 minutes.
The initial cooking will sear the outer layer of the burger patty, which helps lock in the moisture of the meat, which leads to a juicier burger. The medium heat constant flipping cooking will ensure burger meat is cooked slowly and evenly.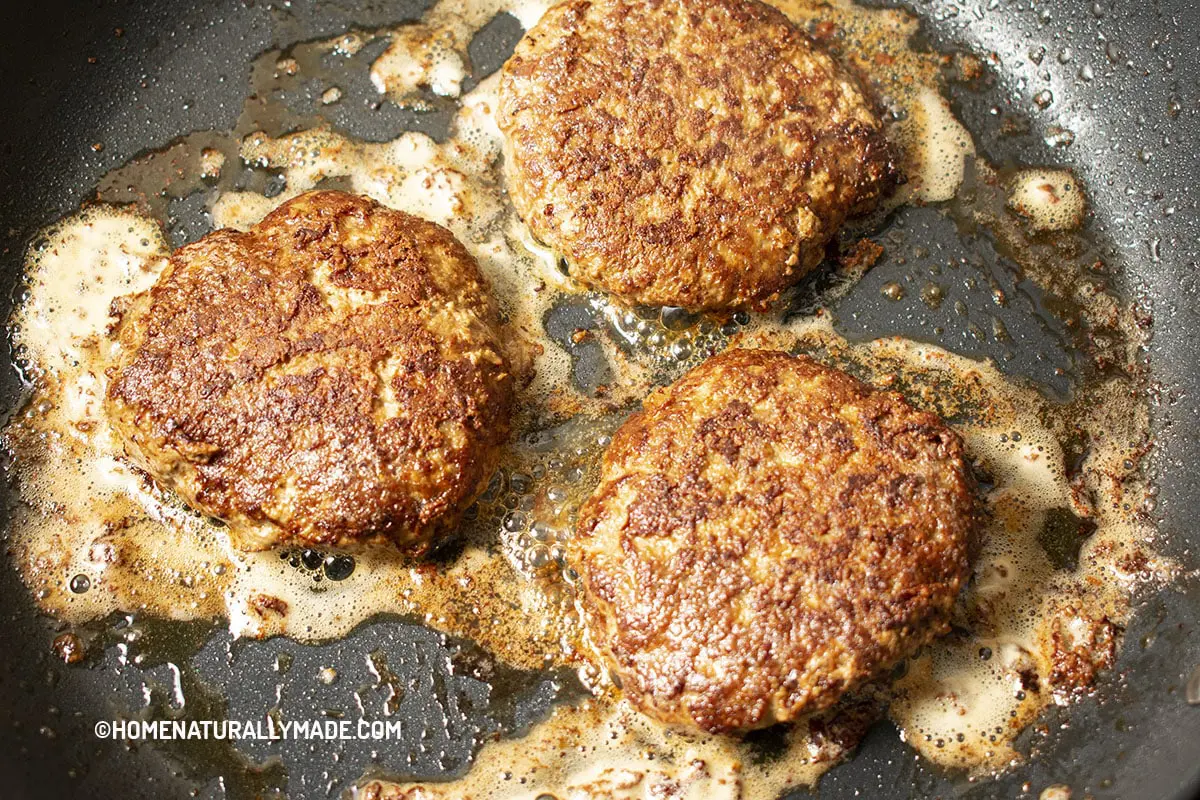 Like Burger? Check out Asian Fusion Burger Patty Recipe too. It taps a splash of traditional Chinese condiments such as Shaoxing wine and soy sauce to tenderize and flavor the beef. This recipe also incorporates additional vegetables such as red onion, celery, and red bell pepper for a healthier burger patty.
Homemade Dill Pickle is perfect to pair with the burger.