Home hand made Milk Bread Rolls using organic all-purpose flour is so fluffy and satisfyingly yummy. Perfect for breakfast, a side dish or a snack. One of my all-time favorites. And yes, you do not need bread flour to make this tasty milk bread rolls as long as you know a few tips and tricks on how to work on the all-purpose flour properly.
How to use all-purpose flour to make soft Milk Bread Rolls or any bread?
To use all-purpose flour to make milk bread or any bread is ultimately all about how to activate the gluten inside the flour fully and to a maximum degree. Bread flour is essentially flour having a higher gluten content. Gluten, when optimally activated, is the key to the softness. So how to activate the gluten inside the flour to the maximum effect?
Tip No.1 is to make a super stretchy dough first
First thing first is to make a dough without adding active dry yeast or butter. Cover the mixing bowl with a damp thick kitchen towel and let it rest for about 1-2 hours. The higher the surrounding temperature, the less time it requires. Therefore, you will probably need 1 hour during summer and 2 hours or maybe even a little longer during winter.
The purpose of this is to allow the gluten to be activated over the time. When the dough becomes super stretch, meaning you can easily stretch them out like a sheet, you know the dough is ready for next step.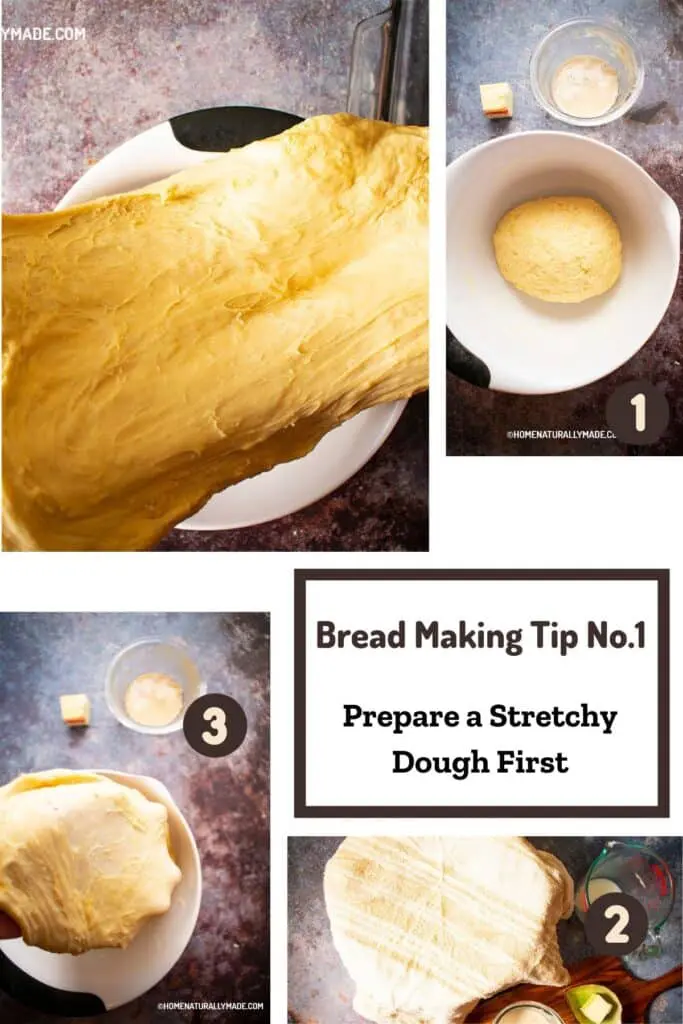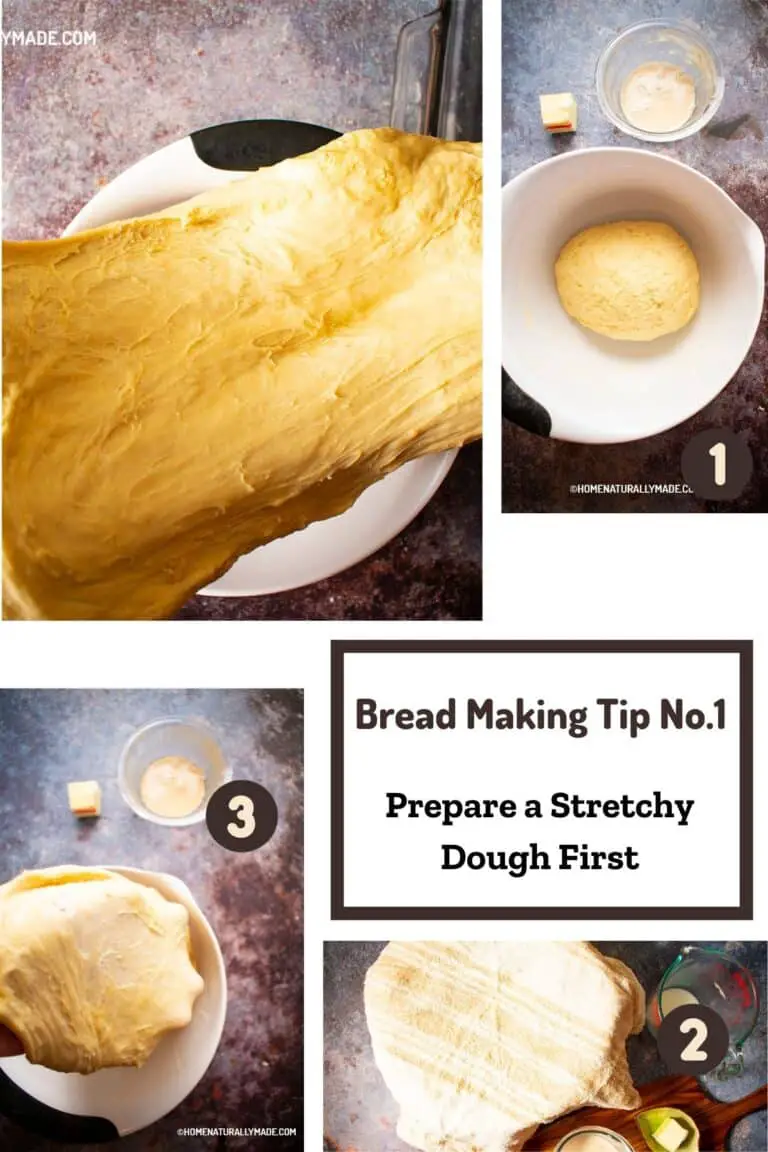 Tip No.2 is to chop down the dough and force them together for a few times for fluffy Mild Bread Rolls
Once you have a stretchy dough, fold the active dry yeast paste and butter into the stretchy dough. Knead the dough into one block, and then chop down into chunks using a dough cutter. Then force them together by kneading and pressing. Repeat this a few times.
This strengthens the bonding of the protein molecules, which ultimately leads to a more fluffy bread.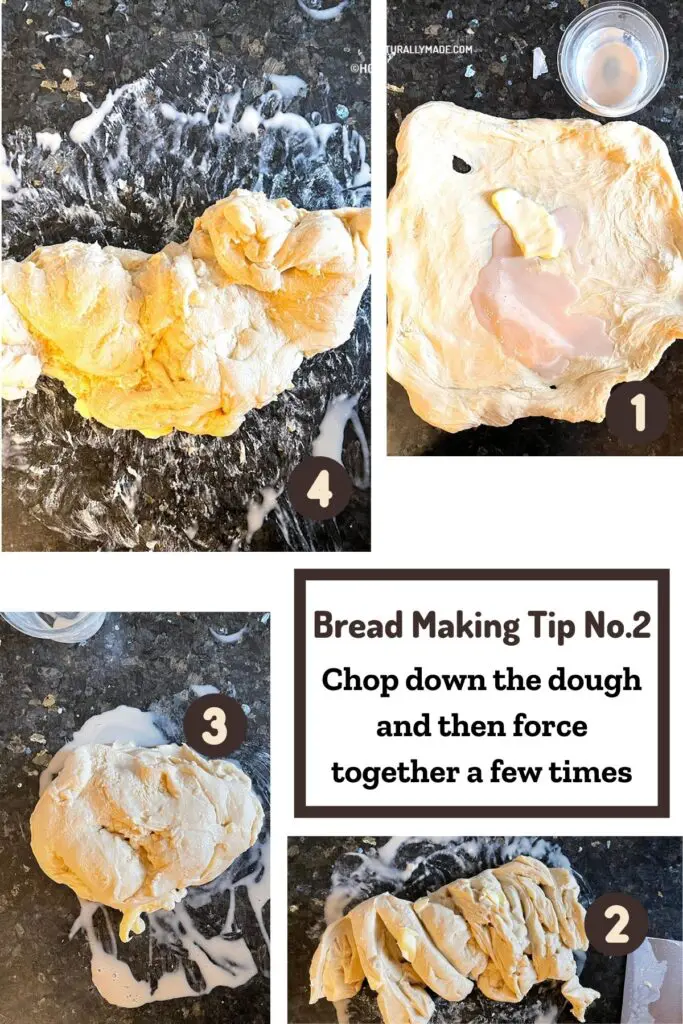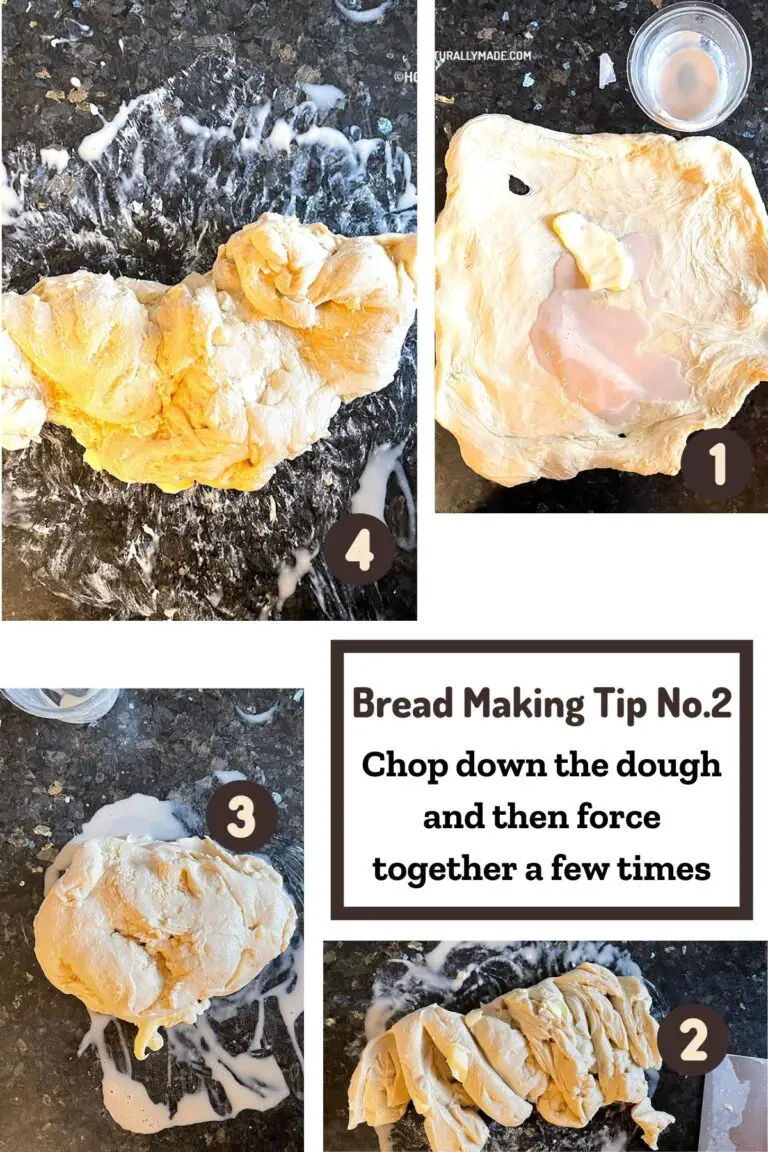 Tip No.3 is to slap the dough hard against a hard surface
You may feel the dough is very sticky, and may also see bits of butter is not fully blended. Don't worry. This third step of slapping the dough should take care of both situations.
Hold firmly one end of the dough and slap hard against a hard surface, such as a granite countertop. Knead into a long roll and continue to slap until the dough becomes smooth and has absorbed all active dry yeast paste.
The purpose of this is to further force the protein molecules to stretch out and smooth out, giving the bread that extra fluffy yumminess.
Once you a smooth fluffy dough, you are ready to fold it into the desired shape and let it proof.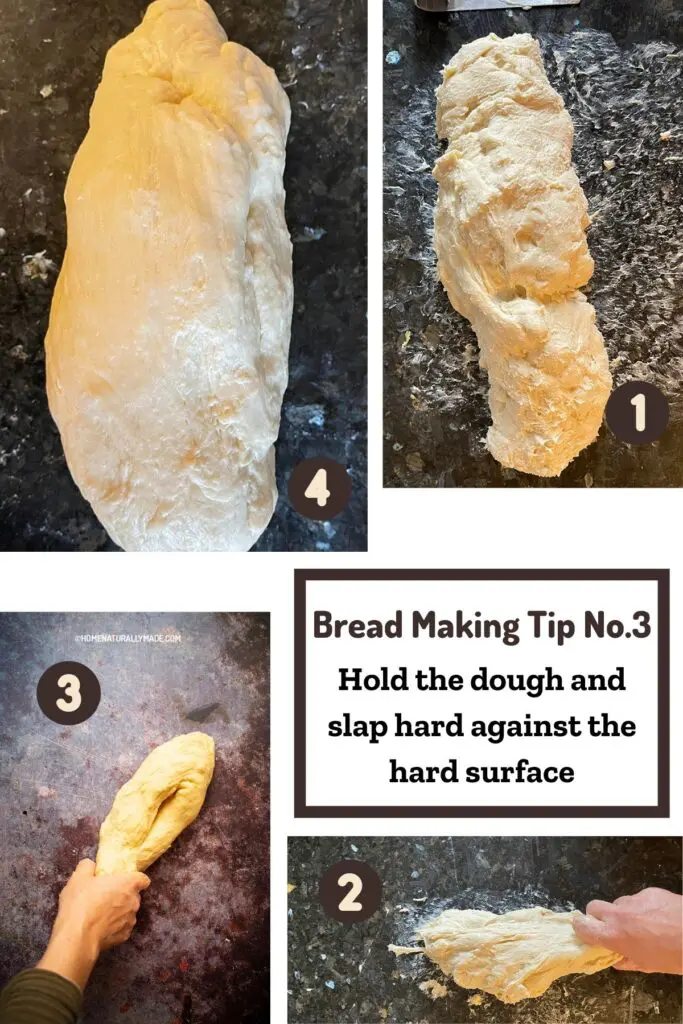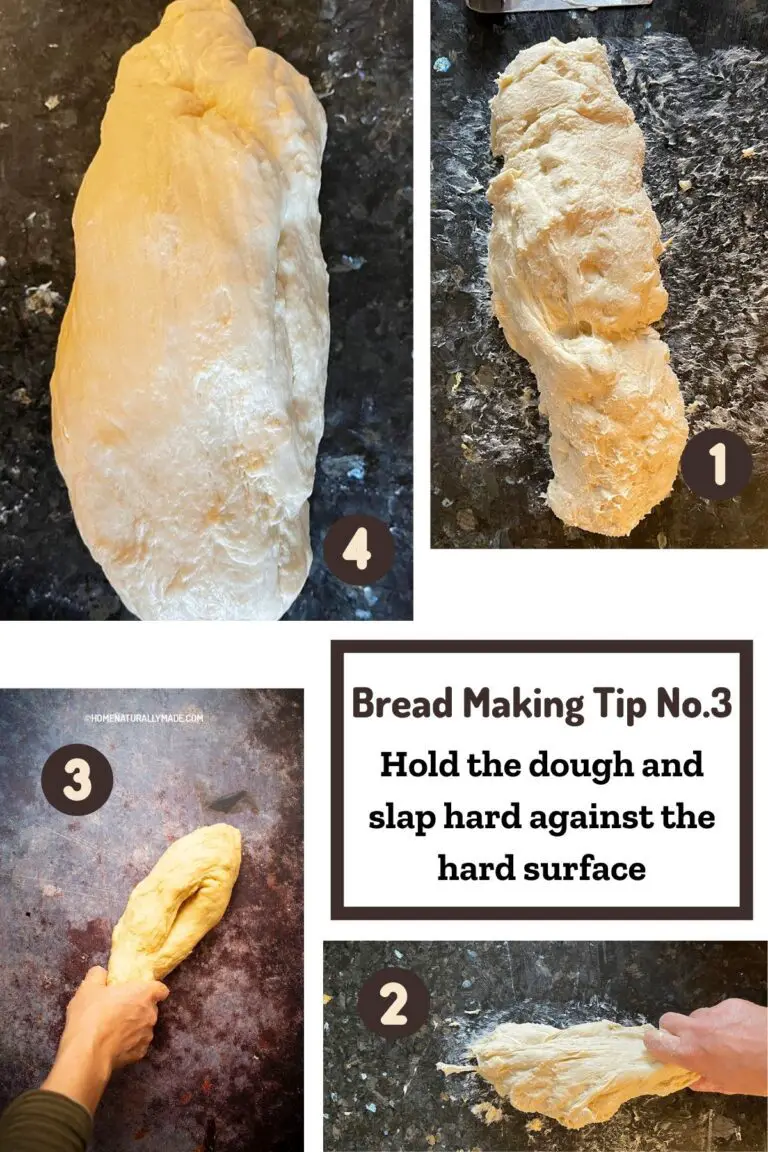 How to fold Milk Bread Rolls?
This recipe makes 12 milk bread rolls that can be fit into a 11-inch X 15-inch baking pan, or similar sized baking pan. I use an easy folding method which I used to make Chinese scallion pancakes or Chinese steamed buns flower rolls.
1). Divided the dough into 12 equal portions, each portion weighs about 96 grams.
2). For each portion, knead into a ball and then press using hands into a slab.
3). Using a rolling pin to roll out the slab into a thin sheet.
4). & 5). Starting from one end of the dough sheet, roll the sheet into a cylinder roll.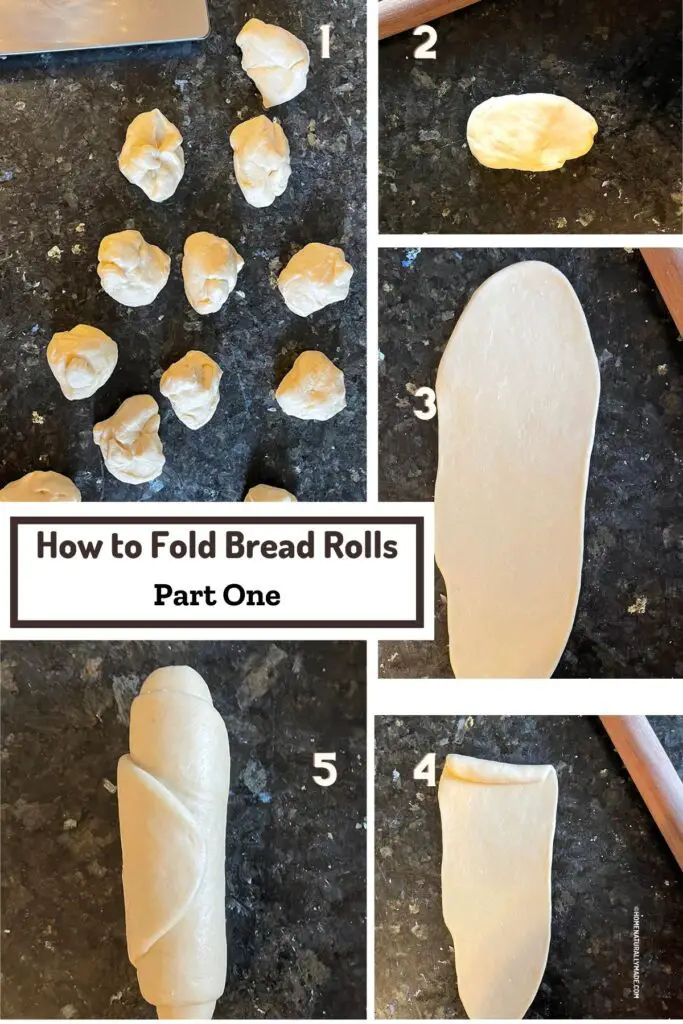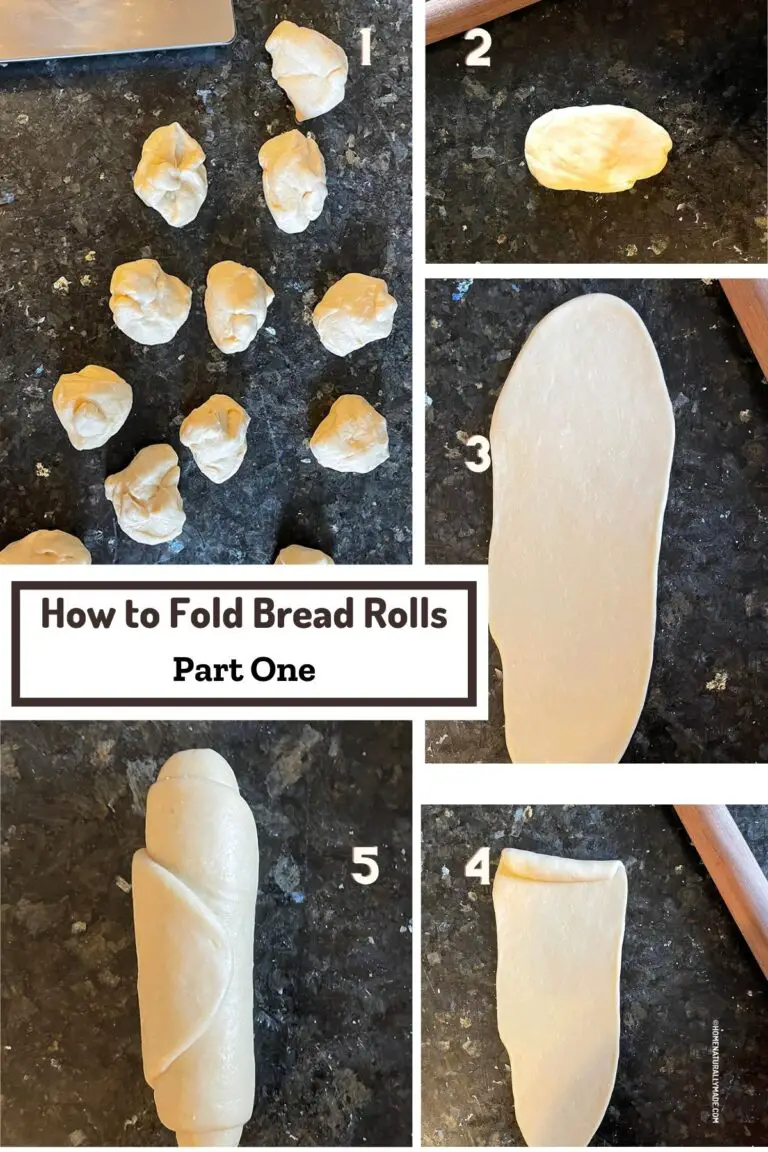 6). Using a rolling pin to flatten cylinder shaped dough long into a strip. Each hand holding on one end of the dough strip, pull on opposite direction to stretch and prolong the dough strip.
7). & 8). Twist the dough strip.
9). With the less dominant hand still holding on one end of the twisted dough strip, the other hand while still holding the dough, orbiting around the other end of the dough to make a full circle. Make sure the end position is beneath the circle, so that you can push the end upward out through the center hold.
Congratulations! You've just folded one bread roll. Repeat this to finish all 12 rolls.