Easy Country Bread featuring organic all-purpose flour and a splash of organic whole wheat flour is so naturally yummy and healthy. This homemade artisan bread is perfect for breakfast or side dishes.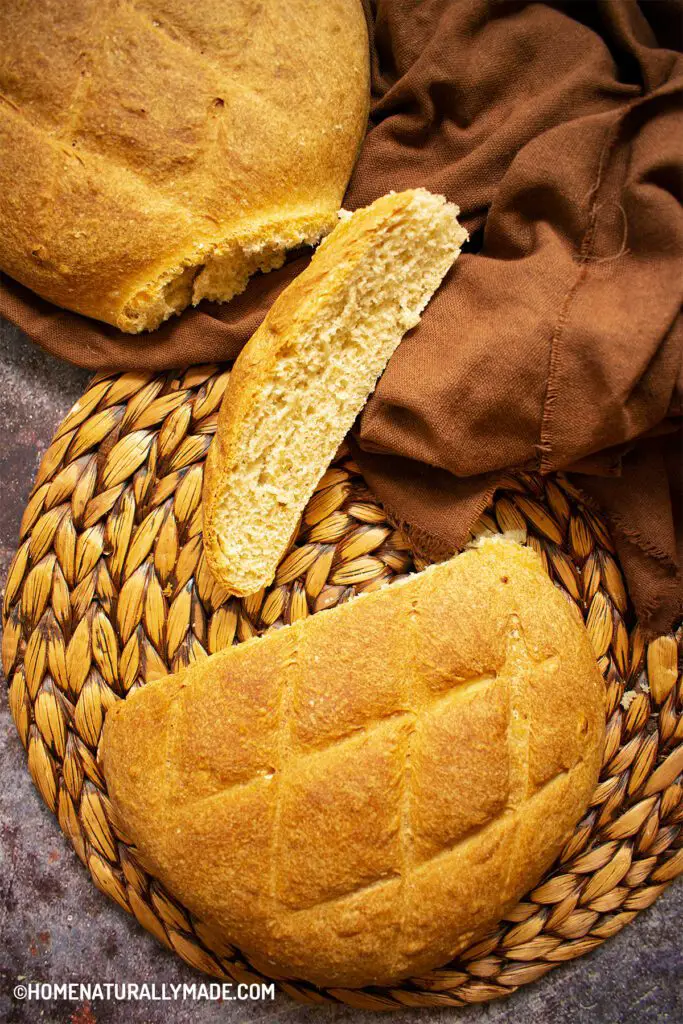 Country Bread Recipe Frequently Asked Questions:
What is a country bread?
They feature a thick crust and a rustic look, usually in the shape of rounds. A splash of whole wheat flour is often used, which lends French Country Bread a satisfying substantial flavor and taste.
Do I need bread flour to make bread?
The short answer is no, all-purpose flour is all you need as long as you know a few tips and tricks on how to work the flour properly and how to leverage the active dry yeast to its maximum strength.
How to make a thick bread crust?
When there is sufficient steam circulating inside the oven while baking the bread, it will help the bread form a thick crust. I usually just place a small baking pan in the lower rack holding a few ice cubes. It will do the trick.
How to make country bread easy and yummy?
It is super easy to make this nutritiously delicious bread, a straightforward 4-step process.
Step 1 is to make a starter and rest for 2 hours
Add half a teaspoon of active dry yeast to a small glass bowl, along with about 1/2 cup of water, mix & blend until the active dry yeast is all dissolved into a smooth consistent paste.
Dissolving the active dry yeast first is the ultimate key to making fluffy bread or buns, which is the secrete to unleash the maximum strength of the active dry yeast.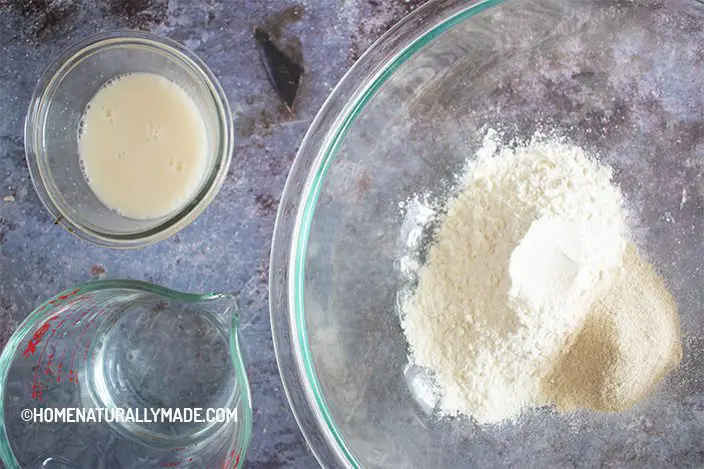 Mix all-purpose flour, a splash of whole wheat flour, the yeast paste you just mixed, and water. The starter looks like a thick batter. Cover it with a damp kitchen towel and let it rest at room temperature for 2 hours.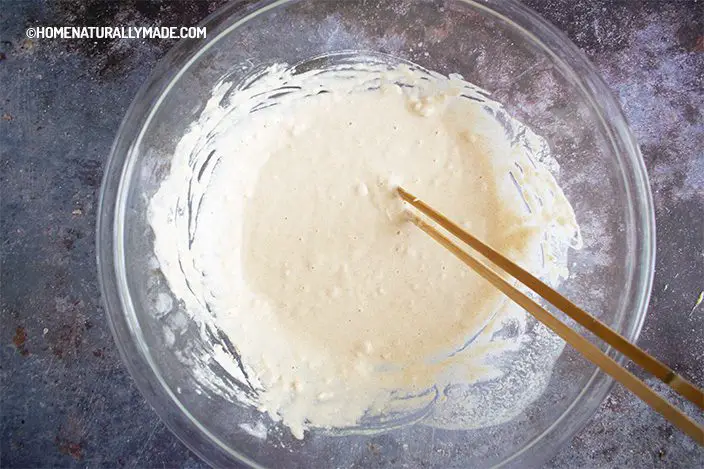 After two hours of proofing, the starter has almost doubled its size and is bubbling.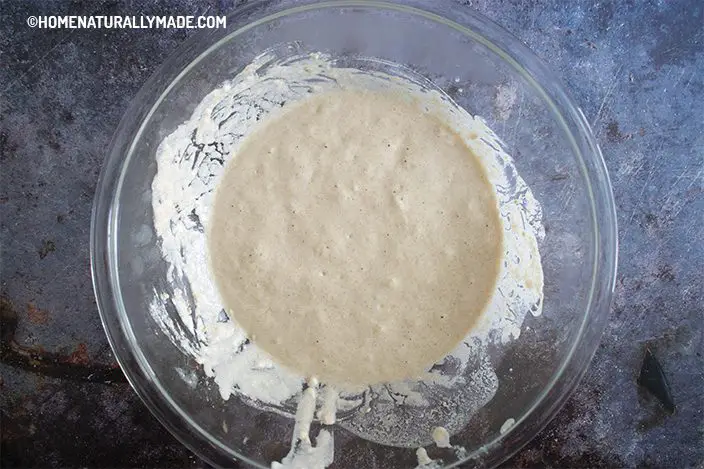 Step 2 is to make a thicker batter and rest for 30 minutes
Add one teaspoon of active dry yeast to a small bowl, add water and make a smooth consistent paste.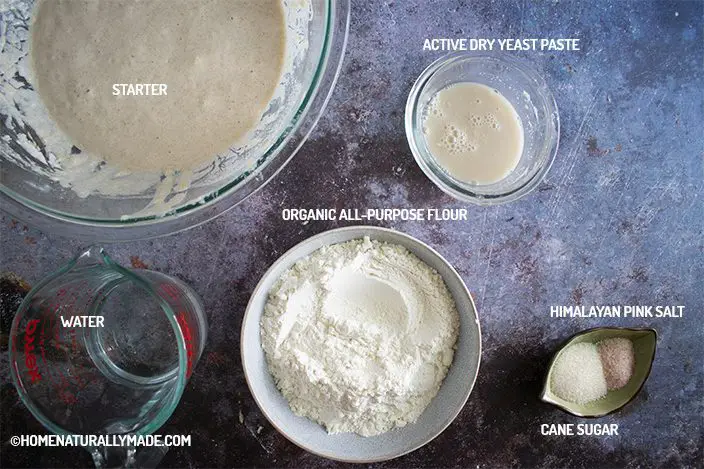 Add the yeast paste you made along with flour, sugar, and salt to the starter bowl. Use your hands to pull the dough apart and then knead or press it together. Add water gradually and repeat until you form a thicker batter.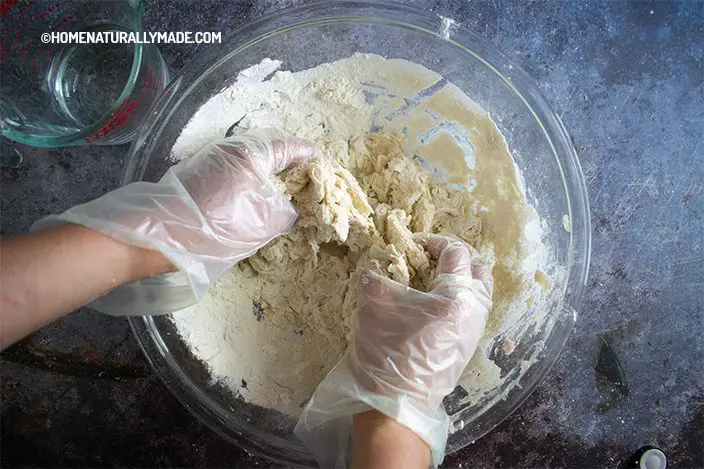 This batter should look thicker than the starter. Cover it with a damp kitchen towel and let it rest for 30 minutes.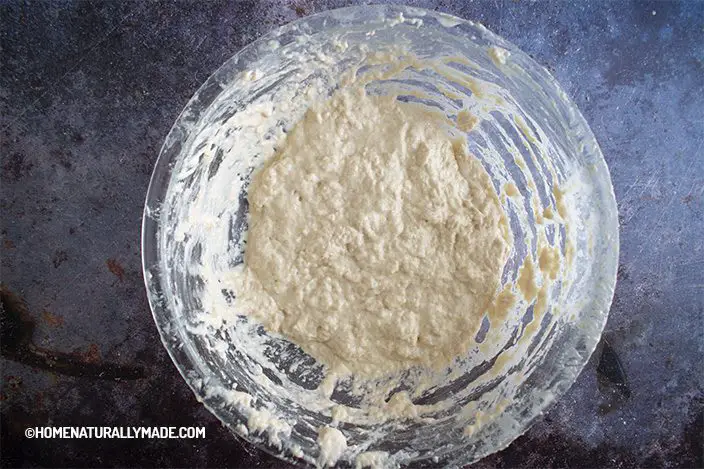 After 30 minutes of rest, the batter looks puffy, and you are ready to proceed to the next step which is to blend it with extra flour and make a sticky dough.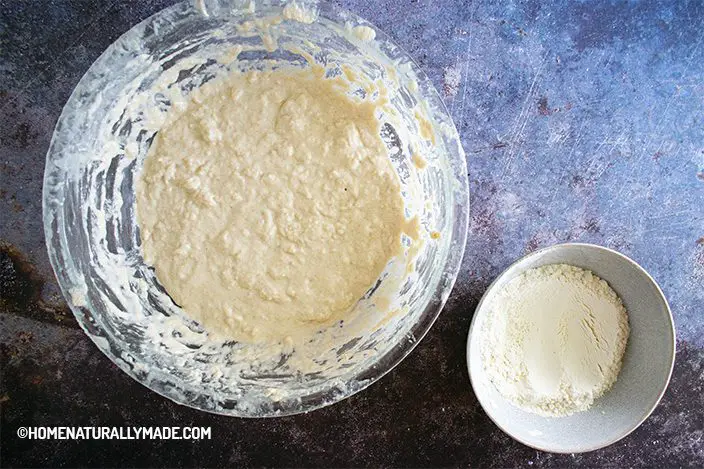 Step 3 is to make the soft bread dough and rest for 2 hours
Add extra flour to the mixing bowl and form a sticky dough. The dough is super stretchy by now already.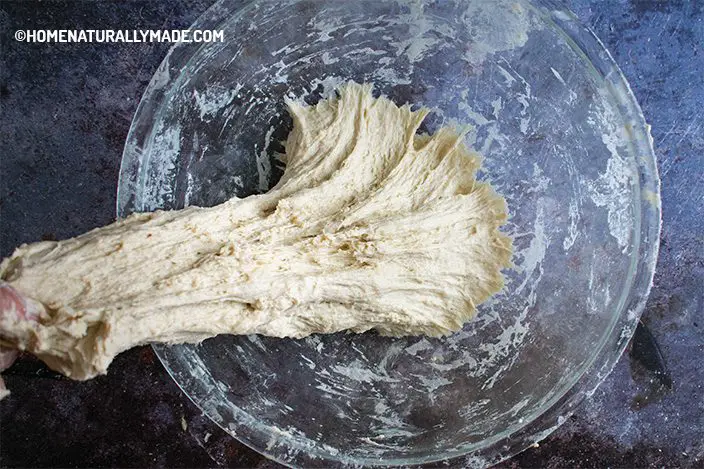 Hold the dough in one hand and then slam it against a hard surface, such as a kitchen countertop. As you slam the dough, it stretches out and becomes smooth.
By the way, the more you slam the dough, the smoother and softer the bread will become. If you preper a rough texture, then skip the slaming step.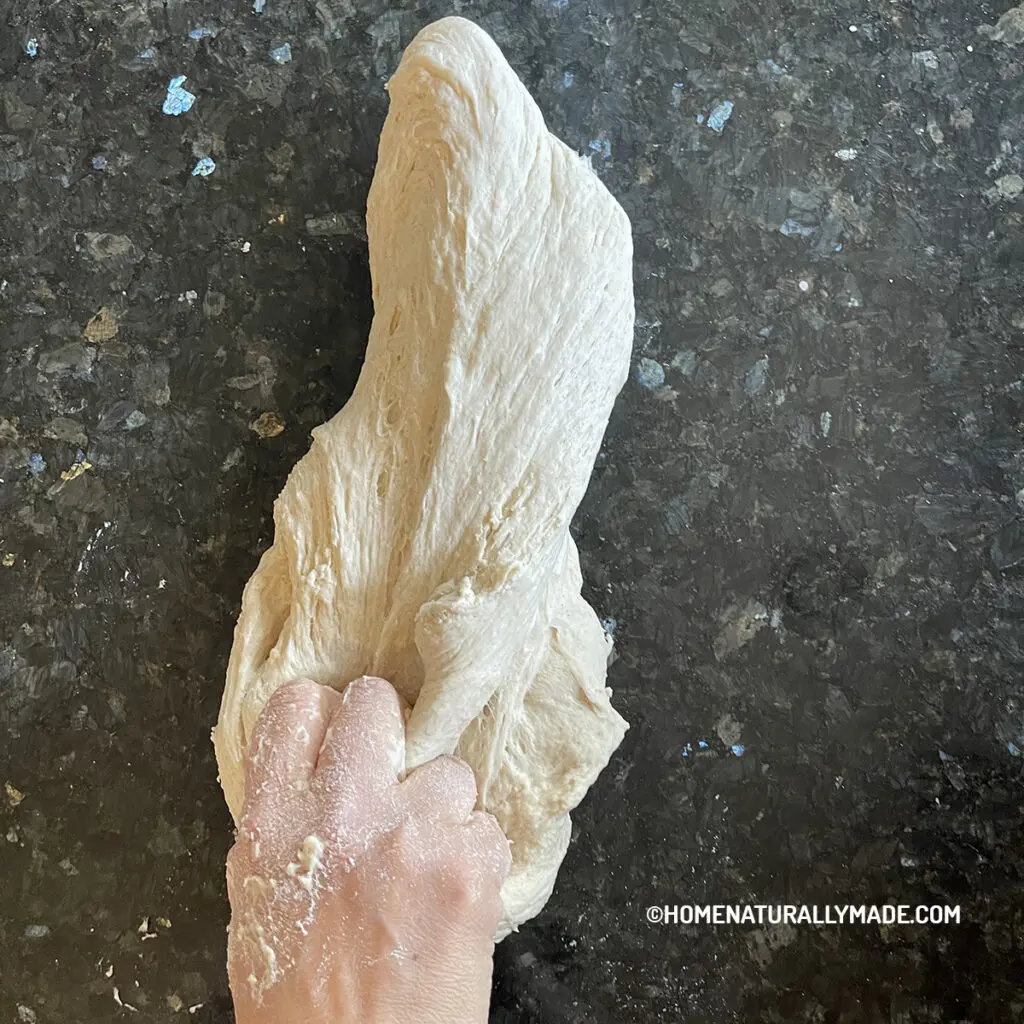 Divide the dough into two equal portions. For each portion, roughly fold into a ball shape and use two hands to make it round and tall. Place them on a coconut oil greased baking pan. Let them rest for 2 hours, ideally in an enclosed area.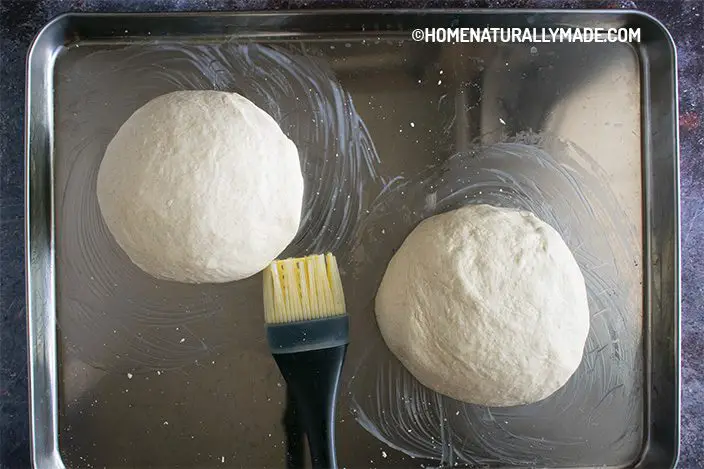 Toward the end of two hours, the dough doubles its size.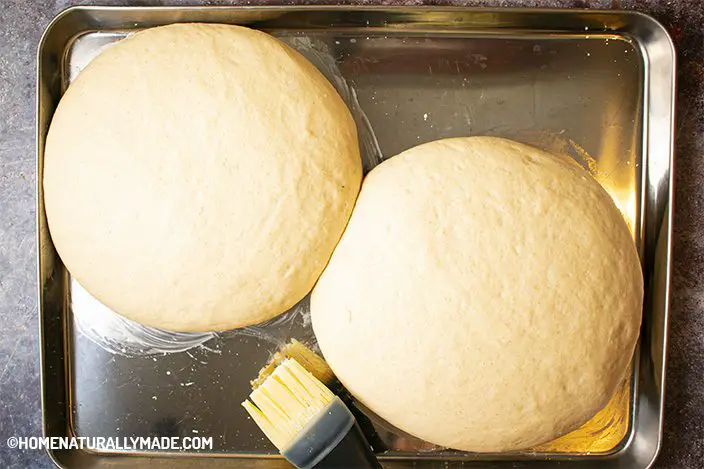 Final Step 4 is to bake the bread
Preaheat the oven to 475 F, and then lower to 425 F and bake for 35 minutes. Place about 6 ice cubes in a small pan in the lower rack. Remember to score the bread right before you place them in the oven using a lame or a knife.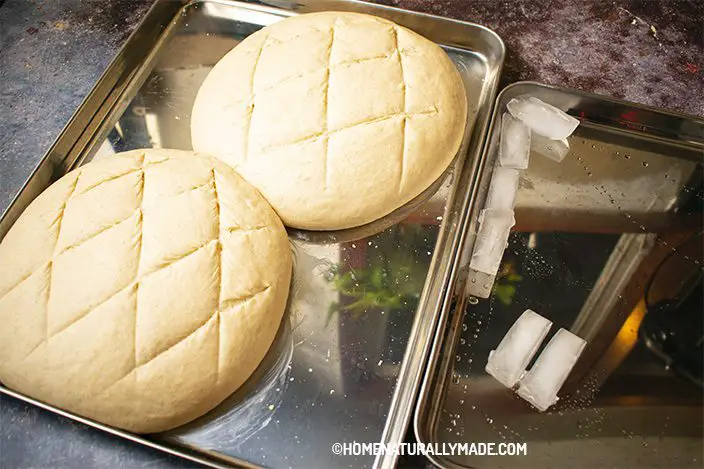 Enjoy a yummy homemade artisan country-style bread!