Italian Panettone is made easy at home using organic ingredients. It features a golden yellow soft bread cake filled with raisins and dried apricots. The iconic sweet citrus smell and flavor are simply unstoppable.
I am always fond of Panettone, and used to wait for the entire year until Christmas to buy from the stores. Not anymore. With this recipe, I can surely enjoy an authentic, classic, and healthy Panettone anytime I want.
Since making Panettone takes a rather long time, I usually double or triple the recipe and make two to three at a time. Don't get me wrong, the active working time is merely about 30 minutes and they are super easy steps too. The rest is just waiting. Quite like real-life circumstances, you do the right thing and then just have to be patient and wait, and let things pan out beautifully.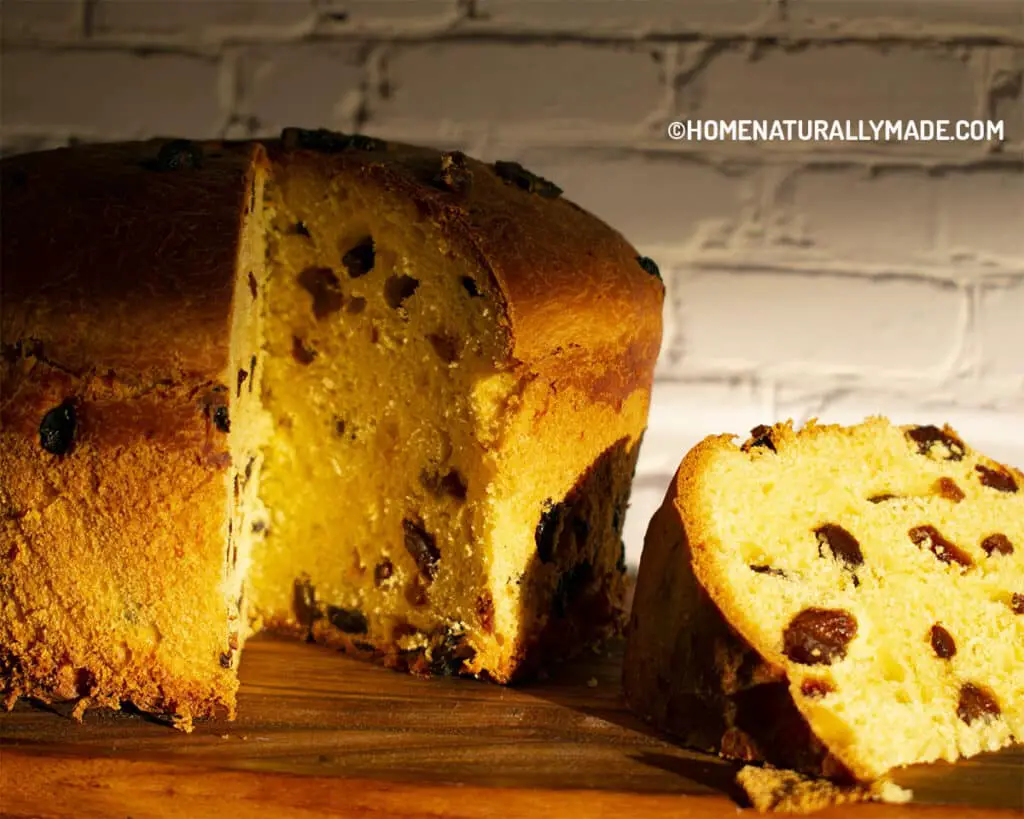 Milan Artisanal Panettone
Our family visited Milan Italy around Christmas time in 2022. That was when I learned so-called Italian Panettone is more specifically from Milan. Needless to say, I tried lots of Panettone while we were there.
Compared to my panettone, the ones I bought in Milan are generally taller. Nevertheless, it is a bit challenging to bake such a tall panettone in a regular residential oven. Therefore, I stick with my relatively shorter panettone. Nevertheless, the flavor and texture of my panettone are spot on, and super nutritious and healthy.
What do you need to make Italian Panettone easy and delicious at home?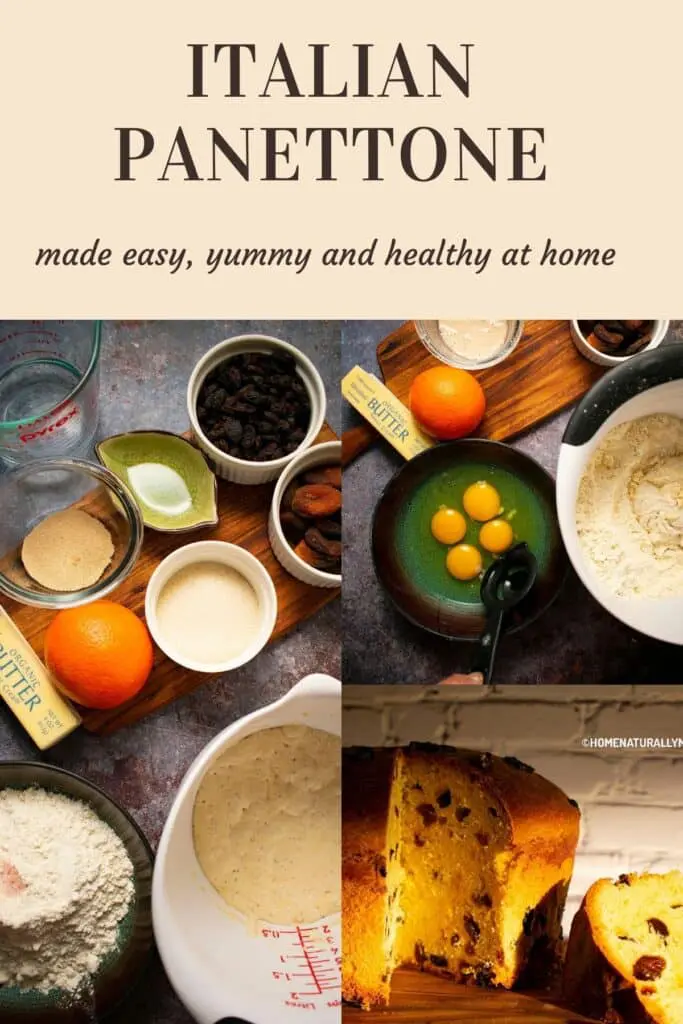 This recipe starts with an overnight starter using organic all-purpose flour, active dry yeast powder, and water.
For the main dough, you will need additional organic all-purpose flour, active dry yeast and water. You will also need egg yolks, sugar, a pinch of salt, and butter. You can thank egg yolks for the golden yellow hue of the Panettone.
Regarding dried fruit, organic raisins and organic dried apricots work great together. For dried apricots, make sure you get all-natural sun-dried and unsulfured apricots.
Citrus blossom super extract is an all-natural flavor extract conveying this iconic sweet & pleasant citrus smell and flavor. I also use an additional sweet orange zest to further enhance the orange aroma. Use a citrus zester to help with the process.
How to make Italian Panettone easy, yummy and healthy at home?
The first is to make the an-overnight starter
Make a starter the night before. Form a small sticky dough using a bit of active dry yeast, cover it with a damp kitchen towel, and let it rest at room temperature overnight.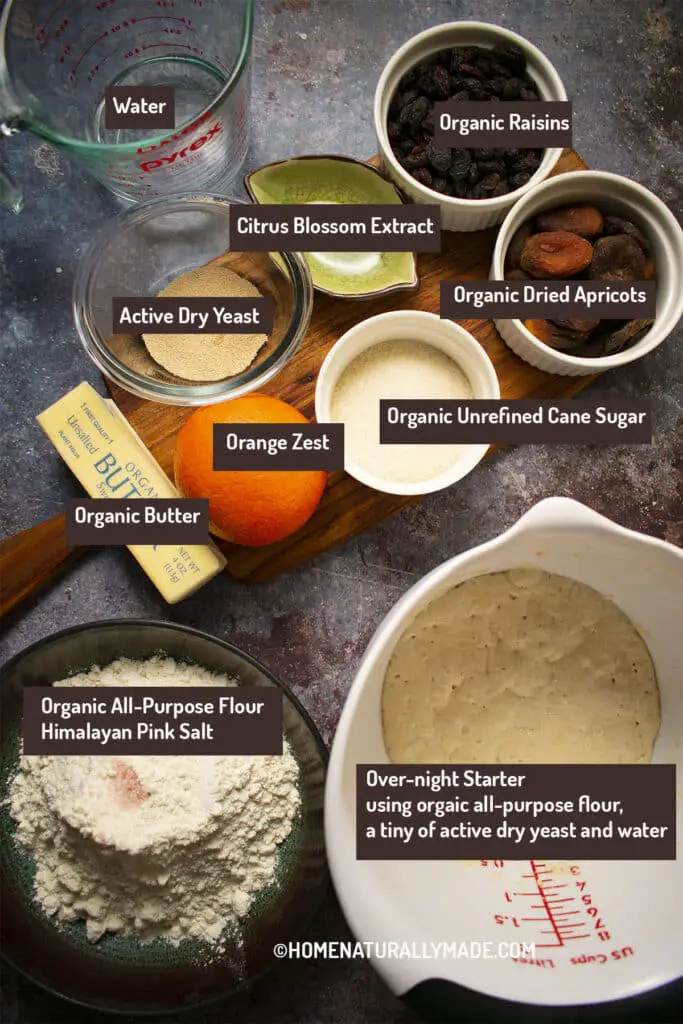 Essential tip for using active dry yeast:
Dissolve active dry yeast in room temperature water first. Stir and let them fully dissolve so that the mixture turns into a smooth paste. This will ensure yeast will work out to the maximum strength. This is one of the key secrets for fluffy pork buns, red bean buns, and more. Never put the dry yeast powder into the flour directly.
Second is to make the main dough a stretchy dough first before adding yeast paste or butter
Make a smooth dough using the starter, organic all-purpose flour, water, a tiny pinch of salt and organic unrefined cane sugar. Cover it with a damp kitchen towel and let it rest at room temperature for about 2 hours. If the surrounding environment is super hot, say over 80 degrees Fahrenheit, you may only need less than 1 hour to complete the process.
This step helps fully activate protein molecules inside the flour. The dough becomes very stretchy and can wrap around your hands like gloves. This is one of my ultimate tips for soft bread.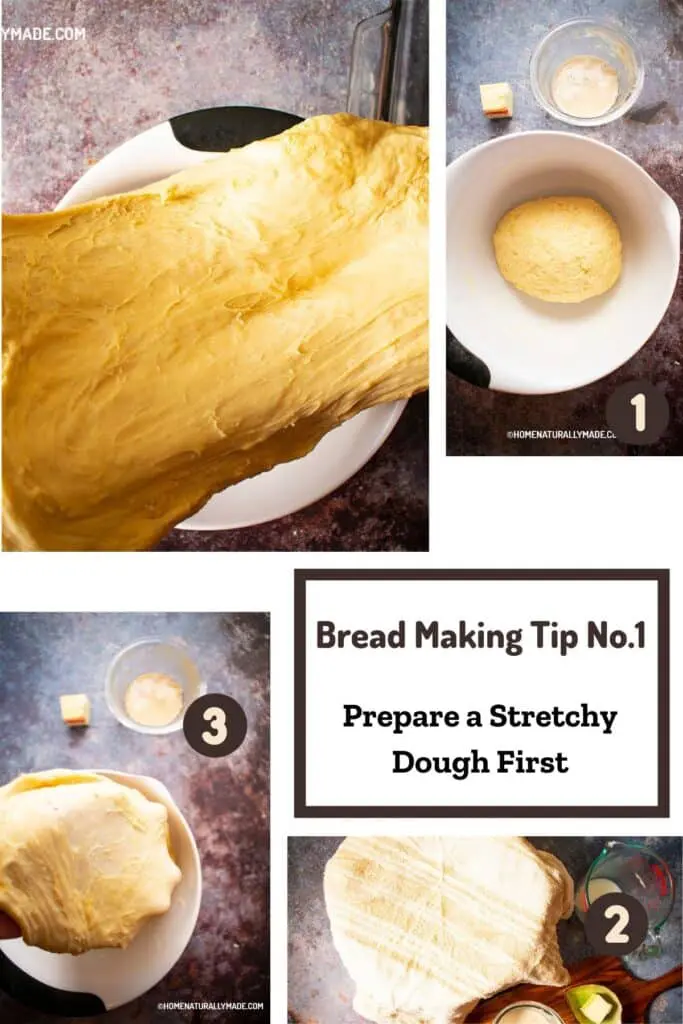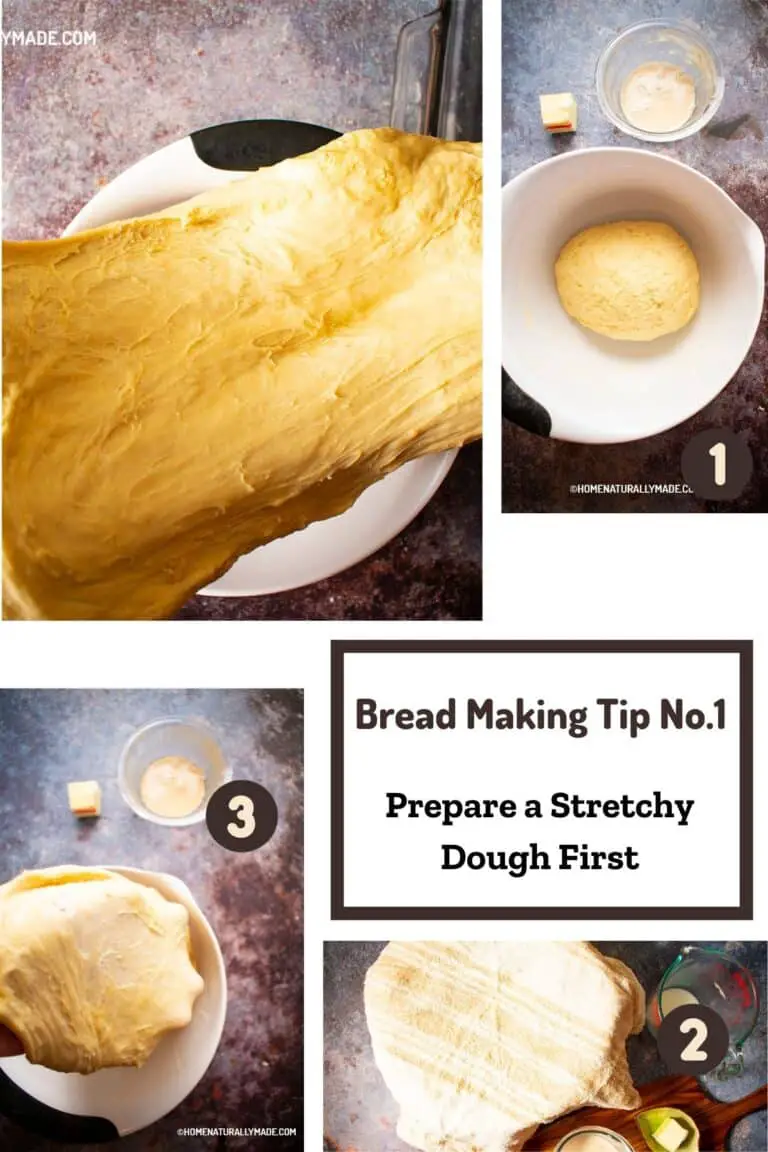 The third is to work on the stretchy dough hardcore
Once you have the stretchy dough, spread the dough into a sheet and add the active dry yeast paste and softened butter in the middle. Fold the dough to wrap the yeast paste and butter inside.
You then press and knead the dough for a few minutes. Following that, use a dough cutter to chop down the dough into several small portions and then reinforce them together into one block. Do this a few times.
This step strengthens the bonding of the protein molecules, which ultimately leads to a more fluffy bread.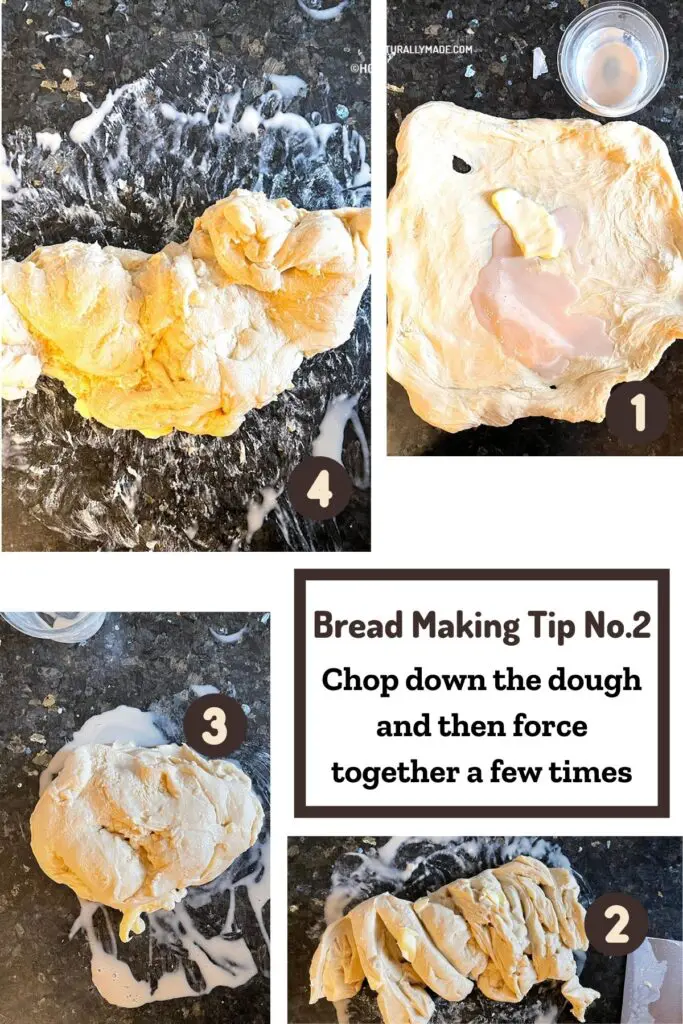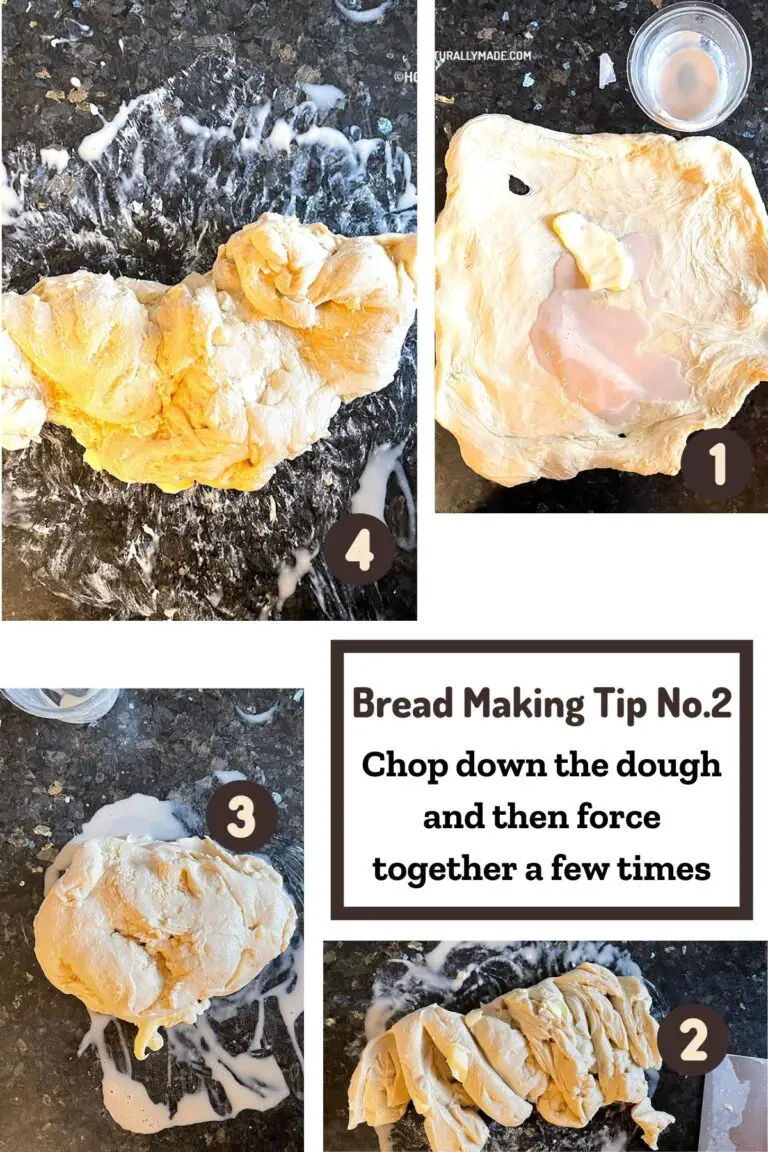 At this point, you may feel the dough is still very sticky, and may also see some butter is not fully blended yet. Don't worry. The following step of slapping dough shall take care of both situations.
Hold firmly one end of the dough and slap it hard against a hard surface, such as a granite countertop. Knead into a long roll and continue to slap until the dough becomes smooth and has absorbed all active dry yeast paste and butter along the way.
When making Milk Bread or Milk Bread Rolls, this step may only take about 5 minutes. For Panettone, since we use much more butter, it will take much longer, about 15-20 minutes.
The purpose of this is to further force the protein molecules to stretch out and smooth out, giving the bread that extra fluffy yumminess.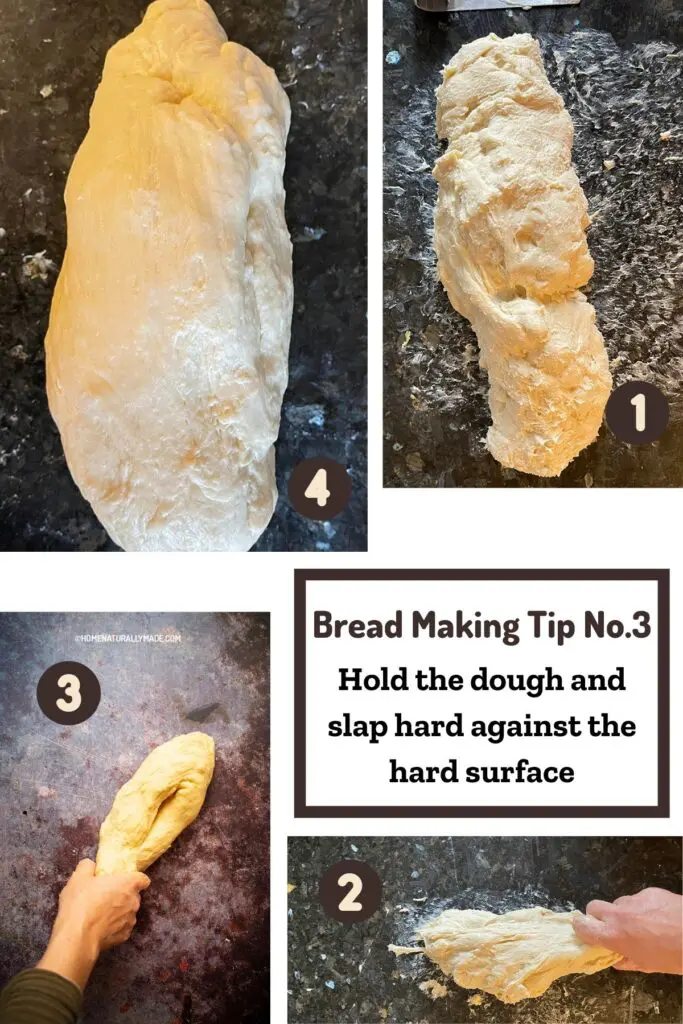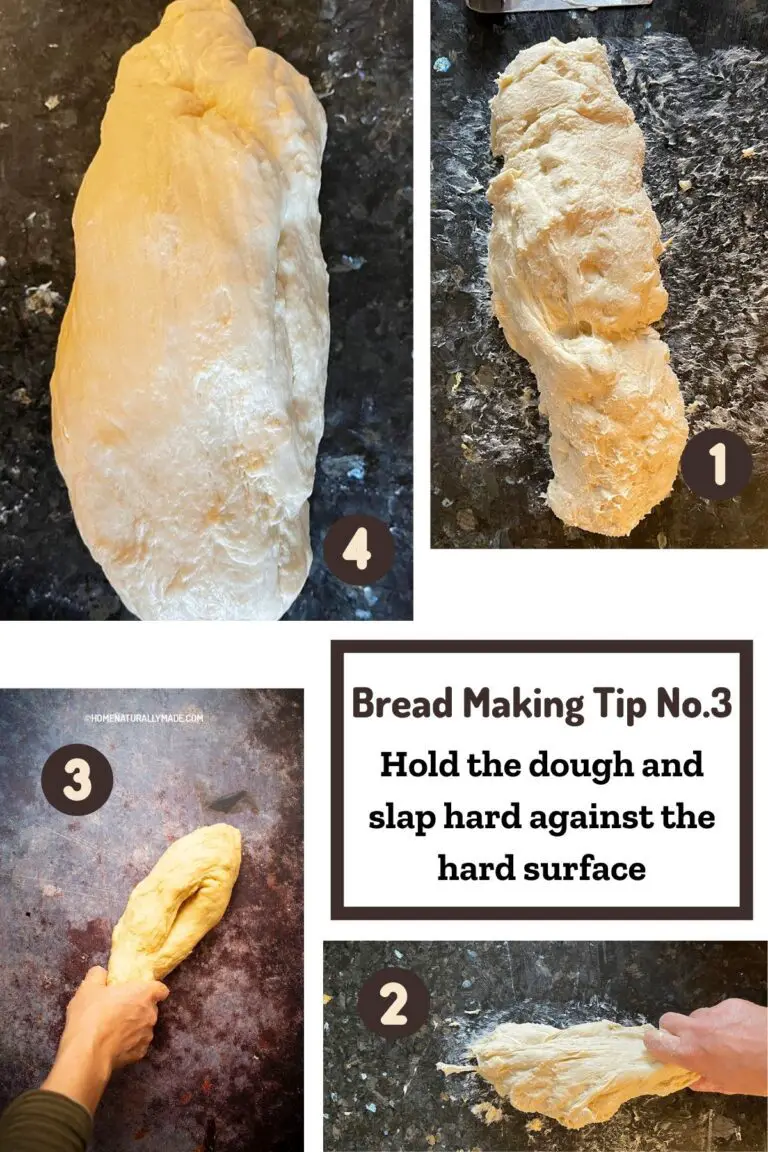 Fourth is to mix the dough with dried fruit and orange zest and let it rise
Once you have a super a smooth, soft and stretchy dough, fold in the dried fruits, orange zest and a tiny pinch of citrus blossom super extract. Knead to blend everything evenly.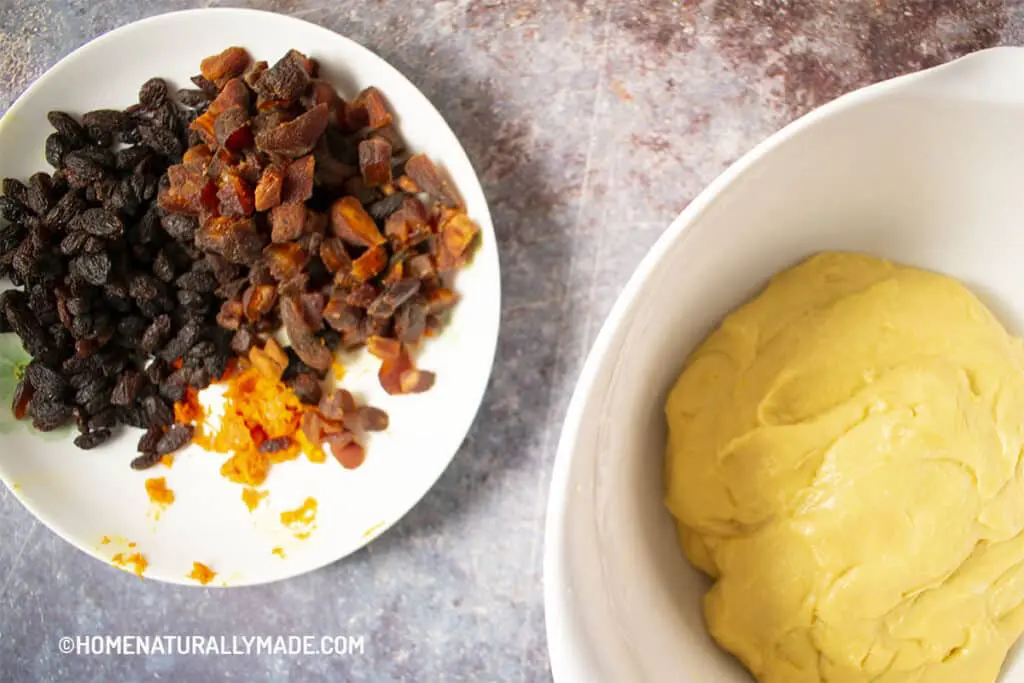 Organize the dough into a ball shape and place into a round glass baking dish that was previously greased generously with coconut oil.
Let the glass dish stay within an enclosed area, either within microwave or oven, for up to 4 hours, or till it doubles its size.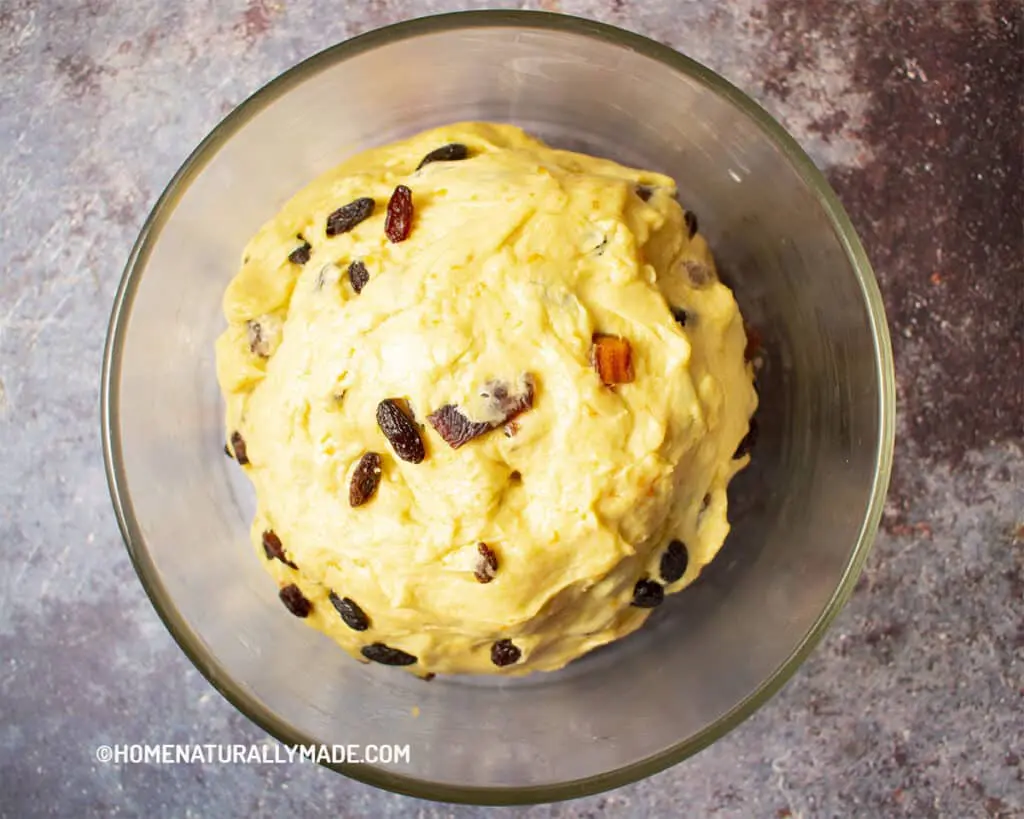 Last but not least is to bake the Italian Panettone properly
Panettone is taller than most bread, which makes them more challenging to bake. Follow the below guidance and you shall bake a perfect Panettone with ease:
Preheat the oven to 400 F degree and bake for 10 minutes.
Reduce the temperature to 375 F degree and bake for another 10 minutes.
Reduce the temperature to 350 F degree and bake for 35 minutes.
Immediately remove the Panettone from the oven once the baking is done and let it cool on a wire rack.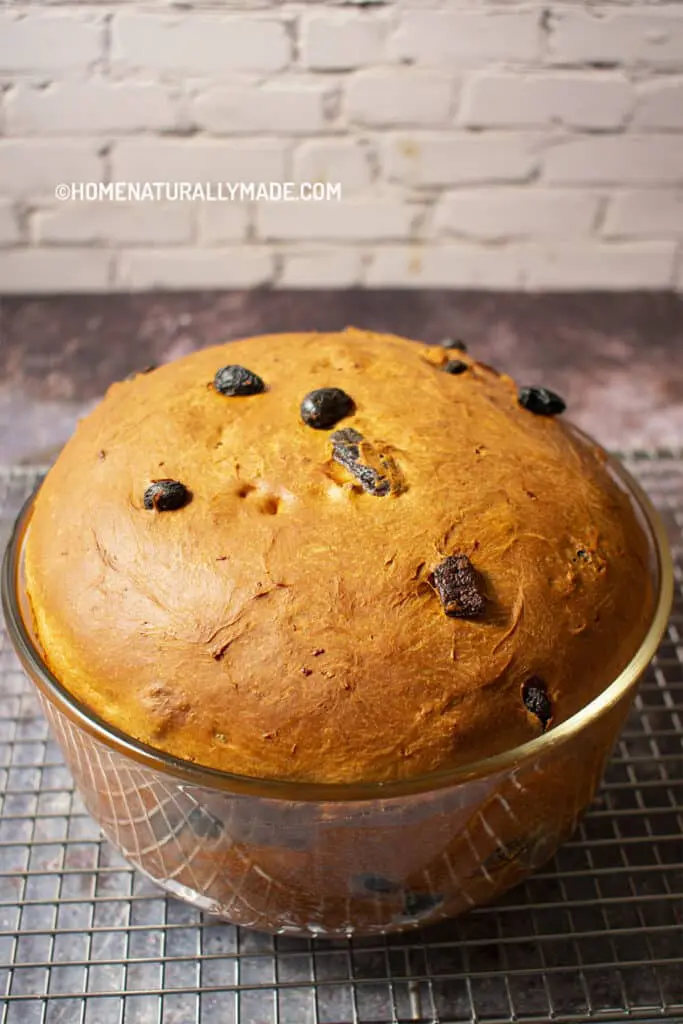 Let the Panettone cool down, and then use a knife slice along the edge of the glass dish to separate the Panettone. You can then release the Panettone fairly easily.
Enjoy a super yummy and healthy classic Italian Panettone.