This is perhaps the best homemade mashed potatoes. So easy to make with simple whole ingredients, naturally creamy and delicious. It is also vegan adaptable by swapping out butter with coconut oil, and milk with rice milk. Perfect to eat by itself or pair with Swedish meatballs or other dishes.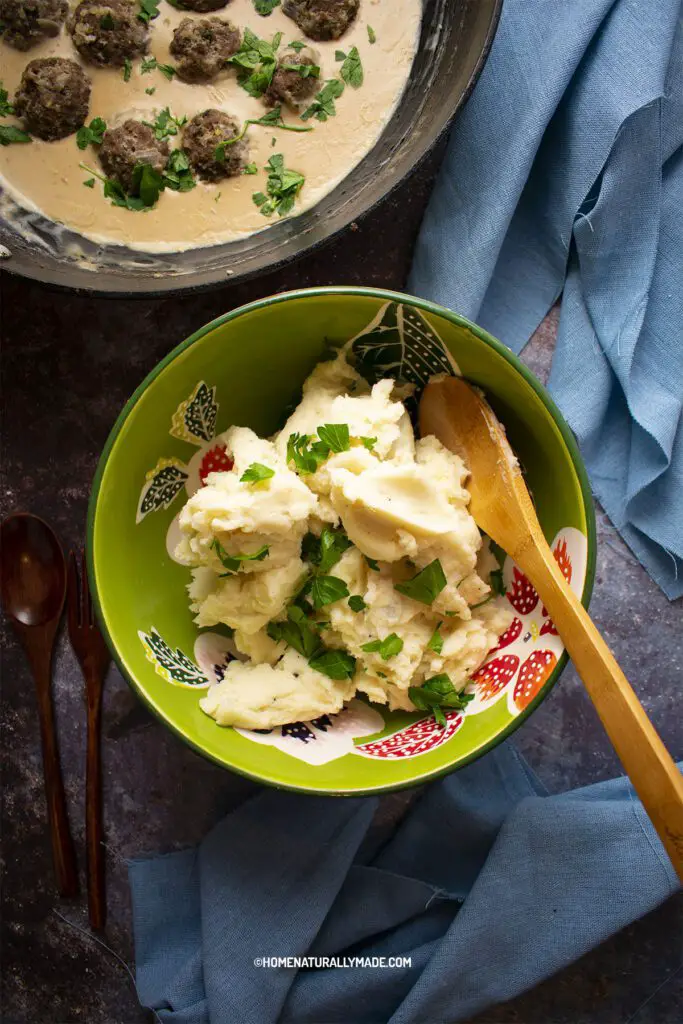 How to make mashed potatoes?
At a high level, all you need to do is to boil the potatoes, mash them and then blend them with seasoning. However, how you boil the potatoes and how long you boil the potatoes make a huge difference in terms of the taste.
Peel and cut potatoes into large chunks. Bring a large stockpot filled with 75% water to a boil and then add potato chunks. Cook at medium-high heat for 10 minutes and low heat for 10 minutes.
Use a chopstick to poke through the potatoes to make sure they are softened and fully cooked.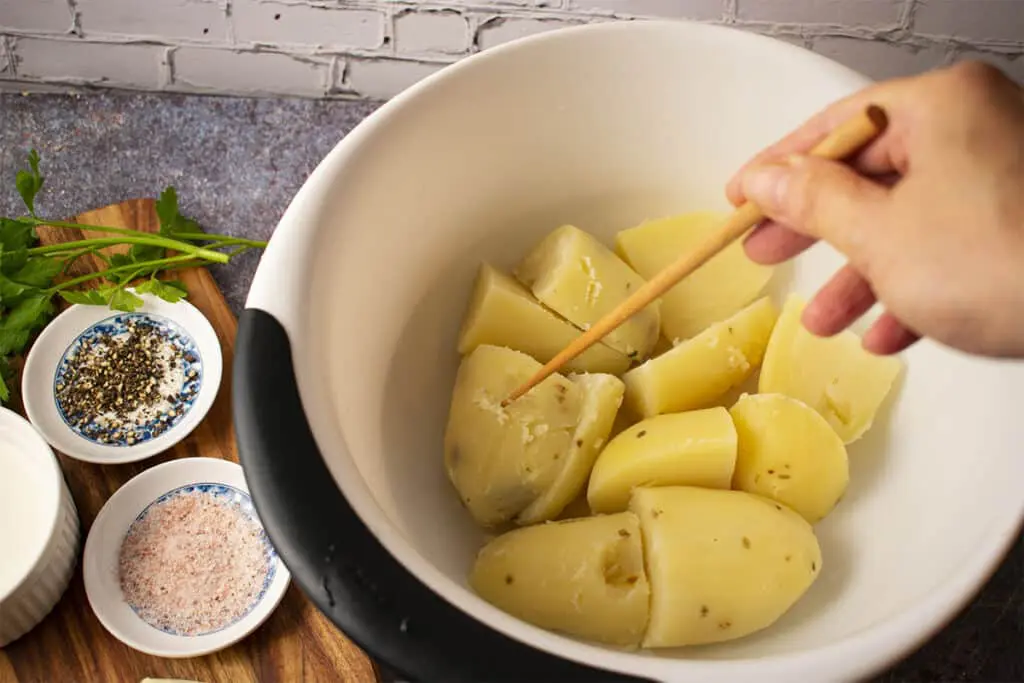 Mash the potatoes while they are hot together with butter, salt, black pepper, and minced garlic. Add milk and use a silicone spatula to cream it.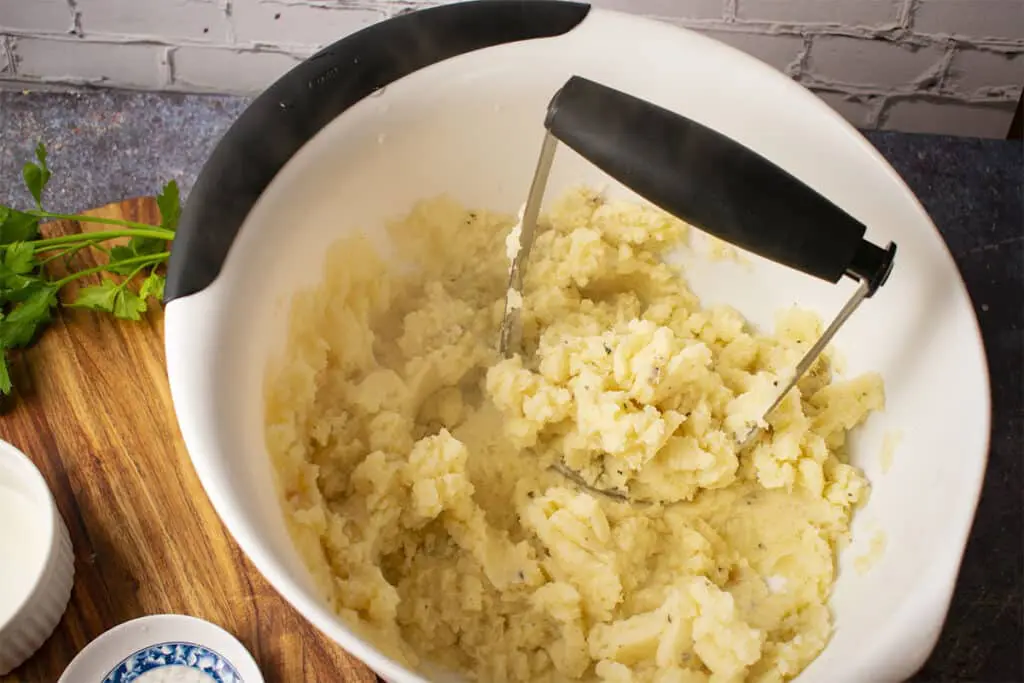 How to boil potatoes for creamy tasty mashed potatoes?
The first thing first is to cut potatoes into chunks
It helps cook the potatoes evenly, which is the key to creamy mashed potatoes. However, you don't want to cut into overly small pieces so they get melted away in the water during the boiling process.
When using large Russet Potatoes, cut each potato first horizontally and then vertically, making it 4 chunks is about right. For smaller golden potatoes or white potatoes, cut them into halves.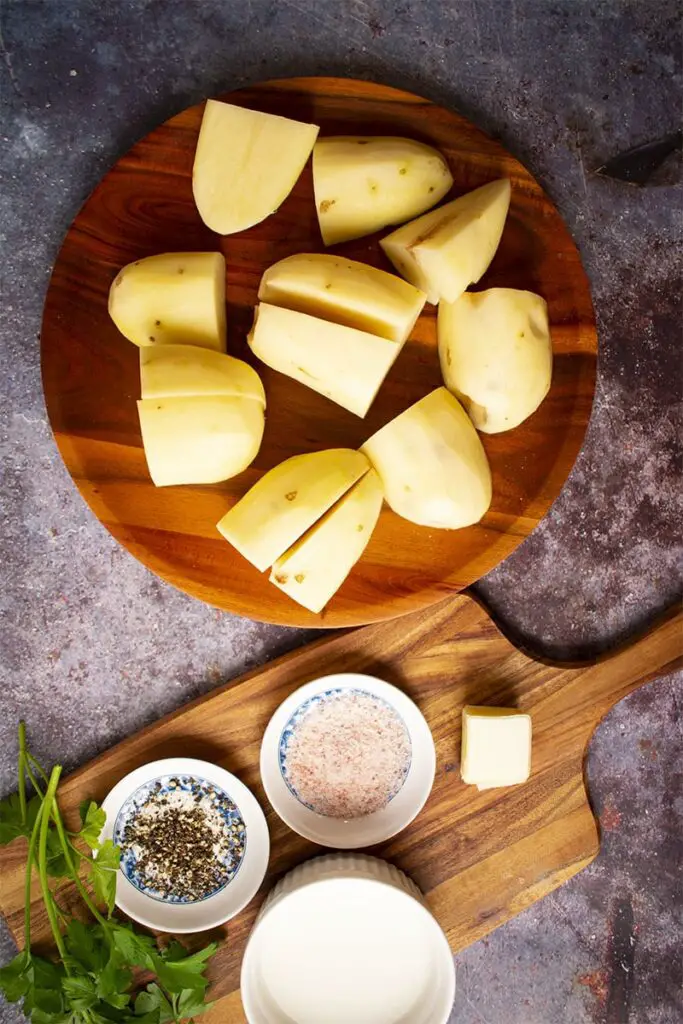 The second is to use proper techniques to boil the potatoes
Fill a large stockpot (8 Qt) with about 75% of the water and bring it to a boil. Add potatoes into the pot after it reaches a boil. Cook it at medium-high heat for 10 minutes and then turn the heat to low and cook for another 10 minutes.
Then immediately remove the potatoes from the stockpot using a stainless steel spider skimmer. It is one of my go-to kitchen utensils, so handy to help fetch the food. I use it for blanching vegetables, cooking pasta or noodles, and making meatballs.
How long do you boil potatoes for mashed potatoes?
About 20 minutes. Two tips to keep in mind. The first is to remember to cut potatoes into large chunks. The second is to bring a big pot of water to a boil first before adding potatoes. This way, you can cook potatoes faster and they can retain the creamy texture. 10 minutes on medium-high and another 10 minutes on low.
Handy kitchen tools for making mashed potatoes
The first is a large mixing bowl
The mixing bowl needs to be large enough for all the actions so you can mash evenly and mix well.
The second is to use a quality potato masher
Use a solid and ergo-friendly potato masher.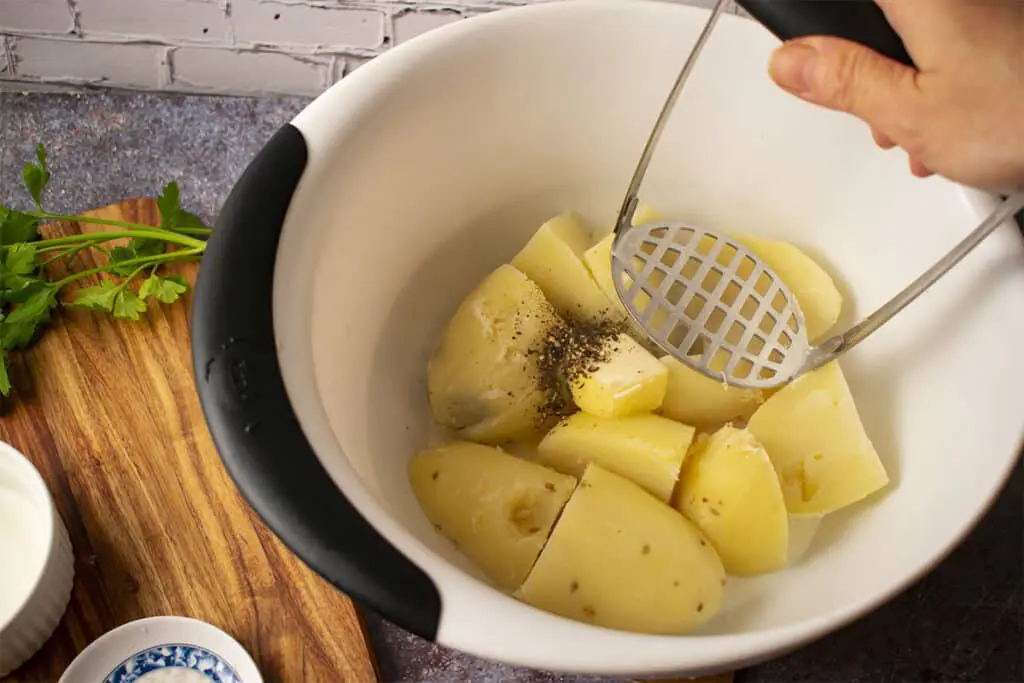 How to make the mashed potatoes creamy?
You shall boil potatoes relatively fast without them being soaked in the water for too long to become soggy.
However, you do not want to boil them at high heat for too long either, as it will over-cook the outer layers of the potatoes. Their outer layer may get washed away, and become watery, mushy, or warped.
Our goal is to boil them evenly so potatoes are softened inside-out through and through. But the potato still retains a smooth skin.
These are reasons we need a large stockpot of water and bring it to a boil first, and we cut potatoes into large chunks. We boil them at high heat for 10 minutes and then at low heat for 10 minutes.
This is a similar technique I use to boil dry pasta or noodles for tasty spongy pasta or noodles.
Is it possible to make a vegan version of mashed potatoes?
Absolutely. Substitute the butter with organic coconut oil, and milk with either almond milk or rice milk, you shall have it.
What to do with the leftover mashed potatoes?
You can refresh the mashed potatoes easily by heating them with a bit of milk. Turn on the heat to medium, add the leftover into a non-stick frypan, and then add a little milk into the pan while stirring and mixing until creamy.
Add milk slowly into the pan while stirring and mixing using a heat-resistant silicone spatula until it reaches the creamy state. Continue to stir a little more until the whole thing is bubbling. They are now as good as freshly made.
How to make a satisfying mashed potato?
Minced garlic is the first thing I want to mention. While optional, they elevate the taste significantly.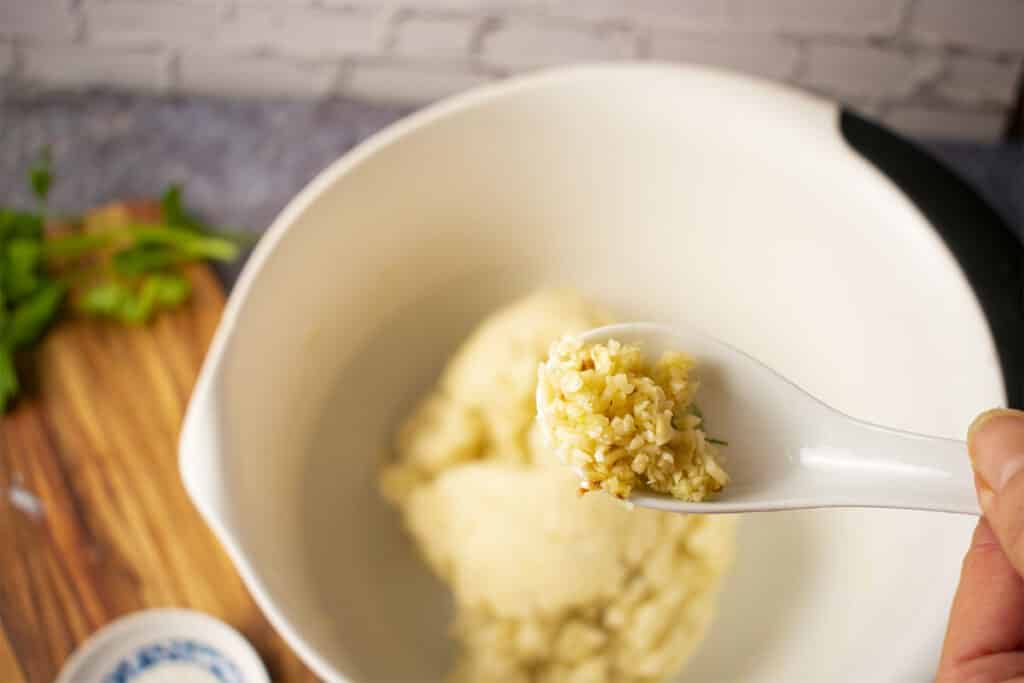 Another thing to mention is a tasty gravy made of beef broth. It is even better to pair with Swedish meatballs. Check out here to see how to make seriously delicious and healthy Swedish meatballs.
My Swedish meatballs recipe includes a "how to make a tasty gravy". Read here for a detailed recipe and step-by-step tutorial.
What types of potatoes are the best for Mashed Potatoes?
Russet potatoes commonly referred to as baking potatoes, which are also known as Idaho potatoes in the U.S. are the most popular for Mashed Potatoes. They have a higher content of starch, which makes the mashed potatoes super creamy.
Russet potatoes have thick, dark brown skin. I usually peel the skin off, but it is OK to leave the skin on if you prefer.
White, golden, or red potatoes contain relatively less starch, which makes them more refreshing. If you prefer a lighter refreshing kind of mashed potatoes, then use half Russet potatoes and half white, golden, or red potatoes.
Like potatoes? Make sure you check out below delicious dishes: