Pork with potatoes and carrots one-dish meal features juicy pork chunks combined with savory potatoes and carrots. All in one pot, such an easy and cozy meal.
What do you need to make this Pork with Potato and Carrots a yummy one-pot meal?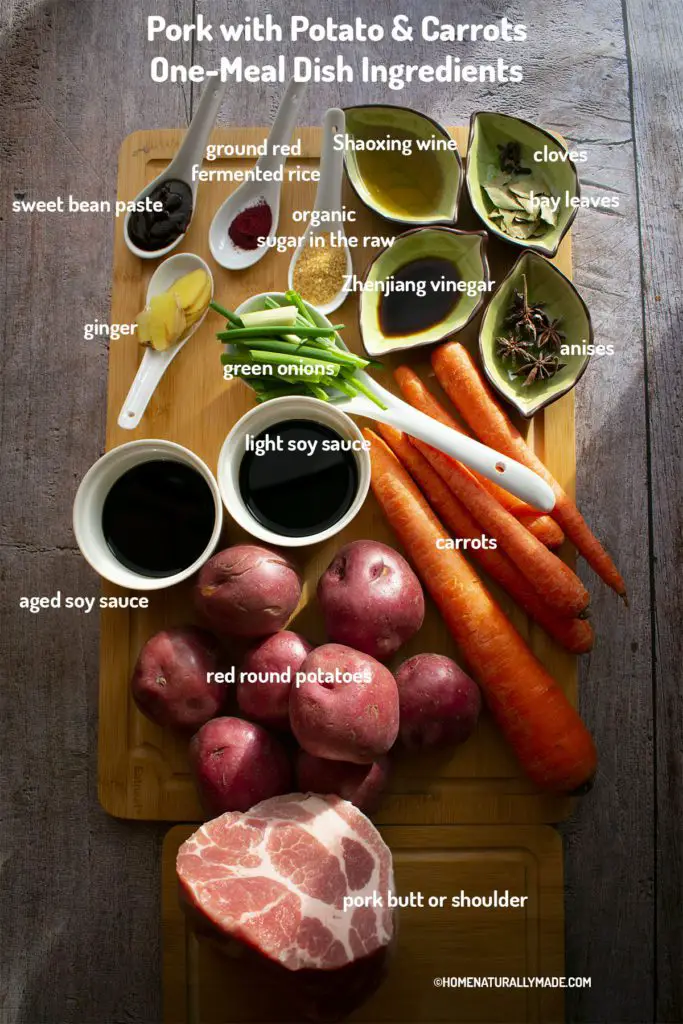 Pork – either pork butt or shoulder shall work out great.
Potatoes – I prefer either red small round potatoes or golden round potatoes. These potatoes are tender and taste more refreshing. Nevertheless, large baking potatoes are fine too.
Carrots – Any carrots will do. Carrots in this dish are so savory. In addition, people believe eating cooked carrots with meat will help our bodies better absorb the nutrients inside carrots. If you have kids who are not a big fan of carrots, this might be the beginning for them to start enjoying carrots, LOL.
For Marinating the Pork – Aged soy sauce, Shaoxing wine and Zhenjiang vinegar. Together with light soy sauce, they are my go-to four basic essential cooking condiments. They almost appear in all my recipes for cooking meat and poultry.
For Braising – Green onion, ginger, anises, bay leaves, dried cloves, red yeast rice powder, sugar in the raw, light soy sauce, and water.
I ditched the store-bought oil sprayer and made my oil spray bottle after I jump-started healthier cooking, eating, and living journey in 2015. I have been using this oil sprayer since. It helps to spray the oil evenly across the pan and use way less oil than otherwise.
Red yeast rice, or Hong Qu Mi (红曲米) in Chinese, is rice that has been fermented with certain types of yeast. The fermentation process changes the color of the rice from white to red. It is a very traditional all-natural red color. We use it a lot in my hometown Suzhou area as an all-natural food color for centuries.
I use it to cook yummy red braised pork belly, red braised Lion's Head, and meat cooking where I want a hint of red color. I also use it to make All-Natural Red Velvet Cake.
How to make Pork with Potatoes and Carrots?
1. Cut pork, potatoes, and carrots into similar bite-size chunks
This is for easier cooking and serving.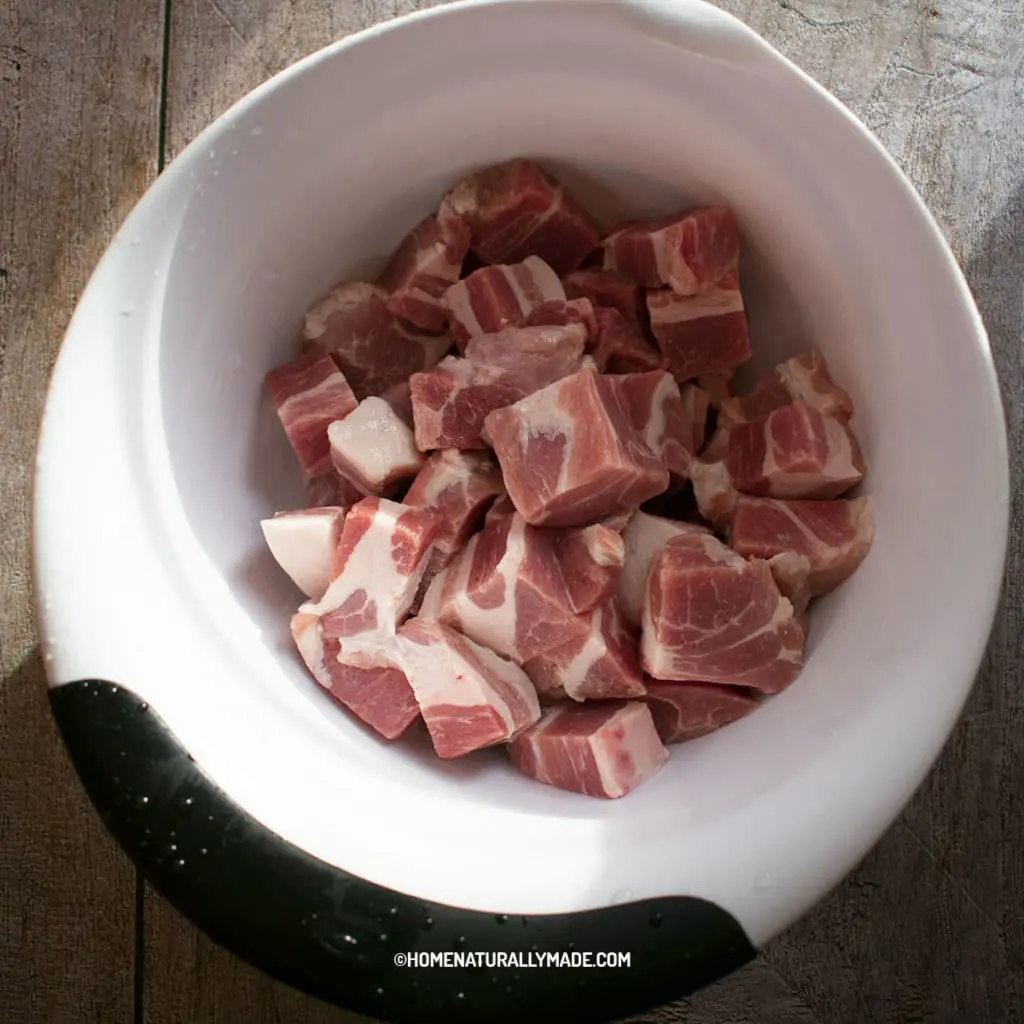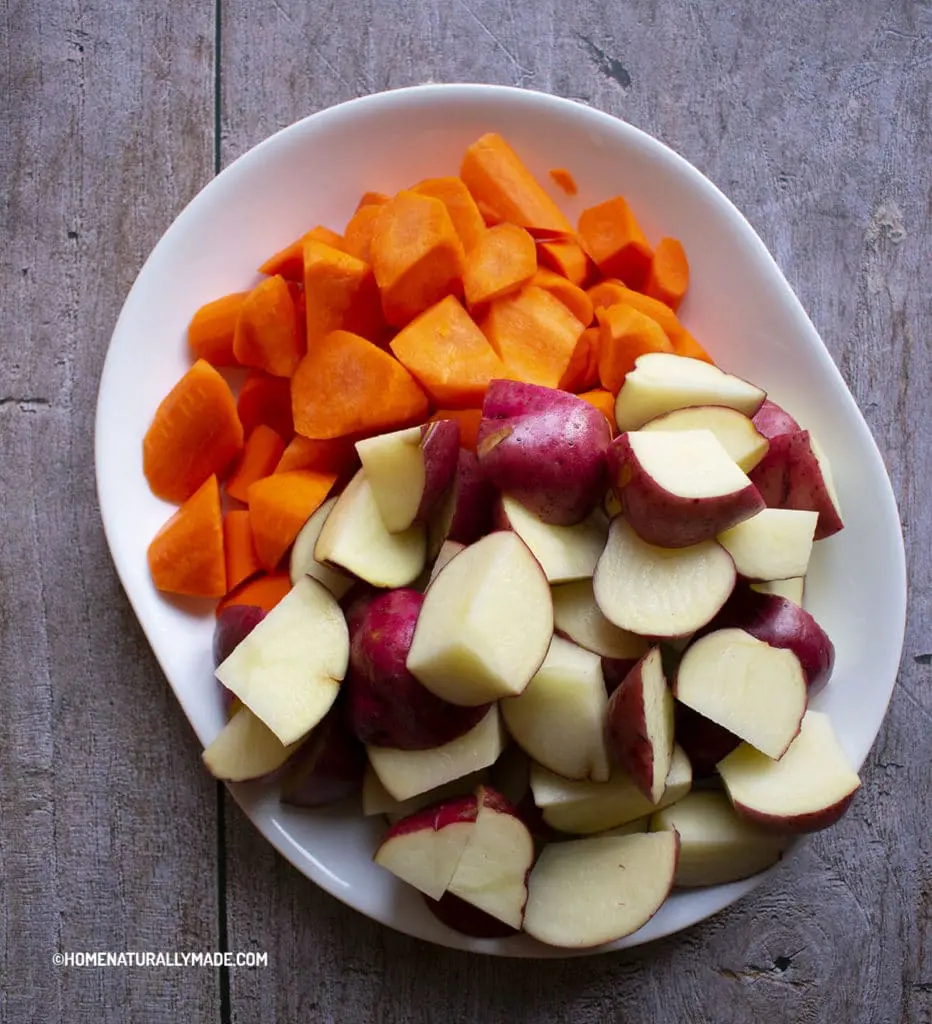 2. Marinating the pork before cooking
This is a very important step which is the secret to having juicy and tasty pork.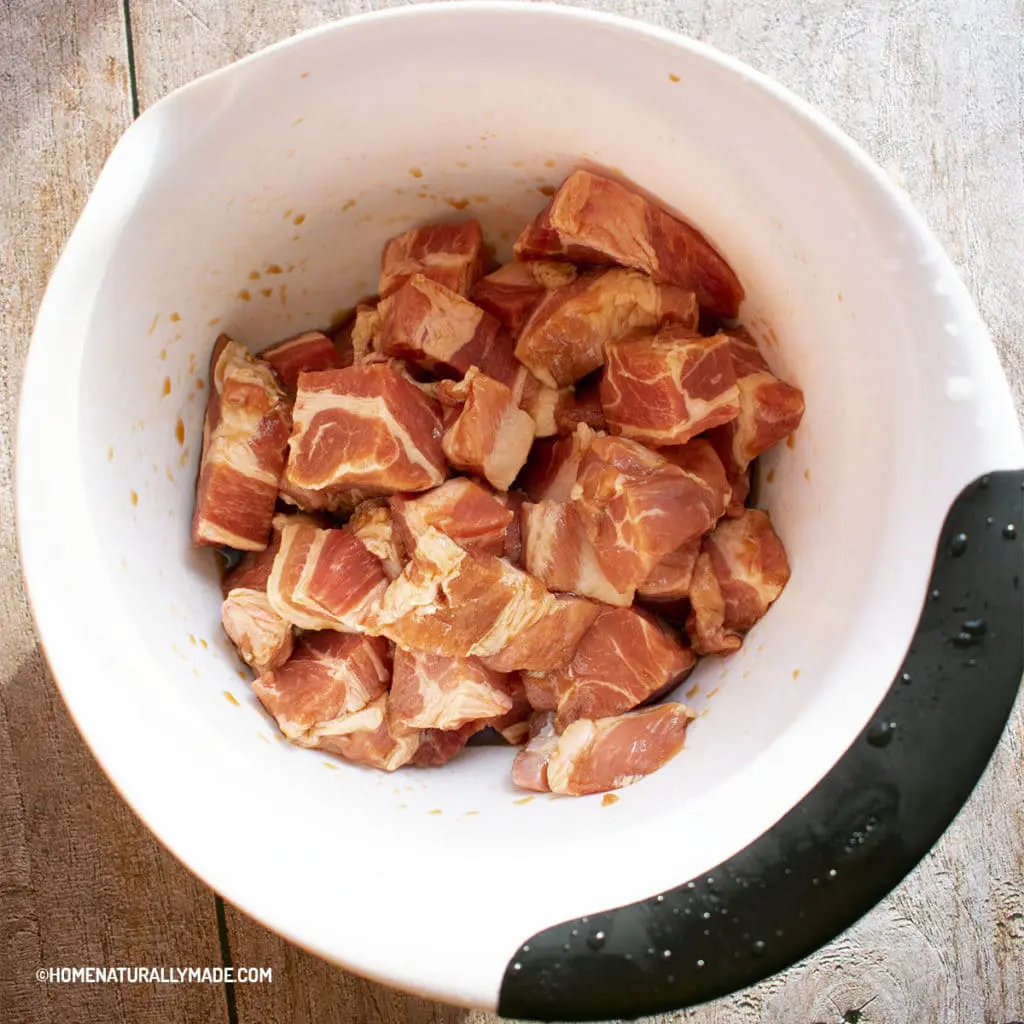 3. Sear the pork before braising
This is the step people often overlook. Sear the meat before braising not only helps maintain the tasty juiciness of the pork but also helps reduce the overall cooking time. Pork shall be cooked at least 50% by the end of the 10-minute frying process.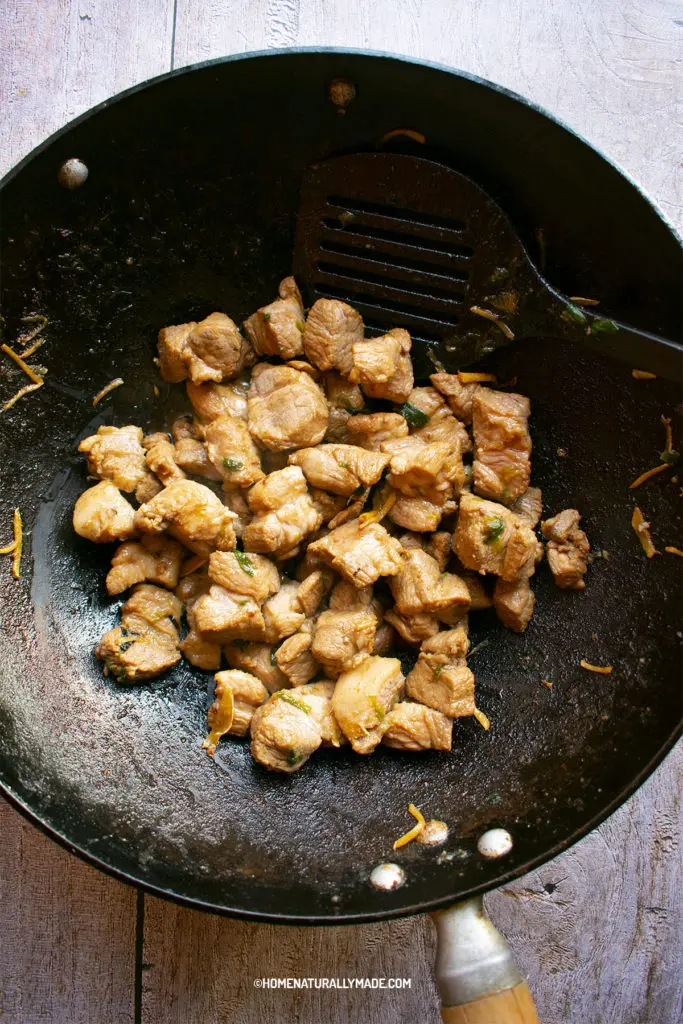 When you started searing the pork in the hot wok with ginger and green onion slices, the pork has a tendency to stick to the bottom of the wok. All you need to do is non-stop turning the pork for one minute, then the oil inside the pork will come out, which helps grease the Wok.
From here you just need to turn the pork every two minutes to complete the 10-minute total frying step using green onion, ginger, anise, bay leaves, clove, and sugar.
The next step is to fold the braising juice and stir-fry the pork with potatoes and carrots for about 3 minutes.
Last but not least is to add 1 cup of water and cook on medium-high for 10 minutes and low for additional 10 minutes.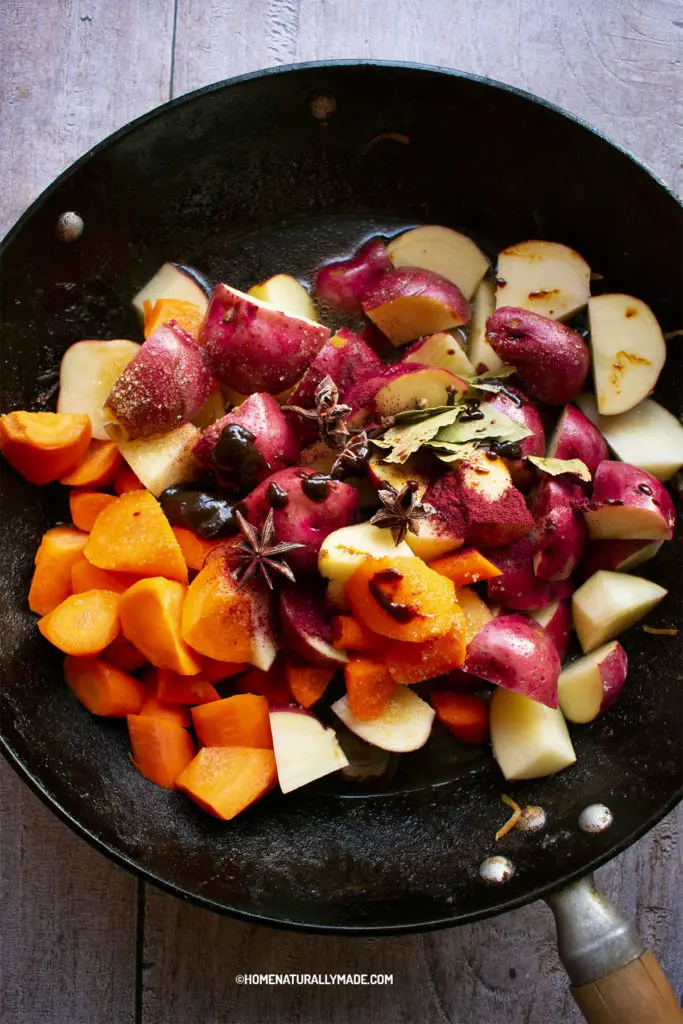 Isn't it easy to cook this cozy, yummy one-pot meal? Enjoy!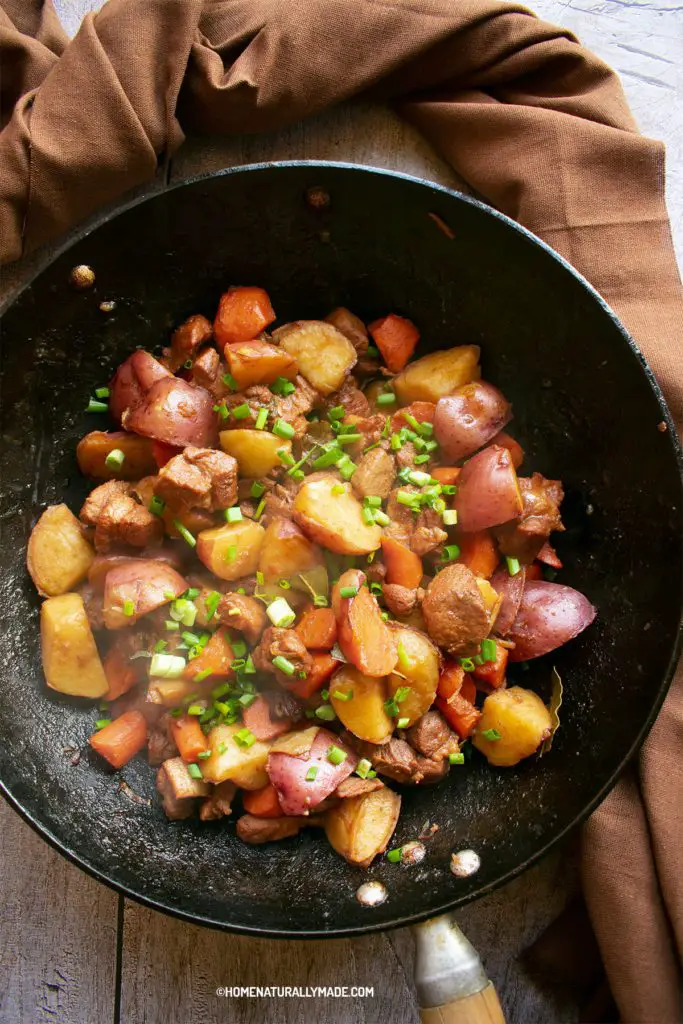 Do you like healthy yummy Chinese one-pot meals? Make sure you check out