Salted pork with rice and bok choy is a well-liked traditional home cooking one-pot meal in China. It is native to my hometown, which lies in the heart of the Yangtze River Delta area. Now that I regularly make this tasty salted pork at home, this salted pork with rice and bok choy becomes one of my go-to easy family meals.
It is super easy to make this at home, takes very little effort, and requires no other seasonings & spices other than the salted pork itself. The salted pork provides the salt, the seasoning, the oil, and the flavor, all-in-one.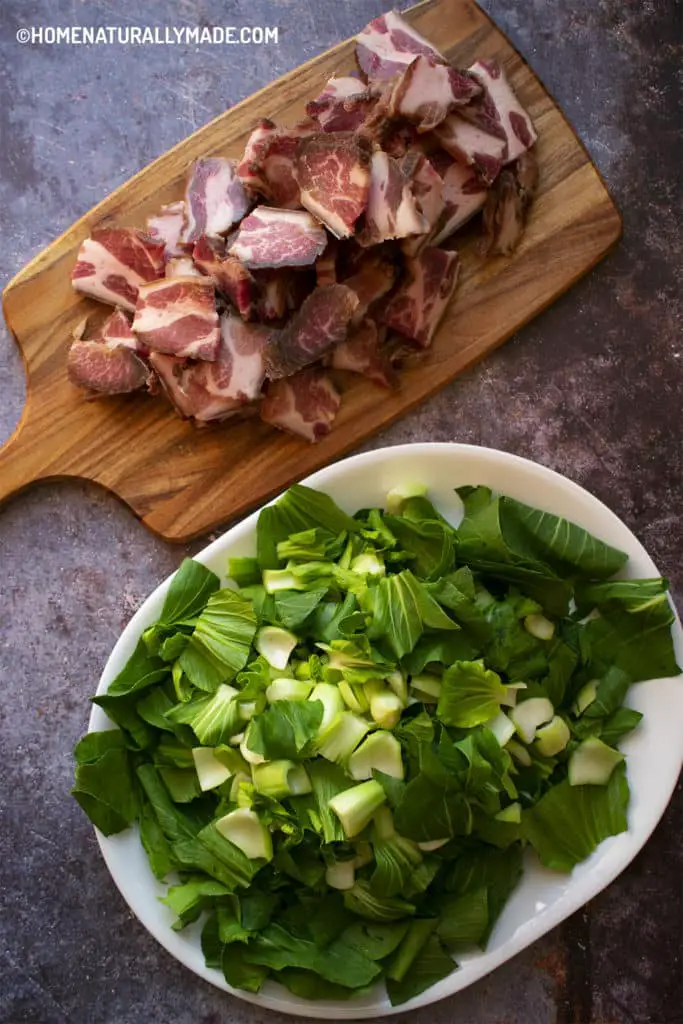 No doubt homemade salted pork is the best. See here on how to make salted pork easily at home. Making homemade salted pork takes minimal effort, mainly just let the time do its magic. It requires at least 2 months to air dry and cure the salted meat.
What do you need to make Salted Pork with Rice and Bok Choy at home?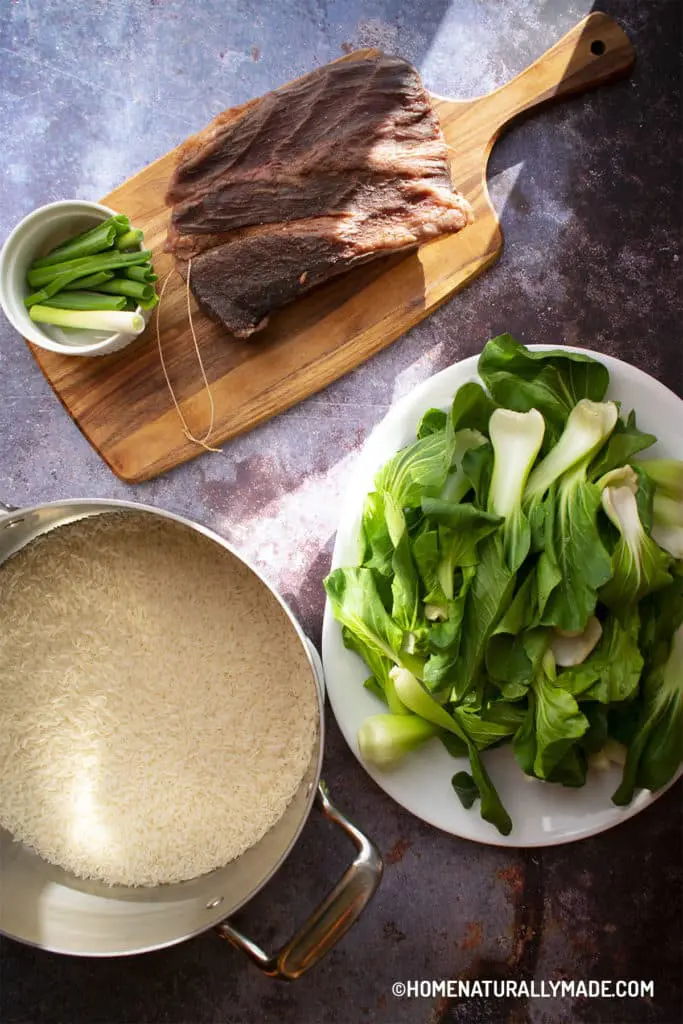 Extremely simple ingredients:
Homemade Salted Pork – Read here on how to make a healthy & tasty salted pork at home easily.
Rice – I usually use jasmine rice. However, other types of white rice work too.
Bok Choy – If Bok Choy is not available, kale would be a wonderful substitute.
Green onion – optional, but eye-catching and adds additional refreshing taste.
As for the pot to cook this one-pot meal, a casserole pot with a lid, a bean pot, a Tri-ply stainless steel stockpot, a cast-iron stockpot shall all work great.
Salted Pork with Rice & Bok Choy Frequently Asked Questions:
How long does it take to cook this one-pot meal?
About 20 minutes, approximately 7 minutes to bring the salted pork & rice to a boil, and then fold in the fresh bok choy and let them simmer for 7 minutes. Lastly turn off the heat, keeping the lid on and let the pot continue to simmer for 6 minutes.
What if my homemade salted pork becomes too dry to cut easily?
You can add it to a saucepan, submerged in the water and cook for 10 minutes on medium-high. This should soften the salted pork. Make sure you wash and rinse the pork first. Save the water used to cook the salted pork to make this rice dish for additional flavor.
Do I need to cook the bok choy first in any method?
It is completely optional whether you want to stir-fry or briefly blanch the bok choy first before adding it into the pot. I usually bring the meat and rice to a boil, and then fold the chopped fresh bok choy into salted pork and rice and let it simmer. It works well. The salted pork has ample salt and oil for the bok choy and the entire meal.
Do you like easy home cooking tasty one-pot meal? Make sure you check out: