Learn to cook dry pasta easy, healthy and perfect with 10 minutes of active cooking time without adding oil or salt. This method applies to various dry pasta, including Spaghetti, Strozzapreti, Farfalle, Penne Rigate, etc.
Cooking dry pasta is no big deal. It is probably one of the very first kitchen skills we learn to cook for ourselves. However, some people cook dry pasta with very little water, without a lid, or letting the water feverishly boiling, having to add oil and salt hoping pasta doesn't stick together. Still, they may end up soggy and tasteless pasta.
So how to Cook Dry Pasta easy, healthy and perfect every time?
The first is to bring a large stockpot of water to boil first
Turn the heat to high and bring a large stockpot filled with 75% water to a boil. A large qty of water is to ensure sufficient energy to cook the pasta within a reasonable time so that it does not become soggy and tasteless.
We also want to hydrate the pasta along the process so that they resume the fresh pasta's spongy, firm bite texture. Another reason we need a lot of water.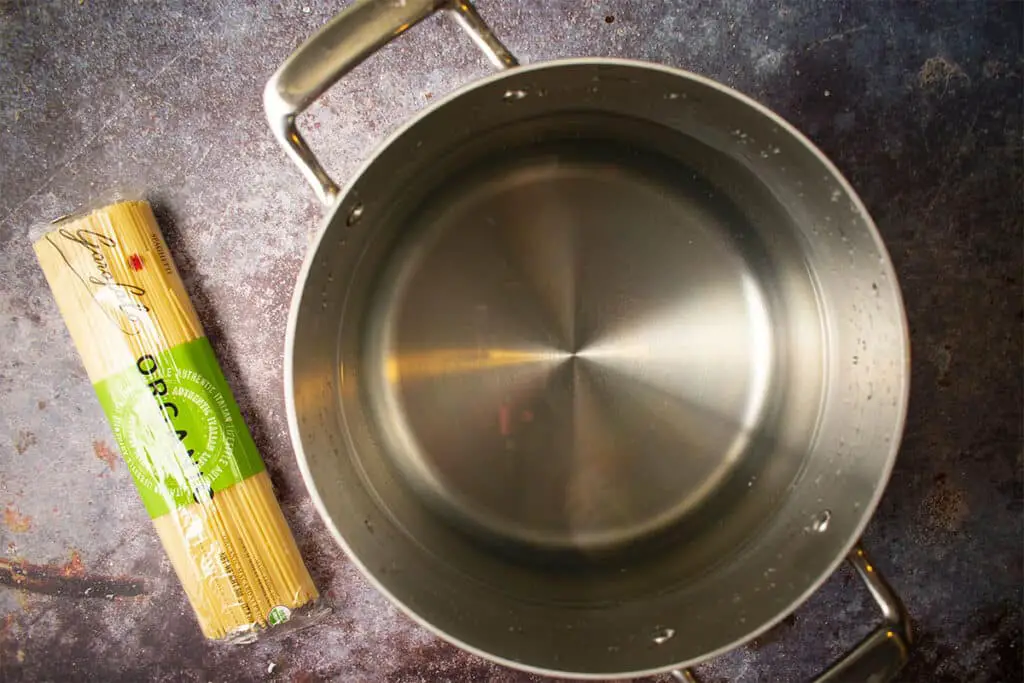 The Second is to add dry pasta into the boiling water, stir immediately to separate them, add the lid back on and bring the pot back to a boil
It is very important to separate dry pasta IMMEDIATELY once they are in the boiling water, using either a pair of cooking chopsticks (my favorite) or a pair of kitchen tongs. Then wait for it to resume boiling. This takes less than 1 minute.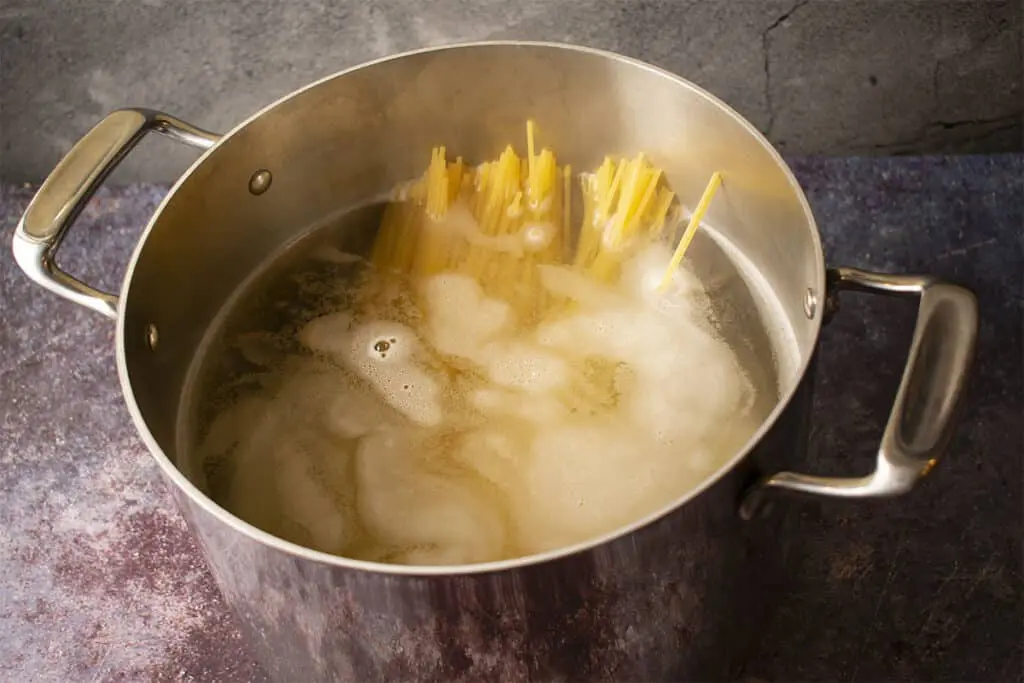 The Third is to turn the heat to simmer, cover the lid and let it cook for 10 minutes
After the stockpot water with pasta is boiling again, turn the heat to simmer, and let it cook for 10 minutes. This is a perfect way to hydrate the pasta while evenly cooking them.
10 minutes of this is just the right time for the dry pasta to get fully hydrated and cooked evenly. As a result, they are tasty and have a firm bite of nice texture.
Tip: Stir from time to time during the 10 minutes simmering process
If the foams are building up, showing potentially uneven cooking spots, remove the lid and give a good stir. A bamboo spatula with a long handle is great for this purpose.
This is because we need to scrape the bottom while stirring without having to worry about the scratch of the pot or burn ourselves.
Turn off the heat at the end of 10 minutes simmer and remove the pasta from the pot immediately
Once the 10 minutes simmering is up, turn off the heat and remove the past from the pot using a spider skimmer with the help of a pair of cooking chopsticks or tongs.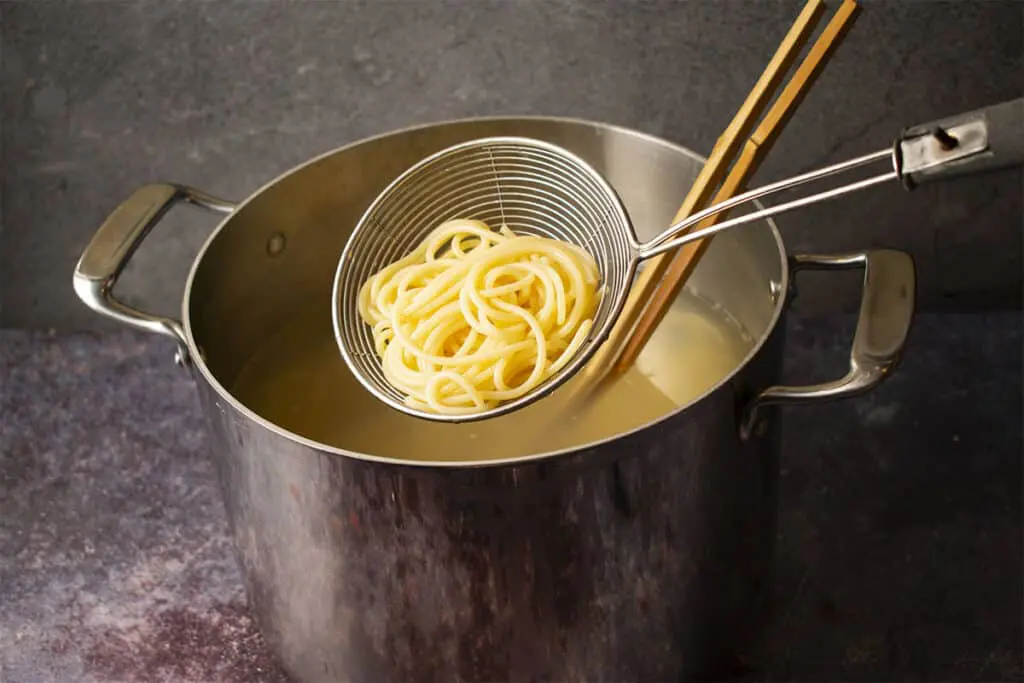 It is important not to leave cooked pasta in the pot. The residual heat will continue to cook the pasta. The longer they soak in the water will also lead to soggy and tasteless pasta.
Place freshly cooked pasta onto a plate and stir immediately to let off the steam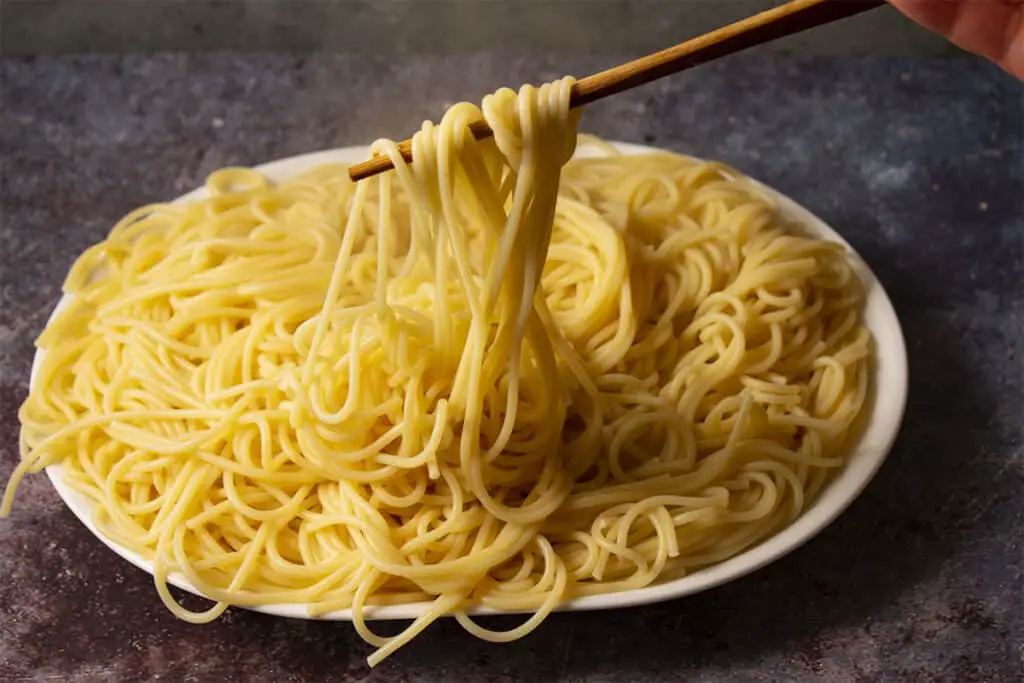 This is to separate the pasta and let off the steam.
How to Cook Dry Pasta Frequently Asked Questions?
How long do I cook the dry pasta?
10 minutes simmer in a large stockpot (8 Qt.) boiling water.
Do I need to add oil or salt cooking dry pasta?
Not required. If you follow the method discussed in this post and following this recipe, you get tasty spongy pasta without having to add oil or salt during cooking.
How much dry pasta can I cook in one pot?
Excellent question which shows you are analyzing the science behind the cooking.
You may notice you actually spend a similar time cooking a handful of dry pasta or an entire bag of dry pasta. This is because pasta, regardless of the quantity, needs the same time to get hydrated and cooked.
However, you are right that there is an upper limit on how much you can cook in a pot. If the pot gets too crowded, not enough water or energy exchange to cook the pasta within a reasonable timeframe without sacrificing the look & taste of the pasta.
For home cooking, the popular large stockpot is about 8 quarts (2 gallons or about 7.6 liters). If we use this pot to cook pasta, you can cook up to 500g (1.1lb) dry pasta nicely.
Therefore, it makes sense to cook the entire bag of dry pasta in one sitting. You can store the cooked pasta in the refrigerator for up to one week. During the week, you can whip out a delicious and healthy stir-fry noodle or noodle soup quickly.