These Swedish meatballs are seriously delicious and healthy. Perfect to pair them with the homemade mashed potatoes. It is for those who love IKEA meatballs. I am one of you, LOL. I used to go to IKEA just to eat their meatballs or bring back home a bag of frozen meatballs.
The good news is now you can make these super tasty Swedish meatballs at home easily. The better news? They are extremely healthy too.
Instead of frying or baking the meatballs, I use the blanching plus braising method to cook the meatballs. It is the same method to cook Huai Yang classic Red Braised Lion's Head (pork meatballs).
Brown sweet rice is a secret ingredient added to the meatball. Brown sweet rice has a subtly sweet, nutty, and chewy taste. They are nutritious and gluten-free. Such a wonderful filler to make the meatballs juicy.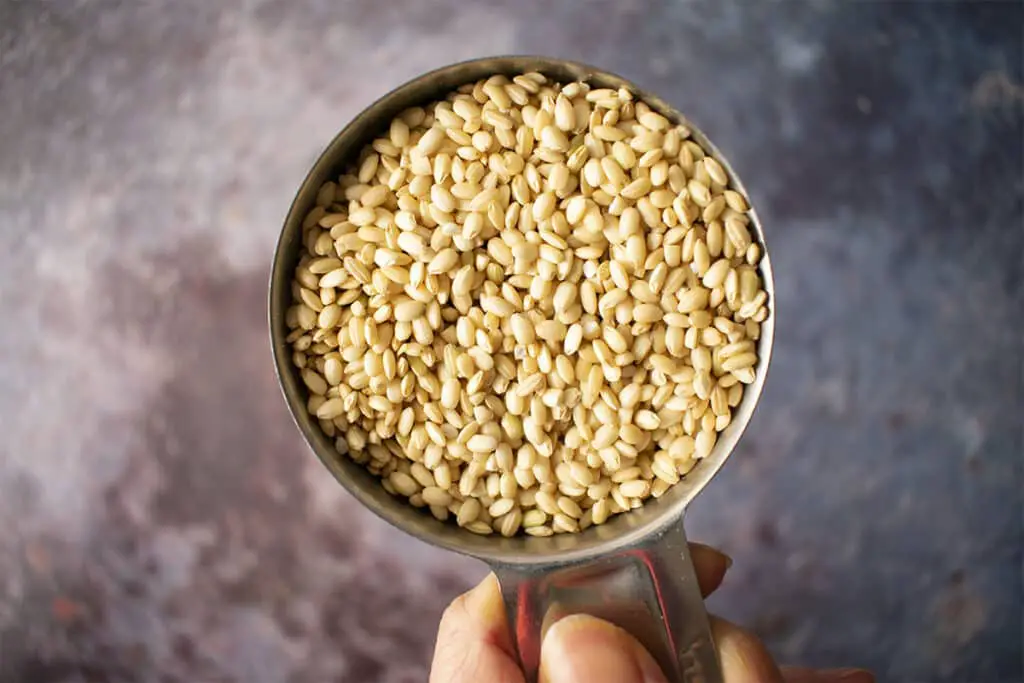 For easier cooking, make sure you ground the brown sweet rice into coarse particles using a spice grinder and then soak them in cold water overnight in advance.
Swedish Meatballs Tips & Tricks:
Other than the two I have already mentioned above, blanching plus braising the meatballs and using brown sweet rice, I'd like to highlight a few additional things below:
1. Use a combination of ground beef and pork
For every pound of ground beef, use half a pound of ground pork. Home ground pork is ideal because of the meaty juiciness.
2. Chop parsley green leaves into a smooth mixture and add to the meat
If you are using home-grown parsley, you can use the entire parsley. Homegrown parsley typically has tender stems. However, the stems of store-bought parsley are usually tough and fibery. I therefore use only the green leaves part of the parsley.
Snip the green leaves off the stems and then chop the green leaves into a paste mixture using a compact food processor. It is a handy tool to chop and/or mince spices.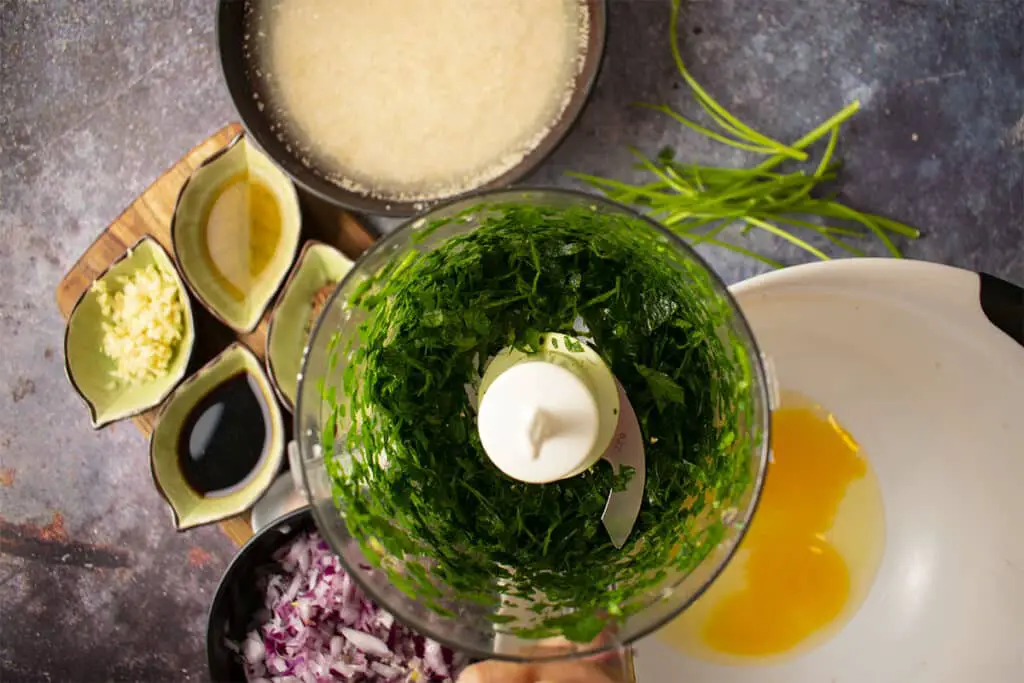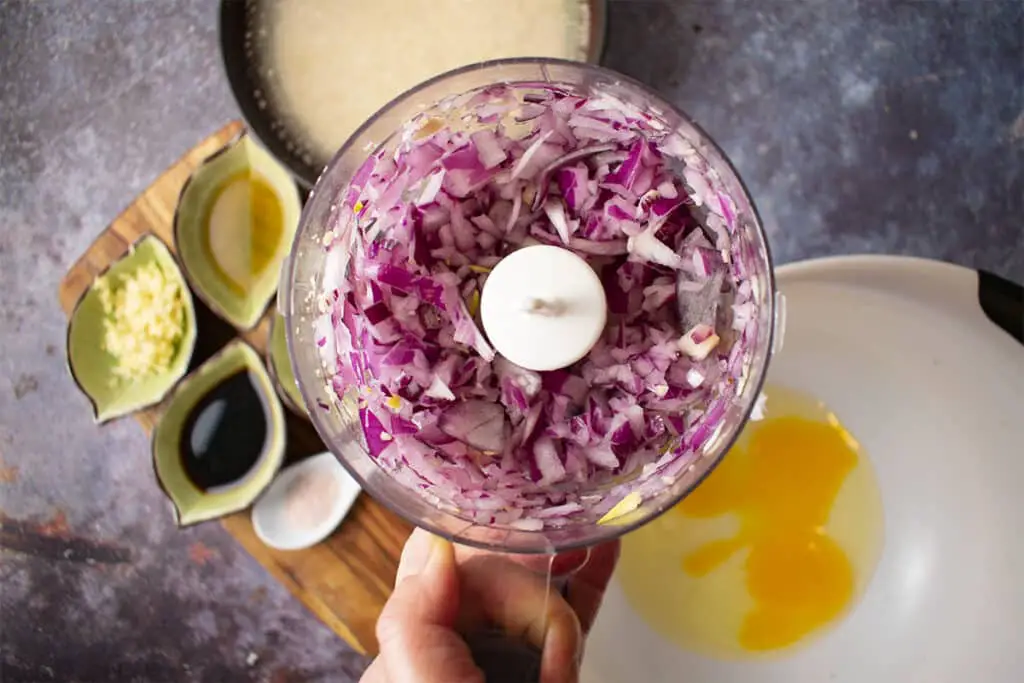 3. Saute red onion first
This is the step people often overlook. Sauteed onions are softer with fragrant, it makes the meatball taste better with a smoother texture too.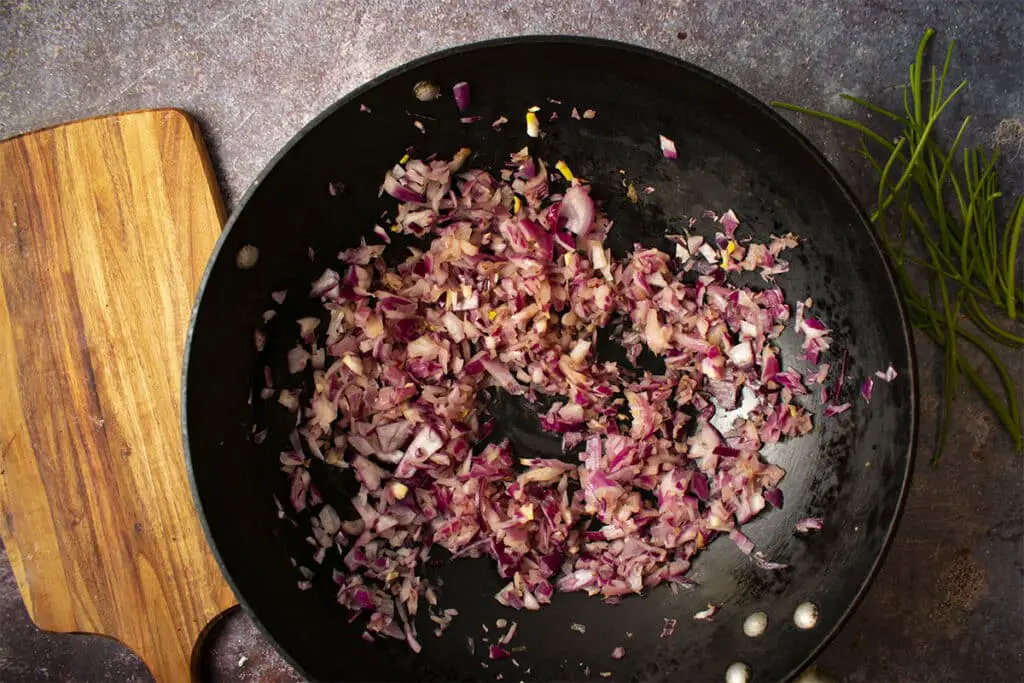 4. Dijon Mustard is one of the key secret ingredients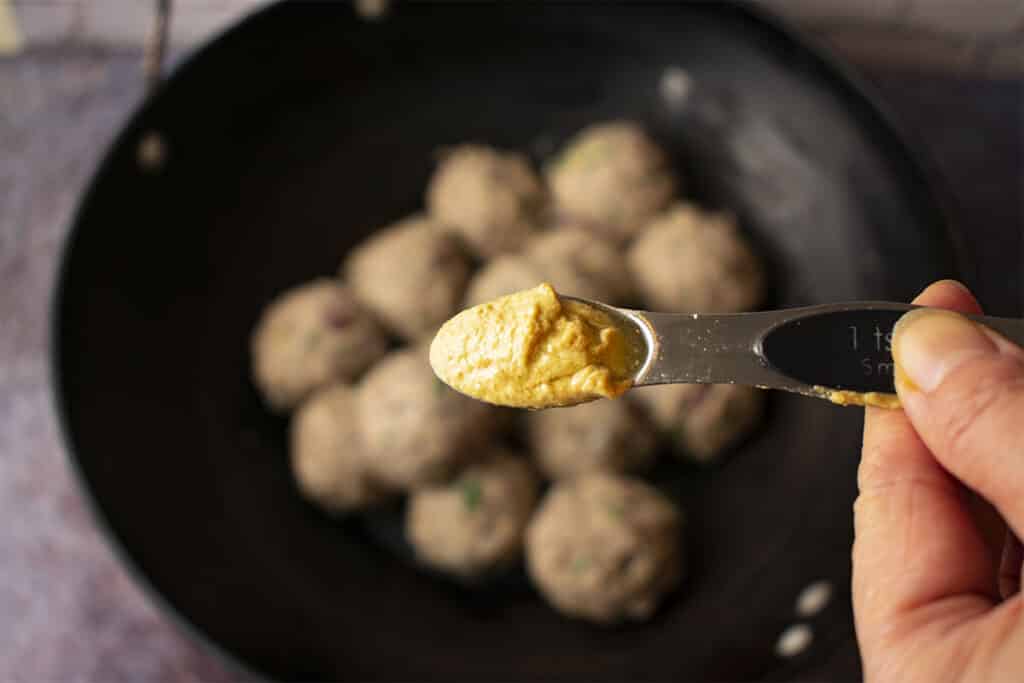 It is behind the signature flavor. It also gives the meatballs and gravy the yellowish-looking hue.
5. Soy Sauce plays an instrument role
Soy sauce truly makes everything tastes better. Plus, the regular soy sauce helps darken the color of the gravy with just the right amount of brown-looking.
Swedish Meatballs Frequently Asked Questions:
How long does it take to make Swedish Meatballs?
Let's see, about 15 minutes to blanch the meatballs, and then 20 minutes to braise them. Gravy takes about 5 minutes to make. Therefore, about 40 minutes of active cooking time.
How Many meatballs does this recipe produce?
14 average-sized meatballs. I can tell you that for a family of four foodies, it is not enough for 4 servings since they are so amazingly delicious.
How do you serve Swedish Meatballs?
A great satisfying way to enjoy these meatballs is over a bed of home freshly made creamy mashed potatoes. The gravy complements mashed potatoes exceptionally well. Read here for a detailed recipe and step-by-step tutorial.
Can I double the recipe?
Absolutely. It is precisely what I do every time now. Simply double everything listed in the recipe.
Can I make this in advance and freeze it?
Bingo, sure thing. In that case, you only need to finish braising the meatballs. Make the fresh gravy on the day when you serve the meatballs. Remember to remove frozen meatballs from the freezer overnight to let them de-thaw.
Another thought, you can double the meat, store half of the braised meatballs in the freezer, and serve half today. Here, you double the recipe for Marinating and Braising the Meatball. However, since you only serve 14 meatballs today, you can keep the same ingredients listed under "Making Gravy".
Like ground beef? Make sure you check out this deliciously juicy burger patty recipe!