Yeast dough for Chinese buns made of simple ingredients is healthy, yummy, and fluffy, perfect for making any buns, with fillings or without fillings. For buns with fillings, you can make either a savory version such as pork buns or a sweet version such as red bean buns.
It is super easy to make this at home, takes about 5 minutes to prepare the dough, let it rest for about 1 hour. You then shall have this super fluffy and soft dough to make your favorite buns.
Keep reading to learn all the tips and tricks to prepare yeast dough buns perfectly every time!
Easy Yeast Dough for Chinese Buns Ingredients
Organic all-purpose flour – I have been using this organic all-purpose flour for years. It becomes my go-to flour for all bread, buns, cookies, cakes, and crepes needs.
Technically, there are different flours for different needs. For instance, bread should use high glutenous flour, a. k. a bread flour, pastries should use low glutinous flour, a. k. a pastry or cake flour. However, as a former supply chain optimization professional, I have a tendency to rationalize SKUs, LOL. This all-purpose flour can get the jobs done when you treat the flour differently when making bread vs. cake.
For instance, when you make bread, let the dough rest for 2 hours before adding yeast paste. Also, use the slapping technique to stretch and soften the dough. Read here for the complete guide on how to use all-purpose flour to make a fluffy milk bread or milk bread rolls.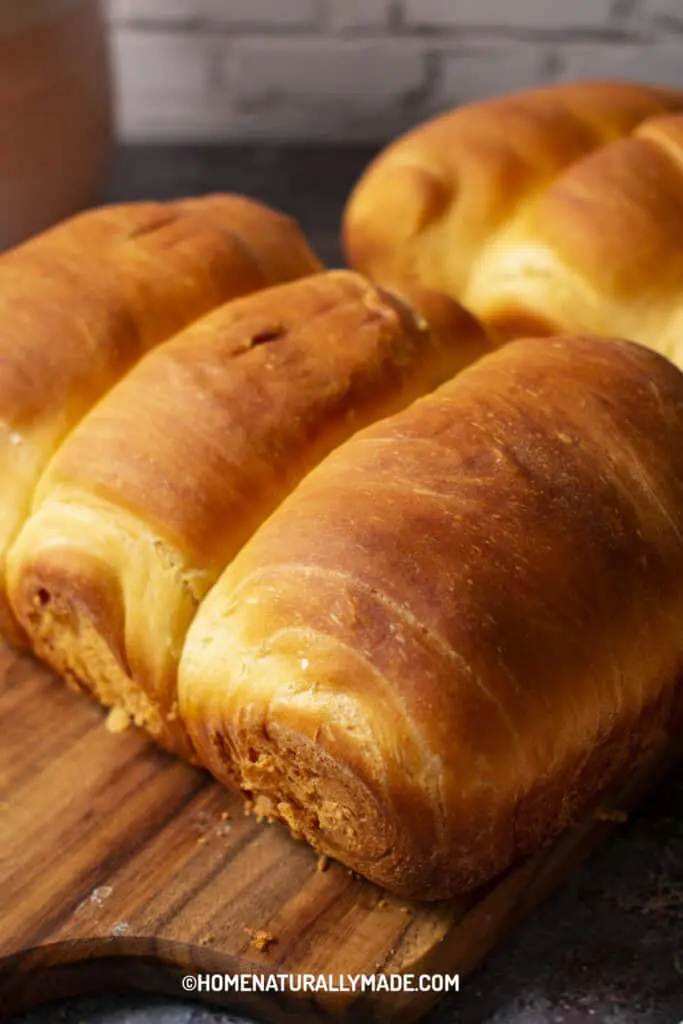 Regarding cake or pastries, you can make your own cake flour out of the all-purpose flour by steaming them in a bamboo steamer for 10 minutes. Read here to learn more. It is easy and effective.
Active Dry Yeast – This is the active dry yeast I use. I make all kinds of buns and bread regularly. I usually just get a one-pound package and store it in a glass bottle in the freezer.
Avocado Oil – It makes the dough moist and fluffy. Avocado oil is a super healthy oil and has a high smoking point too. It also has a neutral smell and taste. All these make Avocado oil perfect for cooking, baking, and steaming needs.
Himalayan pink salt – Himalayan pink salt is my everyday go-to salt. Sometimes I use sea salt too. Just a pinch to add a subtle savory taste, and to contrast the semi-sweetness of the dough.
Organic cane sugar – A tablespoon of organic cane sugar gives the buns a subtle semi-sweetness which I like. In addition, sugar is also much needed for yeast to do its magic.
How to make a perfect Yeast Dough for Chinese Buns from scratch
1. Take the time and make active dry yeast paste first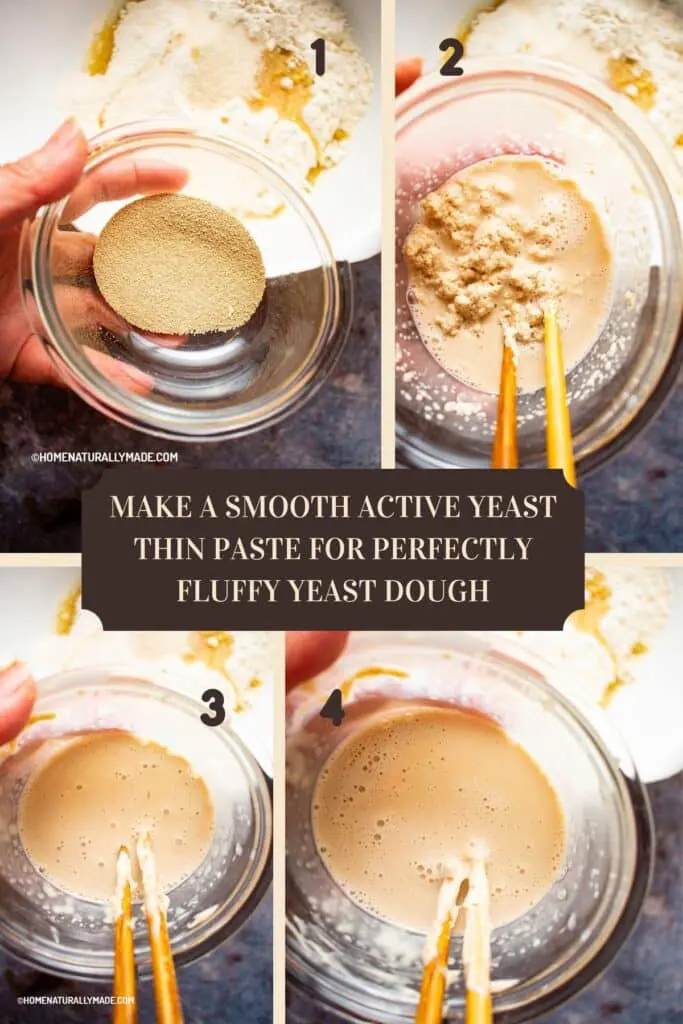 Add the active dry yeast powder into a small bowl, add about 1/2 cup water from the water in the glass measuring cup. Stir and mix well until it turns into a smooth, thin paste.
When the yeast powered is properly dissolved, you shall see small bubbles.
This is ESSENTIAL for a fluffy dough. Do not add active dry yeast powder directly into the flour. Also, remember to store the active dry yeast in a glass jar in the freezer.
2. Adjust the water amount to make a smooth yeast dough for buns
I am in Chicago, winter is really dry. If I make this recipe during winter, I often have to add additional water compared to that during summer.
The drier environment leads to drier flour. Subsequently, the drier flour will need additional water to accomplish the same dough.
It is important to add the water slowly, especially toward the end, 1 tsp at a time. Keep kneading and pressing using handing or a Stand Mixer to allow the flour to absorb the water.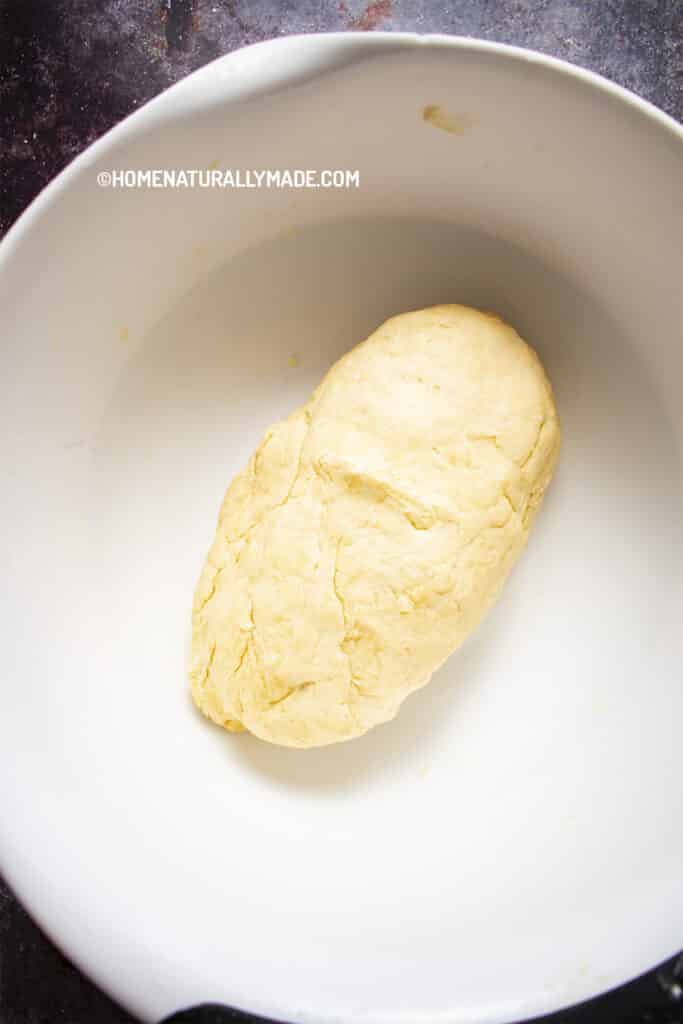 3. Cover the dough during the proofing
Cover the mixing bowl with a thick, damp kitchen towel. Fold the towel in half and then cover over the mixing bowl.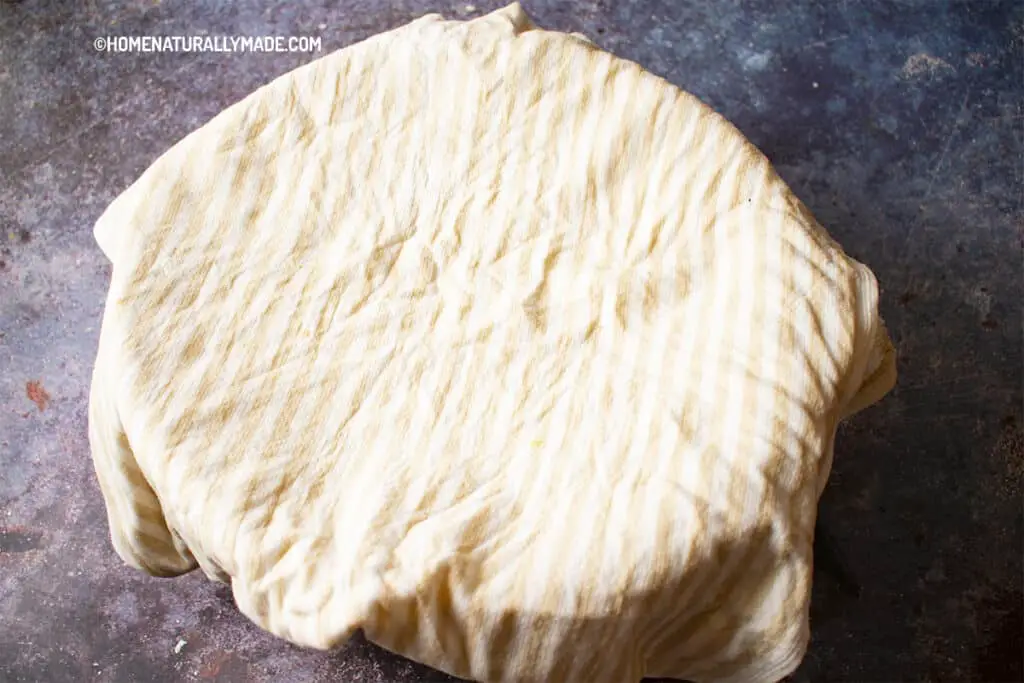 4. Do not over-proofing the dough
At room temperature, around 70 degrees Fahrenheit or 21 degrees Celsius, about one hours is all you need to proof the dough. Otherwise, the dough may lose its texture, sponginess, and tastes & smells sour.
The dough doubles the size after the proper proofing.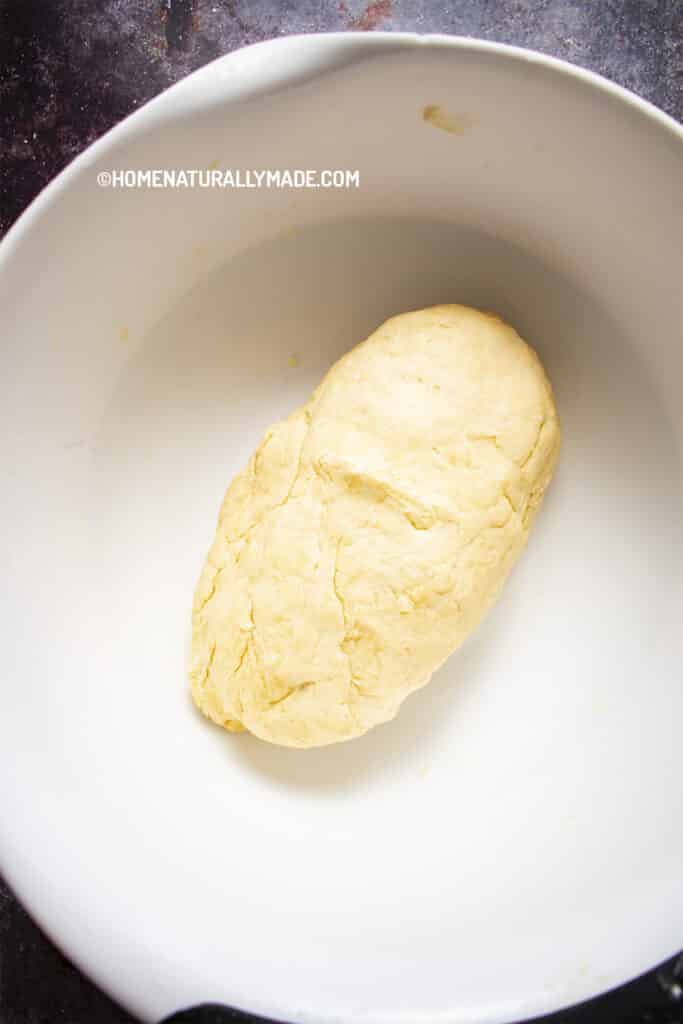 5. You can let this dough slowly proof inside the refrigerator
You can also put the dough into a ziplock bag and let it proof slowly inside the refrigerator. The dough is good inside the refrigerator for one week. Whenever you are ready to make buns, take the dough out a couple of hours in advance to let it warm up to room temperature first.
The science behind yeast dough, how to make a fluffy bread or bun?
We are actually accomplishing two objectives during the dough proofing period. Both help the dough becomes light and fluffy.
The first is to activate the gluten properly. When they do, the gluten will extend beautifully to create a strong gluten network. This leads to spongy and soft bread or buns.
The second is to have yeast feeds on the sugar to produce carbon dioxide. The gas makes the dough airy and soft.
For making buns, and when the environment is around 70-degree Fahrenheit, we can definitely accomplish these two goals in one simple step. Simply follow this recipe and let the dough rest for about one hour. The two processes work in tandem nicely.
However, if we need to make extra soft bread such as the popular Milk Bread, then I need to allow extra time for the gluten to sufficiently activated first. Let the dough rest for 2 hours without adding the butter or yeast paste. Dough will become super stretchy during the process. Read here for a detailed guided recipe to make a super tasty smooth semi-sweet Milk Bread using all-purpose flour.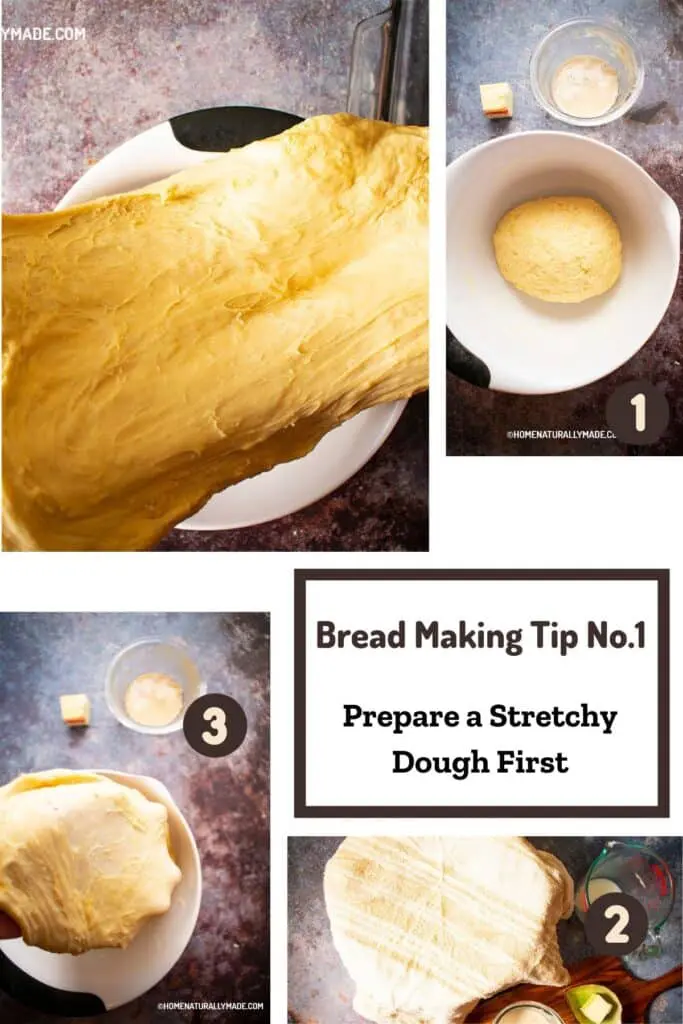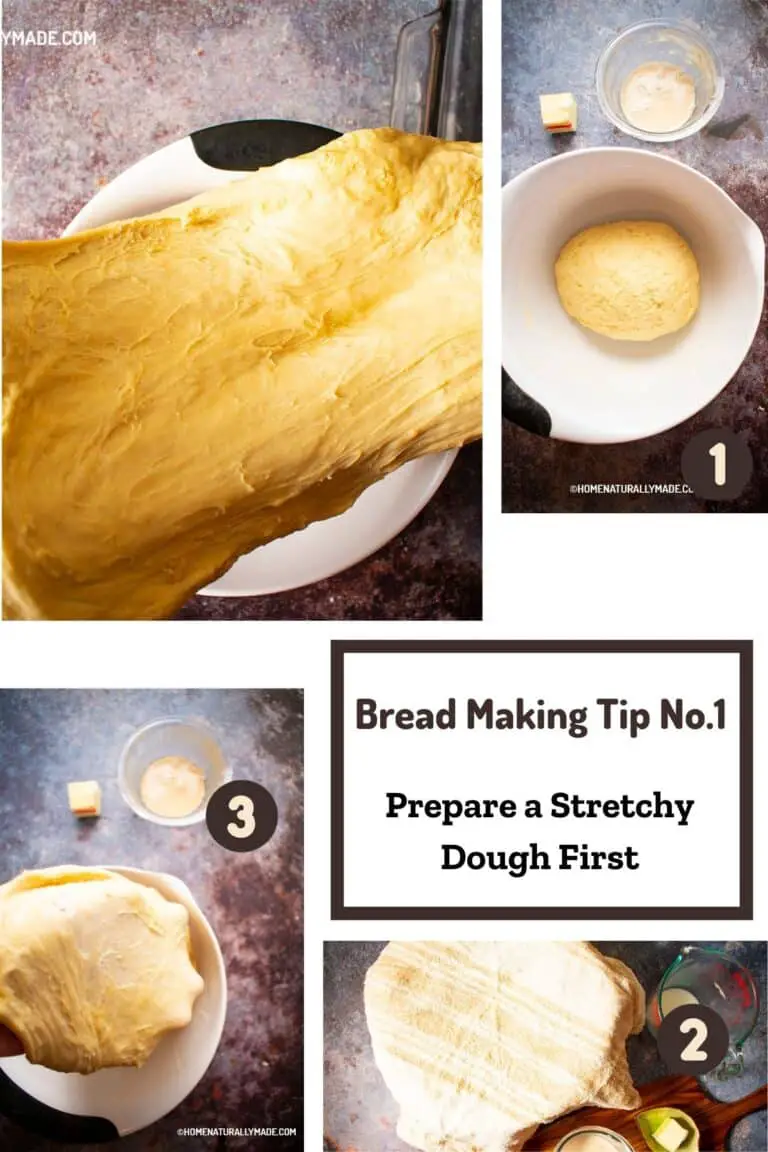 Hooray, now that you have the prefect yeast dough for buns, Let's make some yummy buns!
Check out deliciously healthy homemade Red Bean Buns or Pork Bun.