Stir Fried Watercress featuring ancient, superfood vegetable watercress is tasty and healthy. That watercress is aquatic juicy juicy leafy vegetable makes it a perfect candid for a quick and easy stir fry. It works especially well in a cast iron pan. A tiny drop of oil, a pinch of salt and minced garlic are all you need.
What is watercress?
Watercress is an aquatic vegetable contains loads of water and grows well in watery beds. They have hollow stems which are very tender and edible, and round leaves that features a pinnate, compound structure.
They belong to the Brassicaceae family of vegetable, the same family kale, Brussels Sprouts and cabbage are part of. All vegetables belonging to this family are healthy and nutritious.
Watercress Fun Facts:
While native to Europe and Asia, watercress is readily available around the world nowadays. Thanks to the wide cultivation . I can say I consumed much more watercress here in the States compared to the days when I was in China.
Known as "Xi Yang Cai" in Chinese, which literally translates into "western vegetable", watercress is a popular leafy vegetable China's Pearl River Delta area. It is the area where Guang Dong and Hong Kong are located.
By the way, watercress is not native to Yangtze River Delta area, home to Huai Yang Cuisine. Therefore, I never had watercress growing up in this area until much later. After college, I went to work in Guang Dong in southern China where I came to know watercress for the first time.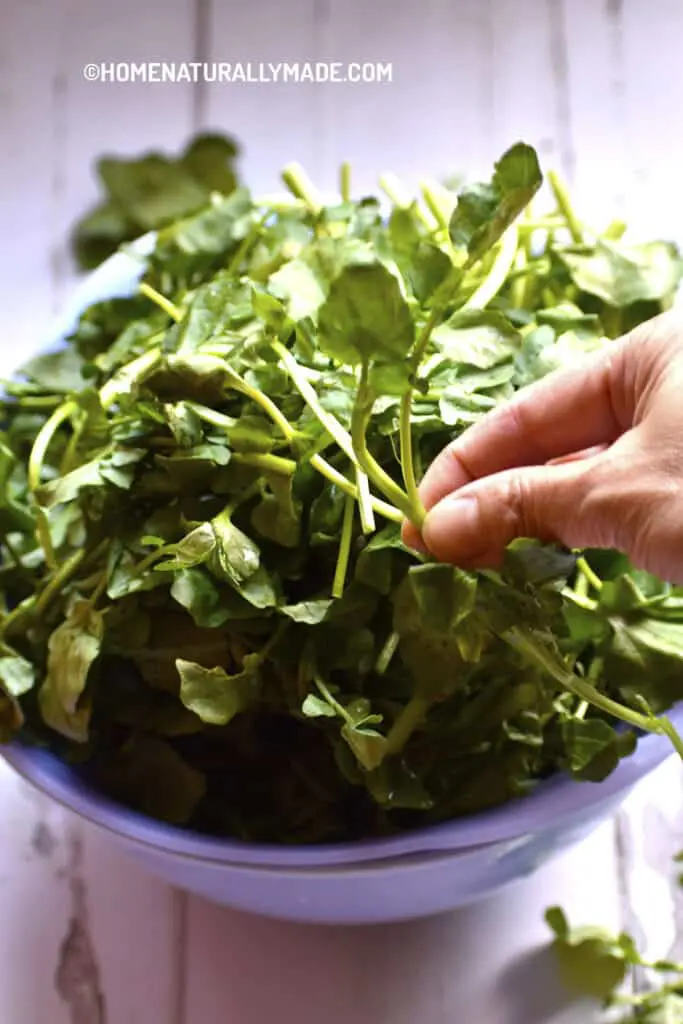 Why watercress is a superfood green leafy vegetable?
Watercress is an extremely healthy, nutritious green leafy vegetable. It contains many essential vitamins, such as vitamin K, C, A, E, B-6. It also includes important minerals such as calcium, manganese, potassium, magnesium. In addition, watercress is rich in anti-inflammatory and anti-oxidant substances.
Truly an all-around superfood. A Stir Fried Watercress perhaps is the easiest way to enjoy this superfood green leafy vegetable.
How to make a stir fried watercress quick, easy and tasty?
The first is to wash and rinse them well and get ready for stir fried watercress
Watercress are aquatic fast growing vegetable. You can cut the top off and they grow back quickly. Therefore, not only they are super healthy but also renewable.
The ones sold at grocery store are typically cut into about 5-inch long.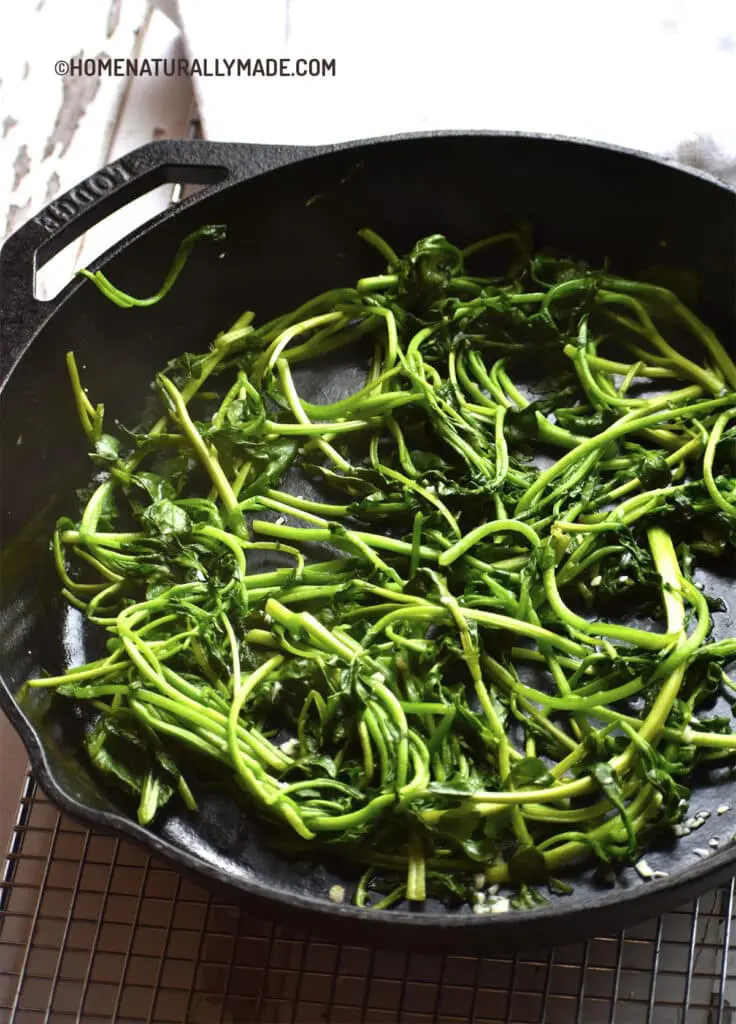 The second is to Stir Fry watercress in a heated pan
Turn the heat to medium-high and heat a fry-pan, cast iron pan preferred, for 2 minutes. Add 1 tsp avocado oil or other cooking oil and the watercress. Non stop stir and turn for about 2 minutes. Add 1 tsp minced garlic and a pinch of salt, mix and turn for another 1 minute.
All done! Enjoy a refreshingly tasty superfood green leafy vegetable.