Greek Salad featuring cucumber, tomato, and feta cheese is yummy, healthy and extremely quick & easy to make. A pinch of herbs such as chopped fresh dill or dried oregano and a splash of olive oil are all you need to complete this classic salad.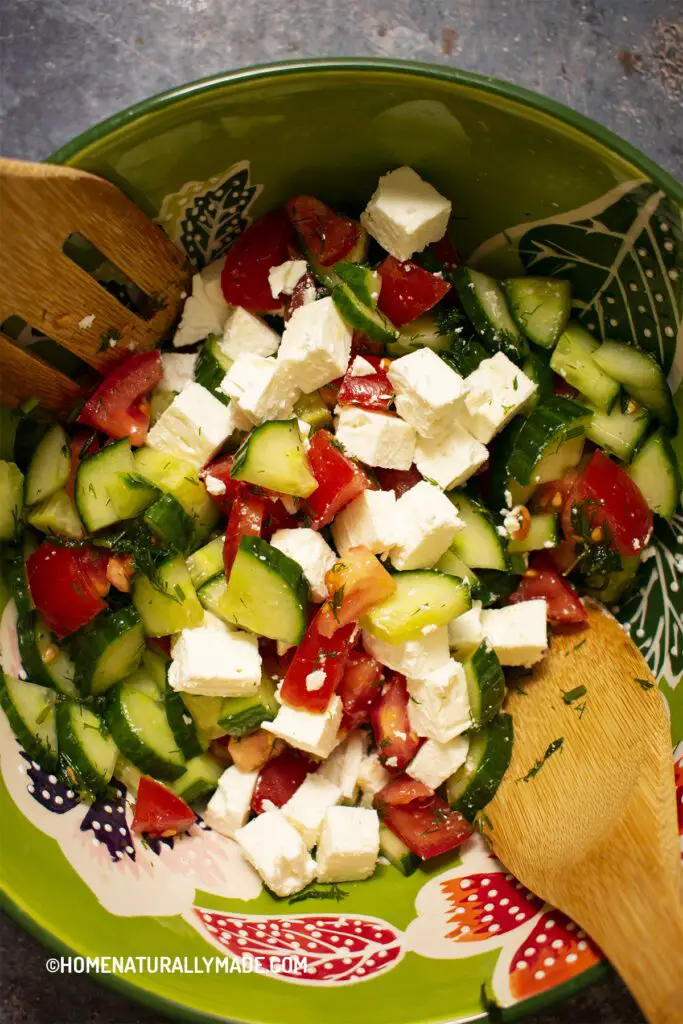 Greek Salad Fun Facts
The three key ingredients are cucumber, tomatoes, and feta cheese. Greek farmers usually have those at hand during the summer. It is indeed a summer delight, we grow lots of cucumbers and tomatoes each year in our backyard garden. This is one of my favorites other than the Basil Tomato Salad and Meditterean Salad.
The Greek Feta Cheese is absolutely the highlight of this iconic salad. A must-have for authentic Greek Salad. There are so many different varieties you can find on the market. I like this Greek Imported feta called Roussas Feta Cheese. They are very tasty and are not overly salted.
The seedless cucumber, also known as English cucumber works best for salad. They have thin dark green skin and are very tender and juicy.
As for tomatoes, bright red ripe on-the-vine tomatoes are the best. You can either use cherry tomatoes or regular-sized tomatoes.
For herbs, I usually use either freshly chopped dill or dried oregano. Using either will work out great. I also find out Dill is quite a freezer-friendly herb. If I buy a big bunch of dill, I usually chop them into very small pieces and store them in a freezer ziplock bag in the freezer to use on the go.
How to cut cucumbers, tomatoes and feta cheese for the salad?
For cucumber, you want moderately thin slices in quarters. To do so, first cut the cucumber horizontally into halves, and then do it again for each half. Now you have cucumber in four quarters long strip. By the way, if the cucumber is somewhat long, then cut across midway and treat each segment separately. Lastly, hold all four strips together and then cut them across into slices.
If you are using cherry tomatoes, just cut them into halves. For regular tomatoes, trim the bottom first and then cut vertically into halves. For each half, first along the length into strips and then cut across into small cubes. Try to cut into a similar size as cucumber slices.
Similarly, cut the Feta into small cubes, similar in size to cucumber or tomato.
How to make an easy and tasty Greek Salad?
First is to cut cucumber and tomato into small cubes and add to a mixing bowl. Then add either the chopped dill or dried Oregano, along with the salt and olive oil. Use a pair of bamboo spatulas to toss and mix well.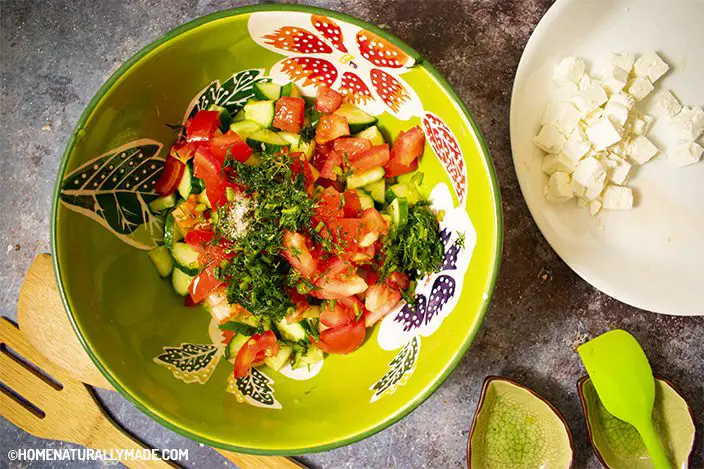 Last but not least is to top it with feta cheese cubes. That's it. Enjoy a yummy and healthy authentic while easy Greek Salad!