Spicy Cabbage Salad is so refreshing and tasty. It features white and purple cabbage, thinly sliced and mixed with simple ingredients such as Himalayan pink salt and white vinegar. Add a pinch of Pi Xian DouBanJiang and a splash of sesame oil to complete the taste. It is truly easy, yummy, and healthy.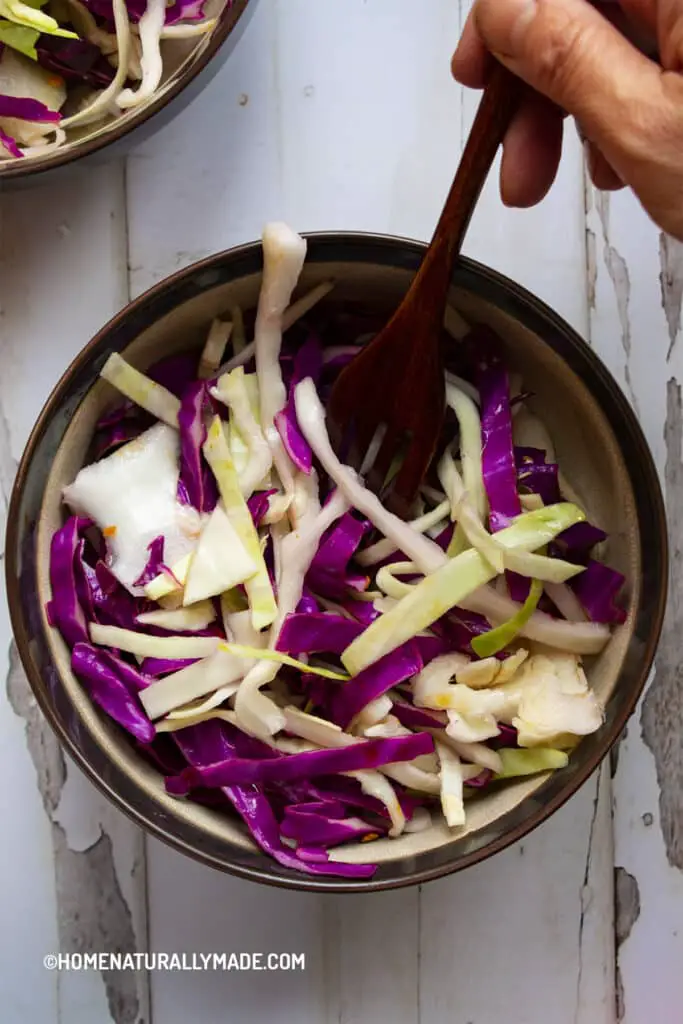 Spicy Cabbage Salad Ingredients: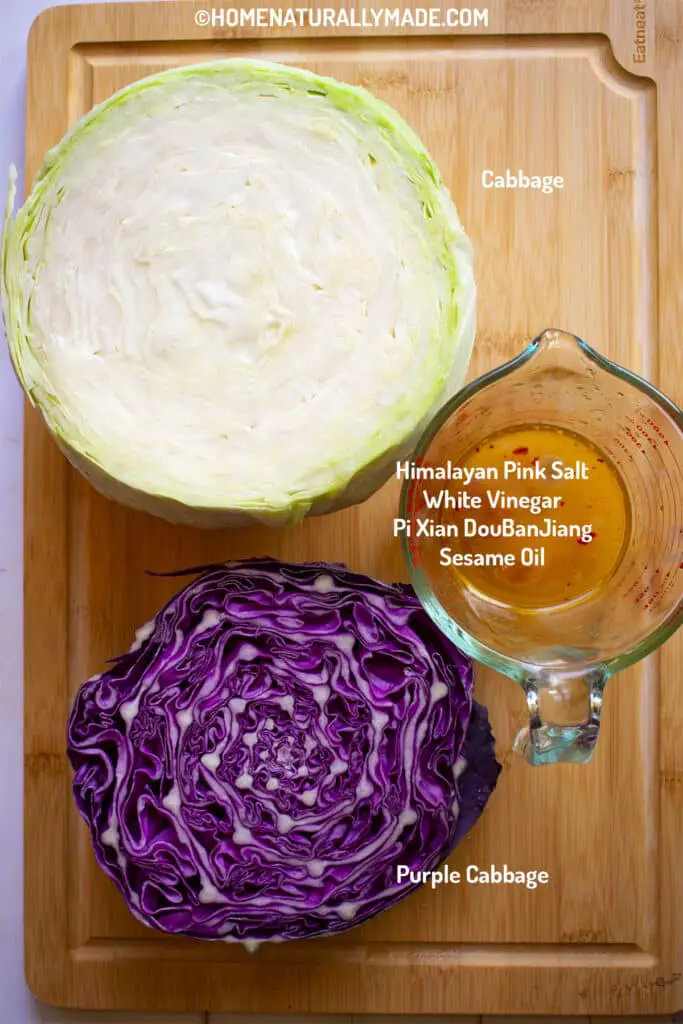 You will need cabbage and purple cabbage. Purple cabbage adds the contrast of color, texture, and additional nutrition. It is fine to use just cabbage if you do not have purple cabbage handy.
For Salad Dressing, I use the mix of Himalayan pink salt, white vinegar, Pi Xian DouBanJiang and Sesame Oil.
Pi Xian DouBanJiang is the highlight ingredient of this tasty dish. It is a traditional Sichuan condiment made of specially fermented beans with peppers and spices. Pi Xian is a city in Sichuan province, well-known for its uniquely tasty peppers.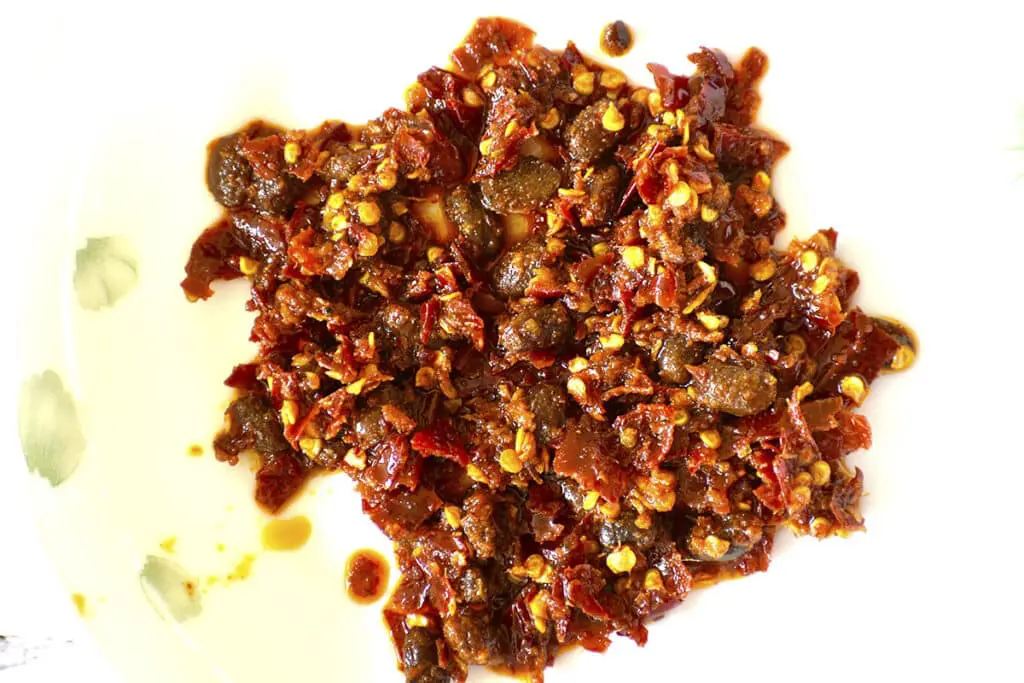 It is a custom to name a product after the city of origin. For instance, Zhenjiang Vinegar after the city of Zhenjiang and Shaoxing Wine after the city of Shaoxing. This iconic DouBanJiang is named after the city of Pi Xian.
I frequently add a pinch of Pi Xian DouBanJiang into many of my recipes to elevate or enhance the flavor. Red Braised Pork Belly, Pan Fried Firm Tofu, Braised Mackerel, Twice Cooked Pork, Stir Fried Mussels, just to name a few.
I got some of those special fermented moldy beans and the native Sichuan long red peppers a few years ago and made a batch of my own Pi Xian DouBanJiang. They truly make everything taste better!
How to Make Spicy Cabbage Salad from Scratch?
See the Recipe for a detailed step-by-step tutorial. Here are the key takeaways.
The ratio between cabbage and purple cabbage
I usually get 0.6 lb cabbage and 0.4 lb purple cabbage to make up one lb of cabbage mix. Purple cabbage is tougher. If you are a big fan of purple cabbage, you might increase purple cabbage up to the same amount of cabbage. For instance, you can use up to 0.5 lb purple cabbage and then 0.5 lb cabbage to make up one lb of cabbage slice mix.
Cut both Cabbages into thin slices with bite-size length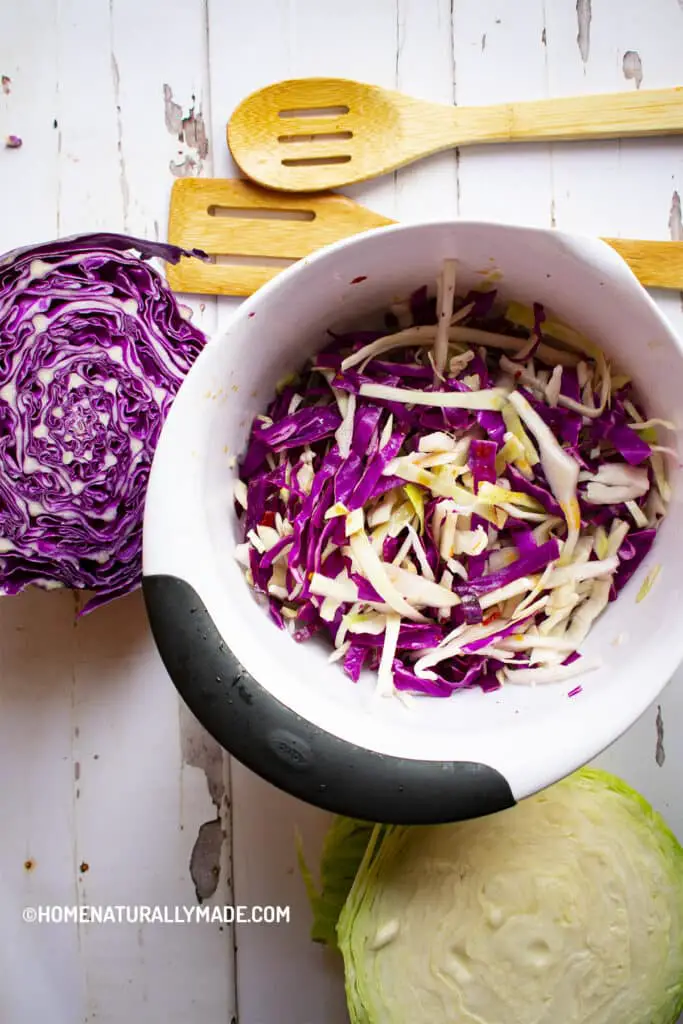 Measure out both cabbages, wash and rinse well. Peel off the outer layers if needed. Cut cabbage into thin julienne cut slices and in bite-size length. Add both into a mixing bowl.
Mix the Salad Dressing
For one pound of cabbage mix, add 1/2 cup white vinegar into a 2-cup glass measuring cup, and then add 1 tsp Himalayan Pink Salt, 1/2 tsp to 2 tsp Pi Xian DouBanJiang depending on how spicy you desire the salad to be, and 1 tsp sesame oil.
Mix well using a mini whisk and then pour into the mixing bowl. Then use a pair of bamboo utensils to mix well. If there are residual dressing left in the measuring cup, use a mini rubber spatula to scrape and add to the cabbages and mix well.
All done! Enjoy a simple, refreshing, healthy and tasty Spicy Cabbage Salad.