Homemade Japanese Ginger Salad Dressing tastes just like your favorite sushi restaurant. So quick and easy to make too. A must have for your sushi take out night. Just whip out this quickly and have that restaurant style salad to pair with the sushi.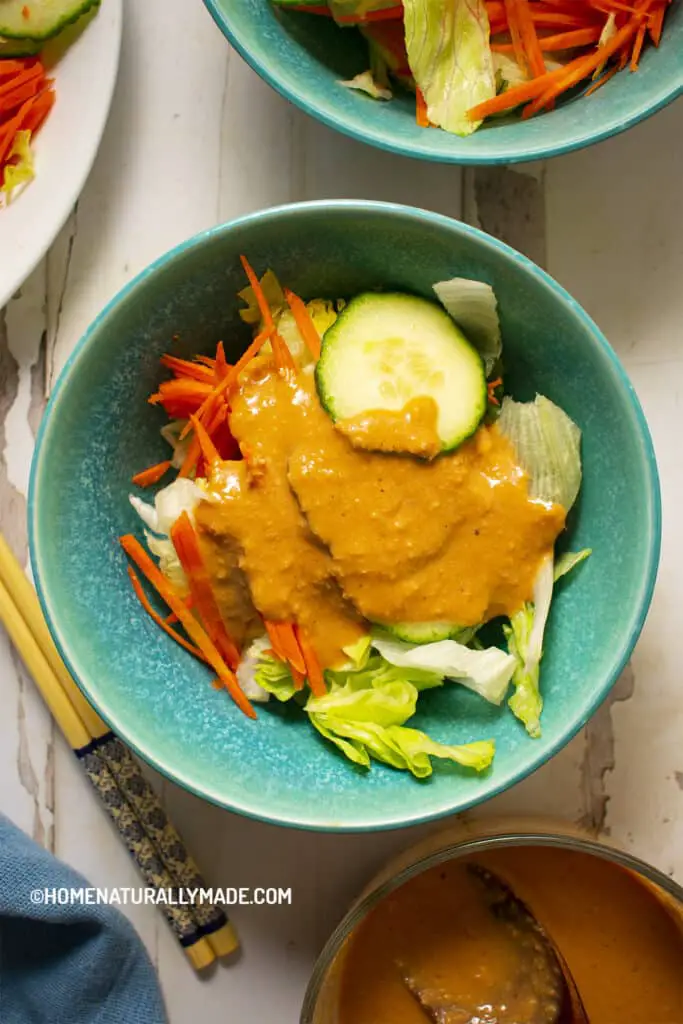 How to use wholesome ingredients to make a restaurant style Japanese Ginger Salad Dressing?
I am always a big fan of this ginger salad dressing, which has an appetizingly delicious ginger flavor, with a hint of sweet, sour and more. If you are searching for a restaurant style copycat made of wholesome ingredients, I am so glad you are here.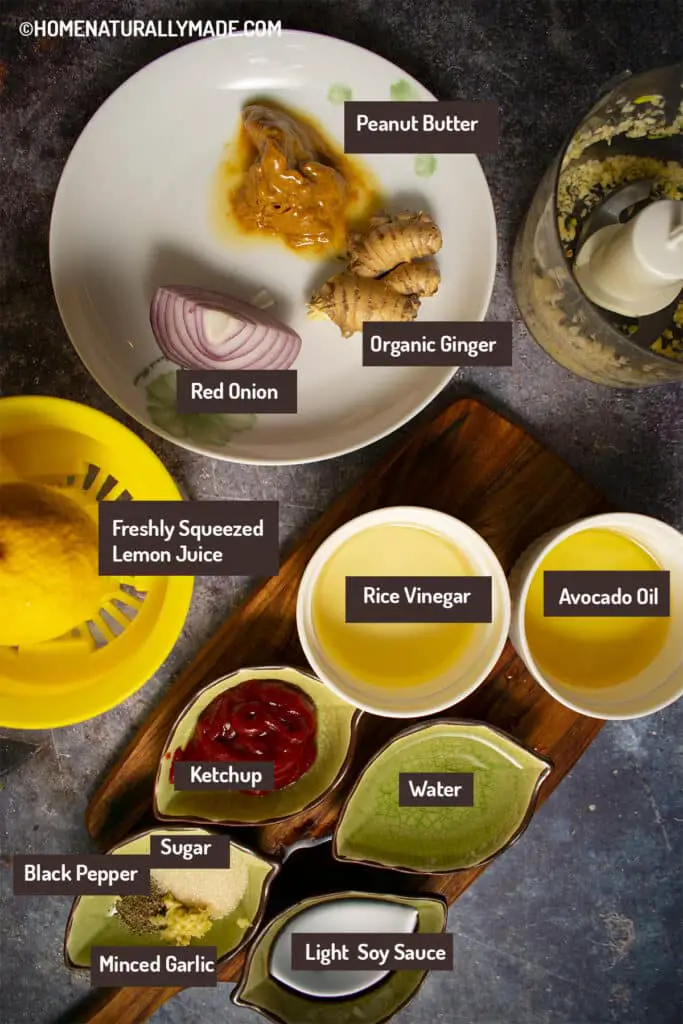 Ginger, needless to say, is the first and primary ingredient. I highly recommend you use organic ginger if possible. They are much smaller compared to the regular ones, with a much more pigmented golden hew. More importantly, they have a much pleasantly stronger flavor and taste. Organic ginger reminds me of turmeric.
Peanut butter is one of the key ingredients that provides an aromatic, creamy taste and flavor. You can also use sesame butter (Tahini) or almond butter as a substitute.
Red onion and ketchup are the source of the reddish orange color. Rice vinegar, light soy sauce, minced garlic, freshly ground black pepper, freshly squeezed lemon juice all add to the flavor.
For oil, I usually use avocado oil, which is one of my favorite cooking and baking oils. You can also use peanut oil or canola oil. Do not use olive oil, as they have such an over-powering smell and flavor that may alter the taste and flavor of the dressing.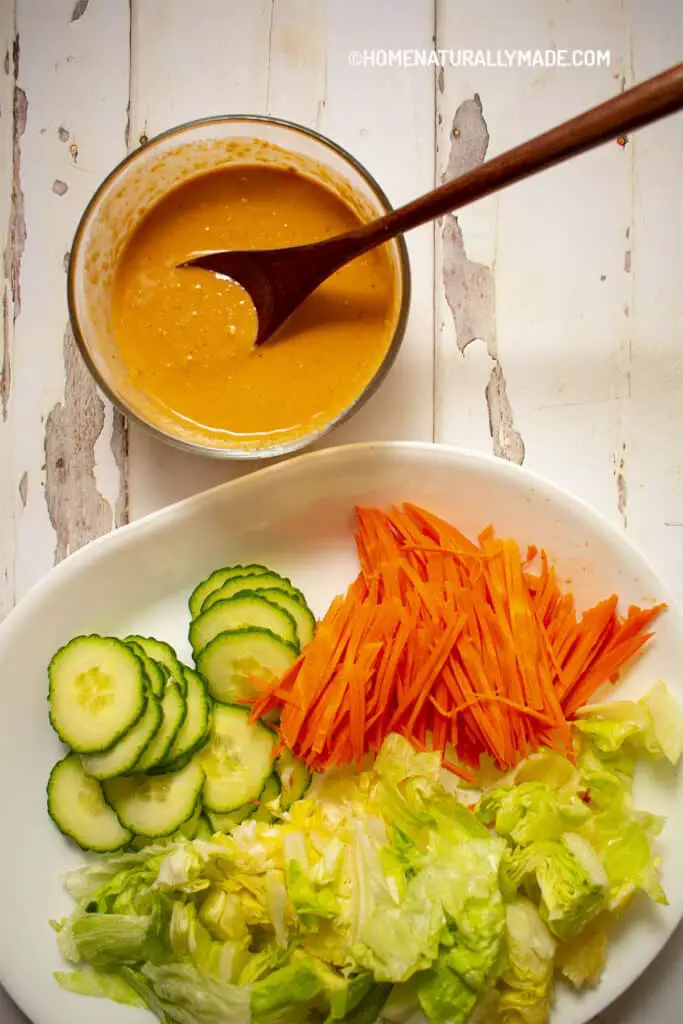 Useful kitchen tools and gadgets
A blender with total crushing technology makes it easier to blend everything together and smooth. A compact food processor helps to mince the ingredients first before adding to the blender. For instance, use it to mince garlic and ginger first. A hand citrus juicer is a handy gadget to squeeze lemon juice.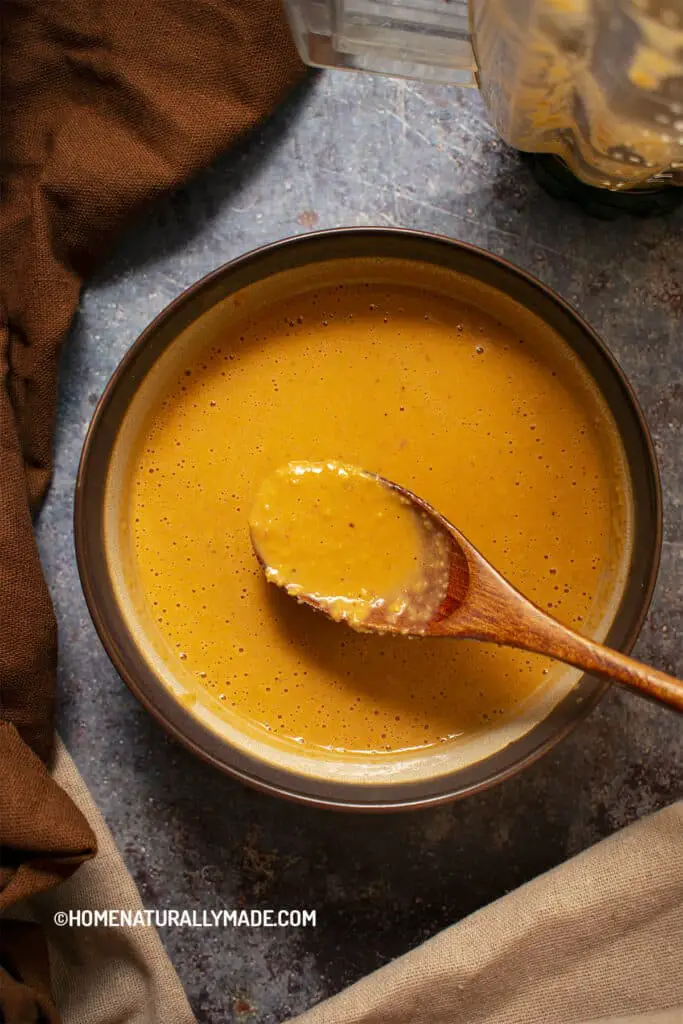 Like Asian style Salad? Check out Soy Vinegar Garlic Sauce Chinese Style, which is great for Sea Kelp Salad.