Kelp enjoys the reputation as a "health booster directly from the sea".  Quick and Easy Kelp Salad using simple Chinese style salad dressing is naturally delicious and healthy. It is a great way to enjoy kelp and the bounty benefits it comes along.
Chinese-style salad dressing for Kelp Salad
The salad dressing is from five simple ingredients: Zhenjiang vinegar, light soy sauce, minced garlic, green onions, with a splash of sesame oil.
Together they make a re-invigoratingly tasty and delicious sauce, perfect for the sea kelp.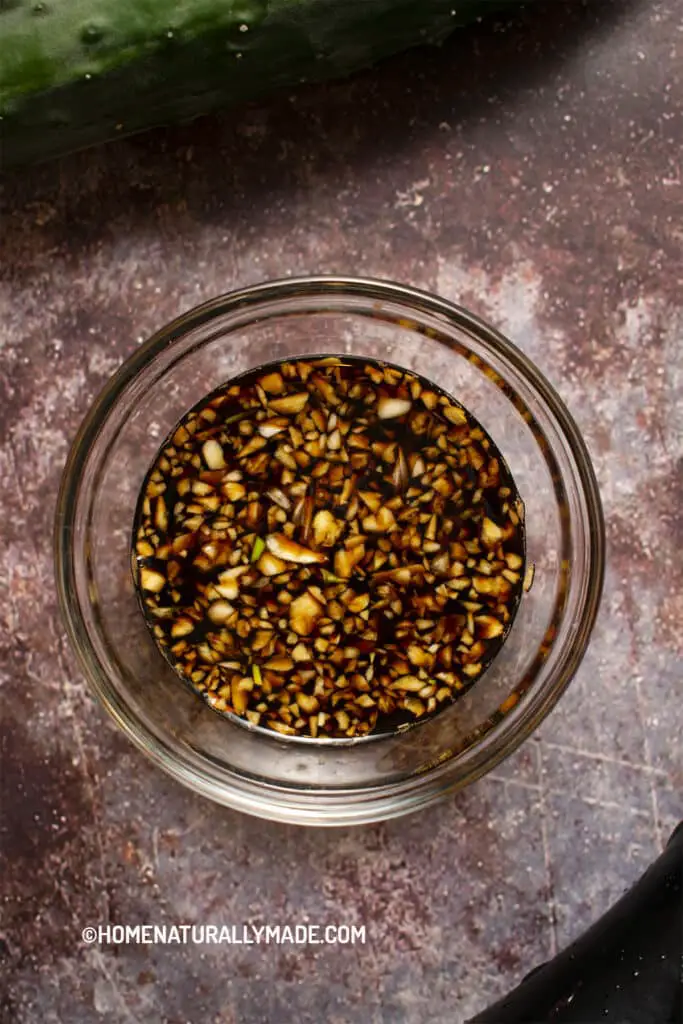 Why is eating kelp often is essential for healthy bodies?
People often refer to kelp as the "health booster directly from the sea". Among all the nutrients kelps possess, the one I'd like to highlight here is iodine, and kelp is the best natural source of it.
Iodine is a critical component in thyroid hormone production. The thyroid hormone helps bodies regulate metabolism and signal proper immune responses. They can also potentially help increase energy levels and boost brain function.
People who are lacking iodine typically have an enlarged thyroid gland, which leads to a puffy or swollen neck.
Because iodine is so important, the commercialized salt typically adds iodine during production to become so-called "iodized-salt". However, the best way for our bodies to absorb nutrients is to consume them in the natural state.
Our bodies, being a complex living system, strongly favor naturally formed things as they have a familiar biological structure. They instinctively reject foreign objects.
As a result, residuals from the foreign objects that our bodies can't absorb become accumulated toxins inside our bodies. Over time, this may lead to all kinds of illnesses.
One of the very first things I did when I jump-started healthier cooking is to ditch commercial salt and switch to sea salt or Himalayan pink salt. This is because commercial salt is not naturally formed in nature. Instead, they are fabricated in factories.
So how to get the crucially important nutrient iodine? The answer is straightforward and simple, eat kelp.
Are seaweed and kelp the same thing?
Well, they are both marine-based plants and can come in three different colors: red, brown, and green. The color depends on how much light they absorb via photosynthesis during their life cycle. However, they are not the same thing:
Seaweed is a more generic term that includes varieties of marine-based plants and algae. They vary in sizes and shapes. Seaweed can grow in different marine environments, such as oceans, rivers, and lakes.
Kelp, on the other side, is always large and only grows in the ocean.
The dish I am talking about today is sea kelp. Sea kelp grows well along rocky ocean coastlines where there are lots of movements from the ocean. Why? Ocean waves bring in the nutrients they need to grow. Sea kelp is typically brownish in the bottom, reddish in the middle, and greenish on the top as different parts of the plants absorb different amounts of light.
For this recipe, I use dried sea kelp that comes from the tip of the sea plants; they are very tender and greenish looking.
It is well known by people that sea kelp provides immense health benefits, and for good reasons. Sea kelp is rich in vitamins, minerals, and antioxidants.
How to make quick, easy and tasty kelp salad?
Step 1: Soak the dried sea kelp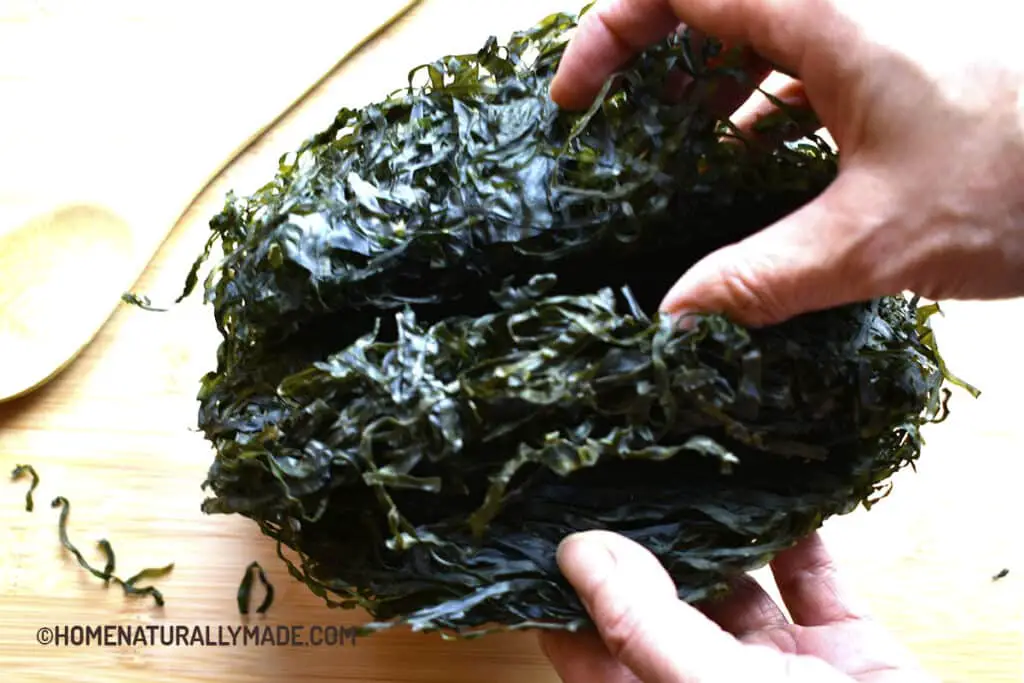 I remember when I was a kid, my family and I used to buy dried sea kelp from a farmer's market. We then had to spend a decent amount of time brushing, washing, and rinsing them, since they are mixed with loads of sand.
Nowadays enjoying a nice sea kelp dish cannot be easier. Manufacturers thoroughly clean sea kelp after harvesting them and then cut them into noodle shapes before dehydrating them using modern technology.
They also segment different parts of the sea plants for different uses. The tender tips, which are greenish, are good for salad; the tougher bottom parts, which are reddish, brownish, are good for cooking dishes such as pork ribs with daikon radish. The tougher bottom parts require more time to cook.
For the dried sea kelp used in this recipe, it takes only about 15 minutes to hydrate them and only takes about 5 minutes to cook in the boiling water.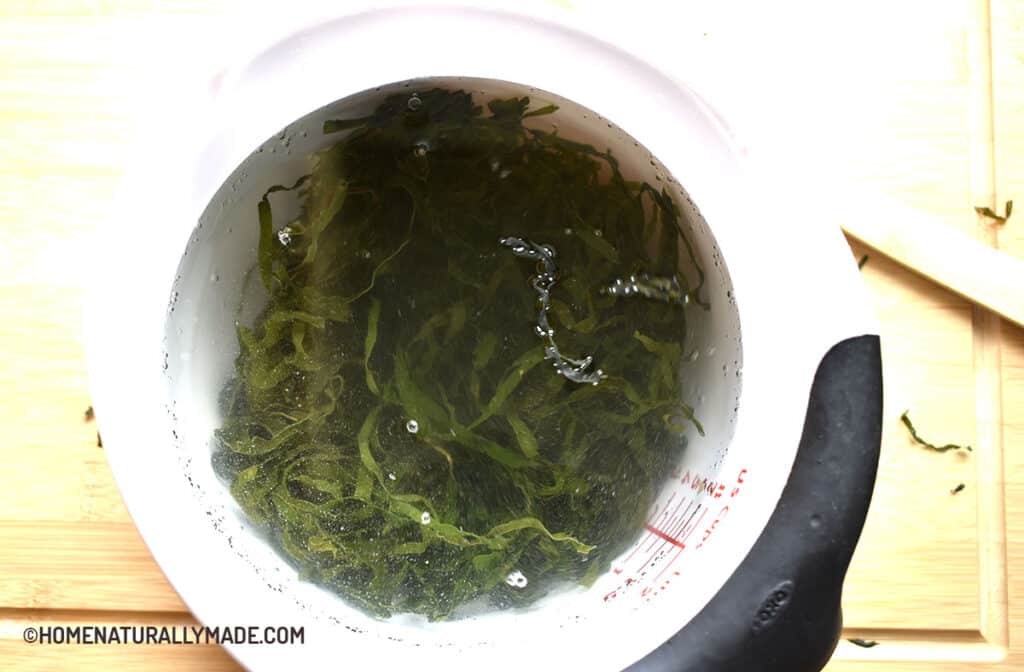 Step 2: Prepare the Chinese-style salad dressing
I make the simple while tasty salad dressing using 5 simple ingredients – light soy sauce, Zhenjiang vinegar, minced garlic and sesame oil to taste, and top with chopped green onion. It is a super delicious and versatile sauce. I also use the same sauce for cucumber salad.
Tips – I use a compact food processor to mince a bulb of garlic at a time and then store it in a small container in the refrigerator for up to 2 weeks. Garlic is another superfood that has many exceptional health benefits such as combating cold, reducing blood pressure, and improving cholesterol levels. Isn't it amazing we can enjoy two superfoods in one dish?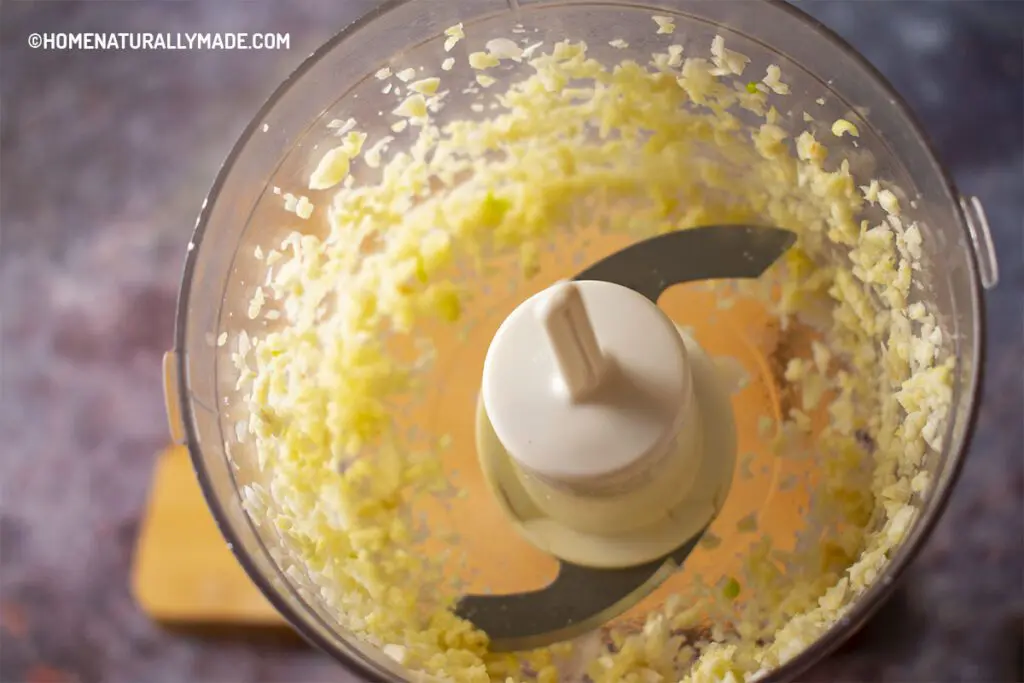 Step 3: Make Kelp Salad
Fill a stockpot, 4 quarts capacity minimum, with water and bring to a boil.
While the water is boiling, add the fully hydrated and cleaned sea kelp, stir gently, cover the lid and cook for about 5 minutes. Turn the heat to simmer after it reaches a boil.
Remove the kelp slices and drain the kelp in a colander.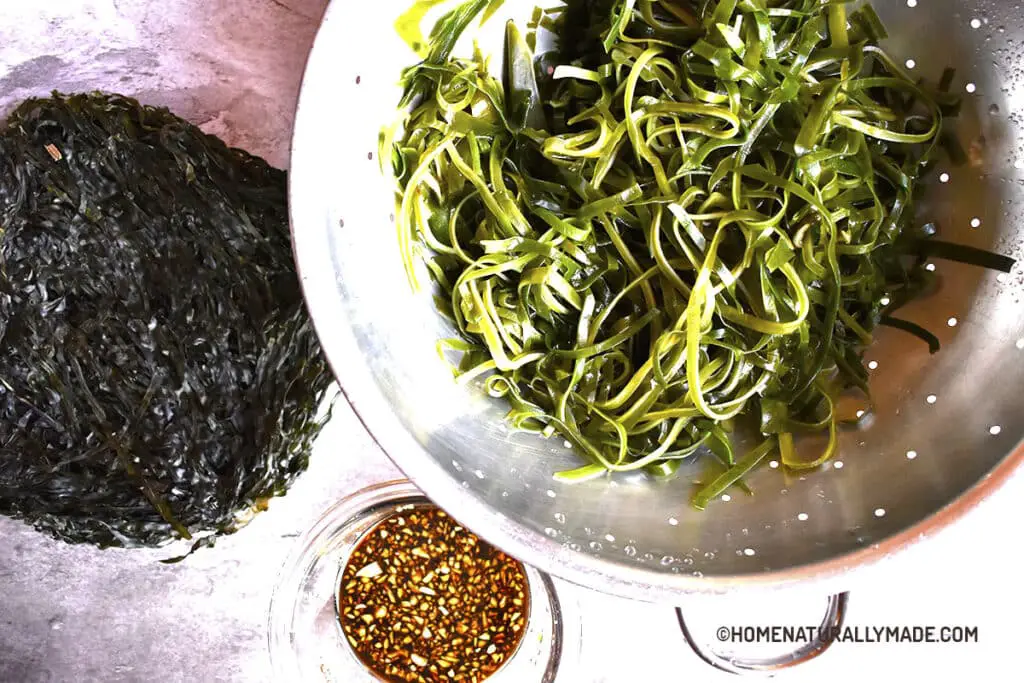 Place the kelp in a mixing bowl. Pour in the salad dressing and mix well.
Place in a serving plate and add chopped green onions for garnish and taste. Enjoy a super tasty and healthy kelp salad.