Eight treasure porridge is a popular breakfast item in China
It is native to my hometown Yangtze River Delta area, home to Huai Yang cuisine. In the eighties, eight treasure porridge gained national recognition thanks to a popular canned version product introduced by a Taiwanese snack company.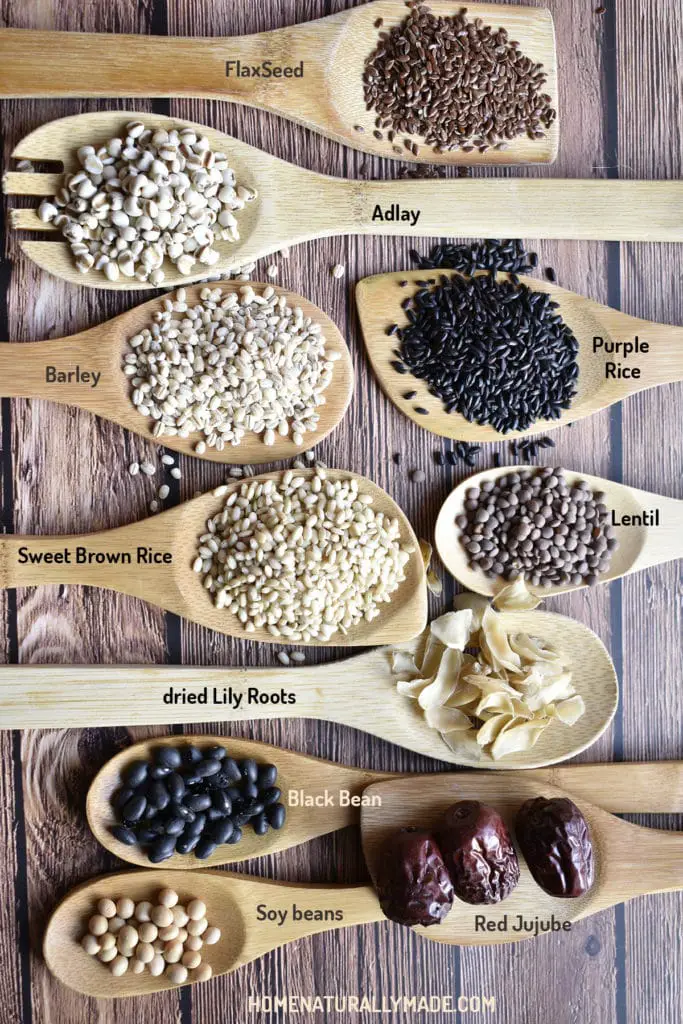 So what is eight treasure porridge?
It is a combination of mother nature's best grains, legumes, seeds, and additional goodies such as red jujubes, Goji berries, or dried lily bulb, slow cook together with water for 2 hours or more. The slow cooking process creates magic and turns the mixture into this smooth, gooney, and melt-in-your-mouth yumminess, which is super easy for the body to digest.
The porridge is popular both for the plain version to pair with salty side dishes such as boiled salted duck egg, Zha Cai, fermented rose bean curd, or a sweet version with brown sugar.
How to make good eight treasure porridge like a pro?
First is to pick a good balance of grains, legumes, and additional goodie items
While it is quite flexible in terms of what goes into the porridge. The best practice is having a good balance as each category serves a purpose.
Grains are the major bonding ingredient that brings everything together and creates this gooey yumminess.
Brown sweet rice, brown rice, whole oats, pearl barley, adlay (薏米), purple rice (riceberry), black rice are among the popular grains.
Brown sweet rice or browns rice are great for porridge as the cooking process thoroughly softens the grains so we can fully enjoy the additional nutrients they bring to us.
Traditional Chinese Medicine (TCM) adores adlay and frequently adds it to a wide range of prescriptions to soothe the body and nourish the systems from the inside out.
Make sure you have about 50%-60% porridge content in grains. Out of the grains, make sure you have grains that have a glutinous or gooney nature. Other than the brown sweet rice mentioned, there are sweet or glutinous versions of many varieties of rice such as glutinous purple rice, glutinous black rice, or white sweet rice.
Legume adds substance and textures. Peanut, black beans, black soybeans, soybeans, red beans, adzuki beans, kidney beans, lentils, chickpeas are among those that are suitable for the porridge.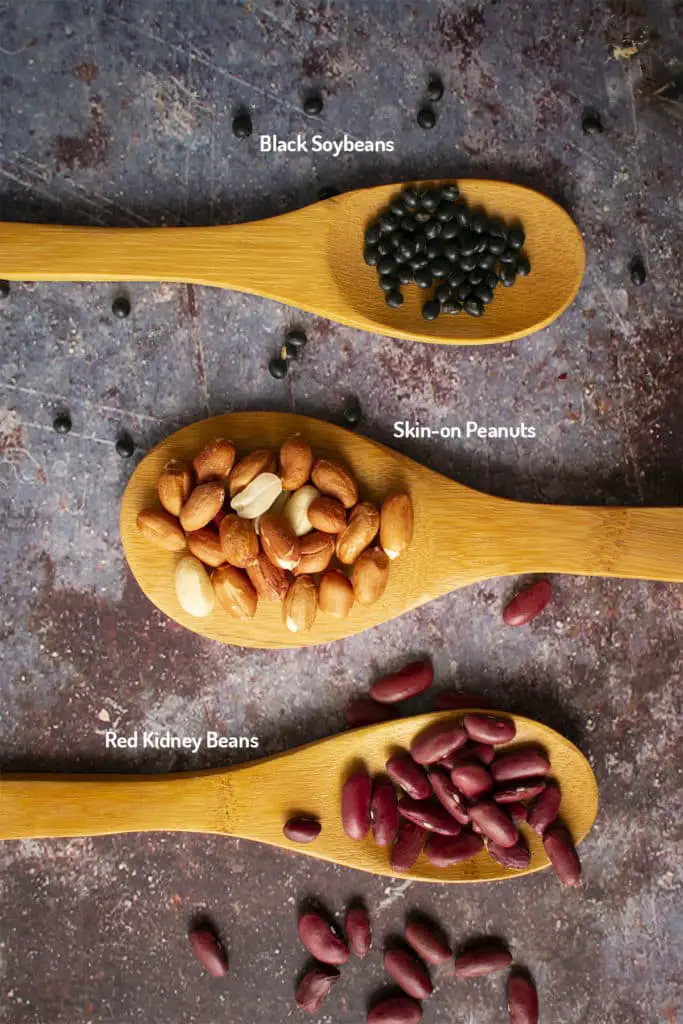 Note that lentils and chickpeas are not traditionally native to the Yangtze River Delta area. Therefore, they are not necessarily a typical item for Eight Treasure Porridge. However, I tried adding them into the porridge all the time and love it.
Legumes typically come as dried beans, which require soaking properly at least 4 hours in advance.
Make sure you have only 50% or less legume content in the porridge.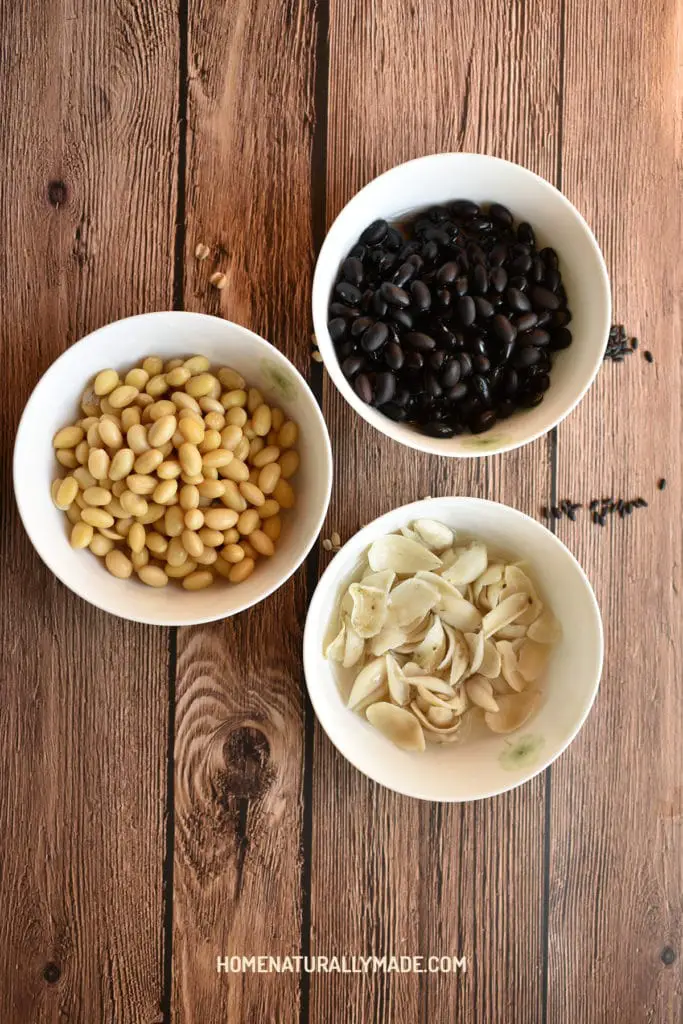 Dried Lily bulb, red jujubes, and Goji berries are optional but popular additional goodie items.
Lily is one of nature's wonder plants. The flowers are elegantly beautiful, and both its flowers (dried lily flower buds) and roots (dried lily bulb) are popular healthy edible items in China.
Dried lily bulbs are lily flower roots that were previously cleaned, separated, and dried. Dried lily bulbs need proper soaking in advance, just like dried beans.
The second is to choose the color appealing items
We like the eight treasure porridge to have an array of colors such as white, yellow, purple, black, and red. The black beans, purple rice, and red jujube serve just like that on top of their nutritional value. Alternatively, you can add red beans or black rice.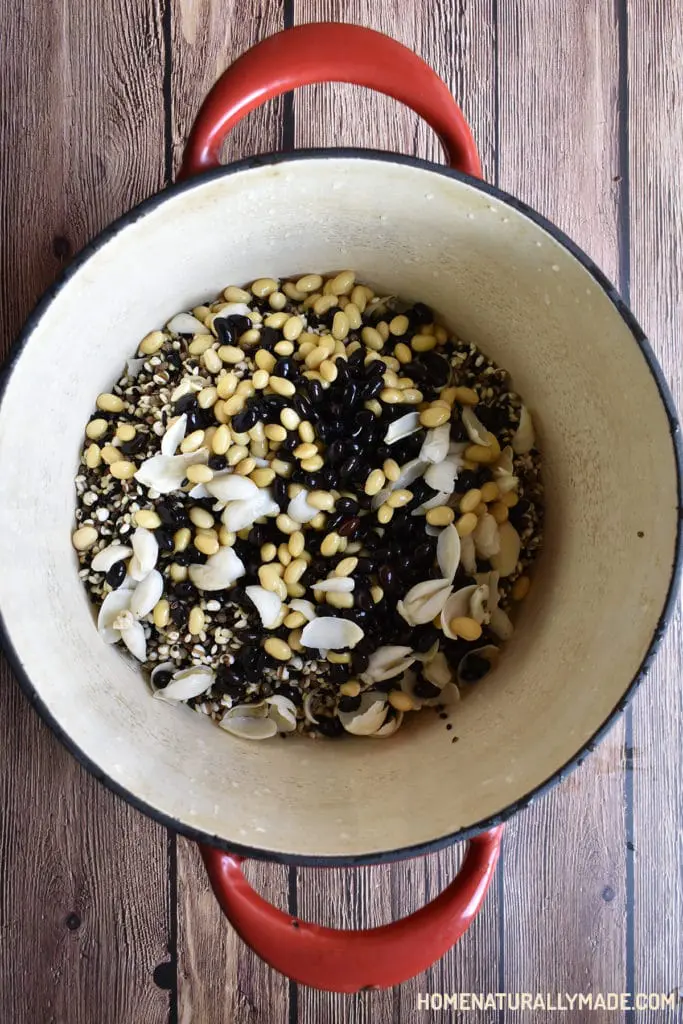 The third is to pick items we can cook at a similar speed
One thing to keep in mind is not to include something that is very easy to cook and very gooey themselves to the mixture such as steel-cut oats or millets. This is because they are potentially fully cooked in 10 minutes, way before the remaining ingredients in the mix. As a result, they might stick to the bottom of the pot and get burned.
If you like oats, try to add whole oats.
Last but not least is to pick a pot that contains the heat and slowly releases the heat
Cast Iron stockpot is perfect for this. Stainless steel Tri-ply works well too.
This is also a perfect dish for slow cooker or crock pot to make.
Do you enjoy cooking with a slow cooker? Make sure you try my other two delicious recipes that are also excellent for the slow cooker.